7 Best VPNs for Hulu in 2023 (Works With Live TV)
Only selected VPNs still work with Hulu in 2023. That's because Hulu regularly tightens its restrictions and blocks an increasing number of VPNs, leaving you unable to keep up with the shows you're paying for.
I tested over 60 VPNs and ExpressVPN ranked as the top choice for watching Hulu on-demand and live. I was impressed by the blazing-fast speeds on its US servers, which resulted in no buffering or lag while streaming.
It's also backed by a 30-day money-back guarantee, so you can use ExpressVPN with Hulu risk-free. If you change your mind, you can easily get a refund without any hassle. I tested this myself and it only took a couple of minutes to get my refund approved over the 24/7 live chat service. The money was returned to my account in 4 days.
Try ExpressVPN with Hulu risk-free
Quick Guide: Best VPNs for Hulu in 2023
Try ExpressVPN with Hulu risk-free
The Best VPNs for Hulu (Tested in 2023)
Key Features:
ExpressVPN offers the best speeds for Hulu of any VPN I tested. I connected to multiple US servers and impressively, my speed only slowed down by a tiny 5% on average. This is an unnoticeable difference. All Hulu streams loaded in under 4 seconds without further buffering during the entire video.
Better still, my team and I tested the US servers and found ExpressVPN works with Netflix US, Amazon Prime Video, Disney+, HBO Max, YouTube TV, SlingTV, ESPN+, DAZN, and plenty more US-based streaming sites.
You don't even have to connect to a specific server — any server in the US worked during tests. In fact, ExpressVPN has very user-friendly apps for Windows, Android, iOS, Mac, routers, and other devices (plus a browser extension for Chrome and Firefox). I could even create a Hulu shortcut within the desktop app. This unique feature allows for fast access to the streaming platform as soon as you set up a US server connection.
There's also a MediaStreamer feature that lets you set up ExpressVPN on smart TVs and game consoles. Once installed, you can watch Hulu on those devices.
ExpressVPN offers a great value for money you won't get with many other services. Plus, you can currently save up to 49% when you choose the 1-year + 3 months plan.
You can get ExpressVPN with confidence as it's backed by a 30-day money-back guarantee. The policy lets you use ExpressVPN with Hulu risk-free and get a refund if it doesn't satisfy your needs. The refund process takes less than 2 minutes. After connecting to the 24/7 live chat, the ExpressVPN agent approved my request without trying to convince me to keep my account. I received my money back in my bank account within 4 days.
Try ExpressVPN with Hulu risk-free
Key Features:
CyberGhost has servers optimized specifically for watching Hulu on desktop, mobile, Android TV, and Amazon Fire Stick. An in-house team regularly checks if the Hulu servers can reliably connect, ensuring you've always got a working connection.
In tests, I found that CyberGhost's streaming servers have great speeds for watching Hulu with minimal buffering and no lag. My traffic was only 12% slower than my base network when I connected to the Hulu servers, which is low enough to avoid in-stream interruptions.
To find the Hulu-optimized server, click on the For Streaming tab and type "Hulu" in the search bar. You'll see all the streaming servers displayed in a list. Double-click on a server and you'll connect in a few seconds. To avoid manually searching for the server next time, I suggest you add the Hulu-optimized server to your Favorites list.
The 2-year + 3 months plan offers the best value for money at only $2.11 per month. You don't have to worry about being locked into a subscription either as you can take advantage of the money-back guarantee and try CyberGhost with Hulu risk-free for 45 days.
The 45-day money-back guarantee lets you get a refund without a fuss (as long as you reach out to customer service before the end of the 45 days). I watched an entire season of Modern Family before asking a CyberGhost live chat agent for my money back. The agent didn't ask me to explain why I wanted to cancel and I received the refund a week later.
Try CyberGhost with Hulu risk-free
Key Features:
Private Internet Access (PIA) has over 5500 servers in the US and 35,000+ servers worldwide. I found that Washington DC servers provided me with the best speeds that allowed for streaming at FullHD resolution. Other US connections, like New York and LA, also have zero issues with providing seamless Hulu streams.
You can download plugins for Chrome and Firefox to access Hulu within your browser. The extensions come with an extensive server list in the US and all connections provided me with good speeds. This is useful if you don't want to change the IP address on your whole device, but still wish to use your Hulu account with minimal interruptions.
You can choose between a 1-month, 1-year, and 2-year subscription, although the 2-year + 3 months subscription gives you the lowest monthly price. It comes down to just $2.11 per month, which makes PIA an extremely affordable premium VPN.
It's risk-free to put PIA to the test with Hulu on your devices with its 30-day money-back guarantee. As long as you explain why you want to cancel (I said I couldn't afford the subscription anymore), the live chat agent will approve your refund in less than 30 seconds. I received the money back within 10 business days.
Key Features:
NordVPN is one of the best VPNs on the market — and you can get super cheap prices when you sign up for a long-term subscription. One thing to note, however, is that when it's time to renew your subscription, prices do increase quite significantly.
I was particularly impressed with the high performance of every server I tested. Just because a VPN has thousands of servers doesn't mean they all work. Servers can still struggle to unblock local sites — and some can even fail to connect completely. However, I easily unblocked Netflix, Disney+, Hulu, Amazon Prime Video, BBC iPlayer, and HBO Max on multiple servers in the US and UK.
I did, however, have issues with using NordVPN's native Fire TV app. Although it worked and unblocked some streaming services, it sometimes had issues unblocking Netflix US and kept crashing. I also found that NordVPN's user interface for desktop devices was less user-friendly than ExpressVPN and CyberGhost.
NordVPN has the following security and privacy features:
AES 256-bit encryption
kill switch that cuts your internet access if your connection to a VPN server drops suddenly
built-in ad and malware blocker, so you don't need a third-party ad blocker
fully audited no-logs policy (audited by PwC) – NordVPN doesn't store any personal or identifying data while you're connected to the VPN
In addition, NordVPN includes Threat Protection that protects you from viruses, infected websites, and trackers – and it works whenever you have the NordVPN app open, even if you're not connected to a VPN server.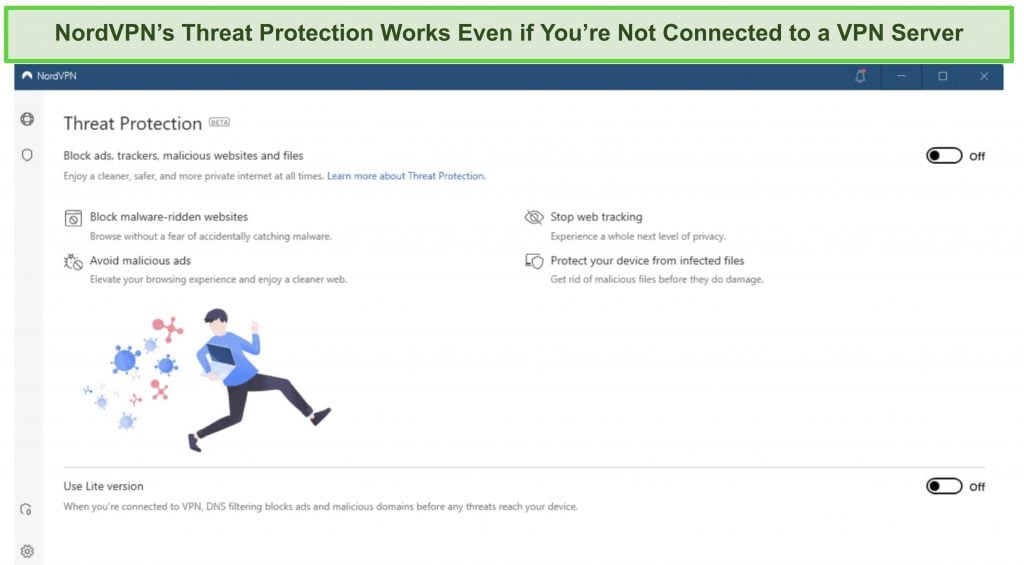 With plans that cost as little as $3.99 per month, it's easy to find a NordVPN subscription plan that suits your needs. You can also stream, torrent, and browse for free for up to 30 days with its money-back guarantee. I tested this to ensure that you'll really get your money back. At first, the support team tried to give me an extended trial period — but they initiated my refund right away after I told them I wasn't interested in the extension. I got my money back in 6 business days.
Key Features:
Surfshark offers the best value for money out of every premium VPN on the market. You can connect an unlimited number of devices with a single subscription, which means you can use Surfshark on all your devices without getting logged out.
I tested Surfshark's simultaneous connections on 2 PCs, 2 phones, a Fire Stick 4K, and an iPad. My connection remained reliable on all 6 devices. Even while I was actively streaming on all my devices, my average speed was 112 Mbps — fast enough for UHD quality.
When I saw the price of this service, I thought it couldn't possibly have top-grade security features for such a low price, but I was pleasantly surprised.
Surfshark has the following security and privacy features:
AES 256-bit encryption on all devices, with ChaCha encryption available for Android users
Wireguard VPN protocol enabled by default
diskless, RAM-only servers to protect your privacy (no data can be physically extracted from any servers)
kill switch (although this isn't enabled by default)
IP and DNS leak protection
Surfshark offers two-factor authentication (2FA) on your account. This feature requires you to enter an extra code before you can log in to ensure that only you can access your account.
While Surfshark does have slightly fewer global servers than rivals such as CyberGhost and PIA, I didn't experience any issues during my tests. I easily connected fast working servers every time, and I had excellent speeds for streaming Netflix in UHD, downloading torrents, and browsing the internet.
You can try Surfshark for yourself with the 30-day money-back guarantee. It has plans that cost as little as $2.30. Requesting a refund is easy with Surfshark's live chat feature. Although the support team asked why I wanted to cancel my subscription, I had no problem getting my money back (and it only took 4 days!).
Key Features:
PrivateVPN is the most budget-friendly VPN for Hulu. However, speeds are slower due to PrivateVPN's small server network. This can also limit which local TV channels you can watch live on Hulu, since not all regions in the US are covered by the server network.
Luckily, this doesn't have any impact on what on-demand content you can access. My team and I tested Hulu with PrivateVPN's US servers, and it worked every time.
It's easy to start watching Hulu straightaway with the user-friendly app. The app has a Simple View option, which allows for only 2 buttons to appear on the main interface. First, select your server, then tap the On button to set up your connection. PrivateVPN chooses the best settings for you as your connection is turning on.
PrivateVPN is the most affordable VPN on the list at only $2.00 per month on the 3-year plan. There are also short-term plans available and PrivateVPN has one of the cheapest monthly plans on the market.
Since it's backed by a 30-day money-back guarantee, you can stream Hulu from anywhere with PrivateVPN risk-free and get a full refund if you don't like it. When I tested this myself, the support agent approved my refund in 5 minutes and the money was back in my bank after 6 business days.
Try PrivateVPN with Hulu risk-free
Key Features:
IPVanish lets you connect unlimited devices at once. This means you can use multiple devices at once — for instance, you can watch Hulu on your desktop while connected through a VPN server on your smartphone. It's a great feature if you like multitasking while streaming your favorite shows and movies.
IPVanish's detailed interface shows ping and user load for each US location. It's perfect for avoiding in-stream buffering and lag, especially if you're watching Hulu during peak hours.
There are plenty of plans on offer ranging from 1 month, 3 months, and 1 year. However, the 2-year plan offers the best value as you can save 72% and pay only $3.33 per month. Unfortunately, prices jump up after your first subscription year.
You can try IPVanish with Hulu risk-free with the 30-day money-back guarantee. If you don't want to keep it, you can get a full refund by filling out an online form on the website. You don't even need to speak to anyone. I got my money back in just 5 business days after I requested it.
Try IPVanish with Hulu risk-free
Comparison Table: 2023's Best VPNs for Hulu
ExpressVPN
CyberGhost
PIA
NordVPN
Surfshark
PrivateVPN
IPVanish
Speeds
Excellent
Fast
Fast
Average
Fast
Average
Fast
Device Limit
5
7
unlimited
6
unlimited
10
unlimited
Lowest Monthly Price
$6.67
$2.11
$2.11
$3.99
$2.30
$2.00
$3.33
Money-Back
Guarantee
30 days
45 days
30 days
30 days
30 days
30 days
30 days
Try ExpressVPN with Hulu risk-free
Warning! None of These VPNs Work With Hulu in 2023
Hulu regularly blacklists new VPNs (including top services on the market), so most VPNs don't work with the platform anymore — even if they used to in the past. During testing, the VPNs below proved to lack the appropriate technology needed to compete with Hulu's updates:
CactusVPN
Hola VPN
IronSocket
Buffered
ZenMate
Unotelly

Opera VPN
BulletVPN
VPNLand
PureVPN
Hotspot Shield
Norton VPN
Try ExpressVPN with Hulu risk-free
Quick Guide: 3 Easy Steps To Use a VPN to Watch Hulu
Try ExpressVPN with Hulu risk-free
Step-By-Step Guide: How to Watch Hulu and Hulu Live TV From Anywhere
How to Download the Hulu App Abroad on Your iOS Device
Log in to your US Apple ID or create a new one set to the US. This is the only way to avoid losing your current subscriptions and app purchases.
Make sure your region is set to the US and you have a local payment method. Hulu only accepts US credit cards or PayPal payments.
Open the App Store and download Hulu.
Once it's done, open the Hulu app and log in to your account or set up a new subscription.
That's it! Now you can start streaming your favorite shows and movies on Hulu on your iOS device.
How to Get the Hulu App on Android When You Travel
Sign in to your Google Play account or set up a new profile. Just remember to set your location as the US.
Visit pay.google.com and check you have a US payment method and zip code. This information is available in your account settings.
Force stop Google Play on your Android device. To do so, go into your device's Settings > Apps > Google Play and tap "Force Stop."
Open Google Play, search for the Hulu app, and press "Download."
After the app downloads, log in to your streaming account on Hulu or create a new one.
Select the show you want to watch from Hulu's library and start streaming!
Alternatively, you can download Hulu on Android through an APK file from a third party. Before you start, you have to enable downloads from unknown sources in your device's settings — otherwise, Android will block the file.
You should also never download Hulu APK files without an active VPN connection as many third-party APK sites contain malware that could expose your data. When the download finishes, tap on the file to prompt the app installation and start streaming Hulu exclusives.
Try ExpressVPN with Hulu risk-free
How I Tested and Ranked the Best Hulu VPN
Out of all the VPNs out there, only selected ones actually work with Hulu. To pinpoint the best services for Hulu, I tested over 65 top VPNs on the market against these strict criteria:
Big server network worldwide, with multiple servers in the US for accessing your local Hulu library without sudden slowdowns and quality drops.
Secure and reliable access to Hulu, so you don't have to deal with streaming errors when you travel for business or personal purposes.
Fast speeds and unlimited bandwidth to watch as many shows on Hulu as you want in high quality and with no stuttering.
Broad streaming device compatibility, including Windows, macOS, iOS, Android, Firestick, routers, and more.
Responsive 24/7 customer service for getting help with logging into Hulu whenever you need it.
Money-back guarantee, so you can try the VPNs with Hulu without any risk.
Try ExpressVPN with Hulu risk-free
FAQs on Watching Hulu With VPNs
Try ExpressVPN with Hulu risk-free
Start Watching Hulu (+ Live TV) Today!
Hulu can be a bit expensive as a subscription service, so it can be quite frustrating when you're unable to access the account you're paying for while traveling abroad. It's essential to find a VPN service that is both trustworthy and reliable, as not all VPNs are compatible with the Hulu platform. Without a dependable VPN, you might end up spending money on an additional subscription without getting the desired access.
Fortunately, ExpressVPN is the best VPN for Hulu and it has reliable US servers and fast speeds. It's backed by a 30-day money-back guarantee, so if you're not happy with it, you can easily request a refund.
---
Summary — Best VPNs for Hulu in 2023