The Best VPN for Hulu – Stream from Anywhere (Tested January 2022)
Last Updated by Sarah Barnes on January 01, 2022
So, you're having trouble watching Hulu.
It doesn't matter if you're on vacation, a business trip, gap year, or you don't live in the US; as long as you are outside of the US, it seems like your Hulu subscription is going to waste.
Trust us, we understand your frustration and we have the solution for you.
3 Steps to Watching Hulu and Hulu Live From Anywhere in the World
Get a VPN ( We recommend ExpressVPN, it's one of the fastest VPNs we've tested and it will bypass the Hulu geo block. Try ExpressVPN risk-free with its 30-day money-back guarantee.)
Connect to a US server
Log in to your account and enjoy. ( If you are creating a new account and don't have a US credit card or PayPal account click here and see our hack for this )
What Is The Best VPN to Unblock Hulu
The problem is that Hulu, which was built by the major US TV networks, has no real intention of expanding outside the US (with the exception of Japan) and has an extremely tough geo block placed on their website.
As we discovered while testing over 200 VPNs, the Hulu block is even stronger than the Netflix ban. That being said, we were able to come up with the best VPN for streaming both Hulu and Hulu Live.
If you want to beat this strong geo block you will need to get a proven VPN that can not only access Hulu and Hulu Live, but do so with unlimited bandwidth and fast speeds. This will allow you to stream as much Hulu as you want without worrying about low quality or buffering streams.
If your ISP assigned you an IPv6, (you can read more about that below), that can also cause Hulu to recognize your actual location and block you. This is why we recommend using a VPN that can either disable the IPv6 or has IPv6 leak protection.
VPN Hack: Once the stream starts, you can disconnect your VPN and continue watching. This can be helpful if you feel that the internet speed and stream quality would be better without the VPN or you have a VPN with limited bandwidth. The one downside to this is you won't be able to start the next show or movie without reconnecting to the VPN and refreshing the Hulu page.
1
ExpressVPN – Works perfectly with Hulu
ExpressVPN offers some of the fastest speeds on the market as well as:
Unlimited bandwidth and speeds
Servers in 15+ US cities
24/7 customer support
ExpressVPN has the option to prevent IPv6 detection which makes it great for bypassing the Hulu geo block.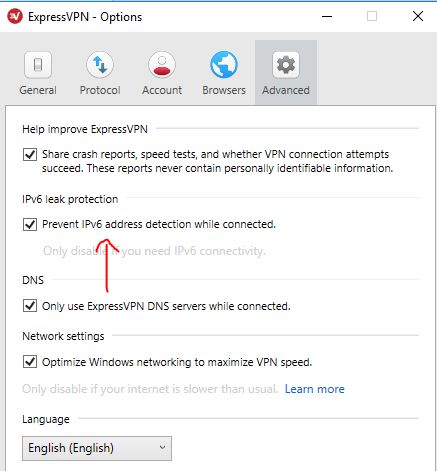 ExpressVPN also provides a 30-day money-back guarantee deal. Which works great with Hulu's 30-day trial, if they aren't working well together you can just cancel them both and get your money back.
How To Choose The Best Hulu VPN
The best VPN for Hulu requires a few specific features that will help it to run better and ensure you have access. The top features you need to look out for with a VPN are as follows:
Fast Connection Speeds – A VPN will inherently slow down your connection speed as it takes your data on a longer route to its destination to keep you protected and to bypass any geo-restrictions. If the VPN hasn't made an effort to counteract that slowness and improve your speeds, then streaming shows and movies through Hulu is going to be very painful.
Multiple Reliable Servers – The more servers a VPN has the better chance you will have of finding one that can bypass Hulu's firewalls. Multiple servers also allow you to quickly switch to another server if Hulu discovers the one you're using and blocks it. A lot of premium services have started to create servers dedicated to unblocking geo-restrictions on streaming sites as well, which they ensure are kept active so that you never have to worry about being locked out of Hulu's service.
Unbeatable Customer Support – An excellent customer support team is essential when you're looking for a quality VPN. They're instrumental if you ever run into issues with your VPN and can quickly troubleshoot any problems occurring while you're trying to stream Hulu. If a server goes down, a 24/7 customer support team can give you a list of servers that still work, making it much easier for you to get back to watching your favorite shows.
No Bandwidth or Traffic Limits – Any VPN service that caps or limits your bandwidth and traffic will be useless when it comes to streaming services like Hulu. As streaming requires a lot of bandwidth, if your VPN limits this, you won't get far while watching your favorite shows. It's important that the VPN service you choose is unlimited so you won't be interrupted or hindered when streaming your shows on Hulu.
If your VPN ticks all these boxes, you'll be well on your way to unblocking Hulu for good.
Do You Need A VPN For Hulu
If you're located outside of the US, you'll have no choice but to use a VPN to gain access to Hulu as it's only available in America. Hulu has some extremely robust geo-blocking firewalls in place that stop any users not located in the US from signing up or accessing their site, and they don't look to be expanding any time soon.
For anyone in Japan, it's your lucky day, as Japan is the only other country outside of the US that has access to the streaming site. Regardless, you'll still need a VPN to access the full range of shows that you see on the American version of the site.
If you're already located in the US, a VPN can still be handy. It'll keep you protected from the prying eyes of hackers, cybercriminals, ISPs, and government agencies. It will also significantly lower your vulnerability and risk of becoming the victim of a cyber attack. A VPN will ensure your data and traffic stays hidden and anonymous while you're streaming shows on Hulu.
How Does Hulu Know I'm Using A VPN?
The easiest way Hulu can detect that you're using a VPN is through the IP address you're given. If several users are on a single IP address while accessing their website, it looks very suspicious and there's a high chance that a VPN is involved. When Hulu notices large numbers of multiple users on a single IP, they will block it, effectively shutting down a server.
When you sign into Hulu, it will automatically run your IP address against a list of known VPN servers that they have complied. If your IP is a match for any of these VPNs, you'll be blocked from the site and met with the following message:
"Based on your IP address, we noticed you are trying to access Hulu through an anonymous proxy tool. Hulu is not currently available outside the US. If you're in the US, you'll need to disable your anonymizer to access videos on Hulu."
The only way to sneak past this block is to use a VPN that is continually rotating their IP addresses so that you can avoid detection.
Why You can't Stream Hulu from the Outside the US
If you're having trouble accessing or creating a Hulu account, it's most likely because of one of two reasons. One is copyright and trademark laws and the requirement to use US-based payment methods.

1. Copyright and Trademark Laws
At this time you can only watch Hulu in the United States. Hulu claims that they are working diligently on expanding its services on an international level. They have been saying this for years, and unlike Netflix which expanded outside of the US, there has been no progress.
According to Hulu, it's due to copyright, trademark, and other intellectual property laws are what is stopping them from expanding (although Netflix managed to find a way to expand). These laws limit Hulu's video content to people living in the US. Hulu doesn't condone the use of technology to bypass these laws either. Hulu's terms and conditions state:
"You agree to observe the Services, Content, Video Player and embedding restrictions detailed above, and further agree that you will not use the Services in a way that violates the rights of others, including patent, trademark, trade secret, copyright, privacy, publicity, or other proprietary rights."
2. Lack of Domestic Payment Method
With these copyright laws listed above, it makes sense that you can't access Hulu unless you have a domestic payment method.
This means a credit card or PayPal account that is connected to a US bank account.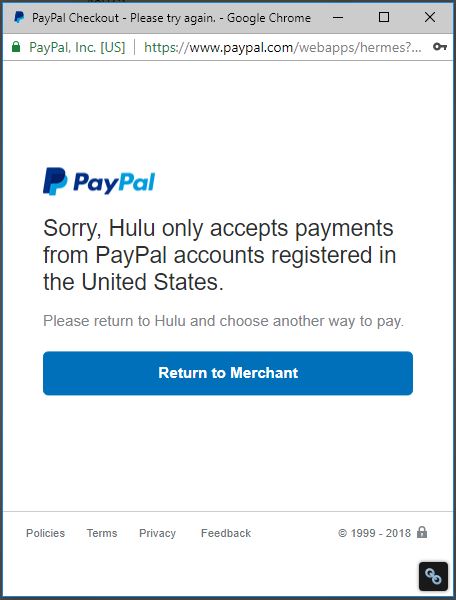 With every problem, there is usually a solution, and the best solution we found is a PayPal gift card that can be purchased here.
Can you Use Free VPNs with Hulu?
If you try enough free VPNs you may come across that can temporarily bypass the geo-block and access Hulu. However, it isn't a reliable option and will probably cause more stress than it's worth in the long run.
There are several reasons for this. What is probably most important for Hulu viewers is that free VPNs usually comes with data and speed restrictions.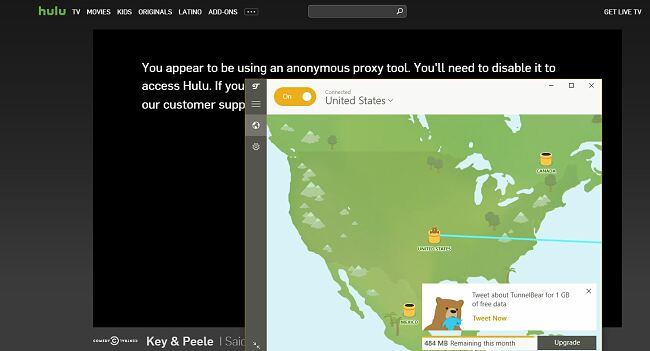 Not only did TunnelBear not bypass the Hulu block, but if it did, we'd have a limited amount of bandwidth to use.
What does that mean to you? You can expect a lot of disruptions during your show. So if you want to watch your favorite shows on Hulu in high quality, you'll need to ditch the free VPN option and pay for the VPN service.
Why Is Using Free VPN For Hulu Not Recommended?
Free VPNs can seem like a great deal, to begin with. However, they can cause much more harm then they're worth. While a lot of free VPNs claim to have the capability to bypass Hulu's firewalls, this is often a false statement. The majority of free VPNs are unable to sneak past the geo-blocks Hulu has in place due to their lack of staff and resources.
Any free VPNs that manage to unblock Hulu are unreliable and their servers are frequently blocked by the streaming service. They don't usually have an easy fix if their servers are blocked, meaning you might have to wait hours, days, or even weeks before they can set up new servers that can access the site.
While using a free VPN can cause you more inconveniences and have difficulty keeping reliable servers up and running, that's nothing compared to what the more sinister providers have done.
In recent years, there have been reports of free VPNs abusing their customer's trust by selling private data and traffic logs to advertising companies. This act completely disregards your privacy and anonymity and is practically the complete opposite of what a VPN should be doing. In the worst-case scenario, you have these companies accidentally pass on your information to hackers and cybercriminals, so it's best not to take that chance.
What VPNs Should I Avoid With Hulu?
There is a wide range of VPNs out there that claim they are perfect for streaming Hulu but don't be fooled. We've tested all the following VPNs to see if they were able to unblock Hulu but had no luck.
Zenmate

PureVPN

Hola

IPVanish

Tunnelbear

CactusVPN

Private Internet Access (PIA)

IronSocket

Unotelly

CactusVPN

Buffered

VPNLand

BulletVPN
If you want to access Hulu with a VPN, you won't be able to with any of these providers so that we wouldn't waste your time on them.
Does A VPN Let Me Watch Hulu For Free?
Unfortunately, a VPN isn't going to allow you to watch Hulu free of charge. You're still going to need to sign up for a Hulu account and pay via a US credit card or PayPal account.
Depending on the VPN you decide on, you'll have to pay their fees as well. Thankfully there are many coupons and deals you can find online, including on our website, that will significantly reduce your costs.
There are also a large number of premium VPNs available that offer competitive pricing, particularly if you sign up for an extended plan. There are millions of options you can choose from when it comes to a VPN and you won't have to compromise on quality for a better price.
How to Disable IPv6 on your Computer?
Even with having a paid service, Hulu may recognize that you are using a VPN because your IPv6 number is showing them your true location.
The IPv6 is an updated version of the IP address that you may be familiar with, with the big difference being that while IPv4 is limited to 4 billion options the IPv6 string is much longer and has limitless possibilities.
As we mentioned above, even if you have a VPN that redirects your IPv4 address it may leave your IPv6 exposed (although the recommended VPNs above all have leak protection or disable the IPv6) and then Hulu will see the contradicting IP locations and block the user.
If you don't want to rely on the VPN to block the IPv6 you can manually turn it off. Open the Network and Sharing Center, click on your internet connection and then a popup window will appear. Click on the "Properties" button and uncheck the Internet Protocol Version 6 option.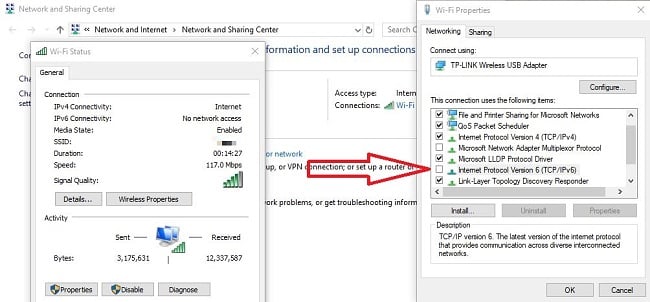 By disabling your IPv6 leaks, you will be allowed to continue enjoying your favorite shows wherever you are.
5 Tips To Fix Your VPN For Hulu if it isn't Working
If Hulu isn't working with your VPN, there are a few steps you can take to regain access to the streaming site.
1. Preliminary checks
If Hulu detects that you're using a VPN to access their service, the first thing you should do is contact your VPN's tech support to find out what is going on. Once you've spoken with them, you can continue with the next steps.
2. Check your IP address
It's always a good idea to check what IP address you're connected to. You will need to find out what city or region your current IP address is located in. If this region is very close to your actual location, you won't be connected to your VPN so you can try reconnecting to the service. You'll also want to ensure that you have an IP address that's based in the US, or Hulu won't let you access their service.
3. Flush the DNS
Some countries will intentionally muddle your DNS entries from your ISP to further block your access to geo-restricted sites like Hulu. In these circumstances, you'll need to clear your DNS cache so that you can connect your computer to your VPN's correct DNS settings.
4. Manually configure DNS and proxy settings
Sometimes your computer might not automatically connect to your VPN's DNS and proxy settings so you'll need to set them up manually. Most VPN's will have an online guide or tutorial you can follow to complete this task, or you can speak with your VPN's customer support and get them to walk you through it.
5. Change your VPN
The final solution if your VPN isn't working with Hulu is to change your VPN entirely. We'd only use this as a last resort, especially if you've already paid for a VPN service. Some VPNs offer money-back guarantees, so don't forget to check if your current VPN has a similar deal. When changing you're VPN, make sure you opt for their free trial or ensure they have a money-back deal so you can try out their service with Hulu before committing to their fees.
On What Devices Can I Watch Hulu With A VPN?
Hulu is a fantastic streaming service and they don't limit their users to a particular device. Here is a list of all compatible devices you can stream Hulu on:
Android phones and tablets

Apple TV (4th generation or later)

Chromecast

Echo Show

Fire Tablets

Fire TV and Fire TV Stick

iPhones and iPads

LG TV (select models)

Nintendo Switch

Mac and PC browsers

PlayStation 3 & 4

Roku and Roku Stick (select models)

Samsung TV (select models)

Windows 10

Xbox 360

Xbox One
As Hulu doesn't have many limitations when it comes to the device your streaming from, your VPN will be the real determiner when it comes to what you can stream on. That's why it's important you pick a VPN that is compatible with a wide variety of platforms and devices.
How Many Devices Can I Stream Hulu Simultaneously?
The number of devices you can stream Hulu on all depends on your VPN and your Hulu account.
With Hulu, while they allow you to connect an unlimited number of devices, they only let you stream on one at a time with their standard plan. However, you can upgrade your Hulu account to a premium plan and gain the freedom to stream on an unlimited number of devices as well.
Each VPN will have their cap on the number of devices you can connect to simultaneously. For example, ExpressVPN allows you to connect up to 5 devices at once.
Will Using Hulu And A VPN Slow My Connection?
As long as you have a quality VPN, using it in conjunction with Hulu shouldn't slow down your connection speeds. A VPN typically causes your connection to slow down as it runs your traffic through a longer hidden route to its destination. While this can be a hindrance, a premium service has been able to find a solution to this issue so you won't even notice the difference.
In the best cases, the VPN's speed is so fast that you can stream Hulu shows and movies without ever seeing a loading or buffering screen. But for that to happen, you will need to invest in the higher grade providers as they seem to be the only companies who can achieve this.
It's also important to note that while a VPN can slow your connection, it can also speed it up. In some circumstances, ISPs throttle internet connections especially when you're streaming content on sites like Hulu. By investing in a VPN, you'll be hiding your activities from your ISP and they won't be able to throttle your connection. It's a great benefit when this occurs, but it's just as common for you to have slow internet speeds at home or work which unfortunately can't be improved upon with the use of a VPN.
Get a VPN and Start Enjoying Hulu Today
Top Choice
If you do not reside in the United States, then you are one of the many that are unable to reap the benefits that Hulu offers.
Get a fast VPN with unlimited bandwidth that can bypass the Hulu geo block and enjoy all your favorite shows without any problems.