Does a VPN Hide Your IP Address When Torrenting?
Last Updated by Valentine Milner on July 22, 2021
Torrenting is a great way to share content online, and P2P networks like BitTorrent and uTorrent make it easy to manage. However, despite the benefits, there is also a fair share of disadvantages.
Your IP address can be exposed to any number of individuals and servers when downloading and seeding torrent files, which can be a risk to your online security and privacy.
A VPN can mask your real IP address from spying third parties (like hackers), so I always recommend one when participating in P2P networks.
How a VPN Hides Your IP Address
A VPN encrypts your internet traffic and reroutes it through its own server network, thereby hiding your IP address. This keeps your personal data safe at all times from third-party hackers, web trackers, and even your ISP.
Be aware that some torrent content is copyrighted, therefore illegal to download and seed. Since ISPs can track and record online activity, you can incur a copyright infringement notice; this is more common in Australia, Canada, Germany, Sweden, and France, as well as in the USA.
My team and I don't condone illegal torrenting, but it's important to know how to torrent safely. Make sure the torrents you download are copyright-free, and use a VPN to keep your personal data and identity safe from malicious third parties on torrent sites.
How Can You Set Up Your VPN to Mask Your IP Address When Torrenting?
Sign up to a VPN service provider. Avoid using free VPNs as heavy traffic, and limited speeds make torrenting difficult.
Download and install the VPN software.
Using the app, connect to a suitable server. Test to see if your location is hidden by visiting whatismyip.network.
You will see the IP address of the VPN server.
Your identity is now protected, and you can safely download torrents.
Best VPNs for Torrenting
1

ExpressVPN For Anonymous Torrenting
Unlimited bandwidth
Fast speeds
Strict No Logging Policy
AES-256 security encryption with OpenVPN protocol
Not within the jurisdiction of the surveillance alliances
ExpressVPN often tops most VPN review lists, and it's also impressive for torrenting. Offering robust security, excellent connection speeds, and no data restriction when torrenting. Therefore, you can download torrents on any of their wide range of servers all around the globe.
The website includes an entire section of extensive support and guidelines on how to use uTorrent with ExpressVPN.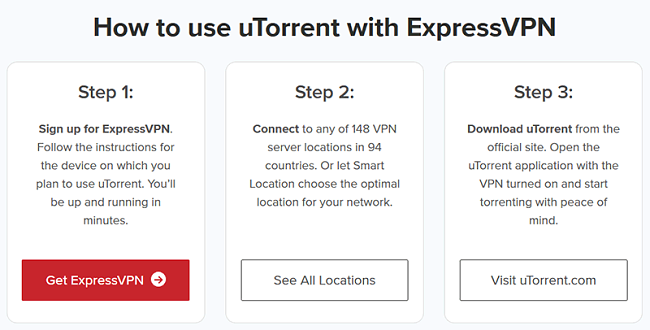 The network consists of over 3000 servers optimized for speed, with 24/7 customer support, support for up to 5 devices simultaneously, and a 30-day money-back guarantee.
2
CyberGhost VPN for Total Torrenting Privacy
Unlimited bandwidth
Allows shared IP Addresses
Enhanced web security
No customer activity logs
256-bit security AES security encrypted VPN Tunnel
CyberGhost VPN is a Romanian based VPN service provider which continues to see its popularity increase because of their strong privacy and security policies and software features like ad-blocking, which improves web-browsing and torrenting.
CyberGhost's firm stance on privacy is clearly stated. We're not aware of any court case or issues questioning their privacy guarantee; something that many VPNs have suffered lately.
CyberGhost has customized its service to create a comfortable torrenting environment. The desktop client has an integrated Anonymous Torrenting Mode, which launches your preferred torrent client and connects you to an optimized P2P server location automatically. Combined with strict transparency and no logging policy, CyberGhost is an ideal VPN for safe and efficient torrenting.
If you download torrents, don't underestimate the importance of online security.
A reliable VPN service can provide you with online anonymity, an added layer of protection from malicious content, and improve your torrenting experience.
ExpressVPN and CyberGhost VPN won't let you down.
---
Summary: These Are The Best VPNs for Torrenting in 2022
Top Choice