Bring your designs to life with the easy-to-use SketchUp modeling platform. It allows you to create 3D models of buildings, parks, interior design, landscape architecture, video game design, and more. Basically, if it has a face or an edge, you can create a to-scale model to help visualize your project.
While SketchUp no longer has completely free software to download, you can try it for free for 30-days — no credit card required.
How to Download SketchUp Pro for Free (30-day trial)
Click on the Download on the sidebar button to jump directly to the free trial page for SketchUp.
Before you can download the program, you'll have to create a profile and an account. The first step is to choose why you want SketchUp, then click the Login or Create Account button.

If you don't have an account, you can either create one now or log in using your Google or Apple account.
After you create your account, you'll have to choose an interest and agree to the data collection policy. You can also opt-in for emails and tips. Then click Start Trial.
You will be redirected to your new dashboard – click on My Products.

Click on View Included Applications, and a drop-down menu will open with the apps that come with the free trial. Find SketchUp Pro and click Download.

Choose the latest Pro version for your operating system and click Download.
Once the file finishes downloading, double-click it to open the installation wizard and choose Install.
As part of the SketchUp Pro package, two other programs, LayOut and StyleBuilder, will also be installed on your computer.
How to Uninstall SketchUp Pro
If SketchUp Pro isn't the right CAD software for you, or the 30-day free trial has ended and you don't want to get the paid subscription, you can easily remove the program from your computer. If you're still looking for a free CAD program, check out the SketchUp alternatives here.
Type Add or Remove Programs in your Windows search bar.

Scroll through the list of programs until you find SketchUp Pro and click Uninstall.

The Uninstallation Wizard will open, click Remove, and the software will be removed. This won't delete the programs you designed, although you will need a CAD viewer to open them in the future.
This will not remove LayOut and StyleBuilder, but you can follow the same steps to remove them as well.
SketchUp Pro Overview
SketchUp is a computer-aided design or CAD software that can be used by anyone, from professional engineers and architects to students. Using a patented "Push-and-Pull" method, it's easy to design and edit 2D and 3D models. This method allows you to take any flat surface and extend it, creating a 3D shape. Simply select the object with your mouse, and you can pull or stretch it out until you get the design you want.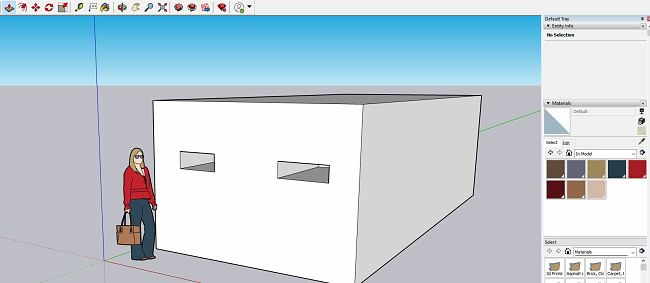 SketchUp Pro includes:
Drawing layout functionality
Surface rendering
Third-party plugins from the Extension Warehouse.
SketchUp is commonly used by architects, interior designers, landscaping professionals, and video game developers. As 3D printing becomes more mainstream, it's expected to be a useful tool for people creating 3D models for printing purposes.
All the Tools You Need
SketchUp is the Photoshop of the CAD industry. It has all the tools you need to create your 3D model, and once you get the hang of it, it's very easy-to-use. One feature I really like is the built-in tutorial that explains what each tool does and how to use it when it's selected.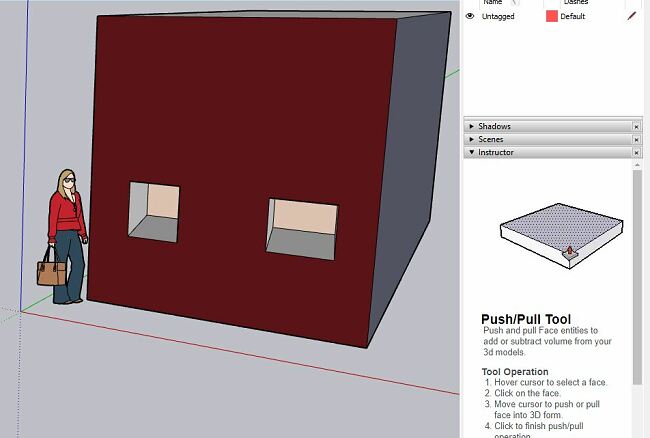 The tools include:
Select Tool: Choose the section of the model that you're working on.
Eraser: Remove the selected design component.
Draw lines: You can choose to draw straight lines or freehand.
2 and 3 Point Arc: Add arcs to your design.
Draw shapes: You can add squares, rectangles, circles, and polygons.
Push and Pull: Strech shapes and lines to create 3D images.
Offset tool: Create copies of lines and shapes at a consistent distance from the original.
Move: You can move, stretch, or copy design elements.
Rotate: Change direction, distort, or copy design elements.
Scale: You can choose an element and resize it relative to another portion of the model so you can properly scale the model.
Tape Measure: Measure distances between two points.
Text: Add text to your model.
Paint Bucket: Choose colors or textures for each part of your model.
Orbit: Rotate the screen to get a 360-degree view of the design.
Pan: Change your view vertically and horizontally.
You can also go to the Extension Warehouse and download free extensions that can help you to perfect your design.
Plenty of Template Designs
SketchUp comes with several different templates to help get you started, including:
Simple
Architectural
Urban Planning
Interiors
Plan View
Landscaping
Woodworking
3D printing
There are also user-generated templates that can be installed from the 3D Warehouse.
These templates make it easy to add specific elements to your design, such as a TV or couch to an interior design or even an airplane if you're designing a tall building and want to use it for scaling purposes.
SketchUp is Compatible with Google Earth
One of the unique features that won't get with other CAD software is the option to export your work to Google Earth. You can add Geolocation tabs, and the model will appear on the map. This can be helpful if you're designing a park or a building and want to see how it will look in the neighborhood or share it with clients, professors, or friends. You can also take on the challenge of creating a to-scale model of a landmark and publicly adding to the 3D map.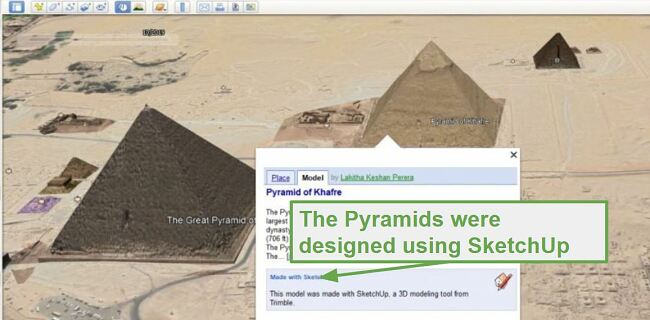 Free Alternatives to SketchUp
AutoCAD: One of the oldest Computer-Aided Design programs, AutoCAD, is free for students and educators. It has a wide range of tools for designing 2D and 3D models. It uses high-quality rendering to make the models look realistic.
Blender: A free, open-source software, Blender has many of the same tools as the expensive premium programs. It can be used for building 3D and 2D models, animating films, special effects, interactive 3D applications, VR, and more.
FAQ
Is SketchUp free?
While SketchUp used to have a free program to download, it has been discontinued. It still has a limited browser-based program that can be used for free. If you want the full, free access to SketchUp, follow the instructions above and get a 30-day free trial.
What formats can I export Sketchup designs?
With SketchUp, you can export your 2D SketchUp designs as JPG, BMP, TIFF, and PNG. 3D Models can be exported as 3DS, DEM, DDF, DWG, DXF, and SKP. Video scenes and moving elements can be exported with MOV and AVI formats. You can also export your files to Google Earth and share them with teammates, colleagues, or the world.
What are LayOut and StyleBuilder?
You might notice two additional programs are installed along with SketchUp: LayOut and StyleBuilder. They are part of the SketchUp Pro bundle and give you additional tools for creating your models. LayOut is a 2D documentation tool that lets you add notes to your models. StyleBuilder is an excellent tool if you want to design your own styles and templates.
Visit SketchUp Pro Website