Happy Wheels is an online racing game software with a simple objective: last as long as possible. With a variety of courses, characters in wheelchairs, bikes, tractors, and more, you must survive the physics of obstacle tracks using keyboard controls or meet semi-violent damage.
Follow the instructions below and I'll show you how to download Happy Wheels for free. Take note, you will need to use an Android emulator, such as BlueStacks to play the game on your PC.
How to Download and Install Happy Wheels for Free
Click the Download button on the sidebar and the Happy Wheels download page will open on APKPure.
Click the "Download XAPK" button and the file will automatically download to your computer.

If you have not done so yet, you will need to download an Android emulator before continuing. I recommend BlueStacks since it's fast, secure, and works better than other emulators I've tested.
Once the file download is complete, double-click it and the emulator will unpackage and install the game.
When it's complete, you will see the Happy Wheels icon on your desktop. You can open the game by clicking the icon or opening BlueStacks and locating the game under the My Games tab.
How to Download Happy Wheels for Android (APK version) for Free
If you want to play Happy Wheels on your Android but can't because of firewalls that block game downloads or it's not available in your region, here are steps you can take to bypass those restrictions and install Happy Wheels on your phone or tablet. Before getting started, make sure that the Allow Unknown Installation option in your Android security settings is set to Yes.
Click the Download button on the sidebar, and a new tab will open to the Happy Wheels download page on APKPure.
Press the Download XAPK button, and the file will download to your computer.
Don't open the APK file. You need to transfer the file to your device. This can be done by using your USB and connecting it to the computer or via a wireless file-sharing app like ShareIt or Google Drive.
When the transfer is complete, tap on the file on your Android device and it will install Happy Wheels like any other mobile app.
How to Uninstall Happy Wheels
If you've mastered Happy Wheels or want to expand your racing skills, check out these free alternatives below.
To remove the game, you will have to delete it through your Android emulator, since that is where it was installed. For this example, I'm using BlueStacks, but the process is similar for most Android emulators.
Open BlueStacks and locate Happy Wheels under the My Games tab.
Right-click your mouse over the Happy Wheel icon and click Uninstall.

Confirm you want to delete the game and the emulator will completely remove it from your system.
Happy Wheels Overview
Happy Wheel is a racing game with a twist. Instead of just trying to beat other players to the finish line, you can try and stop them by hitting them with your chosen mode of transportation and watch as their limbs fly off and blood covers the race track. But beware, other players are gunning for you. It's not just a race to the finish, it's a race for survival.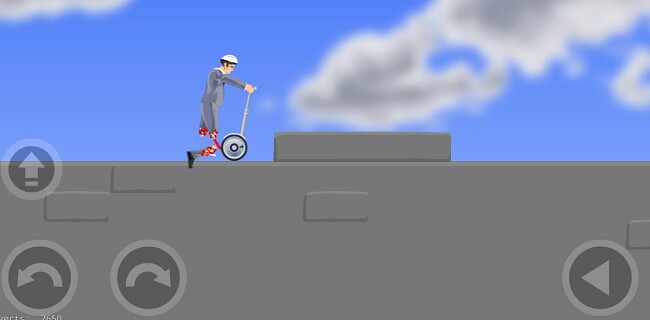 Choose from different characters including a father and baby on a bike, old man in a wheelchair, and an obese woman in a motorized scooter. The game has been played over 13 billion times and players have added over 5 million levels to the game.
Happy Wheels Features
Variety of courses: You will never grow tired of navigating and racing through the endless obstacles. From BMX to Speed Bridge, each level brings different characters, balances, and challenges.
Level replay: Proud of an epic win or a gnarly crash? You can select "level replay" to rewatch your favorite moments of your gameplay.
Easy controls: The game controls are not too overwhelming and include the arrow keys, spacebar, and shift, ctrl, and "z."
Free Alternatives to Happy Wheels
Grand Theft Auto: San Andreas: With the largest map of any of the GTA games, San Andreas can entertain you for hours. Help CJ solve his mom's murder by reconnecting with gangs, following hundreds of missions, and driving fast cars. You can also skip the story mode and just enjoy driving around stealing, fighting, and meeting interesting characters around the city.
Need for Speed: Most Wanted: Find the fastest and rarest cars in the world and race them in the sandbox game, Need for Speed: Most Wanted. This isn't your typical racing game, the street races aren't exactly legal and you'll have to avoid the police as you make your way to the top of the Most Wanted list.
FAQ
Is Happy Wheels free?
Yes! Happy Wheels is free and If you follow the directions from above, I'll show you how you can download this mobile game and play it on your PC.
Is Happy Wheels secure?
Happy Wheels is a safe game that has no viruses or malware infecting it. I tested the APK file and didn't find any issues, both on my phone and computer, so you can download it and start playing today.
Is Happy Wheels a violent game?
There is some cartoon violence and gore in the game. Limbs can fall off and the track is often covered in blood and body parts. However, the graphics are not realistic or disturbing.
Does Happy Wheels still work?
There were some rumors that Happy Wheels would die out once Adobe removed support for Flash at the end of 2020. However, the development team was able to create a Java-based version, so the game lives on. There have been rumors circulating about a sequel, although nothing has been released yet.
Visit Happy Wheels Website