Although he left his life of crime, CJ (Carl Johnson) is forced back into his old ways as he tries to solve his mother's murder. With a new cast of characters, cool cars, and the biggest Grand Theft Auto map ever, San Andreas can provide hours of non-stop entertainment. Complete more than 100 missions or just travel around the city looking for cars, weapons, and money, San Andreas is where it's all taking place.
To download Grand Theft Auto: San Andreas for free, you will need to first download an Android emulator, like Bluestacks, and the HappyMod Android marketplace on your PC
How to Download and Install Grand Theft Auto: San Andreas on PC for Free
Click the Download button on the sidebar, and a new tab will open directly to the Grand Theft Auto: San Andreas download page.
Press on the Download APK button, and the file will instantly start downloading to your PC.

If you haven't installed an Android emulator like Bluestacks, you should download it now.
After the APK file download is complete, click on it, and your Android emulator will extract and install the file.
The Grand Theft Auto: San Andreas logo will appear on your desktop after the installation is complete. You can either open the game by clicking the desktop icon or find it in the Android emulator.
How to Download Grand Theft Auto: San Andreas for Android (APK Version) for Free
While Grand Theft Auto: San Andreas is not free through the Google Play Store, I found a way to download a free mod version of the game through HappyMod. Once installed on your computer, you can transfer and install it on your Android device.
Click the Download button on the sidebar, the Grand Theft Auto: San Andreas download page will open in a new tab.
Press the Download APK button, and the file will automatically download to your computer.
After the download is finished, use your USB cable to connect your Android device to your computer to transfer the file. There are also wireless ways to transfer the file, sending the file as an attachment through WhatsApp or Google Drive.
Go to your Android device, and change the privacy settings to allow installations from unknown devices.
Open the APK file that you transferred to the phone and run the installer.
Confirm that you want to install the app, and accept the required permissions for the game to run properly, and the installation will run like any other app.
How to Uninstall Grand Theft Auto: San Andreas from your PC
If Grand Theft Auto: San Andreas isn't the right PC game for you, check out some of these other action-packed free PC games below. You can easily delete the game from your PC. The process is slightly different from most Windows programs since the file in APK format is located in your emulator's Android environment. The following steps are done using Bluestacks, but the process is similar with most emulators.
Open BlueStacks and press on the My Games tab on the top menu bar.
Hover your mouse over the Grand Theft Auto: San Andreas icon and right click your mouse.

Click Uninstall.
When the dialogue box opens, confirm that you want to delete the app, and it will be completely removed from your computer.
Grand Theft Auto: San Andreas Overview
The fifth game in the GTA series finds Carl Johnson (CJ), a reformed gang member, being forced back to criminal ways to avenge his mother's death. Take control of CJ and help him navigate his way through the city he grew up in, and meet some of the characters from his past as he tries to solve the crime. Grand Theft Auto: San Andreas is played from a third-person perspective in an open-world environment that gives you a choice to either follow the story, looking for clues and meeting contacts, or have fun stealing cars and money, beating up pedestrians, and avoiding the police.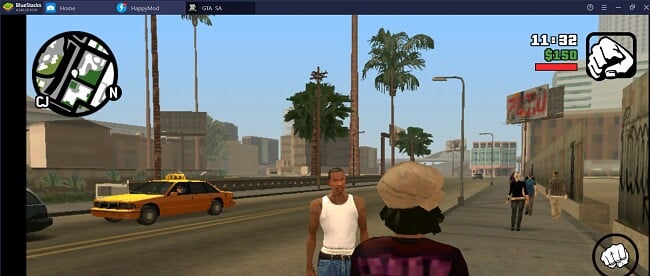 To win the game, you will have to collect weapons and steal cars to avoid rogue police officers and gang members looking to hide the truth. However, if you follow the missions, you'll help restore CJs old gang and take back San Andreas. Despite his desire to leave the criminal world behind, CJ has no choice and will have to rob banks, steal cars, and beat up cops to complete his missions.
You can play the game at your own pace, and if you want to take a break from the main missions and just hang out in San Andreas, you'll find there is a lot to see and do.
Grand Theft Auto: San Andreas Features
Improved AI: Rockstar significantly improved the AI features from previous versions of GTA. While you used just to be able to bet up random pedestrians or steal cars without really fearing repercussions, now, you have to watch out as rival gang members or armed civilians may join in to stop you. On the other hand, you may also find help in fellow gang members in the area as they come to protect CJ. You can also see the improved AI when you hit a car. The driver may leave his vehicle and attack you.
Huge Map: Grand Theft Auto: San Andreas is six times bigger than Vice City, the previous GTA versions. San Andreas is made up of three different cities, and each one has a unique landscape, weather, gangs, stores, and more. This gives players the freedom to spend hours driving around and finding new missions that aren't related to solving the murder of CJs mom but are fun nonetheless.
More than 100 different missions: Speaking of missions, you'll have more than 100 missions to complete as you navigate through the extensive storyboard for this game. The tasks involve infiltrating a military facility, pursuing thieves on quad bikes, conducting a bank heist, engaging with remote control plane targets, and many other activities.
Personalize CJ: Visit the shops in San Andreas and purchase new clothes and accessories for CJ, including visiting local tattoo artists.
Modify your vehicles: Use mods to customize and improve your cars. From new bumpers, rims, tires, and even the upholstery, you can modify your car, so it looks and performs perfectly. This is more than just a cosmetic improvement, the nicer our car, the more street cred CJ will have with the gangs, and the better he'll do with the ladies.
Free Alternatives to Grand Theft Auto: San Andreas
FAQ
Is Grand Theft Auto: San Andreas free?
Is a modded version of Grand Theft Auto: San Andreas secure?
Do I need an Android device to use Bluestacks?
Bluestacks is a free software that you can download without needing to connect it to an actual Android device. However, if you want to save your progress in Grand Theft Auto and play on multiple devices, you will need to login into your Google account.
Download Grand Theft Auto: San Andreas now!