Canva is a perfect solution for a small business that wants to create beautiful marketing materials on a budget. With Canva Pro, there is no need to hire a graphic designer to get the job done. It comes with a large selection of templates, fonts, stock images, and even learning workshops.
The cloud-based platform has drag-and-drop functionality, so you can have your banners, flyers, menus, and reports looking exactly how you want.
While Canva Pro is a premium program, follow the instructions below, and I'll show you how you can get your first 30 days free of charge. Please note, you will have to add your credit card or PayPal information, but your account won't be charged during the first 30 days.
How to Download Canva Pro for Free
Go directly to the official Canva Pro website to create your account.
Press the Start Your Free Pro Trial button.

You will need to create a free account to get started. The options are signing up through Google, Facebook, or your email address.
Choose a Yearly or Monthly plan and click Next.
You will have to choose a payment method and enter your credit card or PayPal information. Canva will not charge your account until the end of the 30 day trial. If you don't cancel your account, you will be charged for a monthly or yearly subscription, depending on which plan you choose. Canva will send you a reminder email three days before your free trial ends. Once you enter your payment information, press the Get Your Free Trial button.
Once your account is verified, you can start using the web-based editor.
Canva has apps for Windows, Mac, Android, and iOS. Once you're logged in to your account, hover your mouse over the Features section on the menu bar. There is a Download section on the right side. Choose the one that is applicable for you.

A new page will open, press the Start Download button, and the setup file will automatically download to your computer.
Open the file and Canva will install on your computer.
Canva Pro Overview
Canva Pro is an all-in-one graphic design tool. You don't need any experience to master this program. All you need is an idea of how you want your finished product to look. Either choose from hundreds of templates or start from a blank canvas and design the entire project yourself.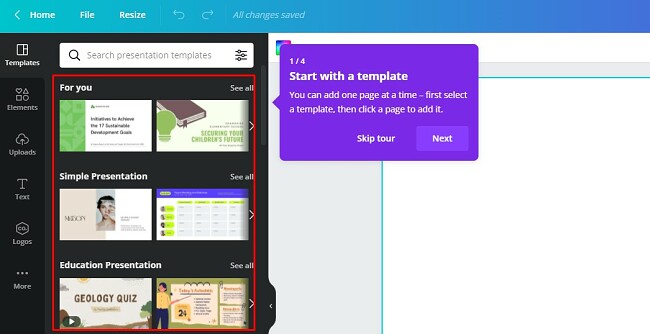 Canva Pro is an ideal design platform for small business owners, entrepreneurs, and marketing professionals who quickly produce professional looking designs. With Canva, you can create everything from billing invoices to infographics and everything in between.
There is a mobile version of Canva for Android and iOS, so you can work on and view your designs from anywhere.
Canva Pro Features
The basics of Canva are very easy to learn. The interface is clean, and everything is clearly labeled. Get started by choosing a canvas size or a template, and get to work. Everything is customizable, if you don't like the color or font size and style, you can change it until you find something that fits with your brand style.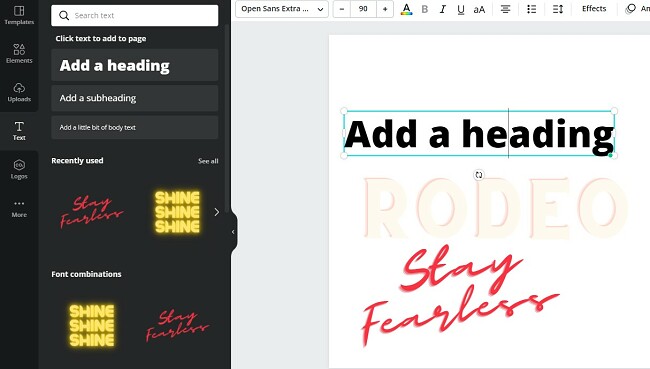 Canva has video tutorials and live webinars that go over everything for people who don't know how to get started or are interested in improving their design skills. Learn the basics of using the Canva app, how to build a successful design for social media, improving your branding, and more.
Building Your Brand
Creating brand awareness is one of the keys to a successful marketing campaign. Customers start to recognize you by the logo, colors, even font style that your company uses. Canva Pro makes it easy to maintain a consistent brand with its Brand Kits feature.

Start by uploading your logo, Canva will recognize the primary colors from your log, or you can choose your own, select the preferred font styles that you want for headers, subheaders, and main content.
Use Animation to Make Your Designs Pop
You can animate all the different elements of your design. This is great for grabbing a potential client or customer's attention as they're scrolling through their social media timelines.
Canva lets you choose a different animation for each element or use the same one for the entire project. You can set up an animation order and a timing schedule so everything moves in sync and stays organized.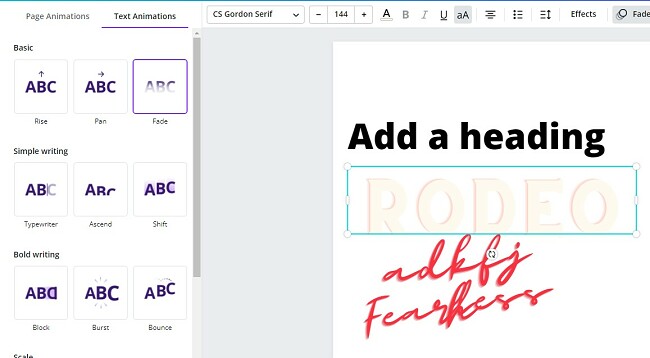 Create a Social Media Content Schedule
Use the Canva Content Planner to stay organized. You can invite team members or collaborators to view and edit the calendar to keep everyone informed about what is coming up so the designs are always ready.
The Canva calendar is updated with all major holidays and days like Cheese Lover's Day, so your posts will always be topical.

You can connect your Calendar to Facebook, Twitter, Pinterest, Slack, LinkedIn, Instagram for Business, and Tumblr and Canva will publish your posts for you.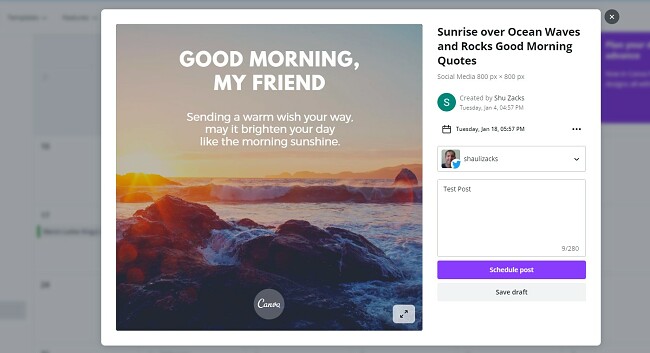 Personalize Your Content
I like that Canva doesn't limit creativity to the templates, stickers, and pictures found in its library. You can upload videos, pictures, and audio recordings and use them in your design. It also has an integrated tool that lets you record directly from your webcam.
All the Elements You Need
There are more than one hundred million elements that you can add to your design. The elements are divided into three main categories; Graphics, Videos, and Audio. There are dozens of subcategories within each category, like shapes, lines, backgrounds, borders, and more. The categories are also updated based on the season, holidays, and other factors.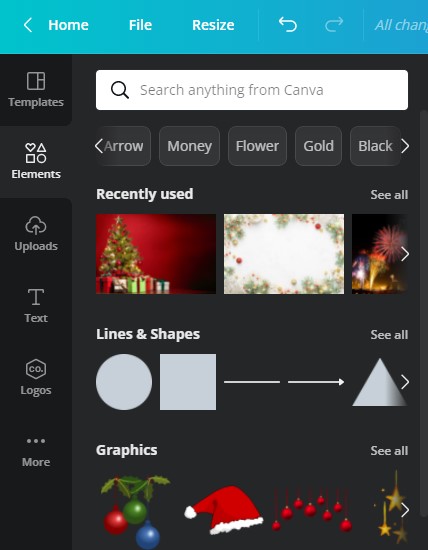 To add an element to your workstation, you can click on it or drag it from the sidebar to your canvas. You can always move, rotate, resize, and animate the elements. If you decide that it's not the right fit, just click the elements and delete them. If you have several elements in the same area, make sure there is a box around the element you want to delete, so you don't accidentally delete the wrong item. Elements you've added will be stored as "Recently Used" on the element sidebar, so it will be easy to find it and place it back on your canvas if you change your mind.
How to Cancel Your Canva Account
If Canva isn't the right graphic design program for you, or you want to downgrade your account to the limited free version, you can do so in a few easy steps.
Log in to your Canva account.
Click on the Billing and Teams button on the left-hand sidebar.

Find your subscription and click on the three dots in the top corner to open the menu. Click Cancel Trial.

A new page will open, asking you to reconsider. Just click Continue Cancellation.
A survey page will ask you why you want to cancel. You need to choose one of the options and then click the Continue Cancellation button.
Canva will make you an offer based on the answer you gave on the survey for a different subscription plan. If you're not interested, click the Cancel Subscription button.
You will still have access to your Canva Pro account until the end of the free trial or billing cycle.
Free Canva Pro Alternatives
Canva Free: Canva has a free plan that uses the same drag-and-drop editor as the Pro version. It comes with over 250,000 templates, free photos and graphics, and 5GB of storage. You can export the designs or upload them to your social media networks when you're done.
Xara: A drag and drop editor that makes it easy to design professional marketing material to promote your brand. Xara has over 16,000 business, marketing, and social media templates. and you can use it completely free.
FAQ
What is the difference between Canva and Canva Pro?
The free version of Canva is a great option if you want to design a flyer, an invitation to an event, or a quick social media post. However, if you're a business looking to promote and market a brand,
you'll be much happier with the Canva Pro features
. It comes with over a hundred million stock photos, videos, graphics, and audio. You can create up to 100 Brand Kits, save designs as templates, use a Background Remover, and the content calendar scheduler, and more.
Is Canva safe?
The Canva security teams have plenty of measures put in place to ensure that your work remains safe while on the site. All designs being uploaded to social networks or shared through the collaboration tools are secured with TLS/SSL encryption. Projects hosted on the cloud-based servers are secured with AES 356-bit encryption.
Visit Canva Website