How to Test if Your VPN is Really Secure
Last Updated by Mor Merige on June 22, 2022
People want a VPN that is able to ensure the security and protection of their data. While some are happy to just trust that a VPN is doing its job, there are ways you can you test if the VPN you use is really protecting you.


When you setup your VPN, there is a possibility that an error has been made, especially if you were setting things up manually, meaning that your data could be leaked, exposing your IP address and personal information, even when connected to your VPN.
We are going to take a look at the various ways you can test if your VPN is really secure.
The methods below will allow you to put your VPN through its paces, so you can either rest assured knowing that you're being protected or install a new VPN before any serious harm comes your way.
1
DNS Leak Test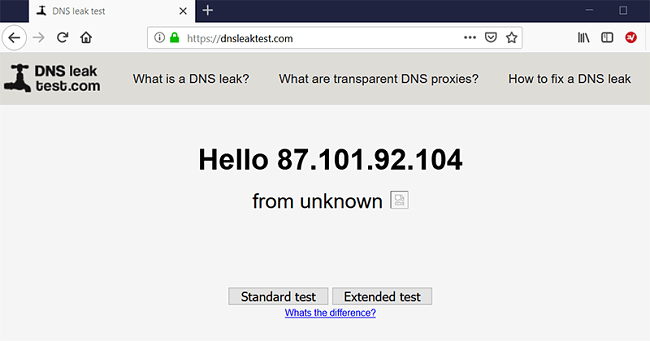 The
Domain Name System
, or DNS, is used to offer
easier access to sites
by translating the domain names to the corresponding IP addresses. Normally, this is your Internet Service Providers (
ISPs) job
. But when you are using a VPN service, your real location is masked, preventing anyone from tracking you. Occasionally, the
translation request leaks from your VPNs tunnel
and your IP address and ISP location is exposed.
Running a DNS leak test is very simple as you only have to connect your VPN to any server outside your country and use a tool like DNS Leak Test to test whether you have a leak.
If the IP address the site finds matches your real location, then you'll know that your DNS is leaking. To avoid a DNS leak, only use VPNs with their own encrypted DNS leak protection .
If you have a DNS leak you can check out this complete guide to plugging that leak here.
2
IP Address Leak Test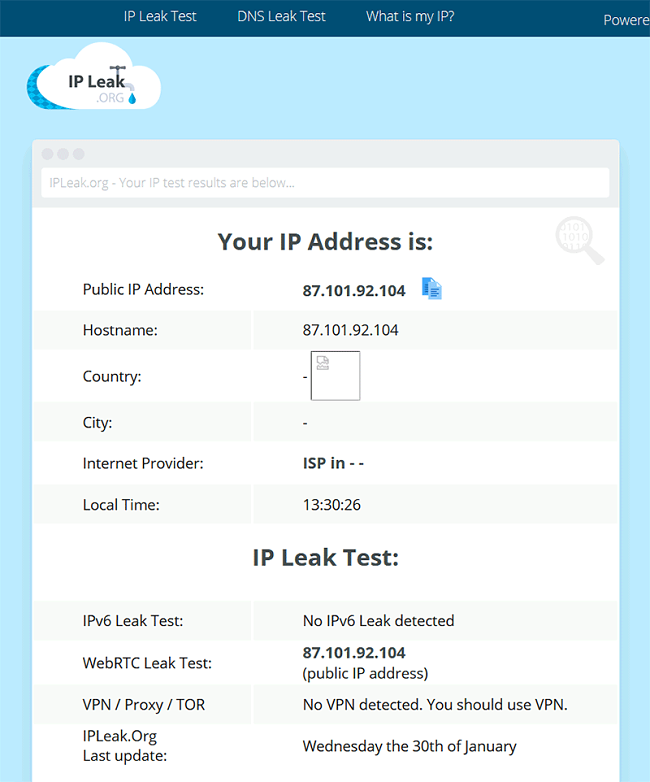 Most VPN services promise to
keep your IP address private
and protected. Sadly, the reality is somewhat different asa recent study found that
84% of Android VPNs leaked users' IP addresses
.
By using an IP leak tester, you are able check your VPN for leaks. You should also test it when you are reconnecting after a connection drop because any decent VPN will have a kill switch blocking all online traffic when it is disconnected.
3
P2P Torrent IP Address Leak Test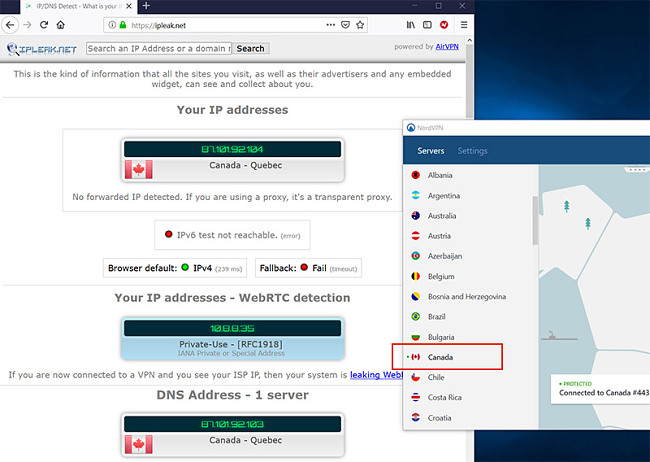 As
VPNs are now more popular with P2P users
, it has become vital to check that this specific security measure is
on and working
. Using a service such as
ipleak
will allow for you to check the torrent IP address and works similarly to a normal IP address leak test.
All you need to do is download the tests *.torrent file on the P2P client, open it and verify the IP information. If the information matches your real IP address and location, you aren't secure.
4
WebRTC Leak Test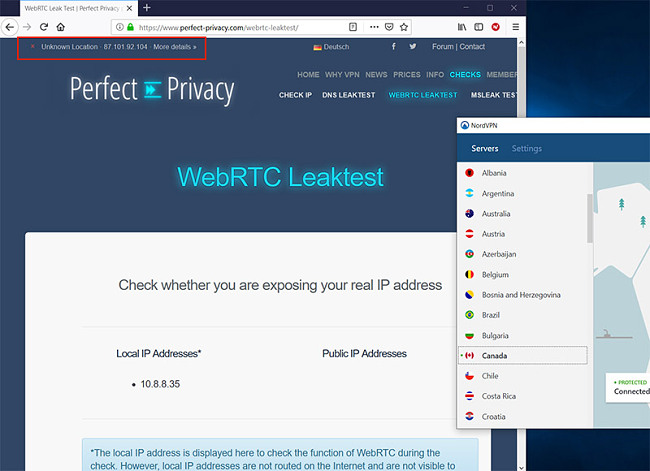 Mainly seen in browsers like Chrome, Opera, and Firefox that allow P2P sharing, WebRTC is an
Application Programming Interface
(API) which is an open-sourced tool that allows video and voice chats in the browser without any external extensions or plugins.
When an IP address leaks through a WebRTC API, it is called a WebRTC leak. By using sites like Perfect Privacy's WebRTC test, you can test whether your VPN has one of these leaks.
If you have found a leak, simply disable the WebRTC in your browser to prevent further damage. For more information on repairing WebRTC leaks check out our guide here.
5
VPN Speed Test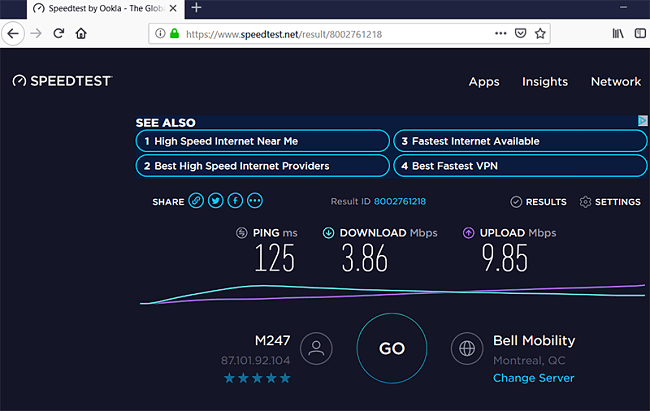 As well as
security and privacy
, your VPNs
speed
is an essential aspect of its quality. There are many factors that influence your VPNs speed including but not limited to:
Internet Service Provider (ISP) limitations
Encryption levels
Distance between your device and the server
Number of users connected to the server
Firewall settings
Your device's processing power
If you want to get an accurate reading of the affect your VPN has on your computer you'll have to first run a speed test while the VPN is not turned off, and this will give the baseline speed. Once the test is complete, connect with the server of your choice and run the test again.
Compare the speeds to each other and you'll be able to see the effect that the VPN has on your speed. As a general rule, the closer the VPN server is to your actual location, the faster your speed will be.
If you're not happy with your speed you can try these tips for speeding up your VPN connection.
Top 2 VPNs on the Market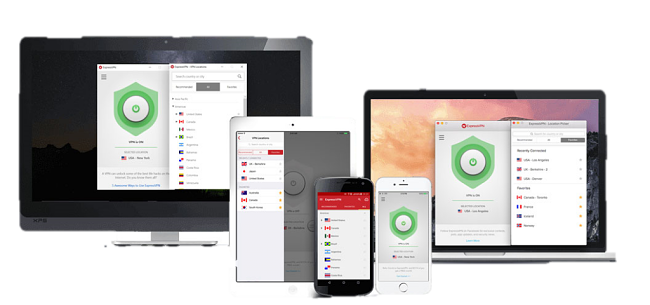 Fast connection speeds
More than 1,700 servers
Top-notch, robust security
Anonymous and highly secure
Unlimited bandwidth
30 day money back guarantee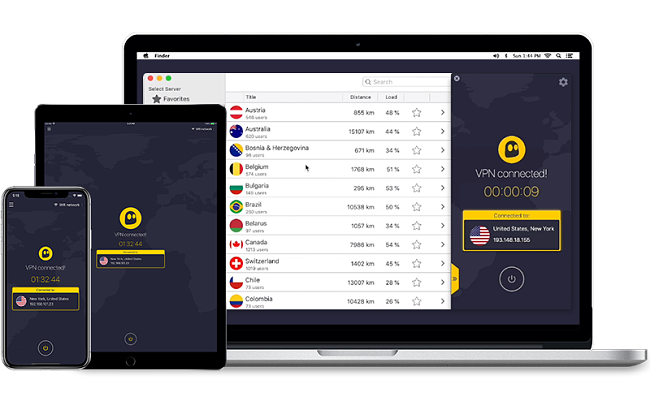 More than 2,700 servers
Fast connection speeds with unlimited bandwidth
DNS leak protection and kill switch
256-bit encryption
Strict zero logs policy
45 day money back guarantee
Final Thoughts
Due to the wide variety of VPNs that claim to give users excellent protection, it is vital that you perform a spot check every now and then to ensure your information is actually encrypted and protected.
Some VPN services, especially free ones, have loopholes and have been proven to sell user information to third parties.
By testing if your VPN is really secure, you can make sure your browsing is anonymous and that your connection will stay private and safe in the event that you are hacked or privy to an online attack.