6 ExtraTorrent Alternatives That Still Work (Tested March 2023)
ExtraTorrent unexpectedly went offline in 2017, possibly because of the legal implications of running torrenting service. Many other websites popped up with the same name, but nobody can confirm if they're safe or full of malware and phishing attacks.
You must use a trusted website when looking for a new place to torrent. Even though my team and I do not support illegal torrenting, knowing how to torrent safely is essential. As is making sure the torrents you download are copyright-free to prevent a violation.
In addition, I recommend accessing torrent websites only via a quality VPN like ExpressVPN. It encrypts your traffic, prevents ISP from throttling your speeds, and keeps you anonymous while torrenting. You can try ExpressVPN completely risk-free with its 30-day money-back guarantee. If it's not for you, you can claim a full refund.
Beware of Sites Claiming to Be ExtraTorrent
After the sudden shutdown of ExtraTorrent, many websites claimed to be the new ExtraTorrent. Some of them looked identical, while others had slightly different interfaces.
ExtraTorrent's final message to its users warned everyone to avoid fake websites and clones. Since there haven't been any official updates, it's safe to say that all lookalikes are still fake. I recommend you stay away from any site using the ExtraTorrent domain name and use the safe alternatives I've tested.
Short on Time? These Are the Top 6 Alternatives to ExtraTorrent (Tested March 2023)
Torrent safely with ExpressVPN
The Best ExtraTorrent Alternatives for Safe Torrenting (Updated March 2023)
1. The Pirate Bay
The Pirate Bay is one of the oldest and most popular torrent platforms with a massive user base. Even though it has had its fair share of legal issues, The Pirate Bay still stands strong as the best torrent site since 2018.
It boasts a vast library of movies, TV shows, games, music, software, and more. Plus, it verifies the authenticity of the uploaders and has a good number of seeders. It also shows whether a torrent is trustworthy or not. I also like how it filters the torrents by format, quality, and console.
The Pirate Bay is banned in over 25 countries, but you can use a quality VPN like ExpressVPN to access it.
Alternate URLs: thepiratebay10.org, tpbpirateproxy.org, proxybay.xyz, thepirate-bay.org
2. Torrent Galaxy
Torrent Galaxy's website is well-designed and user-friendly. You can find all the latest movies, TV shows, games, music, and software here. Plus, all the torrents are verified for authenticity and have a good number of seeders. Some of the torrents even have built-in streaming, which is a great feature.
I was pleased to see that the ads on Torrent Galaxy aren't very intrusive. The only downside is that Torrent Galaxy is banned in a few countries, so you need to use a VPN to access it.
Alternate URLs: torrentgalaxy.mx, torrentgalaxy.su, torrentgalaxy.to
3. YTS
Originally known as YIFY, YTS is now one of the most popular movie-only torrenting sites with a great selection. Plus, all its movies are available in HD quality but are relatively small in size. It uses x264 encoding format, which means you can find high-quality movies in 3D, 1080p, and even 4K on YTS.
The website has an easy-to-navigate interface with categories like genre, popularity, IMDB rating, etc. You can also see what languages a particular movie is available in if it has subtitles, and check out the trailer before downloading the torrent.
The site has faced many anti-piracy lawsuits but remains popular because of its quality content and smaller file sizes.
Alternate URLs: yts.pm, yts.unblockit.app, yts.lt, yts.unblockit.buzz
4. 1337x
1337x is one of the oldest and biggest torrent libraries with over 10 million active users. It's a general-purpose platform where you can find movies, TV shows, games, software, and more.
It uses the BitTorrent protocol and indexes magnet links and .torrent files to provide users with a vast library of content. I like that it provides technical details such as award nominations and the number of downloads for each torrent file.
Although I found a few fake torrents on 1337x, the overall quality of the platform is good. Plus, it has a dedicated community that verifies the authenticity of every new upload. It also has a large number of seeders for most of the popular torrents so that you can download them quickly.
Also, the site seems to have changed domain names to avoid the Google ban. Currently, it's using .to and .se domains as its primary domains.
Alternate URLs: x1337x.eu, 1337x.to, 1337x.st, 1337x.unblockit.app, x1337x.se, 1337x.unblockninja.com
5. LimeTorrents
LimeTorrents is another well-known platform with a huge user base and an extensive library of movies, TV shows, games, software, etc. It's one of the few sites that verify the authenticity of every new uploader. So, you can be sure that all the torrents are safe to download.
I also like that it has a dedicated section for new and popular torrents. This makes it easy to find the latest content. Plus, it also has top 100 lists for new movies, TV shows, games, music, etc. (although these are probably under copyright protection and may be illegal to download). This is a great way to discover new content, but ensure you're not breaking any laws.
LimeTorrents' colossal database doesn't have torrents of its own. It indexes the user-submitted files from other well-known torrent websites. Although it's good for the latest content, it may not be useful if you want to download older content mainly because of the lack of seeders.
Alternate URLs: limetorrents.asia, limetorrents.zone, limetor.com, limetorrents.in, Limetorrents.info, limetor.club, limetor.pro
6. RARBG
RARBG is one of the oldest and most reliable torrenting websites, thanks to its moderators and verified uploaders. It's been around for over a decade and has a massive fan following. The website boasts an extensive movie library with high-quality video content.
RARBG remains true to its name by providing only verified torrents from trusted sources. You can always find new and old movies, TV shows, games, music, software, and more on RARBG.
Countries like the UK, Australia, Turkey, India, and Saudi Arabia have blocked RARBG, but you can access its mirror sites (if not the main domain) using a VPN.
I recommend using a VPN that comes with an ad blocker, like CyberGhost, while browsing RARBG, as there are a ton of pop-ups and banners.
Alternate URLs: rarbgprx.org/index70.php, rarbg.is/index8.php, rarbgmirror.com/index70.php, rarbgmirror.org/index70.php, rarbgaccess.org/index70.php
Use a VPN to Remain Safe While Torrenting
File-sharing in any form leaves you vulnerable and could compromise your online security. Generally, people overlook this while torrenting as they are more concerned about compromising upload/download speeds. The reality is that it's much more important to keep your anonymity intact.
I highly recommended using a VPN if you plan to visit or use a torrenting site. With the nature of some available content, every click is a potential risk. Third parties or even other users could observe your data; therefore, it is imperative that you attempt to protect your anonymity as much as possible.
Your ISP may even throttle your speeds if they catch you torrenting. A quality VPN prevents throttling by encrypting your data and making it unreadable to anyone trying to track it.
Stay protected with ExpressVPN
Quick Guide: How to Use a VPN for Torrenting
Torrent safely with ExpressVPN
The Best VPNs for Torrenting (Updated March 2023)
Key Features:
ExpressVPN is hands-down the fastest of all the VPNs I've tested for torrenting. I tried downloading two copyright-free files (sized 890MB and 920MB) on The Pirate Bay, and it took me a little over a minute to download both. The speeds were even higher than my normal connection since it prevents ISPs from throttling speeds by hiding what you're doing online. I recommend using its Lightway protocol, which is significantly faster than the other two – OpenVPN and IKEv2.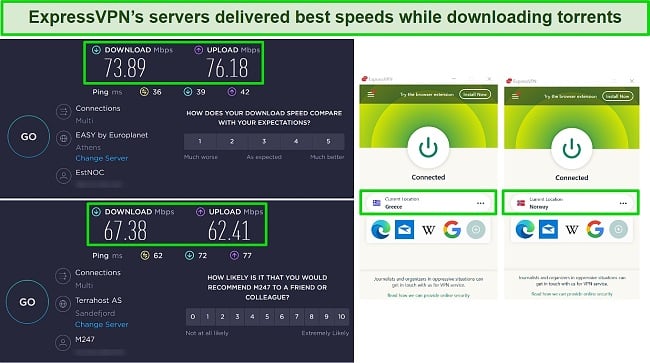 Equipped with world-class security features, ExpressVPN lets you torrent safely.
It uses military-grade AES-256-bit encryption, which is virtually impossible to crack.
The automatic kill switch immediately cuts off your internet connection if your VPN connection unexpectedly drops. This ensures that your identity and data are never exposed, even for a second.
It provides strong leak protection. My IP and DNS server details were never exposed in the leak tests.
Based in the British Virgin Islands, which falls outside the 5 and 14 Eyes Alliance, ExpressVPN is not legally bound to share user data with government agencies.
Also, it has a verified no-logs policy meaning it doesn't store your personal data. On top of that, it uses RAM-only servers, which automatically clear all data upon reboot.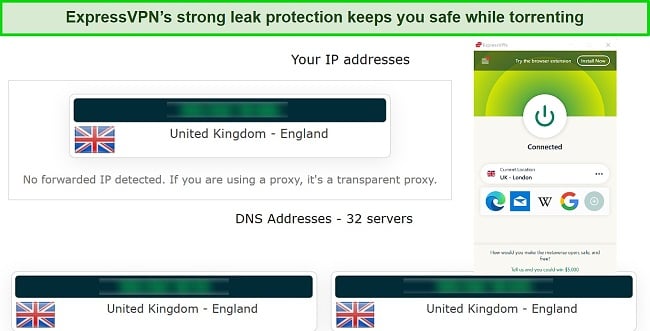 ExpressVPN has native apps for Windows, Mac, iOS, Android, Linux, and routers, so you can use it on any device you own. The apps are intuitive and easy to use, and you can connect to your favorite in just a couple of clicks. On top of that, you can connect 5 devices with one account at a time, so you can secure all your devices while torrenting.
When I checked its plans, I found them to be on the pricier side but fair, given the security features and speeds. Its 1-year + 3 months plan is the cheapest starting at $6.67.
The good thing is you can try ExpressVPN risk-free with its 30-day money-back guarantee, which means you can get your money back if you don't like the service. I tested its refund policy myself by asking the agent to cancel my subscription through live chat and got my money back in 4 days.
Get ExpressVPN for safe torrenting
Key Features:
CyberGhost has over 9736 servers in 91 countries, including optimized P2P servers to give you the best possible speeds for downloading files. It's easy to find its torrenting-optimized servers on the app since they're clearly labeled. I connected to one of its optimized servers and got speeds of around 55 Mbps, almost 10% higher than the speeds I got on its regular servers.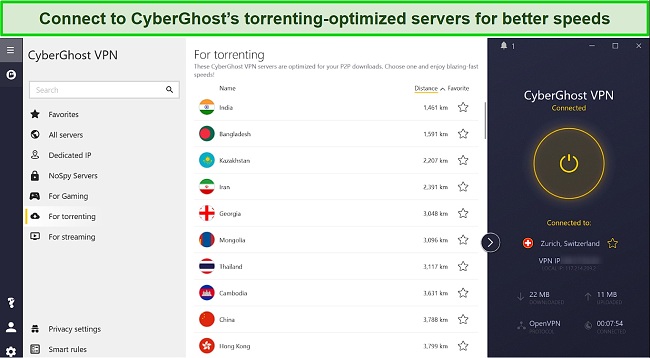 When it comes to security, CyberGhost has you covered with:
Military-grade AES-256 bit encryption, an automatic kill switch, and DNS leak protection. It means your online activity is hidden from your ISP, government agencies, and hackers.
It is a Romanian VPN service, which means it's not legally bound to share user data with government agencies.
It has a strict no-logs policy, ensuring that none of your personal data is being tracked or monitored.
CyberGhost's in-built malware blocker prevents you from loading malicious websites that can infect your device. You'll be able to torrent safely without any ads or pop-ups interrupting your experience.
CyberGhost's Smart Rules feature lets you add any app to App Rules and configure your VPN to connect automatically to the specified server when you open that app. Once configured, CyberGhost will automatically connect you to your favorite server without manual intervention.
One minor con is that its short-term plans are a bit expensive. But you can get its 2-year + 3 months plan for just $2.11/month, which is an absolute bargain.
If you're unsure, you can take advantage of its generous 45-day money-back guarantee to try CyberGhost for free. If you're not satisfied, you can get all your money back without any hassle. To find out how simple its refund process is, I contacted live chat support and asked to cancel my plan. They asked a few questions and processed the refund immediately. The money was back in my account in just 4 days.
Torrent safely with CyberGhost
Key Features:
PIA's state-of-the-art security features include military-grade encryption (AES-256), an automatic kill switch, and DNS leak protection. You can also use its multi-hop feature to encrypt your traffic through multiple servers for an extra layer of protection. You can further customize your settings for torrenting by choosing between AES-256 and AES-128 bit encryption, where AES-256 is the most secure while the other is faster.
I tested PIA's speed by connecting to one of its servers in New York and got speeds of around 45 Mbps, which is pretty good for faster downloads. You can also use its port forwarding feature to improve torrenting speeds and allow seeding. In addition, PIA's SOCKS5 proxy can be used with any supported torrent client for even faster speeds. I used the instructions on its website and had no trouble configuring it. Also, my speed increased by 15%.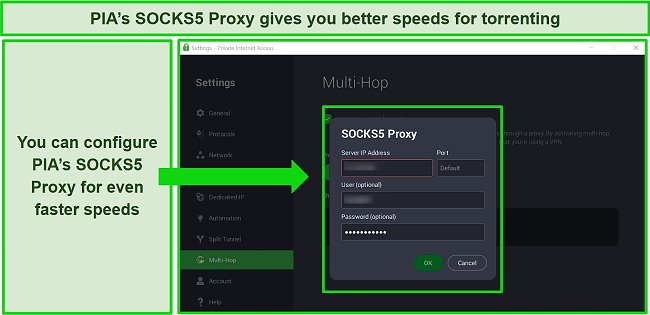 I love that PIA has a built-in ad and malware blocker (MACE). This feature blocks ads and prevents your device from loading malicious websites that can infect it with malware. It couldn't stop torrenting sites from opening new tabs with ads, but the ads never loaded.
PIA is a US-based VPN service that falls under 14 Eyes Alliance, which means it's legally bound to share user data with government agencies if requested. Fortunately, it has a trustworthy no-logs policy (audited by Deloitte) that's been proven in court several times. PIA has never given up any user data to the authorities.
I found PIA's long-term plans to be the best value. You can get it for as low as $2.11 month by subscribing to its 2-year + 3 months plan. It has the same features as short-term plans, but you pay significantly less.
Additionally, all its plans are backed by a 30-day money-back guarantee, so you can always try PIA for yourself without risking your money. I canceled my plan through live chat on day 23 and quickly got a full refund within 5 business days.
Key Features:
NordVPN is one of the best VPNs on the market for torrenting— and you can get super cheap prices when you sign up for a long-term subscription. One thing to note, however, is that when it's time to renew your subscription, prices do increase quite significantly.
I was impressed with NordVPNs' strong security features, including double encryption and a strict no-logs policy, making it a great option for torrenting. However, you should be aware that its P2P servers may not be available in all regions, which could impact its effectiveness for torrenting in certain locations.
I was particularly impressed with the high performance of every server I tested. Just because a VPN has thousands of servers doesn't mean they all work. Servers can still struggle to unblock local sites — and some can even fail to connect completely. However, I easily unblocked Netflix, Disney+, Hulu, Amazon Prime Video, BBC iPlayer, and HBO Max on multiple servers in the US and UK.
I did, however, have issues with using NordVPN's native Fire TV app. Although it worked and unblocked some streaming services, it sometimes had issues unblocking Netflix US and kept crashing. I also found that NordVPN's user interface for desktop devices was less user-friendly than ExpressVPN and CyberGhost.
NordVPN has the following security and privacy features:
AES 256-bit encryption
A kill switch that cuts your internet access if your connection to a VPN server drops suddenly
Built-in ad and malware blocker, so you don't need a third-party ad blocker
Fully audited no-logs policy (audited by PwC) – NordVPN doesn't store any personal or identifying data while you're connected to the VPN
In addition, NordVPN includes Threat Protection that protects you from viruses, infected websites, and trackers – and it works whenever you have the NordVPN app open, even if you're not connected to a VPN server.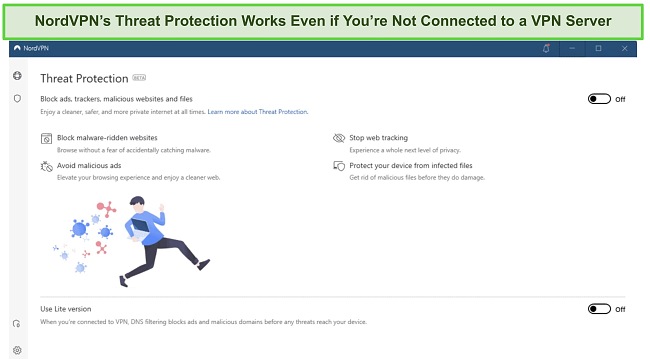 With plans that cost as little as $3.29 per month, it's easy to find a NordVPN subscription plan that suits your needs. You can also stream, torrent, and browse for free for up to 30 days with its money-back guarantee. I tested this to ensure that you'll really get your money back. At first, the support team tried to give me an extended trial period — but they initiated my refund right away after I told them I wasn't interested in the extension. I got my money back in 6 business days.
Download torrents safely with NordVPN
Key Features:
Surfshark offers the best value for money out of every premium VPN on the market. You can connect an unlimited number of devices with a single subscription, which means you can use Surfshark on all your devices without getting logged out.
I tested Surfshark's simultaneous connections on 2 PCs, 2 phones, a Fire Stick 4K, and an iPad. My connection remained reliable on all 6 devices. Even while I was actively streaming on all my devices, my average speed was 112 Mbps — fast enough for UHD quality.
When I saw the price of this service, I thought it couldn't possibly have top-grade security features for such a low price, but I was pleasantly surprised.
Surfshark has the following security and privacy features:
AES 256-bit encryption on all devices, with ChaCha encryption available for Android users
Wireguard VPN protocol enabled by default
Diskless, RAM-only servers to protect your privacy (no data can be physically extracted from any servers)
Kill switch (although this isn't enabled by default)
IP and DNS leak protection
Surfshark offers two-factor authentication (2FA) on your account. This feature requires you to enter an extra code before you can log in to ensure that only you can access your account.
While Surfshark does have slightly fewer global servers than rivals such as CyberGhost and PIA, I didn't experience any issues during my tests. I easily connected fast working servers every time, and I had excellent speeds for streaming Netflix in UHD, downloading torrents, and browsing the internet.
You can try Surfshark for yourself with the 30-day money-back guarantee. It has plans that cost as little as $2.30. Requesting a refund is easy with Surfshark's live chat feature. Although the support team asked why I wanted to cancel my subscription, I had no problem getting my money back (and it only took 4 days!).
Download torrents safely with Surfshark
Key Features:
PrivateVPN comes with port forwarding, which can significantly improve your torrenting speeds by connecting you directly to peers. You can easily configure your torrent client's settings and link to PrivateVPN's port forwarding by following simple instructions. It increased my download speeds by 7% by using this feature.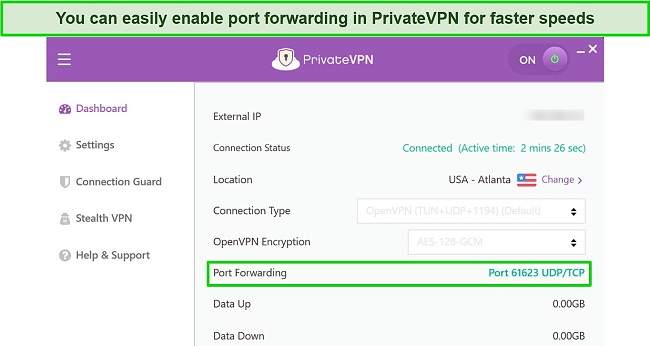 All of PrivateVPN's servers are P2P enabled, which means they are fast and reliable for torrenting. The one drawback is that it has fewer servers than the other VPNs on this list. Although my speeds were consistent, it's possible to face user overload and congestion at times, which can lead to slowdowns.
I really like how user-friendly PrivateVPN's apps are, and they're quite similar across different platforms. The Windows app has a clean and intuitive interface with one-click connect, server list, and settings. Overall, it's very easy to use for anyone, even for new VPN users.
PrivateVPN is a Sweden-based VPN service and falls under the EU's data retention laws. However, it has a strict no-logs policy that's been tested in court several times, and the company has never given up any user data.
Being one of the best monthly VPNs, you can get PrivateVPN only for $2.00/month if you choose the 3-year plan. Depending on their current offers, you may also get free months added to your subscription.
On top of that, all its plans come with 30-day money-back guarantee, so you can try PrivateVPN for free before committing to it. I tested its refund policy by canceling my plan through customer support on day 19 and received the refund in 7 days.
Download torrents safely with PrivateVPN
Key Features:
You get unlimited simultaneous connections with IPVanish, which means you can torrent on as many devices as you want at the same time. I could connect my desktop computer, iPhone, and iPad all at once without any issues. Also, my speeds were consistent across all devices, and connections were stable while I downloaded a 1.23Gb movie, which took 4 minutes to download.
IPVanish has several impressive security options to keep you protected while torrenting. Some of them are:
The split-tunneling feature that lets you choose which apps to route through the VPN server and which ones to leave without encryption. You can easily encrypt your torrent traffic through its apps and leave your web browsing traffic unencrypted for better speeds.
There are SOCKS5 proxies that will only mask your IP rather than encrypt your traffic to give you a speedy connection.
IPVanish has advanced protocols, including WireGuard, OpenVPN, IKEv2/IPSec, and L2TP/IPSec, which you can choose as per your preference.
Its obfuscated servers provide a higher level of security for users in restrictive countries like China or Turkey.
A kill switch is also available on its apps to prevent data leaks if the VPN connection drops.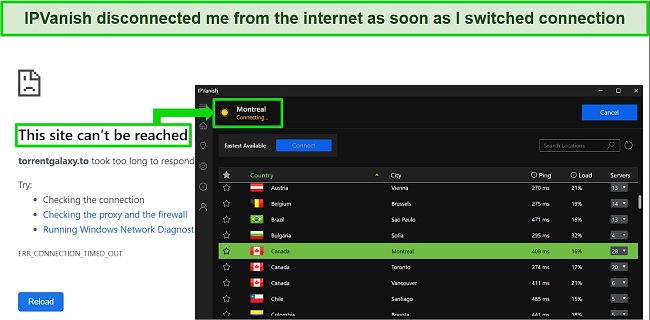 Another thing I liked about IPVanish is that it shows the real-time ping of each server, so you can easily select the least crowded one and get faster speeds. Overall, I was impressed with its performance and intuitive apps.
By subscribing to its 2-year plan, you can get IPVanish for only $3.33/month. Plus, there's a 30-day money-back guarantee, so you can try it risk-free. If you don't want to continue using the service, you can cancel your subscription by logging into your account. After a few clicks, I got my money back in my PayPal account within 5 days.
How I Tested and Ranked the Best VPNs for Torrenting
While testing the best VPNs in the market, I paid close attention to the following factors:
P2P and torrenting support: Not every VPN supports P2P file sharing and torrenting. So go for a VPN that either has specific torrenting servers or offers P2P support on all its servers.
Security: A good VPN for torrenting should have robust security features like military-grade encryption, DNS/IP leak protection, security protocols, and a kill switch to stay protected while torrenting.
No-logs policy: The VPN you use must have a strict no-logs policy so that your identity can't be revealed even if the VPN is hacked or subpoenaed.
Ad and malware blocker: A VPN with an integrated ad and malware blocker will keep you safe from malicious third-party ads and websites while torrenting.
Speed: A VPN for torrenting should offer good speeds so you can download or upload large files quickly. To check this, I ran speed tests on all the VPNs on the list while downloading large files.
Money-back guarantee: With a reliable refund policy, you can test various VPN features without risking your money. I tried each VPN on the list for at least 7 days before canceling my plan and received a refund in all cases.
Ease of use: The best VPN for torrenting should have native apps for all popular platforms with an intuitive interface. I tested each of these VPNs on Windows, macOS, Android, and iOS to see how easy it is to use their apps.
Reliable customer support: If you face any issues while using the VPN, you should be able to get quick and helpful assistance from the customer support team. I contacted each of these VPNs multiple times through live chat and email to test their response time and quality of assistance.
FAQs About Torrenting
Can I use an ExtraTorrent proxy or mirror site?
Maybe you can, but I don't recommend it. Scammers usually create proxy and mirror sites to infect your device with malware like trojans. Phishing attacks are also common on these sites. So it's best to stay away from them and use one of the ExtraTorrent alternatives mentioned above.
Is torrenting illegal?
It's complicated. Torrenting itself is not illegal but downloading copyrighted content is. So if you use a BitTorrent client to download pirated content, you can be fined or even jailed in some countries.
My team and I do not support downloading and sharing copyrighted content. It's important that you check your local laws to ensure you're not breaking any before torrenting and make sure you're only downloading copyright-free files.
Also, use a quality VPN to stay safe and anonymous while torrenting.
Can I get a virus from a torrent?
Yes, you can. That's why it's important to only download files from trusted sources and use a VPN like CyberGhost with ad and malware blocker to stay safe. CyberGhost comes with a reliable malware blocker that can protect you from malicious ads and trackers.
If your VPN doesn't have a built-in ad and malware blocker, you can use a separate tool to protect your device.
What is the best torrenting app?
My personal recommendation is The Pirate Bay, but if you have a different preference, that's OK too. The important thing is to make sure the torrenting app you're using is trustworthy and that you have a quality VPN to protect your identity and keep you safe from malicious stuff and phishing attacks.
Can I use a free VPN for Torrenting?
Yes, but I won't suggest it because most free VPNs are not good for torrenting and can get you into trouble. Free VPNs can slow down your internet speed, sell your data to third-party marketers, and some of them are even known to contain malware. Many of them also have data caps that can limit your torrenting activities.
I would suggest using a premium VPN like ExpressVPN as it is much more reliable and offers better speeds for Torrenting. It also has impressive security features and does not keep logs of user activity.
If you still want to use a free VPN, then make sure it is a safe free VPN with good reviews. Also, be careful while torrenting as some countries have strict laws against it.
Download Torrents Safely With a Quality VPN
Many VPNs claim to offer protection while torrenting, but very few actually deliver on their promise. If you're using a VPN that lacks security features, you're exposing yourself to cyber attacks, malware, and phishing scams. That's why it's important to use a VPN with robust security features like military-grade encryption, DNS/IP leak protection, top-notch security protocols, and a kill switch.
While all the VPNs on this list have robust security features, I recommend ExpressVPN as its blazing-fast speeds are perfect for torrenting. Plus, its best-in-the-industry security features include military-grade encryption, DNS/IP leak protection, and a kill switch that can keep you safe from prying eyes. Plus, it has a huge network of 3000 servers — all supporting P2P file sharing.
To top it all off, it comes with a tried and tested 30-day money-back guarantee, which lets you try ExpressVPN risk-free. If you don't like the service, you can get all your money back without any problem.
---
Summary — Best VPNs for Streaming Free Movies and TV in 2023