15 Best Websites for Seniors in 2023: Dating, Health, Jobs + More
Although over 70% of seniors use the internet almost every day, many websites aren't easy to use if you don't have much experience in the digital world. It's not surprising that almost 80% of seniors say they often need help navigating many sites!
Figuring out which web pages are safe and useful can be confusing if you're not a tech expert, so I put together a list of the best 15 websites for seniors and their loved ones. These pages will connect you to online communities that share your interests and help you find resources on healthcare, jobs, beauty, spirituality, money management, games, and more. Visit as many of them as you please and don't forget to save this page for future reference!
15 Top Sites for Seniors in 2023: Dating, Health, Jobs + More
Completely Free Websites and Resources
1. Facebook: A Popular Platform to Keep You Connected to Loved Ones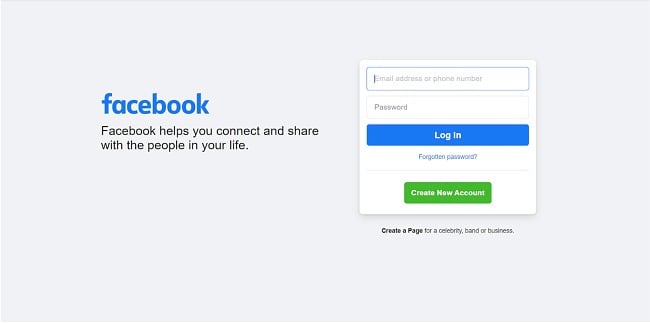 If you're not on social media, you might want to create an account! Facebook is one of the most popular social media platforms around the world. Plus, it's fun and easy-to-use. In the US, over 60% of 50-59-year-olds and almost 40% of those over 60 use Facebook daily. You can easily stay up-to-date on your friends' adventures, share photos of your loved ones, and connect with friends and family who have moved away: all completely for free!
In order to create your account, you'll need an email address and a password. Facebook also requires you to share your name and date of birth so your friends and family can easily find you on the platform and wish you a happy birthday. Adding a profile picture is completely optional, but it'll make sure you're recognizable on the platform by those who know you. If you aren't keen to put your face online, feel free to add a photo of your pet or choose a picture where you're facing away from the camera.
Alongside your main Facebook account, you'll also be able to access the site's messaging app, Messenger. All you need to do is log in using your email address and password and you'll be able to instantly connect with all of your friends on the platform. Using the app on your phone makes texting a lot easier as your chat can be accessed by pressing a little bubble with your friend's photo in it — even when you're in the middle of a game like Candy Crush!
2. SeniorChatz: Meet New People and Chat All Day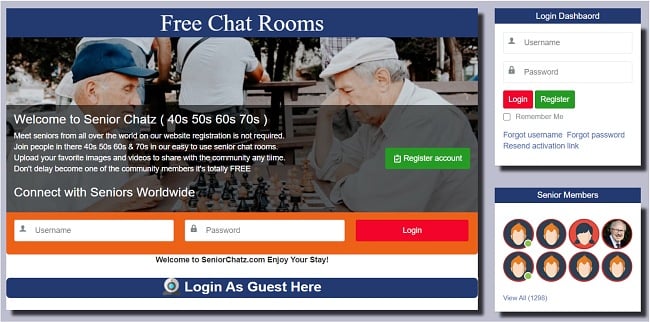 Facebook is perfect for connecting to your family and friends, but it isn't the only way to chat with people online. In fact, almost 30 million US citizens use chat rooms to connect with others! If you're looking to meet new people from all walks of life, SeniorChatz is a chat room that instantly connects you with other seniors — allowing you to make friends in real-time. The beauty of chat rooms is that there are always hundreds of people online, regardless of the time of day. This gives you the opportunity to share your experiences with your peers all over the world whenever you have some extra time on your hands.
SeniorChatz provides the ultimate protection against giving away too much personal information as you don't even have to create an account to start chatting. You just need to create a unique username and you'll be able to connect with others through entering themed online rooms, like "Senior Chat". The SeniorChatz interface is extremely user-friendly as it features a large chat window and an easy-to-navigate list of users, which means all you have to focus on is having fun and making new friends!
3. Seniors Only Club: Share Your Interests With Others on Message Boards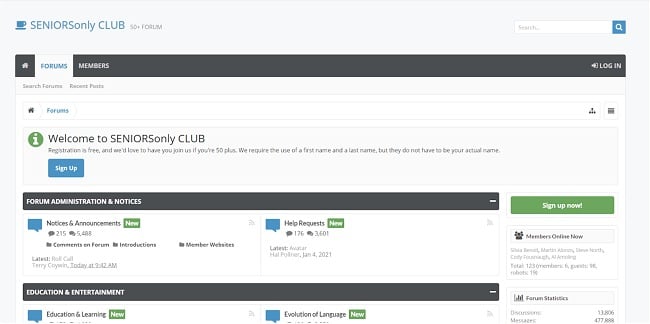 If chat rooms aren't to your liking, you can still stay connected with others through the use of message boards. At least one study has found that these online communities contribute to seniors' self-care, social lives, and personal growth.
Open to anyone over 50, Seniors Only Club lets you make friends by finding people who share your interests and views without the pressure of an instant response. The site is divided into separate categories, such as "Hot Topic" and "Hobbies & Craft", which makes it a lot easier for you to find the subject you're interested in. No topic is out of bounds which allows you to talk about anything from fashion and fishing to paranormal activities. You'll even be able to reminisce with others by sharing your memories in the "I Remember When…" section. It's definitely going to make you feel sentimental!
You can create your account in just a few steps by providing your email address, name, and password. To make the platform easier to follow, you should use a real name instead of a random username — but it doesn't necessarily have to be your actual first name. There is no sign-up fee involved and you won't have to worry about any hidden charges as you get access to all of the message boards on the site as soon as you register.
4. ElderTreks: Find and Book Your Dream Holiday Abroad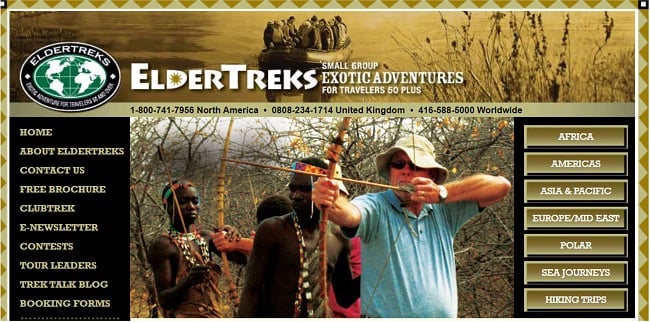 If you're interested in taking advantage of the social, physical, and cognitive benefits of traveling as a senior, you might want to check out this website. ElderTreks is a pioneering vacation company that offers amazing adventure packages for anyone above 50. The company can whisk you away on a safari trip, hiking tours, and sailing journeys all over the world, allowing you to finally take that trip you've always wanted to go on. Every holiday is equipped with all-inclusive hotel deals and focuses specifically on discovering new cultures and wildlife. The trips take from 3 days all the way up to 25 days, meaning you'll definitely find something that suits your schedule.
Even if you aren't particularly interested in setting off on an adventure, you should still give ElderTreks a chance by browsing through its Trek Talk Blog. I have no immediate travel plans, but the blog was so fun that I've read through almost every post. Each one details various adventures of ElderTrek travel guides and tour leaders. I especially loved the real-life photos which transported me into a different world without having to spend a penny on the trip!
5. Mayo Clinic: Health Information From the World's Experts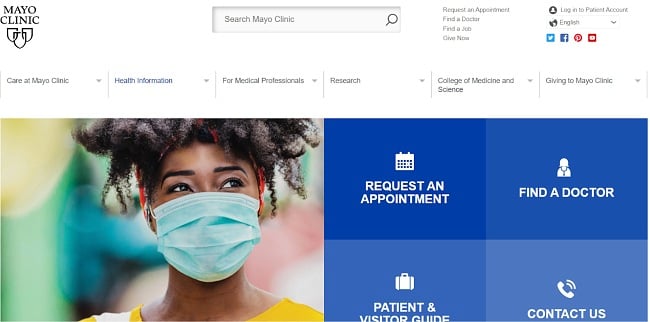 Mayo Clinic is a renowned medical and research center. If you've ever wished you could learn more about a specific condition, health research, or prevention tips, its website can be a handy reference guide for you. The platform holds information on hundreds of various conditions, treatments, and innovative ideas to stay healthy from the world's top experts. You can find information about different conditions (which are alphabetized to make sure they're easy to find). Just click on the condition's first letter and scroll through the list. Aside from symptoms and their causes, Mayo Clinic provides an A-Z list of tests and treatments your doctor might refer you to as well as an alphabetical catalog of medications.
You can also try the company's cutting-edge Symptom Checker feature. First, you'll select a symptom from a list of choices. This will prompt a series of questions to determine any factors that may be related to your symptoms. Once you fill everything in, the website will generate a list of potential reasons why you feel unwell and explanations for each one.
If you decide to look up your symptoms on an online website, remember to never self-diagnose. Mayo Clinic can be helpful with understanding certain conditions in more depth, but you shouldn't take it as a formal doctor's advice. Always seek medical attention as your condition may require specialized care or medication.
6. Sixty+me: Magazine-Style Lifestyle Articles, Puzzles, and Games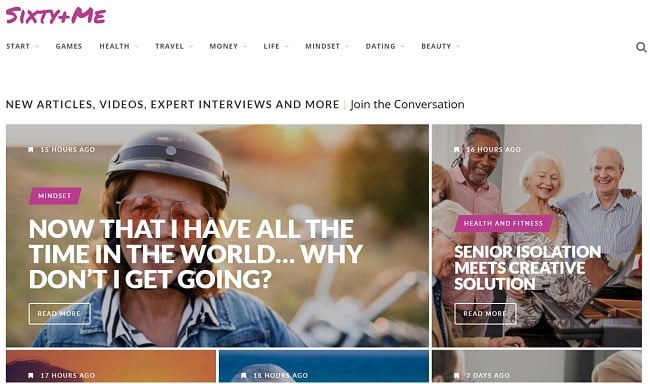 From health and beauty tips to money management and travel ideas, Sixty+me has information on everything you may be looking for. I found the design of the site far nicer than most blog sites. The fonts, colors, and pictures make it look like the colorful magazines I get in the corner shop.
Many of the articles are written for a female audience, but don't let its main audience put you off because Sixty+me also has a lot of articles that men can learn from. Browse through its "Health" section to learn how to look after yourself and keep your body in top health, or how to find home health services without getting scammed. Head over to the platform's free gaming section once you've explored everything you're interested in. With a large choice of puzzles, arcade games, or crosswords, you'll be able to fill your free time with entertainment and beneficial brain workouts.
7. Suddenly Senior: Daily E-Zine Featuring Over 4,000 Pages of Useful and Fun Information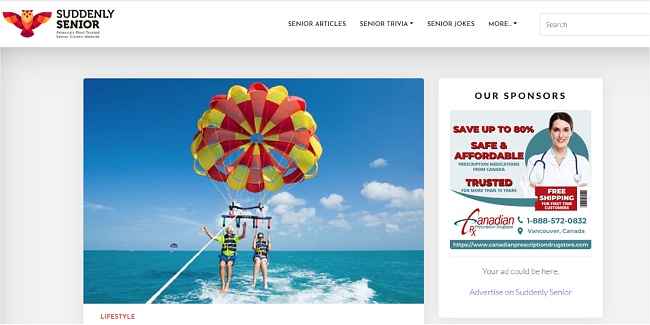 Suddenly Senior came to life to help people aged 50 and overcome to terms with "becoming senior before their time". The website combines articles on a variety of topics from beauty, health, and lifestyle to jokes and funny stories about life in your golden years. You can also test your knowledge in Family Feud-style online trivia or print out quizzes for your next get-together with friends!
That's not all. While you can find informative articles, Suddenly Senior focuses more on supplying light-hearted humor and adding new twists to commonly-found topics. For example, instead of the usual posts promoting retirement, you'll find titles like "Retirement Community: Not End of the World". It's definitely worth checking out, even if it's just for a moment of laughter!
8. AARP: Everything You Need for Retirement and Professional Life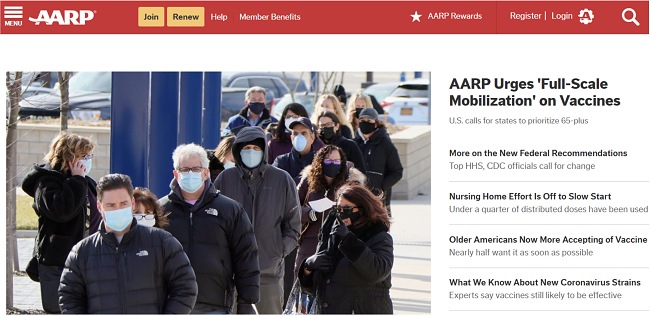 AARP is another great source of information on any topic imaginable. Even though the American Association of Retired Persons (AARP) started in the US, it has tons of resources for folks from any country. Their website can help you with efficient retirement planning, professional transitions, medical advice, fraud prevention, travel advice, and many other areas you may be concerned about. With more than 38 million regular readers from all over the world, this nonprofit organization ensures you'll definitely find everything you're looking for and more. You'll even reap financial benefits as AARP often publishes updated discount codes for various services, including shopping, eating out, and others!
Additionally, AARP also has a whole section dedicated to finding a job when you're over 50. This section includes many valuable resources and answers any question you might have about how to find a job, polish your resume, hone your interview skills, negotiate a better salary, and many other job-related topics. They even have an online course if you want to delve deeper into these topics! Not only are there tons of articles to offer help, there's also a job search engine where you can find employers who are dedicated to hiring an age-diverse workforce.
Aside from offering useful advice, AARP can be used to buy health and life insurance, investment products, and many other services. I was happily surprised that I wasn't flooded with marketing campaigns as I was reading the articles.
9. Grandfolk: Clear, Unbiased Reviews of Financial Services and More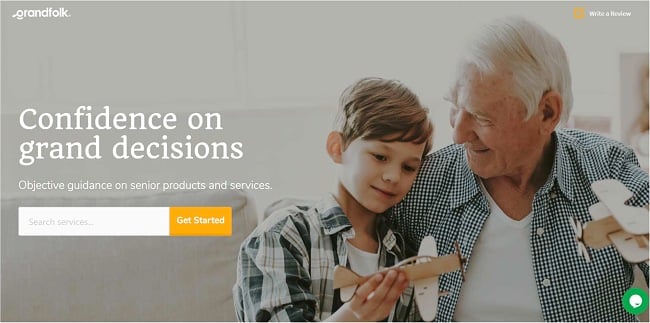 Online financial scams are becoming more and more common every day, and scammers often use sophisticated tricks to go after people who have less experience online. Cybercriminals especially target seniors with elaborate scams! One way to help avoid these tricks is finding a trustworthy review site, like Grandfolk. Grandfolk is an online directory of unbiased reviews on services like financial advisors, insurance companies, home security, and more. Its detailed content is aimed to help you make the most informed decision possible and avoid scammers.
The company's website was created to be sleek, fast, and easy-to-navigate — the pages use large icons and clear fonts so you can find what you're looking for quickly. As soon as you open the homepage, you'll be presented with an easily visible search bar so you can search for the financial services you want. I really liked how every review on the website is presented in a clear and understandable way without confusing jargon that only experts understand! This ensures that even if you've never used a certain service before (like insurance, funeral coverage, or stock trading), you'll leave the page with a full understanding of the product, the company behind it, and what your next steps are to get it.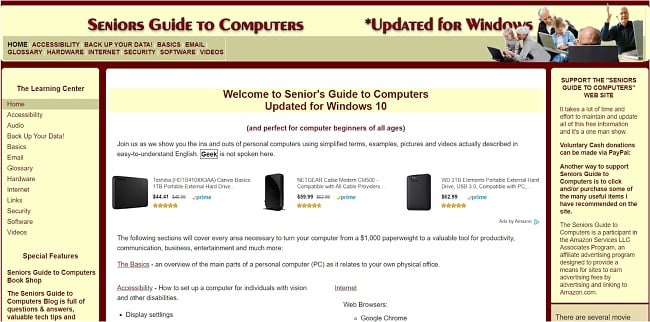 Technology is constantly changing and it can be hard to keep up with all the new gadgets and software. Luckily, you don't have to fall behind with your tech knowledge, even if you didn't grow up with a computer in your house. Seniors Guide to Computers explains device management and internet use in the most down-to-earth language that'll show you technology isn't as complicated as it seems.
The website is built using a simple, class interface. I really appreciated that there were no annoying pop-up ads interrupting me when I was trying to concentrate on what I was reading. I also loved that each article includes useful drawings, screenshots, and videos that illustrate the written information. I'm a visual learner, so this really helped me to get a full understanding of every topic!
You'll find guides even on the most basic information such as what your computer can help you with, the anatomy of your device's hardware, and how to connect to the internet. More difficult technical terms are always highlighted in the text and explained in great detail, but don't worry if you can't remember the actual phrases. The main aim of the site is to provide you with enough information to get your knowledge of technology up-to-speed and to help you stay safe online.
11. TED: Inspirational, Motivational, and Informative Videos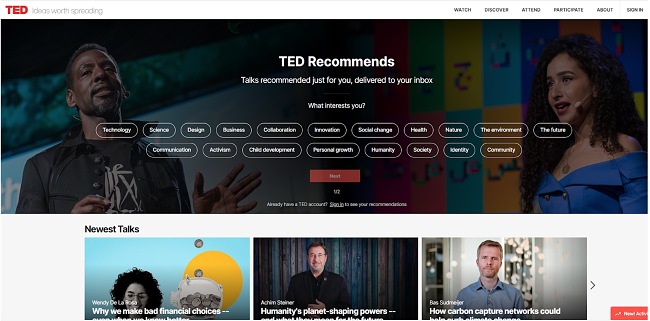 Available in over 100 languages, TED provides educational, motivational, and encouraging talks in a form of short videos. No topic is out of bounds as the platform invites experts from any area, including productivity specialists, river fanatics, and origami masters. None of the talks on the website are carried out with a political, religious, or commercial agenda, as their sole aim is to teach and inspire every viewer. At least one researcher even thinks that TED talks are an important tool to improving health and raising awareness!
While the website doesn't target any specific age, you'll still find plenty of useful information regardless of how old you are. Every talk is less than 20 minutes long and follows certain guidelines and rules that were developed to make a topic easy to understand for any user. Choose from over 3,600 talks and deepen your knowledge on certain topics or discover a new area of interest. If the sheer number of videos overwhelms you, the TED website can select a range of videos based on what you're looking for. Simply choose what interests you and what you're looking to achieve on the main page and provide your email address to have interesting and inspiring videos delivered directly to your inbox.
Free With the Option to Pay for Extra Features
12. SeniorMatch: Find Your Partner — for Romance or Adventure
Dating websites are already popular among seniors. Nearly 20% of Americans ages 50-64 and almost 15% of Americans 65+ report using online dating sites! But not every site has reliable filters, so you may find your inbox flooded with messages from people you don't relate to. Fortunately, SeniorMatch is a dating site exclusively for users 50 and older. Established in 2003, the platform boasts over 1 million regular users and more than 40,000 success stories.
If you aren't interested in finding a new romantic partner though, SeniorMatch can also connect you with like-minded people you could become friends with. After all, a soulmate isn't necessarily someone you marry — it can be a life-long companion, travel buddy, or an activity mate. Whoever you're interested in meeting, you can be sure the platform will match you with all nearby choices allowing you to even create a brand new group of friends.
All you have to do to start is specify the gender and age bracket of people you're interested in meeting. Then provide your country and nearby area (or select "No preference" if you don't want to limit your choices). Click "Find My Match Now" and browse through everyone's profiles. You'll be required to create your own account to reach out to new people, but the process is very straightforward: just follow the on-screen instructions.
You can use SeniorMatch completely free or you can pay for a premium account, which allows you to message people first.
13. AllRecipes: Recipes and How-To Videos to Improve Your Skills in the Kitchen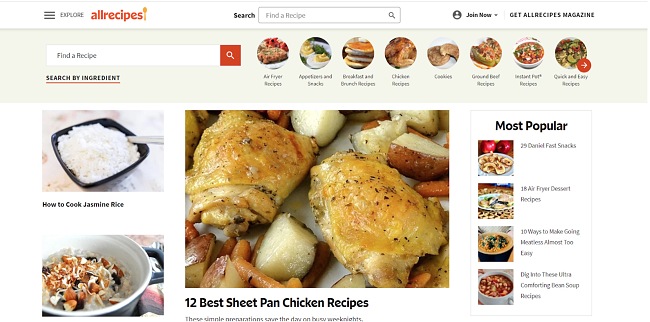 Recipes don't just belong in cookbooks — now you can learn how to make any dish in the world just by looking it up on the Internet. AllRecipes is one of the most popular cooking websites that sees over 25 million cooking fanatics every month. Its recipe database is regularly updated making it one of the biggest catalogs available on the Internet, so you'll always find something new and interesting to make. I wasn't surprised to learn how popular this site is — after all, studies show that cooking can serve as a mood-boosting therapy for people of any age!
This is one of my go-to recipe sites because it's so easy to use. All of the recipes are organized by category and displayed in the menu list in the top left corner. If I don't know what to make and am looking for some inspiration, I'll just scroll through the latest additions on the main page. If I have something in the fridge that is about to expire, I'll search for recipes that include that ingredient. I can also filter out any ingredient I don't have or don't want to eat, so I always find the perfect thing to make for any meal. All of the recipes have a rating, so you can check out other users' experiences before heading into the kitchen.
Aside from millions of recipes, AllRecipes also offers detailed how-to guides on various cooking techniques and tips from experienced cooking masters. Each recipe is also accompanied by a step-by-step video that shows you how to prepare your desired meal in action. This makes it a great starting point if you're a cooking novice, but even a skillful cook will be able to find new challenges there.
The AllRecipes website is 100% free, but you can also subscribe to its quarterly digital magazine that compiles all the best recipes and latest cooking tips.
14. Duolingo: Learn a New Language in 5 Minutes a Day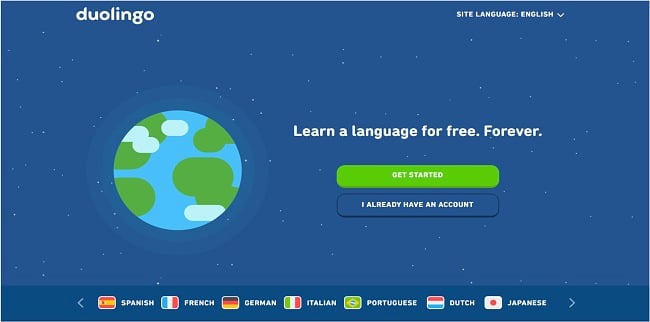 Learning a language no longer requires you to book expensive classes in prestigious schools — now you can do it from the comfort of your own home! Duolingo is a free learning platform designed to make languages fun and easy. Designed to suit learners of any age, the website provides a fully personalized experience that suits your own learning style and pace. Duolingo is one of my favorite language-learning sites because it makes learning fun by assigning points, giving goals and rewards, and letting you compete with your friends. You can earn extra points by completing 5 -15 minute snap courses for multiple days in a row.
Learning a new language isn't only fun — it's also good for your health! A study at York University found that seniors who could speak more than one language experienced the onset of symptoms of Alzheimer's disease an average of 4 years later than their monolingual peers. Multilingual seniors are also more likely to experience less severe brain deterioration even when the disease begins to affect their cognitive functions. But even if you're not at risk of developing Alzheimer's disease, acquiring a new skill can keep your brain fit by continuously creating new neural connections.
Duolingo can be accessed through a web browser on your computer or downloaded as an app on your smartphone or tablet. You'll have to set up a profile using your email address and password which will help you keep track of your progress and connect to your friends. Be aware that you'll have to endure short ads before or after your lesson as the site is free to use. These can be removed by purchasing Duolingo Plus, but it's in no way a requirement to make the most of the platform.
15. The Daily: Get the Latest New Stories in Less Than 30 Minutes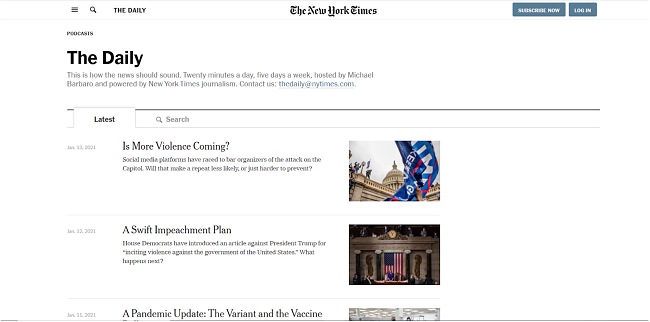 If you love keeping up on the most recent happenings in the world but hate staring at screens all day as much as I do, then The Daily podcast is the perfect solution. The Daily podcast, hosted by The New York Times, airs five days a week and covers the most important news stories. From economics, through politics to medical issues, the podcast summarizes the most important information on each topic in under 30 minutes. This ensures you'll leave equipped with the most up-to-date information delivered clearly and concisely.
The Daily doesn't focus just on the news — it also has a section called "The Sunday Read" that focuses on cultural aspects of the society and features interviews with artists on their craft. This is a great break from world issues and focuses more on exploring music, art, movies, and books that match the relaxing Sunday mood.
Another reason I love The Daily is that the website has a couple of things to help me out when I'm multitasking or get distracted and miss an interesting tidbit. Every episode has a list of people featured on the podcast, a full transcript, and a "Background Reading" section where I can find articles that expand on things mentioned in the podcast. These handy extras ensure that I never miss a thing!
It's totally free to listen to the podcast and read the episodes' transcripts, but The Sunday Read and Background Reading articles are subject to the New York Times' paywall. This means that if you don't have a subscription to The New York Times, you're only allowed to read a couple of articles per month.
Have Fun, Get Connected, and Expand Your Horizons With These Sites!
No matter your age, the Internet can support your hobbies, connect you with other seniors and family members, and just have fun. It doesn't have to be difficult to navigate — instead, let it enhance your life in every way possible. Taking your first digital steps online can feel overwhelming in the beginning, but you only need a little bit of practice and a few trustworthy sites to bookmark to make the most of the internet. Once you're more confident, you'll notice an entire new world opening up right in front of you!