5 Best VPNs for Binance in 2022 (Access Safely)
Last Updated by Lucca RF on August 04, 2022
With hackers, malware, and other online threats on the rise, you need to be more careful than ever when accessing Binance. Fortunately, a VPN secures your connection against eavesdroppers, DDoS attacks, and other malicious parties.
A VPN is a great way to connect to your Binance.com account when you're traveling in a restricted region away from home. Just keep in mind that you might receive a KYC request if Binance wants further identification from you.
From my extensive testing, the best VPN for accessing Binance is ExpressVPN. With a large and highly-secure server network, it's the perfect choice for connecting to top crypto platforms. It also has a 30-day money-back guarantee, so you can try ExpressVPN risk-free with Binance to see if it meets your needs.
Warning! Using a VPN technically goes against Binance's Terms of Use, and could result in a ban. However, with the right VPN, you can get reliable and private access to Binance — if you're willing to take the risk. This article is for information purposes only.
Quick Guide: Best VPNs for Binance in 2022
Unblock Binance with ExpressVPN
Why You Need a VPN For Binance
When you're dealing with your own cryptocurrency accounts, you're exposing yourself to significantly more risk than if you just left your money in a bank. Therefore, it's essential to have safeguards in place to secure your assets.
A VPN (Virtual Private Network) encrypts your online traffic so no one (such as your ISP or others sharing your network connection) can see what you're up to. This is especially important if you're in a country that restricts cryptocurrency usage or are on a shared public network, like a café, or co-working space. By hiding your activity from your ISP, it can also prevent network throttling, giving you faster speeds in the process.
That's not all a VPN can do. With a top-class VPN, you can connect to a server in any location, giving you access to more cryptocurrency platforms. Binance users in the US are unfortunately blocked from accessing the global platform due to US regulations. This only leaves you with access to Binance US, which is missing several features and has a much smaller selection of cryptocurrencies to trade. While Binance is also available in 180 countries worldwide, Binance US can only be accessed from 43 US states. If you're in the US, you can use a VPN to connect to a server in another location, bypassing the restrictions.
The best VPN for use with Binance is ExpressVPN, due to its secure global server network and fast speeds. Test ExpressVPN for yourself risk-free. If you don't feel it's right for you, you can get a full refund within the 30-day money-back guarantee period.
Unblock Binance with ExpressVPN
How to Access Binance With a VPN in 3 Quick Steps
Get a VPN. ExpressVPN is the #1 VPN for access to Binance.com, with high security and fast speeds. You can even try it risk-free with its money-back guarantee.
Connect to a non-US server. This will ensure you aren't caught by US geo-blocks.
Access Binance with no issues. If you still have problems, close the site and try connecting to a new VPN server, or clear your cache and cookies before re-opening the site. You can discover more tips on how to access Binance.
The Best VPNs for Binance (Tested in August 2022)
Key Features:
Huge server network with 3000+ servers in 94 countries
TrustedServer technology and cutting-edge encryption protocols (Lightway, OpenVPN, L2TP/IPsec, and IKEv2)
Audited no-logs policy and located in the British Virgin Islands
Connect 5 devices at once on 1 account
24/7 customer support over live chat or email
30-day money-back guarantee
ExpressVPN is the #1 VPN for Binance, thanks to its large and highly-secure server network to safely access your cryptocurrency accounts. Its military-grade encryption protects your online activity, while other features such as its kill switch cut your internet if the VPN drops. This guarantees that the wrong party never sees your real IP address and location.
One of the main reasons why ExpressVPN consistently tops the list of top VPNs on the market is that it's been thoroughly audited. Its privacy policy, TrustedServer technology, and assurance engagement have been thoroughly audited by PwC Switzerland. Not only that, its browser extension and Lightway protocol are audited by Cure53. More recently, its Windows app was reviewed by cybersecurity firm F-Secure to identify security and privacy weaknesses. The above audits all had positive outcomes, with no severe issues flagged. You can trust ExpressVPN's transparency and dedication to consumer rights whenever you access Binance.
It invests in military-grade security to keep your Binance account secure. To ensure that no identifiable data was visible while I was connected to ExpressVPN, I ran a number of DNS and IP leak tests. There were no leaks from any of the servers that I connected to. I tested to see if ExpressVPN's kill switch would hide IP address after an unexpected disconnection by stopping my VPN as Binance was loading — the internet cut out instantly, keeping my data secure.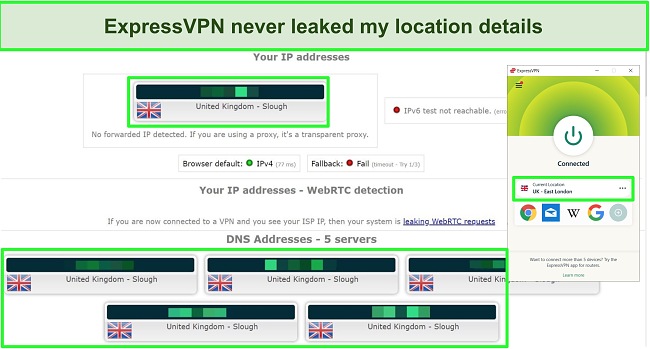 This VPN has superfast speeds on all of its servers. When I tested ExpressVPN across 4 global servers (New York, Paris, Frankfurt, and Melbourne), I recorded an average speed of around 300 Mbps. This is more than enough to instantly access your Binance account from anywhere, giving you lag-free connections to ensure you don't miss a trade.
Because of its premium-quality features, ExpressVPN does come with a price tag that is a little more expensive than some VPNs. However, your can get its 1-year plan with a 49% discount right now, meaning you can protect your Binance account for just $6.67/month.
Check out ExpressVPN with Binance risk-free. You can even pay in crypto by using BTC, ETH, XRP, USDC, BUSD, PAX, and GUSD when signing up. If you don't feel it's right for you, claim a full refund within the 30-day money-back guarantee period. I wanted to see it for myself, so I contacted customer support via live chat and was approved in just 5 minutes thanks to the "no questions asked" policy. My money was back in my account 3 days later.
ExpressVPN also unblocks: Huobi Global, Coinbase Pro, Kraken, Bitfinex, KuCoin, Coincheck, Blockchain, and more.
ExpressVPN works with: Android, iOS, Blackberry, Windows, macOS, Linux, Chromebook, Chrome, Firefox, Safari, Opera, routers, and more.
Access Binance with ExpressVPN
August 2022 Update! ExpressVPN has dropped prices for a limited time to a crazy $6.67 per month for the 1-year plan (you can save up to 49%) + 3 months free! This is a limited offer so be sure to grab it now before it's gone. See more information on this offer here.
Key Features:
8200+ servers in 91 countries
Secure NoSpy servers and OpenVPN, IKEv2, and WireGuard protocols for safe Binance access
Based in privacy-friendly Romania with a strong no-logs policy
Connect 7 devices at once on 1 account
24/7 live chat or email support
45-day money-back guarantee
CyberGhost's cutting-edge NoSpy servers protect your security when you're using Binance. These specialized servers use cutting-edge privacy technology and are located inside CyberGhost's own headquarters in Romania to ensure the best physical security and quickest maintenance response possible. This ensures you can access crypto trades in Romania with fast and private servers.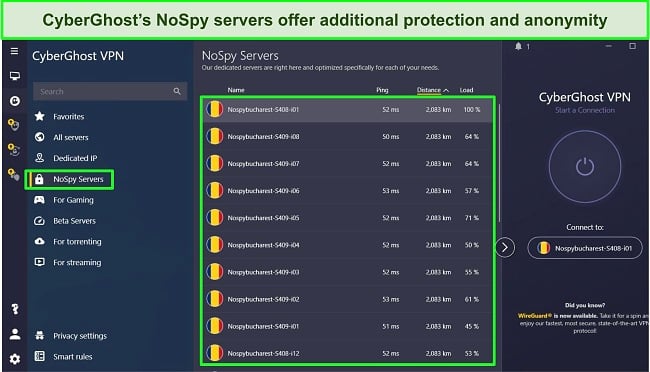 Aside from its NoSpy network, CyberGhost also has 8200 highly secure servers around the globe. All of them use 256-bit encryption which protects your data by making it indecipherable, even to the most skilled hackers. You can connect 7 devices to CyberGhost to keep you safe every time you check your Binance account, even using public WiFi.
Its kill switch feature makes certain your real location and IP is never revealed to prying eyes when you check your Binance accounts. While many VPN providers offer an optional kill switch, CyberGhost's is always on. I prefer to have the choice, but if you don't want to take any chances when it comes to accessing Binance and other crypto services, CyberGhost is a great VPN. CyberGhost's servers passed all my leak tests, proving that it's doing a great job at keeping your crypto secure.
The Smart Rules feature auto-connects CyberGhost to a server depending on your preferences. For instance, you could set up CyberGhost to connect to a server whenever you're on a public WiFi network, as soon as you launch your browser, or simply when you boot up your computer. This makes it perfect for using Binance — even if you forget to connect a VPN, you can ensure you have automatic protection.
One small downside to CyberGhost is that its monthly subscription works out more expensive compared to some VPNs with monthly deals, with a shorter money-back guarantee than the long-term plan. But if you do take advantage of its 3-year plan, you can benefit from all of CyberGhost's security features for the great price of just $2.29/month.
The long-term plan also comes with a generous money-back policy so you can try CyberGhost with Binance for 45 days. It allows payment with Bitcoin through BitPay, without any impact on your money-back guarantee. After running a number of my own tests, I reached out to a customer support agent via the 24/7 live chat. Fortunately, CyberGhost offers a fantastic no-questions-asked refund policy, and my request was immediately approved. I had the money back 4 days later.
CyberGhost also unblocks: Huobi Global, Coinbase Pro, Kraken, KuCoin, Coincheck, Blockchain, and more.
CyberGhost works with: Android, iOS, Windows, macOS, Linux, Chromebook, Chrome, Firefox, Safari, Opera, routers, and more.
Access Binance with CyberGhost
August 2022 Update! You can subscribe to CyberGhost for as low as $2.29 per month + get extra 3 months free with the 3-year plan (save up to 83%)! This is a limited offer so grab it now before it's gone. See more information on this offer here.
Key Features:
Huge network of 35000+ servers in 80 countries
OpenVPN, WireGuard, and IKEv2 encryption protocols, ad blocking, and kill switch
A no-logs policy and real-world evidence proving a lack of logging
Connect 10 devices at once on 1 account
24/7 customer support over email, live chat, and Twitter
30-day money-back guarantee
Private Internet Access (PIA)'s enormous network of over 35000 servers in 80 countries makes it perfect for reliable Binance access from all around the world. A bulk of these countries are in the West, particularly the US, but there is still a huge number in and around Africa, Asia, and South Africa.
Although Binance isn't necessarily affected by malware, the crypto space as a whole isn't short of questionable websites full of malware — specifically adware. I'm a big fan of PIA's MACE ad blocker to keep this at bay. I've tested it against comparable VPN-bundled ad blockers and was pleasantly surprised that it came out on top in many tests. The PIA team keeps a malware-only database updated so it can filter both on-page malware and adware effectively.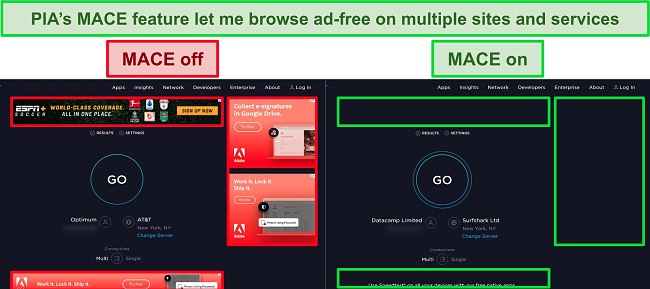 Even though I was disappointed to see that PIA's no-logs policy isn't audited, it has some real-world evidence to back up its no-logs claims. In 2016, the Russian government seized PIA's Russia-based servers as a result of new invasive logging laws passed in the country. However, they were unable to find any data on these servers since PIA was true to its word. I still believe that a full external audit is a way to go (especially due to PIA's headquarters in the US), but I'm nonetheless impressed with this anecdotal evidence.
Like CyberGhost, PIA offers a dedicated IP address feature to prevent you from being affected by blocks stemming from shared IP addresses. It will also ensure you don't run into dozens of CAPTCHAs while browsing Binance and other sites. It's a small additional cost, but as a frequent user of Binance and many other services like it, it makes a huge difference. Plus, you can get PIA for just $2.19/month when you get its 2-year plan, so paying extra for a dedicated IP address won't break the bank.
If you're a new user, you can try PIA's 30-day money-back guarantee risk-free. I put it to the test myself by getting in touch through the 24/7 live chat. Although I was asked why I wanted the refund, it was granted without further issues after a quick explanation. I had the money back in my account a week later. You can also use BitPay for payment, or use Bitcoin, Ethereum, Litecoin or Bitcoin Cash.
PIA also unblocks: Huobi Global, Coinbase Pro, Kraken, KuCoin, Blockchain, and more.
PIA works with: Android, iOS, Windows, macOS, Linux, Chrome, Firefox, Safari, Opera, routers, and more.
Access Binance with Private Internet Access
Key Features:
Small network of 200+ servers in 63 countries
OpenVPN with UDP/TCP, L2TP/IPsec, PPTP, and IKEv2 encryption protocols
Zero-logs policy
Connect 10 devices at once on 1 account
Customer support via email or live chat
30-day money-back guarantee
PrivateVPN is a surprisingly high-performing and configurable VPN for Binance, all for an affordable price. With a small server network and plans as cheap as $2.00/month for its 3-year plan, I wasn't expecting record-breaking speeds, but fortunately found PrivateVPN to be more than adequate for crypto trading and everything else I threw at it.
It offers cutting-edge 256-bit encryption as standard, which makes your data unreadable and keeps your crypto activities safe from hackers. Its advanced settings allow you to choose which protocol you want to use and include OpenVPN with UDP/TCP, L2TP/IPSec, PPTP, and IKEv. Whether I was looking for pure security, speed, or a mixture of both, PrivateVPN had the right combination of tools for the job.
None of this would matter if PrivateVPN wasn't capable of handling your data without leaks. Fortunately, the leak tests I performed proved PrivateVPN is extremely capable of protecting your data against leaks. My IP address and real location were hidden on each server, meaning I could access my Binance account without anybody seeing my data.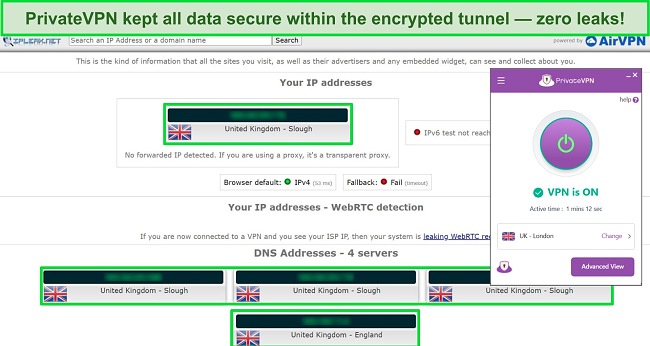 With just 200 servers worldwide, it's far from the largest VPN network, but PrivateVPN actually gives a surprisingly good performance when I accessed Binance. However, it may pose an issue for users in certain parts of the world, since it's limited to just over 63 countries. For using Binance, this shouldn't matter much, but it's worth checking the server list just to be sure there is a server in the location you need.
Although a downside to PrivateVPN is its small size, PrivateVPN's live chat support is better than some larger competitors. In all my testing, I never had to wait longer than 2 minutes to get connected to an agent, and they were always professional and knowledgeable. The only downside I noticed was that the live chat option disappeared every now and again and was replaced with a contact form option — likely when all agents were unavailable.
To ensure you're happy with it, you can test PrivateVPN with Binance with its 30-day money-back guarantee. I did this myself and contacted a support agent via live chat. The rep asked why I wanted a refund, but they were fast-acting and immediately confirmed my request once I gave a brief answer. I had the money back within a week. Note that while PrivateVPN accepts Bitcoin as payment for subscriptions, it's the only VPN on this list that doesn't refund crypto payments.
PrivateVPN also unblocks: Huobi Global, Coinbase Pro, Kraken, Blockchain, and more.
PrivateVPN works with: Android, iOS, Windows, macOS, Linux, Chromebook, routers, and more.
Access Binance with PrivateVPN
August 2022 Update! PrivateVPN has dropped prices for a limited time to a crazy $2 per month with the 3-year plan (you can save up to 85%)! This is a limited offer so be sure to grab it now before it's gone. See more information on this offer here.
Key Features:
Large network of 2000+ servers in 75 countries
Robust encryption via OpenVPN, IKEv2/IPSec, and L2TP/IPSec and a responsive kill switch
Headquartered in the US with an audited no-logs policy
Unlimited simultaneous device connections
24/7 live chat (starting with a bot), email, and phone
30-day money-back guarantee
IPVanish's unlimited device connections make it a great pick for protecting all of your devices whenever you access Binance. Instead of picking and choosing which device needs logging out when you need to check your crypto accounts on a new one, or worrying about being logged out elsewhere, you can add new devices to your heart's content. This way, you're always protected online and ready to go when a trade opportunity comes your way.
You can choose between several encryption protocol types, with benefits varying between speed and security depending on your crypto needs. There are even some protocols such as IKEv2 which is optimized for higher speeds on mobile networks and devices. I was also glad to see how well the kill switch performed — it's highly responsive and didn't fail to block internet access in all of my tests.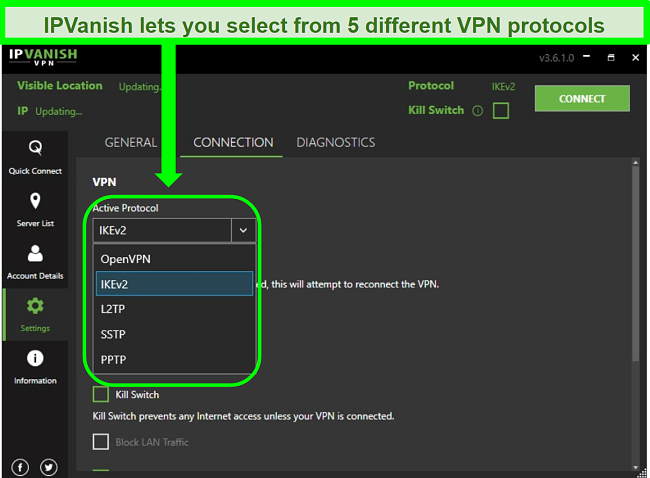 Although IPVanish is based in the US, which may worry privacy-conscious Binance users, its no-logs policy was independently audited and shown to be fully in line with its privacy policy. This makes it perfect for accessing crypto websites. In another rare advantage versus other VPNs, IPVanish also owns and operates the entirety of its Tier 1 network. This gives it immediate maintenance access to a huge amount of servers and allows for higher performance compared to outsourcing to third-party providers.
You can also access Binance using IPVanish's Tor over VPN feature for heightened anonymity. This passes your traffic through multiple so-called "nodes" before it reaches its final destination, meaning it can't be traced back to you. It will negatively impact your speed, but if you're in a jurisdiction with difficult access to crypto services, it can be a godsend. If you're planning on using Tor to access your crypto accounts, always be sure your VPN is connected first.
IPVanish is currently running a great offer of 63% off, making it just $3.99/month.
It's possible to try IPVanish with Binance risk-free for 30 days. I found it to be by far the easiest VPN to cancel since all I had to do was log in to my account and click the button to cancel. The refund was processed automatically and I had the money back just 7 days later. However, note that IPVanish is the only provider on this list where you can't pay or be refunded in cryptocurrency.
IPVanish also unblocks: Huobi Global, Coinbase Pro, Kraken, and more.
IPVanish works with: Android, iOS, Windows, macOS, Linux, Chrome, Firefox, routers, and more.
Comparison Table: Best VPNs for Binance 2022
Access Binance with ExpressVPN now!
How I Tested and Ranked the Best VPNs for Binance
This is the primary criteria I used to rank VPNs for accessing Binance:
Reliable Binance access — Each VPN should consistently give access to Binance.com, no matter where you are in the world.
Wide server network for frequent travelers — Well-distributed servers ensure good connectivity from around the world.
Robust security measures and encryption protocols — A minimum of 256-bit AES encryption and other security measures like a kill switch keep your activity private.
Tried and tested no-logs policies — Your crypto activity is never saved by the VPN provider.
Fast and stable connections — To ensure no missed trading opportunities.
Value for money — Each VPN should be well worth its subscription price, although I've included VPNs with varying price points here so there's something for everyone.
Use Binance with ExpressVPN today
Easy Setup Guide: How to Use a VPN With Binance
Getting connected to Binance with a VPN is super simple. Just follow these steps:
Choose and download a VPN. ExpressVPN is my #1 choice for Binance, with a secure server network and fast speeds for easy access.
Install the VPN. On Windows and macOS you should find an installer on the VPN's downloads page, while on mobile you can check the respective app store.
Connect to a server. Focus on locations where Binance is fully unrestricted, such as France, Poland, Argentina, Indonesia, or Australia.
Open Binance.com and start trading!
Have any issues? Try reconnecting to a new server, clearing your cache and cookies, using a different encryption protocol, or granting an exception within your antivirus or firewall. If nothing works, contact your VPN's customer support.
Protect your Binance account with ExpressVPN
FAQs: Using VPNs With Binance
Is it legal to use a VPN with Binance and buy Cryptocurrency?
Yes, it's completely legal to access Binance with a VPN and buy cryptocurrency on the platform. The main thing to note is that it is technically against Binance's Terms of Use, and if it notices that you're using a VPN, you could be banned (although you normally get some time to withdraw your funds).
A VPN is a way to ensure heightened security and privacy while accessing your cryptocurrency accounts. I always recommend staying connected to a VPN to ensure no one eavesdrops on your connection.
Of course, any illegal activity carried out while connected to a VPN is still illegal, and isn't condoned by myself or my team.
Which countries have banned Binance?
Binance.com is completely banned in the US, China, Russia, Malaysia, Singapore, and the province of Ontario of Canada. Unless you use a quality VPN, you won't be able to access your account when you travel to one of these locations.
Some countries have only banned "regulated" elements of Binance (such as derivatives trading) including the UK, Germany, Italy, and the Netherlands. Finally, Japan and Hong Kong have released official warnings to investors but haven't gone as far as banning the exchange.
Can I use a free VPN with Binance?
It's technically possible to use a free VPN with Binance, but I wouldn't recommend it. Just like with standard banking, you need to use a private and secure VPN whenever you check your account or trade in crypto.
Additionally, free VPNs almost always have limited speeds and bandwidth. This can quickly result in degradation of the quality of your trading opportunities due to lag, or the complete failure of your connection when you run out of the limited data made available to you. Your original IP and DNS addresses can then be made visible to the platform, causing a potential account ban.
Free VPNs have worse overall security features and have even been known to sell user data for profits (such as Hola VPN). Especially when it comes to dealing with your finances, it's simply better to go for a paid option. If you'd like to try a VPN with a long money-back period and an affordable price, I recommend you sign up for CyberGhost. With its 45-day money-back guarantee, you have long enough to see how you like it.
Why isn't Binance US accessible in Hawaii, New York, Texas or Vermont?
These states have cryptocurrency regulations that impact Binance users. For instance, in New York, a crypto exchange must apply for a so-called "BitLicense" to be able to operate in the state — something that Binance hasn't done. Hawaii, on the other hand, hasn't banned Binance but put in place financial reserve requirement regulations for exchanges that make it near-impossible for them to operate there.
How do I get a VPN for Binance?
Getting a VPN for Binance is a super simple process.
Choose a VPN. I recommend ExpressVPN thanks to its fast speeds and reliable Binance access.
Head to the VPN's sign-up page and buy a plan. You can even pay for the top 3 VPNs on this list with cryptocurrency.
After subscribing, download the VPN to your device(s). The downloads page should have quick links for each supported device.
Does Binance have KYC?
Yes, Binance has KYC (Know Your Customer verification), which can be triggered when you set up a new account and connect via a VPN. It's not obligatory to do KYC on Binance, but leaving your account at the most basic level can prevent you from depositing or withdrawing larger amounts of money (or any at all) in some jurisdictions. This is due to regulators in most countries wanting to know who is transacting on these platforms to ensure tax compliance, prevent money laundering, and generally clamp down on other criminal activities.
What is the best VPN location for Binance?
Due to changing global regulations, without a VPN it's no longer possible to get unrestricted access to Binance from anywhere. This means you need to be a little pickier with which VPN location you choose when you're traveling abroad and need to access Binance.
Here are some of the best locations with the least restrictions across continents:
Europe: France, Poland, Portugal, Slovenia
Americas: Argentina, Mexico
Asia: United Arab Emirates, Indonesia, Taiwan
Australia: Australia
Should I use Binance or Binance US?
This depends. Binance.com is the usual option for people outside the US, while Binance.US is only for US users (minus the 4 states where it's restricted). With a VPN, you're technically able to sign up to Binance.com from the US, but this could pose problems in the future (and can make KYC difficult or impossible).
Binance offers significantly more coins than Binance.US — 600+ compared to 100+. Both platforms offer the same base trading fee of 0.1%, although this can be reduced with significantly higher trading volume or by holding Binance's native BNB coin.
At the end of the day, you should choose the platform that you have the easiest access to, and the lowest likelihood of issues down the line.
Securely Access Your Crypto Trades on Binance Today!
Although Binance has several safeguards in place, it's well worth taking extra precautions when interacting with your cryptocurrency accounts online. Thankfully, with the right VPN, you can ensure a fast, secure, and reliable connection to access your Binance account privately from anywhere.
Connecting to any of our best VPNs for Binance will ensure you get safe access to your Binance account. However, keep in mind that you're technically breaking Binance's Terms of Use by using a VPN to change your digital geolocation. The right VPN can prevent this from being an issue, but be aware that there's a level of risk involved.
The #1 VPN for Binance is ExpressVPN, thanks to its secure infrastructure, blazing-fast servers, and reliable Binance access. Test ExpressVPN out for yourself risk-free. If you don't feel it's right for you, you can get a full refund within the 30-day money-back guarantee period.
Securely access Binance with ExpressVPN
---
Summary — 5 Best VPNs for Binance 2022