6 Best FREE Antivirus Software for PC, Mac & Phone (2022)
Last Updated by Kate Hawkins on August 01, 2022
It's easy to find a free antivirus program online, but it's much harder to find one that works well. I've tested dozens of free antiviruses and found that some actually expose you to malware. Other free services work well at first, but turn out to be free trials that expire in a few weeks, leaving you unprotected.
To help keep you safe, I've tested and ranked the top 6 (actually) free antiviruses for Windows, Mac, Android, and iOS. Avira emerged as the best free antivirus in 2022 — but while it has a strong virus scanner and some decent features, no quality antivirus can afford to defend against complex and advanced strains of malware for free.
Fortunately, there are plenty of low-cost premium antivirus providers and I believe it's well worth the investment to keep your private files, photos, and passwords safe. Personally, I prefer to use an affordable yet powerful antivirus like Norton 360. You don't have to make a decision right away either — you can try Norton risk-free for 60 days with its money-back guarantee.
Try Norton 360 risk-free for 60 days!
Quick Guide: Best (Really Free) Antivirus Software in 2022
6 Best Free Antivirus Software for Windows, Android, Mac & iOS (Updated August 2022)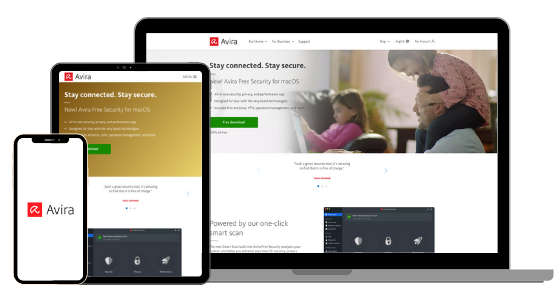 Key Features:
Powerful virus scans detect all kinds of malware
Includes VPN, safe web browsing, ad- and tracker-blocking, and more
Community knowledge base available on the website
Works on Windows, Mac, Android, and iOS
Avira is the best free antivirus because of its real-time protection, accurate malware scanner, and extra features. The free plan uses Avira Protection Cloud, the same cloud-based malware network as the premium version. Protection Cloud is updated daily to combat the latest threats and offers excellent protection at zero cost. In recent tests, Avira detected all of the latest online threats.
I'm impressed by the fast speeds of Avira's virus scan. After the software downloaded, I immediately ran a Status Scan to check for privacy and performance issues — and it took less than a minute to complete! I had outdated apps, Windows privacy issues, and almost 400MB of unnecessary items to delete. Unfortunately, fixing all the issues required upgrading to a paid plan.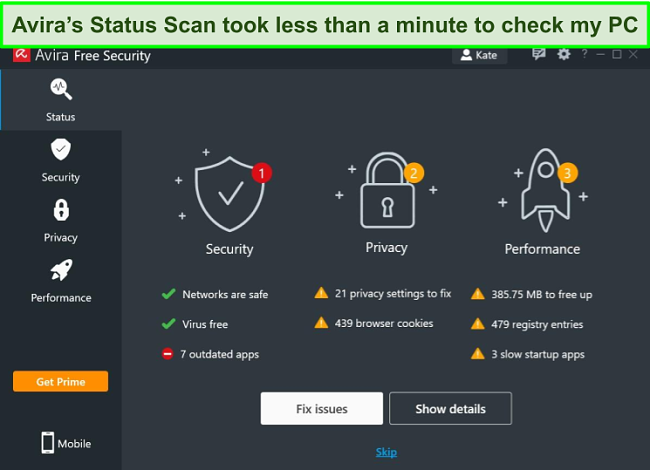 Still, this is a minor inconvenience in comparison to the wide range of extra features that improve security and privacy. It has a free firewall to protect your network and a VPN with a 500MB data limit to hide your online activity. While 500MB isn't much, you can double it to 1GB by registering for a free account with Avira. Avira also has a password manager and file shredder to improve security, plus optimization tools to help your devices run more smoothly. It's rare to see this many high-quality tools at no cost.
I especially like that Avira doesn't limit the number of devices you can install it on. You don't have to sign up for an account or enter any payment details — but I recommend registering for an account if you're protecting multiple devices. This gives you access to Avira's central dashboard. I found it useful for getting a security overview of your devices and finding out what each feature does.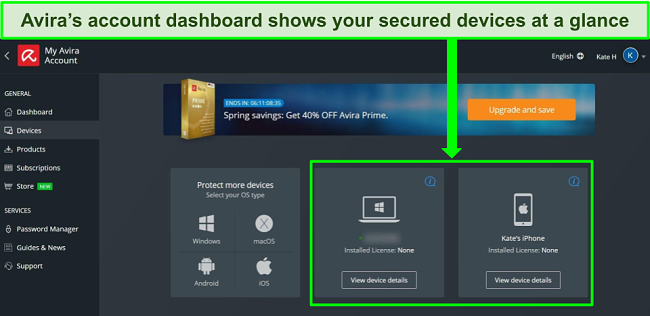 The main downside to Avira's free plan is the lack of customer support. There are no direct contact options, so if you have an issue you'll have to check the knowledge base for an answer. While there are some helpful articles with general device information, it's hard to get answers to specific issues. You can ask the community, but many questions go unanswered for months or even years.
It's also important to keep in mind that Avira offers a different feature set depending on which app you use. Avira's Windows app is its most extensive, featuring a separate system optimization app called System Speedup Pro for improved PC performance. The Mac version offers its own optimization tools, but they're not as extensive as the PC version. That said, you'll still get access to Avira's powerful malware engine no matter which app you use.
If you're willing to forgo customer support, Avira is the best free antivirus for PC, Mac, and mobile devices. As a totally free plan that requires no account to use, I strongly believe it's worth downloading Avira to test it for yourself and see if it works for you.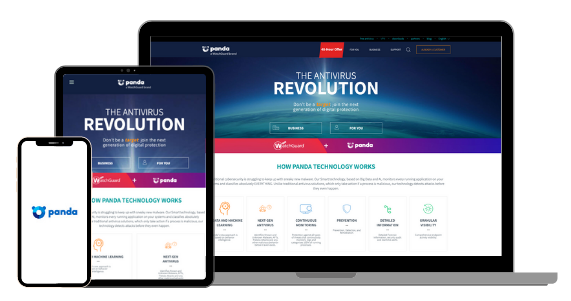 Key Features:
Real-time protection blocks malware and viruses easily
Solid extra features include a unique Rescue Kit, a VPN, Game Mode, and more
24/7 phone support in Canada, the UK, and the US
Supports Windows, Mac, Android, and iOS
Panda Free Antivirus increases security on all of your devices with its extra features. The free plan offers robust extras, such as a VPN, Game Mode optimization, a USB rescue kit, process monitor, and anti-theft tool. In testse, Panda also successfully blocked every type of existing malware.
I'm particularly impressed by Panda's VPN. It's powered by Hotspot Shield VPN so you can trust that it keeps your connection and data secure. I ran several data leak tests and Panda's VPN passed them all. The free plan limits data and servers pretty severely though — 150MB daily allowance and a single, "Automatic" location. However, if you want extra security while browsing and shopping online it's a pretty good option.

Panda's Rescue Kit is an impressive feature I haven't seen on any other free antiviruses. It creates a rescue USB that will remove malware from an infected Windows computer if the device won't boot. It utilizes a deep-clean scanner, called Cloud Cleaner, that detects malware other antiviruses might miss. When I tested this feature, Rescue Kit helps me remove all threats in under 20 minutes.
Panda's major downside is its lack of real-time protection on Mac, Android, and iOS — although this feature is available for free on Windows. This means Windows users get the best protection with Panda's free plan. I recommend you test out Panda for yourself, especially since you can install Panda onto an unlimited number of devices. You don't even need to sign up for an account to get started.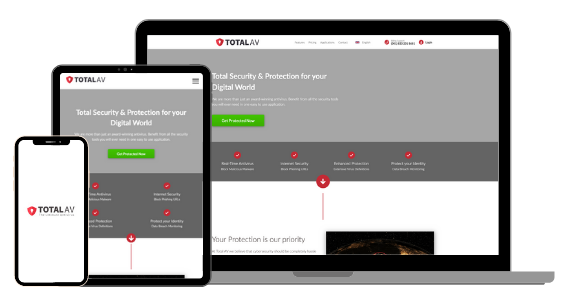 Key Features:
Powerful virus scanner detects and removes known malware infections
Includes performance optimization tools plus mobile-only data breach checker, photo manager, and device locator
Customer support available through live chat and email
Supports Windows, Mac, Android, and iOS
TotalAV's free antivirus has exceptionally fast scanning speeds. In tests, it detected and removed all existing types of malware. When I conducted a Full Scan on my desktop, it only took 20 minutes to scan nearly 1 million files. This is equally as fast as with paid antivirus programs, such as Norton 360. Best of all, I didn't notice any slowdown while the scan was running so I could continue to use my PC without any lag or delays.
TotalAV also has a free Smart Scan, which quickly locates malware infections and even provides performance optimization suggestions. When I ran the scan on Windows and Mac, TotalAV identified hundreds of tracking cookies and duplicate files that could be deleted. It also showed me which unnecessary programs launched during startup, so I could switch them off and improve my device's boot time.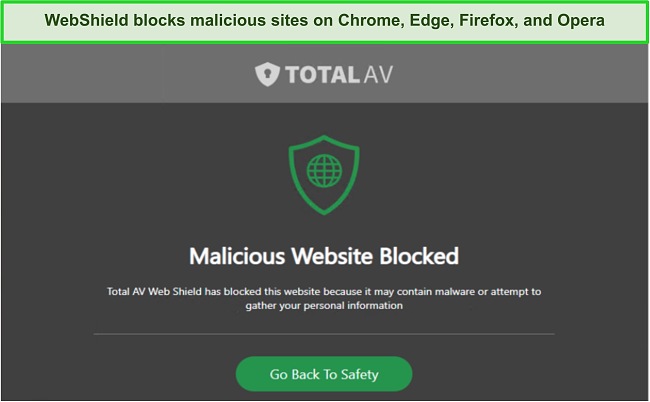 The mobile apps even come with a free data breach checker, photo manager, and device locator. The Android app also includes an app lock tool, which prevents unauthorized access to any apps you select.
Unfortunately, the free plan doesn't have real-time protection. This advanced feature is reserved for premium subscribers only. Despite the lack of real-time protection, TotalAV is an effective free antivirus program and its impressive scanning speeds are a fast way to check your device at no cost.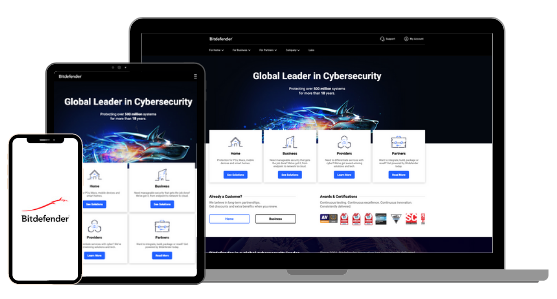 Key Features:
Real-time protection from malware (Windows only) and virus removal
Offers anti-phishing, anti-fraud (Windows only), plus VPN and account privacy tools (mobile only)
Customer service through live chat, phone support, email, and online community
Supports Windows, Mac, Android, and iOS
Bitdefender Free Antivirus provides advanced threat defense from new and known malware — the Windows app even comes with real-time protection. I also liked Bitdefender's free Mobile Security apps, which have features not available on the desktop versions.
The Mobile Security apps for iOS and Android have a VPN with 200MB of daily data, providing securely encrypted connections for safe browsing, banking, and online shopping. They also have an Account Privacy tool that monitors your email addresses for potential data breaches. I like that I could add multiple accounts for Bitdefender to monitor automatically.
In fact, Bitdefender's free Android app is one of the best on the market. It provides high-quality malware scans that provide the same level of protection as the premium app. After the initial malware scan, Bitdefender uses AutoPilot mode to check for malware in new apps and downloads automatically. With cloud-based technology performing the scans, the mobile apps are also very lightweight and have a low impact on device function.
Unfortunately, none of Bitdefender's apps come with ransomware protection, which I found worrying because these types of attacks are on the rise.
Bitdefender does require you to provide an email address. However, there's no need to hand over any payment details and you can use it with as many devices as you want. I recommend you try Bitdefender Antivirus Free for yourself to see if it works well for you.
Get Bitdefender for free today!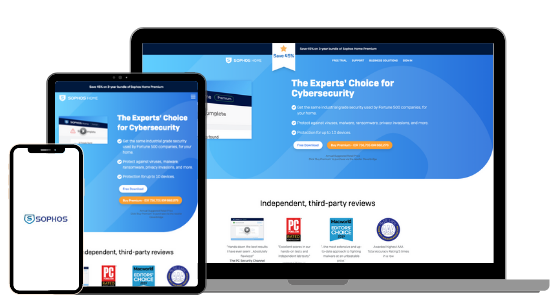 Key Features:
Protects against known malware threats
Includes web filtering, remote management, and more
Online knowledge base available for free users
Works on Windows, Mac, Android, and iOS
Sophos Home Free is incredibly lightweight antivirus software. This is primarily because Sophos is designed for remote use. When you click on a feature in the antivirus dashboard, you'll be automatically redirected to a browser webpage. This ensures Sophos has a negligible impact on your device's operating system.
In terms of malware protection, Sophos defends against all known cyberthreats with integrated real-time protection. Unfortunately, essential features like Ransomware Protection and Web Security are only available on premium versions of Sophos Home. That being said, Sophos Home Free's detection rate was excellent in recent tests, so you can rest assured your device is kept safe from all common types of malware.
The free apps for Android and iOS also offer basic security features, like network scans to check for WiFi issues and a password manager. However, Sophos' mobile coverage is housed under a different brand called Sophos Intercept X. While Intercept X offers many of the same protections as the Windows and Mac editions, it's confusing that Sophos didn't stick with the Home Free branding for its mobile edition.
If you want low-impact virus protection that runs quietly in the background, Sophos Home Free provides a decent level of protection. Better yet, you can install Sophos onto an unlimited number of devices.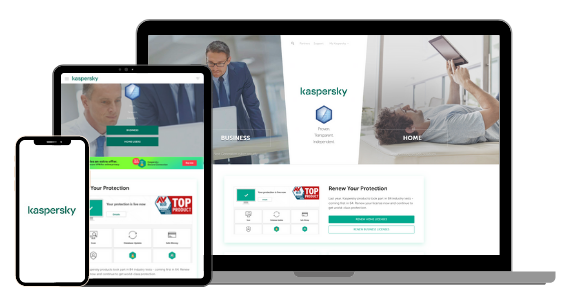 Key Features:
Detects and quarantines known malware, protects against ransomware
Provides VPN, password manager, parental controls, and more
24/7 live chat and phone support, email ticketing, and online knowledge base
Supports Windows, Android, and iOS
Kaspersky Security Cloud is a solid choice for free antivirus protection as it comes with dedicated real-time and ransomware protection. The sophisticated System Watcher feature detects changes caused by malicious software, and then "rolls back" your system to reverse the damage done.
There are some downsides to Kaspersky's free plan. First, it's not available on Mac — you'll only have access to free antivirus protection on Windows, Android, and iOS. Second, the free VPN only has 200MB of daily data and the password manager has a storage limit of 15 login credentials — neither of which are enough for regular use. Third, you'll need to download both features as separate apps (they're not bundled with the antivirus). Last, Kaspersky collects user data to populate its internal database of existing malware. Fortunately, you can opt out of data collection to maintain your privacy.
Despite these issues, I'm still satisfied with Kaspersky's free antivirus software as it provides more than enough protection at zero cost. That said, if you're looking for more advanced features, other free providers like Avira and TotalAV include more functionality on both desktop and mobile. But if you want to try it for yourself, you can download Kaspersky for free and protect up to 3 devices on a single account.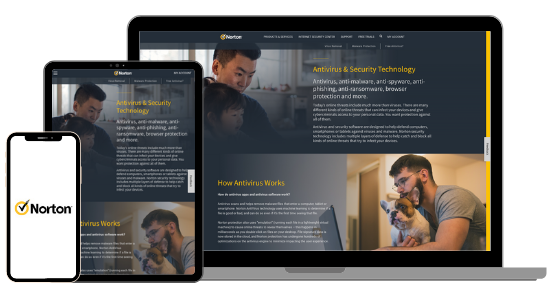 Key Features:
Real-time malware protection from the latest threats
Includes unlimited VPN, parental controls, password manager, cloud storage, and more
24/7 customer service with live chat, phone support, and community forum
Protects up to 10 devices depending on subscription plan
Supports Windows, Mac, Android, and iOS
While it's no longer free, Norton 360 is worth investing in as the most comprehensive antivirus for all of your devices. Its powerful real-time security detects the latest malware threats with SONAR analysis. This technology can match the behaviors of websites or downloads with known malware to determine whether or not they pose a risk.
Apart from Norton's high-level malware protection, the apps are loaded with extra features. I particularly like the cloud storage which provides a place to backup important documents, protecting them from ransomware infections. Norton's VPN is also useful, with unlimited data so you can maintain constant connection security. I used the VPN when I took my iPhone out with me, so I could stay safe even on public WiFi network.
Norton 360 also includes the following features which can also be accessed using Norton Mobile Security for Android and iOS:
Secure browser: Blocks suspicious links and websites to avoid phishing scams and sites loaded with malware.
Firewall: Protects your network from unwanted connections and stops potential outbound attacks from your device.
Parental controls: Provides GPS location tracking, screen time tracker, web filtering, and more.
Password manager: Securely store unlimited passwords for convenient account logins.
As it isn't a free service, you will have to sign up for a Norton 360 subscription to benefit from its top-tier security. I found Norton 360 Deluxe provides the best value for money with coverage for 5 devices, 50GB cloud storage, and parental controls included. You can try all of Norton 360's plans before you commit to a subscription — Norton gives you 60 days to test the service risk-free with its money-back guarantee. If you change your mind, it's easy to get a full refund.
Try Norton 360 risk-free for 60 days!
Comparison Table: 2022's Best Free Antivirus Software (All Devices)
Try Norton 360 for 60 days risk-free!
Free Antivirus Brands That Didn't Make the List
During my tests, I came across several well-known antiviruses that offer free versions that weren't up to the same high standards as the others on this list.
AVG and Avast
AVG is one of the most famous free antivirus packages on the market, but I can't recommend it because of its parent company, Avast. Recently, Avast was exposed for selling free user's data to third parties, including browsing habits, purchases, and even search queries. This is a considerable privacy breach and, as someone who values data security, I'd suggest steering clear of AVG to be on the safe side.
Microsoft Defender
Microsoft has spent a considerable amount of time and effort improving its free, in-built antivirus, Microsoft Defender. Formerly known as Windows Defender, this free service comes with real-time protection, a firewall, and parental control options. However, since Microsoft Defender is only available on Windows, it's not the best antivirus for all devices.
Malwarebytes
I really like Malwarebytes' Premium plan, which excels in terms of security and malware protection. However, its free plan is more of a free trial. It'll protect your device from malware for 14 days, then become much more limited with fewer scan options. That said, you don't have to take my word for it — you can try Malwarebytes out for yourself and see if its premium offering is worth the money.
How I Tested the Top Free Antiviruses for Any Device in 2022
I tested 20 free antivirus plans to find the best options for Windows, Mac, Android, and iOS. I checked them against the following criteria to find the ones that are worth downloading:
Legitimately Free — I checked that every antivirus is truly free, not just a trial. While some require you to create an account, no apps on this list will ask for payment details.
Malware Protection — Effectively scanning your devices for malware is the main reason for using antivirus software. I included antiviruses that can detect all malware threats and put them into quarantine, as well as services that offer real-time protection.
Low-Impact Performance — I looked at speed and CPU usage for each antivirus to ensure the software impact is minimal on all devices. I also looked at how often I saw ads or was prompted to upgrade to a paid version.
Ease of Use — Antivirus software should be accessible to all users, not just tech-savvy individuals. I made sure that every service on my list offers an intuitive user experience on both desktop and mobile devices.
Extra Features — Each antivirus got bonus points for add-ons like a VPN, password manager, or optimization features. I looked at whether I needed to pay for these added extras to get full access.
Device Compatibility — Many free antiviruses are for Windows, but I looked at how well these free plans worked with Macs, Android, and iOS. I also checked what features are available on each device.
FAQ: Free Antivirus for Windows, Android, Mac & iOS
How safe is a free antivirus?
Free antiviruses are safe to use, as long as you choose one from a reputable company. However, you'll find even the best free antivirus programs have limitations. Most free services lack real-time malware and ransomware protection which means you're not secure against the latest attacks. They'll work for removing and detecting known threats, but relying on a free antivirus as sole protection can leave your devices vulnerable to the newest malware.
Low-quality free antiviruses have been known to sell user data to large companies as a form of revenue which is a serious breach of data privacy. Even worse, malware and viruses have been disguised as free antivirus software to trick users into downloading them unwittingly.
To get the most complete level of antivirus protection, I recommend investing in a premium antivirus package. A service like Norton 360 provides comprehensive coverage for your devices, with real-time security and powerful malware scans at a very reasonable price point. It even has a 30-day money-back guarantee so you can test the service and make sure it's right for you risk-free.
Try Norton 360 risk-free for 30 days!
Is there a difference between a free vs paid antivirus?
Yes. There are some good free antivirus programs, but they'll usually be missing several key features. For instance, most free antiviruses don't have real-time protection, which compromises your device security when it comes to brand new threats.
If you're using your device casually and don't have anything important stored there, a free antivirus might provide all the protection you need. A paid antivirus package is going to give you significantly more protection from new and known malware threats.
What's the best free antivirus without ads?
Avira is the best free antivirus without ads, which is appropriate since it's also the best free antivirus on the market! Companies that offer free services are notorious for purchasing ads as a way to earn revenue or to annoy you so much that you'll want to upgrade to a premium plan just to get rid of them. Thankfully, there are a few free providers like Avira that don't feature ads or keep them to a minimum.
However, while Avira doesn't have traditional ads, it does feature some pushy sales tactics to try and get you to upgrade to a paid plan. You'll periodically get notifications that prompt you to purchase, especially when trying to access a feature locked behind the paywall. That said, these are much less annoying than traditional ads and are only a minor inconvenience that are far outweighed by Avira's free quality product.
What's the best free antivirus for Windows?
Based on my tests, Avira is the best free antivirus for Windows. Its real-time malware protection and extra features proved its free version provides strong security against online threats. While Avira's VPN is limited to 1GB of data monthly, its other features are totally unlimited. You can perform multiple device scans, use the secure browser, and safely store as many passwords as you want — all from Avira's easy-to-use desktop app.
Avira Free Security for Windows is also considerably better than Microsoft's in-built free antivirus, Microsoft Defender. When the 2 services are used together, they provide fairly good coverage — Avira is updated constantly to stay ahead of the latest threats, filling in the gaps between Microsoft's irregular updates.
What's the best free antivirus for Android phone?
Out of all the free antivirus programs I tested, Bitdefender Free Antivirus is the best choice for Android. Not only does it offer real-time protection, its AutoPilot feature automatically scans all apps and downloads for malware. The app also has a low impact on your phone performance and keeps battery usage minimal due to its cloud-based technology.
Which free antivirus is best for Mac?
I've tested all the leading antivirus software for Mac and Avira Free Security is the top choice. It's one of the few free plans that offers real-time protection. You'll also get access to a VPN, an integrated firewall for network protection, and optimization tools to improve your Mac's performance.
What free antivirus is the best for iPhone or iPad?
Based on tests, the best free antivirus for iOS is Avira Free Security. I found it to be a low-impact app with several extra features that improve security — including a VPN, call blocker, and anti-theft tools. There's even a Photo Cleaner that frees space on your device to optimize performance. I also liked its unique Privacy Manager feature. This downloads a profile that stops your "Hey Siri" conversations being logged and sent for analysis to improve the service.
Protect Your Devices From Malware With Free Antivirus Software
fAs online threats constantly become more advanced, it's essential to secure your desktop and mobile devices against malware. The best free antivirus packages are from trustworthy companies that prioritize your safety — and aren't simply limited free trials that try to get you to subscribe after a few weeks.
After extensive testing, Avira proved itself to be the best free antivirus because of its real-time protection from malware and other threats. However, keep in mind that no free antivirus is capable of protecting you from every single threat out there.
While it's much better to have a basic layer of security than none at all, you'll be much safer if you choose a low-cost premium antivirus. This is especially the case if you have a lot of sensitive data or files stored on your personal device. Norton 360 is an affordable top antivirus and it even has a 60-day money-back guarantee, so you can try Norton 360 risk-free to make sure it's right for you.
Get Norton 360 for 60 days risk-free!
---
In Summary — Best Free Antivirus Software for PC, Mac, & Phone