5 Best FREE Parental Control Apps in 2023 | PC, iOS & Android
After several years of using different premium parental control apps, I wanted to see if I could save money and get similar features with free apps. It didn't take that long before I had a definitive answer – most of the free parental control apps aren't worth the time it takes to install and set up.
However, after testing over 30 free parental control apps, I did find 5 that I was able to use for my kids. Of all them, Qustodio was the best. Obviously, the free version isn't as powerful as the premium option. However, it includes a comprehensive web filter and screen time management tools.
If you want access to live location tracking, app and games management, and social media monitoring, you can try the premium version of Qustodio free for 30 days – no credit card required. If at the end of 30 days you see that the premium features aren't necessary, you don't have to purchase the premium plan. Instead, your account will automatically be downgraded to the free version.
Try Qustodio Free for 30 Days!
Short on Time? Here Are the Best Free Parental Control Apps — Tested in April 2023
Customizable rules for the whole family
Call and SMS monitoring
Rules and time limits for apps & games
Real-time location tracking and geo-fence capability
When it comes to monitoring my kids on their computers and mobile devices, Qustodio was the best free parental control app I tested. One thing that stood out was how easy it was for me to set up the rules, create a schedule for when my kids can use their devices, time limits for apps, and customize the web filter.
Once everything was ready, I installed Qustodio on my child's phone and computer, and it ran in the background.
Qustodio has a well-organized, cloud-based parental dashboard that I can access from anywhere. This is where I can see all the important data it collects, lock all devices at any time, make changes to the web filter and check in on their real-time location.
One of my favorite features is the ability to create rules for every app and game on the phone. This way, I could limit how much time my kids spend on Netflix, Instagram, and YouTube, while giving them more time for using educational apps or even their favorite chat apps.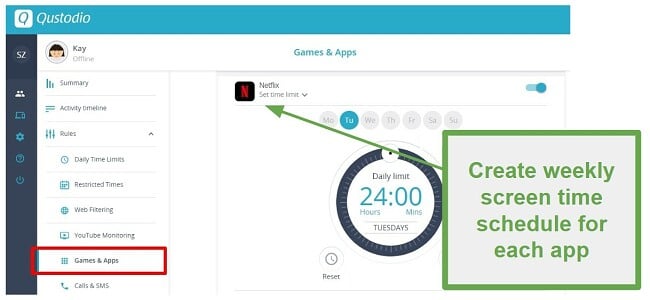 Qustodio comes with two different screen time monitoring tools, which I found really helpful in creating a schedule for the kids. First, you can set a daily allowance. For example, you can allow two hours per day and six hours on weekends. Next, you can set a schedule, blocking the phone throughout the day, for example, during school hours, homework time, and after bedtime.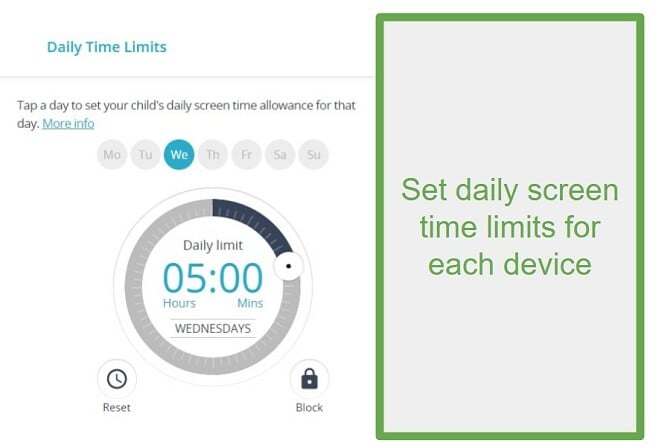 The web filter has 40 categories, which allowed me to customize what types of websites each of my kids were allowed to visit. I asked them to find hacks to bypass the restrictions, such as going through incognito mode or trying to download different browsers, but unlike with other parental control apps, here, they couldn't find a weakness.
The only downside with Qustodio is that their free version is a bit limited. It can only be used on one device and has limited features. There's a way to bypass it when you take advantage of their 30-day free trial that opens full access and lets you test Qustodio for yourself at zero risk. This will give you plenty of time to examine the data and see how your kids are using their phones and if there is anything that might concern you.
Try Qustodio Free for 30 Days!
Manage what type of content your child can access
Get instant alerts when the software detects potentially dangerous behavior
Bark specializes in monitoring social media networks, email, and SMS for dangerous content. It has a smart algorithm that can recognize keywords and phrases related to online bullying, violence, self-harm, drugs, alcohol, and sexually related content. Bark connects directly with the social media accounts, so you'll get an alert even if they're using a friend's phone or computer to check their account.
The screen time management features are pretty basic. The only option is creating a calendar and setting rules for bedtime, school, and free time. Each section can be customized as to what types of websites and apps are available during those times. I would like to see a daily screen time limit to go along with the calendar, so it gives my child the feeling that the day isn't so structured. A Pause Internet button also allows me to block the internet at any time from the dashboard.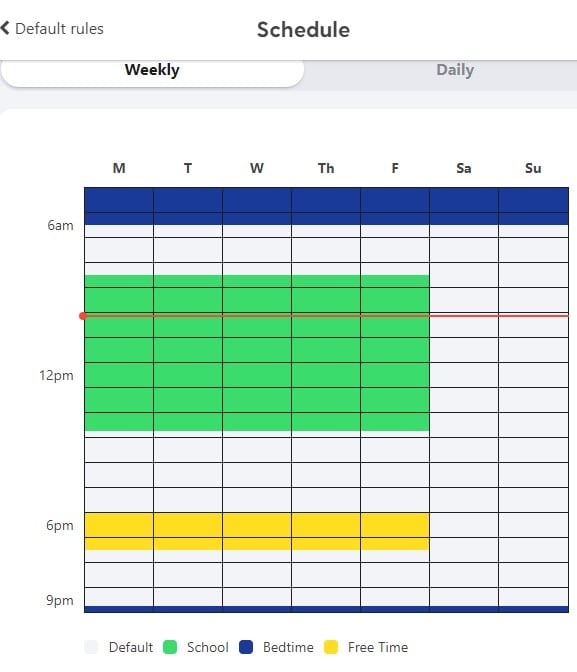 The customizable web filter uses advanced AI to detect dangerous content in 17 categories. In addition to blocking a website on the browser, the filter works in apps, email, and social media. The main focus of the filter is child health issues, such as anxiety, self-harm, depression, and bullying. The filter also blocks sexually explicit content and hate speech.
One area where I think Bark needs to improve is the location tracking. While the app has access to the phone's GPS, I wasn't able to view the location when I wanted. Instead, I had to send a Check-In request, and only when my child pressed the Check-In button did I get an update as to where they were. I found it interesting that there is a geofence option, which sends live alerts when the child enters or leaves a preset location.
Bark doesn't have a free plan, but you can test it for yourself with a 7-day free trial. I didn't need a credit card to activate the trial. After 7 days, I had a good idea of how my children spend their time online and whether I should be concerned about who they interact with on social media.
Multiple screen time management tools
Daily schedule and an overall daily limit for screen time usage
Live location tracking and geofence
Mobicip is ready to use as soon as you install it on your child's phone or computer. It has a default screen time schedule and web filters based on the child's age. Of course, you have the option to customize these tools if you don't think they're a good fit for your family.
The calendar feature divides the day into different sections (school, homework, free time, and sleep) and you can choose what types of websites and apps can be accessed during those times. I like the Vacation Mode option, which lets me temporarily deactivate the schedule during vacation and set a date for the restrictions to be restored.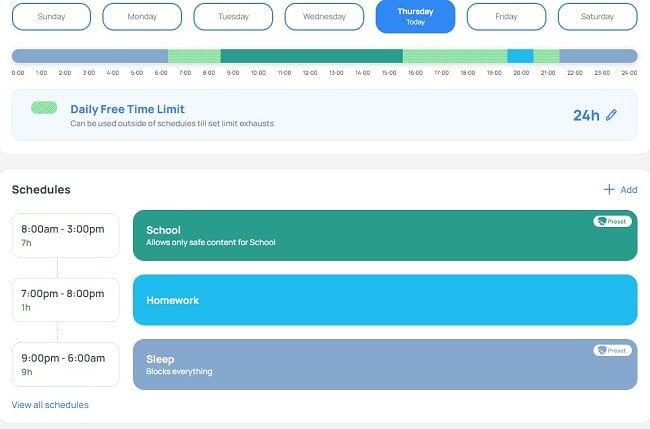 Mobicip has a web filter with 18 categories, such as sex, drugs, bullying, politics, gaming, and more. There is also the option to add websites to an exception list, to give you more control over websites your child can or can't access. For example, while I don't want my son to go on most gaming sites, I'm OK with Roblox. So I blocked the Gaming category but added Roblox as an exception.
Mobicip has a good social media monitoring feature, provided your child uses Facebook, Snapchat, Instagram, and YouTube. I had to connect the account to Mobicip, and then I received updates on what he's posting, who he's connecting with, and other activities. It scans the accounts for pictures and keywords that trigger its sensitivity feature, with topics such as bullying, violence, and self-harm.
Mobicip divides apps into three categories, Social media, entertainment, and games. You can set restrictions and time limits on an entire category of apps or specific apps.
I liked the live location tracking, which connects to the phone's GPS. When I open the parent dashboard, it places my child's avatar on a map. There is also a geofence option, so I can get alerts when they come and go from specific locations, such as school or the mall.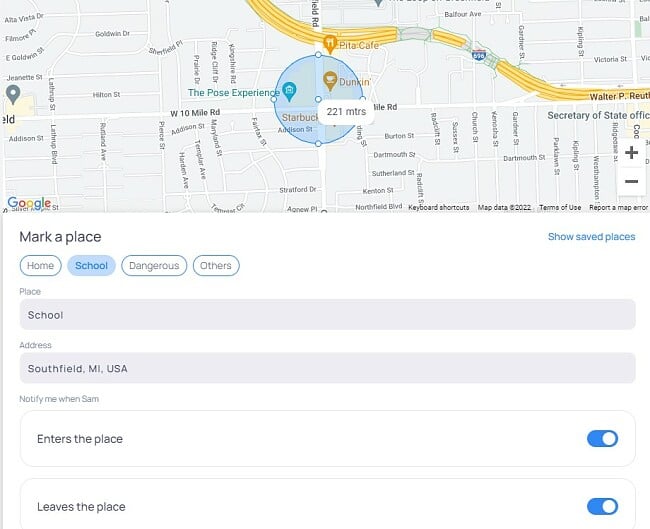 Unfortunately, Mobicip no longer has a long-term free plan. However, you can get a free 7-day trial without entering your credit card. I found this to be a great short-term solution. I installed the app and got 7 days' worth of data. I could see if there were any areas of concern and insight into how my child is using his phone.
Place time limits or restrictions on specific apps
Monitors call log and SMS recipients
I wasn't sure what I would get when I downloaded KidLogger, an open-source parental control app. I used it primarily on my daughter's Android phone and Windows computer, and I was surprised to see it didn't have a web filter. Instead, the app keeps a detailed report of which website my daughter frequently visits, the keywords she is typing into search engines, and a list of the apps she uses.
I was happy to see that it does include the option to limit how much time she spends playing games or using different apps. Although I couldn't set an overall daily screen time limit, KidLogger does give the option to block an app altogether.
One feature that I haven't seen in any other free app is the screen capture feature. It works on Windows and Mac and can take screenshots and pictures with the webcam at set time intervals or whenever a specific search term is used. This way, there is no room for arguing or denying – I have the proof in pictures in the parental dashboard.
I don't like that KidLogger gave me very little control over my daughter's phone. It's more of a spy app than a parental control app. As I mentioned above, there is no web filter, and there is also no way to set a general time restriction on the device.
KidLogger is the first open-source parental app that I tested, and to be honest, it surpassed my expectations. There are still some improvements that I would like to see before I continue using it, but if you're looking for a free parental control app, it's better than most other free options.
Uses AI to recognize potentially harmful behavior
See your child device battery level
FamilyKeeper is a perfect example of a company that gives its users a free taste of its features in hopes that you decide to upgrade to a premium paid package.
I installed the free parent app on my phone and the child app on my daughter's phone. Through the app on my phone, I got real-time updates about where my daughter was all at times through the GPS tracking functions.
It uses AI to recognize potentially dangerous behavior on social media and chat apps and send real-time alerts if it detects the child is being cyberbullied, searching or visiting inappropriate websites, or spending too much time on the device. However, there are no web filters or screen time prevention features in the free app.
| | | | | | | |
| --- | --- | --- | --- | --- | --- | --- |
| | Free Plan | Web Filter | Screen Time Management | Location Tracking | Number of devices with free plan | Compatibility |
| Qustodio | Yes | 30 Categories | Calendar, Daily Limit, and app limits | Live location and geofence | 1 | PC, macOS, Android, iOS, Amazon Fire, and Chromebook |
| Mobicip | 7-day free trial | 18 Categories | Calendar, Daily Limit, and app limits | Live location and geofence | 5 | PC, macOS, Android, iOS, Amazon Fire, and Chromebook |
| Bark | 7-day free trial | 17 Categories | Calendar | Geofence and manual Check-In | Unlimited | PC, macOS, Android, iOS, Amazon Fire, and Chromebook |
| KidLogger | Yes | None | App limits | None | 5 | Android PC, and macOS |
| FamilyKeeper | Yes | None | None | Live Location | 1 | Android and iOS |
Risks Involved with Using Free Parental Control Apps: What Providers May Not Tell You
No one works for free, especially when you need to build a system with a complicated algorithm and the capabilities required to monitor online activities on computers and mobile devices.
Therefore, you should immediately be concerned when you see a company offering a completely free app that will monitor your child's activity. Once the app is installed on the device, and you go through and agree to all the access permission requests, the company has unrestricted access to your child's photos, contact lists, which social media sites they're using, where they go, and the list can go on forever.
Putting the creepiness aside for a minute, they can use this data either to target your kids with advertising or outright sell the data to their partners or third-party marketers. This is one of the main reasons it's always safer to pay a small price per month for a product knowing that no one will use your child as a product.
Security Fears with Free Parental Control Apps
Let's say, for example, that we're dealing with a company that isn't interested in making money. They are ideological and just want to help parents. Ask yourself this question – would you invest money in a product that you're giving away for free? Well, neither would these guys. They aren't securing or encrypting their servers, leading to the potential for massive data. The hackers who steal this data can use it to commit identity theft, fraud, cyberbullying, blackmail, and more.
This is one of the main reasons I don't recommend using a free Parental Control app. If you're really on a budget but see the importance of having control over your kid's phones and computers – get Qustodio and take advantage of its 30-day free trial. This way, at least you'll have a strong sample size of how often your children use their phones, the apps they use, the websites they visit, and where they go. You can use this information to create a plan with your kids to make sure they are acting smart and safe online.
Free Parental Control Apps You Should Avoid – Hint: They Come Built-In with Most Devices
There are several free parental control apps that come from large, reputable companies. These companies have invested in security and seem to have decent features. I'm referring to Microsoft Family, Apple's Screen Time, and Google Family Link. These programs and apps are developed by the very companies whose technology is on the device, and one would think they would easily have a complete set of features.
Unfortunately, the truth is that, at best, these apps are a nice addition to a premium parental control app, but they don't work as standalone apps. While they might have some good features, they also all have serious flaws.
1. Microsoft Family
No mobile apps
Kids can create guest accounts and bypass any restrictions
The web filter is not very thorough
2. Google Family Link
Only available for kids under the age of 13
Any child can create an alternate Google account using a fake birthday and bypass any restrictions
No filter for blocking inappropriate content
3. Apple's Screen Time
By changing the time zone, kids can prevent the scheduling feature from locking their phones
Kids can uninstall and reinstall apps to get around app-specific time restrictions
Siri can override the downtime and open iMessage
The reason these apps are no good is simple: there isn't a good reason for these companies to invest in strong parental control features. Sure, it's good marketing to have them and show the public how much they care, but it's far from their primary concern. Just like I'd rather get my hamburger from a burger place and not from the local pizza shop, I'd rather find a parental control app from a company that focuses on protecting my kids from the dangers online, such as Qustodio. They stay on top of the latest online trends and understand what kids are searching or trying to search for on their phones and computers.
Protect Your Kids with Qustodio for Free!
How I Tested & Ranked the Best Free Parental Control Apps in 2023
This was a lengthy process where I went through and downloaded over 30 free parental control apps on my phone, my children's phones, and our home computer.
I kept each one installed on the device for up to a week to see what kind of data it collects, the user interface, and whether or not my kids or I could bypass the restrictions. Here are some of the factors that I used to create my rankings:
Is it really free? I really only wanted to include apps that were 100% free – unfortunately, the old idiom is true – you get what you pay for. Therefore, I expanded my rules to allow some apps with free trials or money-back guarantees – provided that getting the refund wasn't a hassle. This made Qustodio the clear #1 choice. It offers a 30-day free trial, which gave me plenty of time to evaluate the features and see valuable data regarding my kids' online behavior.
Does the app work as advertised? Before testing the apps, I carefully went through their website and read what features are included. If I saw that they were promoting screen time monitoring only to discover that it's blocked behind a paywall after I installed it, I removed the app from consideration.
Does the app slow down the phone or computer? I didn't want to punish my kids by putting these apps on their phones. So, if I saw that the app was using up a lot of resources and slowing down the device, it was quickly uninstalled and received a poor grade. The best apps are those that work in the background, and the kids quickly forget they're even on the device.
What is the app Privacy Policy? This was important to me since these apps can access everything my kids are doing online. I had to make sure that they weren't selling the data to marketers or using their behavior to target them with ads.
FAQ
Why do you list paid apps on a free parental control page?
This is a fair question and one I debated with my team for a while before publishing the page. The bottom line is I don't trust free parental control apps, but at the same time, I realize that people sometimes need a free option to protect their kids. By including trustworthy companies like Qustodio and Norton Family, which offer their services for free for a limited time, parents can get a peek into their children's online lives, and based on that data, decide whether they need to invest in a paid subscription or not.
Are free parental control apps any good?
As with everything in life, you get what you pay for. There are plenty of risks involved with installing free parental control apps on your child's device. If they aren't properly secured, it can leave your child vulnerable to cyberattacks and hackers that can find a backdoor to accessing your child's device. Additionally, the features are limited with 100% free apps, and that's why I recommend taking advantage of the Qustodio 30 day free trial. It's a secure app with premium features, and gives valuable information about how your kids are using the online devices.
Can I just use the free parental control apps that come with my phone or computer?
In my experience, apps like Google Family, Screen Time, and Microsoft Family are so easy for kids to bypass that it's not even worth configuring them. These companies don't focus on updating the apps frequently because it's a low priority for them. I prefer going with an app like Qustodio, which has a free 30-day trial and constantly updates its list of dangerous words, slang, and phrases.
Can I monitor my child's phone with a free parental control app?
As with all features in free parental control apps, the monitoring tools are relatively limited. Each one offers just a taste. For example, FamilyKeeper will alert you of potentially harmful activities, KidLogger will take screenshots of your child's device, and OpenDNS blocks adult websites. The only way to get comprehensive monitoring of your child's cell phone for free is to get Qustodio's 30-day free trial – no credit card required.
Are free parental control apps safe?
Yes, all the apps listed above have been tested for security flaws. I read through the privacy policy and ran multiple virus and malware scans to ensure they are safe.
Bottom Line
No company is so virtuous that they're going to develop a completely free parental control app that comes with premium features and no way to monetize it. This means that you have to look out for features that are locked behind a paywall, adware scams, privacy concerns, or dangerous or unnecessary files being installed along with the apps. This is why I prefer to use Qustodio; while it isn't free for life, you can get a free 30-day trial and get a good insight into what your kids are doing online, and quickly find and fix any trouble they may be getting into.