KidLogger Overview May 2022
Kidlogger is not the typical parental control app I thought it would be. Traditional parental control apps give you a level of control over the content your kid accesses, the websites they visit, what they watch, and the time they spend on their devices. But not Kidlogger. It only allows you to monitor your kid's activity by tracking every keystroke, recording calls and messages, capturing screenshots, and logging live location.
If you want an app that does more than Kidlogger and allows you to restrict app usage and establish daily usage limits, check out Qustodio. If Kidlogger sounds good to you, keep reading to find out more about the app and its best current offer for new users. But you don't have to take my word for it when you can test Kidlogger for free.
Features
8.0
Though Kidlogger lacks some of the features I look for in a parental control app, like website filtering, time restriction, and app blocking, it makes up for it in the monitoring features. I was particularly impressed by its keylogging features and how well it records every word typed into a device. With it, I can keep an eye on what my kids do on their phones.
Updated Windows App
KidLogger released an updated version (6.0) of its Windows app. It includes some much-needed updates, that make the app more attractive. If you already have KidLogger 5.0 or earlier on your Windows computer, you will need to uninstall it and reinstall the latest version.
In previous versions, it didn't matter who was using the computer, all the data was considered to be coming from one user. Now, you can create multiple accounts, and KidLogger will create a virtual device for each one.
The two other major updates are:
Offline Mode: Tracks what your children are doing offline, screenshots and audio records will be uploaded to the dashboard when the computer is connected to the internet.
Prevents unauthorized shutdowns: Only someone logged in as an admin can turn off the monitoring features or remove the Autostart option.
KidLogger also improved the process of reporting bugs, troubleshooting, and support for monitoring activity via remote desktop servers.
Web History Monitoring and Time Tracking
I found Kidlogger's web history feature very reliable. It kept a detailed log of every URL my kids visited on the web. However, I wasn't particularly impressed by how the logs were presented on the dashboard. Everything was in one place, and it looked cluttered. However, you can filter the log to see specific information like screenshots, messages, media files, and applications.
I should mention that Kidlogger's monitoring function is very limited on iOS devices due to the recent privacy update in iOS 14. This means that if your kids use iPhones, you can't be able to see any of their activities. The most you can see is their GPS location. I tested Kidlogger on my Kid's iPhone, and this is what my dashboard looked like.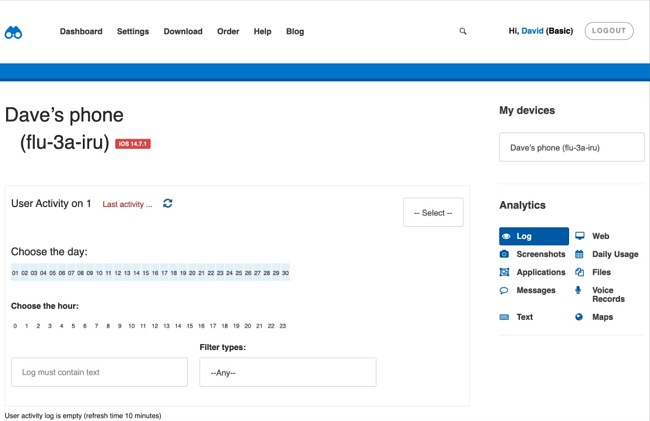 It is important to note that Kidlogger doesn't give you control over how your kids use the web or their devices. This was a big dissuading factor for me because I like to control my kid's internet usage and device usage times etc. If time management and complete control over what your kids are doing online are essential for you, check out Qustodio. With this app, you'll be able to limit both time and websites the kids are using, and you can try it risk-free for 30 days.
If your child uses an android device, the Kidlogger android app offers more control over screen time with a time restriction feature. It also allows you to block app installations you disapprove of.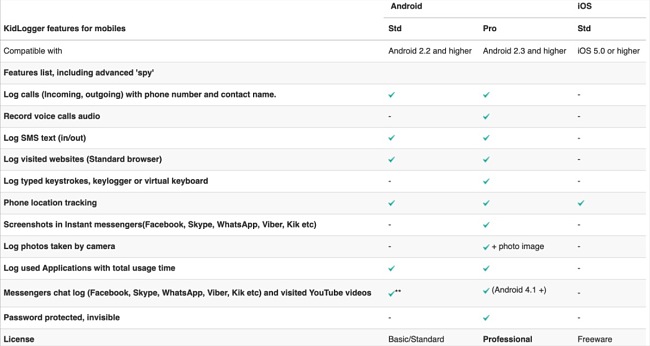 Keylogging
What drew my interest to Kidlogger is its excellent keylogging feature. It records every typed word, application used, captured photo, phone call, and message sent. In addition, it also takes periodic screenshots while your child is using their device. The app takes one screenshot per minute. But you can customize the number of screenshots you want it to take in your settings dashboard if you want more or less.
It offers more monitoring features on desktops as you can discreetly see what your child is doing through the computer webcam and record voice conversations using the microphone. However, this isn't as promising as it sounds as the microphone picks up on ambient noises, and you might end up with muffled audio depending on the environment.
Remember, as I explained above, you can only enjoy this keylogging feature on android and computers–such a bummer for iPhone users. For a better keylogging experience in iOS devices, check out mSpy.
Social Media Monitoring
Kidlogger doesn't have direct control over social media apps. Simply put, it can't monitor social media apps natively. However, its keylogging and screenshot features allow you to effectively track your child's conversations by recording what your child types in the apps, who they chat with, and when. If you want a parental control app that's specifically built to monitor social media, check out Bark.
On Skype, Kidlogger goes the extra mile and takes screenshots every 15 minutes during video calls. Unfortunately, this skype screenshot feature is not customizable. I would have appreciated it if Kidlogger had the option to change the frequency for Skype screenshots.
Scheduled Email Reports
Monitoring your kid can become a full-time job, mainly if they use their devices heavily. And that can quickly get in the way of you focusing on your work. Kidlogger allows you to customize your reports according to frequency, the time you want to receive the reports, and the content you want to see. This gives you total control over your email notifications, so you don't have to keep getting distracted with emails every second.
During testing, I noticed that email reports are only available for paid accounts. So if you are using the free basic account, you won't receive any email reports.
Parental Time Control for Android
In addition to the monitoring features, KidLogger has developed a separate app for Android that gives parents more control over how their kids are using their phones and tablets.
I installed the free app on my child's phone and was able to create a schedule of when he can play games, blocking access during school hours and in the evening when phones should be off.
It gives parents the option to set an overall game time limit and create an approved list of games and apps that can be used without limits. If your child has games or apps that you don't want them on at all, you can easily block the app completely.
Parental Time Control is a free app, and you can manage it through the regular KidLogger dashboard.
Installation
8.5
Installing Kidlogger is pretty simple and takes a few minutes. Once you sign up for an account, they send you an activation link in your email, which you use to access your dashboard. I found this to be so convenient because you can access the monitoring dashboard online from any device. With Kidlogger, you only download the app on the device you want to monitor.
Installing the Kidlogger Child App
Once you activate your Kidlogger online account, download the Kidlogger app from the website. Open the app, select Settings, and enter the email address connected to your online account. The app automatically recognizes the installation and begins uploading logs to your online dashboard after a few minutes.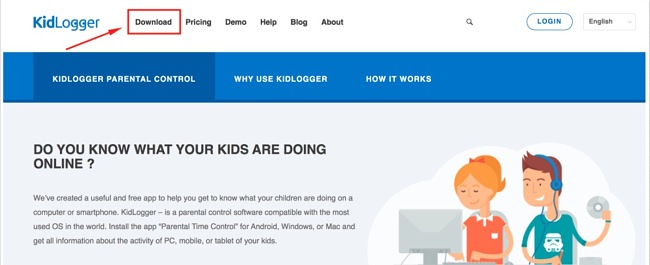 Installing Kidlogger is a straightforward process, and it provides visual instructions on how to go about it depending on the operating system you're using.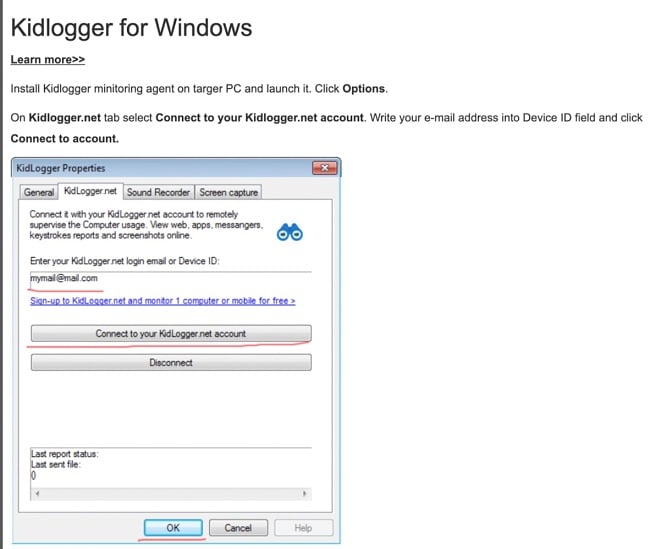 Ease of Use
8.0
The Kidlogger dashboard is easy to understand. It displays basic information on the dashboard like logs, screenshots, text, messages, applications, and location. However, I didn't like its dated user interface. But I've got to hand it to them; it works well and is simple to navigate.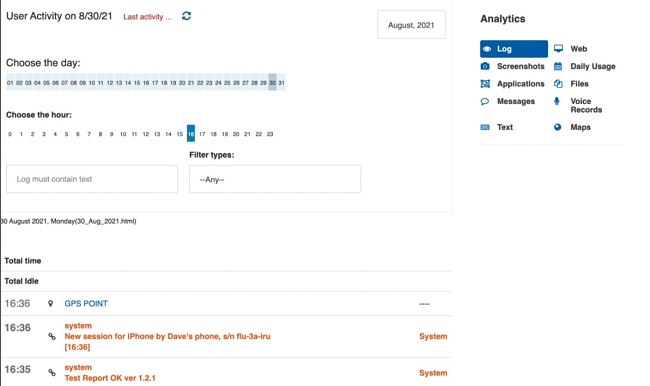 As seen in the image above, this is how the Kidlogger dashboard looks. To see logged activity, simply select the day and the hour. You can also filter the logs to see specific items like screenshots, text messages, websites visited, or applications used.
Support
7.0
I did not run into any issues when using Kidlogger, and I doubt you will too. But that said, I tested their support to see how good they are at handling customer inquiries. I sent a query via a contact form and received an answer after 36 hours.
I would have appreciated it if they had a live chat feature where you could get assistance within a few minutes, but that's not the case. You can only reach the support team via email or by filling a contact form on the website.
On the bright side, the team was helpful, and Kidlogger offers many valuable articles on how to resolve the most common issues. That might come in handy if you need quick assistance.
FAQ
Is Kidlogger safe?
Yes, Kidlogger is completely safe. I didn't run into any safety issues while using it. You can use it on your kid's devices without fear of malware or virus attacks.
Can I limit specific apps for my kids with Kidlogger?
The android version gives you the ability to block app downloads, but that's as far as it goes since it is monitoring software and not a parental control app in the traditional sense. If you want a parental control app that can limit specific apps, check out Qustodio.
Is there a way for my kids to bypass the Kidlogger web filter?
Kidlogger doesn't have a web filter. So your kids will be able to access all websites without restriction. If you want an app with web filters, you're better off with Qustodio.
What operating systems support Kidlogger?
You can use Kidlogger on Android, PC, Mac, and iOS. However, it has restricted functionality on iOS. If you are an iOS user, I recommend you to check out mSpy.
Pricing
8.5
Kidlogger offers three pricing plans, each with different features:
A very limited free plan. With this version, you can only view logs and screenshots. It also has limited storage space and stores log history for 9 days.
A standard plan with more features like web, text message, application, and device usage analytics. It also offers more storage space and keeps your log history for 30 days.
A professional plan that offers more storage space than the standard plan and keeps a log history for 60 days.
The free and standard plan allows you to monitor up to 5 devices. But with the professional subscription, you can monitor up to 10 devices. You can always try a free subscription to see if it's what you've been looking for.
KidLogger offers the following plans
Bottom Line
Kidlogger is a decent keylogging and monitoring app. But that's all it is. Suppose you want more control over your kid's device. In that case, I recommend looking into an app like Qustodio, which will allow you to control device usage times, set rules for specific apps, filter web searches, and even block harmful websites.
If you want to give Kidlogger a try, you can do it at no risk. Take advantage of Kidlogger's free subscription to see if it works for you before committing to a plan. In case you like it, you can always get the full, paid version.