6 Best (100% Free!) VPN Apps for iPhone and iPad in 2021

Last Updated by Sarah Barnes on April 01, 2021
There are hundreds of free VPNs for iPhone and iPad, but finding a good one is surprisingly difficult. I've tested so many free VPNs that have done the opposite of what they promise to do — slow my connection speed, drain my iPhone's battery life, and even infect my devices with malware. Worse still, some of these terrible free VPNs have positive ratings on the App Store!
That's why I've tested and ranked the best free VPNs that are secure, fast, and work on iOS 14 and older. All of these VPNs have easy-to-use apps for iOS and other devices, keep your online activity anonymous, and protect your connection whether you're using your home network, public WiFi, or mobile data.
Unfortunately, free VPNs do come with some minor cons, like data limits, small server numbers, and slower speeds. If you'd rather use a VPN without these limitations and restrictions, I suggest ExpressVPN as the top choice for your iPhone and iPad. It offers fast download speeds across a large server network and has unlimited data so you can stream all your favorite TV shows and movies on your iOS device as much as you want.
Test ExpressVPN out for yourself risk-free. If you don't feel it's right for you, you can get a full refund within the 30-day money-back guarantee period!
Try ExpressVPN risk-free today!
Quick Guide: Top Free VPNs for iOS in 2021
Try ExpressVPN for free for 30 days!
Best Free VPNs for iPhones and iPads (Tested April 2021)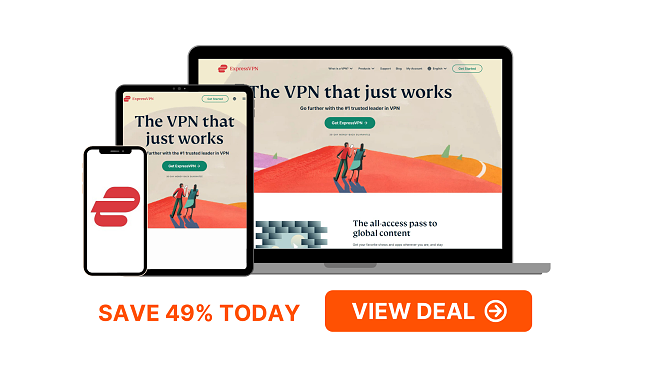 Key Features:
Unlimited data — browse, stream, and torrent as much as you want
Fast download speeds for connections without lag or buffering
3000 servers in 94 countries for global network access
Audited zero-logs policy guarantees your data is never stored for anonymity
Supports iOS 10 and later — plus Windows, Mac, Android, Linux, games consoles, Smart TVs, and routers
ExpressVPN provides the best, most comprehensive VPN service for your iPhone and iPad, as well as other devices. While it isn't a free service, it does come with a money-back guarantee that gives you 30 days to try it. This makes ExpressVPN a great choice if you only need an iOS VPN for a couple of weeks or want to test the service before subscribing.
Although ExpressVPN is compatible with many different operating systems and devices, I found it to be especially intuitive on iOS. ExpressVPN works with all Apple devices and includes a Smart DNS service called MediaStreamer. This allowed me to unblock streaming sites on my Apple TV, which doesn't offer a native ExpressVPN app. You can even encrypt your Apple Watch data with ExpressVPN if you tether it to your iPhone.
I was impressed by ExpressVPN's fast speeds, especially when using far away servers on its global network. The speed on my iPhone XS never fell below 89Mbps and that was connected to a server in Australia — it only dropped 25% of my usual internet connection, which isn't much considering the distance.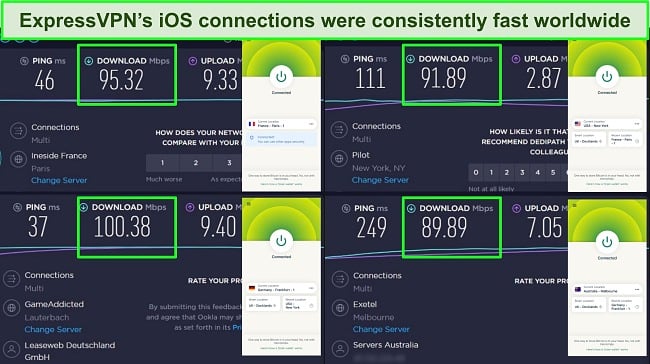 After testing multiple servers, I can confidently say that ExpressVPN is consistently fast enough for streaming and downloading without any lags or interruptions. I tested ExpressVPN with top services like Netflix, Disney+, Amazon Prime Video, and Popcorn Time by connecting to multiple servers in different locations. ExpressVPN worked with every streaming service I tested and I had unrestricted access to shows and movies not available in my location.
Access to global content is just one perk of ExpressVPN's military-grade encryption, which effectively masks your IP address with zero data leaks. With ExpressVPN's high-level protection you can safely use your iPhone or iPad on any network, including public WiFi and 3G, 4G, and 5G data, without risking your data security. You're also protected by ExpressVPN's TrustedServer technology, which guarantees your online activity is never logged or stored — every time the server reboots, all traces of your data are instantly erased. This zero-logs policy is backed up by several independent audits so you can rest assured you're completely anonymous every time you use ExpressVPN on your iOS devices.
However, I was disappointed to find that ExpressVPN doesn't offer kill switch functionality on its iOS apps. This means your IP address and activity could be exposed if the VPN connection is interrupted. Although I never experienced connectivity issues while testing the service, I'd like to see ExpressVPN add this feature to its iOS apps for even better security measures.
I was concerned there would be a catch when it came to getting a refund, but I can assure you there isn't one. I used ExpressVPN's money-back guarantee and it really is a "no questions asked" policy. It took just a couple of minutes to make the request using ExpressVPN's 24/7 live chat. Best of all, I had my refund in less than a week.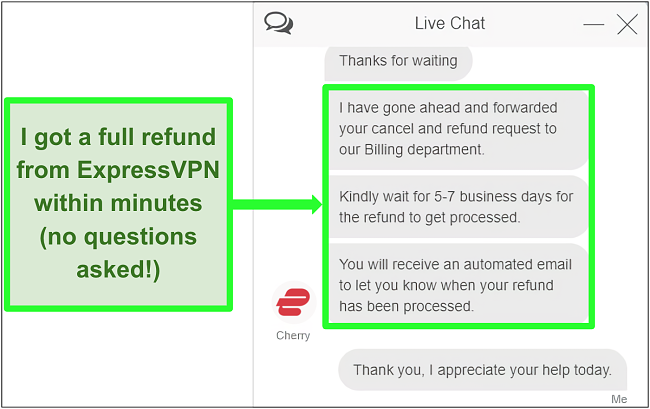 I recommend that you sign up for ExpressVPN through its website as that means you'll deal directly with the company when getting your money back. If you sign up through the App Store, you have to contact Apple and it can be a tedious process to get a refund that way.
April 2021 Update! ExpressVPN has dropped prices for a limited time to a crazy $6.67 per month for the 1-year plan (you can save up to 49%) + 3 months free! This is a limited offer so be sure to grab it now before it's gone. See more information on this offer here.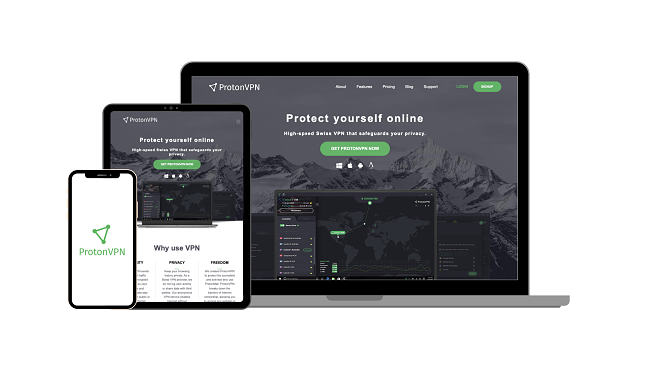 Key Features:
Unlimited data — doesn't impose data caps or bandwidth limits
Speeds vary depending on location — US servers had best download speeds
3 server locations in the Japan, Netherlands, and US available to free users
Never logs identifying data, but does record your iOS device model and OS version
Supports iOS 11.0 or later — plus Windows, Mac, Android, and Linux
ProtonVPN provides secure, fast connections at zero cost and you can use it as much as you want as there are no data or bandwidth caps! I was skeptical at first as the majority of free VPNs have data limits, but ProtonVPN genuinely doesn't cap your use. I find this reassuring as it means my iPhone connection is constantly protected, whether I'm at home or out using mobile data and public WiFi.
I'm also pleased with its impressive iOS security. ProtonVPN's free plan provides you with the same military-grade encryption as its premium software, although free accounts are missing NetShield (an ad and malware blocker). As ProtonVPN is based in Switzerland, by law it isn't required to store any user data — and independent audits have confirmed the iOS app is secure.
Unfortunately, ProtonVPN's iOS app lacks a kill switch. Instead, there's an "Always On" feature that automatically reconnects to a VPN server if there are any interruptions or issues. As ProtonVPN can take several seconds to connect in the first place, this does pose the risk of some data leaking before the connection is encrypted again. However, I didn't experience any issues when I used the app.
While ProtonVPN only offers 3 server locations, I was impressed by the overall connection speeds. Surprisingly, my fastest speeds came from the US servers rather than the Netherlands, which are much closer to my home in the UK. The Netherlands had an average of 40Mbps, but Japan barely hit 10Mbps download speeds. The US servers had an average speed of 100Mbps, which is fast enough to browse, bank, and shop online without any issues. Unfortunately, ProtonVPN's free service doesn't allow streaming on sites like Netflix or torrenting — these speeds would be more than fast enough for buffer-free streaming and downloading.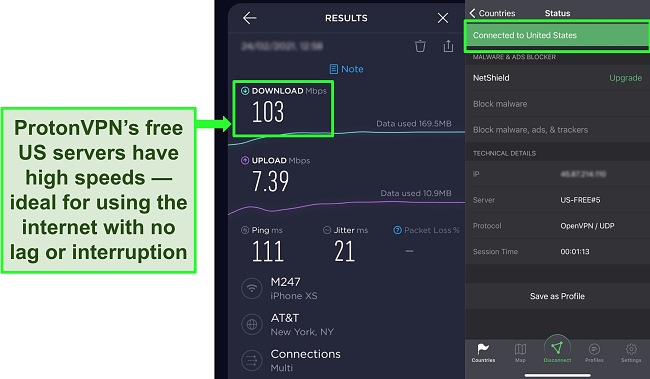 ProtonVPN's iOS app is totally free, though you do have to sign up for an account with a valid email address. The service keeps a record of this email address for sign-in purposes but for better anonymity, you can use a brand-new email not associated with you personally.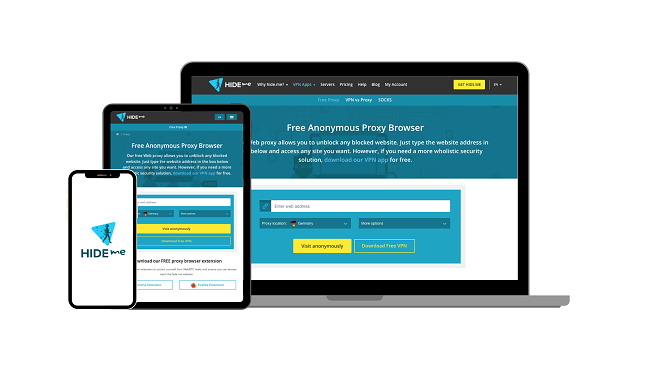 Key Features:
10GB monthly data allowance
Consistently fast speeds across all server connections
5 free server locations — Canada, Germany, Netherlands, US East, and US West
Zero-logs policy — never stores your data and no signup details required
Supports iOS 9 or later — plus Windows, Mac, Android, Linux, Smart TVs, and routers
hide.me's top-tier security is some of the best I've seen from a free iOS VPN. It includes advanced features that other services don't offer, like an automatic kill switch to protect your data if your connection is interrupted. As hide.me is based in Malaysia, it isn't required to store user data so it maintains a strict zero-log policy. You don't even need to create an account to use the service — just download the app to your iPhone or iPad and connect to a server.
I was also pleased to find that hide.me offers DNS and IP address leak protection for free users. I confirmed this by connecting to all available servers and running leak tests — hide.me successfully hid my data every time, guaranteeing my online activity and true location remain anonymous.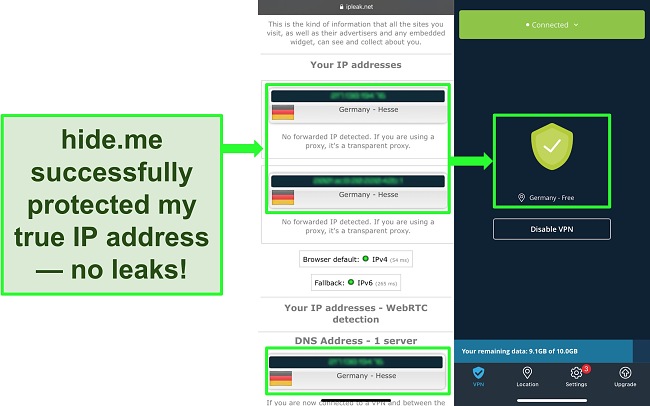 This high-level encryption also makes hide.me a top free VPN that works in China and other countries with restricted internet, like Turkey and Iran. If you're not in one of these locations, hide.me's secure connections make it easy to use your iPhone to access content that isn't available where you are.
While it's not possible to stream on Netflix (streaming services are limited for free users), I could use hide.me to watch YouTube US videos in HD-quality. This is due to hide.me's uncapped speeds, even for totally free accounts! I ran speed tests for all available servers and they never dropped below 88Mbps — fast enough to browse, shop online, and even watch a few videos without any lag or buffering. With a 10GB monthly limit, hide.me gives you enough data for around 10 hours of HD streaming.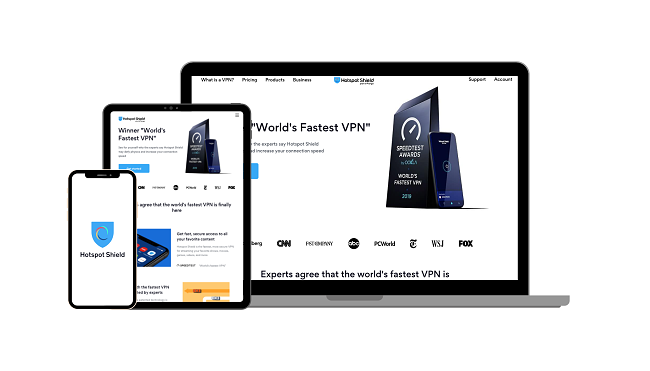 Key Features:
500MB daily data allowance
Caps speed at around 5Mbps — fast enough to browse online without lag
One US server location for free users
Keeps some logs like total bandwidth consumed, time connected to the VPN, and device specific information
Supports iOS 12 and later — plus Windows, Mac, and Android
Hotspot Shield's free iOS app is a solid choice if you want to browse online with a secure connection. It doesn't offer unrestricted speeds or data like some other free providers, but it still prioritizes your data security so you can use the web anonymously.
The app features the same military-grade encryption available to premium users, as well as Hotspot Shield's "perfect forward secrecy." This extra layer of security gives you a new session key every time you connect to the service — even if a hacker managed to access your connection, they could only see what you've done in that single session. Unfortunately, Hotspot Shield's free iOS app doesn't have kill switch functionality.
I was disappointed to find that Hotspot Shield capped my connection speed at around 5Mbps, especially as it's usually such a fast VPN. I tested the service at multiple times throughout the day and always had the same result.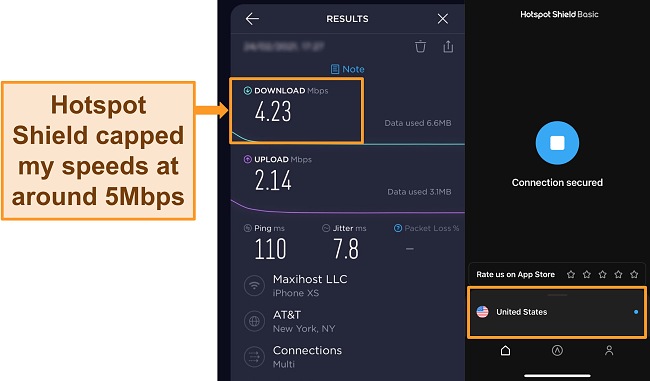 As free users can only connect to 1 US server, I thought slow speeds might be due to congestion. However, Hotspot Shield openly states that it caps speeds for free users to prioritize premium customers. Even with slow speeds, I found I could easily browse on Safari without any noticeable lag. However, I couldn't stream or download using the iOS app due to these restrictions.
Hotspot Shield doesn't require any signup to use its free iOS app — you can just download the app to your iPhone or iPad and connect straight away.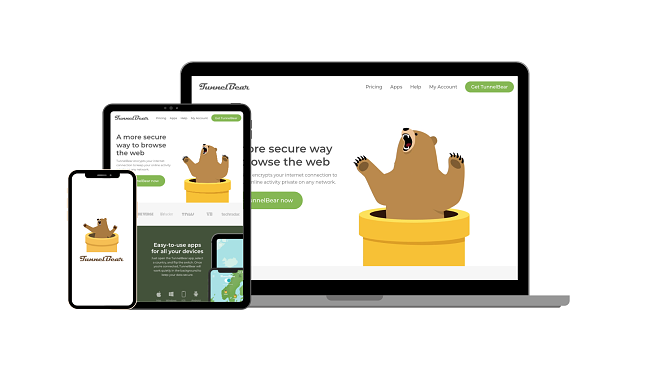 Key Features:
Limited to 500MB monthly data
Fast download speeds make browsing, banking, and shopping online lag-free
Servers in more than 20 countries for global network access
Regularly audited — stores some operational data (like iOS device) and account data (like email address)
Supports iOS 11 or later — plus Windows, Mac, Android, and Linux
TunnelBear is one of the fastest free VPNs with a huge server network. Users have access to every server, which is rare as free VPNs normally limit server numbers. From your iPhone or iPad, you can bypass content blocks in countries like Japan, the US, Brazil, New Zealand, and Norway. From my home in the UK, I could access Netflix libraries around the world without TunnelBear being detected as a VPN.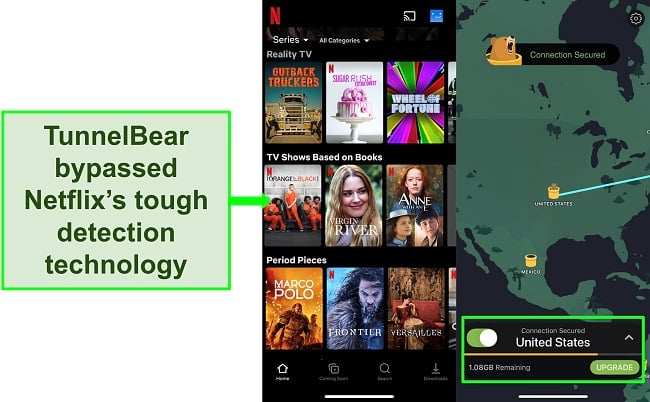 I was also able to unblock Amazon Prime Video and Hulu using TunnelBear but due to limited data caps, I couldn't actually stream anything. TunnelBear offers just 500MB data per month, which is enough to check your emails or online bank account securely but not much else. TunnelBear's data allowance would let you stream about 30 minutes of SD-quality video — but that's it until the allowance renews the following month.
It's a shame that the cap is so low as TunnelBear's speeds are excellent. I ran speed tests using Ookla on more than 10 servers, including locally in the UK, the US, Japan, and New Zealand. On average, my speeds were around 90Mbps with the lowest speed in Japan at 67Mbps. This made it easy to check emails, browse the internet, and shop online from my iPhone without any lag.
You will need to sign up for an account to use TunnelBear's free iOS app. All you need is a valid email address and password, which TunnelBear stores for operational (login) purposes.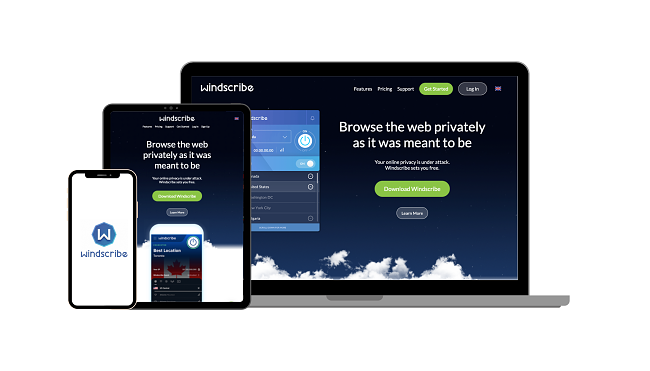 Key Features:
Data capped at 10GB monthly allowance
Fast enough to stream and browse the web without lag
14 server locations, including France, Netherlands, Turkey, Hong Kong, the UK, and the US
Strict zero-logs policy — only stores data if you sign up for an account
Supports iOS 10 or later — plus Windows, Mac, Android, Linux, Smart TVs, and routers
Windscribe has solid security for its iOS app, with best-in-class encryption and a strict zero-logs policy. I tested Windscribe's leak protection by running tests on different servers and it passed every one — I could browse and stream securely with no data leaks.
I also like that Windscribe doesn't require any signup details to use the free service. However, if you don't create an account you're restricted to just 2GB of data per month. By signing up with a valid email address, your data cap is boosted to a 10GB monthly allowance. You should know that if you sign up for an account, Windscribe stores this information to verify your credentials when you log in.
This data boost really improves Windscribe's overall useability as it makes it possible to stream up to 10 hours of SD-quality video. I wasn't able to access Netflix during my tests, but I could visit the US YouTube site and unblock Hulu using Windscribe's free servers.
My main frustration with Windscribe's iOS app is how difficult it is to use. It's similar to the desktop apps, but the compact interface that works well on a computer is fiddly on a small screen. Navigating between servers on my iPhone was hard — free servers are hidden amongst lists of premium-only servers, and the icons are so small it's easy to misclick.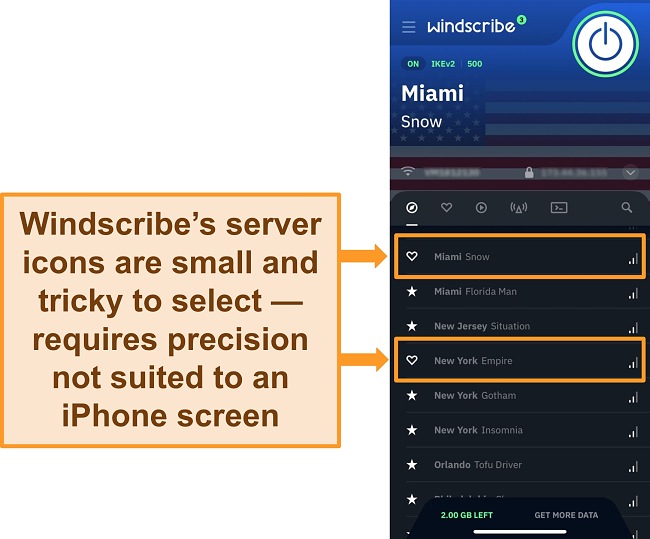 I also don't like that Windscribe's malware and ad-blocker is advertised on the website as part of the free service — but it's not available on iOS unless you upgrade to a paid plan.
Get Windscribe for free today!
Are Free VPNs Really Safe to Use on iOS Devices?
Yes, some free VPNs really are safe to use. The VPN services on this list have been thoroughly tested and reviewed to ensure they won't compromise your security. Your personally identifiable data and online activity won't be logged, stored, or sold.
You'll find that the safest free VPNs are offered by services that also have premium subscriptions too. These companies cover the cost of operating a free VPN with revenue from paying customers so they don't have to sell your data to advertisers like some free options. They also perform well because they're like a sample of the premium subscription — the free service shows how secure, fast, and user-friendly the VPN is but has some limitations (like not being able to use Netflix or having a data cap). Once you've seen how good the service is, you'll be more likely to upgrade to a premium package.
Unfortunately, there are hundreds of VPNs on the App Store that advertise themselves as being 100% free and secure when they're really not. Some of these VPNs also have high ratings, making it even more difficult to figure out which ones are safe.
One example is Hola VPN, which has hundreds of positive ratings on the App Store but has been caught stealing user bandwidth and has zero connection encryption. Another is VPN 360, which has over 29,000 ratings and 4.5 stars out of 5. This VPN logs URLs visited through its connection and can impose data logging whenever it wants to (the privacy policy states it will disclose your information to the authorities if deemed necessary).
To avoid downloading an unsafe or misleading free VPN, I suggest taking a look at one of the choices on this list. A free service like ProtonVPN or TunnelBear will provide you with a layer of security and anonymity that protects your data when you're online. However, free VPNs can only provide so much before you encounter limitations — for a truly unlimited service, ExpressVPN is the best choice. You do have to pay upfront but with the 30-day money-back guarantee, you can use ExpressVPN as much as you want and get a full refund, no questions asked.
Get ExpressVPN for free for 30 days!
How I Tested and Ranked These VPNs
I ran tests using my iPhone XS and iPad, both running iOS 14. I examined the following categories to ensure a fair and accurate ranking:
Free services without a catch: When you're not paying for a product, you are the product — but not with the free VPNs on this list. I examined the terms and conditions of each VPN to determine that your data won't be sold to advertisers, you won't be shown excessive ads, and that the refund policies were accurate for VPNs with a money-back guarantee.
Top-tier security and privacy policies: There are hundreds of free VPNs that provide little-to-no encryption and have shady privacy policies. The free services on this list have no less than military-grade encryption, zero-log policies for your personal data, and passed leak tests to guarantee your security.
User-friendly iOS apps for iPhone and iPad: I looked at how easy it was to download, install, and set up the apps on an iPhone XS and an iPad. The apps are simple to navigate for beginner users as well as more tech-savvy individuals. They feature quick server connections and settings that are easy to configure.
Fast download speeds: Unless your speeds are fast enough, your VPN-encrypted internet connection is worse than useless. I ran multiple speed tests connected to each VPN's available servers and only included services fast enough to browse, shop online, and stream without lag or interruptions.
Reasonable limitations: Free VPNs have limitations, but some are so limited they are barely usable. I checked that data caps are high enough for day-to-day use (like checking emails or browsing the internet), speed caps aren't severely restricted, and that I could connect to servers at all times of day (including peak traffic times).
FAQ: Using a VPN on iPhone and iPad
What's the best free iPhone VPN for China?
The best totally free iPhone VPN for China is hide.me. It's a VPN service with top-tier encryption and data leak protection to keep you secure when connecting from inside China. hide.me also doesn't log or store any of your data so your online privacy is completely protected, even from the Chinese authorities. Best of all, hide.me gives you 10GB of monthly data for streaming and browsing online, and you don't have to give any details to sign up — just download the app to your iPhone and you're ready to connect.
However, free VPNs are notoriously unreliable in China — and even premium VPNs struggle to bypass China's tough internet restrictions! Free VPNs often don't have the resources to keep improving their services, so I'd recommend having a reliable backup option if you're going to China. ExpressVPN consistently gets around China's restrictions and provides military-grade encryption to protect your online activity. You can even use ExpressVPN risk-free for 30 days with its money-back guarantee.
Which free iOS VPN is the best for Netflix?
Unfortunately, there aren't any totally free VPNs for iOS that work with Netflix. These free services purposefully restrict access to streaming sites so that premium users have priority — and to encourage you to upgrade to a paid plan. If you try to connect to Netflix, you either won't be able to access the website or the app will detect that you're using a VPN.
Instead, I'd recommend using a premium VPN service that has a money-back guarantee. ExpressVPN is easily able to bypass Netflix's tough restrictions and you can use it for 30 days for free — you just need to request a refund before the 30 days are up to get your money back. I tried it for myself and it's easy, especially as ExpressVPN has a "no questions asked" policy.
How do I configure and use a free VPN on my iPhone?
Sign up for the VPN and download it to your iPhone from the app store. I recommend ExpressVPN as it has high-level encryption, fast speeds, and you can use its money-back guarantee to try the service risk-free for 30 days.


Sign in with your account details once the VPN app is installed. Some VPNs don't require you to sign in at all!


Connect to a server and start using the internet securely!
Do free VPNs keep logs?
The free VPNs on this list do not keep any personally identifiable data. However, some of them do store data — information like the time you connect to the VPN server, your approximate location, and other performance-related data. This information is used to run analysis to improve the service and, in some cases, show you advertisements based on your general location.
There are less trustworthy VPNs that log and store your personal data, including your IP address and online activity. This data is then sold to advertisers so they can target you more effectively and so the VPN can make a profit. I'd recommend carefully reading the privacy policy of your chosen free VPN to ensure your data is secure before using it.
Will a VPN drain my iPhone's battery?
A VPN will have a slight impact on your iPhone's battery life, but not enough that you'll notice a significant difference. To keep you fully protected, a high-quality VPN service will need to be connected to the server at all times. This is so your connection is constantly encrypted, even when background processes like mail syncing are running.
I spoke to my top-ranked service, ExpressVPN, and they told me that running the VPN won't drain your battery more than any other background app like Netflix or Spotify. Customer service did recommend switching the VPN connection off if you're not using it, as this will help to improve your battery life.
Will an iOS VPN work on my other devices?
Yes, most VPNs that support iOS will also work on other devices, like Windows computers, Macs, and Android smartphones. Many of the best free VPNs for iPhones and iPads can also be used on other devices — ExpressVPN has app support for multiple devices, including iOS, macOS, Windows, Android, Linux, routers, and more!
It's worth noting that a free VPN will often only provide a single device connection at a time. You may be able to download the app to multiple devices, but unless you upgrade to a premium subscription you won't be able to connect them simultaneously.
Protect Your iPhone and iPad With a High-Quality Free VPN
It can be a challenge to find a free VPN that doesn't compromise the security of your iOS devices. There are a lot of low-quality services that have extreme limitations or shady policies that don't protect your data. Even worse, many of them have high ratings on the App Store so you can't easily tell if they're safe.
Fortunately, every free VPN on this list is designed to protect your iPhone and iPad, as well as other compatible devices. They all offer fast speeds, a high level of encryption, and reliable server connections. ProtonVPN in particular is a great choice as it's 100% and has unlimited data. These factors make it suitable for everyday security, from safe browsing to online banking and shopping, even on public WiFi.
However, free VPNs inevitably have their own limitations like a small number of servers or restricting streaming sites. For this reason, I recommend you take advantage of ExpressVPN's money-back guarantee as a short-term free VPN. You get unlimited access to all of ExpressVPN's iOS app features for 30 days and a full refund, "no questions asked."
Summary: The Best VPNs for iPhone and iPad in 2021
Rank
Provider name
Our score
Price