ESET

Antivirus Review 2022: Surprisingly Good But Some Drawbacks
ESET Overview May 2022
I spent several weeks testing ESET and seeing how it measures up to some of the best antiviruses on the market. I tested ESET's security tools, added features, ease of use, and support options. I found that it has brilliant anti-malware protection with perfect testing results, but its additional features are lacking.
With how advanced threats are nowadays, you might want some of the advanced security features offered by other providers like Norton. However, if you only need basic protection and don't want to pay too much, you can try ESET with the 30-day money-back guarantee.
Try ESET risk-free for 30 days!
In a Rush? Here's a 1-Minute Summary
Security - 9
Core security is where ESET shines, with perfect malware detection rates in both scanning and real-time protection. This will be enough for most beginners, but more advanced users can also use its advanced diagnostics tools to get detailed insight into many aspects of their device's security. In this regard, ESET strikes a great balance.
Malware Scanner — Flawless Malware Detection for Uncompromised Security
ESET's malware detection capabilities are some of the best you can get right now, scoring 100% in detection tests. This is a crucial core element of any antivirus, giving you the ability to detect and eliminate any threats that make it onto your device.
You can choose between 3 scan types:
Full scan — Checks your whole hard drive for when you need to check that absolutely everything is clean.
Custom scan — Focuses only on the files and folders you select if you have a suspicious new download.
Removable media scan — Analyzes devices that you've plugged into your PC to prevent infection from an external device.
Keen-eyed readers might notice the absence of a quick scan option, but this isn't an oversight by ESET. Instead of an on-demand quick scan option, ESET uses 2 automatic startup scans to detect any malware in memory or autorun locations (which covers the same ground as most quick scans do). Some may miss the manual option, but for most people, it's likely beneficial that the scan runs every time they use the PC instead of relying on a manual scan. I didn't notice any impact on startup performance due to this. However, if you still prefer to check any suspicious files or folders quickly, you can simply drag and drop them onto the ESET scan area, and it will analyze them.
ESET's first full system scan took just under an hour. ESET will learn from each full scan and mark trusted files as safe to use, so it doesn't scan them every time in the future. This feature allowed ESET's full scans to finish in 30 minutes from almost an hour.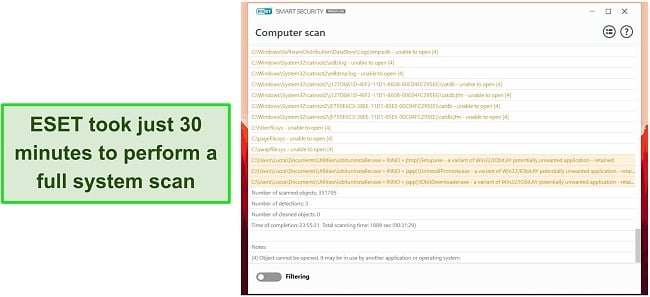 Advanced Diagnostics — Mainly for Advanced Users, but Still Offer Value to Beginners
Even though ESET doesn't show them off very prominently, its advanced tools are extremely useful for additional security diagnostics. They offer a combination of useful tools for both beginner and advanced users and can help root out problematic software at a glance. For instance, the SysInspector will be more useful to advanced users, while the Security Report gives a simple high-level overview of security events on your device.
Perhaps the most useful feature for all users is the Running Processes tool, which is very similar to Windows' Task Manager or macOS' Activity Monitor. It shows information on which programs are running in the background, including their reputation and how many people are actively running the same program. This is very useful in weeding out programs that you weren't even aware are hogging background resources — and whether they're trusted in the first place.
The SysInspect tool takes this to another level by taking a snapshot of your system and compiling a huge report on almost everything you might be interested in. This isn't a tool I'd recommend to beginner users, but for those who want all the possible information when diagnosing system issues. From drivers to scheduled tasks, active network connections, or critical host files, SysInspect is a goldmine of data seldom seen with an antivirus.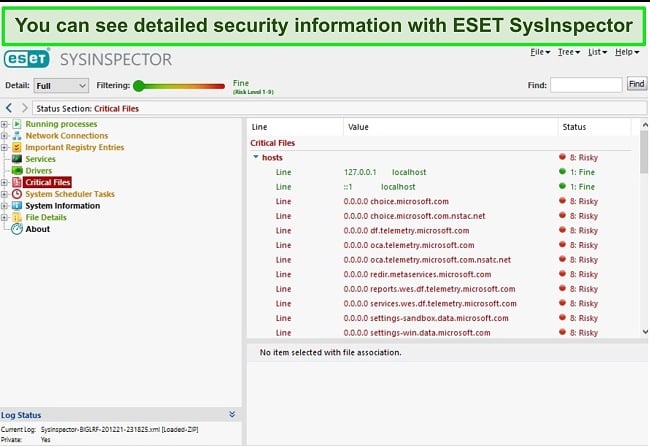 Real-Time Antivirus — Perfect Detection Rates
While ESET scored perfectly in real-time protection against zero-day malware threats, preventing threats from infecting your device in the first place is arguably more important. Fortunately, ESET protected against 100% of threats, putting it head-to-head with the best antiviruses on the market.
ESET detected threats on not only malware-laden websites but also phishing attempts. After notifying me, ESET would then block it. In the case of websites, it displayed a page-wide warning that the site I was visiting was dangerous and shouldn't proceed.
ESET will also protect your PC extremely well from ransomware and other forms of malware. It uses a Host Intruder Prevention System (HIPS) feature and the associated Ransomware Shield to effectively counter ransomware threats. It does this by monitoring the behavior of applications or programs that attempt to modify files, and if it's seen as malicious, it's blocked and terminated. This malware protection is extremely user friendly and can be adjusted to select which files or folders should be left untouched.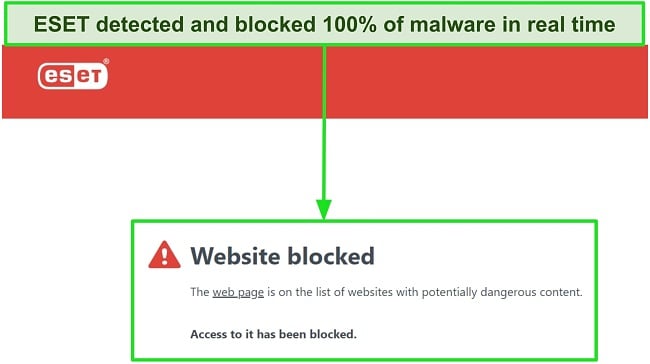 Firewall — Powerful but Initially Annoying Setup Required
I have mixed feelings about ESET's firewall, caused by the spamming of notifications and the difficult time I had setting it up. The minimum I expect from a firewall bundled with antivirus is that it outperforms the integrated system firewall for Windows. Still, ESET requires a bit more fiddling to get it to this stage. By default, it permits all outbound traffic and blocks any non-initiated incoming connections.
However, for more specific permissions, you need to turn on Interactive Mode. The issue with this is that it prompts you to allow or deny every single connection you initiate from that point onwards. In fairness to ESET, this is only an issue at the start, but I must have seen upwards of 50 notifications in the first evening I had this set up before I decided it wasn't worth the trouble. Other antiviruses I've tested, such as Norton, have a database of safe programs that don't require an extra step to validate — preventing this annoying initial setup process.
Ignoring this, however, and ESET's firewall has plenty of powerful options so you can configure it exactly how you'd like it to run. It also has some useful integrated features — I made frequent use of Connected Home to check exactly what devices were running on my local network.
Features - 3
ESET offers a few features that, while well-executed, are quite underwhelming compared to what some main competitors provide. Gamer Mode helps minimize distractions while gaming (or in other full-screen applications) but can't compete with BullGuard. Parental controls are very basic, and the password manager is good but missing quality-of-life features. If you were considering ESET on the basis of quality additional features, you should look elsewhere.
I was also annoyed that I had to activate my license with every feature I wanted to use individually. Even if I had already entered my license key into the password manager, I'd have to enter it again with parental controls — even when the main login is exactly the same. It's not the end of the world, but a strange oversight nonetheless.
Gamer Mode — Useful but Nothing Standout
ESET's Gamer Mode doesn't do anything stand out, like BullGuard's game mode, which actually increases performance, but I still found it useful. It focuses on blocking notifications and stopping task scheduler activity (for instance, to initiate a system scan) that would otherwise only interrupt your gameplay sessions. In theory it should also minimize CPU usage by eliminating unnecessary background tasks, but when I tested the feature while playing the games Call of Duty: Warzone and Rocket League, there was no noticeable performance improvement.
Note that it applies to any full-screen activity — if you have a full-screen presentation to show off, this feature will come in just as useful for suppressing any potential distractions.
Parental Controls — Core Features Work Well but Are Very Limited
You can use ESET's parental controls to specify what your children can and can't access online, with some limitations. The primary way you can restrict what your children can access is with the categories section. While other parental control software I've tested has some adult categories selected by default, you'll have to manually select them with ESET — which I might've overlooked if I wasn't specifically testing the feature. If some websites that fall into these categories are okay for your kids, you can add them to a whitelist of allowed sites.
Overall, the blocks worked well. I tried accessing numerous sites with a mix of violent, pornographic, or drug-related content, but ESET blocked all instances. All of these blocked instances were also logged, along with which user attempted to access them and at what time.
However, that's practically where the uses of the parental controls end. With Norton and Kaspersky I could add program-specific restrictions, see detailed usage of browsers and time spent on each app, and even track their mobile device. Comparatively, ESET's parental controls are relatively weak and only offer a fraction of what you can get with a competitor antivirus.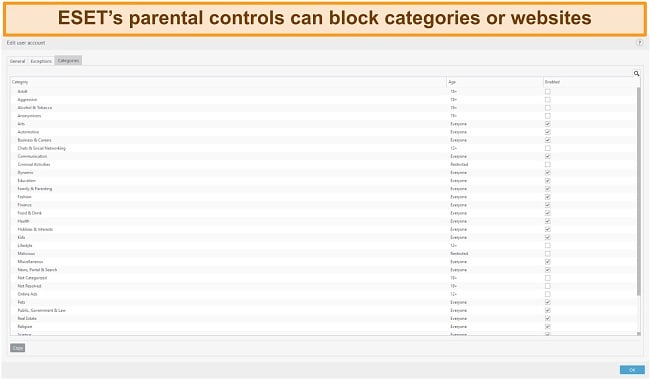 Password Manager — Good Fundamentals Without Going the Extra Mile
With the average internet user having around 30 unique accounts and needing a different password for each, life without a password manager would be a real nuisance. ESET's password manager offers good core functionality but fails to go above and beyond.
To get started on a computer, you need to install the browser extension (Chrome, Firefox, or Edge). You'll have to create a password vault in MyEset, link your account to your password vault, and then create a separate login with a master password for the vault. Although I've tested multiple password managers in the past, this setup was a little confusing, and I can imagine beginners finding it especially odd. You have the option to import your passwords from a limited number of different password managers (and most popular browsers), but if you're using an unsupported one you'll have the tiresome task of adding them manually. Fortunately for me, it supports LastPass, and the import process was simple.
Functionally, ESET does well here. You can save credentials, generate secure passwords, and autofill them on respective websites or apps. Unfortunately, it's missing some of the convenient additional features that I've come to expect from other password managers. This includes things like password sharing (useful for families) and auditing your password quality.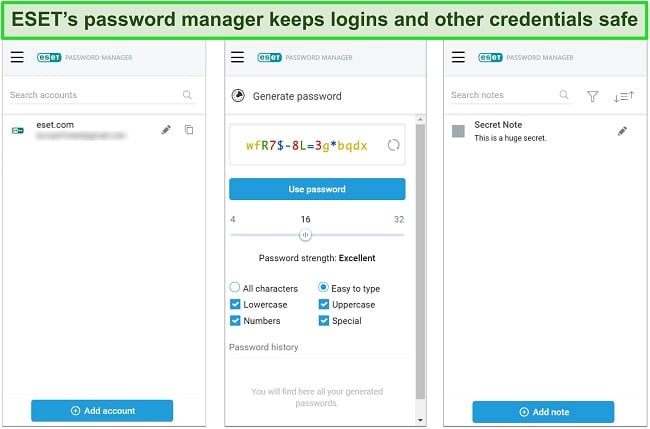 Anti-Theft — Easily Track and Record Activity From a Stolen Device
Only available with ESET Internet Security and upwards, ESET's anti-theft features are a useful feature to set and forget — on the off-chance that your device is stolen, you may be thankful for it.
Once you've marked your device as missing, ESET will gather information on its location, IP address, and screenshots of its current activity and report them to you in the dashboard. This can be useful information in getting your device back, but it has a caveat, especially for laptops — the device has to be online. Although your mobile device may have an active mobile data connection for some time after being stolen, it's unlikely a laptop will, and any thief who knows what they're doing will be likely to turn them off as soon as possible. Still, there's a chance it could help you recover your device, but I don't see this feature as a reason to upgrade.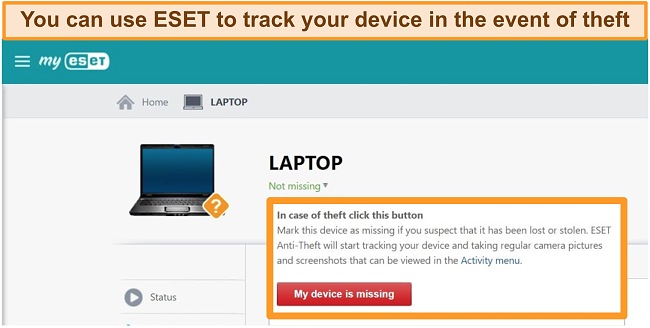 Ease Of Use - 7
ESET is compatible with Windows (Home Server 2011 64-bit, 7 SP1, 8.x, 10), macOS (10.12-11), Linux (LSB 3.1, GTK+ 2.6 or newer, GNU C Library 2.3 or newer, Debian and RedHat with kernel 2.6.x). Installing it was simple — I just downloaded a smaller installer file and it took care of the rest in just a few minutes when I ran it. At 77.9MB, ESET was also a surprisingly small install, especially compared to some antiviruses that can add up to several hundred megabytes.
Desktop Apps — Clean Design With Some Strange Menu Choices
ESET's desktop apps are aesthetically well-designed and relatively simple to use, but I feel that ESET could have paid a little more attention to assist beginner users. Although the dashboard has a few quick access options, they're options that I wouldn't use as frequently as several others. Instead, some options that you might need to use on a more regular basis are a couple of levels down within menus.
For instance, if you want to access Gamer Mode, you need to click on "Setup", then "Computer Protection" (I don't see why it's here in the first place), and then "Gamer Mode". Other features are under "Tools", and you can find more advanced features under "More tools". Ideally, the way these options are separated should be clearer and finding the right tools shouldn't require so much trial-and-error. On the other hand, once I'd done a few minutes of digging, it wasn't a major headache to find the right options in the future.
On the plus side, I was impressed by ESET's responsiveness. Getting around the menus and generally making changes was swift, whether I was using a newer laptop or a somewhat outdated desktop PC. When it comes to security, the last thing you want is menus that lag or take forever to load in the first place.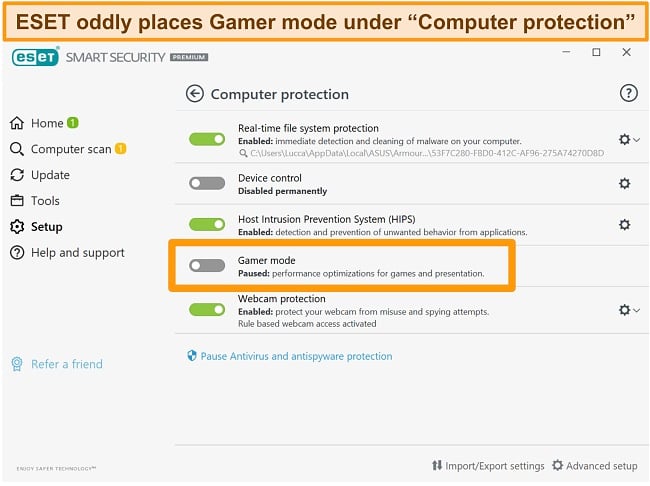 Mobile App — Powerful Features but Only for Android
I'm not often impressed by mobile versions of antiviruses, but ESET managed to do so. It offers a range of actually useful features, compared to the many "filler" features that are provided with many other mobile antivirus apps.
Some of my favorite features are:
Malware protection — Checks your device for various types of malware and even offers real-time protection.
Anti-theft — Check where your connected devices are at any time, see what they're being used for, and even proactively defend against theft by sending a final location alert before your battery dies.
Anti-phishing — Blocks and notifies you of all phishing attacks stemming from domains in the ESET database.
App lock — Allows you to add a passcode to any app on your phone to prevent unauthorized access.
Call filter — Block out calls from unwanted callers.
Security report — Shows you when important device settings change and which apps have sensitive permissions access.
Although all of these features are valuable additions to your mobile security, there are a few things that would make it perfect. Firstly, the VPN missing from the desktop app is also absent here, which would be valuable for more anonymous browsing and access to international content. Secondly, although the anti-theft features are good, in most cases purposefully stolen devices aren't recovered. For these cases, you should have the ability to wipe your device to prevent data theft.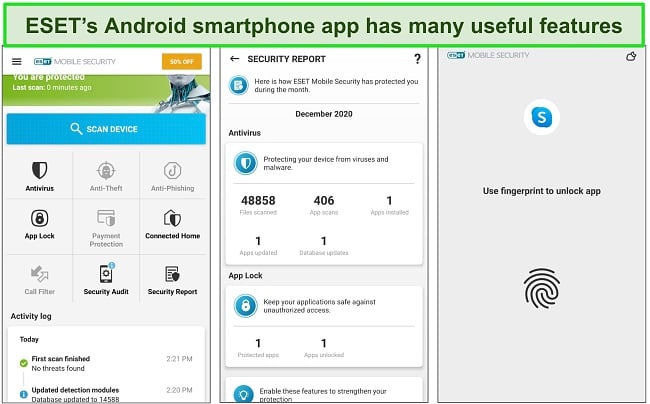 Support - 7
ESET has several support options for all levels of urgency, from live chat for instant help to detailed guides if you're not in a hurry. I found that all 4 support options were easy to get hold of and I was able to find useful information for any issues I encountered. While many antiviruses I've tested have barebones support, it was nice to see that ESET has such a fleshed-out setup.
Live Chat — Fast and Friendly Support
The best way to get help from ESET is through live chat. I tested it as soon as it was active (6am PST), and at a few more times during the day — waiting times ranged from under a minute to around 2 minutes. This was impressively fast and solidified it as the best support option, especially if you're in need of fast help.
I asked the agent what the login process was behind the password manager feature (since I found it unnecessarily confusing), and the agent immediately sent me a link that explained the process. Overall, I had the information I needed in well under 5 minutes.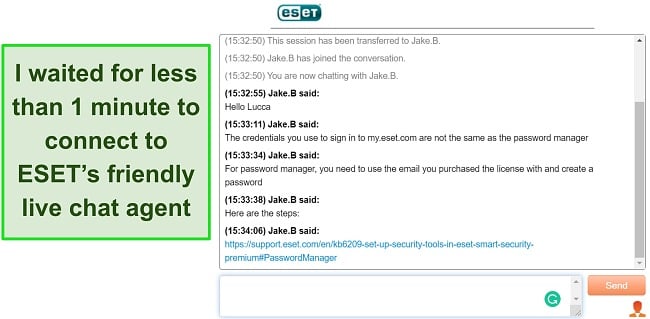 Email Support — Speedy and Informative Replies
ESET's email support didn't disappoint, with good response times and detailed answers. I asked them about specific abilities of the parental control feature and the difference between certain plans, and they replied with a comprehensive answer the following day.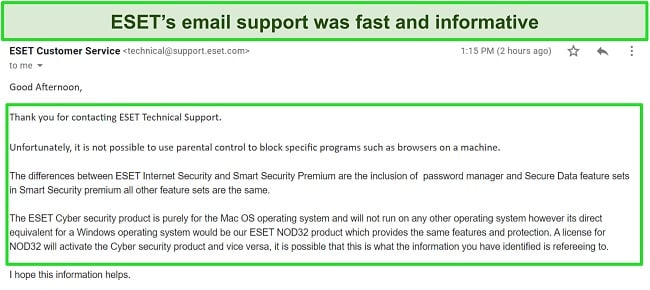 However, for help with technical support via email I was asked to supply a number of extra details to proceed, such as my license key, username, address, and several more. Once I did, I was told that my license was acquired from a different region (which it was), and that I should contact the relevant regional support instead. This isn't something I've experienced with other antiviruses — even contacting the generic US support has worked for me in the past. Besides this minor issue, I had no complaints with ESET's email support.
Knowledge base and User Guides — Detailed and in Many Languages
ESET's knowledge base hosts plenty of high-quality and useful information for each of its programs. This covers the basics of installing ESET on several devices, learning how to schedule tasks, using the ESET command line interface, and everything in between. I was impressed by the quality of the guides on offer, with a breadth of information covering both complete beginners and advanced users.
It's also available in 36 languages, which should help a wide global audience get assistance.
Support Forum — Active and Full of Great Information
Community support forums are a great way to get assistance when direct support is unavailable, or your matter isn't urgent. However, they're often inactive and don't provide much useful information. Fortunately, ESET's forums are active and have been for a while, meaning there's a deep well of answers for you to draw from. The forum is currently only available in English, with no option to choose other languages.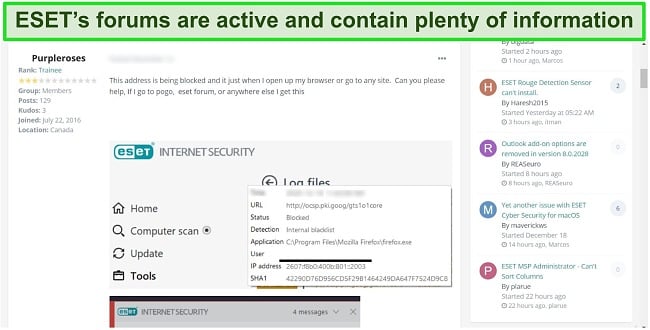 Price - 4
ESET's plans are tailored towards various combinations of features and devices, so you can choose one that perfectly suits your needs. The main downside is that all plans come with just 1 device by default. If you want more, you have to pay more, which can quickly add up if you need to cover multiple devices. The majority of ESET's website also states that you can choose between 1-3 year annual plans — however, on the purchase page you'll see that you can also choose an individual monthly plan.
ESET NOD32 Antivirus (Windows Only)
ESET's NOD32 Antivirus is the most basic plan, and offers 1 device by default, with the option to add more to your license. Interestingly, you can also transfer your license to a macOS or Linux version if you ever switch devices. It includes:
Malware protection
Ransomware protection
Anti-phishing
Gamer Mode
UEFI scanner
System cleaner
This plan is best for those who don't need any features beyond ESET's powerful anti-malware protection. You can piece together their own combination of extra features while maintaining strong core security. If you already have a password manager and/or parental control software, this is a good pick for you.
ESET Internet Security (Windows, macOS, Android, Linux)
This is ESET's most popular plan and it includes all the features of NOD32 Antivirus, plus:
Antispam
Firewall
Webcam protection
Network attack protection
Botnet protection
Banking and payment protection
Parental control
Anti-theft
This plan is ideal if you like the extra security that a firewall, anti-theft tool, and webcam protection offers. However, you won't have a password manager or data encryption features.
ESET Smart Security Premium (Windows, macOS, Android, Linux)
Smart Security Premium is ESET's most feature-packed plan, although I don't believe it's worth the higher cost compared to the previous Internet Security plan. It includes all of Internet Security's features, plus:
Password manager
Secure data
This is a good plan if you want a password manager and the ability to encrypt files and folders on your hard drive.
ESET Cyber Security (macOS Only)
ESET Cyber Security and Cyber Security Pro are macOS-only plans. Interestingly, they can also be converted into a Windows NOD32 plan in case you change devices, and in the case of Cyber Security Pro, Android. It includes:
Malware protection
Presentation/Gamer mode
Anti-phishing
Cross-platform protection
Firewall (Pro only)
Web and email scanning (Pro only)
Parental control (Pro only)
Network connections (Pro only)
ESET Mobile Security (Android Only)
ESET Mobile Security offers surprisingly good protection for Android devices. It includes:
Malware protection
Anti-theft
Anti-phishing
App lock
Call filter
Security report
Security audit
30-Day Money-Back Guarantee — Test ESET With Zero Risk
ESET has a 30-day money-back guarantee with all plan options. It's extremely simple to do — just send an email or give them a call. I tested this myself by signing up for an annual plan and then contacted customer support by sending an email. Keep in mind that you have to contact the ESET region that you originally purchased from. After sending an email to the relevant UK support it took 2 days to get a reply, which included an immediate approval with no follow-up needed. I've tested several antiviruses that ask for additional justifications for leaving, so this was nice to see. I had the money back in my account just 1 day later.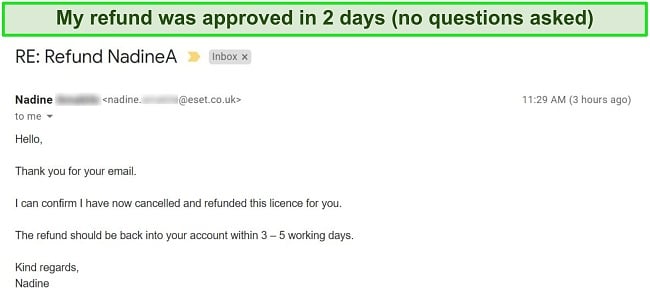 Final Verdict
ESET is a basic antivirus that does the job (and does it well). However, it's simply not as good as top-tier competitors. There's no VPN, which comes standard with many antivirus brands. ESET doesn't even offer an iOS app for iPhone and iPad users. In addition, every plan only supports a single device — you have to pay for extra licenses.
If you want to try out ESET yourself, I suggest you sign up with the money-back guarantee so you can get a full refund if you're not satisfied. That being said, I believe you'll get much better value and all-round protection with an antivirus like Norton. It even has a generous 60-day money-back guarantee, so you can try Norton risk-free for up to 2 months!
FAQ: ESET Antivirus
? Is ESET antivirus any good?
Yes, ESET is a powerful antivirus for core malware security and advanced diagnostic capabilities. However, it's missing some of the additional features that you can find with several of its main competitors, and the features it does have are more on the basic side.
? Can I use ESET antivirus for free?
There's no free version of ESET, but it offers a 30-day free trial and a 30-day money-back guarantee. This gives you almost 2 months to try ESET risk-free. Use this link to be taken to ESET's trial signup page.
? What devices does ESET antivirus work on?
ESET supports Windows, macOS, Android, and Linux. However, coverage for all devices is only offered with ESET Internet Security and ESET Smart Security Premium. There's also the Windows-only NOD32 Antivirus plan, Android-only Mobile Security plan, or the Mac-only Cyber Security and Cyber Security Pro plans.