The NordVPN website is well laid out and easy to navigate. Downloading and installing the NordVPN apps is also a straightforward process, and
I was connected within four minutes of getting a subscription
. In every version (desktop or mobile), the menu makes it simple to choose between servers in different countries and select from the specialty servers.
There's also a map feature, which allows you to pick a server by clicking on a pin. However, this feature is somewhat limited. For instance, Europe has so many servers that there are pins everywhere and you have to zoom-in a long way to work out which one is where. It's a nice visual, but picking from the list of countries is much more practical.
The mobile apps are very similar to the desktop version, the only difference being that you access the list of servers by swiping up if you're on mobile.
The
one exception to NordVPN's user-friendliness is the Linux version, which is command-line only
. Then again, if you're using Linux, you probably know your way around the command line so this may not be an issue.
Another app that we've used that still needs improving is the Fire TV app. When I first started testing NordVPN, it didn't have a native app for Fire TV, and I had to jailbreak my Fire Stick to install it. Since then,
NordVPN has released an app that works with Hulu, ESPN, HBO, and more
.
But there are still slight inconveniences with the Fire TV app that could be improved on. For example, if you want to choose a server other than the default, you have to know the server number. You can't search a list or by region like you can on the desktop and mobile apps. Additionally, it won't automatically connect to that same server each time you log in, which means that you'll have to either remember the server number, or hope to get lucky and find a good one the next time.
Does NordVPN Keep You Anonymous?
DNS leak protection
You can rest assured that
NordVPN makes sure your true IP address remains hidden
. I ran five different IP and DNS leak tests, and each time the IP address and location of the server were displayed instead of my own.
Since it's based in Panama,
NordVPN isn't required to retain any data about its users, which allows it to have a strict no-log policy
. Its privacy policy states that it doesn't keep IP addresses, session information, traffic logs, or other data. It does store your email address and payment information, but many other VPN services do this as well.
NordVPN also offers auto-connection to the VPN when you start up your device, and the option to make your device invisible on the LAN.
Kill switch
NordVPN has a number of other security features too, like double VPN servers and a kill switch. The kill switch works by disconnecting you from the internet if the VPN stops working, making sure your traffic remains private. You also have the option of setting the kill switch to only stop certain programs or apps if the VPN goes down. Unlike with some services (e.g. ExpressVPN), the feature isn't enabled by default, but it's very straightforward to use. You can
activate it with one click in the "Settings" section of the app
.
One disadvantage is that the
Mac OS OpenVPN client doesn't have an internet kill switch
, only an application-level switch. That means the apps you specify will be blocked from the internet if the VPN goes down, but not all your traffic will be hidden. So NordVPN may not be right for you if you want to use the internet kill switch with this client. However, It's worth noting that the
Mac OS IKEv2 client does have both types of kill switch
.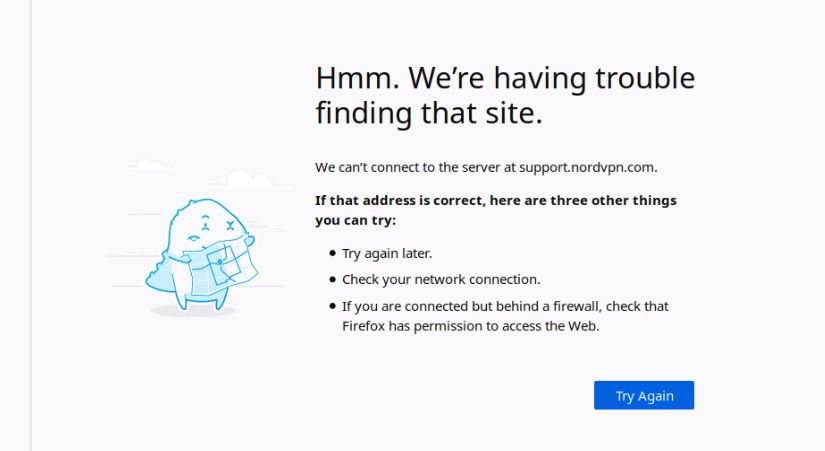 CyberSec feature

Another feature NordVPN has is CyberSec, which blocks ads, pop-ups, and DDoS attacks
, as well as protecting you from malware and suspicious websites. I tested ten ad-heavy sites with and without CyberSec, and it blocked all the ads and pop-ups every time. This included YouTube ads, which is a big plus!
Tunneling protocols
For most applications,
NordVPN uses the protocol OpenVPN with highly secure AES-256-CBC encryption
. You can choose between the UDP and TCP versions — UDP is the default, and should work faster. On Apple devices, IKEv2/IPSec with AES-256-CGM encryption is used instead.
AES-256 is the industry standard and the strongest encryption available
.
Additionally, NordVPN uses Perfect Forward Secrecy, meaning the encryption key changes for each session. This avoids the security issues that can occur due to stolen keys. NordVPN uses Diffie-Helman keys — 2048-bit for OpenVPN and 3072-bit for IKEv2/IPSec.
Older protocols like L2TP/IPSec and PPTP aren't supported, but since they use weaker encryption and have known security vulnerabilities, they're generally best avoided.
Overall, it's difficult to fault NordVPN's encryption
.
Additional Security Measures


NordVPN is now working with ethical hackers to find and fix any security issues in the system quickly. This helps reduce the potential security risks to you from any unsolved issues.


Unlike other VPNs, NordVPN is building a network of collocated servers that are fully owned by them. This ensures they will be in full control, and that no one else will have access to the servers — which increases the security of your online activities.