SentryPC Overview February 2023
SentryPC started out as spy technology geared for businesses to monitor employees at work. So I was curious to see how it made the transition from a business tool to a parental control program.
As a father of 5 kids, ages 5 -16, I was determined to find the best parental control program to monitor and protect them online. I tested and compared over 50 programs and apps for computers and mobile devices to find the ones that I could trust.
I got a single device license from SentryPC. I found a great price on its hidden deals page and installed it on my Windows computer. It comes with time management control and a comprehensive web filter, which I challenged my kids to find a way around.
Monitor Your Kids with SentryPC
SentryPC includes advanced monitoring tools, such as taking screenshots of every action done on the computer, recording every keystroke, logging search history, browsing history, and more. All of the data is stored on the cloud-based dashboard, which can be a bit overwhelming at first, but it didn't take too long for me to be comfortable using it.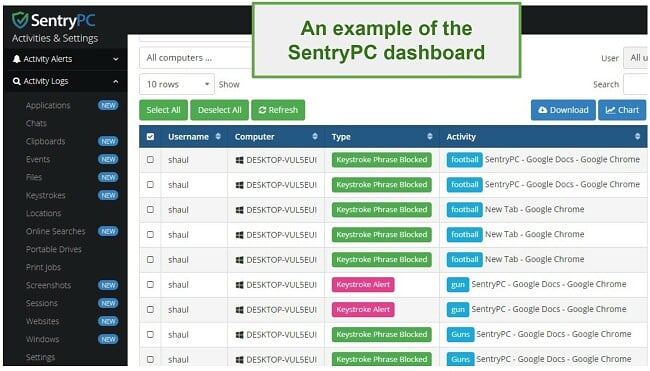 This is just part of one section of the dashboard
Having said that, SentryPC only has a desktop version, so if you need to monitor your kid's phones and tablets as well, check out my recommendations for parental control apps.
I was impressed with the list of features that came with SentryPC, although at times it felt more like spying than monitoring.
A Comprehensive Web Filter
There are two parts of the web filter:
Categories: I was able to customize the web filter for each of the kids by choosing which categories should be Enabled or Blocked. In total there are 14 categories to choose from. I enabled several of them, and when the kids attempted to beat the web filter, the browser displayed a message from SentryPC saying "This Event Has Been Blocked."

Within this section, there is also the option to allow or block "Word Categories." There are three options here; Racism, Profanity, and Adult (Sexually themed words). You can set a sensitivity level so that the block is only enforced if the offending words a certain amount of times. However, I set the limit at 1 appearance of a blocked word and activated the filter for each word category.

But I was surprised that not only did the filter not block a website with the "F word", but it also didn't show up in my Activity Alerts either.


User-defined: I was able to choose specific websites that I wanted to block. I found this helpful for times I didn't want my kids to go on certain social media or sports websites during homework time.You can also choose specific words to block. This is blocked by the keylogger feature, which means it will only work if the kids type in the specific word. For example, if I block the word "Gun," when my kids type the word Gun, the browser will automatically close. However, they can type in "Weapons," and then go to a website about guns.
I was able to get to Guns.com by searching for "weapons" instead of "Guns"For this feature to be effective you will need to think of words that are associated with this group and add them to the restricted list as well.
Create a Schedule or Set Daily Limits
Both the schedule and daily limit tools work in segments of an hour, which to be honest, I don't find very helpful. I prefer to have the flexibility to decide exactly what time the computer should be locked, not restricted to locking it at the beginning of an hour, and for the full hour.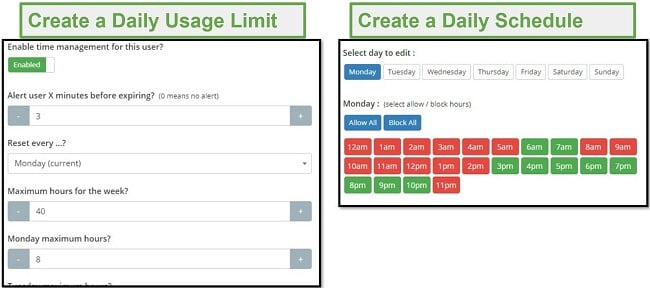 I like that I can set up a reminder for each user that the computer will be locked, so they can finish what they were doing, and save their work if necessary. When the time limit expires or the schedule is set to lock, the computer locks, and if you try to use it, it will restart.
Pro Tip: If you log in to the dashboard from the same computer you are monitoring, make sure that you don't allow your browser to store the username and password. Otherwise, the kids can log in and adjust the schedule.
With Screenshots and Keylogging, SentryPC Records Everything
There are no secrets when using SentryPC, it literally records everything that happens on the computer. While parents of younger children may think this is overdoing the monitoring, if you have teenagers, it could be the difference between life and death.
The Keylogger records every time anything is typed on the computer. This includes emails, chats, search history, Word, PowerPoint, and more.

The Screenshot feature is constantly taking pictures of the computer monitor and uploading it to the dashboard.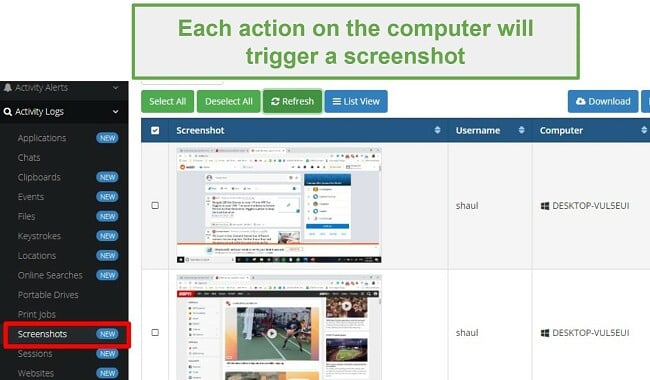 The biggest issue I had with the keylogger and screenshot features that with so many entries, it's hard to find anything in the dashboard. There were over 300 screenshots taken in just a few hours of computer use, while I was writing this post. I don't know who has the time to scroll through 500 screenshots and read transcripts, just to monitor their kids. It can be useful if you know what time to look for, or received an Activity Alert (which includes a timestamp, so you'll know exactly which screenshot to look for, and not scroll through them all) and want to make sure you have the context right before confronting your child.
The Dashboard Can Be Overwhelming
There is a lot of information stored in the dashboard and it took me some time before I was able to quickly find the information that was relevant to me. The most confusing thing was when I went to check out the "Report and Archives" section, it gave me charts, but didn't include the actual data. In other words, it will tell me how many screenshots it took in a day. To actually see the screenshots, I had to go to the "Activity Logs" section where I could scroll through the images.
There is an "Activities Alerts" section where I was able to see if the kids tried accessing restricted websites, used search terms that I filtered, and screenshots that I should look at. What really frustrated me is that there was no link to view the screenshot, even with the notification, I had to scroll through the screenshot gallery until I found the one that triggered the alert.

My first attempt at installing SentryPC was blocked by my antivirus program, which flagged the file as a Trojan. I contacted customer support to find out why it was triggering this warning. It turns out, instead of just clicking "I have read the Installation Guide" before downloading the program, I should have actually read the installation guide.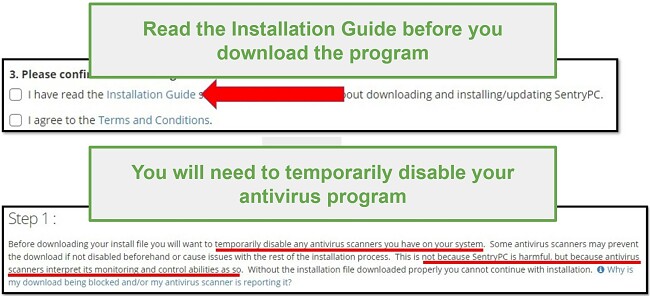 Before installing SentryPC, I had to pause the antivirus and add the SentryPC folder as an exclusion. Fortunately, the installation guide has a section on Antivirus Exclusion, which has a step-by-step guide for each of the major antivirus programs. Once that was done, I was able to install the program and restart the antivirus protection.
Setting up the web filter and time restrictions with SentryPC were, for the most part, easy enough.
However, keeping up with all the reports, finding the relevant screenshots, keylogging transcripts, and other data stored in the dashboard was a challenge. They are all organized by the time stamp, and even if it triggers an alert, you can't just click on the alert to jump to the report.
Part of the difficulty with SentryPC is that it monitors everything, which results in a tremendous amount of data. I recommend that you take some time and familiarize yourself with the dashboard. It shouldn't take too long for you to find which sections are relevant for you and your family, so you can easily stay updated on what your kids are doing,
While there is no live chat support, the customer support team was quick to respond to my emails – even on the weekend. I was having trouble running SentryPC at first, it didn't appear to be monitoring the computer and I couldn't figure out why. I went to websites that I had restricted on the filter and changed the time management schedule so that the computer should have been blocked, but nothing was happening.
They told me what to check to see if the program was running, and asked me to send over some information so they can see if everything was installed correctly. Once they had the data they needed, I received clear instructions on what to do and a follow-up email asking if everything was working.

Monitor Your Kids with SentryPC
FAQ
Why is my antivirus program blocking the download?
When you install SentryPC on your computer, you are giving it complete access to everything on your computer. It will monitor, record, and take screenshots of every activity. Most antivirus programs see this as a threat and block it. Therefore, when installing the software you will have to pause your antivirus protection until after the download is complete.
Is there a free version of SentryPC?
SentryPC is only available via subscription. If you're looking for a parental control program that will let you test it out before buying, check out my Qustodio review – they have a free 30-day trial.
Can SentryPC monitor mobile devices?
SentryPC does not have a mobile app. It only works with Windows 7, 8, and 10 and Mac OS X 10.6 and higher.
How Can I Bypass the SentryPC web filter and time restrictions?
Despite my children's best efforts, we didn't find a way to bypass the time or filter restrictions. However, the kids did figure out that they could log in to the Sentry PC account, since Chrome saved my username and password, and adjust the time schedule so the computer wouldn't shut down. The solution here is to not allow Chrome (or whatever browser you're using) to save and store the passwords.
The other hack they learned is that with SentryPC, I was able to create filters and time limits for each user account. Therefore, if one account ran out of time, they would just login to a sibling account and continue playing. Other than telling the kids they can only use their user accounts on the computer there is no real solution to prevent this.
SentryPC has a basic plan that will monitor a single device and store up to 500 screenshots. If you have multiple computers to monitor you can add additional devices to your subscription at a discounted rate.
There is no free trial or money-back guarantee with SentryPC. If you're not satisfied or it's not working how you expected, it is up to the discretion of the company to return your money.
Bottom Line
I wouldn't recommend SentryPC for everybody. While the software was initially developed for business owners to monitor its employees, it does have features that can be used to monitor your kids. It specializes in recording and taking screenshots of every action done on the PC, which makes it a good option if you want to make sure that your teens are not doing anything online that can harm them or others.
The price per device is on the higher end, but I was able to find a great price on this hidden deals page.