Twitter is a popular social networking and microblogging site known for being one of the top sources for news updates, social events, gists, and different conversations. It is also a great platform for marketers, PR teams, and celebrities to connect with a large audience of followers.
In this post, I'll show you how to get started with Twitter, which is free to everyone. Signing up is simple and if you already use Twitter, this guide will help you get started with the desktop app.
Follow the instructions below and I'll show you how to download Twitter for PC for free.
How to Download and Install Twitter on Your PC for Free
Note: The Twitter application is available for download on Android, iOS, and Mac devices. The guide below is for PC users. Go to Google Play Store for Android or the App Store if you use an Apple device. Download the app and continue from step 5 below.
Go to your Windows Search area and type Microsoft Store or simply launch the Microsoft Store app on your PC.

Type "Twitter" in the search box on the top right corner of the Microsoft Store app.

Click on the Install button to get the application.

Wait for the installation to complete, then launch the application directly from Microsoft Store by clicking the "Launch" button. Alternatively, you can launch it from the Start menu, taskbar, and desktop area.
Create a username and password. You will be automatically logged into your account.
Once you log in, you will be able to choose the topics that you are most interested in, including the events and people you want to follow.
Also, once you're in, you will need to choose a username and set up your user profile.
Once you're done setting up your profile, you can start following trending topics and join conversations on what's happening around the globe.
How to Uninstall Twitter from your PC
If you're no longer interested in using Twitter, follow the simple guide below to remove the application from your computer:
Type Add or Remove Programs in the Windows search bar and click the Enter key.

Scroll and locate Twitter on the list of installed programs, then click the "Uninstall" button.

Once the uninstallation wizard opens, confirm that you want to remove Twitter, and it will be deleted from your computer.
If you want to try out similar applications, check out the free alternatives below.
How to Deactivate Your Twitter Account
If you want to stop using Twitter completely, you can deactivate your account by following these steps:
Click the more button on the left side.

Go to "Settings and privacy" and click on "Deactivate your account" as shown below. On the next page, click Deactivate at the bottom.

Your profile on Twitter will be deactivated for 30 days, within which you can still restore your Twitter account. After 30 days, your information will be deleted entirely from Twitter, and you won't be able to restore it anymore.
Overview of Twitter
With 100 million daily active users and 500 million Tweets sent daily, it is undoubtedly one of the most popular social media platforms today. Twitter is a place where you can join conversations on trending topics and other topics of interest to you.
Journalists and bloggers use Twitter to share updates and breaking news. Markets and PR teams use the platform for publicity, ads, and sharing exciting updates about products and services, new releases, and brand updates to their followers. You can join Twitter to receive news, follow high-profile celebrities, stay in touch with friends, and follow popular trends in different categories, such as movies, politics, music, jokes, etc.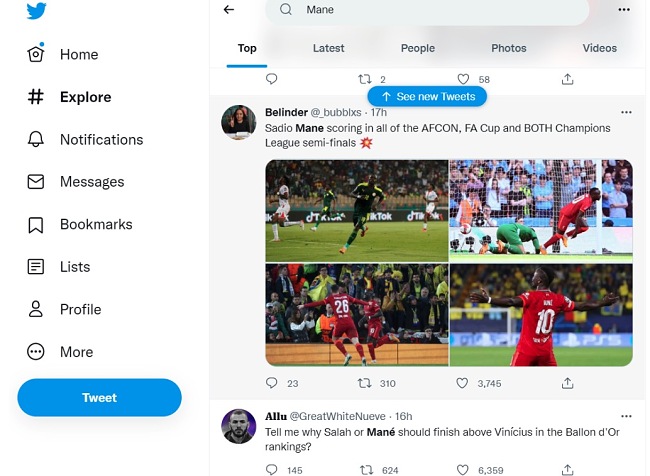 You can elect to track specific topics by clicking on hashtags (e.g., #movies), creating a dialogue of sorts, and pushing the number of followers in a given Twitter feed into the millions. Whenever you post a Tweet, it cannot exceed 280 characters. Most users enjoy Twitter, but most still feel it is somewhat restrictive due to the character limit and free speech restriction. Also, the desktop version may be lacking in performance when compared to the web or mobile versions of the app.
Features of Twitter
Twitter is a powerful tool for the dissemination of information. Here are major features that make Twitter stand out among other options:
Chronological Timeline
Tweets are displayed in the order they are tweeted.
Popular Tweets on the platform or Tweets liked by the people you follow appear first.
Retweet, share, like, and reply to Tweets in your timeline.
Post a tweet on your timeline to share your experiences with the world.
Follow leaders and celebrities to discover what's happening in sports, news, politics, and entertainment.
Explore Various Content
Click on hashtags to see what topics are trending now.
Catch up on news headlines and trending videos.
Discover Moments — curated stories showing the best highlights of the day's biggest events.
Instant Messaging
Send a DM to anyone, whether they follow you or not, to chat privately with them.
Share Tweets and other media, such as photos, videos, and other files.
Start a private conversation or create a group conversation with anyone who follows you.
Free Alternatives to Twitter
Reddit: Although Reddit is designed to operate as a social news aggregation platform, it is also a place where you can join discussions on any topic that piques your interest. You can sign up for free and share content on any topic. This includes web content rating, links, reviews, memes, texts, images, and videos. Registered members can also participate in polls where submitted contents are either voted up or down.
Minds: Minds represents a social networking platform that actively advocates for internet freedom. It serves as a platform where social media influencers and content creators primarily utilize it to disseminate their content and keep their followers updated. The Minds app also has a built-in analytics tool that helps influencers and content creators to keep track of their audience engagement.
Tumblr: Tumblr is another microblogging site that is ideal for several creative artists and free thinkers. Users are free and not afraid to express themselves on Tumblr, and you can follow trends on topics you find interesting topics. Like Twitter, you can post GIFs, images, and short videos on Tumblr.
FAQ
Is Twitter secure?
While twitter takes users' privacy and data very seriously, it is best if you keep personal information out of any social media. Besides, hackers have also devised a means to target and take control of people's social accounts. Public figures and celebrities are often high targets. Finally, be sure to
download and install Twitter from the official site
to avoid exposure to viruses, malware, or spyware.
Can I have multiple Twitter accounts?
You can create multiple Twitter accounts, but you can only connect up to five accounts. Usually, one personal and one professional account should be enough.
Download Twitter now!