Rufus is a free and open-source and lightweight Windows application used for formatting and creating bootable USB flash drives or Live USBs. Rufus is an ideal solution for creating USB installation media from bootable ISOs (such as Windows, Linux, and UEFI).
It is also a recommended solution for working on a computer system that doesn't have an OS installed. Other instances when Rufus may be used are when you need to flash a BIOS or other firmware from DOS, or you need to run a low-level utility application on your PC.
Follow the instructions below and I'll show you how to download and run Rufus on your PC for free.
How to Download and Install Rufus on Your PC for Free
Click on the Download button on the sidebar to go directly to the official Rufus download page.
In the Download section, as shown below, click on "Rufus 3.17" or "Rufus 3.17 Portable" to download the software.

Connect a USB drive to the computer (you need a USB drive with at least 8GB storage to complete the setup), then head over to where the file you download is saved and double-click on the .exe file to run the installation.
Note: Rufus will format and erase all data from your USB drive. So be sure to copy out all the information on the USB to a different place.
Click yes or no, depending on whether you want Rufus to check for application updates online to finish the installation.

Follow the on-screen instructions, click START, and wait for the installation to finish. Rufus will copy the content necessary to install other programs or Windows OS to the flash drive.
Note that Rufus is a portable application, so you won't need to install the application per say. You will be able to run and use the application whenever you need it.
How to Uninstall Rufus from your PC
If you're not satisfied using Rufus to create bootable USB flash drives or Live USBs on your PC, you can remove it in a few easy steps.
Since Rufus is a portable software, you only need to delete the setup file from your computer. First, close the application, then go to your download folder or wherever you saved the .exe file and delete it. Once done, the application will be permanently removed from your PC.
If you're looking for other software that offer similar solutions, you can try any of the free alternatives below.
Overview of Rufus
Rufus is a utility application that helps you format and create bootable USB flash drives on your computer. The Bootable USB flash drives can be USB keys/pendrives, memory sticks, etc. You can use Rufus bootable USBs to boot a desktop computer and laptop instead of using CD/DVDs. Considering the convenience and ease of use that Rufus bootable USB offers, it can pass as the most convenient and popular way to install Windows.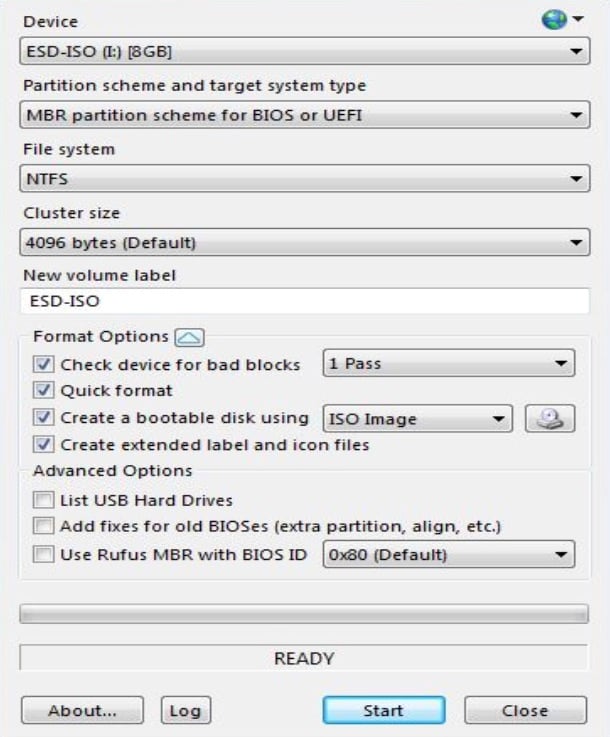 Rufus has gained popularity due to its compact size, enabling you to utilize the application on your system without burdening it with excessive installation files. If you ever need to install an operating system or create a bootable USB flash drive, Rufus would be a good option. Rufus is a lightweight application with a pretty basic user interface, specifically designed for Windows PC users, starting from Windows 7 to later versions and it's free to download.
Features of Rufus
Rufus is useful for creating USB installation media from bootable ISOs, flashing a BIOS or other firmware from DOS, and for running a low-level utility.
Easy to Use, has a simple, user-friendly interface.
Compatible with older and latest Windows 10 versions
Lightweight and consumes little space on your drive
Ideal cleaning and tweaking applications for Windows PCs
Free Alternatives to Rufus
Etcher: Etcher is a comprehensive, cross-platform, open-source application. Unlike Rufus, Etcher is available on Windows, macOS, and Linux platforms. It also has a user-friendly and easy-to-use interface.
UNetbootin: Lightweight app that can be used for creating bootable live USBs for Ubuntu and other Linux distributions on different platforms. UNetbootin offers quick flashing, creates bootable live USBs for Ubuntu and Linux-based distros, and supports powerful platforms like Windows, Mac, and Linux.
Universal USB Installer: This is another Rufus alternative for Linux. The application is a live Linux bootable drive creator that allows you to choose from the Linux distros to put it on a flash drive. It is similar to Rufus in performance and capacity, but Rufus is faster. Universal USB Installer also offers an in-built USB formatting tool to help you free up space in your USB stick.
FAQ
What languages are natively supported by Rufus?
The application natively supports up to 35 common languages, including English, Arabic Bulgaria, simplified and traditional Chinese, Croatian, Czech, Danish, Dutch, French German and many more.
How to Use Rufus to Install Windows 10?
First, Insert a USB drive into your PC and launch the Rufus application.
Set "Device" to your USB drive and click "Select" to the Windows 10 installation media.
Under format, set the Volume label, then leave the File system and Cluster size to default.
Finally, click START and wait until the application creates a Windows 10 installation media USB.
Download Rufus now!