If you're having trouble finding the correct file you want to download, Movie Downloader is a tool you want to try. Instead of closing multiple pop-ups and clicking through endless redirects, you only need to create a profile to define your desired file. Then Movie Downloader will do the rest automatically. It will search through multiple websites and find files matching the specifics of the profile you created.
Follow the instructions below, and I'll show you how to download and install Movie Downloader on your PC for free.
How to Download and Install Movie Downloader on Your PC for Free
Click the download button on the sidebar to go directly to the Movie Downloader download page.
Go to your Windows downloads folder, double-click the .exe file you downloaded in step 2 above, and follow the installation instructions.
How to uninstall Movie Downloader from your PC
If you are no longer interested in using the Movie Downloader, simply follow the guide below to remove the software from your PC:
Click the "Uninstall" button and confirm the uninstallation to remove Movie Downloader completely from your computer.
If you want to try other movie or multimedia download tools, check out the free alternatives below.
Overview of Movie Downloader
Movie Downloader is a free tool that helps you download multiple media files, such as movies, music, and images from your favorite websites. Because of how some websites are built, they often have many links and redirects, and may consume so much time to get to the download itself.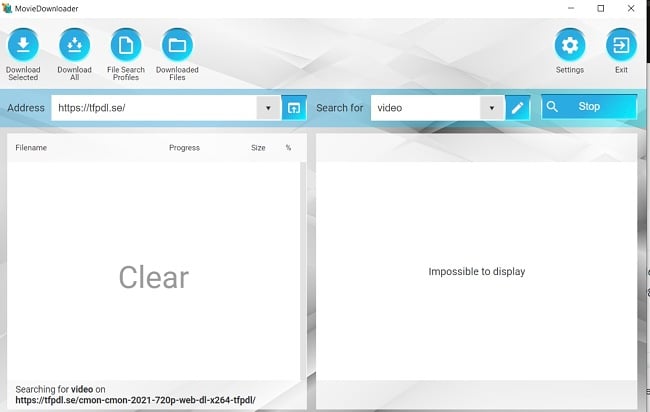 Movie Downloader simply saves you all the trouble by using specific parameters you provide to conduct an automatic search, finding the exact files you want in less time and with much fewer hassles. To make the most of this feature, you need to create a profile where you clearly specify the filename you wish to download, your desired file formats, as well as the minimum and maximum file sizes required. When Movie Downloader completes the search, you will see the list of all the files found that suit the profile you created.
Then you can remove the files you don't want from the list and download those you want to your hard drive. With Movie Downloader, you can view downloaded files immediately, but most importantly, it saves you long hours of searching for downloads in the wrong places and dealing with annoying pop-ups.
Features of Movie Downloader
Download movie files in various formats, including AVI, MPG, MPEG, etc.
Audio file download in various audio formats, e.g., MP3, WAV, etc.
Pictures download in various formats, such as GIF, PPG, JPEG, etc.
View downloaded files immediately after downloads.
Search movies on specific websites or across the entire internet.
Use Movie Downloader scheduled mode to download items automatically at any time.
Free Alternatives to Movie Downloader
Free Download Manager: Free Download Manager is a cross-platform free download software that allows you to download large files seamlessly, organize your downloads, and control file priorities for torrents, among many other functions.
YTS.MX: YTS.MX is the official domain for YIFY movies. On this site, you can browse and download high-quality YIFY movie torrents in 720p, 1080p, and 3D quality, all at the smallest file size.
FAQs on Movie Downloader
Is Movie Downloader free?
Is Movie Downloader secure?
Can I download multiple files simultaneously using Movie Downloader?
While Movie Downloader is designed to enable you to search a specific site for a specific file type, it can only download in groups of three. It will, however, display all the results matching your specified file.
Read More