The Movavi Video Suite combines all the powerful Movavi tools into one easy-to-use package. You'll be able to create professional-looking videos in no time, with a comprehensive video editing board that allows you to cut videos, combine multiple clips, add special effects, voiceovers, and much more.
The video suite also includes access to the Reallusion Cartoon animator, screen and webcam recording, and records videos from external devices such as TV, VHS, and cameras.
While the Video Suite isn't usually free, I'll show you how to download and use all the premium features free for 7 days. This can be a great solution if you need to do some quick editing with a professional tool.
How to Download Movavi Video Suite for Windows for Free
Click the Download button on the sidebar, and a new page will open with some helpful Movavi FAQ. Click on the Download Now button, and a new tab will open directly to the Movavi download page.
Click the Download for Free button, and the EXE file will download to your computer.
Movavi has several different apps available for download, and the banner image switches every few seconds displaying a different one. The Video Suite is the first one on the page, with an orange background. If you don't see it, you can click the first dot on the bottom left side of the banner.
Open the file, and the setup wizard will automatically open.
The software will begin installing. When it's finished, click on the Start button to open the video Suite.
How to Uninstall Movavi Video Suite from Windows
If you're finished using the Video Suite tools, or it doesn't have all the features you need, you can easily uninstall it from your computer in a few simple steps:
The uninstallation wizad will open. Confirm you want to delete the Video Suite, and it will be removed from your computer.
If you're still searching for a video editor, check out these free alternatives below.
Movavi Video Suite Overview
The Movavi Video Suite combines eight premium video capturing and editing tools into a single application. The tools are very easy to learn to use and don't require any previous technical or editing knowledge.
When you first open the Movavi Video Suite, you'll see a menu containing all the different options. Each one has helpful video tutorials and tips that appear while you're working. These will help you with everything from getting started to learning advanced techniques.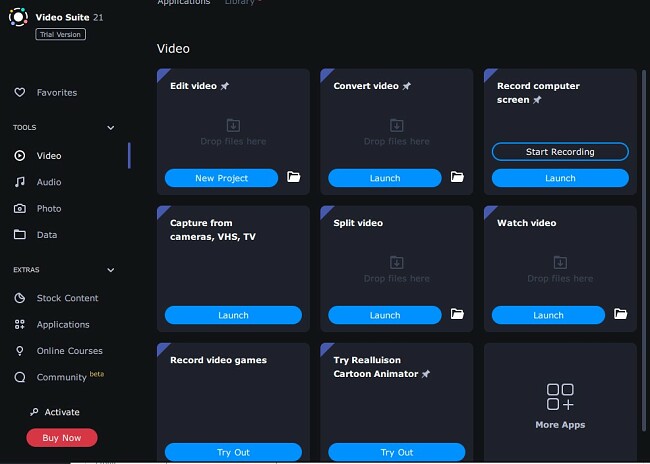 Movavi Video Suite Features
Here is a quick rundown on all eight tools:
Video Editing: With advanced editing tools, you can splice videos, add special effects, audio clips, and much more.
Convert Videos: Video Suite can convert over 180 video formats so you can play your videos anywhere. It has the capabilities to convert multiple files at once and add subtitles.
Record your computer screen: Get an HD recording of your screen. It's ideal for presentations and instructional videos. You can also add voice overs and effects like mouse click highlights, arrows, and other visual effects.
Capture from camera, TV, and VHS: You'll need a cable to connect an external device to your computer or laptop to access this feature. It's a fast and easy way to digitize videos from old VHS tapes, TV shows or quickly import videos from your camera.
Split video: A helpful tool if you need to cut a long video into smaller clips.
Watch video: The Movavi media player works with most video formats, allowing you to watch your homemade videos or other video clips.
Record video games: Want to show your friends how to pass a difficult level of your favorite video game or upload it to a streaming service like Twitch? Movavi will connect to your gaming console for a seamless recording session.
Reallusion Cartoon Animator: Movavi has integrated the Reallusion Cartoon Animator into the Video Suite. Bring your animation to life and create an animated video or special effects that can move around the screen.
Free Alternatives to Movavi Video Suite
If you don't need all the tools included in the Movavi Video Suite, you can download individual apps that focus on a specific feature. However, if you're looking for a non-Movavi app, here are some good alternatives.
KDenLive: An open-source non-linear video editor, Kdenlive is an easy-to-use multi-track video editor that includes many powerful tools. The video editor is compatible with all major video and audio formats, including HD standards like HDV, DNxHD, and ProRes. You can add special effects, voiceovers, and 2D tiles to enhance your final video.
Shotcut: Another open-source video editing program, Shotcut, has FFmpeg integration, allowing it to work with hundreds of audio and video formats and codecs. It has screen and webcam capturing, and supports up to 4K resolutions. The editing tools include both dockable and undockable panels, playlist, history view, and more.
FAQ
Is Movavi Video Suite free?
You can download and use Movavi Video Suite free for 7 days. You don't have to create an account or enter any payment information when you download the software during the first 7 days.
Is Movavi Video Suite safe?
As long as you download Video Suite from the official Movavi website, you won't have to worry about viruses, malware, ransomware, or other malicious files. It's important to avoid downloading "cracked" or "pirated" versions to avoid paying for the software since these are often filled with dangerous files or spyware.
Can I remove Movavi watermarks from video outputs?
You will need to purchase a subscription to remove the watermarks.
What are the benefits of purchasing a subscription?
If you only need to edit or convert a few videos, you can do it within the first 7 days, and there is no need to purchase a subscription, although it will have a watermark. If you plan on using Movavi long-term, buying a subscription will allow you access to all the features at a fraction of the cost of some other popular video editing suites.
Visit Movavi Video Suite Website