The latest update to InPixio is a real game changer. It includes a complete overhaul of the features, making it easier than before to get the results you need. The biggest improvement is the single-click capabilities. You can remove unwanted images, change the background, retouch pictures, and add creative visual effects in seconds.
InPixio has a wide range of filters and effects to give your pictures the right look. It comes with everything you need, from tools to adjust the brightness and color levels to frames and stickers. When you're done, you can easily share the pictures on your social media accounts or email them to friends and family without leaving the editing interface.
Follow the instructions below, and I'll show you how to download InPIxio Photo Editor for free, so you can start editing your pictures today.
Download InPixio Photo Editor for Free!
How to Download InPixio Photo Editor for Free on PC
Go Directly to the official InPixio Photo Editor download page.
Double click on the setup file, and the Installation Wizard will open.
The installation wizard gives you the option to choose a destination folder or use the default option. You can also view the advanced options, which by default is set to create quick launch icons on your desktop and in your Windows menu bar. Once you have adjusted the settings, press Start Now, and the installation will begin.
A tab will open in your browser during the installation process with a video tutorial to help get you started with InPixio.
When the installation is complete, the program will open.
If you want to create an account, enter the requested information, and you'll receive an email with a verification link. (If you don't see the email, check your Spam folder, that's where I found mine). This will give you unlimited access to InPixio free for five days. The other option is to press the Later button, but you won't have access to all the tools and features, plus there will be a watermark on your pictures.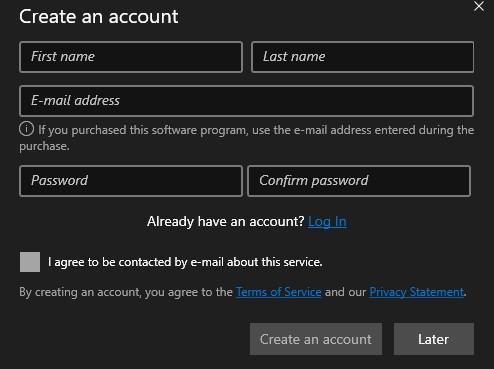 Download InPixio Photo Editor for Free!
InPixio Photo Editor Overview
InPixio has released the latest version of its user-friendly photo editing software – Photo Studio 12 doesn't disappoint. It improved the UI from previous versions to make it easier than ever to edit your image and have your pictures looking exactly how you want. InPixio 12 gives you access to the top premium editing tools that you can master in seconds without any digital editing background. All it takes is a single click of the mouse.
The InPixio Photo Editor has over 100 presets that allow you to make quick changes to your picture and fast adjustments to the coloring. You can also use the correction tool to make slight adjustments to any pictures. This includes adjusting the sharpness, adding texture, and more. All edits are non-destructive, so you don't have to worry about any edits that will harm the original image.
While InPixio is a premium editing software, you can download a free 5-day trial and see if it's the right digital editing program for you.
InPixio Photo Editor Features
What's great about Photo Editor 12 is that the workspace is so intuitive. Easily make your edits by moving a slider to the right or left and preview the changes before you accept or deny them. Even though it's easy to get started with Photo Editor, the software does include a large selection of video tutorials to help you master the different tools.
Remove Unwanted Images
Nothing is more frustrating than having an unwanted object ruining an otherwise perfect picture. Now, you can simply remove the object by simply highlighting it with your mouse. Then, the AI tool will do the rest.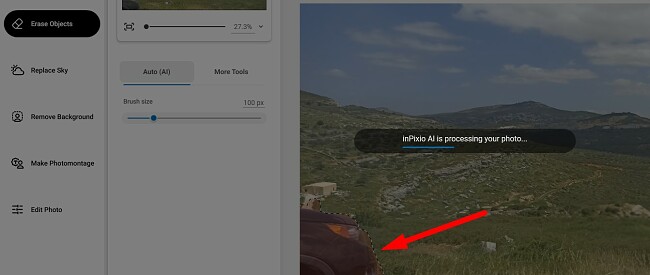 After InPixio finishes removing the object, you can clean up the area with a clone tool, which helps create a more seamless picture.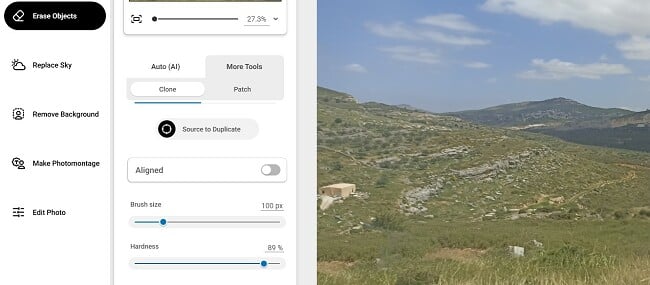 This tool works great to remove small items, but when it comes to removing large areas of the picture, you can see some blur where the image was.
Change Your Pictures Background
Everyone has pictures that can be improved by removing the unwanted objects or people from the background. Photo Editor 12 has an advanced AI tool that can automatically remove the background and isolate the main object on the page.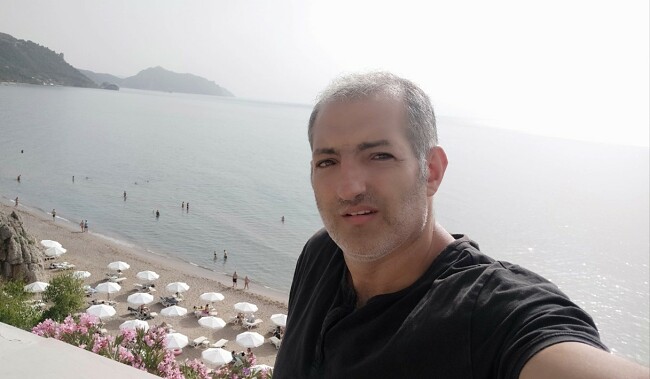 Once you remove the background, you can fill in the empty space with a solid color, or add a new background to make your picture stand out. Photo Studio has a nice selection of royalty-free images, with categories such as travel, abstract, and fantasy, or you can upload your own background images.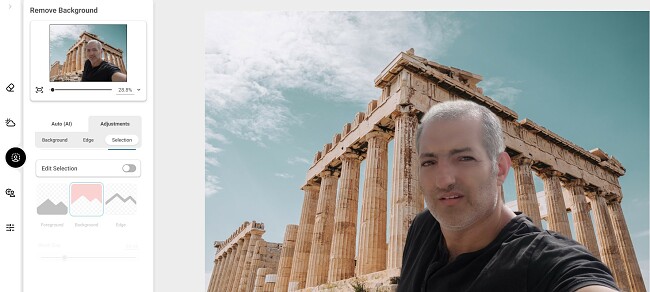 Another option is to blur the background, which increases the focus on the main image in the picture.
While the tool is designed so you don't have to do anything, there is the option to make manual adjustments to the picture.
Change the Sky
In previous versions of InPixio Studio Editor, it was possible to change the sky, but you needed to use precision editing tools to mark the areas you wanted to change. With this update, InPixio can quickly recognize the sky properties, so all you need to do is choose whether you want clouds, storms, or sunsets.
The advanced editing tool will adjust the colors to match your image, giving the updated picture a natural feel.

Once you have sky, you have the option to make quick adjustments to the cloud placement, exposure, saturation, and smoothing of the edges. You don't even have to know what that means. You can simply move a slider to the left or right and stop when you're happy with how the image looks.

The edits are non-destructive, so you can always come back and revert back to the original image or continue playing around with the sliders until you find an even better option.
Edit Your Pictures
InPixio gives you the tools to do more than just remove backgrounds and change the sky. It also has a good selection of editing tools. You can start by allowing InPixio to make automatic adjustments. It can recognize common lighting errors, straighten out the image, and more.
If you still want to make changes, you can add a filter, or visual effects, like creating a grainy feel to the images, adding a vignette, blurring the background, and adjusting shadows, to name a few of the options.
Some of the edits can be done by simply clicking on the thumbnail on the sidebar, while others you will need to complete by moving a slider. That's it. There is no precision cutting and pasting, creating layers, or any other difficult technical editing technique.
My favorite part about the editing feature is that InPixio shows you a side-by-side view of the original image and the new version you are editing.

Create a Photomontage
A new feature that was introduced in Photo-Editor 12 is the Photomontage. It's a fun tool that gives the freedom to create fun pictures to share on social media or with your family. It uses AI that will automatically adjust your picture to seamlessly fit on a new scene.
In the example below, it removed the background from my picture, so I could superimpose the photo on a magazine and billboards.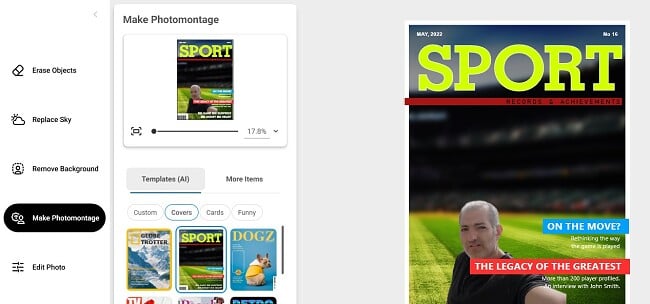 The magazine and billboard template are fully customizable, so you can change the text to match your skills, personality, or even promote your business.
You can also accessorize your picture. Add items like glasses, hats, and hair, although I did find it difficult to adjust these so they looked natural, it's more of a fun feature.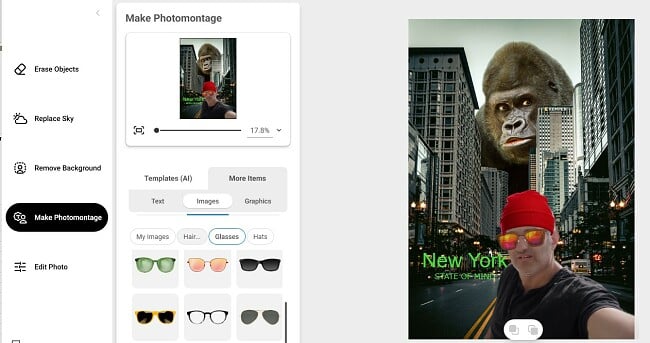 You can also add shapes, stickers, birthday notes, and text to personalize the image.
Download InPixio Photo Editor for Free!
How to Uninstall InPixio Photo Editor from Your PC
If you're done editing your pictures, you can easily uninstall InPixio Photo Editor from your computer in a few simple steps.
Type Add or Remove Programs in the Windows search bar and press the Enter key.
A window will open asking if you want to Modify, Repair, or Remove the software. Choose Remove.
The Uninstallation Wizard will ask you to confirm you want to remove the software. Press the Remove button and it will be the uninstallation.
Free Alternatives to InPixio Photo Editor
Luminar: Luminar is an easy-to-use photo editing program that relies heavily on AI to make real-time non-destructive adjustments to your pictures. You can change the sky, remove unwanted objects, and add AR objects to enhance your pictures. Get a 30-day free trial and test it out today.
Photoshop: Photoshop is one of the best digital editing programs on the market. It has hundreds of tools that allow you to make even the most difficult edits look perfect. As part of the Adobe Creative Cloud, you can try Photoshop free for 7 days.
FAQ
Is InPixio Photo Editor free?
There is a completely free version of the InPixio Photo Editor. However, it comes with several limitations, including watermarks on every image and access to only some of the features. You can
download the premium version for a free 5-day trial
, without giving your credit card information. Then, if you're not satisfied, your account will automatically revert to the free option.
Is InPixio Photo Editor safe?
I tested the software and it came up clean of all malicious programs, malware, spyware, and ransomware. I was also happy to see that there was no bloatware included in the installation package. To ensure that you get a safe and clean version,
go to the official InPixio website
and avoid downloading a"free" or "cracked" version of this software.
Is InPixio Photo Editor easy to use?
The latest version of InPixio Photo Editor is incredibly easy to use. Most of the features use AI to fully automate the editing process. You can remove backgrounds, erase unwanted objects, change the sky, and more with a single click. You can also manually edit the images by moving a slider back and forth until you have the desired results.
Download your free trial and start editing your pictures today
.
Visit InPixio Photo Editor Website