How to get a Free Trial VPN Unlimited (Tested July 2022)
Last Updated by Joel Timothy on July 01, 2022
KeepSolid VPN Unlimited has managed to make a reputable name for itself due to competitive prices, excellent performance, and the fact that it unblocks Netflix and other streaming services.

Though KeepSolid doesn't boast a server network comparable to
ExpressVPN
(3,000+ servers), it still manages to offer
good speeds and reliable connections
.
The VPN is worth a shot, and you don't have to pay anything to give it a test drive.
Try VPN Unlimited for Free Today
VPN Unlimited provides all users with a free 7-day trial that you can use to test the VPN and find out whether it's the product for you.
Unlike most VPNs, VPN Unlimited won't even require a payment method, so you can test the VPN without worrying about hidden charges or automatic subscriptions. What's more, this free trial is usually fully-featured, and so all the features will be available.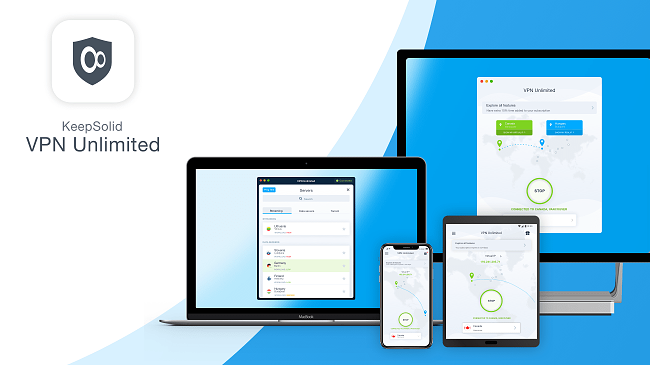 Features include:
Kill switch
Protocol switching
Choosing any server
Streaming on Netflix and other services
How to get VPN Unlimited Free Trial
Getting a free account for the VPN is super easy. All you need to do is go to this page and complete the following:
Provide your email and password.

After submitting your details, you will receive an email requiring you to verify the email address that you have used. Ensure that you do.
Next, click the given link to navigate to the download page.

Choose the app for your device, and you will have various installation options. To download the app directly through your browser, use the Standalone option.

From there, install the app and log in using your credentials, and you're ready to go.
Try VPN Unlimited for Free Today
Do they also have a money-back guarantee?
If their free trial impresses you, you can go ahead and make a subscription using our exclusive discount. You'll be able to continue using the service. In case you change your mind after the subscription, VPN Unlimited provides you with a 7-day money-back guarantee period.
Within this time, you can always request a refund and get your money back. Check out our guide on how to claim the VPN Unlimited refund.
Try VPN Unlimited for Free Today
Does the Free Trial unblock streaming services?
VPN unlimited is one of the best VPNs at unblocking streaming services. Since the free trial is fully-featured, you can use it to stream from various streaming services.
VPN provides you with individual labeled servers that you can use to stream Netflix US, Hulu, BBC iPlayer, HBO Now, ESPN+, and Sony Crackle.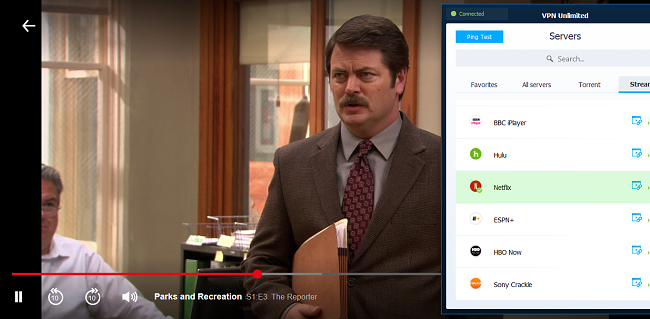 With the VPN, you can also unblock various other unlisted services.
So how good is VPN Unlimited?
1. Privacy & Security
VPN Unlimited is a product of KeepSolid, a company that is registered in the US. While the US is one of the worst locations for a VPN, KeepSolid still promises not to log your activities.
However, they
do keep connection logs,
which may not be ideal for some users. If you are looking for maximum privacy, you may need to check out
ExpressVPN or ExpressVPN
.
As for security, VPN Unlimited provides various protocols. Protocols available on Android, Windows, Mac, and iOS are:
IKEv2
OpenVPN
KeepSolid Wise TCP/UDP
IKEv2 uses 128-bit encryption which is fast and secure, but you can still opt for OpenVPN which has a greater balance of speeds and security. The Wise protocol is meant for users in highly-censored countries, and it can be used to bypass Deep Packet Inspection (DPI) which blocks out VPNs.
2. Servers and Locations
VPN Unlimited offers 400+ servers across 70+ locations across the world. The server network isn't as expansive as the likes of ExpressVPN, a VPN that boasts 3,000+ servers. However, they still perform very well, and so you will get fast and reliable connections. The secure servers are located in North America, South America, Europe, Asia, Africa, and the Pacific.
On the client app, there are servers optimized for torrenting and streaming modes. However, KeepSolid isn't the best VPN for torrenting. First of all, they state that "The primary use of KeepSolid VPN Unlimited is not to download torrents, but to offer online security."
Second, VPN Unlimited only allows you to torrent legal files, something that makes it not an option if at all you like streaming or downloading torrents. Additionally, they state that "There are limited cases when our technical team has to subside connection speeds due to torrenting."
If you are looking for a torrenting VPN, a good option would be ExpressVPN, although VPN Unlimited streaming servers are adequate.
3. Speeds
From our tests, we found VPN Unlimited to be one of the fastest VPNs. However, this depends on the protocol that you choose. For our tests, we used the default Windows protocol, IKEv2, which is generally expected to be fast.
To test the speed rates of VPN Unlimited, we first did a speed test for our connection without any VPN connected to act as a benchmark for all other tests.

Next, we connected to a nearby server.

Finally, we connected to a server located further away.

As you can see, VPN Unlimited is quite fast. However, we noticed that the VPN is not consistent when it comes to speeds. The rates tend to fluctuate depending on the server, but they are still generally good.
4. Features
VPN Unlimited offers several features and extras to help maximize your privacy and security.
In the VPN app, you can choose a protocol that suits your needs, and activate DNS Leak protection as well as the Kill Switch.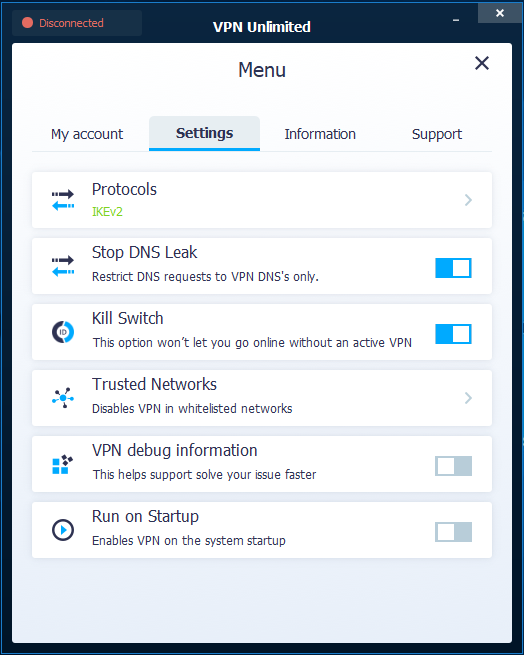 Besides that, you can get a personal VPN server which lets you boost your online privacy and security because you don't share it with any other users.
You can also get a static IP which lets you only use a particular IP address whenever you connect, which isn't assigned to any other user. This helps you have control of your online profile, and you won't be blocked from certain services due to the activities of other users.
5. Compatibility
VPN Unlimited is compatible with various devices, including:
Windows
Mac
Linux
Android
iOS
Windows Phone
Apple TV
Chrome, Firefox, and Opera browsers
With a standard VPN account, you can connect up to five devices simultaneously. However, you can't register the VPN on more. To add the VPN to another device, you need to delete one in your account, and this is only allowed for one device per week.
However, if you need additional connections, VPN Unlimited is happy to extend your limit to up to 15 devices, starting from $0.99 per month.
6. Pricing & Plans
VPN Unlimited offers various plans that carry the same package, with the only difference being in the subscription durations and the number of devices.
The standard plans for five devices cost as follows:
The 1-month plan is $9.99
The Yearly plan is $5 a month and is billed as $59.99. You will get three extra months
The 3-year plan goes for $2.78 a month and is billed as $99.99 every 36 months, saving you 75%
There's also a unique lifetime deal at $199.99
Note: All plans are covered with a 7-day money-back guarantee.
Final Word
VPN Unlimited is a good VPN option especially if you are looking for a VPN to bypass streaming restrictions.
The fact that the
VPN gives a free 7-day premium trial
makes giving the VPN a test drive a no-brainer. If you like it, you can also
take advantage of our exclusive discount
and subscribe with a
7-day money-back guarantee.