10 Best Open Source Password Managers in 2021
Last Updated by John Bennet on September 01, 2021
Open source password managers are the best way to store the passwords and credentials on your computer without worrying about hackers getting their hands on them.
Using a password manager might be the best way to store your passwords and credentials online, but you have to be careful about which ones you use. You need a password manager that's user-friendly and secure so that your data remains safe.
It can prove a daunting task to find the best password manager in a crowded market, so we've done the work for you. Read on to find out more about open source password managers, why you should use one and which are the best.
Why You Need Open Source
When it comes to protecting your password, you might think you have to pay a lot of money for commercial protection software, but that's simply not the case. Most are free.
Open source simply means that the software isn't finished. Unlike traditional programs, these open source password managers are improved upon by anyone that finds a solution to a problem. That allows users to detect errors in the code and patch them up, which can further protect you from hackers.
On top of that, open source password managers are customizable. They allow you to create your own plug-in solutions that wouldn't be a part of commercial options.
Our favorite part about a open source password manager is that they are free. Of course, there's the option to donate to the developers but they shouldn't cost a dime.
Let's take a look at the top 10 open source password managers available today.
1
KeePass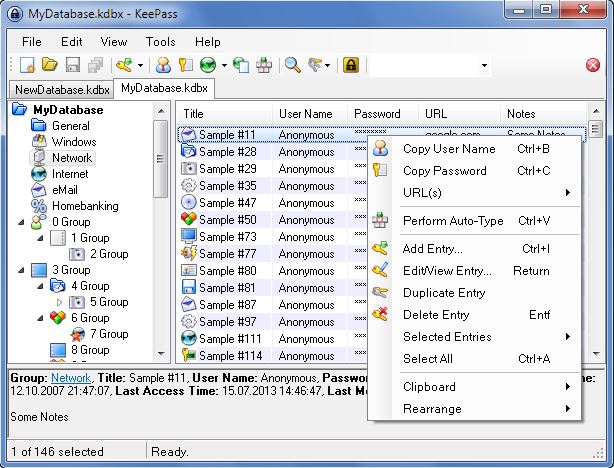 Dominik Reichl developed
KeePass
in 2003. It's a
Windows-based manager
that also offers
compatibility with Linux and macOS
. They utilize
bank-level encryption with SHA-256 hashing
. In addition, they have
multiple options for database imports and exports, remain fully customizable, have searchable password groups, and provide a strong password generator
.
Because the software is portable, there's no installation. The entire database remains in a single file, so transferring it is hassle-free. On top of that, it utilizes a two-factor authentication for superior security.
2
Clipperz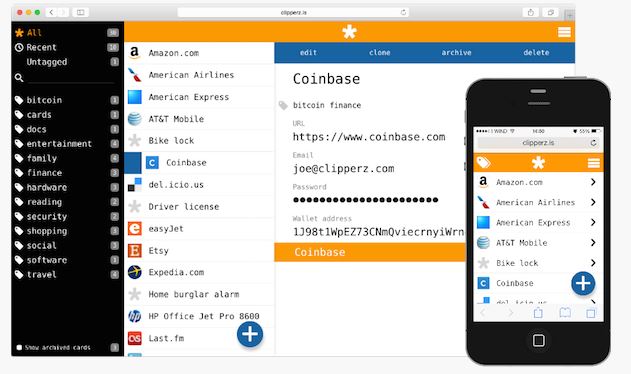 What's unique about
Clipperz
is that it
works from mobile browsers
. This open source single page password manager
supports many import and export options
and has plenty of offline features.
It's easy to login to sites from Clipperz's database with the quick authentication process. On top of that, the software encrypts everything that leaves the vault. Because it uses a 128-bit cryptographic system, you don't have to worry about your stored information.
3
Passbolt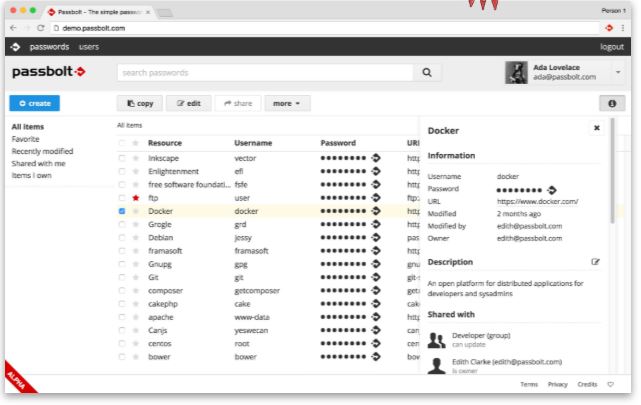 If you think that an open source program can't have the features of a commercial option, it's time to look at
Passbolt
. This open source manager offers an
easy-to-use interface
but still contains many features for a robust system.
The passwords are completely searchable and editable, plus it's easy to share with trusted people or copy them to your clipboard. There's also a built-in generator and evaluation tool. The neat thing about Passbolt is that they send out e-mail notifications to keep you updated about the status of your account.
Because it's open source, there are still things in the works. Users continue to upgrade the import and export tools, autofill, plus two-factor authentication. For now, you can use it with Firefox and Chrome with ease.
4
Padlock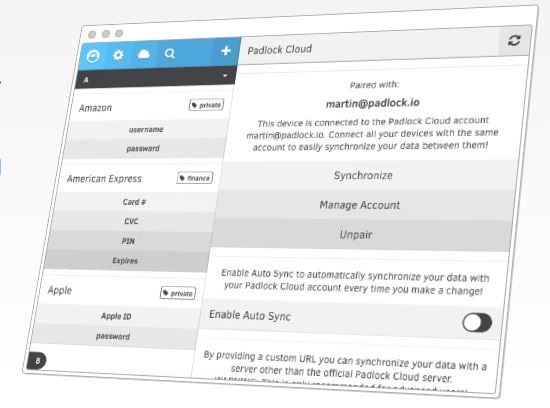 Padlock
offers a
desktop client for Macs and Windows
, plus you have access to
apps for your Android and iOS devices
. Even though it's robust, it remains simple to navigate as well. There are
no unnecessary features
, like in commercial password managers.
With Padlock, you can store more than just your passwords; you can organize them by category, which makes it easier to find them when you need them. It also imports and exports from multiple sources, has a password generator, and locks itself automatically after a specified time period.
5
Bitwarden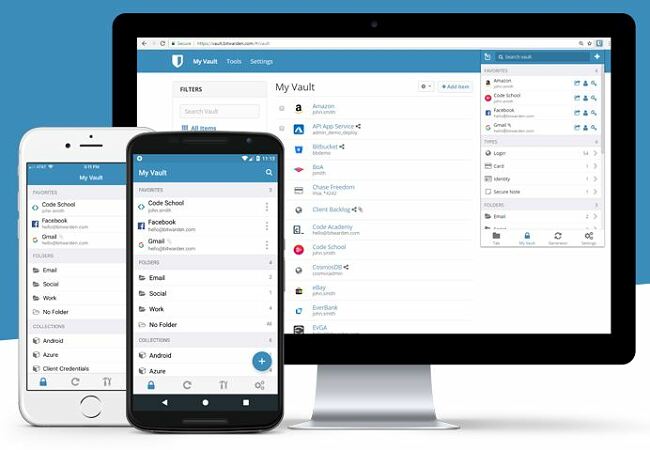 Bitwarden
is one of the more well known password managers in our group. It's
comparable to a commercial product
thanks to its visual appeal and set of features. If you didn't know better, you would think it was a top-tier commercial manager.
The program supports Windows, Mac, Linux, Android, and iOS. In addition, it features unlimited syncing, extensions for all major browsers, intelligent categorization, and a built-in password manager.
It's also simple to setup multiple credential collections. All of the data receives AES-256 encryption for your peace of mind. The software also provides free plans or paid for options depending on how many features you need.
6
LessPass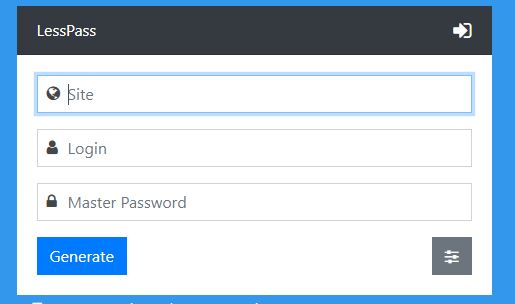 What makes
LessPass
special is that it's a
three-in-one product
. It's a
browser add-on, advanced password generator, and Android app
. Simply head to the site you need a password for, provide your username and the master password, and
LessPass creates a unique password
for you.
With LessPass, you have access to support for Android, Chrome, Cozy Cloud, Firefox, Snapchat, and more. In addition, they allow you to self-host your LessPass database on your own server for additional security.
7
Psono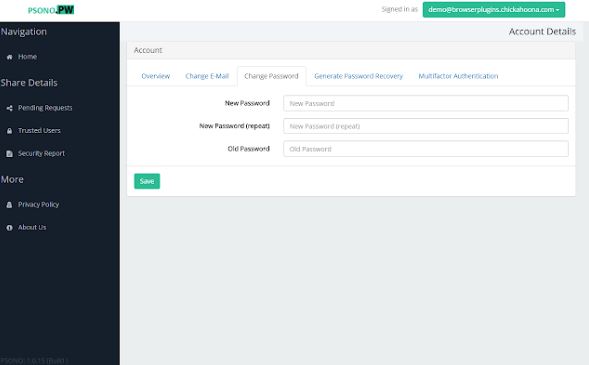 If you need a self-hosted solution for teams,
Psono
might be your answer. It offers
multi-encryption practices
and is
hostable on-site
. They have a
free open-source software plus two commercial versions
for larger teams.
Other features include password syncing, password generator, mobile support, easy import and export, plus the ability to copy to your clipboard. Use it with your groups and keep those passwords secure.
8
RatticDB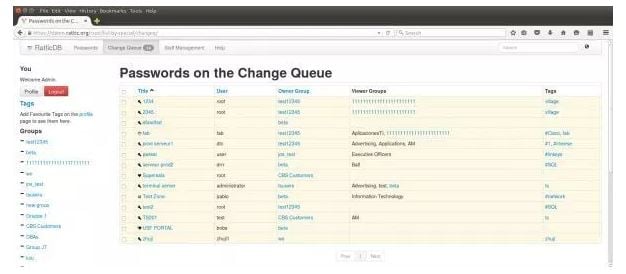 RatticDB
is an open source project that provides a
simple tool to safely protect passwords
. If you work with a team, it has an easy-to-use tagging system which allows passwords to be
organized in several different organization schemes.
From here, you'll have no trouble
sharing them with your other users
as well.
There's also an easy-to-use command for quick backups and restore. These backups are encrypted as well.
9
Password Safe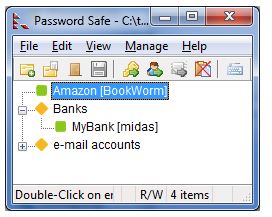 Password Safe
is a great way to store your online credentials safely. Use it to store one password or thousands. With the
encrypted username and password list
, you'll have everything you need at your fingertips while online. Simply
enter a master password to receive access to everything
.
They utilize two-factor authentication, have built-in support for multiple languages, and remain open-source for complete transparency.
10

Encryptr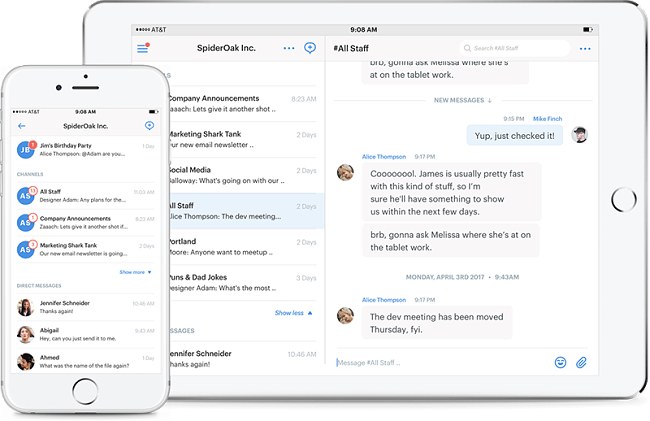 If you want a zero-knowledge cloud-based password manager, you'll want to check out
Encryptr
powered by Crypton. They provide an
app for all major platforms
; making it easier than ever to access your accounts.
The software stores three types of data: credit card numbers, passwords, plus general value pairs. It's also easily expandable to include other entry types as needed.
Final Thought
The best advice we can give is to stop using the same password for all your accounts; you're just putting yourself at risk and leaving yourself open to hacking.
With our top ten open source password managers, you never have to worry about your online security again. Simply sign up, enter your info, and get started.