7 Best FREE VPNs for Chromebook in 2022 (+ Setup Guide)
Last Updated by Kate Hawkins on July 01, 2022
You'll find plenty of free Chromebook VPNs claiming to be secure, private, and 100% free. In reality, many free VPNs have tiny data allowances, restricted servers, and slow speeds. The worst free Chromebook VPNs are even filled with hidden malware and trackers.
To save you from risking your own Chromebook, I tested 50+ VPNs and ranked the best free VPNs for Chromebook in 2022. These VPNs are safe for most online activities — but if you regularly use a VPN, I suggest you invest in an affordable option like ExpressVPN.
ExpressVPN has an easy-to-use Chrome extension and Android app, as well as unlimited data and bandwidth, military-grade security, and a global server network. You can try ExpressVPN on Chromebook risk-free as it's backed by a 30-day money-back guarantee. If you're not satisfied, you can get a full refund with no questions asked.
Quick Guide: Best Free VPNs for Chromebook in 2022
The Best Free VPNs for Chromebook (Tested July 2022)
Key Features:
ExpressVPN easily ranks as the best VPN for Chromebook, as well as the best all-round VPN in 2022. The Chrome browser extension isn't a standalone proxy like extensions offered by other VPNs — it works alongside ExpressVPN's app for full VPN protection and so you can easily control your connections from within your browser.
You just need to install the Android app before you can start using the browser extension. ExpressVPN is compatible with a variety of Chromebooks including Dell, Acer, HP, Samsung, and more. The app file size is relatively small at just 33MB so it won't take up too much storage space.
ExpressVPN protects your data with military-grade encryption and its built-in kill switch keeps you secure if the connection is interrupted. Both the Chrome browser extension and Android app protects against IP, DNS, and WebRTC leaks to ensure your data is safe while connected to a server.
During tests, I was impressed to find that servers could access Netflix, Amazon Prime Video, Disney+, and other streaming platforms without any issues.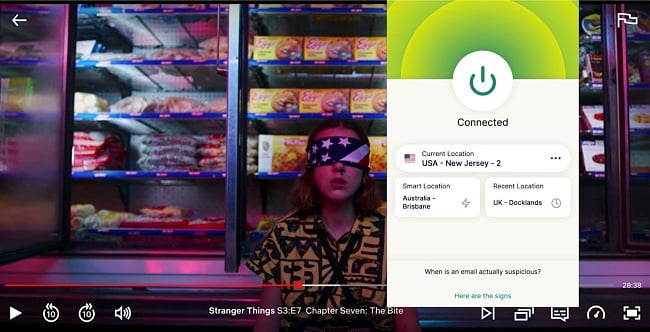 On average, I only saw an 18% drop from my standard speed of 115Mbps — this meant I could stream, torrent, and game online with no lag. Even when I connected to servers 15,000+ km away, ExpressVPN provided fast connection speeds. You can connect to the proprietary Lightway protocol for the fastest speeds, although ExpressVPN also supports OpenVPN (UDP and TCP), IKEv2, and L2TP/IPSec.
While it's not free, my tests proved that ExpressVPN is #1 for Chromebook and it's well worth testing for yourself with the 30-day money-back guarantee. If you don't like it, you're entitled to a refund. I tested the process myself and it took less than 5 minutes for a live chat agent to approve my refund. I had my money back in less than 5 days.
Key Features:
CyberGhost has a free Chrome browser extension with servers in the US, Germany, the Netherlands, and Romania. In my tests, I ran checks for data or IP address leaks, and none were detected. I was even more impressed when I streamed Netflix US — there's unlimited bandwidth and data, so I didn't have to wait for any buffering or loading during my favorite shows.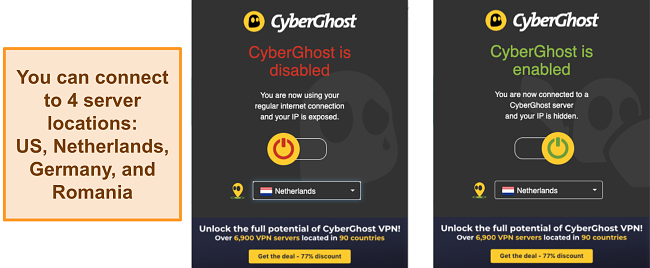 Unfortunately, the Chrome extension is actually a proxy (not a VPN), so you don't have advanced encryption options, protocols, or a kill switch. While you might not need these security features for casually browsing the internet, I strongly recommend having stronger privacy measures in place if you want to ensure your personal details remain private — especially if you like torrenting or you regularly bank online.
Luckily, CyberGhost's Android app is a full VPN service and it works with a range of Chromebooks, including Acer, Dell, HP, and more. It's only 30MB, so it won't take up a lot of space on your Chromebook.
There are plenty of other benefits with the Android app — for example, you'll have access to CyberGhost's optimized servers for streaming and torrenting. The streaming-optimized servers are regularly tested to ensure compatibility with a wide range of platforms (like Netflix, Amazon Prime Video, Disney+, and even smaller services like Yle). The torrenting-optimized servers are all based in P2P-friendly countries, and specifically configured for fast download speeds and security.
You do need to pay an upfront cost, but you can take advantage of the generous 45-day money-back guarantee and use CyberGhost's Android app for free on Chromebook. It's essentially the same as a free trial, which makes CyberGhost ideal if you only need a VPN for a short time as you can easily get a full refund when you're finished using it.
Get CyberGhost for Chromebook for free
Key Features:
ProtonVPN's free Android app for Chromebook has unlimited data, so you can use it as much as you want without worrying about data caps. There are 3 server countries to choose from: the US, Netherlands, and Japan.
The free app has the same high-level security and privacy as its premium service. With military-grade encryption, a kill switch, and a zero-logs privacy policy, I was satisfied that ProtonVPN kept my data anonymous and secure while connected.
Unlimited data would be ideal for streaming and torrenting, but ProtonVPN blocks data-intensive activities for free users. While I could watch YouTube and some other video sites, streaming services like Netflix, Hulu, and Disney+ were mostly inaccessible. ProtonVPN's US server #8 could sometimes unblock Netflix, but I often got the proxy error message.
My speed dropped around 65% on average from 115Mbps to 40Mbps. This didn't create a noticeable difference for me, but if your regular speeds are slower, you could experience a more obvious slowdown.
ProtonVPN is compatible with the majority of Chromebooks, including devices from HP, Asus, Dell, and Samsung. At around 18MB, the file size is very small to ensure you have plenty of space leftover. Simply create a free account to use ProtonVPN for free on Chromebook today.
Get ProtonVPN for free on Chromebook
Key Features:
Hotspot Shield has a free Chrome browser extension and Android VPN app — but you can only use it on 1 device at a time. This means you'll have to choose between either downloading the extension or the app. Either way, the free plan restricts you to 1 virtual US server and 500MB of free data per day. For reference, an hour of low-quality streaming uses about 700MB, so Hotspot Shield provides enough data for around 45 minutes.
The browser extension includes blockers for trackers, ads, cookies, and malware, plus a Sword feature that feeds fake tracking information to websites to ensure your online activity is anonymous.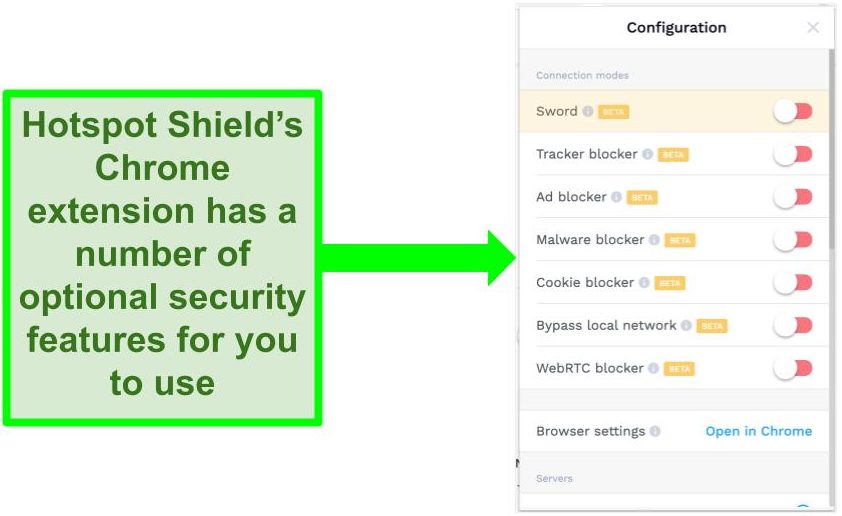 The Android app secures your entire internet network with military-grade encryption. Just like paying subscribers, you're also protected by kill switch, built-in leak protection, and Hotspot Shield's proprietary Catapult Hydra protocol. The app is small at just 53MB and compatible with Chromebooks from Asus, Dell, HP, and Samsung.
The extension and Android app both work with Netflix US, which surprised me as the free plan doesn't officially unblock streaming platforms. I also successfully accessed Disney+ and Hulu in tests.
Unfortunately, the free plan doesn't allow torrenting. Basic information is also logged, such as your IP address, email, and some device information. You won't have either of these issues on the paid plan if you do choose to upgrade.
It's quick and easy to download Hotspot Shield on Chromebook for free — you don't even have to sign up for an account to start using the VPN immediately.
Get Hotspot Shield for Chromebook for free
Key Features:
hide.me has a free Chrome browser extension and Android app for Chromebook. The Chrome extension offers unlimited data, but it only encrypts your browser traffic and has servers in Canada, Netherlands and Germany. If you want to secure your entire Chromebook's internet connection, I suggest you download the Android app — you'll have access to 2 more US servers (but you only get 10GB of free data per month).
To make the 10GB of free data go further, you can set up the split tunneling feature. This allows you to specify which apps on Chromebook to use specifically with the VPN and which apps to exclude — this significantly helps to conserve data usage.
The free servers do allow torrenting and streaming, but unfortunately speeds are very slow. My speed dropped around 80% on average (from 115Mbps to 20Mbps). I find hide.me is best for casual web browsing instead of data-intensive activities, like watching videos or downloading files. The audited no-logs policy guarantees that no user data is ever recorded, so your browsing activity is entirely anonymous.
The Android app is around 27MB, so it won't take up much space in your Chromebook's storage. It's compatible with Chromebooks from Dell, Asus, Acer, Lenovo, and more. Best of all, you can download the hide.me Chromebook-compatible Android app for free without creating an account.
Get hide.me for Chromebook for free
Key Features:
TunnelBear has an Android VPN app offering many of the same features as its paid plan. This includes access to its entire server network across 49+ locations, AES 256-bit encryption, and leak protection (Vigilant Mode). There's also a Chrome browser extension, but it's more limited with only 20 server locations available.
TunnelBear doesn't throttle speeds for free users, so I only experienced a small 21% drop from my regular speeds. I could also connect to Netflix US, although I didn't have much luck with other streaming services.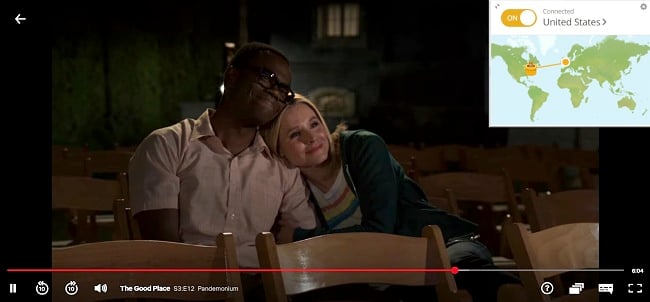 TunnelBear's tiny file size of just 16MB for its Android app means you save space on your Chromebook. The Android app is compatible with multiple Chromebooks, including HP, Acer, and Lenovo.
Unfortunately, you only get 500MB of free data per month. This is very limited — it's not a good choice if you want to use your Chromebook to stream, game, or download files.
While you do have to create an account to use TunnelBear for free on Chromebook, you can rest assured your data is never shared with any third parties — TunnelBear runs its free VPN with resources from paid users (not advertisers). The company has even undergone an independent audit on its privacy policy to ensure no personally-identifying data is logged or stored on its servers.
Get TunnelBear for Chromebook for free
Key Features:
ZenMate has a free Chrome browser extension with servers in the US, Germany, Romania, and Singapore. There's even optional tracker and malware blockers, plus a WebRTC Protect feature. The malware blocker didn't always work in my tests, but I was pleased to find the WebRTC Protect feature effectively masked my real IP address on IPLeak.net.
While the server selection is limited with just 4 locations, ZenMate provides unlimited data and can access streaming sites like Netflix, Hulu, and Disney+. However, I experienced lag and interruptions while streaming as ZenMate slows down speeds for free users. My speed dropped almost 90% to just over 10Mbps, making a noticeable impact on loading times and buffering.
There's no signup involved so it's quick to protect your Chromebook with ZenMate's browser extension for free. The browser extension is a tiny 2.6MB, which is ideal if your Chromebook has limited storage.
Get ZenMate for Chromebook for free
Comparison Table: 2022's Best Free VPNs for Chromebook
How I Tested and Ranked Free Chromebook VPNs
I tested and ranked the best free VPN services to find the best free VPNs for Chromebook in 2022.
100% free — I made sure each VPN is offered by a trustworthy company with no shady track records or hidden costs.
Strong security and privacy features — Even a free VPN should have high-level encryption, leak protection, a kill switch, and a strict no-logs policy.
Free data — I suggest getting a service that offers at least 10GB of data if you enjoy activities like torrenting, streaming, and gaming online. If you want a free VPN for casual browsing, checking emails or online banking, then 500MB can be enough.
Decent speeds — Most free VPNs throttle speed and bandwidth, making it nearly impossible to browse, stream or even download files.
Works on Chromebook — The VPNs need to be compatible with Chrome OS and offer either an Android app or Chrome browser extension. The best VPNs even work on Windows, Mac, Android, iOS, Linux, and other devices.
Of all the VPNs I tested, ExpressVPN emerged as the top choice for Chromebook. It's easy to configure with Chrome OS, plus ExpressVPN's huge server network and fast speeds make it ideal for streaming, gaming, torrenting, and more. While it's not free, you can try ExpressVPN on Chrome risk-free as it's backed by a 30-day money-back guarantee. I believe you'll find ExpressVPN or your Chromebook, but if you don't agree, you can easily get a full refund.
Easy Setup Guide: How to Use a Chromebook VPN
Install a Browser Extension for Chrome OS
Using a VPN browser extension for your Chromebook is the quickest way to get protection. It's important to remember that most browser extensions are proxies that don't offer the same high-level encryption as a full VPN app.
Download an Android VPN App for Chromebook
All Chrome OS devices that launched in or after 2019 support Android apps. Most Chromebooks from 2016 onward have Android app compatibility.
Manually Configure a Chromebook VPN (OpenVPN and L2TP Setup)
If you're unable to install Android apps on your Chromebook, you can manually set up a VPN using the Chrome OS built-in VPN client. Most VPNs support OpenVPN and L2TP for manual configuration.
Set Up a VPN on a Router
If you can't install a VPN specifically for your Chromebook, you have the option to configure a VPN service with your router. With a router VPN, every device that connects to your WiFi is protected by the VPN encryption, including your Chromebook.
Use a Linux VPN App
Chromebooks released in or after 2019 have built-in support for Linux. If your VPN supports Linux, this means you can configure a Linux VPN app on your Chromebook — but this will only secure your Linux connections. To have full VPN encryption on your Chromebook, you'll need to run the Linux VPN app alongside an Android or OpenVPN/L2TP setup.
FAQs: Chromebook VPNs
Are free VPNs safe for Chromebook?
Yes, but make sure you choose a free VPN that's proven to be safe for Chromebook. Not all free VPNs are safe — many shady free VPNs will secretly log your private data to sell to third parties as a way to generate revenue, which is a huge invasion of your privacy. Other free VPNs have been found to contain malware that finds and steals your personal data, putting you at risk of identity theft and fraud.
Unfortunately, even the best free VPNs have limitations. You might find yourself restricted to 1-2 server locations or faced with small data allowances each month. While it isn't free, a premium VPN like ExpressVPN has a wide range of advanced VPN features for Chromebook so you don't have to suffer through any restrictions. It's backed by a 30-day money-back guarantee, so you can simply get a refund if you don't like it.
How do I set up a VPN on Chromebook?
There are multiple ways to set up a VPN with your Chromebook — you can use a Chrome browser extension, download an Android or Linux VPN app, manually configure your VPN, or set up the VPN on a compatible router. Personally, I find the easiest options are installing a VPN browser extension for Chrome or downloading an Android app (if you have a Chromebook from 2019 onwards).
Does Chrome have a built-in VPN?
No, Chrome does not have a built-in VPN. However, Chrome does have a built-in VPN client. As long as the VPN you choose has manual configuration options for OpenVPN or L2TP setup, you can use it on your Chromebook. I've shortlisted all the best free VPNs that you can manually set up with Chromebook's built-in VPN client — each VPN also has user-friendly options like a Chrome browser extension or a compatible Android app.
Do I really need a VPN for Chromebook?
Yes, you should use a VPN with your Chromebook. Without a VPN, you leave your online activity and device data exposed to anyone who wants to see it. By protecting your Chromebook with a VPN, you ensure your data is securely hidden — no one can see your IP address, the websites you visit, or the files you download.
As well as protecting your data, a VPN allows you to avoid network and location restrictions by hiding your IP address. The VPN masks your true location and replaces it with one from its server, making it look like you're in a different place. This means you can use a VPN to access your Netflix US account when abroad, catch up with regional news, or even check Facebook when on your work network.
Secure Your Chromebook With a Free VPN Today
So many free VPNs come with unreasonable limits and restrictions — or worse, leave your Chromebook exposed and vulnerable to trackers, hackers, and spies. After testing more than 50 free VPNs, I shortlisted the best for Chromebook in 2022 that won't compromise your security or privacy.
ExpressVPN is the #1 VPN for Chromebook with its military-grade security, huge server network, and blazing-fast connection speeds. While you do need to pay upfront, ExpressVPN has a 30-day money-back guarantee so you can get a refund if you decide it's not for you. I've even tested the refund policy myself to make sure it works — just speak to a customer support representative over 24/7 live chat and the refund will be approved within minutes.
---
Other Top VPNs for Chromebook in 2022