Valid HMA VPN Coupon: Save up to 75% Today (Tested February 2023)  
Last Updated by Sarah Barnes on February 01, 2023
A Virtual Private Network (VPN) is an essential tool if you want to remain safe and anonymous online. Luckily, many of these services come at a reasonable cost, and HMA VPN is no exception. Carry on reading to find out more about HMA VPN and how to save money with the purchase of a premium subscription.
The HMA VPN Discount
To enjoy HMA, all you have to do is access the site. There you'll find plenty of discounted plans without any middle-men. The best of which is, usually, their 36-month option. To make the most of HMA's offers, you don't need to enter a code or meet any requirements. All you have to do is go to straight to their website.
Telling the Real Coupons From the Fakes
Unfortunately, there are hundreds of fake clickbait coupons online. Advertising companies create these websites with fake coupons with the aim of increasing traffic and making money. These coupons aren't real and don't work. They can also leave you with malware on your device.
The truth is, it can be difficult to spot fake coupons. Before buying into a deal, make sure to check the expiration date. Also, check that you're getting your coupon from a reliable source. We share regular updates regarding the latest coupons from different VPN service so that you can be sure you're not falling for a scam.
A Short Review of HMA VPN
Security and Privacy
When it comes to security, HMA can leave some users wanting more. The company does use the highest standard 256-bit AES encryption. However, it doesn't come with an automatic kill switch or DNS and IP leak protection.
Additionally, HMA is a UK-based company. This is a country with some of the strictest surveillance laws in the world. Not only this, the UK is part of the five eyes alliance.
While this may be a big concern for some, the company has a zero logging policy so you can rest assured knowing that your information doesn't end up in the wrong hands.
Speed and Servers
Despite falling a little short on the security front, HMA has a great selection of servers, many of which can unblock Netflix in various countries across the world. With a subscription, you'll gain access to more than 940 servers in over 190 country locations.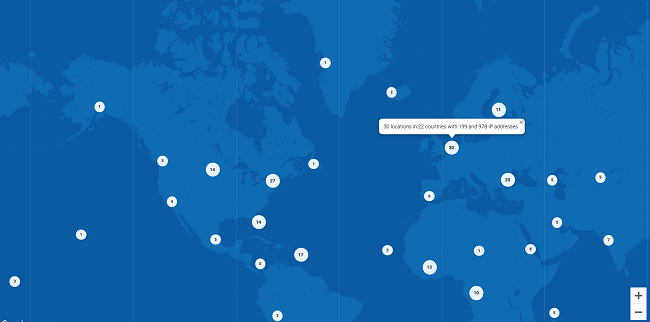 Furthermore, HMA comes with ultra-fast and reliable access to its network. The service doesn't limit your bandwidth or restrict downloads. In fact, it can even make your connection faster as your ISP won't be able to identify you which will prevent them from throttling your connection.
Torrenting and Peer-to-Peer (P2P) Sharing
When it comes to torrenting files and P2P sharing, HMA offers a selection of servers specifically dedicated to these activities. This means that you can go by your day-to-day, without any restrictions.
Installation and User Interface
Downloading and installing the HMA VPN takes minutes and is extremely straightforward. Once you pay for your subscription, the website will redirect you to a page that allows you to download the VPN application.
Once the download is complete, all you have to do is log in and choose between Instant, Location, and Freedom mode. Then, click 'Connect' and you'll be able to browse the web, share files, and stream shows with complete anonymity.
Customer Support
The customer support team at HMA is very efficient and helpful. We used the live chat and received responses to all our queries within minutes. Moreover, the support team is on hand 24/7, meaning you'll be able to get help with any issues no matter where you are in the world.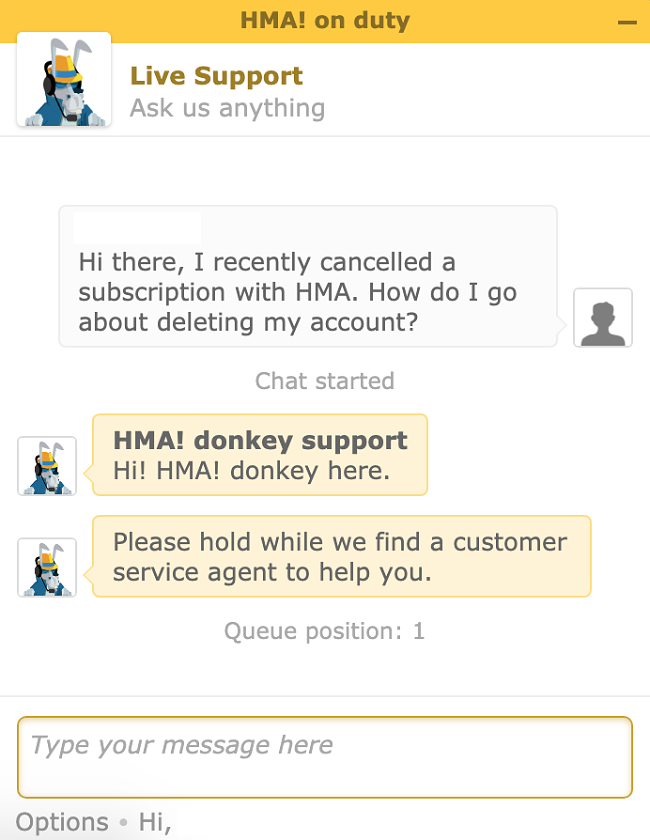 Using HMA for Free
With HMA, you can try the service for free for seven days. That said, you do have to give your payment details to sign up for the free trial in the first place so make sure to cancel your subscription before your trial ends if you decide to not use the service.
Alternatively, HMA pro plans come with a 30-day money back guarantee period. We tried and tested the money back guarantee offer and the process was quick and painless. In fact, we got a full refund within 24 hours of applying for it.
Bottom Line…
Despite some grey areas when it comes to security, HMA VPN is a great service that allows you to stay anonymous online. All-in-all we highly recommend the service.