Why is Having a VPN Kill Switch Feature So Important?
Last Updated by Brittany Hall on June 19, 2022
Kill Switch features on VPNs are designed to prevent your VPN connection from any accidental exposure. Some VPN providers include this security feature, while others don't. This feature is crucial if you don't want your information exposed to trackers.
One of the major factors that potential VPN users are looking for is reliability. After all, if the VPN connection is disconnected for whatever reason, the computer will default back to its IP address.
The computer will be exposed and activity easily tracked. Users may not even realize when or if it happened. This is why a number of VPN providers offer a "Kill Switch" feature to help counteract this problem.
Basically, the Kill Switch terminates your internet connection whenever the VPN connection drops.
Keep reading to learn about this critical privacy feature: what it is, why it's important, what causes VPN connections to drop, how to know if a VPN provider has a kill switch, and what are some of the best VPNs that have a kill switch feature.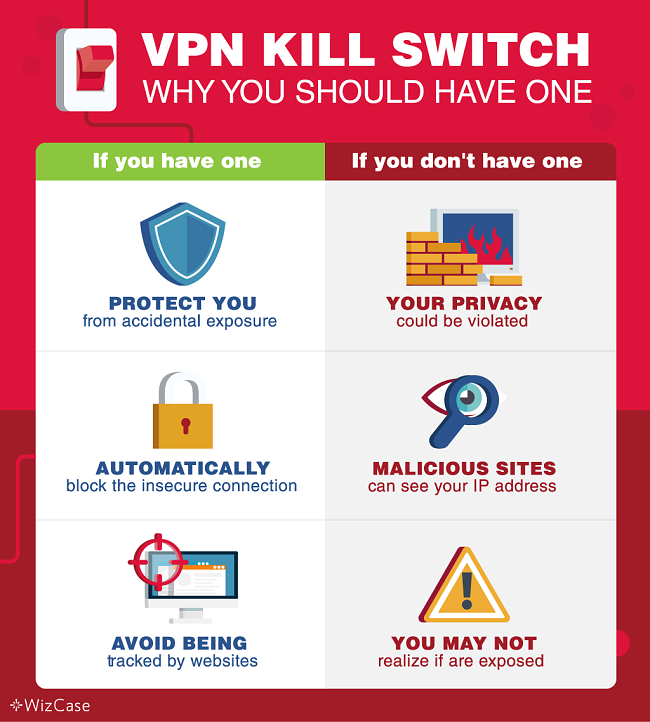 A VPN Kill Switch is a Necessary Security Feature
A VPN Kill Switch, also referred to as an Internet Kill Switch, is a crucial part of a VPN security solution. As such, it should be at the top of your list of features to look for when choosing a VPN provider.
In essence, it's a simple security feature that ensures your device's true IP address is never exposed in the case of a dropped connection with the VPN server. This can be critically important for frequent torrent downloaders and BitTorrent users. If you're downloading a torrent file, and the VPN disconnects for even a second, your online actions will be spotted by your ISP who can throttle your speed or, even worse, report you for downloading the torrents. The Kill Switch will kill your internet connection, so that you won't be exposed for even a second.
How the Kill Switch Feature Works
A Kill Switch is similar to a tripwire, constantly monitoring your connection with the internet for any change in IP Address or status. If it detects anything, such as a dropped connection, the Kill Switch will instantly block your device from connecting to the internet until your connection with the VPN is reestablished or the VPN software is closed.
The connection is instantly blocked before your computer or mobile device has a chance to connect to the internet outside of the VPN tunnel.
Main Reasons for Dropped VPN Connections
One of the reasons for the rise in VPN use is due to the fact that VPNs are typically very reliable. Even with this information, however, VPN server connection do experience problems every now and then, which of course frustrates users.
There are three main reasons for VPN connections disconnecting:
1. Network Congestion or Inadequate Signal Strength
Since users of VPNs can connect to servers in other parts of the world, it may be easy to mistakenly think that local internet connection conditions aren't important.
Heavy use of the internet connection, such as what often happens in airports and coffee shops, can cause a VPN connection to become unstable.
Your Wi-Fi connection strength can also affect your VPN connection's reliability. Having low signal strength can cause the connection to drop due to an excess of data loss.
2. Router and/or Firewall Settings
Your firewall, anti-spyware, or antivirus program settings can cause the VPN connection to drop as well. You can test this by disabling these features and trying to reconnect to the VPN server.
With these disabled, if the VPN connection stabilizes, you will need to add the VPN as an exception before you enable the features again.
3. Choice of VPN Protocol
Server connections are more stable when run on the TCP protocol, instead of the default UDP. If your VPN connection is unstable, try switching the protocol.
How to Know if a VPN Has a Kill Switch
It can sometimes be difficult to figure out whether a VPN service includes a Kill Switch feature without actually trying their VPN first. Many VPN providers often list this information in their list of features or in their FAQ section. Some advertise their Kill Switch technology much more than others.
2 Best VPNs with a Kill Switch

No logging
Strong forms of encryption
Kill Switch called Network Lock
ExpressVPN is quite possibly the best VPN available. The VPN provider is serious about privacy and shows it through its quality service.
Network Lock, the provider's version of the Kill Switch, can be activated in the Options window on the General tab. However, it is enabled by default.

No logging
Kill Switch
Only 1 connection can be stopped
Private Internet Access was one of the first VPN providers to introduce a kill switch feature. As soon as your connection gets interrupted, PIA's Kill Switch will shut down your internet connection.
If users have two VPN connections running simultaneously, however, only one connection to the internet will be stopped in the case of the VPN connection dropping.
Conclusion
While people may have different reasons for using a VPN, they all want privacy. When a VPN connection drops, IP addresses are exposed. This is why reliability should be a top priority. In order to keep a good reputation, many VPN providers now offer a Kill Switch along with 99.9% reliability.
---
Summary: These Are The Best VPNs With Kill Switch in 2023
Top Choice