5 Best VPNs for Qatar to Access Censored Websites in 2020
Last Updated by John Bennet on October 01, 2020
Having trouble accessing the internet in Qatar? Take advantage of a VPN to improve your security online and to access geo-restricted content at the same time.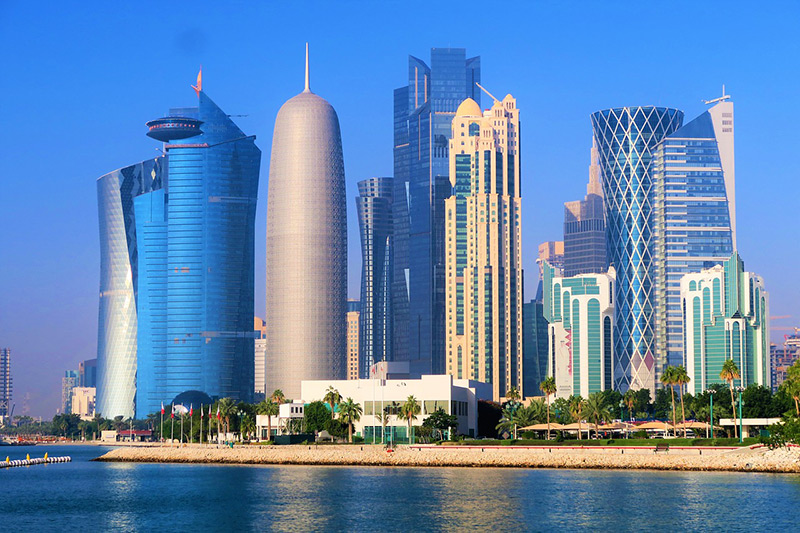 If you are a resident of Qatar, it is likely that you already understand the level of censorship that occurs in the country. If you plan on traveling there soon, it is important to note that the
government blacklists many sites, making it a stressful endeavor to navigate the web
.
There's also Intel confirming that the government monitors every message sent through an ISP, which means you're vulnerable at all times. Qatar has without doubt one of the toughest and strictest online surveillance in the world.
Not only will we show you how to avoid government tracking software so you can have Internet freedom in Qatar, but we have also conducted extensive research to bring you the best VPNs to use not only in Qatar but all around the world.

Choosing the Best VPNs for Qatar
Because of the strict rules in Qatar, not every VPN gets you the access you want or the privacy you need. You must be careful which software you choose.
We've used several factors to help find the best VPNs for Qatar:
Speed – If you want to stream or do anything labor intensive, you need fast speeds. You don't want to sit down for your favorite Netflix series only to watch it buffer.
Encryption Protocol – AES encryption is essential on any decent VPN service. While other protocols offer protection, the military-grade option is the best to ensure your activity and data remains secure.
Reliability – You don't want to be in the middle of using a blocked VoIP app when your connection drops. That would not only put you at risk with the government but will also make you visible to their tracking software. A kill switch is a necessity for times like this.
Innovative Strategies – Countries like Qatar, that have high-censorship rules, are attempting to block VPN software. Even sites like Netflix are actively working to ban proxy customers. That's why it's vital to choose a VPN that uses innovative strategies to work around these blocks.
Support – Let's face it; you might need help working something out. When you do, you want immediate assistance and easy-to-understand advice. We like the companies that offer 24/7 support for those moments when we just can't figure something out.
1
NordVPN – Top Pick for Qatar
The choice of more than 4,889 servers in 63 countries
DNS leak protection
An automatic kill switch
NordVPN is a top choice when looking for the best VPN in Qatar. They use a secure tunnel to keep your IP hidden at all times. This tunnel allows you to browse local dating sites, political material, and more without the fear of someone watching your every move.
NordVPN also allows up to six simultaneous connections at once. We found that their speeds are exceptional and never showed us anything to be concerned about.
What's even better than having privacy, security, and killer speeds? Knowing how to get around the Netflix block. With NordVPN you'll have no trouble watching your favorite Netflix shows either.
Offering a 30-day money-back guarantee, why not try them out today?
More than 2,000 servers worldwide
256-bit encryption
An automatic kill switch
This is one of the fastest and most reliable providers out there. If you've tried to figure out software on your own and failed, you must move to ExpressVPN.
ExpressVPN has plenty of bandwidth, making them ideal for streaming, VoIP, and browsing. You won't buffer, freeze, or slow down. Our favorite part about ExpressVPN is their responsive and helpful 24/7 support. Talk to them through live chat or e-mail, whichever works best for you.
ExpressVPN helps you get back on Skype and WhatsApp to experience private calls with loved ones. This VPN doesn't keep any logs, so they have no information on you to turn over to the authorities.
ExpressVPN has over 2,000+ servers located all over the world. With all those servers, they have plenty of connections to choose from without the government watching your every move.
Just like NordVPN, ExpressVPN offers a 30-day money-back guarantee.
More than 2,852 servers worldwide
An automatic kill switch
A strict no logs policy
CyberGhost VPN is another one worth checking out. Their reasonable prices and exceptional security helped them make third place on our list. They have more servers than we can count, over 2,852 to be exact, and these servers are located all over the world.
They promise fast connections, and our testing proves that to be accurate. They also have a double encryption system that gives you added security and protection.
If you want to remain anonymous, private, and secure, try out CyberGhost with their 30-day money-back guarantee.
No logs policy
Automatic kill switch
24-hour free trial
If you need a service that's a little more budget-friendly, SaferVPN is worth a look. They offer 256-bit encryption, a no logging policy, and unlimited bandwidth.
They also have a vast selection of servers in many countries worldwide. Having the ability to connect up to two devices on their basic plan is just enough to keep you and a close companion protected at all times while connected to SaferVPN.
On top of that, they also offer a 30-day money-back guarantee, which leaves you with enough time to try before you buy.
More than 2,000+ servers in over 140 countries
DNS leak protection
Super strong encryption protocols
The reason that PureVPN made our list is because their Gulf VPN server delivers high speeds and performance. They also have several servers in neighboring countries, including the UAE, Saudi Arabia, Bahrain, and Jordan.
While we can't rank it as highly as NordVPN or ExpressVPN, it has earned its own spot on our list thanks to its exceptional features. PureVPN will make a great choice for beginners needing a basic app to navigate through, or for seasoned users as well.
PureVPN offers a 31-day money-back guarantee. Why not try them out today? You've got nothing to lose.
Should I Use A Free VPN in Qatar?
It's entirely possible to use a free VPN service in Qatar, but we don't recommend it. Not only are the speeds lacking, but we don't believe the services are truly free and secure.
Security measures on the free VPN programs we tested aren't exceptional. Some of them even sell customer data to pay their bills. The reliability is weak at best on most plans, and when the connection drops off, you are left vulnerable to surveillance.
If you want to make VoIP calls, watch Netflix, or simply browse blocked sites, you should invest in one of the best VPNs that made it onto our list for Qatar.
Your security, privacy, and anonymity are definitely worth the investment.
Is it Legal to Use a VPN in Qatar?

In Qatar, there's no reason to worry about prosecution for using VPN software. Unlike Dubai, having a VPN isn't technically illegal. With that said,
browsing sites that are deemed illegal content is still unlawful
.
Basically, you shouldn't access anything that the government doesn't approve of, which is a lot. Also, don't breach geographical copyright limits, it's illegal to do so.
By using one of the best VPNs in Qatar, your risk of getting caught accessing unapproved sites is much lower. Just ensure that you install your software before heading into the country and do everything possible to configure the options, so you are completely anonymous.
Final Thought
No one knows what the future holds, but the government of Qatar continues to add more restricted sites to the list on a regular basis.
Don't wait any longer, protect yourself and your family from prosecution by using one of the best VPNs for Qatar.