5 Best Video Editing Software for Content Creators – Tested in 2023
There are hundreds of video editing software that you can download. But, if you want to make a good impression on your viewers, you need software that is both easy to use, so you can create a lot of good content, and has professional-grade video editing tools, so you can get the best results. Using inferior software can significantly impact your followers list and whether people click on your video or continue scrolling.
After testing dozens of free and paid video editing software, I found the five best programs with the necessary features to produce high-quality videos. Among them, Adobe Premiere Pro got the best score on my tests. It has multiple editing styles, AI features for automatically adjusting video dimensions, a large selection of special effects, and more, which I'll go deep into later on. You can even use this link to get Adobe Premiere Pro free for 7 days so you'll have the chance to test it yourself with no commitment and try its advanced features.
Try Adobe Premiere Pro Free for 7 Days!
Quick Guide: 5 Best Video Editing Software in 2023
Try Adobe Premiere Pro Free for 7 Days!
The Best Best Video Editing Software — Reviewed and Tested in 2023
Four video editing styles that create smooth multi-track videos
Advanced audio and video effects, including color correction and grading
Large selection of video transitions and special effects
Multi-camera angle editing automatically syncs clips based on multiple factors
I was very impressed with the extensive features and options that come with Adobe Premiere Pro. After uploading my video clips, sounds, and other media files to the dashboard, I arranged them on the multi-track editing board. Premiere Pro has four main edit types to ensure I have a tight video with no dead space. They are called Slip, Slide, Ripple, and Roll.
I found the Slip and Slide tools helpful when adjusting one of the video clips on my editing board. Slip changes the video segments In and Out points of the starting and ending frames without changing the length of the clip. I use Slide to move video clips, and it automatically trims all videos that overlap on different tracks.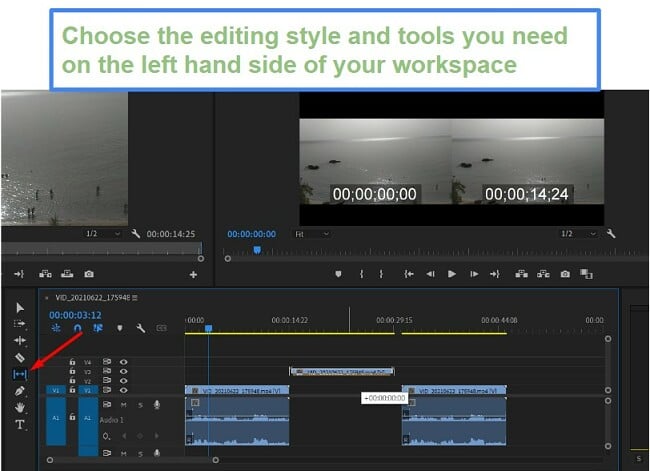 Roll and Ripple are both designed to remove extra spaces in between clips. The main difference is that Roll simplifies the process of trimming the In and Out points of a video without adjusting the length of the clips, while Ripple removes gaps created by edits.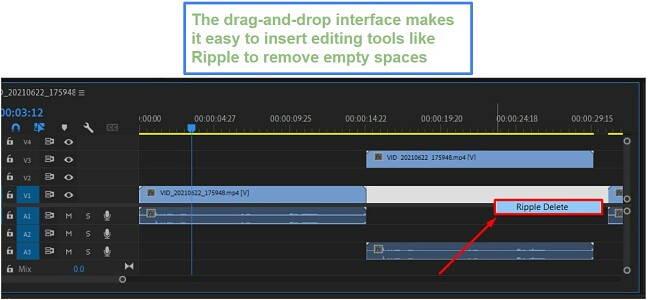 With more than 40 video transitions included in the effects library, I know that my videos will look good when switching between video clips, and what's even better is how easy it is to do. Premiere Pro uses a simple drag-and-drop interface. I opened the Transition folder and added it to the beginning or end of a clip. There is a preview window, so I can see exactly how the transition will look with my video.

I also found the video effects, such as stabilizing a video, adjusting the lighting, adding or removing colors, and a helpful transform tool, to be valuable tools for giving my video a look I wanted.
Another critical feature of Premiere Pro is its support for multi-camera angles. This makes it easy to switch between different camera angles during the editing process, giving me more control over the final result. Whether I'm working with footage from multiple cameras or need to switch between different shots, Premiere Pro makes it easy to get the results I want.
When the video editing is complete, you can choose from a wide selection of video export options. In addition to different video quality formats, or working with 3D and 360-degree videos, you can use the Auto Reframe feature to automatically adjust the video dimensions to fit on various platforms and devices, such as Facebook, TikTok, Instagram, vertical or horizontal platforms, and more.
As part of the Adobe Creative Cloud, Premiere Pro has several real-time collaboration tools, including multiple people working on a clip at the same time. I could also connect different Adobe apps to seamlessly add additional elements to my videos without leaving the Premiere Pro interface. This integration streamlines the workflow and saves time, making it easier for users to focus on their creative vision.
You can try Adobe Premiere Pro free for 7 days. While I did have to use my credit card to verify the account, I wasn't charged because I canceled the account through my user dashboard.
Try Adobe Premiere Pro Free for 7 Days!
Advanced features include motion graphics and keyframe animation
Wide range of export options, including 4K and HD resolution
Seamless integration with popular social media platforms, including YouTube and Instagram
CyberLink PowerDirector is a powerful and versatile video editing software that offers a wide range of advanced tools to help you create high-quality videos. Whether you're a professional filmmaker, a content creator, an influencer, or you just create videos for fun, PowerDirector has the tools you need to achieve the look and feel you want.
One of the key strengths of PowerDirector is its user-friendly interface. The software's intuitive design and ease of use make it accessible to experienced and novice editors, allowing you to get started with your video editing projects quickly. The interface is well-designed and straightforward, so you can focus on your creative vision instead of navigating complex menus and settings.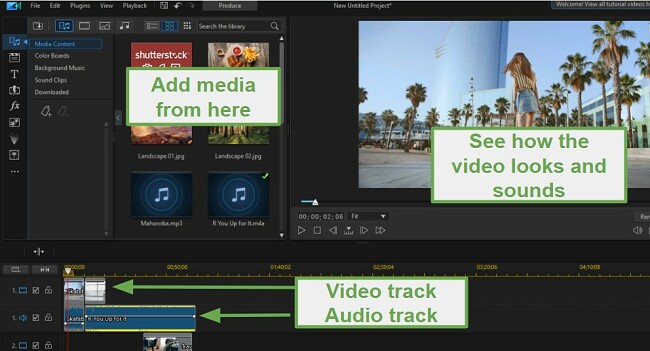 Before editing your video, CyberLink PowerDirector has multiple workstation modes to choose from. The timeline style is the default option, but you can change it to a storyboard, slideshow creator, or use the auto mode, to suit your preferred editing style.
CyberLink PowerDirector has several key features that I found to be really helpful when editing my videos:
Large library stock media files: I could incorporate different sound effects, music backgrounds, and video clips to increase the professional look and feel of the video.
Chroma key background: By using a chroma key, or green screen, I was able to add a background to make it seem like my video was taken somewhere else.
Picture-in-picture collage: I used the PiP editing feature to break my video into smaller grids or boxes. Then, I was able to edit each picture separately through the video collage designer.
Immersive 360-degree video editing: I had the option to edit VR videos with the specialized tools needed to produce 360-degree videos.
While CyberLink PowerDirector has many simple features, I found the video tutorials and tips from the active community to be helpful as I started using advanced editing techniques.
I was happy with the export options available through CyberLink PowerDirector. I could choose a standard 2D file format, publish directly to an online resource, specify it for different devices, or choose the 3D option.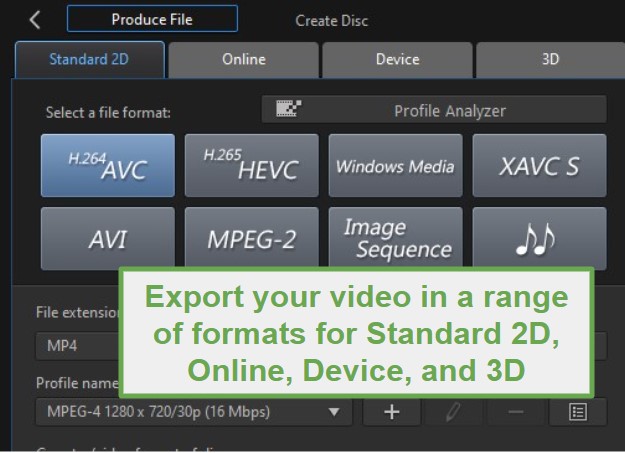 CyberLink PowerDirector has a 30-day free trial with no credit card required, which is plenty of time to edit and produce some videos. You'll have unlimited access to all the advanced features so you can finish some tasks and see if it's a good fit for your video editing needs.
Try CyberLink PowerDirector Free for 30 Days!
Capture audio and video clips directly from your computer
Tools to easily remove shakiness and unwanted background noises
Large selection of filters, title overlays, transitions, and stickers
Movavi Video Editor Plus does a good job combining ease of use with quality video editing tools. The tools are very easy to learn, and I didn't need any experience to get started. The entire interface is drag-and-drop, and all the main tools are located on the multi-track editing board.
These tools include the ability to split or cut videos, rotate and crop clips, add stickers, text overlay, and easy-to-use Chroma Key effects.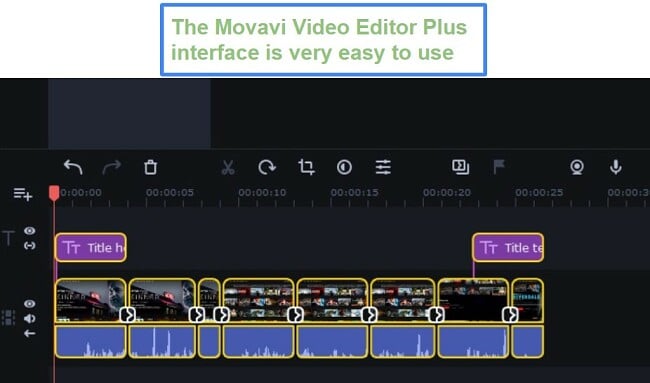 After uploading the video clips to my Movavi dashboard, I took advantage of the AI tools to improve the quality of the video clip. The software could reduce or remove shakiness, add stability, and improve the focus of the clip. Other features include removing unwanted noise and auto-synchronizing the sound and video, all of which increase the quality level of my videos.
Another feature that I liked is the media library and effects store on the left-hand panel. This is where I found pre-made video intros, hundreds of stickers, emojis, video clips, transitions, and pictures that I could upload to my video. In addition to hundreds of free media, there are some media files that are available in the element store for a one-time purchase.
After I finished editing the video, I could start production by choosing the export quality level. The software can export a video as MP4, AVI, MOV, SWF, GIF, MKV, and more. There is also the option to make it compatible with Android, iOS devices, SmartTV, and game consoles or upload it directly to YouTube, Vimeo, and Google Drive.
Movavi is currently offering a 7-day free trial for new users. Take advantage of this offer to work on a few videos for free, and see if it has everything you're looking for in a video editor.
Try Movavi Video Editor Free for 7 Days!
Advanced tools, including multi-camera editing and real-time effects
Complete control of colors and tones in the video
The Avid Media Composer is a well-known video editing software in the film and television industry. While there are some good guides and tutorials, it is a little more difficult to use than some of the other video editors.
The editing board is set up with a familiar timeline layout. I like that there are a lot of keyboard shortcuts, which can help speed up the editing process. However, it will take time to learn them all. As you add elements to the timeline, a properties window will open, and you can choose the raster and frame rate for your video.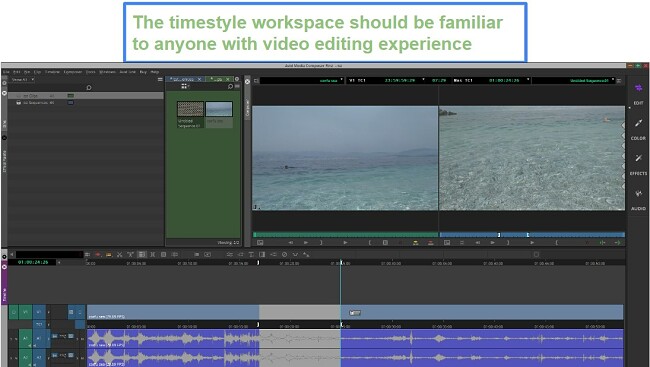 The program comes with some advanced video editing tools, such as multi-camera editing capabilities, which allow you to switch between multiple angles to get the best shot. You also have the option to fix the coloring of the video, adjust color grading, add special effects, and much more.
Avid Media Composer gives you complete control over the video. There are several color wheels, so you can adjust the scopes, predefined effects, hue offsets, and luma range to your specifications.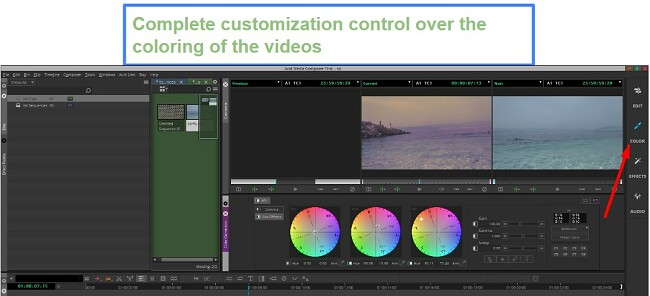 Some of the special effects that are pretty easy to use are adding or removing a shaky effect to the clip, increasing or decreasing the playback speed, and adding text with a full range of fonts, styles, and colors.
When you're ready to produce the video, you can either export it, up to 8K quality, or share it to social media directly from the Avid Media Composer interface.
While there is a free version of Avid Media Composer, it is very limited in terms of editing tools, color correction options, and there are no film workflows. Instead, you can get the premium version with full access to all of the features, free for 30 days.
Try Avid Media Composer Free for 30 Days!
Unlimited video and audio tracks
Large selection of filters, effects, transitions, and titles
I like the VEGAS Pro user interface. It has a modern and intuitive layout that makes it easy to add my element to the timeline. The software is designed to be flexible, with customizable workspaces and a wide range of customization options.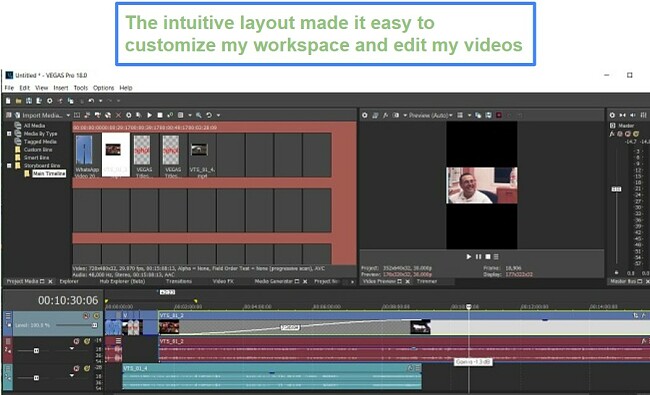 VEGAS Pro has a good selection of editing tools and features. It starts with the basics, such as splitting, merging, and cropping, and goes on to advanced features like planar motion tracking and animating keyframes. I was very impressed with the motion tracking tech since it allows me to attach color grading or text to moving items, and they will stick to a specific object as it moves across the video.
The AI integration really helps streamline certain projects. It makes it easy to colorize black-and-white video clips, improve the resolution of a clip, and change the style of the video to mimic famous artists.
Another benefit of VEGAS Pro is that it integrates Sound Forge for all audio edits. It can add flexibility and creates different opportunities for creative sound edits, such as adding special effects, adjusting audio noise, and mixing multiple tracks to produce the right sound for your videos.
The biggest downside of VEGAS Pro is that it is suited to professionals and can be difficult to learn. Since it's not as popular as Adobe Premiere Pro, there aren't as many resources available to help learn some of the more advanced techniques. However, there is a 30-day free trial, so you can try it out risk-free and see if you can learn the software well enough to edit your videos.
Try VEGAS Pro Free for 30 Days!
Video Editing Software Comparison Chart – Updated in 2023
| | | | | | |
| --- | --- | --- | --- | --- | --- |
| | User Friendly Interface | Advanced Editing Tools | Multi Camera Editing | Number of Video Tracks | Free Trial |
| Premiere Pro | ✅ | ✅ | ✅ | Unlimited | 7 days |
| CyberLink PowerDirector | ✅ | ✅ | ✅ | 100 | 30 days |
| Movavi Video Editor | ✅ | ✅ | ❌ | Unlimited | 7 days |
| Avid Media Composer | ❌ | ✅ | ✅ | 99 | 30 days |
| VEGAS Pro | ❌ | ✅ | ✅ | Unlimited | 30 days |
Try Adobe Premiere Pro Free for 7 Days!
How I tested and Ranked the Best Video Editing Software
I downloaded over 20 video editing programs and put them through a series of tests to see which ones were easy to use, had the features I needed, could export the video file in multiple formats, and had quick social sharing. All five programs listed above passed my tests, so I would be comfortable using them myself and recommending them to a friend or colleague. I ranked Adobe Premiere Pro as my top choice because it can do everything the other four can do and more. However, when you're making your decision, it's important to weigh some of the following criteria so you get the best video editor for your needs.
User-friendly interface: A good UI is an essential aspect of any video editing software as it makes the process of editing easier and more efficient. A good interface should be intuitive and easy to navigate, with clear and organized access to all the features. This helps save time and reduce frustration, making the editing experience more enjoyable.
Advanced video editing tools: Advanced video editing tools are crucial for creating professional-looking videos. Features such as multi-camera editing, real-time effects, and color grading can greatly enhance the quality of your final product. These tools allow you to make precise edits, adjust colors, and add effects to your videos in real time, making the editing process faster and more efficient.
Export options: It's important to choose a video editing software that offers a variety of export options, including different resolutions and formats, such as 4K and HD. Having multiple export options gives you flexibility in terms of distribution and allows you to share your videos on multiple platforms.
Social media integration: For most content creators, the ability to upload a video directly from the editing platform is a huge advantage. It saves time and money, and generally, the software will have a feature that converts the video to dimensions required by the network.
Audio editing: I found that having a quality audio editor is essential when creating and editing videos. as important as good video quality in making professional-looking videos. A video editing software with robust audio editing tools means that you don't need to put your audio through a separate audio editing program. Now, you have one platform to fine-tune your sound, remove background noise, add music or sound effects, and create a polished, professional-sounding video.
Based on these key features, Adobe Premiere Pro is my top choice. It offers a comprehensive and user-friendly interface, advanced video editing tools, export options, and social media integration. It also has strong audio editing and motion graphics capabilities, making it a versatile and powerful choice for both amateur and professional videographers. Whether I made a simple home video or a complex film production, Premiere Pro had everything I needed to create high-quality and professional-looking videos.
You can try it yourself and use Adobe Premiere Pro free for 7 days to test all of its features and do some editing yourself to feel the software and get a better understanding of what this tool's capabilities.
Try Adobe Premiere Pro Free for 7 Days!
FAQ
Are there any free video editors that work?
While there are plenty of free video editors available to download, you have to realize that the software will be limited. Some of the common issues I experienced were:
Limited audio and video tracks
Only the basic editing tools were available
They can't export in HD
No text overlay
No social media integration
These limitations will cause you a lot of headaches as you try to find additional software or tools to get your project looking how you want. Instead, you can use a premium tool and take advantage of its free trial to finish some quick edit tasks, as it has all the tools and features you need.
Additionally, not only does Adobe Premiere Pro have a free 7 day trial, but it also has subscription plans with low prices, in case you'd like to continue using it.
What video editor is popular with YouTubers?
Adobe Premiere Pro is one of the most popular choices for content creators. It has the necessary tools whether you're making videos for YouTube, TikTok, IG Stories, or any other video sharing platform. One of the most important features is the Auto Reframe, which uses AI to automatically adjust a video to fit the different dimensions required by each major platform. After the post-production is complete, Premiere Pro has an integrated tool for directly sharing the video to YouTube and other sites. Try Premiere Pro free for 7 days and see for yourself why it's a top choice for YouTube and social media influencers.
What's the best video editor for long videos?
Once again, I have to say it's Adobe Premiere Pro. With unlimited video and audio tracks, compatibility with all types of media formats, and
multiple editing styles
, it has everything you need to edit and produce long videos, movies, and more.
Final Thoughts
After completing my comprehensive tests, Adobe Premiere Pro stood out among them all as the best option for content creators. The export options are comprehensive and flexible, and it comes with a large selection of advanced editing tools to help you create professional-looking videos. It has integrated social media sharing and auto-reframe for setting your dimensions, making it easy to share your creations with your followers. Additionally, Premiere Pro comes with a 7-day free trial, so you can test it out risk-free and see if it's the right video editor for your needs. It has a user-friendly interface and intuitive editing features, so whether you're editing your first video or you're an experienced video editor, Premiere Pro has the tools and features to help you bring your creative visions to life.