3 Best Parental Control App for Monitoring WhatsApp in 2023
There are no integrated parental control features in WhatsApp. I had to download over 30 free and paid parental control apps in order to find the one that has the tools to monitor WhatsApp. One of the main issues I found is that WhatsApp uses end-to-end encryption, so over 95% of the apps I tested couldn't help me monitor the content of the messages or create a schedule of when WhatsApp can be used.
The one app that stood out from the rest was Bark. It connects with the child's WhatsApp account and checks for signs of cyberbullying, inappropriate comments, and conversations about worrying and problematic subjects so it can alert me immediately. With Bark, I could also create a customizable schedule of when WhatsApp can be used throughout the day. Bark has a 7-day free trial with unlimited access to all premium features, so you can try it yourself risk-free and be involved in your child's communication on WhatsApp.
Monitor WhatsApp with Bark for Free!
Short on Time? Here Are the 3 Best Parental Control Apps for Monitoring WhatsApp — Tested in March 2023
Bark: Get real-time alerts and a copy of the message when it triggers the filter, create a schedule of when WhatsApp can be available, and set a limit for how much time WhatsApp can be used per day. Try Bark free for 7 days.
Qustodio: Create a daily screen time schedule for when WhatsApp can be available or remotely block WhatsApp at any time from anywhere, but it can't monitor the content of the messages.
Norton Family: Use screen time features to limit time spent on WhatsApp or block the app completely, but there is no option to set WhatsApp time limits or monitor the actual messages.
Monitor WhatsApp with Bark for Free!
Advanced AI filter monitors for teen health & cyberbullying keywords
Get real-time alerts when inappropriate messages are sent or received
Create a schedule that limits or blocks when WhatsApp can be opened
Block specific contacts from communicating with your child
Compatible with Android, iOS, macOS, and PC
Bark is one of the most popular apps for monitoring social media networks, so I wanted to test how well it worked with WhatsApp. It took me less than 24 hours to see why it's the leading choice for monitoring WhatsApp. Unlike other apps I tested, Bark actually gave me the ability to see messages that triggered an alert.
To get past the WhatsApp end-to-end encryption, Bark requires permission to connect with the child's WhatsApp account during the initial setup. This gives it the ability to see messages, images, videos, GIFs, stickers, and attached files. Bark uses a customizable filter with 17 categories that focus on a wide range of child-health issues, cyberbullying, violence, sex, and more. I was able to control the sensitivity levels for each category, which helped reduce the number of alerts.
If a message triggers an alert, the message itself is displayed in the secure parent dashboard, along with the contact or group where the message was seen, a time stamp, and the category that was triggered. I like that Bark gives me the option to turn off alerts from specific people or groups. My son is in a sports-related WhatsApp group, and it was creating alerts from the gambling category as they talked about which team was the favorite or the odds of winning. After seeing the messages, I decided that there was nothing to worry about, and I turned off notifications for that category.
To prevent my son from spending too much time on WhatsApp, I used the Bark screen time routine tools to create a usage schedule. There are four schedule segments, each with its own set of rules. For example, I used the School rules during school time and opted to block WhatsApp. I applied the Free Time rules before and after school, which gives him access to WhatsApp.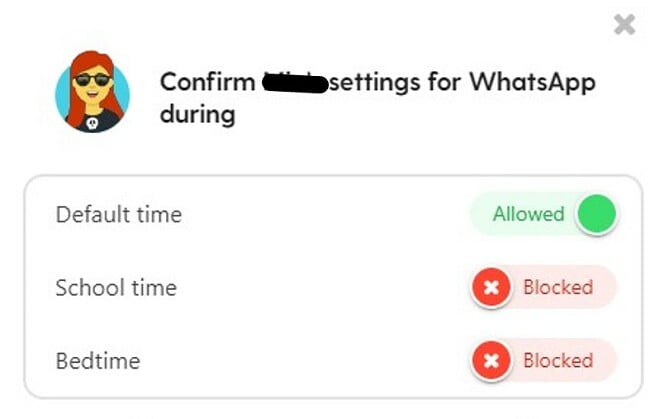 I set the rules to restrict the amount of time my son can use WhatsApp
Bark also has the option to block WhatsApp completely, in case you believe your child should spend less time on it. Once the block is put in place, the app won't open. It's a good idea also to use the web filter to block WhatsApp Web, a browser version of the app, so your child can't log on and continue reading and sending messages.
In addition to monitoring WhatsApp, Bark can connect with over 30 social media networks and popular email clients to monitor your child's online interactions. There is no limit to the number of devices you can monitor with one account, and it is compatible with Android, iOS, macOS, and PC.
While Bark has two subscription plans, Bark Jr and Bark Premium, only the premium version has the tools you need to monitor WhatsApp properly. You can take advantage of the free trial option and get Bark premium free for 7 days, and see for yourself how powerful all the WhatsApp monitoring features are.
Kids can't bypass the restrictions and use WhatsApp when it's blocked
Create general screen time limits
Activity timeline lets you monitor how much time your child spends on WhatsApp
Qustodio has excellent tools for monitoring app usage, screen time, location tracking, and an SOS button. However, when it comes specifically to monitoring WhatsApp, the app falls a little short of being the best because it can't read or filter messages.
If your primary concern is that your child is becoming addicted to WhatApp, Qustodio has the tool to help you regain control of how much time is spent on the phone. I set a daily time limit for WhatsApp in the Apps and Games section of the parental dashboard. My son tried opening WhatsApp after the time ran out, and he couldn't get past the lock screen that Qustodio used to cover the app.
One popular trick that I've seen for bypassing a WhatsApp block is using the browser based WhatsApp web. Qustodio has an easy fix for that hack. In the web filter section, there is the option to block any website. Just enter the WhatsApp Web URL, and choose whether you want to block it or get an alert when your child visits the site.
The activity timeline on the parental dashboard is an easy way to monitor how much time my child actually spends using WhatsApp. It lets me know how much time is spent on it every day, and it saves the usage history for the last 30 days. After looking at the data, I can decide whether he needs screen time limits for WhatsApp (or maybe for other apps) or if I'm not giving him enough time every day.
The final tools I use for monitoring my son's WhatsApp usage are the general screen time limits and the Instant Lock feature. In addition to setting a specific screen time limit for WhatsApp, Qustodio has multiple tools for setting screen time limits, and they work together with the app-based limits. For example, I can allow a total of 3 hours of screen time per day, and during that time, WhatsApp can be used for 2 hours.
Qustodio has an SOS button, which is extremely important, especially since WhatsApp lets users send and share their live location, which can encourage meet-ups. If he's in a situation where he doesn't feel safe, he can push the SOS button, and I'll receive an instant alert with his live location.
Qustodio has two plans, but only the premium option comes with the option to set time limits for WhatsApp and the SOS button. You can get started with a 30-day free trial of the Premium plan – no credit card required, and see how it monitors your kids' usage on WhatsApp to get valuable insights.
Try Qustodio Free for 30 Days!
Set screen time limits to limit the amount of time WhatsApp is available
Block the WhatsApp app from opening
Use the web filter to block access to WhatsApp Web
Norton Family did a job enforcing rules and monitoring my child's online activities. After installing it on my son's phone, I could instantly start monitoring his app usage. The detailed activity log in the parental dashboard, shows me exactly how much time he spends on WhatsApp, and I used that information to create a healthy set of rules.
When I click on the Gear icon at the top of the App section, I see a list of all apps that are installed on my son's phone. This is where I can block the app, preventing my son from even opening WhatsApp. Unfortunately, there is no option for setting a time limit for individual apps. So, if I block the app, he won't have any access until I change the rules and unblock the app.
Norton has screen time tools that allows me to create a schedule of when the phone is available. I like that I can also add a daily screen time limit. For example, I can allow a total of 2:30 hours a day of screen time, and even though the schedule allows for 7.5 hours, I know that my son can't be on the screen the entire 7.5 hours.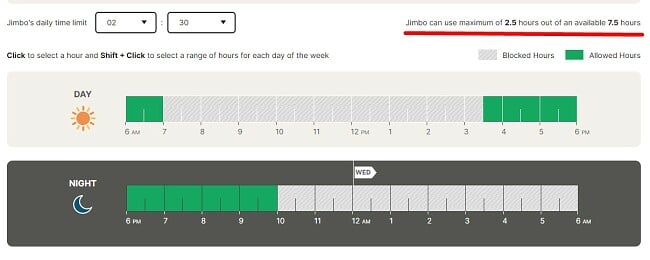 I highlighted the hours of the day and night that I wanted the phone to be completely blocked, and if my son tried to open an app, the phone was covered with a lock screen, informing him that the app was blocked. It also informs him what time WhatsApp will become available again.
In addition to monitoring and creating rules for how much time one can use an app, Norton Family has an excellent web filter. It has over 45 categories and sends real-time alerts when any online content triggers the filter. Unfortunately, the filter can't view messages sent via WhatsApp, only content on the web.
You can try Norton Family risk-free with a 60-day money-back guarantee to see how it monitors WhatsApp and your child's online activity.
Try Norton Family Risk Free for 60 Days!
Why You Need to Monitor WhatsApp
It's always a good idea to monitor who your child is speaking to, but with WhatsApp, it's even more important. The app has grown into one of the most popular messenger apps in the world, largely due to free voice and video calls, active groups, and now the new Community feature. Unfortunately, this can create an opportunity for your child to interact with people with bad intentions.
Here are 3 reasons why it's essential that you monitor your child's WhatsApp activity:
Easy target for cyberbullies: If your child is in a WhatApp group with their class or youth group, it is important to make sure that there is no cyberbullying that occurs. It's very easy for these bullies to send hurtful or hateful messages on groups because it's largely moderated by their peers. Unlike social media sites like Facebook or Twitter (which also require parental monitoring), there is no way for a user to flag or report a WhatsApp message. So, your child can be in a group and suddenly be inundated with racist or hate-filled messages, and there's no way to stop it short of leaving the group.
Open Groups: Teens and Tweens have impressionable minds and can easily be influenced by others in a group setting. Check to see what types of groups your child joins, and prevent them from joining a religious cult, extreme political groups, and groups with calls to violence.
Live location sharing: Location sharing is one of the features available in WhatsApp. If your child is in a group and shares their live location, it can make them a target for adults with bad intentions.
Using a parental control like Bark will send you instant alerts each time they end or read a message that triggers its filter. This can help keep your child safe from cyberbullying, sexual predators, racists, drug dealers, and more. Try Bark free for 7 days and see how easy it is to monitor your child's WhatsApp messages.
Can a Free Parental Control App Monitor WhatsApp?
I tried around a dozen different free parental control apps to monitor WhatsApp, and none of them were any good. The best they could do was set screen time limits that were supposed to lock the phone when the allowed screen time expired. Even if this worked, which it rarely did, it didn't help monitor my kids' WhatsApp use.
The biggest problem I saw with free parental control apps is that they don't work. My kids showed me how easy it is to disable or uninstall the apps, and I never received an alert on my dashboard. Even the Google Family Link, which has a WhatsApp blocker, wasn't very good. For starters, kids over 13 can simply opt out of the app supervision without letting me know. Even if they leave the app on the phone, they can easily bypass the restrictions and continue sending WhatsApp messages even after reaching the time limit.
You need a premium parental control tool in order to really monitor your kids' WhatsApp use. I use Bark because it monitors the messages and sends alerts whenever my child sends or receives inappropriate, potentially dangerous, or harmful WhatsApp messages. Not only that, but I can also create a schedule of when WhatsApp is available to my child. You can try Bark free for 7 days to test the powerful monitoring for yourself.
FAQ
Can I see WhatsApp messages sent to my child's phone?
Yes, while testing parental control apps, I found that only Bark has the capability to upload incoming and outgoing WhatsApp messages to its parental dashboard. However, in an attempt to respect the privacy of the child, Bark only uploads messages that trigger an alert from its web filter. You can try Bark free for 7 days, and see how it monitors your child's WhatsApp and what kind of messages trigger the alert.
Can I limit how much time my child can spend on WhatsApp?
Yes, while all three parental control apps recommended above have some form of screen time limits for WhatsApp, Bark was the best of them all. It has a screen time schedule with rules which allow you to block individual apps at specific times. If the child is still spending too much time with WhatsApp, Bark has a feature that can block the app completely.
Can I use a free app to monitor WhatsApp?
No, free parental control apps are always limited and usually easy for kids to disable or get around the rules. Whether you want to monitor the actual content of the WhatsApp messages or limit screen time, you need a premium parental control app with robust features that actually work. My top recommendation, based on months of testing, is Bark. It connects with the WhatsApp account and sends real-time alerts when an incoming or outgoing message triggers the filter. You don't have to take my word for it when you can try Bark for yourself, free for 7 days, and see how it monitors your kids' WhatsApp.