Bark vs Qustodio 2023: Which Parental Control App Is Really the Best?
Last Updated by Shauli Zacks on February 01, 2023
With so many parental control apps available, it can be difficult to figure out which to choose. Each claims to be the "best", but in most cases, they didn't live up to their words and had nothing to offer but big marketing promises. To make this easier for you, I've downloaded and installed dozens of apps on my children's phones, so I could get a first-hand look at their features, strengths, and weaknesses.
I started with two of the biggest names, Bark and Qustodio, to find a winner. If you don't have time to read through the entire article, I'll let you know that Bark is the ultimate winner. It is unmatched when it comes to monitoring social media, online gaming, email, and chat apps. It also has a powerful web filter and screen time tools. You can try Bark for yourself at no risk to start monitoring unlimited devices.
That's not to say that Qustodio isn't an excellent parental control app. As you'll see, it does edge out Bark in several categories. In case you'd like to try and compare for yourself, you can use this link to get Qustodio for free with no credit card required, for 30 days.
No Time? Here's a 1 Minute Summary of Each Category Winner
| | | |
| --- | --- | --- |
| | | |
| Web Filter | Detects a wide range of potentially dangerous content, this includes cyberbullying, self-harm, drugs, sex, violence, and more. | Block out all types of inappropriate content, including sex, drugs, politics, gambling, news, and more. However, with over 40 categories, it can be difficult to manage and I received too many alerts. |
| Screen Time Management | Create a daily or weekly calendar that divides the day into school, free time, and bedtime. Adjust the rules for each category and allow or block certain apps. | Qustodio gives you more control over when your kids can be on their phones with three separate screen time features. |
| Social Media | Connect over 30 social media networks, email, chat apps, and browsers and get real-time alerts for dangerous or inappropriate content. | Monitor and read SMS messages (Android only) and the YouTube Monitoring tracks the search terms and videos watched. However, it only monitors the usage time of social media apps and not the content itself. |
| Location Tracking | Send a Check-In request to your child, and you'll get an alert with their current location when they press the Check-In button. | View your child's live location on a Google Map from the Mobile dashboard. You can also view the location history for the past 30 days. |
| Geofence | Create multiple geofences and get an alert when the child enters or leaves the area. | Create multiple geofences and get an alert when the child enters or leaves the area. |
| Monitor App Usage | Block the apps that you don't want your child to use. | See how much time your child spends on each app, set time limits, or block an app completely. |
| Detecting Dangerous Content | Using advanced AI, it detects all types of dangerous and inappropriate text and graphics. | While it has an in-depth filter, it doesn't have the AI technology to detect dangerous content on social media, or to block content that bypasses the filter. |
| Remote Control Access | Complete remote control access over each device on the account. Change the filters, screen time, and instantly pause the internet. | Complete remote access over screen time usage and web filters, but the Pause internet button applies to all connected devices. |
| Dashboard | The well-designed dashboard makes it easy to view all the alerts and make adjustments to the screen time and web filter. | The updated design shows some important data on the home screen, but it's hard to find the alerts. |
| Ease of Use | Bark makes it easy to connect to all your child's social media accounts. You can also control the screen time usage and web filter remotely from the parental dashboard. | The app runs in the background and sends all the data to the dashboard. However, the mobile and computer dashboards have different features, which I found a bit confusing. |
| Compatibility | Compatible with Android, iOS, Amazon Fire, Chromebook, and browser extensions. It also connects directly with the social media and email accounts, so it monitors the content regardless of where your child logs in. | Qustodio works with Android, iOS, Windows, Mac, Kindle, and Chromebook. |
| Customer Service | An AI-based chatbot can answer most questions. You can also open a ticket which is typically answered within 2 business days, or use the detailed knowledge base that can answer most questions. | With no chat available, the only option is to send an email to the customer support staff. You can upgrade your account to include Care Plus, which allows you to set up a call with customer and technical support. |
| Price | Great value for the price and you can choose a plan based on the features you need. | Good value for the price, although I don't like that the price changes based on the number of connected devices. |
| Free Trial | 7 days with a credit card. | 30 days with no credit card needed. |
How I Tested and Compared Bark vs. Qustodio
I compared Bark and Qustodio in the following 14 categories:
1. Web Filter – Bark is More Focused on Child Safety and Healthy Living
While both apps have customizable filters, I found Bark's to do a better job at recognizing inappropriate content. It was designed to focus on child health issues, with keywords, rather than general categories. For example, it has specific filters for topics like self-harm, bullying, anxiety, body image, and depression instead of general categories. Of course, there is also the standard filter that blocks sexually explicit content, hate speech, and violence. What really sets the Bark filter apart from Qustodio is that it doesn't just work in web browsers but also in email and social media.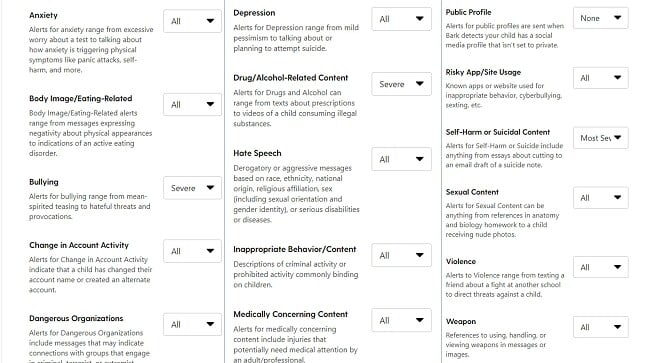 The Qustodio web filter is powerful in its own right. It has over 30 categories that it can block or send an alert when triggered. The categories include everything from travel and health to gambling, sex, and violence. Some of the categories seem a bit unnecessary to me, like employment, sports, and technology, and it resulted in extra notifications that I didn't really need.
2. Screen Time Management – Qustodio Has Multiple Screen Time Tools
Qustodio and Bark have features for managing your child's screen time, but Qustodio gives you much more flexibility. It has a daily or weekly schedule for creating a healthy schedule and restricting screen time usages during school, meals, homework, and bedtime. There is also the option to set a daily limit and app limits that work together with the schedule. For example, if the schedule allows for six hours of screen time, you can still limit the screen time to a specific amount of time, so the kids don't spend all their free time on their screens.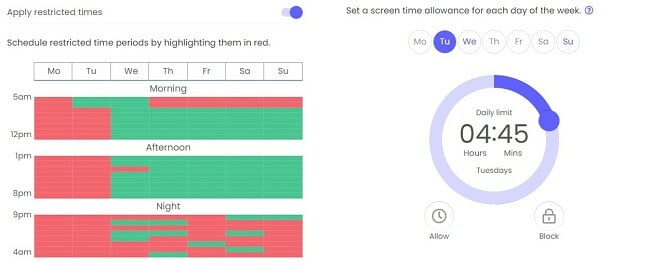 The Bark screen time tool focuses on creating a daily schedule. You can create rules for School, Bedtime, Free Time, and Default to structure how your kids can use their phones throughout the day.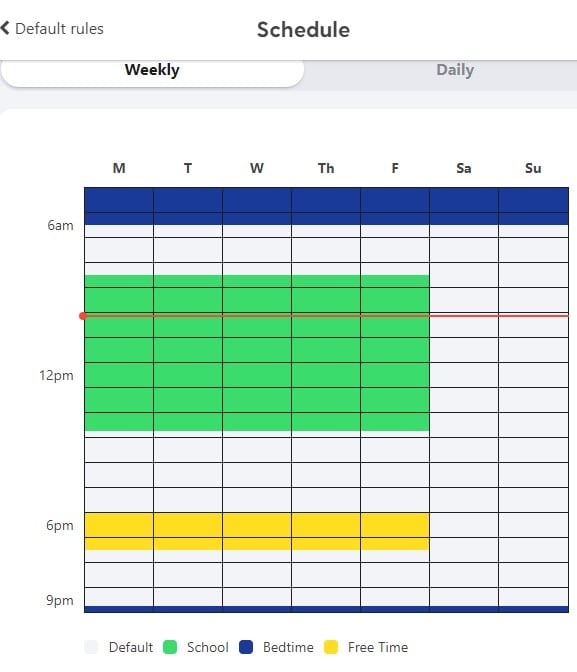 Both Qustodio and Bark have a button in the dashboard that can instantly block all the devices connected to the account. It's a great feature if you want to temporarily block the internet without adjusting any of the screen time settings. Don't just take my word for it – if screen time limits are important to you, try Qustodio risk-free with a 30-day free trial – no credit card needed.
3. Social Media Monitoring – Bark Gives You More Information
Bark is far and away the best parental control app I've tested for social media. It works with over 30 social media, email, gaming, and messenger apps. It uses AI to recognize dangerous or unhealthy trigger words connected with anxiety, sex, bullying, health, destructive behavior, and more. If a keyword or picture triggers an alert, I'll get an instant notification. I can then block the app, so my child can't open it on their phone.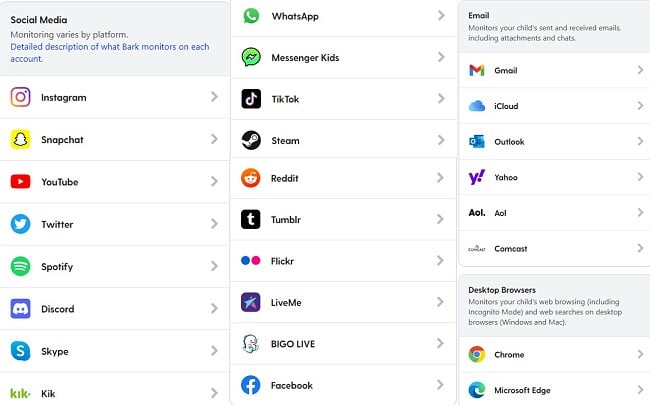 The lack of social media monitoring from Qustodio is rather glaring. The closest it comes is by giving me the option to set time limits for each app. However, it doesn't monitor the discussions, groups, or pictures that appear in the app. It does have a YouTube monitoring feature that shows me the search terms and the titles of the five most recent videos that were watched.
With Bark you know exactly what your kids are doing on their social networks, and you'll get alerts for any troubling behavior or interaction. Try it yourself at no-risk for 7 days.
4. Location Tracking: Only Qustodio Shows Live Location on a Map
Qustodio wins this category because I can view my child's live location at any time. It has a live location feature, although it took me some time to figure out where it was. The location tracker is only available on the mobile dashboard and not through the web interface. First, you must enable Location Tracking in the Rules section of the dashboard. Then, press the Hamburger menu button and click on the Family Locator button on the sidebar and a map will open with your child's live location. Under the map is the activity timeline, which lists all previous locations for the past 30 days.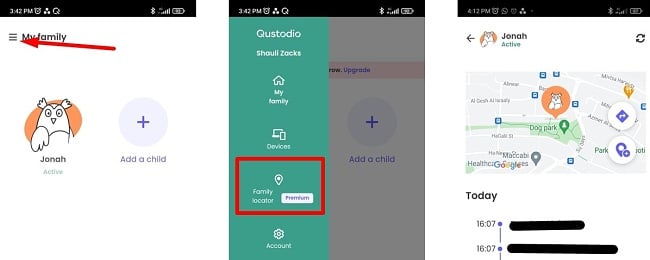 If you're viewing the dashboard on a computer, you won't be able to see the live map. However, if you check the Activity Timeline, you will be able to see all the places where your children have been.
Bark has a nice Check-In feature to keep you updated on your child's location. You can send a request from your dashboard, and your child can click the Check-In button from the Bark Kids app. I have two issues with this feature. The first is the child has to see the notification and press the Check-In button for me to get an update. My second issue is that I can't see their location without their help. So if they're in a place they know they shouldn't be, they can just ignore the Check-In request and claim they didn't see it, or even worse, if they're missing, I won't be able to locate them.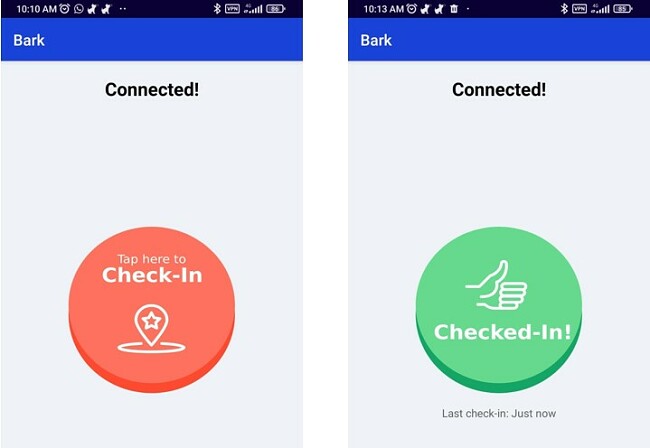 Qusodio wins this category because it gives me the option to view my child's live location 24/7, without having to ask them to check in. Try it now for free 30 days – no credit card needed.
5. Geofence – Both Apps have Similar Geofence Tools
When it comes to setting a geofence, Bark and Qustodio are very similar. Both apps are connected to Google Maps, and a dropdown box opens to help autofill the address.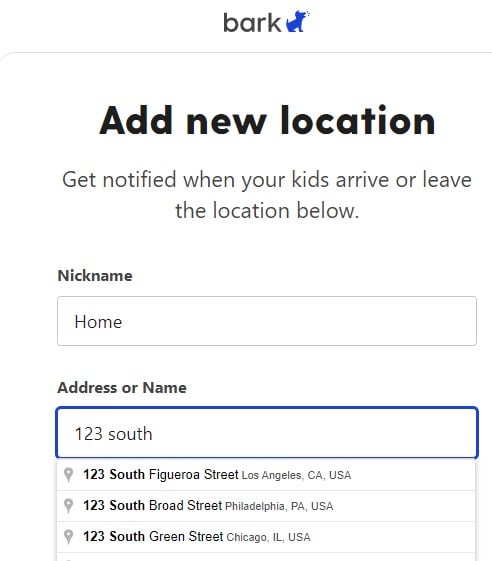 When my child arrives and leaves the location, I receive an alert on the dashboard. The main function of this feature is for places that your children regularly go to, such as home and school. I also found it helpful to add places where I don't want my kids going, so I'll know if they're sneaking around.
The only difference between the two is that Qustodio lets me customize a radius around the location, so I'll get an alert when they enter the area.
6. Monitor App Usage – Qustodio Gives You More Control
Qustodio displays a list of all the apps installed on my child's phone, and I can manage how they use them. Through the dashboard I can set time limits or block an app completely. When the app isn't available, a lock screen covers pops up to inform the child that either their time is up or that the app is blocked.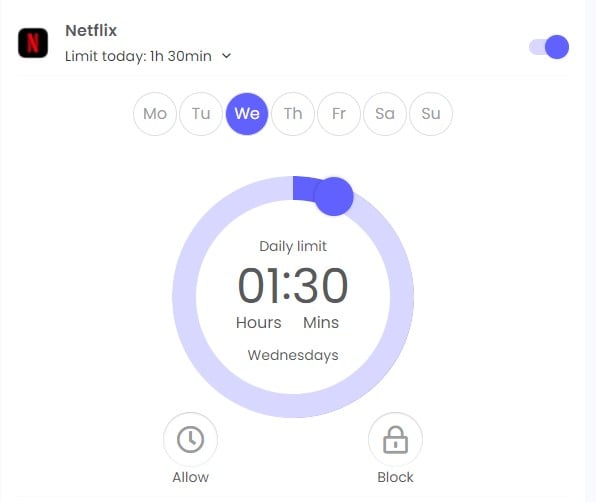 Bark does a better job of monitoring the content of the apps on the device, but it doesn't give me any control over the amount of time each one can be used. I discovered this after I saw that my daughter spent several hours mindlessly watching TikTok videos. I wanted to set an hour time limit for the app, but still allow her to use other apps. However, the only option I had was to block the app completely.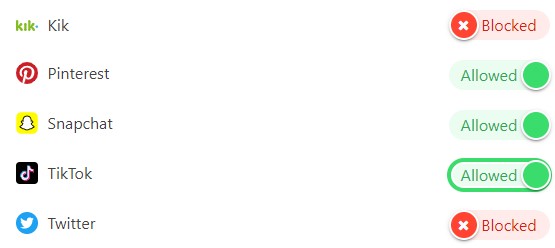 While I do like the content filter for apps that Bark has, I was really looking for managing or blocking apps, and therefore Qustodio is the category winner.
7. Detecting Dangerous or Harmful Content – Only Bark Can Spot a Wide Range of Potentially Dangerous Phrases, Keywords, and Images
Filters and app control are great, but I need to know what happens if the kids somehow end up on a website or app with inappropriate content. I found that Qustodio was severely lacking in this area. It doesn't have the automatic detection necessary to recognize these issues. The only way to find it is by searching through the activity log and figuring out what kind of content is
On the other hand, this is where Bark excels. It uses advanced AI to detect all types of harmful, dangerous, and inappropriate content and sends alerts directly to the parent dashboard. It works 24/7 and checks all the connected apps, SMS, call logs, email, and major browsers. Try Bark free for 7-days and protect your children from dangerous content.
8. Remote Control of Child's Phone – Bark has More Customizable Options
Bark has slightly better remote control access than Qustodio. I enjoy having the option to manage or control my children's phones even while I'm at work or on vacation. Both Bark and Qustodio give me the remote control access I need from the parental dashboard. However, I have to give a slight edge to Bark, and here's why.
The Qustodio remote control features are general and affect all connected devices. So, for example, if I want to pause the internet for one of my kids, the other kids will have no internet either. With Bark, I can pause the device for each phone separately.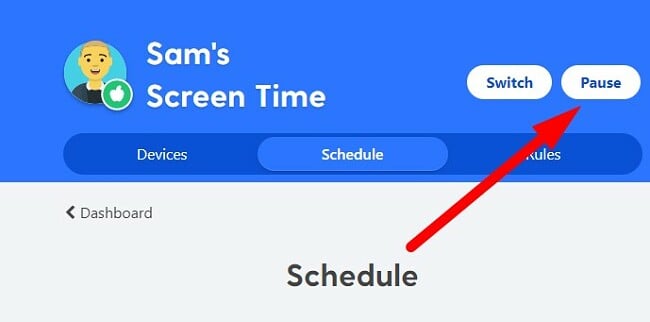 Other than that minor distinction, both apps give me remote control over screen time limits, app usage, and adjusting the filter.
9. Dashboard – Bark Has a More Intuitive Dashboard
Both Bark and Qustodio have nice dashboards, but Bark gives me more actionable information.
The Bark dashboard has a nice modern design, and it looks identical on my phone and computer. The first thing I see is how many alerts I have to review. When I click on the red button, it opens an alert, shows me the problem, and lets me know how I can fix it through the dashboard interface.
Under the alerts are four boxes. From here, I can manage the screen time, app monitoring, location tracking, and view valuable insights. Insight is a unique feature that has an advanced analysis of the screen time and monitoring data.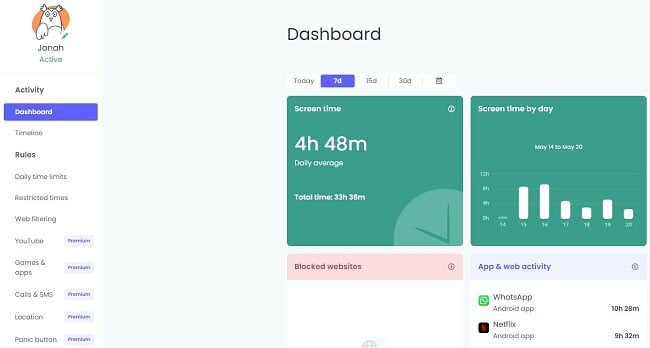 10. Ease of Use – Bark Takes More Time to Set Up – But It Easier To Use
While both apps run in the background and are easy to use, Bark has a slight advantage over Qustodio. When I first downloaded Qustodio, I couldn't figure out why I couldn't get the Call and SMS feature to work. After searching for a few minutes, I discovered that the app in the Google Play store lacks certain features, and I needed to download a different app from the Qustodio website if I wanted access to all the features.
Once I installed the new app on my son's phone and added his profile, the app ran in the background, and all data was transmitted in real-time to the dashboard. However, it took me time to find the information I wanted and some of the features are only available on the mobile dashboard. Instead of having an alert section, I need to scroll through a detailed Activity Timeline to see what my son has been doing on his phone.
With Bark, there is no app in the Google Play Store and you have to download it from the Bark website. Then, they send a link and display a QR code for an easy download. Due to the nature of the Bark monitoring app, it takes longer to set up and configure the app, and I had to connect my child's email and social media accounts.
However, Bark walked me through the process and has a checklist on the dashboard, so I know that I didn't forget anything or configure the apps incorrectly.
After completing the setup checklist, I didn't need access to my son's phone or social media accounts. It runs in the background of his accounts and sends me real-time alerts if it detects anything I should be worried about. See how easy it is to set up and use Bark for yourself, with this special 7-day free trial.
11. Compatibility – Bark Monitoring Goes Beyond the Device
At first glance, it would appear that Qustodio would be the winner in this category. It's compatible with Windows, Mac, Android, iOS, Kindle, and Chromebook. Bark has apps for Android, iOS, Chromebook, and Amazon Fire, but relies on browser extensions for Mac and Windows.
However, there are two factors that put Bark ahead:
Bark Home: A special router that you can purchase that enforces screen time limits and web filters on all internet-connected devices on your network.
Bark monitors the app, not the device: One of the limitations of a web filter or monitoring app is that the child can view the content on a friend's phone or computer. Bark connects with the accounts themselves. Therefore, it doesn't matter where they check their email, Instagram, Facebook, and TikTok accounts. If there is any text or images that trigger the sensor, I'll receive an alert.
Bark is more than just an app that monitors the content on the computer, phone, or tablet. It also integrates directly with the social media apps, so I know if my kid is acting inappropriately when he's with friends or on a computer at school. That's a level of monitoring that Qustodio can't match, no matter how many devices it's compatible with.
12. Customer Service: Bark Gives You Premium Support For Free
The biggest difference between Bark and Qustodio customer support teams, is that Qustodio charges a premium price for good service. I was surprised that neither app has 24/7 live chat with a real person. Bark has a very good AI-powered virtual assistant that was able to answer most of my questions or direct me to an in-depth knowledge base based on the keywords in my question. In a case where it couldn't answer my question, the chatbot gave the option to submit a ticket to customer support, which was answered in less than 24 hours.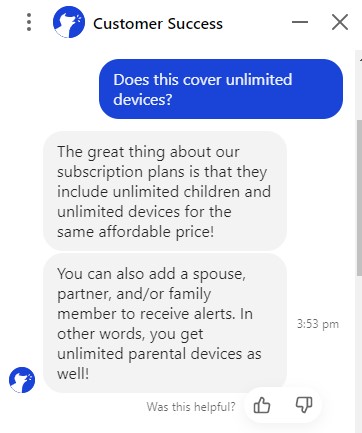 I was pretty disappointed when I saw that Qustodio charges a premium for customer service. If you have the basic subscription package, you need to purchase Care Plus for priority support. With Care Plus you can schedule phone calls with technical support, move to the front of the line with tickets, and receive periodic check-in from the retention staff. If you don't want to pay extra for the privilege of customer support, your only option is to submit a ticket, and then wait until all the priority customers are taken care of before getting your answer.
While I'm disappointed that neither app has live customer service, Bark's AI chatbot did a better job of finding answers to my question. This is helpful for most technical questions, setting up an account, and billing.
13. Price – Bark has a More Flexible Price Structure and Allows Unlimited Device Connections
When looking at value for your money, Bark is the clear winner.
There are two plans; Bark Jr and Bark Sr. They differ when it comes to the available features, but both can be used on unlimited devices.
Bark Jr is recommended for your younger kids. It gives you access to the screen time tools, web filter, and location check-ins, but it doesn't monitor all the social media and email platforms.
Qustodio has three subscription options. They all come with the same features and only differ in the number of connected devices.
Small: 5 Devices
Medium: 10 Devices
Large: 15 Devices
When comparing the two apps:
Bark Jr is the least expensive option.
The price for Bark Sr and Qustodio Medium are nearly identical.
Qustodio Small costs a few dollars more than Bark Jr but comes with access to all the premium features.
I was very happy with the services and features I received with Bark. I was able to get Bark Jr. for my younger child and Bark Sr for the older ones. With unlimited device connections, I didn't have to worry about upgrading to monitor all of their devices. Check out Bark's prices for yourself and see if they match your budget.
14. Free Trial – Qustodio Has a 30-day Free Trial – No Credit Card Required
Both apps have a free trial, Qustodio recently updated its free trial to 30 days, while Bark gives new users a 7 day free trial. The free trials are an excellent way to test all the premium features and see how they work for your family.
Another advantage that Qustodio has is that you don't need to enter your credit card to activate the free trial. The free trial begins when you create your account. With Bark, I had to enter my credit card to activate the free trial. While I wasn't charged anything, I did have to remember to cancel the trial to avoid any surprise charges. I prefer the risk-free method of Qustodio, because it's just one less thing I have to worry about.
And the Winner Is… Bark (By a small margin)
Both Bark and Qustodio are excellent parental control apps. As a parent, I know that I can relax a little bit with either one and manage how my kids use their phones.
However, when comparing the features head to head, Bark came ahead in the major categories. The fact that it does such a great job monitoring over 30 social media and email apps is a huge factor.
If your main concern is managing app usage or viewing your child's live location at all times, then Qustodio is the better option for you.
You can try Bark with its 7-day free trial or test Qustodio for free for 30 days to see which you prefer.
Other Top Parental Control Brands in 2023