Bark vs FamiSafe 2023: Which Parental Control App Is Really the Best?
Last Updated by Shauli Zacks on January 01, 2023
There are so many parental control apps on the market that it can be difficult to know which one to get for your children.
Bark and FamiSafe are two popular options, but I'm not looking at popularity. I want to know which is really the best at monitoring and does a better job at protecting my kids online. If you don't have time to read my entire review, I'll give you the spoiler; Bark is the winner. It has an excellent web filter, unmatched social media monitoring, unlimited geofences, and it's extremely easy to set up and use. You can test it yourself and start monitoring the web with the Bark 7-day free trial.
That doesn't mean that FamiSafe isn't a reliable choice. As you can see in the comparison below, it did win several categories. You can get started with FamiSafe free for 3 days and test out the premium features to see if it has the tools you need.
No Time? Here's a 1 Minute Summary of Each Category Winner
| | | |
| --- | --- | --- |
| | | |
| Web Filter | Has 17 categories that understand the content, keywords, and phrases related to a wide range of dangerous and inappropriate content. Categories include cyberbullying, suicide, alcohol, sex, violence, and more. | While it has more categories than Bark, I saw some inappropriate content go unblocked even though I enabled the category. |
| Screen Time Management | Customizable daily screen schedule so you can allow or block specific apps for each time segment. | Has a daily limit, calendar, and specific screen time rules for each app. |
| Social Media | Connects with 30+ social media networks, email, and chat apps, and has advanced AI to detect all types of harmful content and images. | Monitors some chat, social media and the YouTube app for inappropriate content. |
| Location Tracking | It has a Check-In feature that alerts you to the child's location when they press the Check-in button. | Connects with the device's GPS and puts the child's avatar to show the live location 24/7. |
| Geofence | Create multiple geofences and get an alert when the child enters or leaves the area. | Create multiple geofences and get an alert when the child enters or leaves the area. |
| Monitor App Usage | The filter works on the apps to prevent inappropriate content, but you can't set app time limits. | It has the option to set time restrictions for each app but doesn't filter the content on most apps. |
| Remote Control Access | Manage the screen time rules, web filters, and pause the device from anywhere. | Manage the screen time rules, web filters, and pause the device from anywhere. |
| Dashboard | The well-designed dashboard makes it easy to view all the alerts and make adjustments to the screen time and web filter. | The dashboard's focus is the live location instead of showing alerts and important data collected. |
| Ease of Use | Bark is easy to use and set up, with complete remote control features from the parental dashboard. | It's a little more difficult to set the rules and limitations. |
| Compatibility | Compatible with Android, iOS, Amazon Fire, Chromebook, PC, and macOS, and connects with over 35 social media, email, and SMS apps. | Native apps for Android, iOS, Mac, Kindle, and Windows. |
| Customer Service | There is an AI-based chatbot, FAQ section, and ticket system. | 24/7 live chat, telephone support, and email. |
| Price | Great value for the price, and you can choose a plan based on the features you need. | Slightly less expensive than Bark, but you get less parental control features. |
| Trial Version | 7 days with a credit card. | 3 days with a credit card. |
How I Tested and Compared Bark vs. FamiSafe
I compared Bark and FamiSafe in the following 13 categories:
Web Filter – I tested the filters in multiple browsers and checked to see if it understands context or just filters any content with a keyword match. I also checked whether the filter could block inappropriate content in different apps. I had my kids try and find any hacks or weaknesses in the filter that they could exploit.
Screen Time Management – I used all the screen time tools to get a first-hand look at how they work. I checked the customization options and wanted to see what kind of reporting I received on my kids activity.
Social Media – I compared which social media networks the apps monitor, what kind of alerts I received, and whether I could block the social media apps and websites.
Location Tracking – I tested the location tracking for accuracy by checking it when we were out together. I also examined the location history to see how easy it was to find where my kids were.
Geofence – I set up multiple geofences for areas I knew my kids had to go to and check to see if I was getting real-time alerts or if there was a long delay when they came and left the area.
Monitor App Usage – I inspected the features to see whether I could monitor what my kids do with each app, such as what videos they watch or chat with, whether I could set time limits for specific apps, and if I could block any app. I also had to see if the web filter worked on the apps.
Remote Control Access – I checked the dashboard while at work to lock their phones, adjust the web filters, block apps, and ensure that it worked remotely and didn't require that we were on the same online network.
Dashboard – I compared the design, ease of use, alerts, and how easy it was to read the data and change the rules through the mobile and web-based dashboards.
Ease of Use – I installed the child and parent apps to see how easy it was to install, set up rules, and monitor the data. I wanted to see if I needed to root or jailbreak a phone or whether it could be done by anyone with no technical knowledge required.
Compatibility – I checked the different app stores to ensure it has native apps for different platforms and checked to see if one of the apps works with more platforms than the other.
Customer Service – I tried the different customer service options to see how fast they responded, whether they have a real person support or bots, and most importantly, did I get the answers or help I needed.
Price – Price – I didn't just look at the bottom line. I gave value to different features to determine whether the price was worth it or if the app was too expensive for for what I got from it.
Trial Version – I checked the free trial's length, whether it came with all the features, what kind of information I needed to provide to activate the free trial, and what happens when the free trial ends.
1. Web Filter: Bark did a better job at recognizing inappropriate content
While both apps have customizable filters with all the major categories, I found that Bark did a better job at recognizing inappropriate content. The filter has a massive list of keywords and slang that can detect discussions or websites dealing with suicide, bullying, drugs, alcohol, and hate speech, which the FamiSafe filter didn't catch.
The Bark filter categories are closely related to child health topics, like self-harm, anxiety, body image, and depression, so parents are aware of potential health issues with their children. It also filters out sexual content and pornographic images. Another aspect of the Bark filter that impressed me is that it doesn't just work on a browser; it can access email and social media apps as well.This way, I can be sure my kids are under protection, since I can monitor any platform they are using.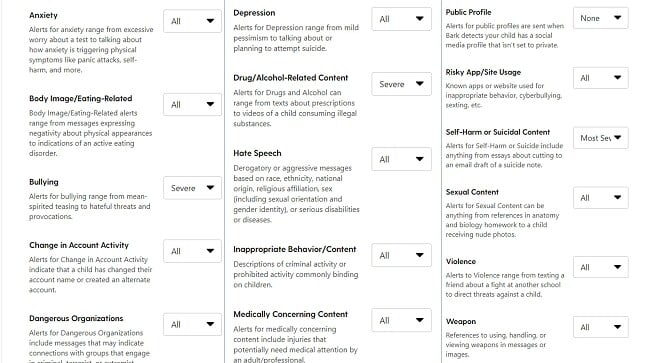 While it's not as good as Bark, the FamiSafe web filter is very thorough. It has 21 categories, 13 of which are enabled by default, and the remaining 8 can be activated by going to the Web Filter section of the dashboard. My kids tried bypassing the filter with Incognito Mode, a preinstalled browser on their phones, and with a VPN. None of these were effective hacks at accessing sites that triggered one of the blocked categories. The biggest weakness with the filter is that it didn't work with some of the apps. For example, one of my children was able to view NSFW content on the Reddit app, even though the same Reddit thread was blocked through the browser, and Bark managed to block it as well.
Bark has a much more comprehensive filter. It uses AI to understand the context of the text and recognizes a wide range of dangerous, inappropriate, and adult-themed words and phrases. The filter also works on social media apps to detect images, comments, and chats. Take advantage of Bark's 7-day free trial and experience how powerful the web filter is for yourself.
Set Powerful Filters with Bark!
2. Screen Time Management: FamiSafe Has A Better Collection Of Screen Time Tools
With five different tools for managing screen time, FamiSafe is the easy winner in the category. The main option is to set a daily screen time limit. You can customize it for each day or create one set of rules for the entire week. The second option is to enable the Smart Schedule, which lets you choose a time in the morning and evening to lock the phone. This scheduler has the option to set rules based on location. For example, if my child is at school, the phone will be locked.
The other options are to turn on the Instant Block, set time restrictions for apps, or remove all time-related restrictions from specific apps.
Bark recently added screen time tools. It allows you to create a custom schedule with four different segments; School, Bedtime, Free Time, and Default. Each category has customizable rules regarding which apps and websites the children can use.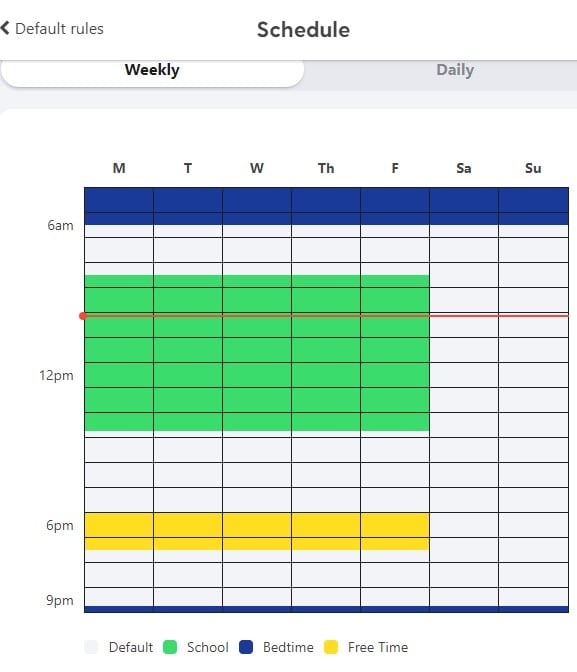 Both Bark and FamiSafe give parents the option to block the device at any time without needing to adjust the calendar or screen time rules. However, with more ways to limit screen time, FamiSafe wins this category.
Manage Screen Time Limits with FamiSafe!
3. Social Media Monitoring: Bark Connects with More Apps and Networks
Bark and FamiSafe both monitor social media networks, but Bark is significantly better. It connects with over 35 popular social media networks, leading email and SMS platforms to monitor and send alerts for any type of harmful or inappropriate content.
What makes Bark different than any other parental control app is that it connects directly with the social media account and not just to the app. This way, even if the child uses their account on a different phone or computer, the Bark monitoring features will still work.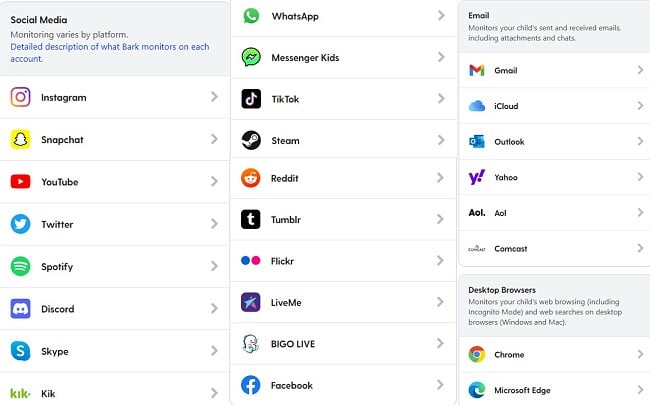 FamiSafe also has really good social media chat app monitoring capabilities. It can connect with apps like WhatsApp, Instagram, Twitter, Facebook Messenger, and TikTok. It has a built-in list of keywords that monitor for conversations about sex, drugs, violence, depression, and bullying. My biggest issue with this feature is that the keywords don't understand the context. So I ended up getting a lot of notifications about innocent conversations that had words like annoying, blood, heart, and heavy, even though there was no malice, so I turned off the feature.

Bark makes it easy to connect each of the social media accounts, although you will need your child's account information to log in to each network.
Social Media Monitoring Winner: Bark
Monitor Social Media with Bark!
4. Location Tracking: Only FamiSafe has 24/7 Live Tracking
Even though both apps require access to the device's GPS, only FamiSafe lets you check your child's live location at any time. In fact, FamiSafe believes that knowing where your kids are at any time is so important, that it's the first thing you see when opening the dashboard. Additionally, it stores the child's location history for 30 days, so you can look back and see if your kids were going to places they shouldn't.
Bark takes a different approach to location tracking. Instead of just giving parents the option to view their child's location on a map, parents have to send a Check-In request to get a location update. When the child presses the Check-In button, the parents receive an alert with the exact address. My issue with this feature is the child can simply ignore the Check-In request or pretend like they didn't see it if they don't want their parents to know where they are. In a more extreme example, if a child is being held somewhere against their will, they may not be able to open the phone and answer the request.
FamiSafe wins this category because it gives parents the peace of mind of knowing where their kids are at all times.
Track Your Child's Location with FamiSafe!
5. Geofence: Both Apps Have a Reliable Geofence Feature
Both Bark and FamiSafe have an efficient geofence feature. The way it works with both apps is that you can choose an address or place a pin on a map if you're unsure of the exact address, set a radius around the area, and you'll receive a notification when the kids arrive or leave the area.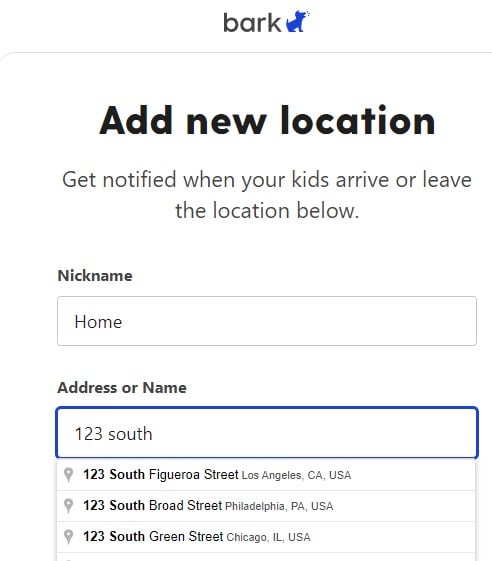 I find this feature helps to ensure my kids make it to school on time in the morning and return home in the afternoon. Another benefit of the feature is if there is an area where you don't want your kids hanging out, whether it's a specific friend's house or a bad part of town it will send you an alert if yoru child goes there.
6. Monitor App Usage: Bark is Better at Monitoring Content on Apps
Bark has top of line AI technology that monitors any text or images displayed in an app. It has a massive list of keywords that relate to harmful or dangerous topics for kids. This includes guns, violence, sex, drugs, alcohol, depression, self-harm, and eating disorders. I found the Bark did a good understanding of context, so I wasn't getting alerts for innocent conversations that happened to use the keywords. If I'm not happy with the conversations, videos, or pictures on the app, I can simply block it through the dashboard.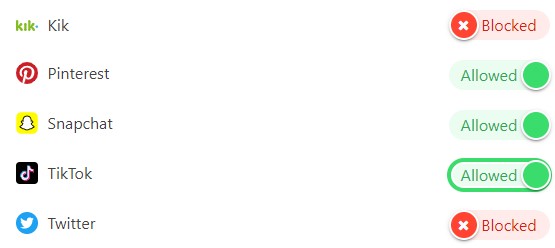 The one area that FamiSafe beats Bark in this category is when it comes to limiting how much time the kids can use the app. If you see your child spending too much time watching TikTok, YouTube, or playing a game, you can limit their time on the app. FamiSafe does monitor the content on some apps, but I saw that it was not very strict, and my kids did find some inappropriate content that should have been blocked.
Bark really impressed me with the app monitoring features. You can see how good it is for yourself for free, with their 7-day free trial.
App Usage Monitor Winner: Bark
7. Remote Control of Child's Phone: Manage All Apps and Features Through the Parental Dashboard
Bark and FamiSafe both allow me to control my children's phones remotely. After the apps are installed on the child's phone or computers, I no longer need physical access to their devices to manage the filters, screen time limits, or block apps. I can manage it all through the dashboard, which automatically syncs the changes back to the child's device.
One of my favorite remote control features on Bark, is the option to pause or block the kid's devices from anywhere instantly.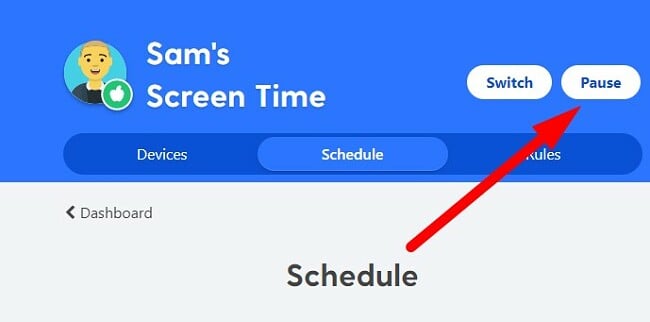 Even though they technically still have screen time and the calendar is set to free time, there are plenty of times when I need them off their phones. I tested this feature with both Bark and FamiSafe, and the results were the same. The device was blocked, and the kids had no choice but to put down the phone.
Remote Control Winner: Tie
Get Remote Control Access with Bark!
8. Dashboard: Only Bark Shows Alerts and Allows Me To Take Quick Action
This was a close competition, but I ultimately decided to award Bark as the winner. The first thing I see on the Bark dashboard is whether any alerts require my attention. I can take care of the alerts, whether blocking an app or adjusting a web filter directly from the alert. Under the alerts are sections for setting the rules and insights into how my child is using the phone or computer. The dashboard has an intuitive design for both mobile devices and computers, which makes it easy for me to manage.
The first thing I see when looking at the FamiSafe dashboard is a map with avatars showing me where the kids are. While I like knowing where my kids are, they are usually at home when I'm looking at the dashboard in the evening. I would prefer to see data regarding their activities on top of the dashboard and then give me the option to view the live location.

After a day or two, I was completely comfortable using both apps' dashboards, but I still found Bark's to be slightly better in terms of usability. Try Bark free for 7 days and see how easy it is to manage your family's account through the dashboard.
9. Ease of Use: Bark Is Easier to Set Up and Manage
Both apps are easy to use and don't require any technical knowledge, jailbreaking, or rooting to set up the monitoring rules. However, Bark is the category winner for two reasons.
There's a checklist to guide you through all the set up process. I found this helpful, as it can get overwhelming at first with so many things to do. Each item on the checklist also has a button that took me directly to the section of the dashboard to complete the task. The checklist stays on the dashboard until all the items are crossed off.


As I noted above, Bark has an easier to use dashboard. It uses a minimalist design, and everything is clearly labeled. With FamiSafe, there is a lot of clicking around until I find the section I want to make the changes I need.
Setting up and using FamiSafe is pretty straightforward. Once the app was installed on the child's device, I was able to manage it through my dashboard. However, I found the dashboard to be more difficult to manage, which lowered its ease of use score.
Both apps run in the background of the child's device 24/7 and automatically sync with the dashboard. Other than the installation, I didn't need physical access to their devices.
See how easy it is to manage and use Bark with this free 7-day trial.
10. Compatibility: Bark is Compatible with More Devices, Apps, and Websites
Bark and FamiSafe each have native apps for Android, iOS, macOS, PC, and Kindle Fire. However, Bark is the category winner because its parental control features go beyond the device. Bark connects directly with the child's social media account to monitor the content, send alerts, and block the site or app when necessary. It doesn't matter what platform or even what device they access their account from.
In addition to a parental control app, Bark also has Bark Home, a router that allows you to impose your rules on any device connected to your network. That means that if your child's friends come over, they'll have to follow the same rules. Bark Home is sold separately and not part of the Bark app subscription plan.
Lastly, Bark doesn't limit the number of connected devices, while FamiSafe limits it to 5 or 10 devices, depending on which subscription package you get.
Compatibility Winner: Bark
Monitor All Your Devices with Bark!
11. Customer Support: Get 24/7 Live Chat Support With FamiSafe
FamiSafe puts an emphasis on customer support, while Bark relies on a chatbot and an FAQ section. While I was able to find the answers I needed from Bark eventually, I had to search for them, and it took some time. Therefore, I appreciated that FamiSafe offers 24/7 live chat help. I asked a few questions regarding the features offered and setup, and the person I chatted with was patient and knowledgeable. Additionally, there is the option for phone support and email if you don't want to use the chat option.
With Bark, I opened the chat box, but instead of a real person, there was an automated bot attempting to answer my questions. The chatbot recognizes different keywords and asks for clarification so it can find the right answer. This can be a bit frustrating, and after a few incorrect answers, it gives you the option to send an email. Even though I found my answer, I also chose to send an email to test the response time and was very impressed that I gave a detailed answer in less than 24 hours. If the email support isn't good enough, you can schedule a Zoom call with Bark, so you can share your screen with them and try to solve the problem.
Even though both apps were able to get me answers, FamiSafe wins this category thanks to their 24/7 live help. Chatting with a live person is a lot more convenient than setting up a Zoom call during the day.
12. Price: FamiSafe is Cheaper, But Bark Gives You More Value for Your Money
I don't just look at the price but also the value each app offers. While it's true that FamiSafe is cheaper, the price difference is so small that you'll be better off going with Bark. It comes with a better web filter, more powerful social media monitoring tools, and better app control, giving you more value for the price.
Bark has two subscription options, and they both have no device limits:
Bark Jr: It includes the screen time feature, web filters, geofence, and location check-ins. If you're going to choose this plan, you will get better value with FamiSafe.
Bark Sr: This plan also includes social media monitoring and alerts for content related to bullying, body image, suicide, weapons, violence, and more. This is the plan I recommend, and it's well worth the subscription price.
FamiSafe has three plans, and they come with all the features:
Monthly Plan: Automatically renews monthly and works with five devices.
Quarterly Plan: Automatically renews every three months and works with up to 10 devices.
Annual Plan: This is the best value for the FamiSafe plan, because it lowers the price 50%. You can monitor up to 10 devices.
The data I received from the Bark social media monitoring and the fact that I could install it on every device made the price worth it. If you're not sure try it free for 7-days and judge its value for yourself.
13. Trial Version: Bark has a 7-day Free Trial While FamiSafe Only Offers 3 Days
Bark wins this category because they offer a longer free trial. I was happy to see that both companies have a free trial offer. I believe it's important to be able to test the app features without having to worry about getting a refund.
However, I was disappointed that they both required a credit card to activate the trial since it puts pressure on me to cancel the account before the free trial ends. If you don't cancel on time, the subscription plan automatically starts. If that happens, your credit will be charged, but at least you can request a refund if you cancel within 30 days.
I was happy to see that both apps unlocked all the premium features during the trial period. I used the time, even though it was short, to see how well the app reports data and to get an idea of how much time my kids are on their phones and what filters I need to use.
With Bark, I had a few extra days to experiment with the app, which is why it is the free trial winner. Register your account and activate your 7-day Bark free trial.
And the Winner Is…Bark (It Won Most of The Major Categories)
Bark proved to me that it's on a different level than FamiSafe. It has top-notch social media monitoring, a web filter that blocks all types of inappropriate content, including comment threads and pictures on social media apps and the web, and a more intuitive dashboard.
That being said, if all you need is 24/7 live location tracking, then I'd recommend trying FamiSafe.
If you want to test both apps for yourself, you can start with a free trial. While these aren't very long trials, they should give an idea of how to set up and use the apps, see how your child responds to the new restrictions, and what type of data it collects.
Other Top Parental Control Brands in 2023
Top Choice