Vipre

Antivirus Review 2022 — Is It Safe for Windows/Mac?
Vipre Overview May 2022
Vipre is an effective and reliable security suite, but it's missing many important features I'd expect to find in a premium antivirus software. While it does include a VPN and other privacy tools, many competitors offer more extras at a similar (and even slightly lower) cost. I was especially disappointed with Vipre's app for Mac and iOS, which is significantly less powerful than the Windows and Android software.
In short, Vipre is a decent antivirus but provides far less value for the money than its competitors. Top providers like Norton, McAfee and TotalAV have more powerful features and often even more affordable packages. However, if you still want to try Vipre, you can always try Vipre for free for 30 days with the money-back guarantee and test it out for yourself.
Try Vipe for free for 30 days!
In a Rush? Here's a 1-Minute Summary
Security - 9
Vipre takes a no-nonsense approach to security and includes a number of reliable scanning tools across its different pricing plans.
Virus Scan — Basic but Reliable Scanning Tool
To see how well Vipre performs as an antivirus, I ran a full virus scan to see if it could detect some benign files on my testing PC. I'm pleased that Vipre found the suspicious files and flagged them for review. When I checked the files, I didn't find any legitimate files accidentally flagged as malware.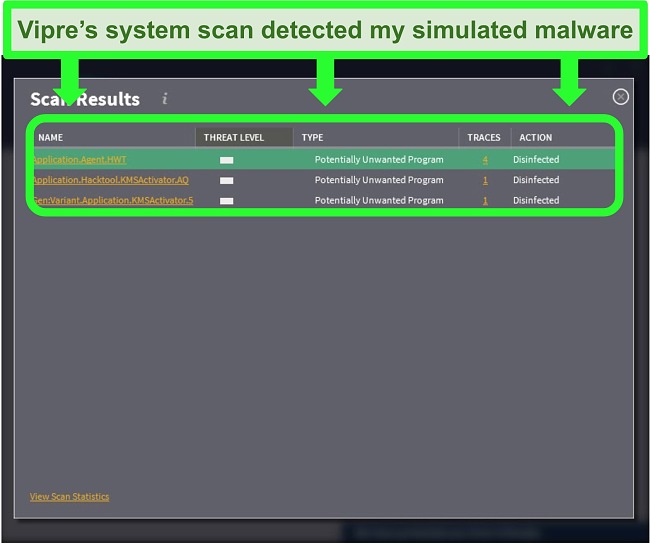 Real-Time Protection — Detects and Blocks 99.7% of Cyberattacks
During testing, Vipre automatically detected and blocked almost every threat in real time. Its ability to successfully block malicious files outperformed big antivirus competitors like Avira, Total Defense, and even Microsoft. During my tests, Vipre's detection rate stood at 99.7%. While I was impressed with Vipre's real-time protection, Norton had a higher success rate and less false positives overall.
Vipre's real-time protection also offers ransomware detection, a key feature that is becoming increasingly important in security software with ransomware attacks on the rise. Backed by machine learning technology, Vipre uses a combination of heuristics and behavioral detection to automatically block threats.
In my tests, Vipre was able to detect almost every ransomware sample. This tells me that its protection against these advanced threats is sophisticated, though it's important to keep in mind that your experience may differ from ours.
Integrated Firewall — Blocks Unwanted Inbound and Outbound Web Traffic
Vipre's Advanced Security and Ultimate Security Bundle plans include an integrated firewall that blocks intrusions into your web traffic, protecting you from cyberthieves. Phishing protection is also integrated into the firewall and will automatically scan every email that arrives in your inbox. Although Vipre won't alert you if it detects a phishing threat, it will quarantine them so you don't need to worry about it.
Additionally, I was pleased to see that the firewall has a filter system to easily create exceptions, block certain apps and web services, or otherwise set rules for what communications you want to allow. I tested it by adding some new rules to block connections with a VPN client and it worked well — the VPN refused to connect to any server.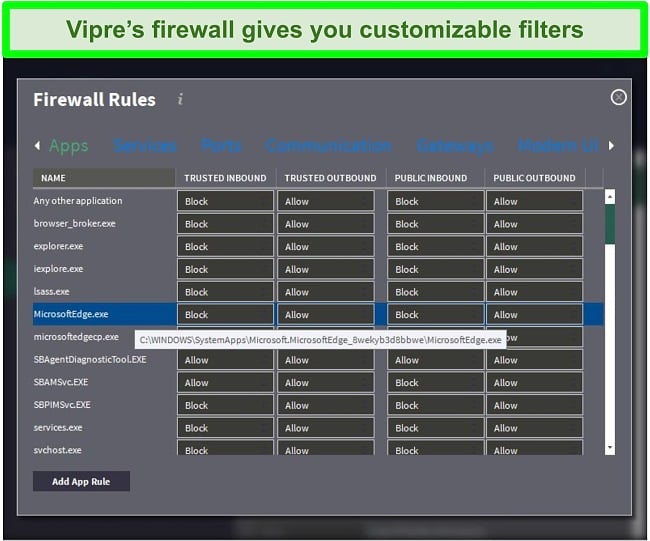 Malware Blocker — Prevents Websites From Uploading Malicious Software to Your PC
Vipre's malware and malicious website blocker successfully protected my PC from harmful URLs. It consistently stopped harmful web pages from loading and rarely interfered with my ability to use the web by blocking safe websites that I wanted to visit. When harmless websites were blocked, it was easy to unblock them by adding them to the exceptions list.
While the website filter comes with Vipre's lowest cost plan, Antivirus Plus, the malware blocker is only included in the more expensive Advanced Security and Ultimate Security bundles. Since you can download effective malware blockers for free (like Malwarebytes), the feature doesn't make it worth the upgrade from Vipre Antivirus Plus.
Features - 4
Vipre only offers a few advanced features (like a VPN and webcam blocker), but only if you upgrade to the most expensive plan and have a compatible Windows device. Based on my tests, I don't think it's worth the cost. Instead, I recommend Norton 360 since it's cheaper and includes free cloud storage, a password manager, and a dark web monitoring system.
Privacy Shield — Secures Private Data and Prevents Tracking
In addition to being an effective ad blocker, Vipre Privacy Shield secures sensitive data on your hard drive and deletes all traces of your web browsing activities. It also has a webcam and microphone blocker to prevent hackers from recording you. The tools are a pretty comprehensive way to keep your device free of sensitive data and web trackers, but doesn't do anything to prevent them from getting there in the first place.
Additionally, Privacy Shield's sensitive document vault scans your PC for documents containing information like addresses, credit card numbers, and signatures, and hides them in a secure encrypted location. This means that even if a hacker took control of your computer, they wouldn't be able to steal your identity by looking at your sensitive documents.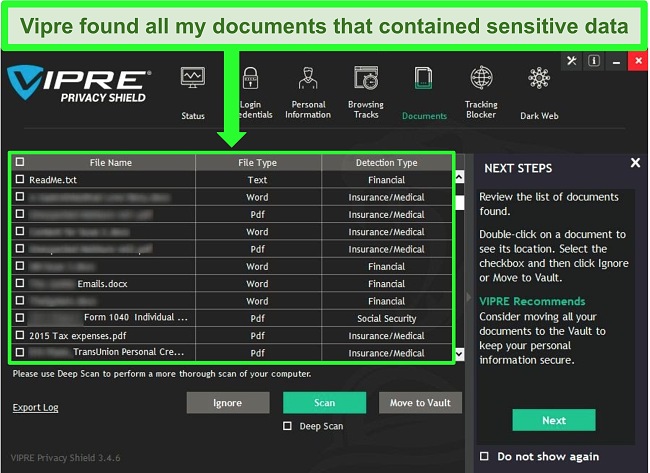 Despite flagging a ton of non-sensitive documents, Vipre also correctly identified contracts and tax forms that contained my personal data. As long as you don't mind sifting through a bit of noise, being able to hide sensitive files is a great way to stay even safer from hackers.
Another useful Privacy Shield feature is its dark web scanner. This system combs dark web marketplaces and repositories for your account information, alerting you if your logins have been compromised. I entered one of my email accounts and it found 9 security incidents where my username and password had been exposed.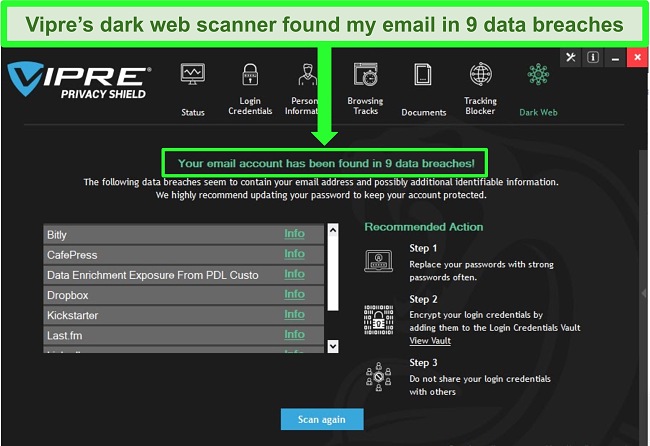 In addition to detecting breaches, Vipre Privacy Shield lets you encrypt your logins and store them in a secure vault. To access the vault, you just have to enter your Windows user password. From there, you can add or remove entries, or import/export the logins to a CSV file.
Internet Shield VPN — Keeps Your Online Activities Anonymous
Vipre Internet Shield is a VPN that does a good job of keeping you anonymous — but Norton Secure VPN is much better value. Norton 360 Standard includes a VPN plus a ton of other safety tools for a lower annual price. Unfortunately, only the most expensive Vipre plan includes Internet Shield VPN.
To make sure the VPN really kept my data private, I connected to a server in Australia and then ran a DNS test to see if any of my data was leaking outside of Vipre's secure network. My test only detected Vipre's server and IP address, showing that my data was completely hidden behind the VPN's encrypted tunnel. I was also pleased to find that it keeps zero logs of your activities. That means even if Vipre's servers were physically inspected, no one would be able to find any of your browsing data.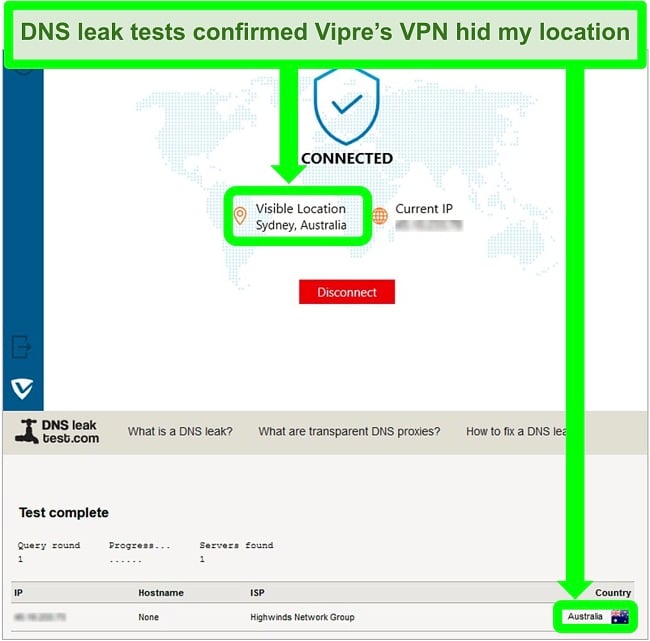 While it offers standard functions I'd expect from a VPN like hiding my IP and location data, Vipre doesn't give you more advanced features like torrenting, streaming-optimized servers, or split tunneling. However, I was glad to see that it has a kill switch you can turn on in the settings. Kill switches are really important for privacy because they prevent you from being exposed if your VPN connection ever gets cut off.
Email Protection — Effective Spam Filtering (But Only for Outlook)
Included with both the Advanced Security and Ultimate Security plans, Vipre's email protection is effective at detecting most spam, phishing emails, and viruses — but it only works with Microsoft Outlook. This was a shock to me, as the app lets you enter ports to activate protection features for other email clients.
When I found it wouldn't work with Mozilla Thunderbird, I contacted customer service and was told that the app was only compatible with Outlook. Knowing that would have saved me confusion while trying to set it up with other clients.

For spam filtering that works with clients other than Outlook, I much prefer Norton AntiSpam. While it doesn't work with Outlook Express, Windows Mail, or Mozilla Thunderbird, it's easily configurable to work with most other email clients. AntiSpam is bundled with all Norton 360 plans, so you can try Norton risk-free for 60 days by using the money-back guarantee.
Other Tools — Includes Firewall, Secure File Eraser, Document Vault, and More
Vipre also gives you a firewall and secure file erasing tool as part of Advanced Security (available standalone or as part of the Ultimate Security Bundle).
The secure file eraser utility bypassed my system's trash bin and completely eliminated all traces of deleted files and folders from my system. It's a powerful feature that ensures your sensitive data is deleted permanently — there is no way to recover files deleted this way, so caution is advised!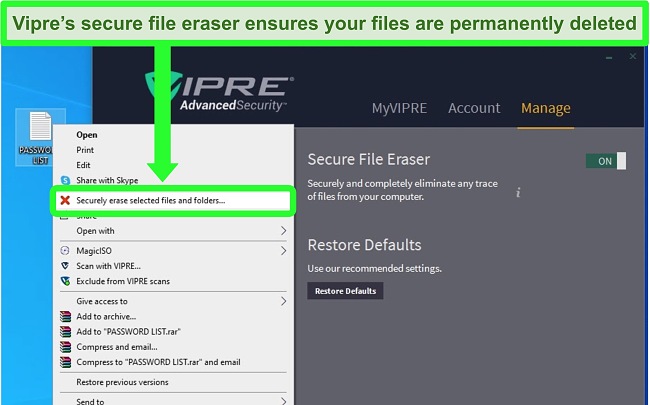 Vipre's secure document scanner searches your system for documents that might contain sensitive information. While the system did detect a lot of false positives (ordinary documents that were flagged as sensitive), it also correctly identified contracts and tax forms that contained my personal data.
In addition, Vipre has a couple of tools designed specifically to increase your safety while browsing the web. Edge Protection prevents you from downloading malicious viruses while online and is compatible with browsers like Chrome, Firefox, and Microsoft Edge. Meanwhile, Web Filtering does pretty much what you expect and automatically filters out harmful websites. Neither of these features are essential since most web browsers already have built-in filters, but I appreciated the extra level of security they provided.
Finally, there's Social Watch and History Cleaner — neither of which is worth your time. Social Watch scans your Facebook timeline for malicious threats. But since you have to log into your account through Vipre, I don't think putting your privacy at risk justifies the limited benefit this tool provides. History Cleaner offers a quick way for cleaning up your browsing history but if you're already doing this regularly through your browser, I don't see the need to use Vipre's tool instead.
Ease Of Use - 5
Vipre is compatible with Windows, Mac, and Android, but not all plans are compatible with each operating system. While Vipre Antivirus Plus and Advanced Security have macOS and Android versions, only Windows 10, 8.1, and 7 users can use the advanced features included in the Vipre Ultimate Bundle.
Fortuantely, Vipre's software and individual programs are easy to install no matter which device you use. Since the Ultimate Security Bundle consists of several different Vipre programs, I was pleased to find that installing all of its components was straightforward. After signing up, I was taken to a page with links to download each of the 3 included programs (Vipre Advanced Security, Vipre Privacy Shield, and Vipre Internet Shield VPN). If you buy the programs separately, it's as simple as downloading them and running the installers for each.
Desktop App — Excellent Performance but Fewer Features on Mac Than Windows
Vipre is intuitive and runs fast — even while running a virus scan, I never noticed any performance slowdown while using my PC. Functions are easy to find and many features are explained clearly after you click a button for more information.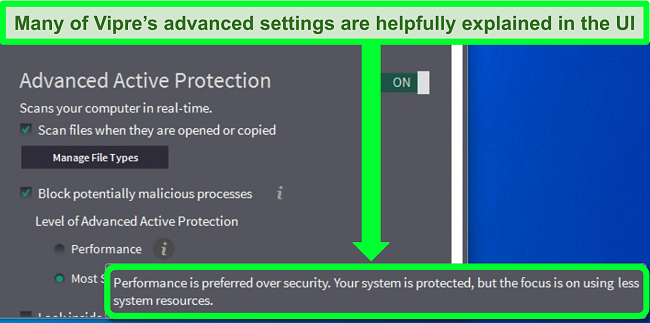 Despite having fewer features, the macOS version of Vipre is reliable and easy to use as well — I only wish it had the same capabilities as the PC version instead of just basic antivirus functions. With no firewall, email filtering, or secure file deletion tool, Mac users are better off with a Mac-specific antivirus like Intego.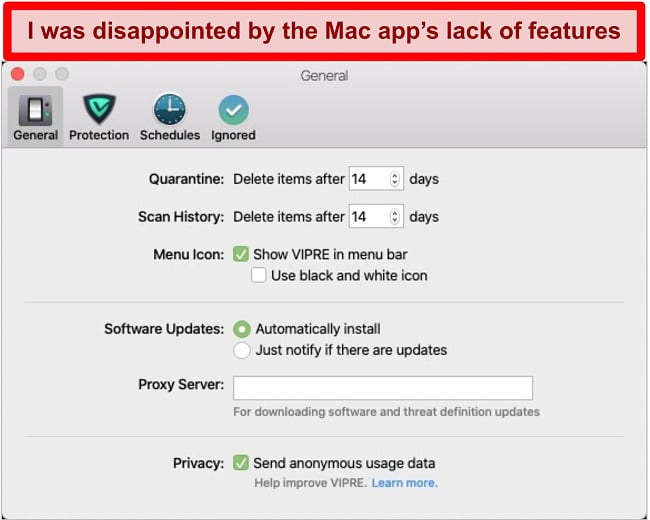 Mobile App — Fast and Effective Android Version (No iOS Support)
An Android version is only included with Vipre Advanced Security and the Ultimate Bundle. The Android app is light, fast, and caught all malicious software during my tests. But I was disappointed to find that Vipre has no iOS support whatsoever, unlike other premium antivirus providers.
Fortunately, Vipre Advanced Security's Android version is speedy and performs well, with easy-to-use apps and reliable scanning. It never froze or noticeably slowed down my phone while running in the background. While it does protect your web browsing by blocking malicious sites and allows you to add a pin code lock to individual apps, it doesn't come with secure file deletion or email scanning. However, if you already use Gmail, you'll have a decent anti-spam solution built into your email account.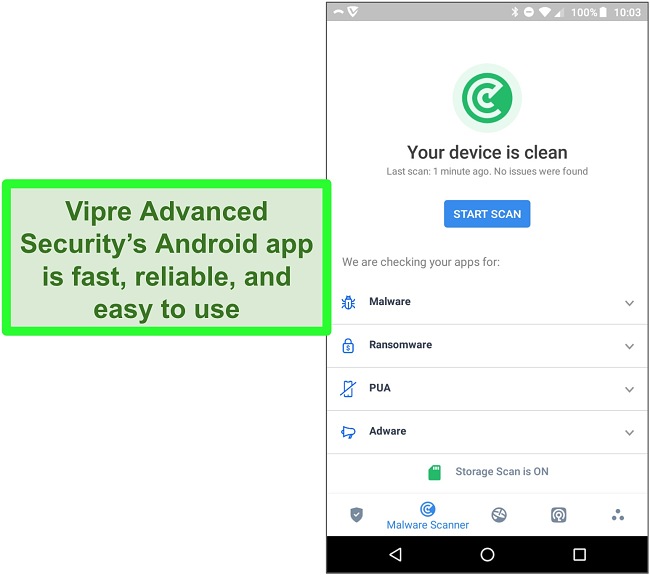 I was surprised that Vipre doesn't offer iOS support, as most antivirus programs do. For example, Norton 360's security suite is compatible with both macOS and iOS devices. If you are an Apple user, I highly recommend you try Norton 360 as a reliable alternative to Vipre. You can use it on your Mac, iPhone, or iPad free for 60 days using its money-back guarantee.
Support - 5
You can contact Vipre through an online ticket system on its website, by phone, or through email. While I was disappointed that it doesn't have a live chat, Vipre's online ticket system makes up for it somewhat by being fast and helpful. Phone-based support gave me helpful answers as well, but I found the response times inconsistent.
Whenever I emailed tech support I got responses within 24 hours — but email help is only available in the US, Canada, UK, Ireland, the Netherlands, Sweden, Denmark, and Norway. Vipre has phone support if you live in one of these countries as well. For everyone else, you can turn to Vipre's extensive online knowledge base and forums for answers.
Email Support — Fast Response Times (24 Hours or Less!)
Although it doesn't compare to having 24/7 live chat access, I was surprised by how fast and efficient Vipre's online ticket system is. I submitted a support ticket that I labeled "low priority" and got an answer to my question via email after only about 15 minutes.
I was impressed that even with the "low priority" label I got such a fast reply. I tried again using the "high priority" label and asked if VipreVPN unblocks streaming sites like Netflix. To my surprise, I didn't get an answer (that Vipre can't reliably unblock Netflix or other streaming sites) until the next day.
Granted, this wasn't truly a high-urgency question and I still got a response within 24 hours, but I still wonder why it took longer than my low priority support ticket.
Phone Support — Inconsistent Hold Times but Very Helpful Support Reps
I called Vipre's phone support line around 1pm Eastern Time on a Tuesday, and I had to wait on hold for over 20 minutes before giving up. When I tried again the next day, someone answered the phone in just 3 seconds. If you get left on hold for a while, trying back in 10 or 15 minutes usually gets you in touch with a live rep.
Once I had someone on the phone, I asked what the difference is between the Internet Shield VPN and the Privacy Shield. He explained in simple, non-technical terms in a way that anyone would be able to understand: The Internet Shield VPN encrypts your internet connection and makes your online activities anonymous, while the Privacy Shield scans your PC for sensitive documents and files that could be a danger to your privacy.
Website — Extensive Knowledge Base and Support Forums
The forums are a helpful addition to Vipre's online support community, with lots of active topics in the area for PC users. Unfortunately, you won't find much activity in the Mac-specific section because Vipre doesn't have many Mac-compatible products. The forum also has a "Feature Requests" section where you can lobby for new features to be added in software updates. As for the knowledge base — it isn't as extensive as for some antivirus programs, but it still has numerous helpful how-to guides and answers to common questions.
Price - 3
The basic Antivirus Plus plan protects your devices against common threats like email phishing links and malicious websites, but the best features (like the data theft protection and VPN) are reserved for the Ultimate Bundle. All of Vipre's plans come with a 30-day money-back guarantee.
Unfortunately, I don't think Viper's Ultimate Bundle is really worth the cost. You can easily find other antivirus brands with more comprehensive protection at a similar price point, such as McAfee and TotalAV. If you're willing to pay a little more for the best online protection, then I highly recommend Norton 360.
Antivirus Plus — Basic Antivirus Plan With Limited Features
Vipre's simplest and most affordable option is Antivirus Plus. You'll have a basic virus scanner antivirus and anti-malware program, but you can easily find free software that does the same thing (like Panda Dome). Vipre does have a couple of basic bonus features, like:
Secure file deletion tool
Edge protection to prevent your browser from downloading exploits
Web filtering blocks malicious websites
Whitelist to exclude certain files or apps from scans
Unfortunately, these don't add enough value when there are many better free antivirus options available.
Advanced Security — Includes Firewall and Other Extras
Vipre Advanced Security has all the same features as Antivirus Plus, along with:
Firewall to protect your web traffic
Email spam protection
Application patching to update third-party apps
Unfortunately, Advanced Security provides much less value for Mac users. The Mac app bears more resemblance to Vipre's basic Antivirus Plus plan — you won't have the secure file deletion tool, firewall, or email scanner.
Ultimate Security Bundle — Comprehensive Security and Privacy Suite
The Ultimate Security Bundle includes everything from Vipre Advanced Security, alongwith Privacy Shield and Internet Shield VPN. The VPN prevents data like your IP address, location, and browsing activities from being viewable by third parties (like your ISP or government). The Privacy Shield prevents your computer from storing files that harm your privacy and protects private information on your hard drive.
Vipre Ultimate Security comes at a significant discount against buying each app separately and is a good value for all the powerful security extras it provides. However, if you require an antivirus package with a full-featured VPN, Vipre Internet Security won't cut it.
30-Day Money-Back Guarantee
Every plan has a 30-day money-back guarantee but it does have some conditions. Although I didn't have any issues myself, the Vipre user agreement does state that "Returns may be subject to a re-stocking or processing fee".
The guarantee also isn't marketed in a way that makes it obvious. The only indication I found was an extremely small statement on the very bottom of the payment page. The money-back policy only applies to Vipre's antivirus bundles. You won't be eligible if you buy individual software included in Vipre Ultimate Security, such as Vipre Advanced Security, Vipre Privacy Shield, and Vipre Internet Shield VPN.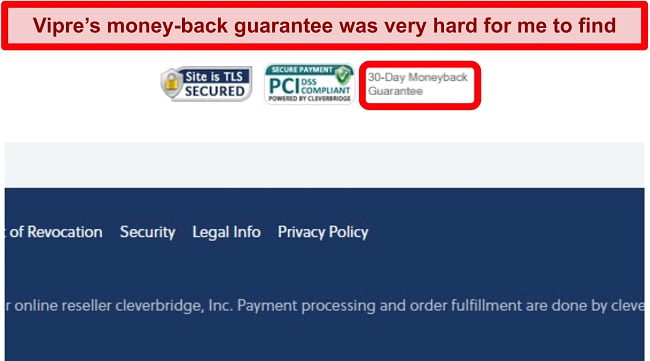 I could only find this money-back guarantee notice when I added Vipre Ultimate Security to my cart on Shop.Vipre.com. When I added it to my cart, the 30-day money-back guarantee notice was nowhere to be found!
The only way to request a refund is by email or phone, so I tested it out by emailing customer service. I was happy that my request was processed within an hour — no questions asked. The money appeared back in my bank account in just a few days.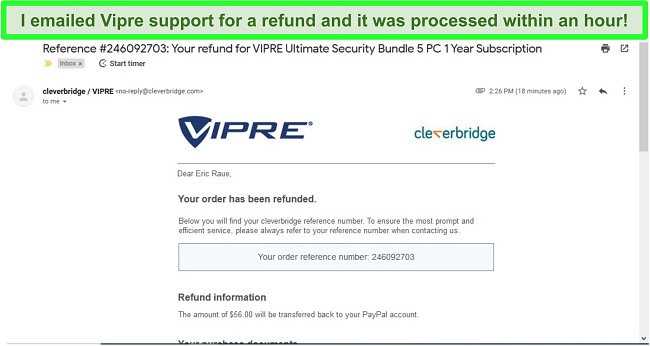 I really liked that Vipre has a full-featured free trial, so you can experiment with its features and make sure you like it. Better yet, you don't need to provide any payment information to use the trial — just install the software, click "Next" to skip entering a product key when prompted, and your 30-day trial begins. You can also access free trials on Vipre's website, but you'll be required to enter an email address and will be signed up for Vipre marketing emails.
Final Verdict
Vipre's tools are powerful and comprehensive for PC users, but I was annoyed that to get the most advanced features I'd have to pay for the premium Ultimate Security bundle. Customer service was good but packages were confusing, with very limited apps for macOS or mobile devices.
You're much better off with a more affordable but still high quality provider like Norton 360. It offers strong antivirus protection and a wide range of extra features like a firewall, cloud backup, and password manager across all of its plans. No matter which package you choose, you can try Norton free for 60 days using its money-back guarantee. Better still, refunds are easily processed without any issues.
While Vipre's Ultimate Security Bundle provides the best value of all available plans, its high price makes it a good fit for power users only.
Try Vipre for free for 30 days!
FAQ: Vipre Antivirus
? Is Vipre a good antivirus?
Vipre Antivirus Plus is a dependable antivirus system, with powerful detection tools and a low rate of false alarms. Vipre scored 99.7% detection rates in my team's malware and real-time protection tests with 0 false positives. During full system scans, only 8 false positives occurred. Vipre also detected 100% of the viruses and other malicious software on my testing PC.
? Can I get Vipre antivirus for free?
Yes, Vipre has a 30-day free trial you can use to try all its features. Once your trial expires, you can use Vipre free for an additional 30-day period with its money-back guarantee. As long as you cancel within the 30 days, you can get a full refund. That gives you a full 60 days, which is plenty of time to try it before you commit.
? Will Vipre antivirus work on Windows, Mac, Android, and iPhone?
Vipre works on Windows, Mac, and Android, but there's a catch. Vipre Privacy Shield, and Vipre Security Shield VPN only work on Windows PCs. Only the basic protection package (Vipre Antivirus Plus) is compatible with non-Windows devices, and there's no iOS compatibility whatsoever. I was also disappointed that Vipre Advanced Security's macOS version is bare-boned. It only has antivirus capabilities and no advanced features like firewalls, email filtering, or secure file deletion like the PC version has.
? Does Vipre remove malware?
Yes, Vipre detects and removes the latest viruses, malware, trojans, and other malicious files that can harm your computer or enable hackers to steal your identity. My tests showed that it was effective at detecting and removing threats during PC scans, and blocked other threats in real time. However, Norton 360 blocked slightly more threats than Vipre did in my tests. Since you can get similar pricing on its packages, I'd still recommend Norton for malware and virus protection.