Cylance

Antivirus Review 2022: Is It Really So "Smart"?
Cylance Overview July 2022
Unlike most other antiviruses, Cylance Smart Antivirus claims to create a lightweight and hands-off experience by scanning and quarantining threats on its own. I was really curious to find out that Cylance uses a unique artificial intelligence (AI) technique that prevents threats from adapting. This way, it can detect old and completely new threats, but it ultimately let me down with its subpar real-time protection results.
Besides its malware protection, I also tested its impact on system performance, ease of use, customer support, and value for money. However, due to its complete lack of additional features, it may disappoint you if you're searching for a more comprehensive suite like Norton or McAfee.
Despite this, I'm a big fan of Cylance's minimalist approach to device security. It has a low impact on your system and focuses on the core aspects of device security. If future updates can fix the real-time issues I encountered, I'd be very happy to use Cylance as my primary antivirus solution. You can try Cylance risk-free for 30 days with its money-back guarantee. Although the process was rocky, my refund request was accepted after a week of communication, and I had the money back into my account after 4 days.
Try Cylance risk-free for 30 days!
In a Rush? Here's a 1-Minute Summary
Security - 6
Cylance's security is based on AI, unlike most other antiviruses that use heuristics, hash-matching, or byte matching. Cylance's AI analyzes each file and notes down a huge amount of data points, which it turns into a virtual maze. As a suspicious file navigates the maze and attempts to change properties, it's given a score that determines how suspect it is. If the score falls low enough, it's categorized as a threat.
Unfortunately, I was disappointed by the performance of its AI scanner. Cylance didn't achieve the best result in real-time tests, and the malware scanner was confusing to activate.
Real-Time Protection — Surprisingly Low Detection Rates
Real-time protection is Cylance's primary focus, using AI as the backbone of its threat detection. Knowing this, I started testing Cylance with high expectations. Unfortunately, I was surprised to find that the highest detection rate I got was just 85%. This is pretty bad, especially since Norton detected 100% of real-time threats.
If Cylance detects a threat, it will quarantine the file and notify you, but you have to navigate to the web threat dashboard to perform any further actions. Here you can whitelist a file if it's harmless or confirm it as a valid threat for further inspection.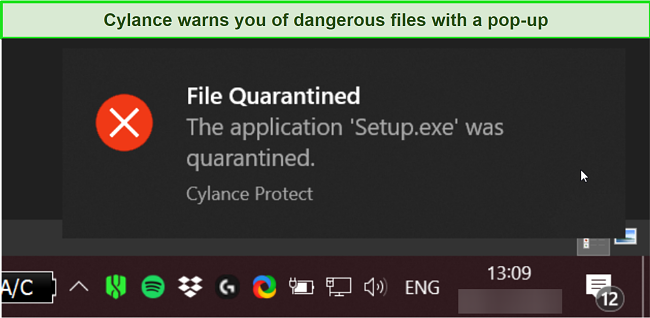 Malware Scanner — Hidden but Powerful Virus Scanning
In the latest tests, Cylance detected 99.6% of malware. This puts it at the top end of antivirus programs, although slightly less than the 100% malware detection rates that Norton scored during scan tests.
The Cylance Team claims it can prevent threats from ever reaching your computer, so the malware scanner is turned off by default. This is actually pretty reckless since they only scored an 85% on real-time protection, so threats can still make it to your PC. So if you already have existing malware on your device when you download Cylance, it won't initially detect it.
You can turn on Cylance's malware scanner by going to your computer's command prompt and setting the advanced UI to run at startup. This Is done by opening the command prompt window and entering "CylanceUI.exe -a", with "-a" being the parameter to turn on automatically. Although you'll only have to do this once, it can be pretty daunting for those who aren't tech-savvy enough or those used to having automatic scans being available as soon as you download an antivirus.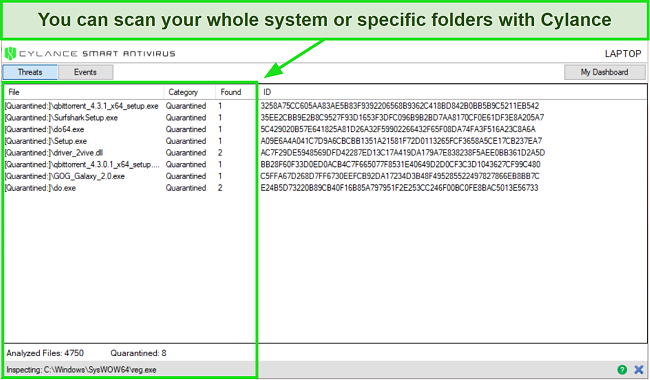 While scanning for malware, Cylance flagged multiple harmless files as threats and quarantined them (known as false positives). All of these files were .exes (installers) in my Downloads folder — several for very well-known programs that absolutely shouldn't have been seen as dangerous. Overall, Cylance flagged almost 80 files as false positives, which is significantly higher than other antiviruses. For instance, Norton 360 didn't mistakenly flag any legitimate files as harmful.
Cloud File Scanner — Helps Improve Future Malware Detection
Cylance sends any discovered threats to the Cylance Cloud, a database run by Cylance that keeps track of all marked threats. It then performs a more in-depth scan of the file without impacting your system's performance. The data contributes to the future detection of threats by helping Cylance's system to recognize them. This is optional, although there's no real reason to turn it off (unless you're extremely privacy-conscious). Cylance will gain access to information like your computer's operating system and specs, but I still recommend keeping it turned on. The more people that send files for analysis, the more accurate future malware detection will be.
Features - 0
Cylance doesn't offer additional features that come with other antivirus brands, like an integrated password manager, VPN, parental control software, or ad blocker. However, you might see this as an advantage if you don't need these additions.
There are a few ways in which this can be a drawback, however. For instance, Cylance doesn't notify you of dangerous websites, unlike other antiviruses. For instance, Norton detected phishing websites and blocked me from accessing them. Although your browser of choice may inform you of some dangerous sites, Norton detected even more than the best-performing browser (Chrome). Besides extra security features, BullGuard provides a Gamer Mode feature that optimizes your computer's performance while gaming. Additional features don't always have to provide antivirus protection but instead can provide a better experience doing the things you love while staying protected.
You might not be able to get extra features with Cylance, but this will allow you to choose your own third-party applications instead of forcing its own on you. You can choose from different ad blockers, browser extensions, and VPNs to build your ideal security setup.
Ease Of Use - 10
One of Cylace's main draws is its simplicity. It replaces the usual in-depth local client with a basic interface and a web-based dashboard to make any changes. While some users may initially be confused by this unique approach to a consumer antivirus, it works very well at simplifying device security.
Despite its simplicity, Cylance still requires 2GB of RAM to run. Most big-name antiviruses require this amount of RAM, although they can still offer an abundance of other features. It will impact your computer's performance as much as a heavy-duty antivirus, but with less to offer. On the upside, Cylance does only require 300MB of available disk space — far less than TotalAV, which requires 1.5GB of free space. These requirements also mean that it will run on the vast majority of computers.
Cylance is available on Windows (7, 8, 8.1 and 10), Mac (10.9 to 10.15), and Android and iOS (all versions). Language support for Cylance is only available in English, Portuguese, and Japanese. This is quite limited compared to antiviruses such as McAfee and Norton, which both offers over a dozen of different supported languages to choose from.
Web-Based Dashboard — Strange for a Consumer Antivirus But Works Surprisingly Well
Unlike most antiviruses with a graphical user interface, Cylance uses a web-based dashboard that's only accessible through your browser. Cylance isn't the first to do this, though, since Sophos also offers a web-based dashboard. Sophos' web-based dashboard was slow when I tested it and took over 30-minutes to load at times. Cylance never had that problem, and I was able to update settings right away, where it was tedious and took a while to update.
Here you'll see each of the devices that you've added and their associated activity. If it finds a threat on your system, it will be quarantined and displayed here, but you can choose whether to mark it as safe or confirm it as a threat.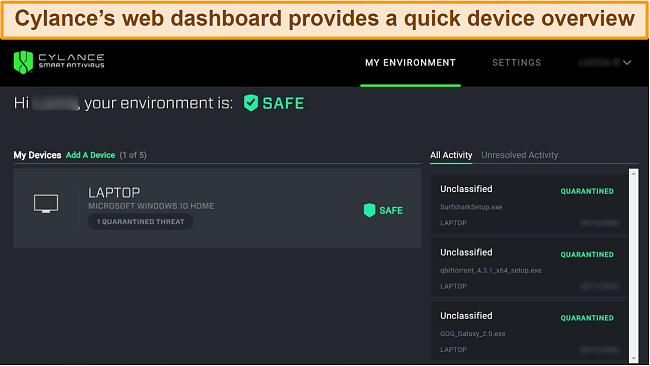 The dashboard also has some limited settings, but you likely won't want to change any of these. Cylance will give you the option to turn off settings that increase protection. For example, you can turn off auto-protection against abnormal or suspicious files — things that are better left turned on.
The downside to Cylance's browser setup is that you need an internet connection to do anything meaningful. For instance, you're out of luck if you're offline and need to change settings or take a harmless file out of quarantine. There are also a few advantages to this approach. First, if you're away from your device but have access to a browser, this can be extremely useful for keeping an eye on your device from afar. Second, this approach also reduces vulnerability to your device. In theory, if you can control something locally from your device, so can a piece of malware.
Since antiviruses have to use system resources to protect your device, they always cause some level of performance impact on your device. However, I was extremely impressed by how minimally Cylance affected my computer. The performance consisted of being 1% slower when launching software and just 5% slower when opening webpages. This was minor, though and wasn't even something I could notice while using my computer normally.
When these actions take just seconds, to begin with, the difference is negligible. However, these figures still place Cylance as one of the fastest (if not the fastest) antivirus that I've tested. This is likely due to the minimal bloat included with the program — not having numerous features or a fancy graphical interface helps performance.
Mobile Apps — Focus on Simple Core Security
To use Cylance's mobile app, you need to log in to your web dashboard and select "Add a device" under the My Devices section. You can then enter your email and it will send you a link that, when opened on your phone, will activate the Cylance app.
The app doesn't offer any additional features that you sometimes get with other antiviruses (think anti-theft or parental controls), but keeps things as streamlined as the desktop. This includes:
Malware scanning — Checks for malicious apps on your phone.
Vulnerability scanning — For things like sideloaded (unofficial apps), outdated software, and disabled security features like your lock screen.
Local network scanning — Checks the network for suspicious activity and devices.
I like the pure focus on security since I find that many antivirus mobile apps are needlessly bloated. However, if you're looking for these types of features, you'll be better off with a fully-fledged security suite such as Norton 360.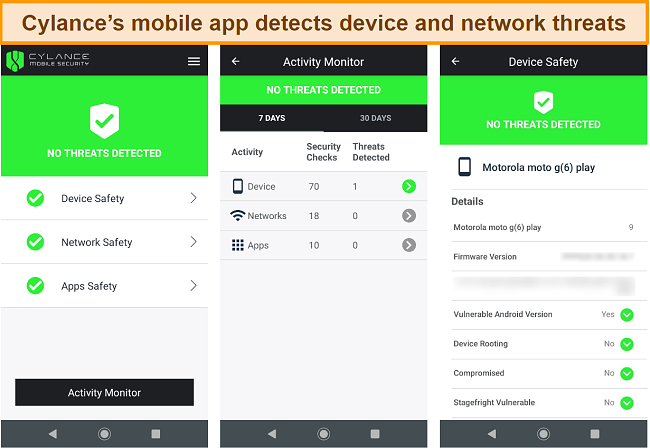 Support - 6
Cylance only offers direct support in the form of email, but from my experience, it was fast and easy to access. The knowledge base also provides a fair amount of detailed information covering a range of potential issues. Together, they cover all the problems you might have, but it's still disappointing that there's no live chat to help users with urgent issues.
Email Support — Easily Accessible Contact Form and Fast Responses
I contacted Cylance support through the contact form on its website, asking whether the program was limited to specific devices in some countries (since I'd read this on a review website). It took them just over 1 hour to get back to me, which is a great time, and sent me some useful links to find the answer to my query.
A lack of live chat is a little disappointing when so many competitors have the option, but it's great that the email support can deliver such fast results.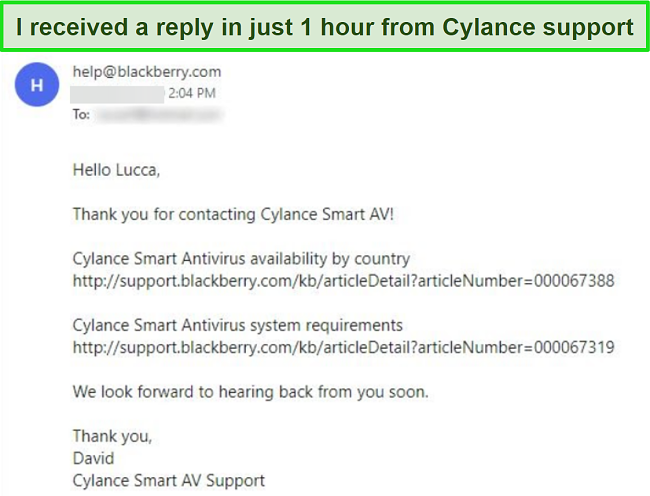 Online Knowledge Base and FAQs — Good Information, Hard to Find
The information here is of a high standard and provides you with plenty of answers to combat issues you may encounter. For instance, I'd seen both "Abnormal" and "Suspicious" files labeled in the dashboard but wasn't sure of the difference — the FAQs promptly cleared that up for me.
Additionally, there's a full PDF user manual with plenty of information, detailed how-tos, and a quick start guide to help you install and configure the app.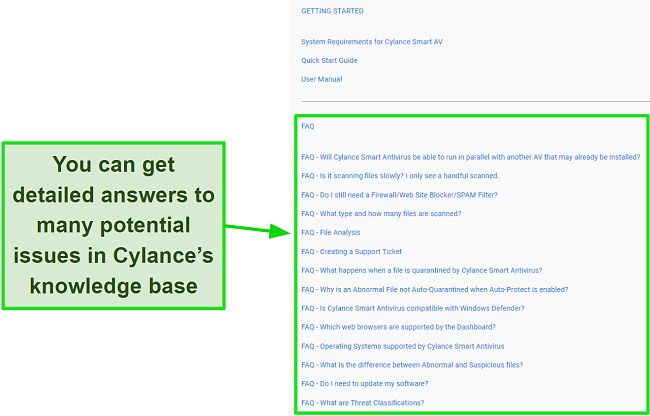 I read that there was also an inactive community forum available, but I couldn't locate it anywhere. This would be a nice addition for support purposes, but it appears to have been taken offline.
Price - 10
Cylance offers its antivirus protection at a very affordable price compared to many competitors. It does this by cutting out any features beyond real-time malware protection and scanning — but this may make it your ideal antivirus.
Cylance Smart Antivirus — An Affordable Option That Protects Up To 10 Devices
Cylance has 1 plan for home users, which includes malware protection and scanning. It's a good option if you've already got complimentary security software installed only on your device, such as a VPN or parental controls.
Cylance is also very transparent with its pricing model. You'll be able to protect either 1 device, 5 devices, or 10 devices for up to a year. Unlike top competitors like Norton and McAfee, which offer monthly and multi-year subscription plans, Cylance only offers 1-year plans. Although the price scales for how many devices you want to protect, you'll get a 60% discount on your first year with Cylance.
However, if you're looking for an antivirus suite that already comes with several of these additional features, then you're better off with Norton 360. It has 100% real-time detection and scanning rates, an integrated VPN, parental controls, password manager, and more. For what you get with the package, Norton offers plenty of value.
BlackBerry Protect and BlackBerry Optics — Business Plans for Large Enterprises
BlackBerry owns Cylance and has expanded further into the world of cybersecurity, a process during which it rebranded Cylance's business protection under the BlackBerry brand. Protect offers the following to enterprise clients:
AI-based security to prevent enterprise breaches.
Granular role-based access to security admins can give permissions to relevant people.
Configure which devices can access your environment.
Blocks exploitation of device memory.
Optics is a security add-on for Protect that adds features such as Intel Threat Detection, Registry Introspection, DNS Visibility, and more. However, these are slightly out of the scope of this review. Protect and Optics' pricing models aren't publicly available on the company's website, but you have to contact them directly to get a customizable quote for your business.
30-Day Money-Back Guarantee — Test Cylance With Zero Risk
Cylance has a 30-day money-back guarantee with all of its plans. The website states that you can send an email to support during this period, and Cylance will confirm the refund with no questions asked. However, I first wanted to confirm that it works. After signing up for an annual consumer plan, I tested Cylance for a few weeks and then wrote an email to customer support asking for a refund. This is where I ran into some issues.
I initially went through the official Cylance support website but was told that my order number corresponded with a third-party reseller since I bought it from the UK. They helpfully linked me to the reseller's website, where I submitted 2 refund requests over a week, but I didn't hear back from either of them.
I contacted Cylance directly again, who ended up processing the refund for me. It was far from the smoothest refund experience, but I was glad that Cylance rectified this as soon as I made them aware of the issue. I had the money back in my account 4 days later.

Final Verdict
Cylance has a few fundamental advantages over the competition. It's not loaded down with extra features and I liked this minimal approach to antivirus protection. However, I was ultimately disappointed by Cylance's low score of 85.1% during real-time scanning. When several top antiviruses score a perfect 100% for this test, it's difficult to give Cylance a pass when this is one of its main selling points.
Suppose you want all-around protection with useful complementary features such as a VPN or parental controls and a higher real-time detection rate. In that case, you'll be better off with a different antivirus altogether. Norton 360, TotalAV, or even Bitdefender provide all these features and more for affordable prices.
In short, Cylance is great for those looking for a simple antivirus that doesn't affect your computer's performance. You can try Cylance risk-free with its 30-day money-back guarantee and get a full refund if you change your mind. I tested the refund policy myself and I got my money back in 4 days.
FAQ: Cylance Antivirus
Is Cylance antivirus any good?
Yes, Cylance is an affordable and streamlined antivirus. It scored a 99.6% malware detection rate but only got an 85.1% real-time detection rate. This is much lower than other top-brand antiviruses. For instance, Norton's scored 100% real-time detection rates in the same tests. It's easy to use and has a minimal performance impact on your PC, making it a perfect complement to additional security software such as VPNs or parental controls.
Can I use Cylance antivirus for free?
Cylance doesn't have a free version, but you can sign up and use the 30-day money-back guarantee to try it yourself. I've tested it myself — Cylance directed me to a third-party reseller since I brought the antivirus in the UK. I got no response after two email attempts from the third-party seller, so I re-contacted Cylance again and they got back to me right away and processed my refund themselves. It only took another 4 days to have the money back in my account.
Do I need an internet connection to use Cylance?
No, Cylance still protects your device in offline mode. However, it's recommended you go online when possible so your web dashboard can be updated and policy updates can be applied to your local client.
Is Cylance antivirus safe to use?
In tests, Cylance only detected 85% of malware in real-time. However, Cylance is a legitimate antivirus provider. It's owned by BlackBerry, a well-established tech company that has migrated from creating hardware to developing security software.
Top Choice
💰

Money-back guarantee
30 Days

⛔

Firewall
No

📱

Number of devices
10

🏳️

Free trial
No

🏷️

Pricing Plan
$29.00

🛡️

VPN included
No
Visit Cylance