This download guide and review are for PhotoScape X, which requires Windows 10 or a Mac.
I put the free PhotoScape X software to the test to see whether it could match up with more powerful programs, such as Photoshop.
It didn't take long to see that it doesn't have the same tools as Photoshop — but that doesn't mean that I was disappointed with PhotoScape.
Some of the features are:
A full suite of photo editing tools
Batch Editor
Collage
Create GIF
Convert RAW files to JPG
Follow the steps to download PhotoScape for free and then check out my full review below.
How to Download PhotoScape X for Free
PhotoScape doesn't have the download file on its website. Instead, you will need to download it from the Microsoft store. Click on the DOWNLOAD  button on the sidebar to jump directly to the PhotoScape download page.
You will either need to log in to your Microsoft account or create an account to download the file.
Click on the GET button and PhotoScape will immediately download and install on your computer.

How to Uninstall PhotoScape X From Windows
Type Add or Remove Programs in the Windows search bar.

Scroll down until you find PhotoScape X and click UNINSTALL.

PhotoScape X is now completely removed from your computer.
PhotoScape Overview
While it may take some time to get used to PhotoScape's layout and what its different tools can do, it's a very easy program to use once you get comfortable with it. Unlike Photoshop, there are no layers to work with. Any adjustments that you make are to the image itself, but there is an "Undo" button so you don't have to worry about making a mistake.
PhotoScape has 9 main features: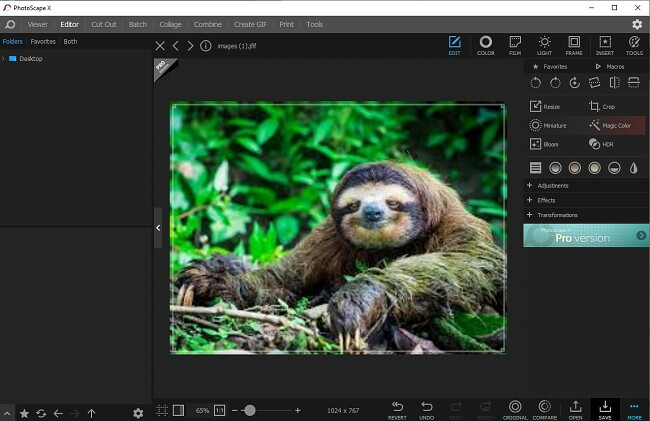 Viewer: Check out what images are in your folder. You can view them as a slideshow or individual images.
Editor: This is where you'll find all the editing tools. This includes resizing, adjusting the color, brightness, and contrast. There are over 25 different effects, 18 transformations, and 20+ adjustments (and another 14 that are reserved for PRO users.) There are other tools as well, such as filters, frames, and adding other elements.
Cut Out: Easily remove the background from an image with the help of a Magic Eraser, lasso tool, brush and more. Once you're finished, you can save the image as a PNG.
Batch: An excellent tool if you want to apply a certain filter or adjustment to multiple photos. Whatever filter or lighting adjustment you choose will instantly be applied to all the selected images. You can also make a bulk change to the image format
Collage: I can assist you in crafting a collage comprising a maximum of 10 pictures. You have the freedom to select from a range of pre-made frames and customize the size and borders for each image, among other options. It's worth noting that certain frames are exclusively available to PRO accounts.
Combine: A great tool for creating a panorama image. Just select the images you want to combine and set them up in your desired order.
Create GIF: Take multiple images and create an animated GIF.
Free PhotoScape X vs. PhotoScape X PRO
The advantage of buying PhotoScape X PRO is that you get more of everything:
Collages with up to 20 pictures
Additional editing tools
Thousands of stickers
A professional designer would probably benefit from the relatively inexpensive PRO package. However, if you're just using the software to add a little something to your social media uploads, create a family slideshow, or have fun playing around — the free version of PhotoScape X should be more than good enough.
Free Alternatives to PhotoScape
Photoshop: This is by far the best editing software available. Used by both professionals and amateurs, the tools range from beginner to expert. While it is on the expensive side, you can get a free 30-day trial to test it out.
GIMP: A free open-source program that was designed to look and work just like Photoshop. While it doesn't quite match up with Photoshop, it's one of the best free video programs available.
Pixlr: It has both a mobile and desktop application, which is great for quickly touching up pictures taken on your phone. It doesn't have quite as many editing tools as PhotoScape or Photoshop, but it can get the job done.
FAQ
Is PhotoScape X safe?
As long as you download the software from the official Microsoft store and not through a third-party site, you will get a clean file that has no viruses or malware included in the file.
Is PhotoScape X free?
There is both a free and PRO version of PhotoScape X. The PRO version will unlock some of the advanced features and stickers but for most people, the free version should be good enough.
I don't have Windows 10, can I still download PhotoScape X?
PhotoScape X is only available for Windows 10 and macOS. If you have an older version of Windows you will need to download PhotoScape 3.7.
Does PhotoScape work with layers?
Unlike some of the other leading video editing programs, PhotoScape doesn't use layers. Instead, all changes are applied directly to the image itself.
What formats are compatible with PhotoScape X?
You can upload just about any image format to PhotoScape without difficulty. You can even open RAW files and convert them to JPEG, GIF, PNG, BMP, and TIFF.
What formats can I save my images?
If you want to continue working on the image you can save the project as a PSXPRJ file. If you're finished, it can be saved as a JPEG, GIF, PNG, TIFF,  BMP, and WEBP.
Read More