I spend most of my day typing on the computer, and I can say without hesitation that Grammarly is a must-have editing program. The software is easy to use and can be integrated with Word, Google Docs, Gmail, WhatsApp Web, and other word processing programs.
Grammarly makes it easy to spot mistakes; it uses different colored lines under words, phrases, and sentences to highlight areas where a sentence can be improved. While I don't always agree and accept Grammarly's recommendations, I always use it to check my work before sending an email or publishing a blog post.
There are two versions of Grammarly, and I'll go over the difference between them in this review below. Follow the steps below, and I'll show you how to download Grammarly for free and set it up so you can improve your writing skills.
How to Download Grammarly for Free
Go directly to the official Grammarly download page.
Press the "Get Grammarly, It's Free" button, and the setup file will instantly download to your computer.

Double-click on the setup file when the download is complete to run the installation wizard.
If you already have a Grammarly account, click the Login button. Otherwise, press the Create Account button.
Enter your email, create a password, and your name to create your free account. Alternatively, you can log in with your Gmail or Facebook account.
When you finish registering your account, press the Open Grammarly, and a pop-up window will appear, prompting you to open Grammarly.

Grammarly Overview
The free version of Grammarly highlights and alerts you to basic grammar and spelling mistakes in real-time. It is more sensitive than a basic spell checker, as it also checks for punctuation mistakes, grammatical errors, and more.
Grammarly can check your work in American, British, Canadian, and Australian English. This is great if, for example, you're an American writing for a British audience, and write "color" instead of "colour." It also understands the comma and period rules for different regions when it comes to whether they go inside or outside the quotation marks.
Grammarly Features
The free version of Grammarly prepares the foundation for improving your writing. It handles all the basics, such as correcting grammar, spelling, and punctuation. It also highlights unnecessary words or phrases to help improve the clarity and conciseness of your writing.
There are two ways to use Grammarly. One is to hover your mouse over the highlighted word. This will open a small pop-up window with the suggested correction.
The other method is to click the widget on the bottom right corner of your document and open a side panel with all the corrections. In both cases, you can make the change by simply pressing the green button and accepting the suggestion. If you don't agree with the correction or suggestion, you can dismiss it or add the word to your personal dictionary.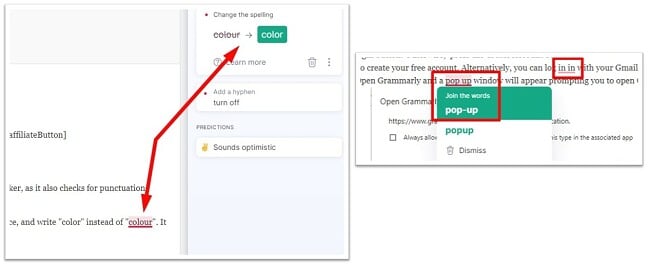 Grammarly can detect the tone of your writing to let you know how it sounds to your readers. This is helpful if you are trying to write in a friendly tone, but Grammarly says you're coming across as professional. Read over your work and check if you're using business terms that the average person doesn't use, or perhaps you're writing with high-level words that can be a turn off for some readers.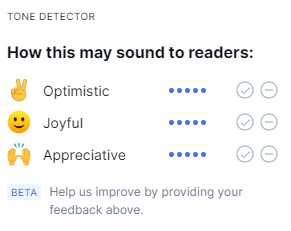 Set Goals with Grammarly
Grammarly takes a fun approach to improve your writing. Instead of just correcting mistakes, you can set goals and try to attain a high score for your work. To set your goals, click on the target icon at the top of the sidebar menu, and the Goal section will open.
You can set goals for audience, formality, domain, tone, and intent. Grammarly will base some corrections based on your goals and give you insights to help you achieve them. The score you receive for your writing is based on how well you did concerning your goals.
Is Grammarly Premium Worth It?
You can be the judge of whether the Premium version of Grammarly is worth it.
When you open the Grammarly sidebar, it will show you how many additional corrections it would make if you had premium. These aren't spelling or basic grammar, but more advanced edits, such as correcting passive text, adjusting complex sentences, consistency with spelling and punctuation, formatting, and much more.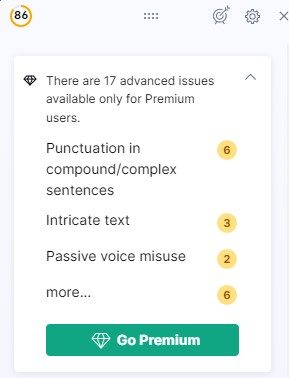 Compatible with Word
Grammarly isn't just for websites and apps. There is a plugin for Microsoft 365 that works with Word, to integrate your Grammarly editing tool. Grammarly for Word works the same way as the online version. A sidebar will open, showing you all the suggestions. You can customize the types of suggestions available, by pressing the buttons on your Word toolbar.

How to Uninstall Grammarly
If Grammarly isn't the right editing program for you, it can be uninstalled in a few easy steps.
Type "Add or Remove Programs" in the Windows search bar and press the Enter key.
The uninstallation wizard will ask you to confirm you want to remove the program. Once you press OK, it will remove it from your computer.
Free Alternatives to Grammarly
Microsoft Editor: The latest version of Microsoft 365 has an updated Microsoft Editor that corrects spelling, grammar, and tone. You can choose the style of writing, and Editor will tailor its suggestion to fit with your preferred style.
InstaText: The easy to use InstaText software will make suggestions for improving your vocabulary, grammar, and spelling. It will upgrade your writing and help improve your style to reach an expected level for a professional writer.
FAQ
Is Grammarly safe and secure?
Grammarly takes every precaution to secure any content that is uploaded to its servers. This includes industry-standard encryption and a powerful firewall.
When it comes to safety, I inspected the Grammarly installation file and didn't find any spyware, ransomware, or viruses. It is important to only download Grammarly from the official website, and avoid pirated or cracked versions.
Can Grammarly be trusted to correct all grammatical errors?
Grammarly is good, but it isn't perfect. You should still read over your work and see if you find any mistakes that Grammarly might have missed. At the same time, just because Grammarly puts a squiggly line under a word or a sentence doesn't mean you have to change it.
Read More