The CorelDRAW Graphics Suite is a collection of powerful tools that can be used by amateurs, students, and professionals. The suite includes six applications that can be used for the entire graphic design and editing process. From freehand drawing to editing vector images, a tracing tool that converts bitmap to vector, and a screenshot tool that uploads the images directly to your workstation, it's all included.
The CorelDRAW Graphics Suite usually comes with a large price tag, but I'll show you how to download it free, no credit card required, for 15 days.
Try CorelDraw Graphics Suite for Free
How to Download the CorelDRAW Graphics Suite for Free
Click here to go directly to the CorelDRAW official free trial page.
Open the .exe file, and CorelDRAW Graphics Suite will automatically install on your computer.
After the installation is complete, you will have to agree to the license agreement.
Create your CorelDRAW account by adding your email, creating a password in the proper fields, and then clicking Continue.
Your account is now valid, and your 15-day free trial will begin.
CorelDRAW Graphics Suite Overview
From students and professionals to amateur designers looking to edit or design images, the CorelDRAW Graphics Suite has the tools for you. It's an intuitive program with applications that can be used for professional design, vector illustration, photo editing, page layout, and more.

Top CorelDRAW Features in 2023
CorelDRAW is making it easy to collaborate with others. For starters, the software has integrated Microsoft Teams into its software suite. Now, you can quickly contact and share your project with colleagues or clients, chat about the project, and much more.
There is also a new Live Commenting feature, where you can leave notes and comments without leaving the project board, mark items complete, and streamline the entire creative process.
Use the Dashboard feature to stay organized
The dashboard is more than just a central hub where you can store your project files. You can also add client notes, save the fonts you use for each project and the graphics that you've used.
Export files in multiple formats
The CorelDRAW multi-asset export feature is a real time saver. Instead of saving a completed project multiple times, each with a different format, you can export a file in multiple formats with a single click of your mouse. Choose the formats you want, and CorelDRAW will create a folder with your file in each format, so you can quickly share it with your client, boss, or professor.
Draw with up to 3-point perspective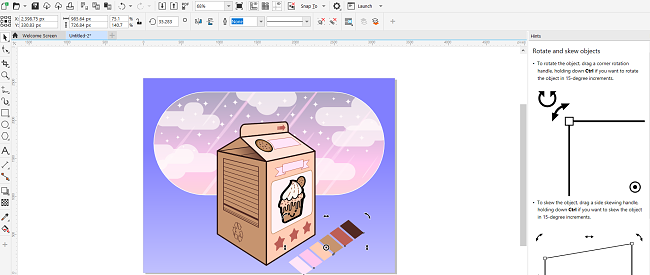 The latest version of CorelDRAW includes perspective drawing. This makes it easier to visualize how a conceptual idea will look in real life. There are options to draw from 1, 2, or 3 point perspectives, and you can freely move items around without ruining the other design elements.
Quickly replace colors
It can be frustrating and tedious if you need to change a color scheme from a project, for example, replacing all the blues with greens.
CorelDRAW added a feature that makes it easy to get this done. Choose which color you want to replace and the new color and let CorelDRAW take care of the rest.

CorelDRAW Graphics Suite tools are easy-to-use and don't require the same expertise as other, more complex programs, such as Photoshop. The software comes with detailed tutorials and documentation, making it easy to learn, even the more complex editing actions.
Main Applications Included with CorelDRAW Graphics Suite
CorelDRAW: A comprehensive vector illustration tool that can be used for page layout, creating brochures, and graphic design.
Corel PHOTO-PAINT: Includes all the tools needed for image editing. You can also paint or add pixel-based enhancements to images.
Corel PowerTRACE: Using AI, PowerTRACE can trace multiple images and convert the bitmap to vectors.
Corel CAPTURE: A simple screenshot tool, Corel CAPTURE can record an entire page or different element-based segments, capture your selected areas, and then add it to your Corel project.
Corel CONNECT: A special browser that will synchronize all your Corel applications making it easy to find the content you need on your computer.
Other items included with CorelDRAW Graphics Suite:
Over 7,000 clipart and digital images
Free high-resolution digital photos
Huge variety of TrueType and OpenType fonts
Large selection of professionally designed templates
Design objects with fountain, vector, and bitmap fills
Try CorelDRAW Graphics Suite for Free
How to Cancel your CorelDRAW Account
One of the nice features of the CorelDRAW Graphics Suite free trial is that you don't have to enter your credit card information and then remember to cancel your account or get charged.
At the end of your 15 days, you will be given the option to purchase a CorelDRAW license, or your account will automatically be closed.
How to Uninstall CorelDRAW Graphics Suite
If CorelDRAW isn't the right program for you or you want to try a different image editor, check out the free alternatives below.
At the end of your free trial period (r even before), you can uninstall the CorelDRAW Graphics Suite in a few simple steps.
Type Add or Remove Programs in the Windows search bar.
The CorelDRAW uninstallation wizard will open. Choose Remove from the options given, and click the Remove button.
All the CorelDRAW apps will now be completely removed from your computer.
After the uninstallation is complete, press the Finish button.
Free Alternatives to CorelDRAW Graphics Suite
Photoshop: One of the best image editing software, Adobe Photoshop, is the go-to software for most professional designers and students. It uses a layer-based workspace that allows users to try different editing options without harming the original file. See how you can get Photoshop free for 30 days.
GIMP: GIMP is a free, open-source image editor with all the tools needed for image editing and graphic design. Users can retouch images, create animated GIFs, fix distorted images, and create unique designs with a large variety of fonts.
FAQ
Is CorelDRAW Graphics Suite Free?
While the CorelDRAW Graphics Suite is a premium software, follow the directions above, and I'll show you
how to get a free 15-day trial
, with no credit card required.
Which is better – Adobe Photoshop or CorelDRAW Graphics?
Both of these programs are excellent at what they do, and a professional designer should have no issues using either one. The biggest difference is that CorelDRAW focuses on projects that use vector graphics, while Adobe Photoshop is better at manipulating raster images. Neither program has a completely free option, so if you're not sure which is for you, you can try them both out risk-free; CorelDRAW has a 15-day trial, and
Photoshop has a 30-day money-back guarantee
.
Is CorelDRAW good for beginners?
While it does have some advanced tools, CorelDRAW is intuitive and user-friendly. The program also comes with free help guides that will clearly explain how to use every tool.
Read More