Get the Newest Episodes Better Call Saul Season 5 Fast

Last Updated by Valentine Milner on February 28, 2020
We first met Saul Goodman as the lovable lawyer to Walter White in Breaking Bad. Since then he's been the headliner for the very successful spinoff "Better Call Saul". Now entering its 5th season 'Better Call Saul' is a hit TV show which entertains viewers all over the world as Saul tries to find his place in the legal world.
The show is shown on AMC, and American cable channel, but is also available on several different streaming services. Unfortunately, these sites are geo blocked which means many people won't be able to watch the new episodes.
Thankfully, we have a hack for you to bypass this annoyance and stream the show when it begins airing on Monday, February 24, 2020 . All you need is a fast VPN that can bypass the geo restrictions making it appear as if you are in the US.
Connect to Netflix UK and Stream Better Call Saul the Morning After it Airs on AMC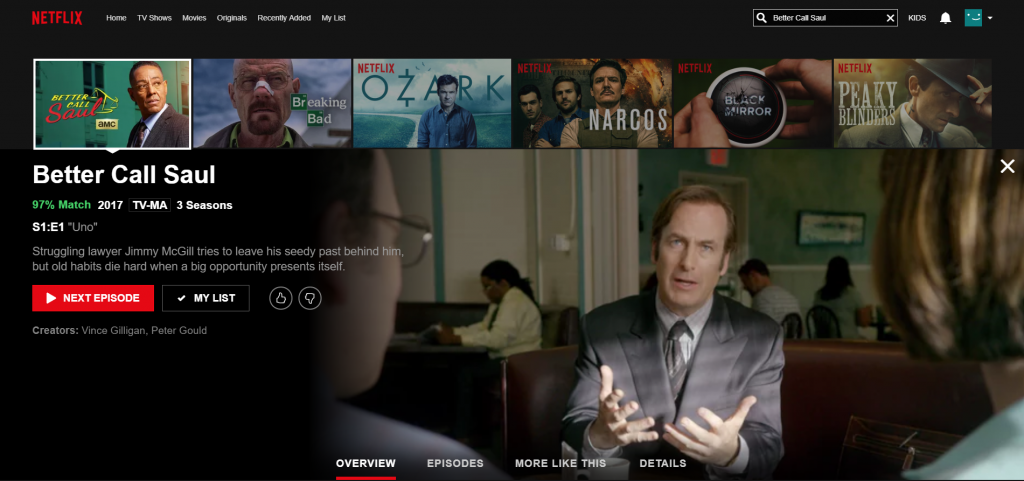 This is one of the rare occasions where it's better to use a VPN and connect to Netflix outside the US. Based on Netflix's agreement with AMC, they won't begin streaming the new episodes in the US until after the season is over. However, new episodes will appear on Netflix in the UK and Ireland beginning the morning after their air on AMC.
This means that if you want to watch the newest episodes without delay you will need a VPN that can bypass the Netflix geo restrictions and has servers in the UK or Ireland.
Stream Every Episode of Better Call Saul on the PlayStation Vue

This streaming service is one of Sony's latest additions. It has more than 50 cable TV channels including AMC, so you may use it to stream episodes of 'Better Call Saul.' The streaming service also has DVR and On Demand capabilities so you don't have to worry about tuning in when the show is being broadcast on AMC.
We also recommend that you take full advantage of its 5-day free trial period to see what it's all about. Besides, it works amazingly on PS3 & PS4, Apple TV, iOS devices, Amazon Fire TV, and Chromecast. Sadly, this option is geo-blocked as well, and without a proper VPN you will be left out while your friends talk about Better Call Saul.
Five Best VPNs for you to choose from when watching 'Better Call Saul.'
Here, are our top VPN choices for you to watch 'Better Call Saul' anywhere. They include:
Watching 'Better Call Saul' on this here is top on our list as this VPN is our most preferred option. It not only comes with a free trial period, but also you can enjoy its 30-day money-back guarantee, unlimited bandwidth, and 24/7 customer support. Besides, it works amazingly on any device!
Here is another fantastic choice that will help you catch all 'Better Call Saul' episodes quickly and effectively. It has impressive security features plus it offers a free trial period for all its customers. It also rewards its customers with a fantastic 30-day money-back guarantee
This is a fast VPN which will allow you to watch 'Better Call Saul' quite easily with hardly any buffering. It can also unblock Netflix whether you're trying to connect from the US to the UK or vice versa. It also uses the OpenVPN system to prevent DNS leaks.
Here is another fast VPN that can unblock Netflix. It has more than 2,200 servers in the around the world, including the UK and Ireland (Where you can watch Better Call Saul the morning after it airs). Its security measures are quite unusual too as it uses the OpenVPN protocol. So, you can feel safe as you watch the antics of Saul Goodman!
This VPN is a fantastic option if your streaming videos from US websites while in an overseas location. It's committed to privacy as it stores no logs whatsoever plus it uses a third-party to process all your payments.
Conclusion
We all expect the 4th season of 'Better Call Saul' to be highly intriguing, and funny. Sadly, it kind of sucks knowing that we all have to wait until August 6 to watch the first episode. The good thing is using a service like ExpressVPN; you can bypass all geo-restrictions and watch the American TV show from anywhere in the world!