TeamViewer Review 2021: How This "VPN" Really Works
Last Updated by Eric Raue on May 01, 2021
Important! TeamViewer claims it acts as a VPN and is even more secure than real VPN services. But it's actually not a real VPN and won't keep you safe while you browse the web.
TeamViewer is a great choice if you're looking for a free software that lets you transfer files between computers, remotely control desktops, and conduct video calls. It's also useful for small business owners who want to let remote workers connect to the company intranet.
However, it can't protect your internet connection for secure and private web browsing, unblock streaming services, bypass government censorship, or let you safely torrent files. For these functions, you'd probably want a real VPN service like NordVPN.
Try NordVPN for free for 30 days
How a Real VPN Works vs. How TeamViewer VPN Works
TeamViewer creates a secure connection between two devices. This lets you share files between the devices or control one device remotely using the other. It's perfect if you need to grab a file from your company computer while you're away on a business trip or want to transfer vacation photos from your phone to your home computer while you're abroad.
It also has a VPN function that lets you connect to a virtual network. This tricks your phone or computer into thinking it's on the same network as the other device. This way, you can open files from or run applications from the other device directly on your device. You can remotely access anything on any device on the network, like on a company intranet, and do things like print files via the office printer while you're at home.
However, TeamViewer can only create a virtual network to link 2 devices, and can't give you a randomized IP address to browse the web. This differs from how a real VPN works. A real VPN lets you use a secure server in another location as a tunnel between your device and the internet. This tunnel hides all the data passing through it and changes your IP address, which is why internet service providers and governments can't track your activity. This connection is encrypted, which means your company's computers are also protected from hackers and cybercriminals when they connect to the web.
What TeamViewer Can Do
Secure File Sharing
Once you connect two devices with TeamViewer, you can share files of any size between them through an encrypted connection. If you travel a lot, TeamViewer lets you access your files without having to bring multiple devices with you (and risk losing or damaging them).
TeamViewer uses military-grade AES 256-bit encryption to protect your data as it's being transferred. This means cybercriminals can't view or steal your files while they're being shared from one device to another. If you're a business owner, you don't need to worry about sensitive data being stolen as it's being moved between different employees.
Remote Desktop Control
You can use TeamViewer to control your computer from anywhere in the world as long as you have an internet connection and both devices have the software installed. Have a business with workers in different countries or an outsourced IT department? TeamViewer makes remotely troubleshooting technical issues easy — your IT department can take over an employee's device and fix the problem regardless of where they are.
Better yet, you can control devices remotely even if they use completely different operating systems. TeamViewer can be used to connect a PC with a Mac, an Android with a PC, and countless other combinations. This allows for a ton of flexibility no matter what devices you're trying to connect. Using the Android app, I was able to use my phone to control my Windows 10 laptop from afar.
I was worried that it would be clunky trying to control my PC with an Android phone since I would have no mouse or physical keyboard to use. However, TeamViewer has clever but simple controls for keyboard and mouse functions on their Android app that made it easy to use.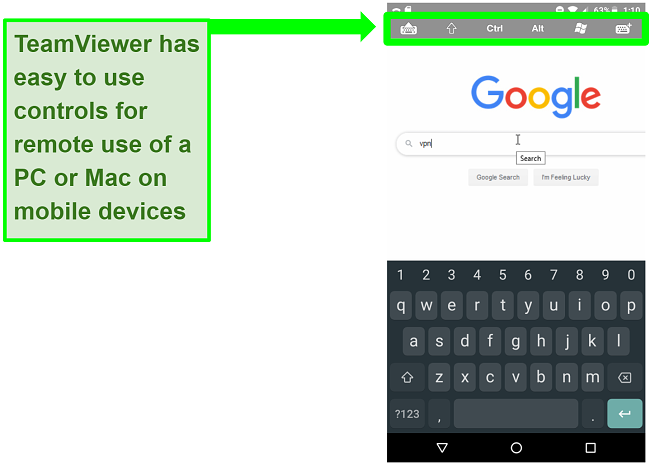 Remote Printing
TeamViewer lets you remotely print documents from anywhere in the world. Closed a sale on your business trip and need to print the signed sales contract at the office back home? Just set up TeamViewer's VPN function on both a computer that the printer is connected to and the computer you have with you. Then add the printer as a shared device. Now you can connect to the remote printer and print your documents from it no matter where you are.
Video Meetings
With an easy-to-use video meeting function, TeamViewer saves you the hassle of making your remote employees download a separate video-conferencing application. Its screen sharing feature allows you to present a PowerPoint file, display a video, or demonstrate software to potential customers from anywhere.
However, a minor downside to using TeamViewer for meetings is that you're limited to a small meeting size of just 5 participants with the free version and the lowest-cost subscription version. In addition, commercial use isn't allowed on the free version, so you can only use it to video chat with your friends and family.
Run Software Remotely
TeamViewer's remote access feature allows you to run applications on your device that are installed on a different device. If you run a small business, you can use TeamViewer on your laptop to connect to a computer at the office, access the payroll software on it, and do payroll from home. You just need to use TeamViewer to connect your laptop and the computer with the software you want to use and enable the VPN function. You can then open any files — including applications — that are on the office computer directly from your laptop, and use the payroll software as if you were sitting right there in the office.
What TeamViewer VPN Can't Do (That A Real VPN Can)
Can't Unblock Geo-Restricted Content
Because it can't give you a new IP address to connect to the web, TeamViewer can't unblock geo-restricted content on streaming platforms like Netflix and BBC iPlayer. To access these international content libraries, you need a real VPN like NordVPN that lets you connect to servers in different countries. A top-quality VPN will be able to unblock major streaming sites and easily bypass Netflix's proxy error no matter where in the world you are.
Can't Keep Your Online Activity Anonymous
TeamViewer can't keep your online activities private or anonymous because it doesn't encrypt your web connection. For that, you need a real VPN that gives you a random IP address that your ISP can't track you with, and uses an encrypted server that doesn't record logs of your browsing activity. Top-tier real VPNs use military-grade encryption so that no one can see what you do online, and have strict no-logs policies that ensure your personal data is never recorded (and so can't be accessed even if its servers are physically inspected).
Can't Bypass Government Censorship
If you're going on a business trip to a country like China that has strict online censorship, you certainly don't want to be stuck not being able to access necessary apps or websites. TeamViewer can't help you bypass internet firewalls. For that, you need a real VPN that can reroute your internet connection through encrypted servers in other countries.
ExpressVPN, which has advanced security protocols, is one of the few VPNs that can get around China's notorious Great Firewall. It has servers in countries all over the world. By connecting to a server in a country with a free and open web, you can access censored websites (and authorities won't have any way of finding out).
Can't Block Ads, Trackers, and Malware
When you're using TeamViewer, advertisers will still harvest information about your online activities and websites can infect your device with malicious files. You're leaving yourself vulnerable to hackers using malware to steal your login details, access confidential client information, or lock you out of your files until you pay them a ransom. To protect yourself from these online threats you need a real VPN which comes with ad and malware blockers. For example, NordVPN has CyberSec, an advanced safety feature that prevents websites from infecting your device with harmful files or trackers.
Protect your online activity with NordVPN
Speeds — Inconsistent File Transfer Speeds, But Flexible Controls Minimize Lag
TeamViewer had inconsistent speeds for transferring files. When I moved a 40MB video file from my Android phone to my PC, it only took a few seconds. However, when I transferred a 770MB file between 2 PCs, it took over 15 minutes ⁠— far below TeamViewer's advertised maximum speeds of 200MB per second. This might have been partially due to a slower internet connection on my Android phone, but questions in the TeamViewer community forum indicate that numerous users have been disappointed by file transfer speeds. If you're at a conference and need to transfer a large video file or PowerPoint presentation last minute, TeamViewer may not be fast enough.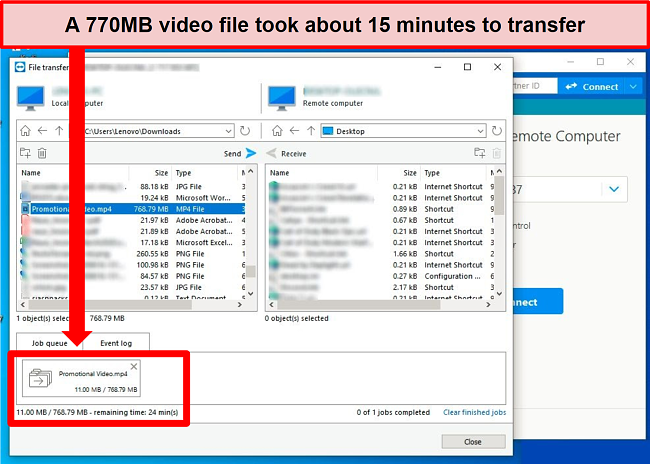 In addition, speeds for TeamViewer's remote desktop control function were as fantastic as I'd hoped. I tested for visual lag for this function by remotely opening a PowerPoint presentation with animations on my home computer from my Android phone while in a coffee shop. Everything loaded quickly and I didn't experience any lag when changing slides. However, when I opened a bigger video file in Sony Vegas, I experienced some visual lag when playing back my video. To help deal with this, TeamViewer gives you the option to increase the image quality at the expense of speed, or increase speed at the expense of quality.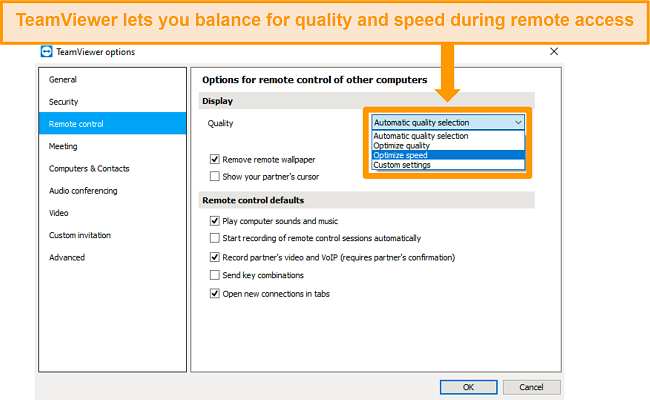 Real premium VPNs have high speeds that let you use web-based software to upload and download large files, although they don't directly let you share files between two devices or remotely control one device from another. For example, WeTransfer is a popular online tool for sending and receiving large files up to 2GB and is just as fast as TeamViewer. When I tested its speed with NordVPN connected, it took me about 8 minutes to upload a 500MB file and download it to another computer.
A high-quality VPN will also have a large selection of servers for P2P file sharing. NordVPN, for example, has thousands of torrent-friendly servers worldwide that let you upload and download files with other users across the web.
Security — Encrypts Files, But Won't Protect You Online
With military-grade encryption, TeamViewer ensures that all your data and files remain secure as they move between two devices. This is crucial to ensuring hackers won't be able to intercept them as they're being transferred.
However, TeamViewer won't protect your personal information or data from being stolen by cybercriminals when you're online. It also doesn't come with malware blockers to stop hackers or spies from sending you suspicious links, which allow them to access your device if clicked on. Your company's internal data and customer payment information could be stolen if you browse the web unprotected. All it takes is one wrong click to take down the business you worked so hard to build.
To keep your company's web-connected devices safe from cybercriminals, you need to use a real VPN with malware blocking features. With military-grade encryption and CyberSec technology that blocks suspicious websites and phishing attempts, NordVPN has some of the best security features of any VPN I've tested.
Privacy — Stores Substantial Amounts of User Data
When you sign up to use TeamViewer, it records personal information including your name, email, and time zone. Every time you run it, it collects your IP address, location, username, and information about what feature you're using, with who and for how long. It does not disclose how long it stores users' personal data and its privacy policy states it may share user information with authorities if ordered to by courts.
As for what you actually do using the software, TeamViewer says its connection is encrypted in such a way that the company itself cannot view the contents of any screen sharing, video calls, or file exchanges that you make. However, it gives users the ability to record activity logs and video sessions themselves, with these only viewable by the individual.
Headquartered in Germany, TeamViewer stores sensitive user information on servers in Germany and Austria. Germany is a member of the 14-Eyes Alliance, which means that the country will share information with other countries in the alliance like the US and the UK. Austria, meanwhile, is not in the 5/9/14 Eyes Alliances. However, it's difficult to tell what information is stored in which country, and there's a chance that your personal information could be accessed by other governments.
If you want an application that won't store your private data or hand your information over to authorities or government agents, you need a VPN with an airtight privacy policy. NordVPN, for example, has a strict no-logs policy that ensures no user data is stored. Even if authorities try to obtain information like your browsing history from NordVPN, they wouldn't be able to because the information is not kept on any of its servers.
Torrenting — Doesn't Offer Torrent Support
You won't be able to torrent safely with TeamViewer because it doesn't block malware. Torrent websites are full of suspicious pop-ups, and fake links that try to steal your personal information. Torrent files can also be embedded with malware that infects your device.
In addition, torrenting copyrighted content is illegal in many countries and punishable with massive fines or even jail time. If you're going to torrent, you need a VPN that can disguise your IP address to ensure your ISP can't track you down and issue you with an infringement notice.
TeamViewer can't stop your internet service provider from tracking you or keep you safe from malware. To do this, you need a real VPN. I recommend NordVPN for torrenting because it has hundreds of servers that support secure and anonymous P2P file sharing. Its CyberSec feature blocks ads, pop-ups and links to suspicious websites and detects malware to make sure you don't accidentally download malicious files.
User Experience — Setup is Easy, But Doesn't Allow Multiple Connections
Simultaneous Device Connections
The free version of TeamViewer only allows you to connect two devices at a time and doesn't allow for multiple simultaneous sessions under the same account. This means if you want to transfer files from your device to another and share your screen with a third, you have to wait until the file transfer is done before you can connect to a different device.
Device Compatibility
TeamViewer is compatible with a ton of different devices including Windows, Mac OS, iOS, Android, Chrome OS, Windows phones, and Linux. I was impressed to find that TeamViewer can be used to remotely access and share files between devices running different operating systems.
Ease of Set-Up and Installation
TeamViewer is extremely easy to set up. Once you open the installation file, you'll be able to view advanced setup options. This is where you can elect to set up the VPN feature. Once the program is installed, all you need to do to connect to another computer is enter its ID and password. Other options like video meetings and remote printing are easy to find and intuitive to use.
Support — Responsive Email and Phone Support
Over the phone, I was able to get help from a customer service representative immediately. When I contacted the company via email, I received a response on the same day I asked my question. This is a real positive — if you run a business with TeamViewer, a fast response time can mean the difference between making or losing a sale. It also has an online community and knowledge base where users can ask and answer questions and get help from TeamViewer customer service reps.
Unfortunately, TeamViewer doesn't offer live online chat support.
Pricing — Powerful Free Version, But Commercial Users Need Paid Licenses
TeamViewer's free version has a wide range of features, but it is limited to non-commercial use — and TeamViewer polices this extensively with algorithms that automatically flag users who it detects are using the free version for business. To use TeamViewer commercially (with the same features as the free version) costs $49 a month.
Quick Comparison Table — TeamViewer vs. NordVPN
| | | |
| --- | --- | --- |
| Feature | TeamViewer | NordVPN |
| Keeps your web connection private/secure | ⛔️ | ✔️ |
| Supports peer-to-peer file sharing | ⛔️ | ✔️ |
| Allows simultaneous device connections | ⛔️ | ✔️ |
| 24/7 live chat support | ⛔️ | ✔️ |
| Compatible with major devices/operating systems | ✔️ | ✔️ |
| Easy to set up and install | ✔️ | ✔️ |
| Allows remote device access | ✔️ | ⛔️ |
| Hosts video calls | ✔️ | ⛔️ |
| Supports remote printing | ✔️ | ⛔️ |
| Allows file transfers from remote devices | ✔️ | ⛔️ |
Final Verdict
TeamViewer is a great free product for remote desktop access and file transfer, but it isn't a real VPN. To get functions like anonymous web browsing, unblocking websites that are censored in your country, and removing geo-blocks on streaming services, you'll need a real VPN.
My top choice is NordVPN because it has top-notch security, reliably bypasses tough firewalls, and unblocks all major streaming services. You can try it free for 30 days and get a full refund if you aren't happy with it!
Keep your data safe with NordVPN
3 Alternatives to TeamViewer VPN
Key Features:
Over 5,200 servers in 59 countries prevents slow speeds due to overcrowded servers
Top-tier encryption and strict no-logging policy keeps your company's data safe
Remote desktop control, video chat, and file-sharing capability
Connect up to 6 devices simultaneously
30-day money-back guarantee
NordVPN Teams protects both your company's network and individual devices while they are connected to the internet. In addition to real VPN features like encryption and malware blocking, NordVPN Teams lets you remotely access your company's intranet. This makes it easy to create a private gateway, providing a secure place for your entire team to put and access company files, applications, and more. Whether your business relies on remote team members spread across the globe or you need to access work files while you travel, NordVPN is a great option for businesses.
One minor con is that NordVPN Teams doesn't allow remote printing or video meetings. Thankfully, free platforms like Zoom, Skype, and Google Hangout give you plenty of ways to meet remotely even without this feature. Since it's the only TeamViewer alternative on this list that includes remote desktop control and file access, it's my top choice for businesses to stay productive remotely and safe on the web.
The best way to see if a VPN is right for you is to test it out, and you can try NordVPN Teams risk-free for 30 days with its money-back guarantee. If you don't like it, you can easily get your money back!
Try NordVPN Teams free for 30 days
Key Features:
Over 3,000 servers in 95 countries gives you lightning-fast speeds for transferring files
No-logging policy prevents sensitive company data from leaking
Obfuscated servers means you can use it safely even while doing business in China
Connect up to 5 devices simultaneously, or more with additional licenses
30-day money-back guarantee
ExpressVPN's top-notch security features make it a great way to keep your business safe from hackers, spies, and other threats. With military-grade encryption to protect company information and a strict no-logs policy to ensure your data is never kept on its servers, it has all the security features you need to protect your company computers. After all, if a company computer is taken over by hackers, they can steal data like customer credit card numbers. This isn't just costly in the short term but harms long-term trust with your customers.
To test ExpressVPN's encryption abilities I ran a DNS leak test. This shows whether internet service providers or sneaky government agents would be able to see your real IP address when you're online and track you through it. My IP address was never leaked when I ran the tests. This means that no identifying information will be revealed when you're using ExpressVPN.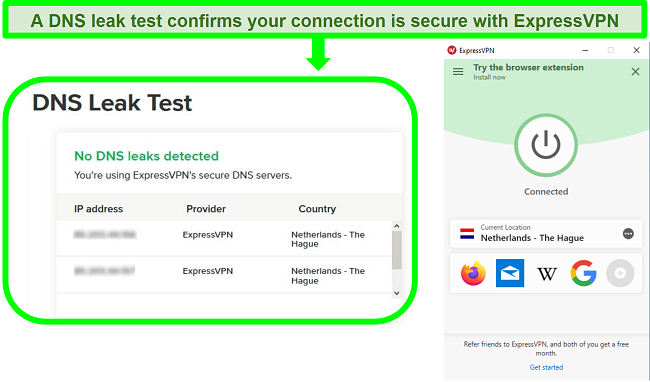 ExpressVPN's volume licensing allows you to install it on as many devices as you need to protect, with a higher discount the more licenses you buy. This makes it a great choice for a small business or even a large family.
One small con for business users is that ExpressVPNdoesn't allow you to remotely access business files from afar (like NordVPN Teams does). It also doesn't include remote printing or the ability to host video meetings. That said, some of those functions (like screen sharing) can be used for free with software like Chrome Remote Desktop.
If you're looking for a VPN to protect your business's computers and sensitive data when you're online, ExpressVPN is a great option. Even better, you can try it risk-free for 30 days before committing to a subscription or buying additional licenses.
Try ExpressVPN free for 30 days
Key Features:
Over 1,700 servers in 64+ countries ensures fast speeds
No-logging policy keeps your company's data secure
Malware blocker stops confidential information from falling into the wrong hands
Connect unlimited devices to protect your entire office from online threats
30-day money-back guarantee so you can ensure it's a good fit for your company
Surfshark allows unlimited simultaneous device connections, making it a great VPN for a business with lots of devices to protect. Since most businesses have numerous devices like computers, company smartphones, routers, and even tablets used as point-of-sale devices, Surfshark is a great cost-effective option to protect all your business machines at the same time.
That said, it doesn't have as many server options as ExpressVPN and NordVPN Teams. While 1,700+ servers is still plenty to make sure you don't experience any reduced speeds from overcrowding, it gives you a little less flexibility than competing VPNs. At a slightly lower price point, however, I still consider Surfshark to be of excellent value.
You can use Surfshark's 30-day money-back guarantee to test its features, so you don't have to commit to a new monthly business expense if you decide it isn't a good fit for your company. Take your time and make sure it works, and if you think it isn't a good fit, you can get a full refund.
Try Surfshark free for 30 days
Common TeamViewer VPN FAQs
😇 Is TeamViewer safe to use?
TeamViewer does not have a perfect track record when it comes to safety. German newspaper Der Spiegel reported that Chinese government hackers gained access to the TeamViewer network in 2016. TeamViewer only informed its users of the attack after receiving media attention about the breach, claiming that no customer data was ever compromised. Even if this is true, it is concerning that TeamViewer only informed their users of the hack after it was in the news.
To make sure you're fully protected from hackers and cybercriminals on and offline, you need to use a real VPN in addition to TeamViewer. I really like NordVPN because of its strong security features. Its security and privacy policies are independently audited by third parties, so you can rest assured knowing your browsing activities and private data will remain safe regardless of what you're doing online. It also has a 30-day money-back guarantee so you can try it risk-free.
Maintain your privacy with NordVPN
🤓 Does TeamViewer track my activity?
No one at TeamViewer can see your shared screens or file transfers. However, it does collect a lot of data about who you are, where you're located, the features you use, and when you use them. It doesn't say how long it keeps this data but acknowledges that it will hand this data over to authorities if required. Some activity on TeamViewer accounts is also logged locally so that managers or IT administrators can see what employees are doing. If you do not want to keep activity logs, these can be disabled.
Keep your devices safe with NordVPN
🤩 Can TeamViewer unblock streaming sites like Netflix?
TeamViewer is not a real VPN, so you can't use it to get around geo-blocks on streaming services like Netflix. To make the most of Netflix and other streaming services, you need a real VPN that can give you different countries' IP addresses. NordVPN is my personal favorite, as it has thousands of servers for fast and reliable HD streaming, and is one of just a few VPNs that can reliably access US Netflix.
Stream exclusive Netflix content with NordVPN
Can TeamViewer detect personal vs. commercial use?
Yes, TeamViewer uses algorithms to detect activity that looks like commercial use and locks those accounts. For example, the algorithm might flag a free account for logging into a commercial email service. This means you're unlikely to be able to get away with using the free version for commercial use. If you feel your account was locked wrongly, you can contact support and they can unblock it for you if they determine it was a mistake.
What's the difference between a Remote Desktop Protocol and a VPN?
TeamViewer is a remote desktop protocol with an optional VPN feature. Like other remote desktop protocols, it can be used to view another computer's screen or take control of it from afar. Meanwhile, the virtual network feature allows you to share files or hardware — like printers or point of sale devices — to a virtual network that can be accessed from anywhere.
TeamViewer's "VPN" differs from a real VPN in that it only makes a connection between two devices that you have access to, and allows you to share files securely between them. It doesn't function like a real VPN that anonymizes you when you connect to the internet. For this, you need a VPN like NordVPN, which protects your connection with military-grade encryption and a strict no-logs policy, protects you from malware and cybercriminals with CyberSec, and has thousands of high-speed servers that unblock popular streaming sites like Netflix. Better yet, its 30-day free trial lets you try the software, and then get your money back if you aren't happy with it.