TeamViewer Review 2022: Does This "VPN" Really Work Safely
Last Updated by Clement Adegbenro on July 30, 2022
TeamViewer is a free app that lets you access your devices remotely. Since most remote desktop apps cost a ton of money, TeamViewer's free solution is compelling, but it might not keep your private data safe. That's why I decided to test it and find out if it can compete with more expensive remote device services.
While TeamViewer offers solid basic remote desktop features, commercial users must pay for a plan. It does nothing to protect your data from third parties, bypass location blocks, or hide your connection from hackers like a traditional VPN. You should still use an app like ExpressVPN to protect yourself from cyberthieves, malware, and other online threats while using TeamViewer.
Try ExpressVPN risk-free today!
How a Real VPN Works vs. How TeamViewer VPN Works
TeamViewer creates a secure connection between two devices. This lets you share files between the devices or control one device remotely using the other. It's perfect if you need to grab a file from your company computer while you're away on a business trip or want to transfer vacation photos from your phone to your home computer while you're abroad.
The application also comes with a VPN function, but it does not operate like a typical VPN service. This feature tricks your phone or computer into thinking it's on the same network as the other device. This way, you can remotely access files or run applications from the other device directly on your device.
However, TeamViewer can only create a virtual network to link 2 devices and can't give you a randomized IP address to browse the web. This differs from how a real VPN works. A traditional VPN such as ExpressVPN lets you use a secure server in another location as a tunnel between your device and the internet. This tunnel hides all the data passing through it and changes your IP address, which is why internet service providers and governments can't track your activity. This connection is encrypted, which means your company's computers are protected from hackers and cybercriminals when they connect to the web.
What TeamViewer Can Do
Secure File Sharing
Once you connect two devices with TeamViewer, you can share files of any size between them through an encrypted connection. If you travel a lot, TeamViewer lets you access your files without having to bring multiple devices with you (and risk losing or damaging them).
TeamViewer uses military-grade AES 256-bit encryption to protect your data as it's being transferred. This means cybercriminals can't view or steal your files while they're being shared from one device to another. If you're a business owner, you don't need to worry about sensitive data being stolen as it's being moved between different employees.
It's worth noting that TeamViewer does not encrypt your overall connection, so third parties can still see what you do online. If you misuse your devices, you risk exposing them to third-party abuse. However, adhering to best practices can virtually eliminate the possibility of abuse.
Remote Desktop Control
You can use TeamViewer to control your computer from anywhere in the world as long as you have an internet connection and both devices have the software installed. TeamViewer also makes remote troubleshooting a breeze — your IT department can take over an employee's device and fix the problem regardless of where they are.
Better yet, you can control devices remotely even if they use entirely different operating systems. TeamViewer can be used to connect a PC with a Mac and Android with a PC, among many other combinations. This allows for much flexibility no matter what devices you try to connect. Using the Android app, I could use my phone to control my Windows 10 laptop remotely.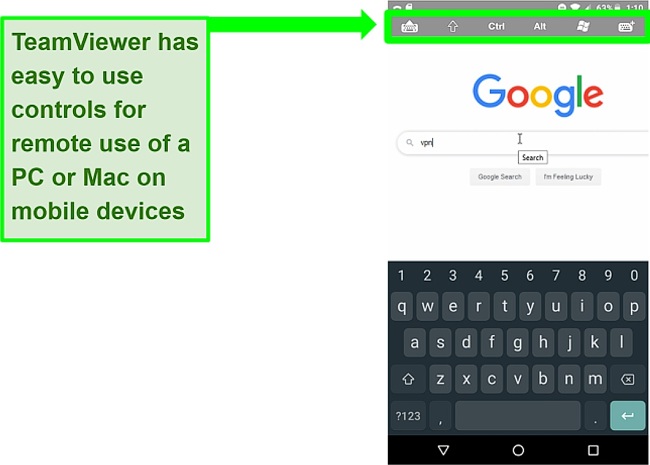 My initial concern was that it would be clunky to control my PC with an Android phone without a mouse or keyboard. However, TeamViewer has clever but simple controls for keyboard and mouse functions on their Android app, making it easy to use.
Remote Printing
TeamViewer lets you remotely print documents from anywhere in the world. Suppose you closed a deal while on a business trip and need to print the signed sales contract back home. You can set up TeamViewer's VPN function on both the computer connected to the printer and the computer you are using. After that, add the printer as a shared device. It is now possible to access the printer remotely and print documents from it anywhere.
Video Meetings
TeamViewer has an easy-to-use video meeting function that saves you the hassle of making your remote workers download a separate video-conferencing application. This tool offers you the convenience of presenting a PowerPoint file, displaying a video, or demonstrating software to potential customers from anywhere via its screen sharing feature.
However, you're limited to a small meeting size of just 5 participants with the free version and the lowest-cost subscription version. And as the free version is not permitted for commercial use, you can do video chat only with your family and friends.
Run Software Remotely
TeamViewer's remote access feature allows you to run applications on your device that are installed on a different device. If you run a small business, you can use TeamViewer on your laptop to connect to a computer at the office, access the payroll software on it, and do payroll from home.
The process involves connecting your laptop using TeamViewer's VPN function to the computer running the software you want to use. You can then access the payroll software on the office computer directly from your laptop and use it just like you were in the office. Additionally, you can use this feature to connect your own household devices remotely or to communicate with your friends and family members.
What TeamViewer VPN Can't Do (That A Real VPN Can)
Can't Access Geo-Restricted Content
Because it can't give you a new IP address to connect to the web, TeamViewer can't access geo-restricted content on streaming platforms like Netflix and BBC iPlayer. If you would like to access these libraries while you are on an overseas trip, you need a real VPN like ExpressVPN that lets you access servers in your home country. A top-quality VPN can unblock major streaming sites and easily get around Netflix's proxy error no matter where in the world you are.
Can't Keep Online Activities Anonymous
TeamViewer can't keep your online activities private or anonymous because it doesn't encrypt your web connection. For that, you need a real VPN that reroutes your internet traffic through its server network outside your ISP's control and uses an encrypted server that doesn't record logs of your browsing activity. Top-tier real VPNs use military-grade encryption to keep your online activities private and strictly adhere to no-logs policies to ensure your data is not recorded (and, therefore, cannot be accessed even if they are physically inspected).
Can't Bypass Government Censorship
If you're going on a business trip to a country like China with strict online censorship, you certainly don't want to be unable to access essential applications and websites. TeamViewer can't help you get around internet firewalls. For that, you need a real VPN that can reroute your internet traffic through encrypted servers in other countries.
ExpressVPN implements advanced security protocols that make it one of only a few VPNs capable of getting around China's Great Firewall. The service is available in more than 100 countries. By using a server in a country with a free and open internet, you can access websites that are restricted by the Chinese firewall. The protection of a VPN doesn't authorize you to engage in illegal activities, so be cautious when using a VPN in China.
Can't Block Ads, Trackers, and Malware
When you're using TeamViewer, advertisers will still harvest information about your online activities and websites can infect your device with malicious files. Hackers can use malware to steal your login credentials, gain access to confidential client information, or lock you out of your files until you pay them a fee. To protect yourself from these online threats, you need a real VPN that comes with ad and malware blockers. For example, CyberGhost's ad blocker is an advanced safety feature that prevents websites from infecting your device with harmful files or trackers.
Try Cyberghost risk-free today!
Speeds — Inconsistent File Transfer Speeds, But Flexible Controls Minimize Lag
TeamViewer had inconsistent speeds for transferring files. The process of moving a 40 MB video file from my Android phone to my PC took only a few seconds. However, transferring a 770 MB file between two PCs took over 15 minutes, considerably slower than TeamViewer's maximum advertised speed of 200 MB/s. Perhaps my slow internet played a role in this, but several members of the TeamViewer community forum have expressed dissatisfaction with the speed of file transfers.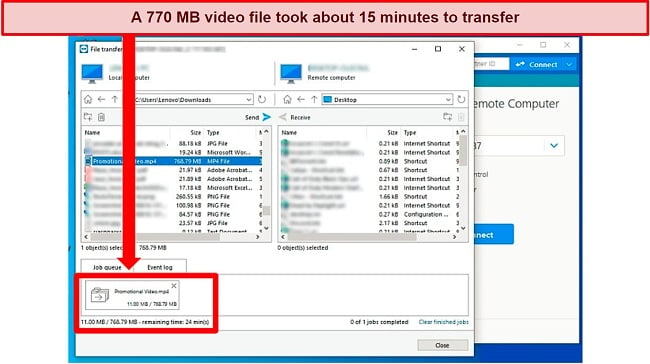 In addition, the speeds for TeamViewer's remote desktop control function were as fantastic as I'd hoped. I tested for visual lag for this function by remotely opening a PowerPoint presentation with animations on my home computer from my Android phone. Everything loaded quickly, and I didn't experience any lag when changing slides. However, when I opened a bigger video file in Sony Vegas, I experienced some visual lag when playing back my video. To help deal with this, TeamViewer gives you the option to increase the image quality at the expense of speed or increase the speed at the expense of quality.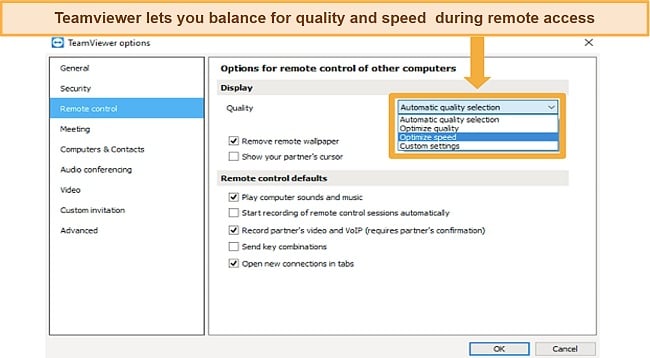 Real premium VPNs have high speeds that let you use web-based software to upload and download large files, although they don't directly let you share files between two devices or remotely control one device from another. For example, WeTransfer is a popular online tool for sending and receiving large files up to 2 GB and is just as fast as TeamViewer. When I tested its speed with ExpressVPN connected, it took me about 8 minutes to upload a 500 MB file and download it to another computer.
A high-quality VPN will also have a large selection of servers for P2P file sharing. ExpressVPN, for example, has thousands of torrent-friendly servers worldwide that let you upload and download files with other users across the web.
Security — Encrypts Files, But Won't Protect You Online
TeamViewer secures all your data and files as they move between two devices with its industry-leading security tools. This software implements a 256-bit AES 256-bit encryption protocol at the core of its functionality. This is crucial to ensuring hackers won't be able to intercept your data and files as they're being transferred.
Unrestricted access to a company's computer system could be a disaster for many businesses, with sensitive information potentially leaked or used for blackmail. This can even expose devices belonging to an organization to malware scams, like those that threaten to delete data unless a fee is paid. So, TeamViewer has added two-factor authentication and block listing to ensure your data is secure.
Two-factor authentication ensures that the person accessing the account is the one they claim to be. A compatible app, such as Google Authenticator, must be downloaded to your smartphone for this system to work. As a precondition for connecting to TeamViewer, the user must verify their identity with the authentication app. Meanwhile, block listing is a manual measure that allows you to curate a list of contacts with whom you do not wish to share your device. You can do this for company accounts where certain information is sensitive.
The Trusted Devices feature adds another layer of security to TeamViewer. When a device attempts to access your computer for the first time, a request is sent to the account owner, who can accept or reject it. You can also accept future connections from the IP address, even if they use a different device.
However, TeamViewer won't protect your personal information or data from being stolen by cybercriminals when you're online. It also lacks malware blockers to prevent hackers from sending you suspicious links that would allow them to access your device. All it takes is one wrong click to take down the business you worked so hard to build. Your company's internal data and customer payment information could be stolen if you browse the web unprotected.
TeamViewer has endured its fair share of controversy despite these positives. Through no fault of its own, it has had its reputation tarnished in the past as a result of scammers exploiting it. The free version has in the past made it a popular method used by scammers to remotely control computers, often in combination with traditional fraud methods like confidence tricks. Even so, TeamViewer itself has previously been a victim of a security breach. An investigation in 2019 revealed that the company had been breached by Chinese hackers. An official statement by TeamViewer asserts that the attack was quickly identified and that no data was compromised in the process.
Many companies and users use a VPN to provide additional security. There is a VPN built into TeamViewer, but despite its name, the service functions differently from a traditional VPN. By utilizing TeamViewer in the VPN mode, the program effectively creates a virtual private network among all devices. Traditional VPNs like ExpressVPN actively route your traffic to a separate server from your ISP so that it is harder to track your activities. Military-grade encryption and ad-blocking technology that blocks suspicious websites and phishing attempts, ExpressVPN has some of the best security features of any VPN I've tested. You may utilize both your VPN and TeamViewer VPN simultaneously, as they perform different functions.
Privacy — Stores Substantial Amounts of User Data
When you sign up to use TeamViewer, it records personal information, including your name, email, and time zone. Every time you run it, it collects your IP address, location, username, and information about what feature you're using, with who, and for how long. It does not disclose how long it stores users' personal data, and its privacy policy states it may share user information with authorities if ordered to by courts.
As for what you do using the software, TeamViewer says its connection is encrypted in such a way that the company itself cannot view the contents of any screen sharing, video calls, or file exchanges that you make. However, it gives users the ability to record activity logs and video sessions themselves, with these only viewable by the individual.
While TeamViewer is based in Germany, it maintains sensitive user information at its German and Austrian data centers. Germany is a member of the 14-Eyes Alliance, which means that the country will share information with other countries in the alliance. Austria, meanwhile, does not belong to the 5/9/14 Eyes Alliances. There is, however, no way to tell what information is stored in which country, and there is a possibility that your private information could be accessed by other governments.
If you want an application that won't store your private data or hand your information over to authorities or government agents, you need a VPN with an airtight privacy policy. ExpressVPN, for example, has a strict no-logs policy that ensures no user data is stored. Even if authorities attempted to obtain any information from ExpressVPN, they wouldn't succeed since it does not store any information on its servers.
Torrenting — Doesn't Offer Torrent Support
Torrenting isn't possible with TeamViewer because it does not provide you with an IP address or a server connection. Torrent websites are full of suspicious pop-ups and fake links that try to steal your personal information. It's also possible for torrent files to contain malware that infects your device. TeamViewer cannot prevent your internet service provider from tracking you or ensure that you are protected from malware. The only way to torrent securely is via a top-tier VPN service.
By selecting a VPN solution that includes malware protection or ad blocking capabilities, you can prevent hackers from infecting your device with malware. I recommend CyberGhost for torrenting because it has hundreds of servers that support secure and anonymous P2P file sharing. Its ad-block feature blocks ads, pop-ups, and links to suspicious websites and detects malware to make sure you don't accidentally download malicious files.
Keep in mind that torrenting copyrighted content is illegal in many countries and punishable with massive fines or even jail time. If you're going to torrent, you need a VPN that can disguise your IP address to ensure your ISP can't track you down and issue you with an infringement notice.
User Experience — Setup is Easy But Doesn't Allow Multiple Connections
Simultaneous Device Connections
The free version of TeamViewer only allows you to connect two devices at a time and doesn't allow for multiple simultaneous sessions under the same account. This means if you want to transfer files from your device to another and share your screen with a third, you have to wait until the file transfer is done before you can connect to a different device.
Device Compatibility
TeamViewer's compatibility with a variety of platforms is one of its most noteworthy assets. This software is compatible with all popular operating systems, such as Windows, macOS, Linux, and even Android.
It is also possible to operate TeamViewer software by using a web browser, eliminating the need to install it on your computer. On top of that, you can connect to any supported device from any other supported device, such as a mobile phone, tablet, laptop, or desktop computer.
Ease of Set-Up and Installation
Downloading TeamViewer and setting it up on my Windows, iOS, Android, macOS, and Linux systems was a breeze, and I didn't even have to read the installation instructions. Once you open the installation file, you'll be able to view advanced setup options. This is where you can opt to set up the VPN feature.
The user-friendly interface also made the setup and usage process extremely easy. There are no complex features that require technical expertise. Once the program is installed, all you need to do to connect to another computer is enter its ID and password. Other options like video meetings and remote printing are easy to find and intuitive to use.
Support — Responsive Email and Phone Support
I was impressed with the number of ways to communicate with the provider if there was an issue. The first option is email support, through which customers can submit a request and wait for a response. My email inquiry to the company was answered the same day I sent it. This is a real positive — if you run a business with TeamViewer, a fast response time can mean the difference between making or losing a sale. But, don't expect to have your issues dealt with immediately if you're on a free plan.
Secondly, TeamViewer also offers limited-hour telephone support, where users can contact customer service representatives for assistance. Phone support is typically provided during local business hours in most countries. I received immediate assistance from a customer service representative over the telephone.
The website has a support section with a knowledge base that contains answers to common problems. Additionally, there is an online community forum where users can ask questions and get support from TeamViewer customer service representatives. Sadly, TeamViewer's website does not provide live chat support.
Pricing — Powerful Free Version, But Commercial Users Need Paid Licenses
TeamViewer offers three different pricing options to meet the needs of various business types. You can download TeamViewer for free if you're a private individual and will only use the remote desktop solution for personal use. It is limited to non-commercial use, and TeamViewer enforces this rigorously with algorithms that track users who attempt to use the free version for commercial purposes.
For a single commercial license for TeamViewer that connects three devices, the price is $49. With the Multi-user plan, you can have 50 users create a single session at $99.00/month, or you can upgrade to the Teams plan at $199.00/month to provide three simultaneous sessions for 200 users. Business users can take advantage of the 14-day trial period before deciding to purchase it. All plans are billed yearly even though prices are quoted monthly.
Unfortunately, TeamViewer is a bit pricey compared to remote access platforms like Anyview and Remote PC. But then again, if you're a large company in need of a remote access solution, it's worth getting one that works.
It's no secret that TeamViewer has shady subscription practices, including automatically renewing your subscription without providing you with notice. While it is spelled out in the fine print that you must cancel at least 28 days before your subscription renews, many users have reported that they were unable to cancel even after meeting this requirement. To avoid automatic renewals, subscribe using a virtual credit card if that is allowed where you live.
Quick Comparison Table — TeamViewer vs. ExpressVPN
| | | |
| --- | --- | --- |
| Feature | TeamViewer | ExpressVPN |
| Unblocks streaming content | ⛔️ | ✓ |
| Bypasses censorship | ⛔️ | ✓ |
| Keeps your web connection private/secure | ⛔️ | ✓ |
| Supports peer-to-peer file sharing | ⛔️ | ✓ |
| Allows simultaneous device connections | ⛔️ | ✓ |
| 24/7 live chat support | ⛔️ | ✓ |
| Compatible with major devices/operating systems | ✓ | ✓ |
| Easy to set up and install | ✓ | ✓ |
| Allows remote device access | ✓ | ⛔️ |
| Hosts video calls | ✓ | ⛔️ |
| Supports remote printing | ✓ | ⛔️ |
| Allows file transfers from remote devices | ✓ | ⛔️ |
TeamViewer Not Working? Try These Fixes
Teamviewer is an easy-to-use application, but some people may have problems with network configurations and other issues because they are less tech-savvy. If you are a victim, you should read the following content carefully to determine how to fix the TeamViewer issues.
Windows 10
If you want to ensure that your Teamviewer is compatible with Windows 10, make sure you have a version compatible with that OS. Otherwise, the program will not function as expected. If you wish to uninstall the current version, you can download the latest version from the official website.
The TeamViewer program will also not work if the screen resolution of your PC is not compatible. A high screen resolution generally causes the problem. Reducing the screen resolution will fix the problem.
If Windows Firewall is not affecting TeamViewer, then your antivirus program is probably blocking the TeamViewer client or vice versa. An exclusion can be added for TeamViewer to resolve the issue.
Try reinstalling the software if none of the other methods worked for you. When you reinstall TeamViewer, all your settings and configuration will be refreshed, which gives you a higher chance of solving the non-connecting issue.
Mac
Before you begin troubleshooting, make sure both the host and remote devices have current operating systems.
You can resolve app-related issues such as hangs, crashes, memory leaks, and other problems by restarting your device. Just choose Restart from Apple's menu. Click Restart when the confirmation message appears.
Be sure to check for the latest version and update your TeamViewer.
Check your network connection to make sure you are online.
Linux
Incorrectly configured time or date settings are the most common problem with Linux PC applications. Verify that the system clock is properly calibrated by running the command timedatectl set-local-rtc 0 –adjust-system-clock.
Alternatively, you can reinstall TeamViewer to resolve some of these issues.
Android
Use the official APK to install TeamViewer. Some issues are the result of Google Play listing an outdated version, but TeamViewer's website always lists the most recent APK.
Be sure that your internet is working or that your WiFi data is enabled in your network settings.
Try disabling Eco Mode in the TeamViewer settings and ensuring Android Battery Saver Mode is not enabled, then try again.
iOS
The iOS app for TeamViewer does not support remote device control, so you are limited to using the screen sharing function.
Check that "Screen Recording" has been enabled under Settings→Customize Controls.
Final Verdict
TeamViewer is an extremely powerful remote access program that has a lot of positive features. For example, it has a great collaboration feature. I also found it very convenient to transfer files and print remotely while conducting meetings and presentations without any difficulties.
However, TeamViewer is not a VPN in the true sense of the word. To get functions like anonymous web browsing, unblocking websites that are censored in your country, and removing geo-blocks on streaming services, you'll need a real VPN. My top choice is ExpressVPN because it has top-notch security, reliably bypasses tough firewalls, and unblocks all major streaming services. You can try ExpressVPN for yourself risk-free as it comes with a 30-day money-back guarantee. It has a full refund policy if you aren't satisfied!
Try ExpressVPN risk-free today!
Best Alternative to TeamViewer VPN
Key Features:
Over 3000 servers in 94+ countries gives you lightning-fast speeds for transferring files
No-logging policy prevents sensitive company data from leaking
Obfuscated servers mean you can use them safely even while doing business in China
Connect up to 5 devices simultaneously, or more with additional licenses
30-day money-back guarantee
ExpressVPN is one of the most secure VPNs I've used. Its robust security features are a great asset to businesses handling sensitive data. According to my findings, the company uses military-grade encryption to secure your company information, along with a no-logs policy that ensures no data is stored on its servers. After all, if a company computer is taken over by hackers, they can steal data like customer credit card numbers. This isn't just costly in the short term but harms long-term trust with your customers.
In testing ExpressVPN's encryption capabilities, I ran a DNS leak test to verify my real IP address could not be seen and tracked by my internet service provider or sneaky government agencies. The testing system confirmed that the VPN encrypted my IP address every time I connected. This means that no identifying information will be revealed when you're using ExpressVPN.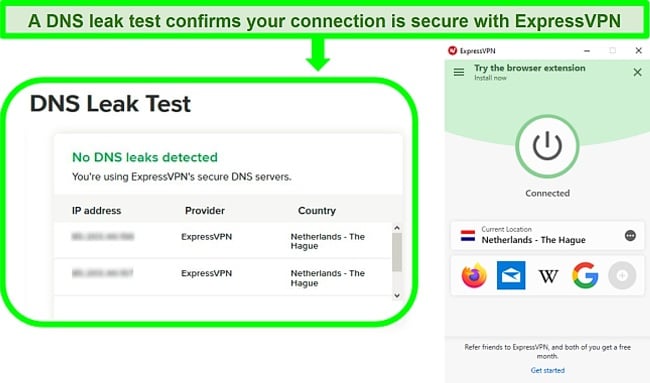 Like TeamViewer, ExpressVPN's volume licensing allows you to install it on as many devices as you need to protect, with a higher discount the more licenses you buy. This makes it a great choice for a small business or even a large family. One small con for business users is that ExpressVPN doesn't allow you to remotely access business files from afar. It also doesn't support remote printing, or video meetings like TeamViewer does.
If you're looking for a VPN to protect your business's computers and sensitive data when you're online, ExpressVPN is a great option. You can test ExpressVPN out completely risk-free as it's backed by a 30-day money-back guarantee — if you don't like it, you can easily get a full refund.
Try ExpressVPN risk-free today!
Common TeamViewer VPN FAQs
Is TeamViewer safe to use?
Yes! The TeamViewer application is extremely secure when used in the right manner, and admin permissions allow companies to ensure that employees follow best practices. The software uses full AES 256-bit encryption and the industry's best brute force attack prevention tools. It is important to note, though, that TeamViewer does not have a perfect track record when it comes to security. German newspaper Der Spiegel reported that Chinese government hackers gained access to the TeamViewer network in 2016.
To make sure you're fully protected from hackers and cybercriminals, you need to use a real VPN in addition to TeamViewer. ExpressVPN is a solid option for privacy-conscious users, thanks to its strict no-logging policy, the technology it uses in its VPNs, and advanced features such as its RAM-only servers. You can test all of ExpressVPN's features risk-free as it comes with a 30-day money-back guarantee.
Does TeamViewer track my activity?
Yes, TeamViewer tracks some of your activity. Although TeamViewer cannot see your shared screens or file transfers, it does collect a lot of information about you, your location, the features you use, and when you use them. It doesn't say how long it keeps this data but acknowledges that it will hand it over to authorities if required. Some activity on TeamViewer accounts is also logged locally so that managers or IT administrators can see what employees are doing. If you do not want to keep activity logs, these can be disabled.
ExpressVPN prides itself on offering the best anonymous VPN protection. Its no-log policy asserts that no activity or connection logs are kept by the service. It strives to provide users with digital rights and provide them with the anonymity that they deserve.
Can TeamViewer detect personal vs. commercial use?
Yes, TeamViewer uses algorithms to detect activity that looks like commercial use and locks those accounts. For example, the algorithm might flag a free account for logging into a commercial email service. This means you're unlikely to be able to get away with using the free version for commercial use. My team and I do not condone readers who try to use free personal accounts for business purposes.
Can TeamViewer unblock streaming sites like Netflix?
No, Teamviewer isn't a real VPN, so it won't help you get around geo-blocks on streaming services like Netflix. To make the most of Netflix and other streaming services, you need a real VPN that can give you different countries' IP addresses. I personally prefer ExpressVPN for watching content I paid for while abroad since it provides seamless HD streaming and lets me reliably access my US Netflix account.
---
Summary: These Are the Best VPNs for TeamViewer in 2022