Stream Every Harry Potter Movie on Netflix with This Hack
Last Updated by John Bennet on April 05, 2020
Get ready for some exciting Quidditch action on Netflix.

That's right,
all 8 Harry Potter movies can now be streamed on Netflix
. Before you go and check if Harry Potter magically appeared on your Netflix new release list,
we should tell you that it's only available in specific countries
.
Due to local licensing agreements, the only two locations that have the entire Harry Potter collection are Spain and Portugal. While this sounds like bad news for Harry Potter fans in the rest of the world, it's nothing a little spell can't fix.
You don't need to be a wizard or witch, just get a VPN and enjoy instant access to the Netflix Portugal library.
We've tested many different VPNs and have come up with two that will be able to bypass the Netflix Spain or Portugal geo-block.
4 Steps to

Unblocking

Harry Potter on Netflix
If you don't have a Netflix subscription yet, you will need to create one in order to watch the movies. You can sign up for a 30-day free trial with Netflix and binge watch all the movies over the next month.
Get a VPN with unlimited data and servers in Portugal. (We like CyberGhost because of their high-speed servers that work great for streaming)
Download and install the software, using the login credentials you received when creating the account.
Connect to the best server in Portugal or Spain (It's important that you do this step last because otherwise, Netflix will see you as being connected to your local server)
Sign in to your Netflix account and enjoy.
Why You Need a VPN to Watch Harry Potter Movies
For a variety of reasons, Netflix has different TV shows and movies available in different countries.
Therefore, they use sophisticated geo-blocking technology to prevent people from other countries from accessing the shows and movies that aren't available in their region.
If you're unfamiliar with a VPN, just think of it as the Cloak of Invisibility, you can go places completely undetected. Of course, in our case, we're going to connect with a Spanish or Portuguese server without Netflix knowing. Not all VPNs are created equally, and there are some that will be seen by Netflix and the movie won't play.
For the most part, this works really well.
However, there are several VPNs that have servers that are able to bypass detection and gain access for people to enjoy the otherwise blocked content
.
Here are some features that are must-have when trying to beat He Who Must Not Be Named and they are:
Servers in Spain or Portugal
Unlimited Data
High-Speed Servers
If you also want to protect your data from the Death Eaters than you should know that VPNs are an excellent way to encrypt and protect your computer. Features that will protect you include:
High-level encryption
Multiple Security Protocols (OpenVPN, L2TP, PPTP, IPSec)
Kill switch
No log policy
Best VPNs for Watching Harry Potter That

Really Work
1. CyberGhost – Best VPN for Netflix Portugal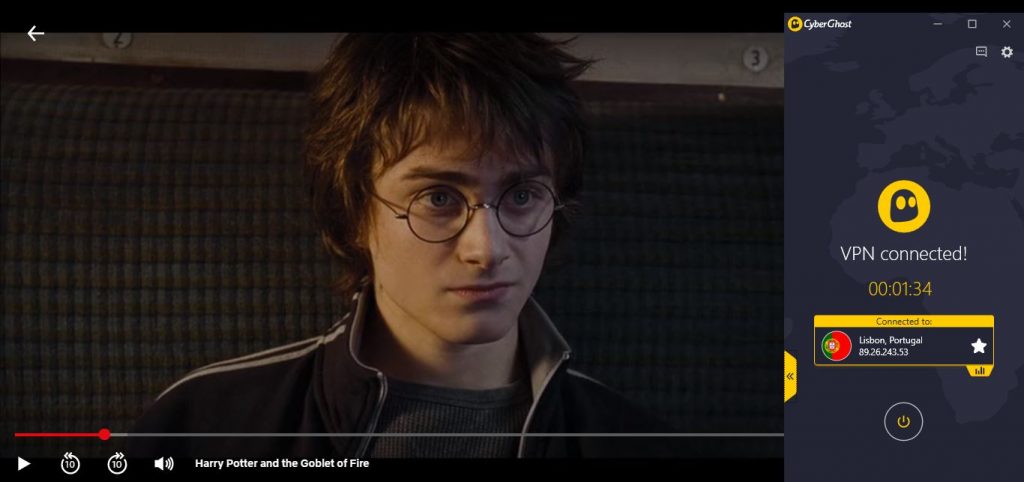 Tested and Proven to Bypass Netflix VPN Block
Watch Harry Potter on Portugal servers
Unlimited Data and Speeds
45-day money back guarantee
Save up to 77% on an annual contract.
2. NordVPN – Works with Spanish Netflix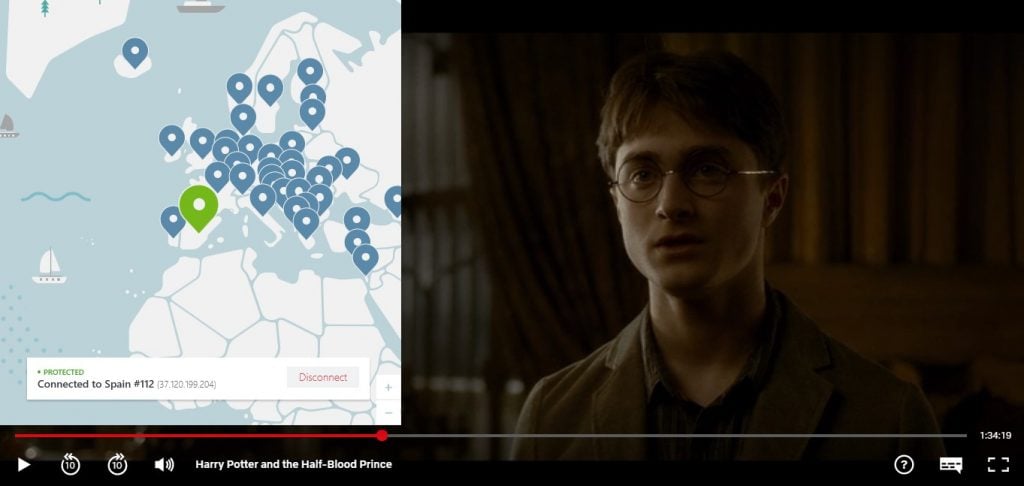 Tested with Netflix and had no trouble bypassing geo-block
Worldwide servers including Spain and Portugal
Connect with high-speed servers and watch with no buffering
30-day money back guarantee
Stream all 8 Harry Potter Movies for Free With this Trick
The recommended VPNs all have at least a 30-day guarantee, which got us thinking. Can you combine a 30-day money-back guarantee with a VPN and a month free of Netflix and have enough time to watch all 8 movies?
We tallied up the length of each movie and it comes out to just under 20 hours. If you have 20 hours in the next month to dedicate to the Hogwarts School of Witchcraft and Wizardry, you'll have time to catch every second of this amazing series.
When you're done, if you still have time, you can stream "The Fantastic Beasts and Where to Find Them" spin-off by changing your VPN server to either Australia or New Zealand. (These countries will also work with the above VPNs.)
Cast Your Spells and

Save Up to 73%

on a VPN and Watch Harry Potter on Netflix Today
There are several choices for working VPNs that you can use to watch Harry, Hermione, Dumbledore, and the entire cast of this magical series.
If you're looking for the best deal on a premium VPN then follow our recommendation and subscribe to CyberGhost using
this coupon
for a savings of 73% a year.
If you've never used a VPN before you can read all about their capabilities in the Most Badass Guide to VPNs on the web.