7 Reliable Ways to Unblock Porn From Anywhere in 2020
Last Updated by Julia Olech on October 12, 2020
As more countries introduce porn restrictions or ban the platforms altogether, millions of people (myself included) are forced to find new ways of watching their favorite porn. This porn ban is extremely annoying — but in trying to find alternatives, you could also put your personal data in danger.
Luckily, I found multiple ways to bypass porn restrictions from anywhere. I tried and tested all 7 methods detailed below to make sure you'll be able to unblock your favorite adult sites whenever you want! If you want a quick tip, I recommend using a VPN to access them from anywhere while encrypting your internet traffic to keep your identity private. NordVPN is my top choice for watching porn due to its large network of ultra-secure servers that guarantee consistent access to blocked adult entertainment sites.
Unblock porn with NordVPN today!
7 Reliable Ways to Unblock Porn From Any Country
1. Unblock Porn Sites With a VPN
The simplest and most effective way of unblocking porn sites is with a VPN. With just one click of a button, you can reroute your online traffic through a server located anywhere in the world. A VPN server works by providing your device with a brand new IP address to mask your physical location and trick restricted sites into thinking you're in a different city or country. This allows you to easily get around any geo-restrictions and porn bans regardless of where you are in the world.
A VPN also acts as a virtual condom, protecting you from catching a virus or other online transmitted diseases while you watch your favorite porn videos. That's because it fully encrypts your traffic, making it impossible for hackers to intercept and infect your device with various malware files. Additionally, this layer of protection stops your Internet Service Provider (ISP) and the government from spying on your online activity.
Even better, many premium VPNs like NordVPN allow you to stream any type of porn for free for at least 30 days! This money-back policy is a risk-free way to test all available services to see if they fully satisfy your desires. As long as you cancel your subscription within 30 days, you'll receive a complete refund without an issue.
Watch your favorite porn with NordVPN
2. Browse All Fetish Categories Using a Proxy Service
Similarly to VPNs, proxies can also direct your internet traffic through a server in a different country. However, proxies allow you to unblock restricted sites directly through their websites instead of downloading a separate app on your device. All you need to do is find a reliable proxy service, type in the address of your favorite porn site, and select a server in a porn-friendly country. This will automatically connect you to a proxy location, giving you a brand new IP address and encrypting your data to protect your browsing history from prying eyes.
The only downside to using proxies is their ability to only encrypt one online request at a time. This means that every time you open a new tab or want to visit a different site, you'll have to open the proxy again and repeat the whole process. It can get annoying, which is why proxy services are usually used for quick browsing rather than extensive research or streaming.
When using a proxy, you should always check its logging policies and encryption capabilities. While there are many great proxies to choose from, there are a few (particularly free ones) that not only store your browsing history but also sell it for profit. Such practices put you at risk of receiving high fines or even being arrested, depending on your country's laws on porn accessibility.
3. Access Any Porn Site Through the Tor Network
The Tor Network can unblock any porn websites that would normally be found on the Clear Web through its Tor version (i.e. with .onion at the end of its URL). That's because this network is configured to make your connection fully anonymous by channeling your traffic through multiple different servers across the world.
To access the Tor network, you'll need to download a free Tor browser. Download it directly from the official Tor website to avoid infecting your device with malware usually found on third-party sites. The browser is very easy to use as its design is based on the widely used Firefox browser. You can download it on Windows, Mac, Android, and Linux. Unfortunately, it isn't currently compatible with iOS devices, so you won't be able to stream porn on your iPhone or iPad.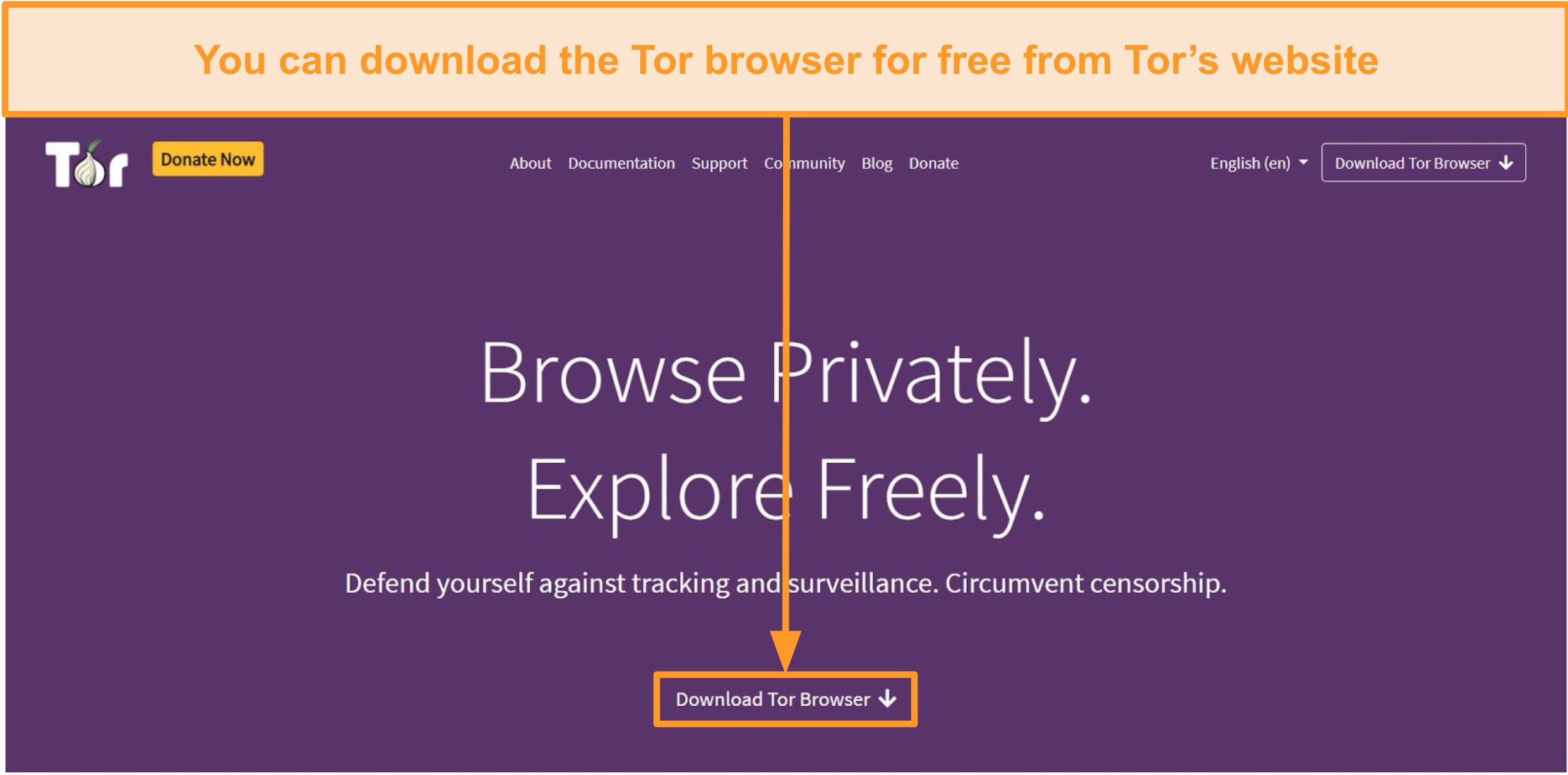 Due to the negative reputation and questionable content on the Dark Web, many ISPs are extremely suspicious of anyone who connects to the hidden network. Oftentimes, they choose to slow down your internet traffic to make it unusable or even report you to the authorities. To ensure your real IP address isn't tied to the Tor Network, connect to a reliable VPN before you use it.
If you decide to use the Dark Web to watch porn, be careful of websites that host extremely explicit and illegal sexual videos (like child pornography and rape). If you're caught accessing content like, you could face legal repercussions. To avoid any unwanted visuals, only visit sites you have a direct link to (like pornhubthbh7ap3u.onion).
Watch all the porn you want with NordVPN
4. Visit Archived Porn Platforms With the Wayback Machine
The Wayback Machine is a huge digital library that stores archived versions of billions of websites, including porn sites. Its main aim is to provide everyone with free access to all content uploaded online. Additionally, you can use the Wayback Machine to recover an older version of a specific website, even if it doesn't exist anymore or now has a getaway error. This means that you can open not just the most popular porn sites like Pornhub — but also unblock older adult sites that were removed.
To find your desired platform and unleash the naughtiness, all you need to do is type its name or URL into the search bar visible on the machine's main page. From there, you'll be able to use the displayed calendar to select which archived version you'd like to access. When I tried it myself, it allowed me to go back in time and watch some of my favorite porn stars that aren't performing anymore.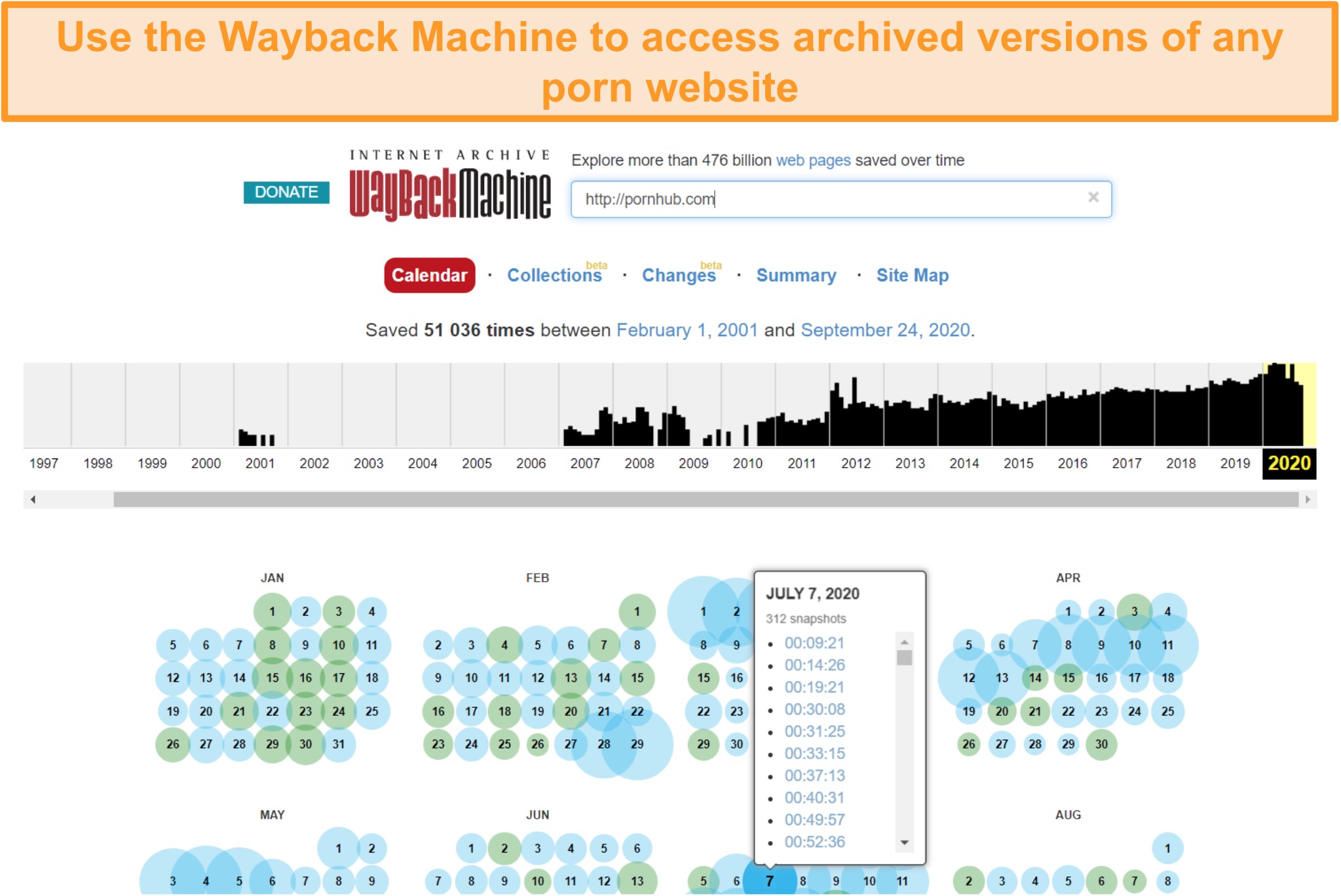 Even though the platform holds only archived data, it's considered a minor threat by most countries. You won't be able to use the Wayback Machine in China, Russia, and India. Its use was also restricted by all mobile providers in the UK, with possible restrictions in the future in other countries. This is due to the nature of sites stored within the platform — many of which hold national propaganda and anti-government content.
5. Bypass Porn Blocks Using Google Translate
Commonly used to convert languages, Google Translate also provides you with an effective way to access porn sites. The feature is widely used to translate foreign websites for business or personal purposes as it doesn't impose any limits on what sites you can access through it.
Even though it's a very simple way for you to access websites, it may be confusing to start with. To translate porn sites, go to translate.google.com. You'll see two text boxes in the middle of the screen with selected languages displayed at the top. Type in a whole URL of your desired porn site in the box on the right. Google will recognize this as a hyperlink and translate that same text in a clickable form in the box on the left. From there, all you need to do is select the link and you'll be redirected to the translated version of your porn site.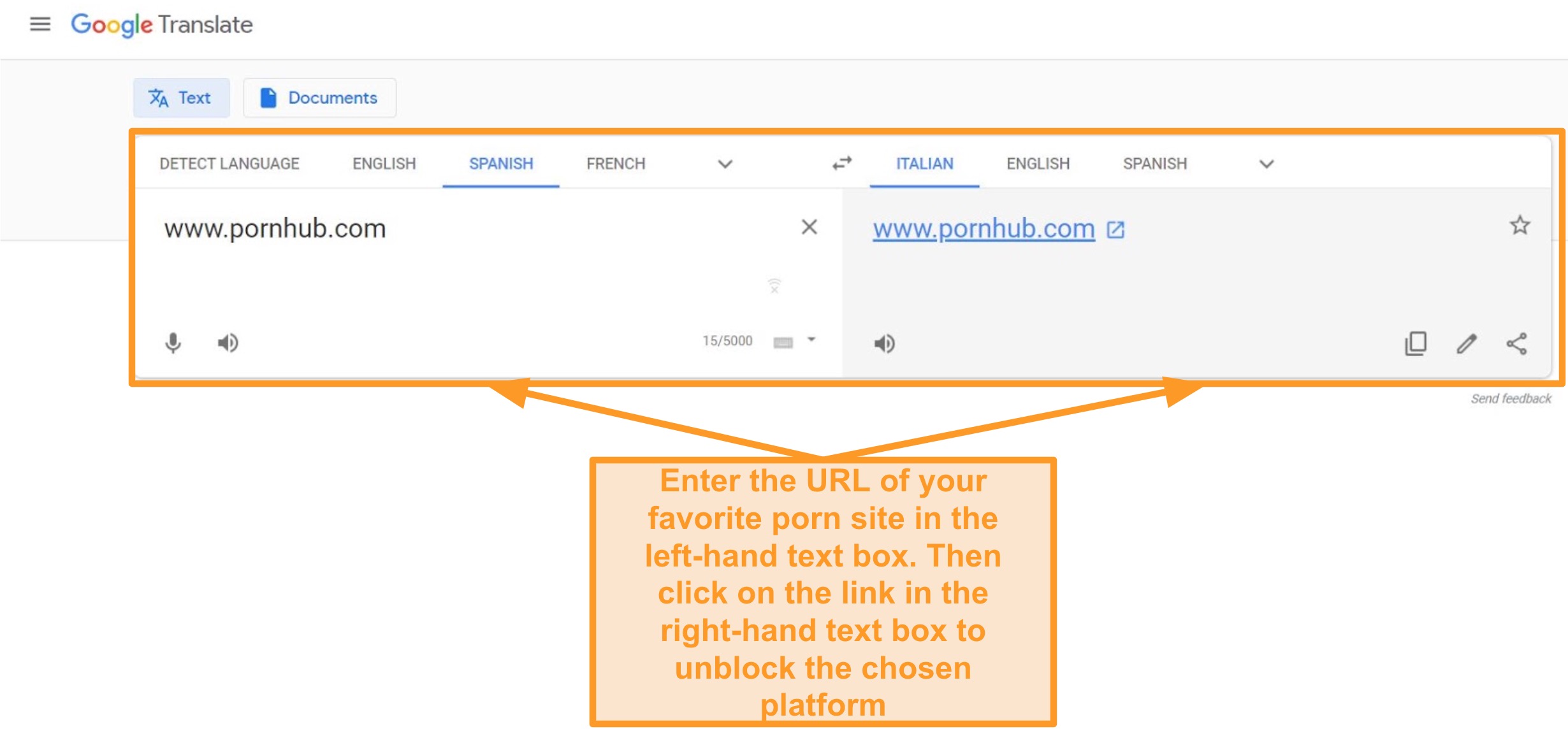 Using Google Translate to access porn also makes it more difficult for your ISP to realize which sites you've accessed. That's because going through this third-party site to reach your final destination displays a Google link in your history — not the actual porn site you viewed. As the name of the porn site is hidden at the end of the link, it's highly unlikely anyone would notice.
It's important to remember that using Google Translate to access porn won't provide you any form of extra protection. This means that if you visit a faux pornography site riddled with malware, your 5 minutes of pleasure can result in an endless infection on your device.
Porn Tip — When using Google Translate, make sure you change the default language of the website to anything other than English. Since most porn sites are already in English, the service will display an error code instead of the actual site.
6. Connect to a Porn-Friendly DNS Server
The Domain Name System (DNS) connects you to a requested site by translating human-friendly URLs (like www.wizcase.com) into IP addresses every computer can read. However, the latter can also be easily recognized by your ISP and blocked if a certain site request is blocked in your country. That's because every time your router or digital device connects to the internet, your ISP assigns a very specific DNS server to it that can be constantly monitored. Luckily, it's not mandatory to use it, so you can prevent anyone from spying on what sites you request by changing your server.
The easiest way to connect to a different DNS is to use a free tool designed specifically for this purpose (like DNS Jumper). This way, you'll be able to select a public DNS server offered by various providers like Google or OpenDNS with just one click of a button. You can also change your server manually through your settings, but it's a much more complicated process and takes a lot more time.
7. Trick Your Browser With a Porn URL Shortener
Internet servers owned by your ISP are programmed to block certain sites by checking the URLs entered into your browser. However, this technology is often still unable to recognize whether you're trying to access a banned site if you shorten it using a URL shortener. While there are many subscription-based link shortening programs available on the Web, some (like RB.GY and cutt.ly) can be used entirely free of charge.
To shorten URLs for your top porn websites, all you need to do is paste a full link into the shortener's text bar and press the button next to it. The software will automatically compress the provided information and present you with a brand new link within a few seconds. Then copy the new URL, paste it into your browser, and watch the magic happen!
Unfortunately, using a URL Shortener won't work if the encrypted link automatically redirects your traffic to the regular domain. This means that if the shortened URL entered into your browser unravels itself into a normal domain name when you press enter, your chosen porn site will still be blocked. There isn't a rule that decides if the short link works or not — it depends more on pure luck and your browser's ability to read short links.
3 Best VPNs for Unblocking Porn in October 2020
Key features:
5,500+ servers in 50+ countries that unblock even the most niche porn sites
Unlimited bandwidth and fast streaming speeds for every second of pleasure in HD
Military-grade encryption to keep your sexual activity hidden from prying eyes
Watch popular cam girls on up to 6 devices at the same time
24/7 online customer support available
30-day money-back policy
With thousands of servers across the world, NordVPN is my top choice when it comes to unblocking porn. Such a high number of available connections meant I never struggled with bypassing location blocks and porn bans. I tested hundreds of servers and every connection gave me quick download speeds that never dropped below 30Mbps. I was pleasantly surprised to see that these speeds even allowed me to stream amateur porn videos without lag, even though they usually have constant interruptions. I didn't have to wait long to have fun either as every stream took less than a few seconds to load!
NordVPN takes your privacy and protection very seriously. The provider offers military-grade encryption that swiftly hid my online traffic and IP address, which meant no one was able to identify my actual location. This encryption worked seamlessly every time, even when I kept changing my server connection. Then I could access all of my favorite porn sites, like RedTube and Shameless, without having to deal with proxy errors or warning letters from my ISP.
I also didn't have to worry about my browsing history being logged and stored within NordVPN's systems. The VPN has a very strict no-logging policy, meaning the sites you accessed are completely wiped from the servers every time you log out. The only details the provider stores are your email address and payment details which are necessary to set up your subscription and maintain your account. However, as NordVPN is based in Panama, it's not required by law to share any of your data with anyone. That way, even if your ISP or the government requested to check if you're a NordVPN customer, the provider would simply refuse in order to fully protect your personal information.
I also learned that NordVPN's CyberSec security efficiently protected my device and viewing experience from pop-up ads that are common on free porn sites. The technology also prevents any unauthorized file downloads, malware infections, and hacking attacks when you access unsecured adult entertainment platforms. This was extremely helpful as I never had to deal with unwanted ads in the middle of streaming porn or the consequences of becoming a cyber attack victim.
You don't have to blindly trust my tests to find out if this VPN is really the best option for accessing blocked porn sites. You can trial the provider's features and unlock limitless porn possibilities completely free for 30 days with NordVPN's money-back policy. The refund process turned out to be extremely simple — all I had to do was explain to the representative why I wanted to cancel my subscription using NordVPN's live chat. The whole conversation lasted only a few minutes before my request was processed and the subscription fee was refunded directly into my bank (just 3 days later).
NordVPN also unblocks: Pornhub, RedTube, OnlyFans, Shameless, xHamster, Dipsea, LobsterTube, MVTube, xvideos, and more.
NordVPN works on: Windows, Android, macOS, iOS, Chrome, Linux, PlayStation 4, Xbox One, and more.
Key features:
3,000+ servers in 90+ countries to bypass strict porn bans from anywhere
No bandwidth restrictions and fast download speeds for uninterrupted pleasure
Best-in-class encryption that keeps your personal information fully private
Unblock porn videos even on 5 devices simultaneously
24/7 live chat support available
30-day money-back policy
ExpressVPN is another great option for streaming porn in HD due to its blazing-fast download speeds. All adult platforms loaded immediately and allowed me to browse through large porn libraries from all over the world. Each stream took less than 2 seconds to open — and I never experienced any buffering or lag, even when I was torrenting additional porn videos at the same time! My tests showed that my download speeds were always above 59Mbps, regardless of what country I decided to connect to.
With it's incredibly strong encryption and leak protection, I could access porn sites with every server connection and my private activity was never blocked by the authorities. ExpressVPN can also successfully bypass the toughest internet restrictions in China and the UAE, so you won't have to give up porn even if you go travelling. Additionally, its kill switch feature automatically stopped my traffic every time my internet connection dropped when I switched to a different server. Otherwise, each internet failure would expose my porn activities to the ISP, and the authorities could put me in a very uncomfortable or risky position. Luckily, the feature is already enabled by default, so I didn't have to think twice about revealing my most intimate habits while using an unstable internet connection.
I was particularly impressed that ExpressVPN's split tunneling option allowed me to use server connections to unblock particular sites before I chose a server. Though it may seem unnecessary at first, this feature is great if you want to access restricted porn sites but also stay connected with your local platforms. By splitting my internet traffic, I could set ExpressVPN's US server to specifically unblock PornHub, while my regular browser was still able to open geo-restricted UK sites.
Don't take my word for it when you can test ExpressVPN for yourself and get 30 free days to access restricted porn sites. Despite being skeptical about the provider's "no questions asked" refund policy, I connected to an online advisor and bluntly said I wanted to cancel my subscription. To my surprise, the representative didn't need any further explanation and processed my request in less than a minute. The money was back in my bank account within 5 working days — so easy!
ExpressVPN also unblocks: Pornhub, RedTube, OnlyFans, Shameless, xHamster, LobsterTube, xvideos, and more.
ExpressVPN works on: Windows, Android, macOS, iOS, Chrome, Linux, PlayStation 4, Xbox One, and more.
October 2020 Update: ExpressVPN has dropped prices so you can save up to 49%! This is a limited offer so be sure to grab it now before it's gone. See more deal information here.
[vendorScreenshot post_id="117267" screenshot_category_id="2"][/vendorScreenshot]
Key features:
1,700+ servers in 60+ countries to avoid any porn site bans in your country
Good download speeds on servers located in porn-friendly countries
Amazing security features that not only mask your pornographic activity but also hide your VPN connection from your ISP
Stream your favorite porn videos without limits on as many devices as you desire
24/7 online customer help available
7-day free trial and 30-day money-back policy
Surfshark proved itself to be another great choice for watching porn due to its CleanWeb feature that effectively blocks pop-up ads, malware, and trackers on all porn sites. While an increasing number of VPNs are now offering similar protection features, they tend to be really consistent. This wasn't the case with Surfshark — I was able to browse through all of my favorite porn sites without needing to close annoying ads that usually cover half of my screen. It also gave me a peace of mind that my device was protected from hackers and scams even when I was visiting unsecured adult entertainment sites.
During my tests, [vendorLink vendor_id="117267"]I discovered that many of Surfshark connections provided me with speeds that match many other VPNs[/vendorLink]. I was especially surprised that my streaming speeds remained above 20Mbps even on servers in the US and Canada, which normally really slows down my traffic. This allowed me to avoid UK porn bans and watch all content on my favorite adult platforms in maximum resolution and without any buffering at all.
While connecting to servers located in Europe and the US provided me with fairly good download speeds, it wasn't always the case with servers further away from me. I found that streaming speeds on some servers, particularly in Asia or South America, sometimes slowed down unexpectedly leading to some buffering and lags. This was especially annoying if a video loaded without an issue only to stop just as it was about to reach its peak. Luckily, the speeds picked back up on their own after 30 seconds so I didn't have to look for a new server connection.
If you subscribe to Surfshark for 2 years, you'll be offered the lowest price available on the market — but you don't have to sign up to a long-term contract to access porn sites. Put Surfshark to the test yourself by making the most of its 7-day free trial from Google Play or the App Store, or you can try the VPN vendor completely for free for 30 days with its money-back guarantee! I simply contacted customer service live chat after 27 days and asked for a refund which was immediately processed without an issue.
Surfshark unblocks: Pornhub, RedTube, OnlyFans, Shameless, xHamster, xvideos, and more.
Surfshark works on: Android, iOS, Windows, macOS, Chrome, PlayStation 4, and more.
Key features:
6,400+ servers in 80+ countries to help you access your favorite porn platforms
Super-fast speeds optimized for streaming videos with minimal loading time
Quality encryption technologies for impenetrable server connections
Watch popular cam girls and porn stars on up to 7 devices at the same time
24/7 online customer help available
45-day money-back policy
CyberGhost is a good porn-friendly provider that guarantees a fantastic streaming experience thanks to its large network of streaming-optimized servers. These connections are specifically programmed to bypass even the toughest internet restriction laws and unblock porn streaming platforms in a few seconds. During my tests. I could watch porn in 1080p thanks to download speeds of 22-31Mbps — my streams were never interrupted.
As VPN connections can sometimes drop and expose your traffic, I was happy to see CyberGhost offers a built-in DNS and IP leak protection. These security features are crucial to keep your traffic anonymous. I tested over 10 random servers and every connection showed absolutely no leaks at all! This makes CyberGhost great for browsing the Tor network as your internet provider will never notice you're accessing the Dark Web.
For even more secure browsing, I connected to a few of the NoSpy servers. Unlike other VPN servers, the NoSpy connections are entirely managed by the provider's internal staff (not third-party companies). This greatly reduces the risk of external data leaks providing your data with maximum protection. If you do choose one of the NoSpy connections though, be aware your download speeds can drop even by 50% and cause some buffering while streaming porn.
You can put all CyberGhost's features to the test for free for as long as 45 days, which is the longest money-back policy I've ever seen. If you decide not to proceed with your subscription, simply ask for a refund through CyberGhost's live chat. I tried it myself and the money was back in my bank account a week later!
CyberGhost unblocks: Pornhub, RedTube, OnlyFans, Shameless, xHamster, xvideos, and more.
CyberGhost works on: Android, iOS, Windows, macOS, Chrome, and more.
CyberGhost's Latest Deal October 2020: Get an 18-month subscription for the price of the 12-month plan — which means you get 6 months completely free! Prices start at only $2.75/month. See more information on this offer here.
FAQs: Porn, VPNs, and More
🤑 Can I use a free VPN to unblock porn?
Yes, you can use a free VPN to access pornography platforms — but I strongly recommend against it. Though it's possible to find a good free provider, I've found that free VPNs simply aren't worth the risk.
Free VPNs offer you a very limited number of servers to choose from and poor encryption technologies. The lack of appropriate resources makes them incredibly unreliable as they can never guarantee to fully mask your IP address. This means you'll never know if a connection you're using could actually help get past porn restrictions. In most cases, all I could view was an error message whenever I tried to open a video — if I was lucky enough to even open the platform to begin with.
Even when I found a server that did work fairly quickly, it became overcrowded within less than an hour. This slowed down my download speeds by over 65%, making every kinky video I opened unwatchable due to constant buffering and lagging. The videos were also extremely pixelated forcing me to use my imagination instead. To make it even worse, free providers put data caps, so I couldn't watch more than a few videos.
As much as I could deal with the lesser quality, the serious privacy and security risks that come with using a free VPN are enough to put me off for life. As free providers still need to earn money, they often collect and sell personal customer data to advertising companies and the authorities. This means that you could be putting your information at high risk of exposure in exchange for a frustrating and unsatisfying experience.
However, I understand you may not want to spend money on a VPN subscription — but you don't have to! If you choose one of the premium providers in the list above, you'll get to explore your deepest desires for free using the money-back guarantee. Utilizing these policies allowed me to test all 3 VPNs (and have over 90 days of free VPN use) without worrying about spending extra money. All I had to do was request a refund through the 24/7 live chat feature and the subscription fee was returned directly to my bank account within a week.
🤓 Why and how are porn sites restricted around the world?
Some governments try to place certain restrictions on how easily you can view porn in order to prevent underage viewers from streaming it. For example, the UK placed a 'porn ban' on all sites that required anyone who wanted to watch porn to provide ID or credit card details. Australia has taken a similar approach and took it one step further by making streaming pornography a fineable offense. The government is also now considering making facial recognition mandatory if you're trying to view porn sites. Although it isn't an outlook many governments agree with, it's possible more countries are going to place further restrictions to limit your access to adult sites in the future.
Countries with intense censorship laws, like Iran, North Korea, China, or the UAE are known for restricting any content they deem inappropriate and limit your rights to control propaganda and protect cultural or religious values. You can only bypass the extremely tough online restrictions in China and other strict countries with a reliable VPN.
🙃 Can I watch porn anonymously with incognito mode on my browser?
While the incognito mode (or privacy mode) has great benefits like hiding your porn search history, it doesn't make your browsing anonymous. Using it won't change your IP address, which means that every website you visit will still be able to recognize your location and prevent you from accessing its content. The lack of traffic encryption will also immediately alert your ISP that you tried to unblock restricted or illegal porn sites.
It gets even worse — many porn platforms actively collect your personal data in order to sell it to third-parties or target you with highly customized sexual ads outside of incognito mode. This means that every little detail about your kink is at risk of being broadcasted to the world and stored by advertisers to use in marketing years later. If your fetishes are considered illegal in your country of residence, this could even result in your local police coming to arrest you.
😎 What else can I use a VPN for apart from watching porn?
With hundreds of servers across the world, a VPN can give you access to any website on the internet — regardless of where you are. This means you'll be able to browse not only through fetish videos, but also watch your favorite shows on Netflix, HBO, BBC iPlayer, and other popular streaming services. Additionally, a VPN can help you unblock various sport streaming providers, such as Sky Sports, BT Sports, and ESPN.
Watch porn and more with NordVPN!
Reach Maximum Pleasure From Anywhere Today!
While all the methods mentioned here can bypass any porn restrictions and bans imposed by the government, only a VPN connection provides guaranteed and secured access to porn. It's also a great way to keep your data private even if you live in a country that doesn't place any sexual restrictions on the internet.
Understandably, you may not want to subscribe to yet another service — but choosing one of my top VPN picks (like NordVPN) will allow you to stream your favorite fetishes for free for 30 days! All 3 premium providers offer hassle-free money-back guarantees to new customers, so you can get unlimited viewing pleasure risk-free.