How to Watch HBO Max From Anywhere in 2022
Last Updated by Julia Olech on July 01, 2022
HBO Max is my go-to streaming service, but I can't access it when I travel outside of the US for work. I find these restrictions extremely frustrating because I pay for my subscription every month regardless of where I am.
Luckily, I found a workaround to solve this problem: a Virtual Private Network (VPN). Reliable VPNs like the 3 I've listed below will give you access to hundreds of servers in the US so you can connect and watch your favorite shows and movies on HBO Max without the restrictions. Plus, they'll protect your data from hackers and tracking software so you can keep up with your shows from the airport or hotel without a concern.
You pay good money for your streaming services, so you should be able to watch anytime you want – but not every VPN out there will offer you the same results. I did the hard work and tested nearly 20 different VPNs to find the best options for reliable access and streaming without interruptions. ExpressVPN is my top recommendation for watching HBO Max from anywhere for its reliable US servers and speeds fast enough for streaming in Ultra HD.
You don't have to take my word for it – you can test ExpressVPN for yourself risk-free as it's backed by a "no questions asked" money-back guarantee.
Watch HBO Max with ExpressVPN today!
Quick Guide: 3 Steps to Watch HBO Max From Anywhere
Get a VPN. I recommend ExpressVPN since its fast speeds ensure you'll always be able to watch HBO Max in Ultra HD. You can try ExpressVPN risk-free for 30 days with its money-back guarantee.
Connect to a US server. ExpressVPN has hundreds of servers throughout the US, so you'll never have to worry about overcrowding and low server speeds.
Start watching HBO Max! If the error message is still visible, clear your cookies and cache in your browser settings and reload the website.
How a VPN Can Help You Watch HBO Max Outside the US in July 2022
Access to shows and movies on HBO Max is restricted to the US due to distribution rights and copyright laws. That's why you see an error message when you try to log in from anywhere else, even though you're a spying HBO Max customer.
A VPN hides your IP address, which stores information about where you're connecting from. This way, HBO Max will recognize only the IP address of the VPN server you selected. You'll get unrestricted access to its huge content library even when you travel, or try to connect over a restricted IP (like on some corporate or public networks).
Before using a VPN, check HBO Max's Terms of Use. While the use of a VPN may not violate them, changing the country to one where you didn't originally purchase the account might.
Although not many VPNs on the market can actually get past HBO Max's tough geoblocking technology as they claim, my tests prove that ExpressVPN can. Test ExpressVPN with HBO Max for yourself risk-free. If you don't feel it's right for you, you can get a full refund within the 30-day money-back guarantee period. I tried it for myself and had all my money back within just 3 days. Plus, I didn't have to answer any questions about why I no longer wanted to continue my paid plan.
Note: Even though you pay for HBO Max, it might violate copyright to watch content outside of regions where those shows and movies are licensed. Familiarize yourself with local restrictions – I don't condone ever violating the law, with or without a VPN.
The Best VPNs to Watch HBO Max in July 2022
Key Features:
3000+ servers in over 94 countries
Unlimited data allowance with excellent streaming speeds
Watch HBO Max on up to 5 devices at once
24/7 live chat and email support available
30-day money-back guarantee so you can try it risk-free
ExpressVPN has mind-blowingly fast streaming speeds, so you can watch all your TV shows and films on HBO Max in high quality and with no interruptions. During my tests, ExpressVPN unblocked HBO Max in seconds and I enjoyed streaming Aquaman in 4K resolution with absolutely zero buffering. Despite the seemingly limited number of US servers, I never noticed any slowdowns due to overcrowding. Even when I tested speeds in Australia, they were easily fast enough for 4K streams. This was impressive, as faraway servers usually have much slower connections. This means your stream quality won't drop, no matter where you are traveling.
In fact, ExpressVPN's speeds are quick enough to multitask as you catch up with your favorite HBO shows. The VPN doesn't restrict how much bandwidth you can use so I comfortably torrented 2 files (both above 3GB) while rewatching episodes of South Park. The VPN kept my streams super clear with minimal loading time the whole time.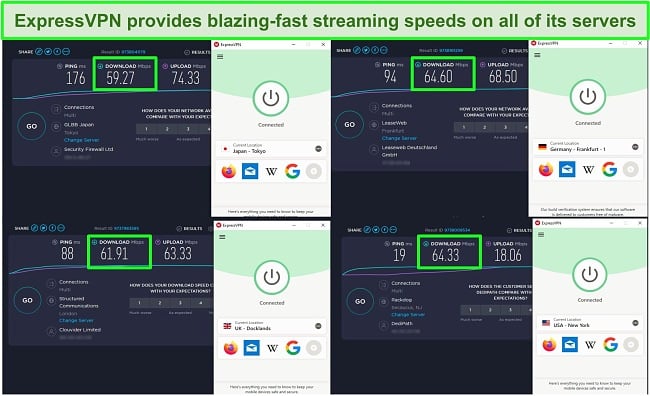 I could add shortcuts for 4 of my chosen platforms within the ExpressVPN app on all of my devices. This feature saved me a good few minutes I'd have otherwise spent on fumbling with buttons as I could launch HBO Max straight after connecting to a US server.
Better yet, ExpressVPN can successfully bypass internet censorship in China. If you'd like to watch any HBO Max shows from there (or other countries with strict censorship), then this VPN is a great option. ExpressVPN hides your activities so you'll be able to watch privately, but keep in mind it's not an authorized Chinese VPN. That may make you legally liable if you're caught using it, and I don't condone using VPNs for anything that breaks the law.
If you want to test ExpressVPN with HBO Max before you make a final decision, all their plans come with a set 30-day money-back guarantee. If you're not satisfied, the customer team is quick to issue a refund. I didn't even have to explain why I wanted to cancel! My request was approved in a few minutes and I got my money back in just 5 days.
ExpressVPN also unblocks: Netflix, Disney+, Amazon Prime, YouTube TV, Sling TV, SHOWTIME, and more.
ExpressVPN works on: Windows, iOS, Android, macOS, Linux, Chrome, Firefox, Android TV, Amazon Fire Stick, Amazon Fire TV, routers, and more.
Access HBO Max with ExpressVPN
July 2022 Update! ExpressVPN has dropped prices for a limited time to a crazy $6.67 per month for the 1-year plan (you can save up to 49%) + 3 months free! This is a limited offer so be sure to grab it now before it's gone. See more information on this offer here.
Key Features:
7900+ servers in over 91 countries
Optimized servers for streaming HBO Max and more
Connect up to 7 devices at the same time
24/7 live chat and customer support available
45-day money-back guarantee
CyberGhost is a great choice for watching HBO Max as it offers US servers optimized specifically for unblocking the platform. These servers are configured to unblock HBO Max restrictions and provide fast and smooth connections, so I never had to deal with any pop-up errors. When I tested the streaming-optimized servers, I watched Rick and Morty in HD with just 4-5 seconds of initial buffering. Once the episode loaded, I didn't experience any lags or further interruptions.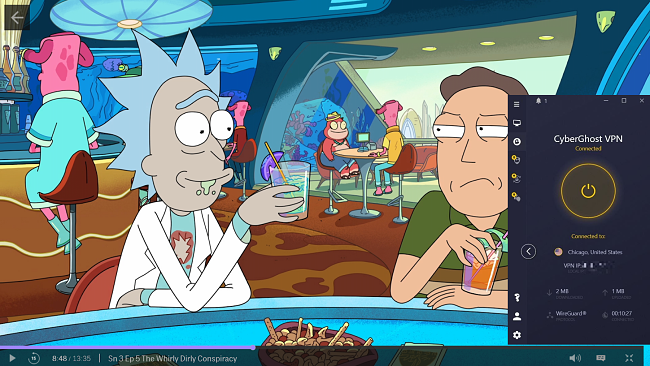 I was initially overwhelmed with the long list of locations, but it's actually very easy to find the HBO-optimized servers. Just tap the "For streaming" tab when you open the app and type "HBO" in the search bar. CyberGhost will immediately display all available options so you can connect by double-clicking on the server of your choice.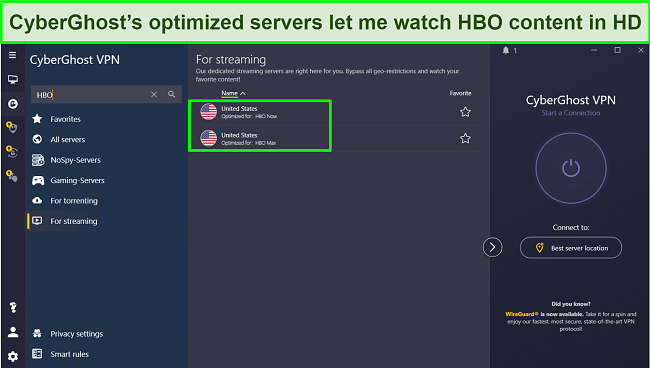 As the number of HBO servers is quite limited at the moment, you may struggle to connect to them when they become full. It happened to me a couple of times during my tests, forcing me to choose from CyberGhost's regular US servers. These turned out to be a good back-up option – while my speeds dropped significantly, they were still fast enough to watch Wonder Woman with only a few buffering stops. Reducing my stream quality to the standard 720p helped me keep the interruptions to a minimum, so try doing that if you're having any issues.
The VPN offers a generous 45-day money-back guarantee, so you can try CyberGhost with HBO Max before making your final decision. You'll have to make the initial payment to sign up, but the refund policy means you can request your money back if you're not fully satisfied. The refund process couldn't be any easier: I asked to cancel my subscription through the 24/7 live chat and the full amount was sent back to my bank account within 5 working days.
CyberGhost also unblocks: Netflix, Disney+, Amazon Prime, YouTube TV, Sling TV, SHOWTIME, and more.
CyberGhost works on: Windows, iOS, Android, macOS, Linux, Chrome, Firefox, Android TV, Amazon Fire Stick, Amazon Fire TV, routers, and more.
Stream HBO Max today with CyberGhost
July 2022 Update! You can subscribe to CyberGhost for as low as $2.29 per month + get extra 3 months free with the 3-year plan (save up to 83%)! This is a limited offer so grab it now before it's gone. See more information on this offer here.
Key Features:
35000+ servers in over 80 countries
Built-in adblocker included in your subscription to prevent any interruptions during your streams
Ability to watch HBO Max shows even on 10 devices at once
24/7 live chat and email support available
30-day money-back guarantee
Private Internet Access (or PIA) has one of the biggest server networks in the US that can effortlessly unblock HBO Max. I tried 40 locations and noticed each one provided me with good download speeds and access to all titles on the restricted platform. Some servers got overcrowded as I was carrying out my tests, which made my streams a bit more pixelated. However, as the VPN has so many options to choose from, I could easily reconnect to a less busy server and boost my speeds back up in only 10 seconds. This improved my picture quality, and I could finish watching Justice League in HD until the end credits.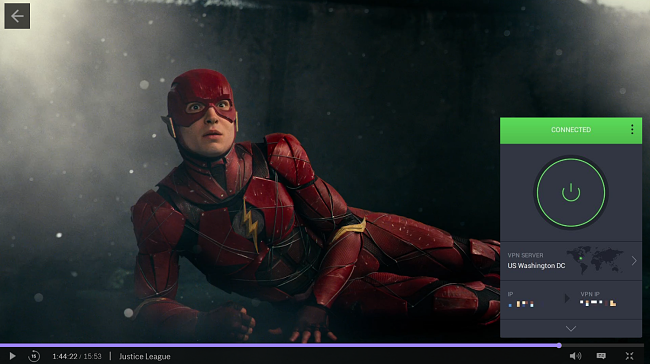 Due to its massive server network in the US and worldwide, PIA is also a great choice for unblocking Netflix, Disney+, Amazon Prime Video, and other popular sites. I had no problem catching up on the latest This Is Us episodes and I easily accessed US-exclusive Netflix shows, like Dexter or The Borgias.
The VPN let me easily access the platform on my iPhone, Samsung tablet, and Amazon Fire TV, but I was disappointed that most PIA servers didn't unblock HBO Max on my PC. In fact, only the Washington DC server successfully bypassed the restrictions on the streaming site when I opened it in Chrome and Firefox. Add this server to your favorites if you're planning on watching any HBO show on your Windows laptop or MacBook.
Though the VPN offers really good features, you should test PIA with HBO Max yourself to make sure it meets your requirements. The vendor comes with a legitimate money-back policy that lets you use its services to unblock HBO content risk-free for 30 days. There's no small print (I checked!)- as long as you request a refund before the guarantee ends, the VPN will give you your money back without an issue.
PIA also unblocks: Netflix, Disney+, Amazon Prime, YouTube TV, Sling TV, SHOWTIME, and more.
PIA works on: Windows, iOS, Android, macOS, Linux, Chrome, Firefox, Android TV, Amazon Fire Stick, Amazon Fire TV, routers, and more.
FAQs on Watching HBO Max With a VPN
What's the difference between HBO Max, HBO Now, and HBO Go?
HBO Max is a standalone streaming service that launched in 2020 to replace the outdated HBO Go, which was offered only through a US cable TV provider. Though HBO Go is available as a standalone app in some countries in Europe and Latin America, HBO Max is set to replace it in most locations.
HBO Now (currently rebranded as just HBO) is also a separate streaming platform, but its library is limited only to an on-demand HBO catalog. Meanwhile, HBO Max includes all content that's currently available on HBO, plus its own original programs and WarnerEntertainment shows. It's unconfirmed whether HBO Max will eventually replace HBO Now, but it seems that both platforms will run concurrently for the time being.
You'll get automatic access to HBO Max for free if you've directly subscribed to HBO Now through the official website, Google Play, or Apple. If you've got HBO through AT&T TV, DIRECTV, AT&T U-Verse, Hulu, or Spectrum, you'll also get access to HBO Max at no extra cost.
Regardless of which platform you want to access, you still need a quality VPN that can unblock HBO Max and HBO from outside the US. ExpressVPN has thousands of high-quality servers equipped with the latest technology that successfully unblocks HBO and HBO Max from anywhere. It also provided me with great streaming speeds so I could watch Game of Thrones in 1080p on all of my devices. Better yet, you can download ExpressVPN now and use it risk-free for 30 days with its money-back guarantee!
Can I get HBO Max on Hulu or Amazon Prime?
You can get full access to HBO Max with your Hulu subscription as it's included in the platform's streaming offer. However, both sites restrict their content to US residents, so you'll have to connect to a VPN to sign up and unblock top-quality shows from anywhere.
If you already have an Amazon Prime Video account, you can watch certain HBO shows and movies – but you'll have to pay extra even as an existing customer. Although Amazon Prime has a fairly large HBO library, it's still limited and doesn't include any HBO Originals and Exclusives, so you'll miss out on great content.
In order to unblock the full HBO Max library, you need to download a premium VPN with a large choice of US servers. Only then can you get the most out of your HBO subscription and watch the shows you pay for. I found that ExpressVPN is the only vendor that consistently bypassed the location restrictions and let me watch The Bridge in HD with no lags. While you have to provide payment details when you sign up for the VPN, you can try ExpressVPN risk-free for up to 30 days – and get your money back if you change your mind!
Stream HBO Max with ExpressVPN
What devices can I watch HBO Max on?
You can access HBO Max on almost all devices, but you need to connect them to a VPN to go around the platform's restrictions if you're outside the US. Once your connection is established, you'll be able to watch HBO Max on:
Mobile devices: iOS, Android, Amazon Fire tablet, and Windows
PCs: Windows, macOS, and Chromebook
Smart TVs: AppleTV, Android TV, Samsung TV, Amazon Fire TV, and Roku
Gaming consoles: PlayStation 5, PlayStation 4, Xbox One, and Xbox Series S/X
A VPN can help you make the most of HBO Max from anywhere, but it needs to have native apps on as many of these devices as possible. I found that ExpressVPN is compatible with all popular operating systems. Even if the VPN doesn't have an app to use on a certain device, I easily set it up on my router which automatically connected all devices on my WiFi to the VPN server. You'll even be able to unblock HBO Max on every compatible device risk-free for 30 days when you utilize ExpressVPN's money-back guarantee.
Watch HBO from anywhere with ExpressVPN
Why can't I access HBO Max with my VPN?
You have the best chance to access HBO Max from anywhere with a top-tier VPN, as they regularly tighten their security and update their systems with new IP addresses. Yet, sometimes even the best VPNs may experience minor issues and be temporarily blocked by HBO Max. While it's super rare, it can happen when the platform's restrictive technology links your IP address with its database of popular VPN IPs. Don't panic though – this issue is very easy to fix.
If you find that your VPN connection doesn't work, disconnect from your current server and choose a different US location. This will reset your IP address with a brand new combination that's more likely to work.
You should also make sure your VPN app is up to date. This will provide you with the latest software needed to effectively unblock HBO Max. Your VPN will prompt an update message when it's ready so all you'll need to do is approve it with one click.
Additionally, you should also clear your cookies and cache in your browser settings. These are planted within your browser by most websites you visit to track your connection. Once you remove them, HBO Max will recognize you as a new user and give you access to its library.
If you're still experiencing issues, contact your VPN's customer service. When I couldn't connect to HBO Max, a CyberGhost advisor told me which servers work with the platform, and I went back to watching The Undoing in just a few minutes.
Through my testing, I found that ExpressVPN is the least likely to get blocked by HBO Max. I tried the vendor every day for a few weeks and I never had to deal with the annoying "HBO Max is not available in your country" error message. You don't even have to blindly trust me – you can test the service yourself for free for 30 days if you download ExpressVPN and try it risk-free today!
Unblock HBO Max with ExpressVPN
What shows and movies are on HBO Max? Is the DC Universe included?
After you set up your VPN connection, you'll get access to hundreds of titles on HBO Max, including:
All-time-favorite sit-coms, like Friends, The Office, and The Big Bang Theory
Thrilling TV series, such as Game of Thrones, The Undoing, or I Know This Much Is True
Popular blockbusters, like The Lord of the Rings, A Star is Born, and I Am Legend
Exclusive HBO Max Originals, including Chernobyl, The Bridge, and Raised by Wolves
DC Universe content with well-known shows like Wonder Woman and Aquaman and newer releases such as The Suicide Squad and Zac Snyder's Justice League
Cartoons and movies for family marathons including Cartoon Network classics, Sesame Street episodes, and Tom and Jerry
Documentaries and docuseries, like The Windsors: Inside the Royal Dynasty, Being Serena, or The Undocumented Lawyer
With a VPN, you can watch all the shows and movies on HBO Max regardless of your location. I suggest you try ExpressVPN, as its speedy servers will keep your streams lag-free. You can even use ExpressVPN risk-free for 30 days with the money-back guarantee.
Watch HBO shows with ExpressVPN
Can I unblock other streaming sites with my VPN?
Yes, a VPN can help you unblock other streaming sites you subscribe to such as Netflix, Disney+, Hulu, Amazon Prime Video, BBC iPlayer, Sling TV, SHOWTIME, and more. However, a majority of streaming platforms apply sophisticated anti-VPN technology that blocks most vendors, so you need to choose the best streaming VPNs available.
I highly recommend ExpressVPN as it never disappoints me when it comes to unblocking all of my favorite shows on any platform. The VPN works hard to regularly update its technology and IP address database so it stays on top of any new restrictions the streaming sites try to roll out. As a new user, you'll even get to utilize ExpressVPN's money-back guarantee to access HBO Max and other platforms risk-free for 30 days.
What else can a VPN do?
A VPN can help you unblock HBO Max from anywhere, but its features don't end there. A quality VPN provider also lets you:
Unrestricted access to websites and online services that are normally limited to certain countries, like BBC News or Pandora Radio (just check local laws to make sure unblocking them is legal where you are)
Guaranteed bypassing of sporting broadcasting restrictions to keep you up to date with popular sporting events, including UEFA Europa League and Wimbledon
Fully anonymous access to torrenting and P2P websites so you can go around internet censorship to freely access and share your files
Tight security features that protect your vulnerable data online and block malicious software, even when you're using public WiFi connections
Thousands of servers to choose from with unlimited data allowance and fast download speeds, so you're never stuck with overcrowded and slow connections
As they can be pricey to keep up, many vendors simply can't afford (or choose not to) give you all the benefits that come with using a VPN. I always test various VPNs before recommending any to make sure you're getting the most features for your money. For the ultimate experience, you should try ExpressVPN as it offers the whole package – unlimited streaming, advanced security, full anonymity, and more. Unlike most VPNs, it also comes with a 30-day money-back guarantee so you can use ExpressVPN completely risk-free and get a refund if you don't like it.
Can I use a free VPN to watch HBO Max?
Even though they sound like a good deal, I've tested the best free VPNs for streaming and found many hidden pitfalls and even security issues that seriously endangered my privacy.
Many free vendors offer overcrowded servers, limit your monthly data allowance, and intentionally cap your speeds to force you to upgrade to a paid subscription. All these restrictions caused my streams to lag and buffer every 10 seconds – and that's if the free VPNs actually managed to bypass the connection errors!
More concerningly, free VPNs are dangerous and put your private information at serious risk. As there are no subscription fees, many services collect and sell your data to advertisers, corporations, and even governments in order to make money. Sometimes, they even actively plant spyware on your devices to gather additional information you never agreed to share.
The best (and safest) free option is to use a premium VPN with a money-back guarantee. With its excellent streaming speeds and strong security, I recommend you use CyberGhost to unblock HBO Max risk-free for 45 days. It's particularly ideal if you're traveling and only looking to watch a season of your favorite HBO show, or want to check out HBO Max without committing to a long subscription.
It's completely hassle-free to get your money back after you sign up. All you have to do is speak to customer support via the website's 24/7 live chat feature. I tested it myself and my money was fully refunded in just 5 days!
Start Watching HBO Max From Anywhere Today!
You don't have to miss out on HBO Max shows, like Friends and Rick and Morty, purely because of your location. After all, you're an HBO Max subscriber – it's a ripoff to be blocked from watching the shows and movies you pay for with your hard-earned money. If you download a VPN, you'll be able to watch thousands of popular titles on the website regardless of where you are. You can even use a VPN to access other streaming services like Netflix US, Disney+, Hulu, and Amazon Prime Video.
I recommend ExpressVPN because its high-speed US servers reliably unblock HBO Max for HD streaming. Best of all, there's a 30-day money-back guarantee, so you can try ExpressVPN and stream HBO Max with zero risks. It's super easy to get a full refund if you change your mind – just reach out to the ExpressVPN's customer service through live chat!
---
Summary – Watch HBO Max Now With This VPN (Updated 2022)
Top Choice