How to Watch HBO Max From Anywhere With a VPN (in 2023)
Last Updated by Kate Hawkins on February 01, 2023
You can't access your HBO Max account when you're traveling unless you have a top-tier VPN service. With a VPN, it's possible to connect to your HBO Max account from anywhere in the world, so you don't have to miss out on your favorite shows.
My colleagues and I tested more than 30 services to find the best VPNs for HBO Max. Our selected VPNs will give you instant access to your HBO Max account to watch without restrictions. Plus, it'll protect your data from hackers and trackers every time you go online.
The best choice for HBO Max is ExpressVPN, with fast speeds and 3000+ servers to stream HBO Max worldwide. You can test ExpressVPN out completely risk-free as it's backed by a 30-day money-back guarantee. If you don't like it, just claim a refund.
Watch HBO Max anywhere with ExpressVPN
Quick Guide: Watch HBO Max in 3 Easy Steps
Stream HBO Max with ExpressVPN
How a VPN Helps You Watch HBO Max From Anywhere
Access to shows and movies on HBO Max is restricted to the following locations:
Åland Islands, Andorra, Anguilla, Antigua & Barbuda, Argentina, Aruba, Bahamas, Barbados, Belize, Bolivia, Bosnia and Herzegovina, Brazil, British Virgin Islands, Bulgaria, Canary Islands, Cayman Islands, Ceuta, Chile, Colombia, Costa Rica, Croatia, Curacao, Czech Republic, Denmark, Dominica, Dominican Republic, Ecuador, El Salvador, Faroe Islands, Finland, Greenland, Grenada, Guatemala, Guyana, Haiti, Honduras, Hungary, Jamaica, Kosovo, Madeira, Melilla, Mexico, Moldova, Montenegro, Montserrat, Netherlands, Nicaragua, North Macedonia, Norway, Panama, Paraguay, Peru, Poland, Portugal, Romania, Saint Kitts and Nevis, Saint Lucia, Serbia, Slovakia, Slovenia, Spain, St. Vincent and the Grenadines, Suriname, Svalbard & Jan Mayen, Sweden, Trinidad & Tobago, Turks and Caicos, United States, Uruguay, and Venezuela.
That's why you see an error message when you try to log in from anywhere else, even though you're a paying HBO Max customer. Surprisingly, some huge markets like Canada and the UK aren't yet accessible, although this could change in the future.
A VPN hides your IP address, which stores information about where you're connecting from. This way, HBO Max will recognize only the IP address of the VPN server you selected. You'll get unrestricted access to its huge content library even when you travel, or try to connect over a restricted IP (like on some corporate or public networks such as the workplace or schools).
Although not many VPNs on the market can actually get past HBO Max's tough geoblocking technology as they claim, my tests prove that ExpressVPN can. But you don't have to take my word for it — you can test ExpressVPN with HBO Max for yourself risk-free. If you don't feel it's right for you, just get a full refund within the 30-day money-back guarantee period. I tried it for myself and had all my money back within just 3 days. Plus, I didn't have to answer any questions about why I no longer wanted to continue my paid plan.
Watch HBO Max with ExpressVPN risk-free
The Best VPNs to Watch HBO Max in February 2023
Key Features:
ExpressVPN has mind-blowingly fast streaming speeds, so you can watch all your TV shows and films on HBO Max in high quality with no interruptions. Even when I tested servers 17,000km away, they were easily fast enough for 4K UHD streams. This was impressive, as faraway servers usually have much slower connections. Fast speeds mean your HBO shows won't be plagued with lag or buffering, no matter where you're traveling.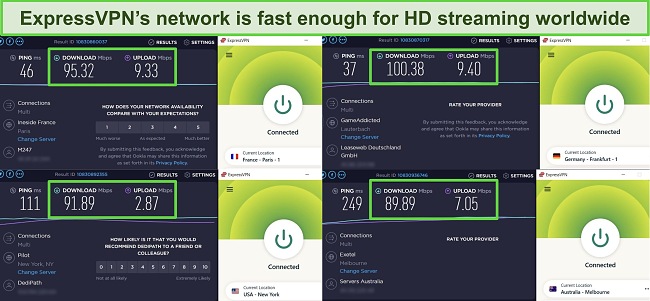 Not only are speeds fast, ExpressVPN also connects to servers quickly thanks to its proprietary Lightway protocol. Lightway is optimized for security and speed, so you won't have to wait to establish a solid connection. During my tests, ExpressVPN connected to a server and accessed HBO Max in seconds, so you can enjoy streaming the latest blockbuster movies in 4K UHD resolution with absolutely zero buffering. Even at peak traffic times, I didn't notice any slowdown due to user congestion with ExpressVPN.
The reason ExpressVPN can effortlessly access Netflix, HBO Max, and more, is due to its server obfuscation. This masks your VPN traffic, making it look like regular internet traffic. HBO Max and other streaming services can't detect your VPN use, so you won't be blocked. To prove how tough it is, ExpressVPN's obfuscation also makes it one of the top VPNs for countries with strict internet restrictions, like China.
Every subscription includes the following security and privacy features:
Military-grade encryption: AES-256-bit encryption on all servers ensures no one can spy on your HBO Max streaming.
Data leak protection: Prevents DNS, WebRTC, and IP address leaks that could expose your true location.
Split tunneling: Lets you configure apps and sites (like HBO Max) to use the encrypted connection while other online traffic bypasses it — saving valuable data and improving speeds.
TrustedServer Technology: RAM-based servers cannot physically store data, and all servers are wiped clean during regular reboots.
Audited zero-log policy: Independent third-party audit proves ExpressVPN never logs or stores any user data while connected to the server.
The shortcut feature saves you heaps of time every time you go to watch. After you connect to a server, the ExpressVPN app displays several shortcut icons for quick, easy access to your preferred content. I added HBO Max to my shortcuts so all it took was 2 clicks to connect and open the website.
ExpressVPN is a little more expensive than other services, with plans starting at $6.67 per month for a 1-year + 3 months subscription. However, its blazing-fast speeds and reliable connections to HBO Max make it worth the price.
You can try ExpressVPN with HBO Max risk-free. If you find you don't like it, it's easy to get a full refund within 30 days. I tested the process myself and was surprised by how simple it was. It only took 5 minutes — I contacted ExpressVPN's 24/7 live chat and requested a cancellation, which was processed with no questions asked. My money was back in just 5 days.
Key Features:
CyberGhost offers servers in 6 locations optimized specifically for unblocking the HBO Max. These servers are configured to bypass the service's strict restrictions and provide fast and smooth connections. They are regularly tested and maintained by the CyberGhost team to guarantee access.
Its optimized servers are significantly faster than the regular servers — during my tests, optimized server connections were at least 10% faster. This could give you a speed boost if your regular internet speeds are slower, making sure you get the best stream quality possible for HBO Max. Its regular servers were also extremely fast in our tests, but expect a bigger speed decrease if you're connecting to a distant server.
All of these servers are easy to find and connect to, thanks to CyberGhost's intuitive interface. Server menus are simple to navigate, or you can use the search bar to find exactly what you're looking for. The interface is clean and user-friendly, making it easy to adjust your settings to suit your needs. I found this makes CyberGhost a solid choice for beginner VPN users.
In terms of security and privacy, I ran multiple leak tests and CyberGhost passed them all. It offers the following top-tier security features:
Military-grade encryption: All server connections are protected by AES-256-bit encryption for secure connections to HBO Max.
Data leak protection: CyberGhost protects against DNS, IP, and WebRTC leaks to ensure your data is secure and anonymous.
Ad-based malware protection: Blocks ads containing malicious content, protecting you from ad-based threats.
Zero-log policy: Independently audited by Deloitte and uses RAM-based servers that cannot store your data.
CyberGhost can be an expensive short-term option, so I'd suggest subscribing to a long-term plan for better value. Long-term plans start at $2.19/month for a 2-year + 2 months subscription, and it includes a generous 45-day money-back guarantee.
This means you can try CyberGhost with HBO Max risk-free and get a full refund if you change your mind, or if you only need a VPN for a short time. I tested its refund policy and asked to cancel on the last day of the guarantee. My request was approved right away, and I had my money back in my account within 4 days.
Key Features:
Private Internet Access (or PIA) has one of the biggest server networks, with connections that can effortlessly unblock HBO Max. My team and I tested multiple servers on its global network (more than 35000 servers in 84 countries) and had no issues connecting with HBO Max in its available locations.
During my speed tests, PIA gave me great speeds on local servers, with more than enough to stream HBO Max without issues. At distances of over 5,000km I did see a decrease in speeds, but this is fairly standard. You can check the ping number of the potential servers you want to connect to, and pick the ones that are marked green. This is a great addition to the interface that will help you watch your favorite shows and movies with zero lag.
With 10 device connections, it's easy to watch HBO Max on all of your devices and share your subscription with family members. It's compatible with all the major operating systems, including macOS, Windows, Android, iOS, Amazon Fire Stick, Chrome, and Firefox. You get the peace of mind of having protection every time you go online to watch HBO Max, even on public WiFi.
My team and I had no issues accessing our local streaming accounts, as PIA's top-tier encryption and data leak protection prevented any VPN detection technology from blocking the connection. PIA also includes the following security and privacy features:
Automatic kill switch: Blocks access to the internet if your VPN connection is interrupted, securing your data.
Secure protocols: Features the WireGuard and OpenVPN protocols on all apps, for fast and safe connections.
Ad and malware blocker: Stops ads, malware, and trackers for faster website loading times and protection against malicious software.
Zero-log policy: Strict zero-log privacy policy protects your data, and was recently independently audited to confirm no information is logged or stored.
One downside to PIA is that it can't always unblock certain platforms. For example, my team struggled to access BBC iPlayer in recent tests. But it easily bypasses Netflix, Hulu, Disney+, and other blocks to give you hours of streaming.
I was pleasantly surprised by how affordable PIA is, with its plans starting at just $2.19 per month for a 2-year + 2 months subscription. All of its plans are backed by a 30-day money-back guarantee, letting you try PIA with HBO Max risk-free. If you're not satisfied, you can request a refund through the contact form on the website, or by emailing helpdesk@privateinternetaccess.com. You'll have your money back within a week.
Key Features:
NordVPN is one of the best VPNs on the market — and you can get super cheap prices when you sign up for a long-term subscription. One thing to note, however, is that when it's time to renew your subscription, prices do increase quite significantly.
I was particularly impressed with the high performance of every server I tested. Just because a VPN has thousands of servers doesn't mean they all work. Servers can still struggle to unblock local sites — and some can even fail to connect completely. However, I easily unblocked Netflix, Disney+, Hulu, Amazon Prime Video, BBC iPlayer, and HBO Max on multiple servers in the US and UK.
I did, however, have issues with using NordVPN's native Fire TV app. Although it worked and unblocked some streaming services, it sometimes had issues unblocking Netflix US and kept crashing. I also found that NordVPN's user interface for desktop devices was less user-friendly than ExpressVPN and CyberGhost.
NordVPN has the following security and privacy features:
AES 256-bit encryption
A kill switch that cuts your internet access if your connection to a VPN server drops suddenly
Built-in ad and malware blocker, so you don't need a third-party ad blocker
Fully audited no-logs policy (audited by PwC) – NordVPN doesn't store any personal or identifying data while you're connected to the VPN
In addition, NordVPN includes Threat Protection that protects you from viruses, infected websites, and trackers – and it works whenever you have the NordVPN app open, even if you're not connected to a VPN server.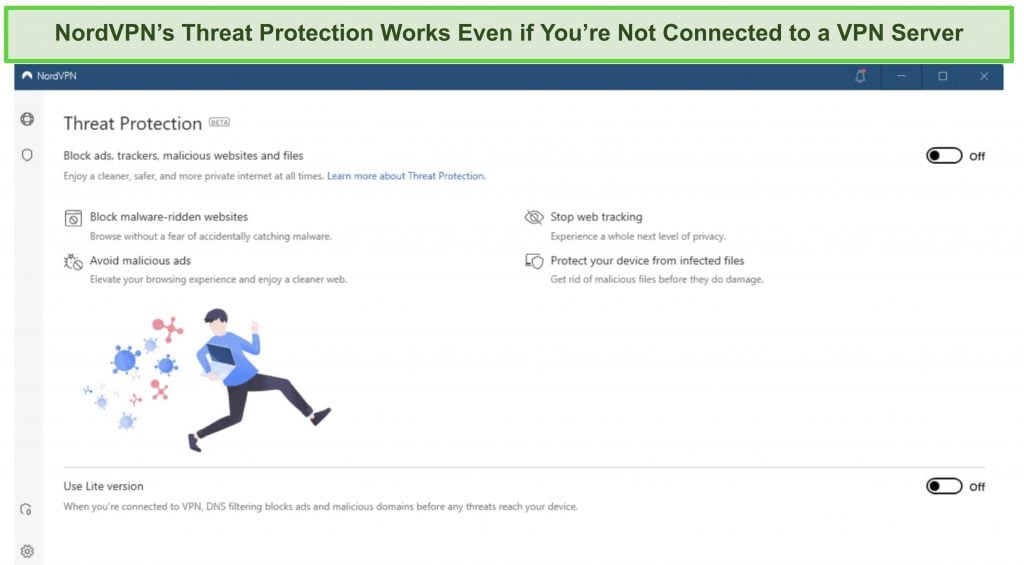 With plans that cost as little as $3.49 per month, it's easy to find a NordVPN subscription plan that suits your needs. You can also stream, torrent, and browse for free for up to 30 days with its money-back guarantee. I tested this to ensure that you'll really get your money back. At first, the support team tried to give me an extended trial period — but they initiated my refund right away after I told them I wasn't interested in the extension. I got my money back in 6 business days.
Key Features:
Surfshark offers the best value for money out of every premium VPN on the market. You can connect an unlimited number of devices with a single subscription, which means you can use Surfshark on all your devices without getting logged out.
I tested Surfshark's simultaneous connections on 2 PCs, 2 phones, a Fire Stick 4K, and an iPad. My connection remained reliable on all 6 devices. Even while I was actively streaming on all my devices, my average speed was 112 Mbps — fast enough for UHD quality.
When I saw the price of this service, I thought it couldn't possibly have top-grade security features for such a low price, but I was pleasantly surprised.
Surfshark has the following security and privacy features:
AES 256-bit encryption on all devices, with ChaCha encryption available for Android users
Wireguard VPN protocol enabled by default
Diskless, RAM-only servers to protect your privacy (no data can be physically extracted from any servers)
Kill switch (although this isn't enabled by default)
IP and DNS leak protection
Surfshark offers two-factor authentication (2FA) on your account. This feature requires you to enter an extra code before you can log in to ensure that only you can access your account.
While Surfshark does have slightly fewer global servers than rivals such as CyberGhost and PIA, I didn't experience any issues during my tests. I easily connected fast working servers every time, and I had excellent speeds for streaming Netflix in UHD, downloading torrents, and browsing the internet.
You can try Surfshark for yourself with the 30-day money-back guarantee. It has plans that cost as little as $2.49. Requesting a refund is easy with Surfshark's live chat feature. Although the support team asked why I wanted to cancel my subscription, I had no problem getting my money back (and it only took 4 days!).
Key Features:
PrivateVPN's robust server network can easily access HBO Max, despite being much smaller than ExpressVPN or CyberGhost. My team and I tested multiple servers across its 63 countries and could connect to HBO Max in its available locations. Overall we experienced a few seconds of buffering when first connected, but streaming quality soon improved to HD for smooth, uninterrupted viewing.
The most reliable servers overall are PrivateVPN's Dedicated IP connections. These are available in many HBO Max locations and my team and I found they could all connect without issue.
I was impressed by PrivateVPN's consistent speeds, as I didn't experience the usual dramatic speed decrease over long distances as I did with other VPNs. The maximum speed reduction during my tests was 50%, which meant every server I tested was fast enough for streaming on HBO Max. PrivateVPN also shows the "ping" for each server so you can pick the fastest option — choose a server with low ping for the best connection.
PrivateVPN features top-tier security and privacy features, including:
Military-grade encryption: AES-256-bit encryption is used on every server connection
Secure protocols: OpenVPN and IKEv2 keep your data secure while connected to PrivateVPN
Server obfuscation: StealthVPN feature hides your VPN traffic, so HBO Max (and other apps, websites, and firewalls) can't detect and block your VPN use
Zero-log policy: Strict privacy policy ensures your data is secure and anonymous while connected to PrivateVPN's servers
One small downside with PrivateVPN is that it doesn't accept Google Pay, which is usually my preferred payment method online. But it does accept credit and debit card, Pay Pal, and even cryptocurrencies, so it wasn't such a big deal. PrivateVPN is also one of the most affordable VPN options, even if you subscribe to a monthly VPN plan. Its best value is its 3-year subscription, which is $2.00 per month — ideal if you're on a budget.
You can try PrivateVPN with HBO Max risk-free. If you decide it's not right for you, it's easy to get a full refund within its 30-day money-back guarantee period. All it took to cancel my plan and get a full refund was a quick email to the support desk. I received a response after a couple of hours and had my money returned within a week.
Key Features:
IPVanish supports unlimited device connections, which is extremely rare for a premium VPN. Most only allow a handful of connections, which is inconvenient when traveling or using multiple devices. With IPVanish, you don't have to worry about disconnecting from devices at home while you're on vacation. You can safely connect to HBO Max on any device, and even log in on a smart TV or streaming device when you're traveling.
You may find IPVanish's interface overwhelming at first as it isn't as user-friendly as CyberGhost, but after familiarizing yourself with it, you'll find it easy to pick the best server for HBO Max. IPVanish displays the ping and user load for each server — simply select a connection with low ping and load to ensure fast, smooth streaming on HBO Max.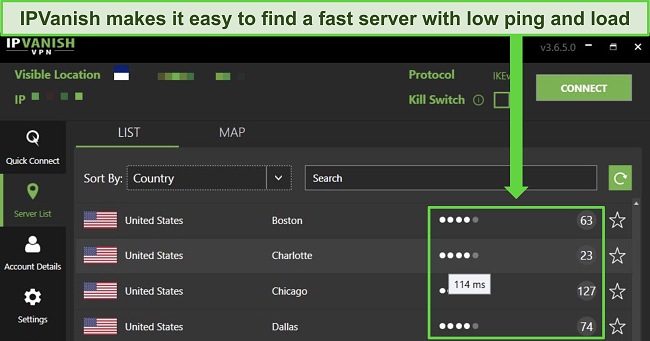 After choosing the best servers in multiple locations, my speed test results show IPVanish is reliably fast across its global network. Even connecting to a server 17,000km away only resulted in a 50% decrease — my speeds were still fast enough for UHD streaming. I recommend using the WireGuard protocol, as I found this had the fastest speeds during my tests so you can enjoy HBO Max without lag.
Alongside fast speeds, IPVanish protects your connection and privacy with the following features:
Top-tier encryption: All connections are secured with AES-256-bit encryption.
Data leak protection: Stops DNS and IP address data from leaking and exposing your true location to HBO Max.
Server obfuscation: Scramble feature (OpenVPN only) hides your VPN traffic so it can't be blocked by proxy detection technology.
Audited privacy policy: IPVanish has undergone a third-party audit to confirm it won't log or store your data when connected.
These features work well to keep your data and location hidden from HBO Max. I ran multiple leak tests and IPVanish passed them all, so you can rest assured your data is safe. This is especially important as IPVanish is based in the US, which isn't ideal headquarters for a VPN — it's part of the Eyes Alliance intelligence-sharing group. However, an independent audit has confirmed that IPVanish can't and won't log or store your data.
Plans start at just $3.33/month for a 2-year subscription, making IPVanish good value — especially for users who want a greater level of control over individual server connections.
If you'd like to try IPVanish with HBO Max yourself, you can test the service risk-free for up to 30 days. It has the easiest refund policy of all the VPNs I've tried — all you have to do is go to your account and hit the cancellation button. My refund was back in my account in 4 working days.
How I Tested and Ranked the Best VPNs for HBO Max
My team and I tested the top VPNs on the market in 2023 to find the best ones for HBO Max. I then ranked each VPN according to how well they tested in the following criteria:
Optimized for streaming: Each VPN was tested with HBO Max in multiple locations by our global team, ensuring a reliable connection. Plus, the recommended VPNs can also access streaming services like Netflix, Disney+, Amazon Prime Video, and more.
Global server network: A large network of servers with worldwide coverage is essential for accessing your local HBO Max account. A bigger number of servers also reduces user congestion, meaning quicker connections and faster streaming speeds.
Fast speeds: HBO Max recommends a minimum speed of 5Mbps for streaming. While download speeds depend on your regular internet speeds, during my tests all VPNs were capable of speeds of more than 50Mbps — double the amount needed for UHD streaming.
Device compatibility: Each VPN supports a number of devices, including Windows and Mac, Android and iOS, Amazon Fire Stick, smart TVs, and more. Services with additional support for platforms that don't natively support VPNs are ranked higher — ExpressVPN has a MediaStreamer DNS feature so you can watch HBO Max on devices like game consoles, Samsung smart TVs, and more.
Top-tier security and privacy features: To keep your true location hidden, each VPN has a minimum of AES-256-bit encryption, data leak protection, and a zero-log policy. Some VPNs also have extra features, like server obfuscation and a kill switch, to keep your activity anonymous and secure.
Customer service: Each of these top VPNs' customer services ensure prompt, detailed responses to questions regarding HBO Max, streaming, and other topics. The best VPNs have 24/7 live chat for quick answers.
Value for money: I checked each VPNs pricing tier to make sure they are worth the price. Generally, a long-term plan is better value than a short-term subscription — however, each VPN has a money-back guarantee to test the service before committing to a plan.
Stream HBO Max with ExpressVPN
How to Watch HBO Max on Different Devices
Watch HBO Max on Windows or Mac
Stream HBO Max with ExpressVPN today
Stream HBO Max on Android and iOS
Make sure you subscribe to your VPN through its official website rather than an app store, as this is the only way to ensure you're eligible for the money-back guarantee.
Watch HBO Max anywhere with ExpressVPN
Stream HBO Max on Your smart TV
There are several ways to set up a VPN with your smart TV — the most common is to configure your VPN with your router or set up a WiFi hotspot connection. However, some VPNs have apps available for Android TVs, making it even easier to get connected. Your VPN will have a full guide of available apps and configurations on its website.
Get ExpressVPN for your smart TV
Watch HBO Max on Streaming Devices
Streaming devices like Roku, Amazon Fire TV, and Amazon Fire TV Stick can be tricky to set up with a VPN. While your VPN may have a native app, it's likely you'll have to configure your VPN with a compatible router — then you can connect your streaming device to your WiFi and stream HBO Max.
Stream HBO Max with ExpressVPN
How to Sign Up With HBO Max
You can sign up for HBO Max when abroad as long as you have a premium VPN and a payment method from your home country. For example, if you're from the US and on vacation, you'll need a US payment method and a VPN connected to a US server to sign up for HBO Max.
Here are 2 quick and easy ways to sign up for an HBO Max account.
Credit Card Method
For this method, you'll need a credit or debit card registered to an address in the country in which you're setting up your HBO Max account, i.e. a US card for a US account. If you don't currently have your home credit or debit card with you, read on to find out how to use a virtual prepaid card to set up your account.
Gift Card Method
You can purchase a gift card for HBO from sites like MyGiftCardSupply and redeem them for a subscription to the service. If you have a valid gift card and you're not in your home country, here is how to sign up for an HBO Max account.
Get HBO Max anywhere with ExpressVPN
FAQs on Watching HBO Max With a VPN
Can I get HBO Max on Hulu or Amazon Prime?
Yes, you can. It's only possible to sign up to Hulu if you're in the US, so if you want to watch HBO Max through Hulu when on vacation, you'll need to connect to a US server with a top-tier VPN. Be aware that there is HBO Max content on Hulu and some HBO Max shows and movies (but not all) on Amazon Prime.
Amazon Prime is available in a wider number of locations worldwide (like Australia, Canada, Japan, the UK, and the US) but it doesn't have access to the full range of HBO Max original content. To view some HBO Max titles on Amazon Prime, you can simply sign in to your Amazon Prime account.
Can I unblock other streaming sites than HBO Max with my VPN?
Yes, a VPN can help you access other streaming sites. However, you'll need a top-quality VPN to bypass the majority of streaming platforms' sophisticated anti-VPN technology that blocks most vendors. Platforms such as Netflix, Hulu, BBC iPlayer, and Disney+ all have advanced technologies that only the best VPNs can combat.
I recommend ExpressVPN as it's a reliable and secure service that can access all of my favorite shows on any platform. ExpressVPN regularly updates its technology and IP address database so it stays on top of any new restrictions the streaming sites try to roll out.
Why can't I access HBO Max with my VPN?
This can happen when HBO's detection technology links your IP address with its database of popular VPN IPs. You have the best chance to access HBO Max from anywhere with a top-tier VPN, as they regularly tighten their security and update their systems with new IP addresses. However, sometimes even the best VPNs may experience minor issues and be temporarily blocked by HBO Max. Don't panic though — this issue is very easy to fix:
Try a different server: Disconnect from your current server and choose a different location. This will reset your IP address with a brand-new combination that's more likely to work.
Update your VPN app: This ensures you have the latest software needed to access HBO Max. Your VPN will prompt an update message when it's ready.
Clear your browser cache and cookies: These can contain location data that reveal your true IP address. Once removed, reload your browser and try to access HBO Max again.
Contact customer service: If you're still experiencing issues, your VPN's customer service can recommend quick fixes, like a specific server known to work with HBO Max.
Can I access HBO Max in the UK, India, and Australia?
HBO Max is currently unavailable in the UK, India, and Australia. If you're traveling to one of these locations, you can only access your HBO Max account with a VPN connected to a server in your home country.
Some HBO Max original content is available if you have an Amazon Prime account, as selected shows and movies feature in the Amazon Prime Video library — Amazon Prime is available in the UK, India, and Australia.
Can I watch HBO Max using cellular data without internet?
Yes, you can watch HBO Max using your cellular data without being connected to a WiFi network. You're able to watch HBO Max from anywhere if you have a premium VPN service and a mobile data plan. Here's how in just a few simple steps:
In the HBO Max app, tap your profile icon (bottom right) and then go into "Settings" (top left).
Select "Video Options." You'll see an option that reads "Stream Over WiFi Only." Toggle this off.
That's it! Now you can stream using your mobile data without a WiFi connection.
You also have the option to set a "Cellular Data Warning" and get a notification if you're nearing your mobile data limit.
What's the difference between HBO Max, HBO Now, and HBO Go?
HBO Max is a standalone streaming service that launched in 2020 to replace the outdated HBO Go, which was offered only through a US cable TV provider. HBO Now (rebranded as just HBO) is a separate streaming platform, but its library is limited only to an on-demand HBO catalog. Meanwhile, HBO Max includes all content that's currently available on HBO, plus its own original programs and Warner Bros. Entertainment shows.
You'll get automatic access to HBO Max for free if you've directly subscribed to HBO through the official website, Google Play, or Apple. If you've got HBO through AT&T TV, DIRECTV, AT&T U-Verse, Hulu, or Spectrum, you'll also get access to HBO Max at no extra cost.
Regardless of which platform you want to access, you still need a quality VPN that can unblock HBO Max and HBO from anywhere. ExpressVPN has thousands of high-quality servers equipped with the latest technology that can access HBO Max from anywhere. It also provided me with great streaming speeds so I could watch Game of Thrones in UHD on all of my devices.
Can I use a free VPN to watch HBO Max?
I can't recommend using a free service with HBO Max — only a premium VPN will give you the service you need for fast, smooth streaming.
Many free vendors offer a handful of servers, limit your monthly data allowance, and cap your speeds to force you to upgrade. These restrictions caused my streams to lag and buffer every 10 seconds — and that's if the free VPNs could even connect to HBO Max!
While there are some safe and secure free VPNs, many free services are dangerous and put your private information at serious risk. As there are no subscription fees, services collect and sell your data to advertisers, corporations, and even governments in order to make money. Sometimes, they even actively plant spyware on your devices to gather additional information you never agreed to share.
The best (and safest) free option is to use a premium VPN with a money-back guarantee. With its excellent streaming speeds and strong security, I recommend you use CyberGhost to unblock HBO Max risk-free for 45 days. It's particularly good if you're traveling and only looking to watch a season of your favorite HBO show, or want to check out HBO Max without committing to a long subscription.
Start Watching HBO Max From Anywhere Today!
You don't have to miss out on HBO Max shows, like Game of Thrones and Rick and Morty, when you're traveling abroad. By downloading a top-tier VPN, you can watch thousands of popular titles on the website regardless of where you are. A VPN also lets you access other streaming services like Netflix US, Disney+, Hulu, and Amazon Prime Video.
I recommend ExpressVPN because its high-speed US servers reliably unblock HBO Max for HD streaming. You can test ExpressVPN out completely risk-free as it's backed by a 30-day money-back guarantee — if you don't like it, you can easily get a full refund. I reached out to ExpressVPN's customer service through live chat and had my money back in less than a week.
Get HBO Max anywhere with ExpressVPN
---
Summary: These Are the Best VPNs to Watch HBO Max in 2023