How to Solve GDPR Error Messages With a VPN in 2023
If you're living in the European Economic Area (EEA), when you try to access websites that don't (or won't) comply with the General Data Protection Regulation (GDPR) laws, you'll get this error message:
"Unfortunately, our website is currently unavailable in most European countries."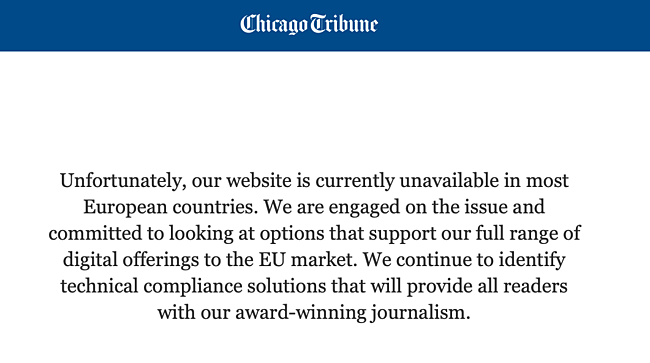 When GDPR came into effect in mid-2018, some companies weren't prepared. To avoid facing fines, these sites decided to deny EU users access to their service instead.
Fortunately, I've found an easy way to solve the "European Visitors" error message — it's called a VPN. A VPN connects you to a server in a location outside of the EU so you can access all the online content you want!
I've tested dozens of premium and free VPNs to find the 3 best services for bypassing the GDPR block. My top choice, ExpressVPN, has reliable servers and fast speeds to get you connected quickly. You can test it yourself for free with its 30-day money-back guarantee.
3 Easy Steps to Solve the "European Visitors" Error Message
Get reliable connections with ExpressVPN
Top 2 VPNs to Avoid GDPR Content Blocks
Key Features:
3,000+ servers in 94 countries — 26 server locations in the US, 5 in Canada, 6 in Australia, 1 in New Zealand, and 5 in Japan
Best-in-class encryption
Unlimited bandwidth for fastest possible speeds
24/7 live chat and customer support available
30-day money-back guarantee
ExpressVPN's reliable server connections make it my top choice for bypassing the "European Visitors" error message. I tested server locations in countries like the US, Canada, Australia, New Zealand, and Japan from my home in the UK. Every server I connected to allowed me to bypass the GDPR restrictions. This is due to ExpressVPN's best-in-class encryption, which masks your IP address completely. I ran several DNS leak tests to make sure my location data was secure and ExpressVPN passed every one.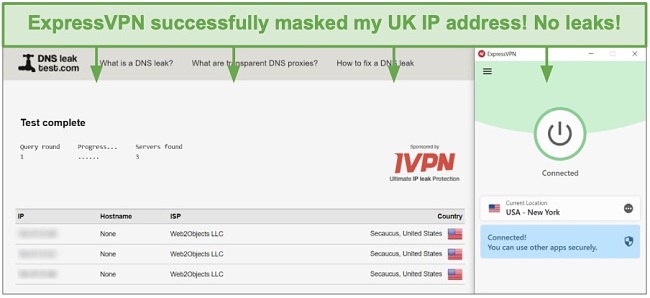 During my tests, I found ExpressVPN had fast connection speeds. I was able to connect to sites like The Chicago Tribune instantly and watch news video clips in HD quality. My average US connection speed was 32Mbps — fast enough to stream restricted video content in UltraHD.
If you're concerned about websites that don't conform to GDPR, ExpressVPN's zero-log policy and TrustedServer technology keep your personal data private. In ExpressVPN's privacy policy, it also clearly states that the service is fully GDPR-compliant for further reassurance.
You can test ExpressVPN's reliable, secure servers for 30 days risk-free with its money-back guarantee. I found getting my money back was easy. I contacted customer service using the 24/7 live chat and my refund was processed quickly, no questions asked.
Try ExpressVPN risk-free today!
Key Features:
1 US server connection available
Military-grade encryption
Some bandwidth throttling (to prevent congestion for paying users)
Email support and FAQ pages on the website
Supported by advertisements
Hotspot Shield's free VPN can bypass the GDPR content restrictions with its single US server. I tried connecting to the server at different times of the day and found I could always get connected, even when the server load was higher (above 90%). I did notice website load times were slower when the server load was high, taking a few more seconds to fully load. Hotspot Shield does cap bandwidth to prevent congestion for paying users, but the slowdown was minimal.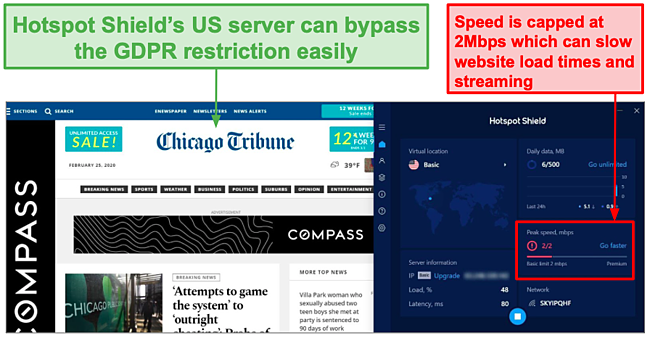 With a 500MB per day data allowance, Hotspot Shield gives you more than enough bandwidth to access news and entertainment sites. If you want to watch videos or stream TV shows and movies, you'll find the allowance runs out quickly.
Hotspot Shield's Elite package has no ads, unlimited data, and access to global servers — but if your goal is just to access one or two links blocked by GDPR, the free version is perfect for you.
Download Hotspot Shield for free today
How to Choose the Best VPN to Bypass Censorship Blocks
When testing VPNs, I checked each service against the following criteria to ensure it could get around the GDPR content blocks:
Reliable servers in countries outside the EEA
Strong security to protect your location
Fast speeds for quick connections
Customer support available
Money-back guarantee for premium services
FAQs
❓ Why Am I Seeing the "Our European Visitors Are Important to Us" Error Message?
Websites outside the EEA don't have to conform to the same GDPR laws as websites within the EEA. The laws developed by the GDPR are designed to safeguard your personal data — preventing companies from misusing any information stored or collected from website visitors.
If a website outside the EEA doesn't conform to data protection principles, you will see the error message. This is because GDPR laws prevent access to any non-EEA website that doesn't comply with its regulations. While it's an annoying error message to encounter, these laws are there to protect you.
? Why do I need a VPN to bypass GDPR content blocks?
Sites that are blocked by GDPR use your device's location information (your IP address) to stop you from accessing them. A VPN routes your connection through a server in a different location outside of the EEA, masking your true IP address and replacing it with a local one. When you visit a website with GDPR restrictions, it sees your device as being in a different location outside the EEA. The site then lifts the content blocks and you avoid the "European Visitors" error message.
? Can I use a free VPN to avoid the error message?
You can — Hotspot Shield is one of several free VPNs available on the market that unblocks GDPR content. But not all free VPNs have the resources or security features to keep your data safe. In fact, many are incredibly limited in terms of data allowances, server connections, and data protection.
If you're able to connect to a server, you'll likely experience slow streaming and loading speeds, hitting the data cap quickly. Your connection could be unreliable, which also puts your data security at risk if the connection drops, leaving you unprotected.
As privacy is important to you, you should know that some free VPNs generate revenue by tracking your activity and selling the data to third parties, like advertisers. This compromises your personal information, including your location data.
The only way to reliably connect to servers with strong security is by using a quality VPN, like ExpressVPN. If you want to try a VPN for free before subscribing, you can use its money-back guarantee. I found getting my money back with ExpressVPN was easy — I had my refund within 3 business days.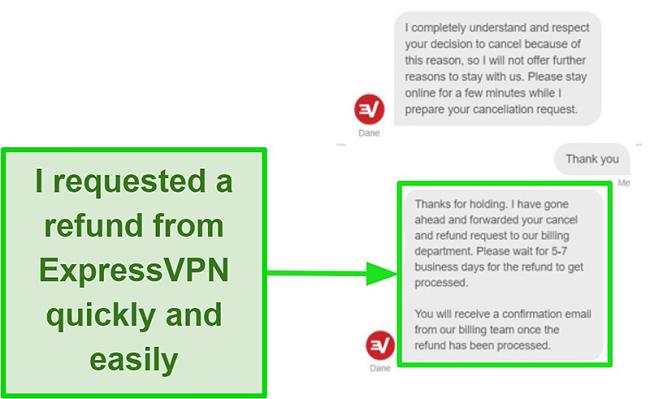 Access Global Content Without Compromising Your Data
With the arrival of GDPR, security and privacy issues are at the forefront on a global scale. By using a reliable VPN, you can access content from sites and services worldwide in a safe and secure way. A quality VPN lets you browse, stream, bank, and shop online anonymously, protecting your personal information and bypassing content blocks.
You can try a VPN service for free before you subscribe by using its money-back guarantee. ExpressVPN has a 30-day guarantee, giving you a whole month to try the service at no risk to you. If you change your mind, you can contact customer service and they'll arrange a full refund for you.