How To Get A Cyprus IP Address In Two Easy Steps
Last Updated by Mackenzie Pringle on May 31, 2019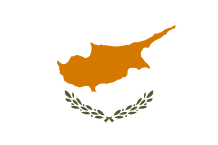 If you're from Cyprus and are experiencing issues streaming local websites while abroad, you should consider obtaining a
Cypriot IP address
.
The quickest and most secure way to access a Cypriot IP address is via a VPN. With two easy steps, we will show you how you can obtain an IP address for Cyprus, and some of the many other ways using a VPN will improve your online experience.
How to get a Cyprus IP Address:
Step 1. Install a VPN. We recommend ExpressVPN because their IP leak protection will keep your true IP address from being revealed.
Step 2. Connect to a server in Cyprus.
Why Is It Beneficial To Obtain A Cypriot IP Address?
If you're from Cyprus, you may find it difficult to watch some of your favorite TV shows on the popular RIK 1 channel. You might not be able to watch Brousko or access ANT 1 and Alpha Cyprus.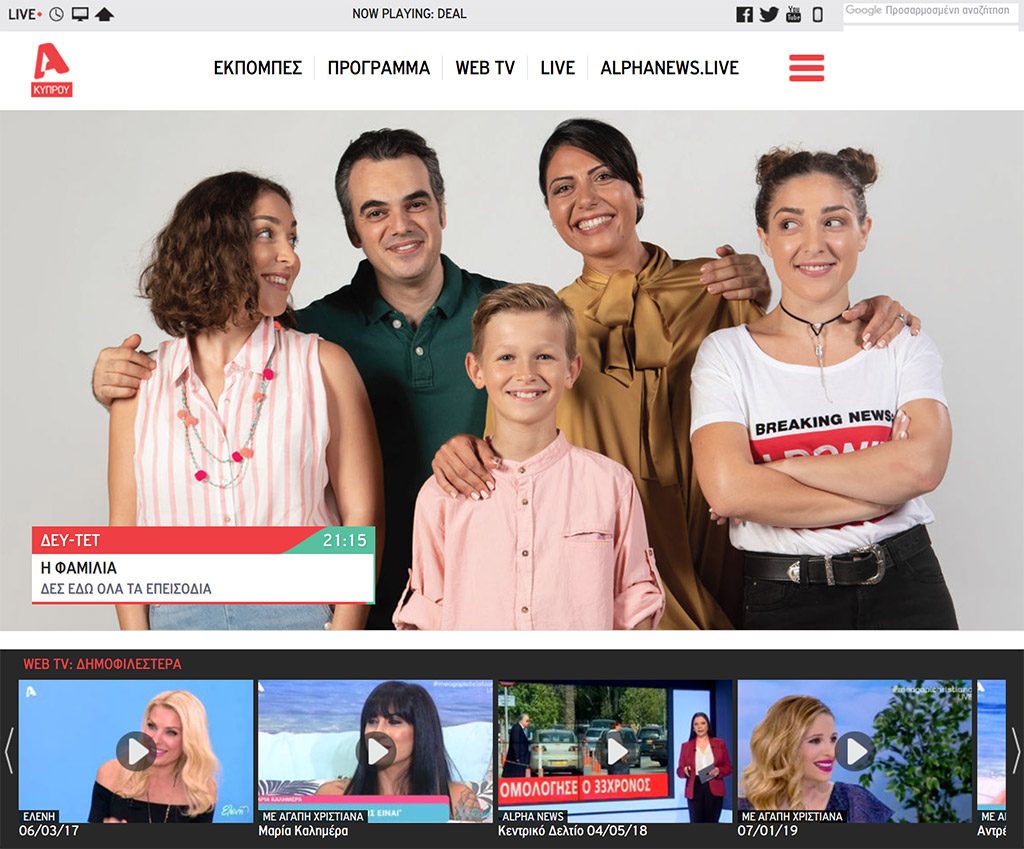 Some even struggle to access local news coverage on
Sigma
. For those wanting to remain in the loop with the pop culture and current affairs from home, this can be particularly frustrating.
Individuals have difficulties when transferring money between Cypriot bank accounts from abroad, or issues in making online purchases.
If you're business inclined and planning on investing in property in Cyprus, a Cypriot IP can give you an advantage by allowing you to access local listings and reports, reflecting actual property values and market trends.
Are Free VPNs Effective In Cyprus?
The honest answer is, no. We don't recommend using free VPNs as they are unreliable and not secure.
Free VPNs don't offer advanced security features, and therefore are unable to protect your privacy. The few that do provide stronger encryptions are incredibly unreliable for streaming, due to their undeveloped technology and limited server networks.
If money is an issue, and you only need to use a VPN in the short term, we highly recommended subscribing to a free trial for one of the VPNs recommended in this article.
Other than this loophole, securing a high-quality VPN, like the services suggested below, is the most effective option.
How To Test If Your IP Address Is Working
It's essential to check that your chosen VPN is changing your IP address, to ensure profitable investment.
The
easiest way to check
this is by testing where your current IP address is located through an online service. At
Wizcase
, we have developed
an integrated tool
which you can utilize to identify the location of your IP address.
Your VPN connection is working when it tracks your IP back to Cyprus. If your VPN is not protecting your location, and the IP address is located nearby, we recommend contacting customer support or switching to a more reliable VPN.
What To Look For In A VPN For Cyprus
If you want to connect to an IP address located in Cyprus successfully, you'll need to invest in a VPN with a few critical features. Purchasing and installing a VPN without doing prior research could potentially fail.
Servers located in Cyprus




There is no point choosing a VPN before ensuring they have at least one server in Cyprus. You will need this to get a Cypriot IP address. Also, the more servers a VPN has in Cyprus, the better your chances are of successfully getting a Cypriot IP address.

High-speed connection


Especially if you want to connect RIK 1 or Alpha TV, you'll need a fast connection speed to avoid any buffering and enjoy your favorite shows.

High Security


Advanced security is critical for maintaining privacy while connected online. Without trustworthy security features, you'll be leaving yourself vulnerable to unwanted cyber-attacks.

User-friendly


It's crucial that you can navigate around the program to get the most out of the investment. We highly recommend VPNs with 24/7 customer service apps so that you can use your VPN, hassle-free.
By ensuring your chosen VPN has these features, you'll be significantly increasing your chances of connecting to a Cyprus IP address.
The Best VPNs To Use To Get A Cypriot IP Address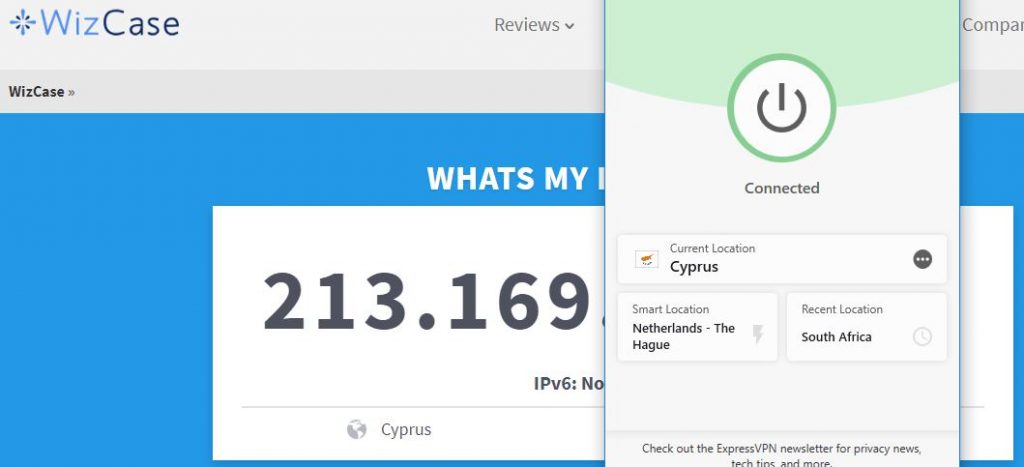 Over 3,000 servers across 94 countries
Unlimited bandwidth
Excellent connection speed
Super advanced security
ExpressVPN is the market leader for VPN providers, mainly due to their rapid connection speeds. They are undoubtedly a popular choice worldwide as they meet high consumer demand for speed.
They are also extremely efficient when it comes to unblocking restricted content, allowing you to continue watching your favorite shows, away from home.
ExpressVPN offers multiple connection options for Cyprus, and also provide impeccable security features like 265-bit encryption, an automatic kill-switch, split tunneling options, and strict no-logs policy. They also accept payments in Bitcoin to ensure total anonymity if desired.
ExpressVPN offers 5-star customer service, with around the clock email and live chat assistance. Their 30-day money-back guarantee will help you rest easy if you're ready to try out their service but are unsure about making a long-term commitment.
2
NordVPN – 7 servers in Cyprus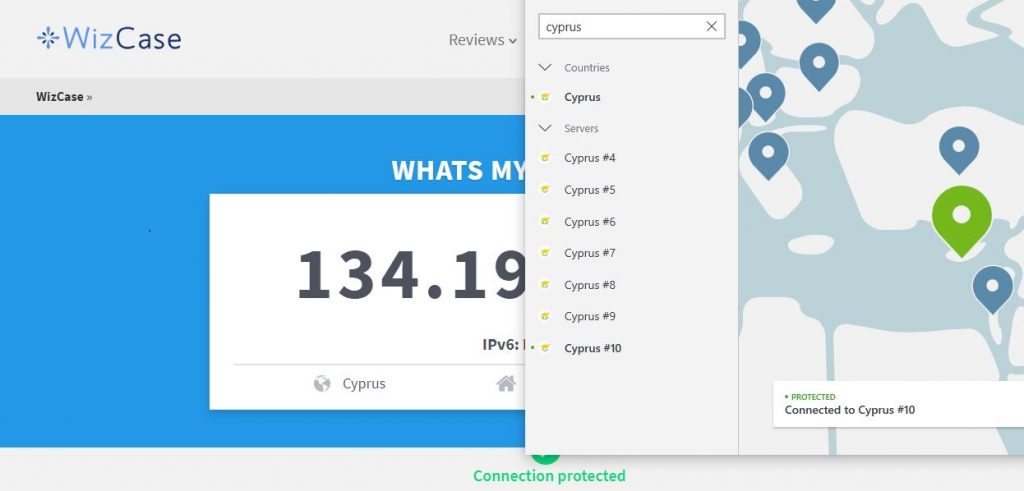 Over 5,000 servers worldwide
Unlimited bandwidth
Military-grade security
Connect to six devices with a single account
NordVPN is another market leader as they offer a super-fast and secure service. With servers available in 60+ countries worldwide, their network includes four servers located in Cyprus.
NordVPN is exceptionally user-friendly and, provides a useful smart connect feature, which automatically switches you to the most effective server and unblocks any geo-restricted sites.
The service uses top of the market security features, including AES 256-bit encryption and a double VPN protocol. Malware and unwanted pop-up ads area also blocked via their unique in-built ad-blocker, CyberSec.
NordVPN also offers a 30-day money-back guarantee allowing you to test out their service before committing to a subscription. If you experience any issues, you can easily access their 24-hour online help service, ensuring you always get the most out of the investment.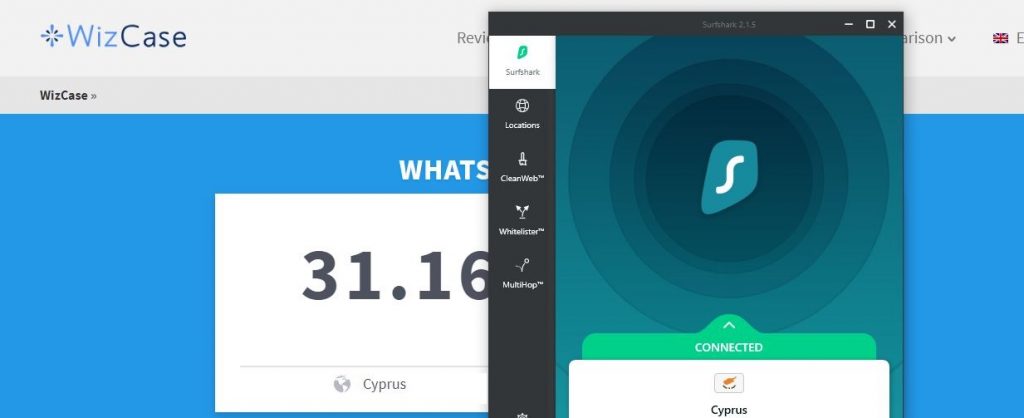 Unlimited bandwidth
Unlimited devices
Innovative security
Fast connection speeds
SurfShark VPN is a relatively new provider which has made a name for itself as a reliable and efficient option for a VPN. They already run more than 800 servers located across 50 countries, including one in Cyprus. You'll have no problem accessing your desired content from anywhere in the world.
With SurfShark, you'll gain access to some of the fastest connection speeds around, with limited buffering of streams. They also offer a strict no-logs policy, AES-256-GCM encryption, an automatic kill switch, private DNS, and IP leak protection, to ensure your privacy and security is maintained. The unique Camouflage mode ensures that even your internet provider can't detect the use of a VPN.
Surfshark shows that leadership in the market doesn't have to be expensive, and allow customers to pay a fraction of the price for reliable service. You can try SurfShark with a 30-day money-back guarantee.
Conclusion
Getting an IP address for Cyprus is a quick and easy task that can be completed in just two steps.
By connecting to a VPN, you can obtain an IP address within minutes. It's vital to connect using a VPN you can trust to ensure privacy and value for money.
We recommend choosing between ExpressVPN, offering breakneck speeds, NordVPN with military-grade security, or SurfShark VPN offering unlimited device use, to ensure your needs are being met.
Follow our simple guide, and you will gain access to an IP address in Cyprus within no time.