ESET vs Kaspersky: Full Side-By-Side Antivirus Review (2023)
ESET and Kaspersky have been protecting millions of devices worldwide for decades. So, I compared these apps in various categories to determine the superior antivirus.
I found via tests that ESET and Kaspersky are equally effective at finding and removing malware. However, Kaspersky is better for comprehensive security as it offers more features, a built-in VPN, and more. So, while there could be some privacy concerns that we'll cover in the article, it's still the superior antivirus for overall protection.
ESET also has strengths like how lightweight it is and its impressive malware detection scores, but I advise getting Kaspersky if you want airtight security. It offers more features, responsive customer support, and more value for money. Best of all, you can try Kaspersky risk-free thanks to its 30-day money-back guarantee.
Try Kaspersky risk-free for 30-days
No Time? Here's a 1-Minute Summary of Category Winners
After thorough tests, I learned that Kaspersky is a better antivirus than ESET in many cases. Both antiviruses are equally effective in most categories, but Kaspersky offers more features, better customer support, and affordable price plans.
| | | |
| --- | --- | --- |
| | | |
| Virus Scanner | Detects 100% of malware via scans | Offers multiple scans that detect 100% of malware |
| Real-Time Malware Protection | Has a 100% detection rate against zero-day threats and real-time malware | Detects 100% of real-time threats and zero-day malware |
| System Performance | Negligible impact on system performance | Minor impact on system performance |
| VPN | Doesn't have a built-in VPN | Built-in VPN with AES 256-bit encryption |
| Parental Controls | Has basic parental controls | Offers reliable parental controls via Kaspersky Safe Kids |
| Firewall | Provides a built-in firewall but it's hard to customize | Has a built-in firewall that's easier to customize and adjust to your liking |
| Password Manager | Comes with a helpful password manager to safeguard your credentials | Has a password manager to store passwords and other sensitive information |
| Gaming Mode | Offers a gaming mode that silences notifications and suspends scans | Blocks notifications and suspends background activity with its gaming mode |
| Optimization Tools | Has a system cleaner tool but it doesn't improve performance | Provides multiple tools to enhance system performance |
| Other Features | Includes an anti-theft feature and a network security monitor | Provides a data leak checker, Safe Money feature, and privacy protection |
| Device Compatibility | Works on Windows, macOS, and Android | Protects Windows, macOS, iOS, and Android |
| Customer Service | Offers live chat support, email support, a forum, and a knowledge base but the live chat availability is limited | Has 24/7 live chat, phone support, email support, and an online knowledge base |
| Price | Provides multiple plans but they don't deliver the best value | Offers multiple well-priced plans |
| Free Trial | Offers a 30-day free trial that doesn't require a credit card | Has a 30-day free trial but it requires a credit card |
| Money-Back Guarantee | 30-day money-back guarantee | 30-day money-back guarantee |
Secure your devices with Kaspersky
How I Tested and Compared ESET vs Kaspersky
I compared ESET and Kaspersky's performance across the following categories to determine which antivirus is the better overall choice:
Protect your system with Kaspersky
1. Virus Scanner — Both Antiviruses Successfully Find All Malware via Scans
I first checked the available virus scans in these antiviruses to see how reliably they eliminate malware. Both ESET and Kaspersky provide multiple scans that effectively detect and remove malware. You'll get the following virus scans with these antiviruses:
| | |
| --- | --- |
| ESET | Kaspersky |
| Full Scan | Full Scan |
| Custom Scan | Quick Scan |
| Removable Media Scan | Selective Scan |
| – | Instant File Scan |
| – | Removable Drive Scan |
| – | Background Scan |
| – | Application Vulnerability Scan |
In my tests, Kaspersky's scans had a detection rate of 100%, and ESET's scans had the same results. Both antiviruses successfully found and eliminated all malware samples I hid across my system.
You should note that ESET does not offer a quick scan option, but it compensates for this via its automatic startup scans. These scans analyze your memory and autorun locations as quick scans do, but this happens automatically whenever you start your system.
Both antiviruses also have similar scan speeds. Kaspersky took 40 minutes to complete its full scan, and ESET's scans took roughly 30 minutes during my tests. Also, neither antivirus highlighted any false positives during scans, meaning their results are reliable.
Overall, ESET and Kaspersky's virus scans are equally impressive, thus making it a tie here.
Virus Scanner Winner: Tie
2. Real-Time Malware Protection — Both Apps Secure You Against All Real-Time Threats and Zero-Day Malware
For this category, I checked how effectively these apps secure you against real-time threats and zero-day malware. Like their virus scans, ESET and Kaspersky have excellent real-time security to safeguard your system. I tested both apps' real-time protection by downloading malicious files, opening unsafe websites, and trying to open malware samples.
In my tests, Kaspersky stopped me from opening malicious websites and blocked any malware samples I tried to download. Also, Kaspersky offers useful features like ransomware protection and mail protection for added security.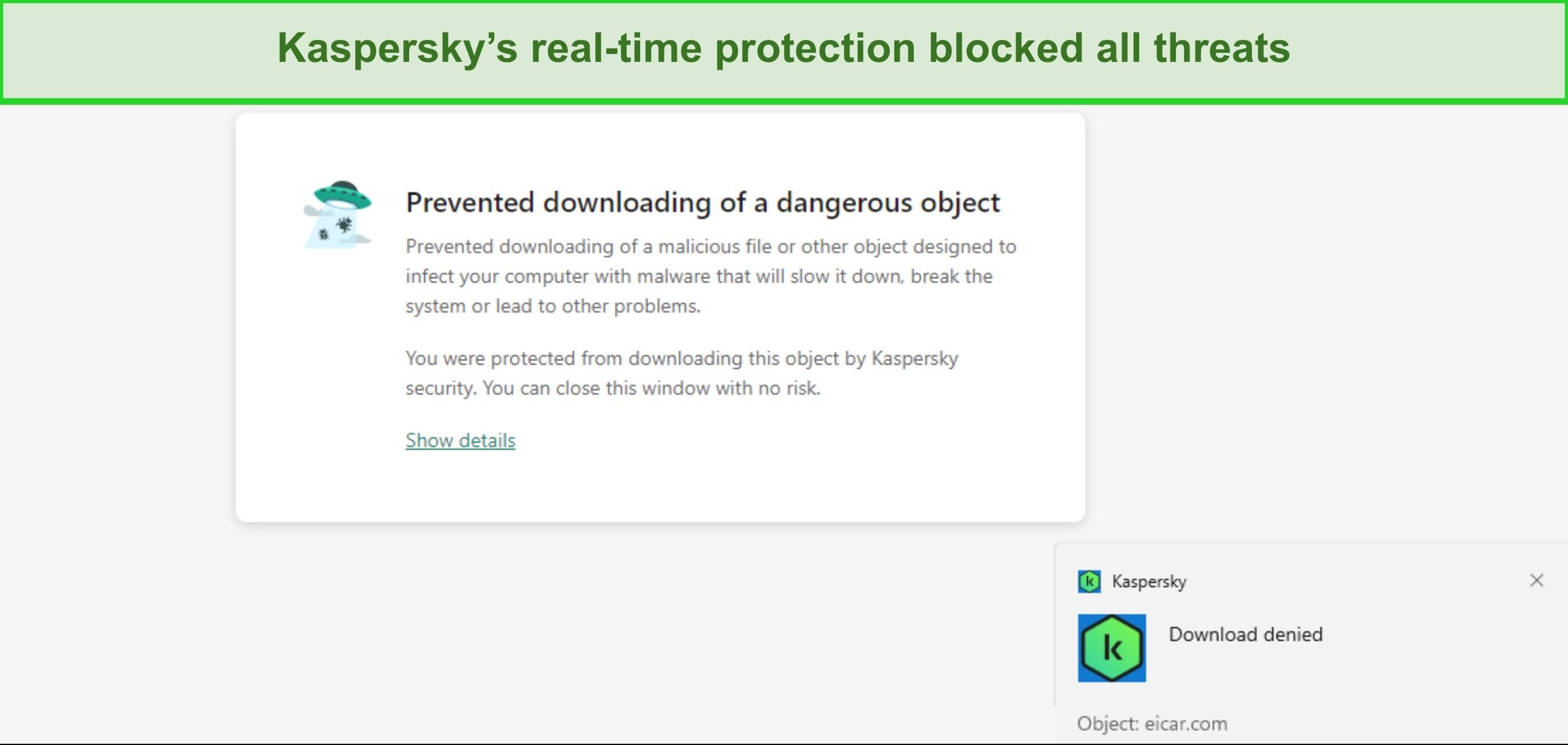 ESET was equally as impressive when I tested its real-time security. It stopped all phishing attempts, notified me about malicious websites, and blocked all malware samples I tried to download. Plus, ESET monitors app and program behavior and blocks all suspicious attempts to modify files on your system.
So, since both antiviruses offer excellent real-time security, I'm calling it a draw tie here.
Real-Time Malware Protection Winner: Tie
3. System Performance — Neither Antivirus Slows Down System Performance by a Noticeable Amount
You'll be pleased with both ESET and Kaspersky if you want a lightweight security app because neither antivirus slows down system performance. I tested how they affect system performance by doing various tasks like opening web pages and launching apps while they ran in the background. The following table shows the slowdowns I experienced:
| | | |
| --- | --- | --- |
| | ESET | Kaspersky |
| Slowdown while opening websites | 22% | 27% |
| Slowdown when launching applications | 8% | 7% |
| Slowdown when copying files | 2% | 1% |
| Average slowdown | 10.6% | 11.6% |
The slowdown while opening websites with ESET or Kaspersky running is similar to the industry average. Also, neither of these apps significantly affects performance while opening applications or copying files. I also looked at the resources these apps consume during scans and while idle and got the following results:
CPU Usage
(Idle)
Memory Usage
(Idle)
Disk Usage
(Idle)
Full Scan CPU Usage (Max)
Full Scan Memory Usage
(Max)
Full Scan Disk Usage
(Max)
ESET
2%
90MB
2MB/s
39%
405MB
405MB/s
Kaspersky
3%
110MB
1MB/s
36%
412MB
157MB/s
It's clear from the table that ESET and Kaspersky don't slow down system performance at all while idle. Also, while their resource usage increases during full scans, it's never enough to have a significant impact. One difference is that Kaspersky's disk usage is much lower during full scans, which could explain why its full scan takes longer to complete.
Overall, since neither security app uses enough resources to reduce system performance noticeably, it's a tie here.
System Performance Winner: Tie
4. VPN — Kaspersky Provides a VPN but ESET Doesn't
The best antiviruses offer VPNs to secure your online activity, and Kaspersky is the only antivirus between these two with a built-in VPN. After my tests, I was impressed with its performance and found that Kaspersky's VPN uses industry-standard AES 256-bit encryption to protect your data. Plus, it has a no-logs policy, meaning it doesn't keep track of the website you visit.
In my tests, I checked connection speeds across multiple servers and experienced an average drop of 30% when connected to Kaspersky's VPN. On long-distance servers, the speeds dropped up to 38%, but no more. Nonetheless, they were always fast enough for lag-free browsing and UHD streaming with no buffering.
My team and I also tested Kaspersky VPN's streaming performance and found that it can successfully access Netflix, Hulu, Prime Video, and BBC iPlayer, among many other streaming platforms.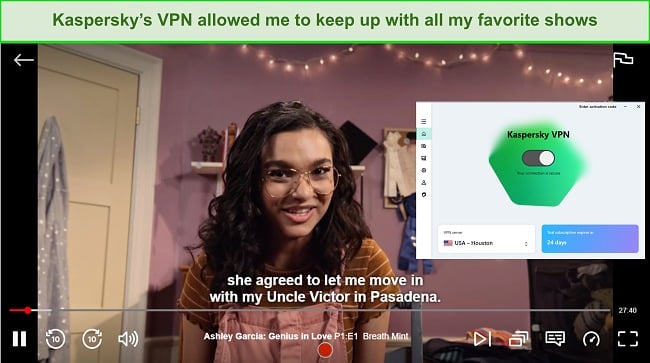 Besides its security and speeds, Kasersky's VPN offers the following useful features:
Smart Protection — enables the VPN automatically if you connect to an unsafe network.
Split Tunneling — lets you choose which traffic gets routed through the VPN and which connects directly to the internet.
Kill Switch — disconnects your internet connection to keep you anonymous if the VPN connection drops for any reason.
Overall, Kaspersky offers a good VPN with fast connection speeds and airtight security. Also, since ESET doesn't even have one, the winner here is clear.
Surf the web safely with Kaspersky
5. Parental Controls — Kaspersky Offers a More Feature-Rich Parental Control Suite
Parental controls are helpful tools to safeguard your kids and monitor their online activity. After testing both apps, I found that Kaspersky offers a much better suite of parental controls. ESET also offers various tools, but they only have basic functionality. For instance, you can only use ESET's parental controls to block websites or entire categories.
Kaspersky's Safe Kids controls let you monitor and manage your kids' online activity in multiple ways. You can check what websites and apps they use and filter the ones you don't want them to access. Also, Kaspersky's parental controls let you control how much screen time your kids get.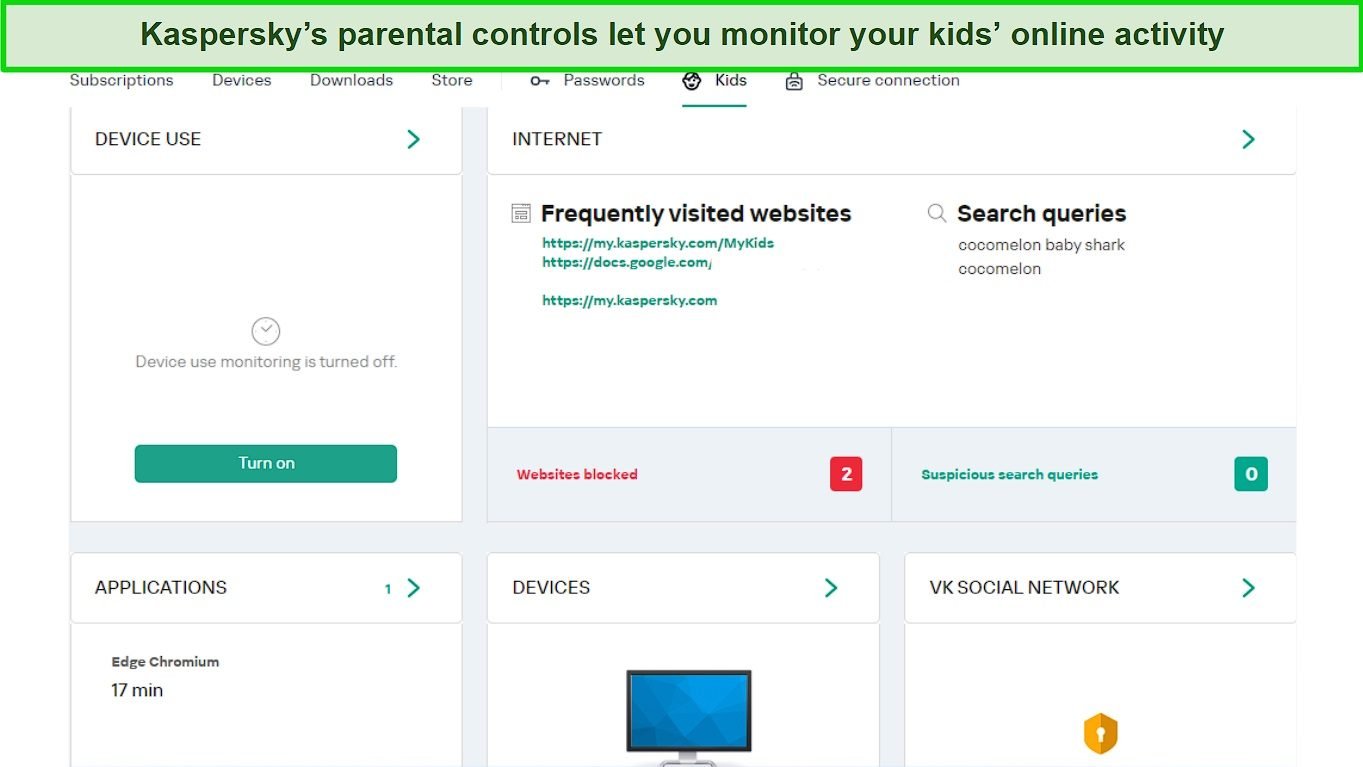 Among the best features of Kaspersky's parental control suite is its geofencing tool. Besides letting you track your kids' location, Kaspersky immediately alerts you if your child leaves a radius you've set.
Overall, Kaspersky's parental controls offer a lot more features, thus making it the winner in this category.
Safeguard your children with Kaspersky
6. Firewall — Both Apps Have a Secure Firewall but Kaspersky's Is Easier to Configure
Firewalls are an essential first line of defense against cyber threats. Although you get one with both apps, Kaspersky's firewall is much easier to customize. Plus, it includes other useful features like the following:
Network Monitor — lets you monitor all active connections on your network.
Network Attack Blocker — secures your network against attacks.
Intrusion Prevention — monitors processes to check for any suspicious activity.
While it's not as easy to configure as firewalls in top security apps like Norton and McAfee, there are multiple ways to customize Kaspersky's firewall. It lets you adjust rules for individual applications and data packets via the settings menu, thus giving you complete control over your security.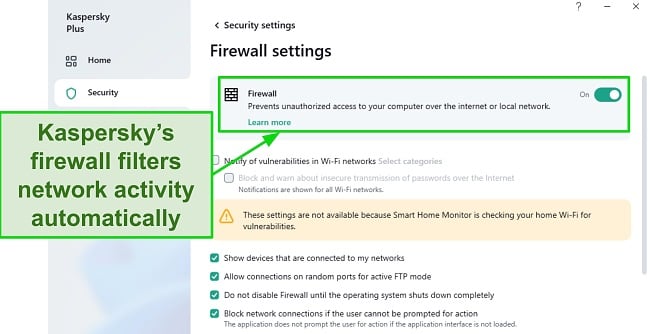 ESET's firewall provides reliable protection by default, but it's much harder to customize than Kaspersky's firewall. It doesn't let you easily adjust application settings the way you can in Kaspersky's firewall, and the interface isn't beginner friendly either.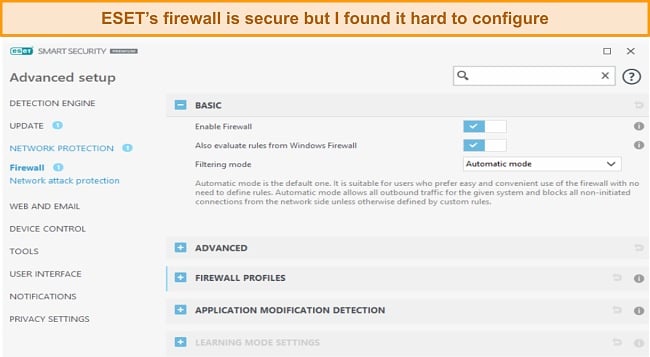 Even though both apps have effective firewalls, Kaspersky wins here because its firewall is more intuitive and easier to customize.
Secure your system with Kaspersky
7. Password Manager — You Can Safeguard Your Credentials Using These Antiviruses
Both ESET and Kaspersky have reliable password managers to protect passwords and sensitive information. ESET's password manager has a simple and intuitive design, while Kaspersky's has more features. However, both apps' password managers use AES 256-bit encryption to safeguard your data, meaning they're equally secure.
I was pleased with how easy to use ESET's password manager is. You can quickly set it up and store your passwords, card details, and more. It also has a secure password generator you can use to create passwords up to 32 characters long. Plus, ESET's password manager supports auto-save/autofill and two-factor authentication and informs you about any weak passwords you have.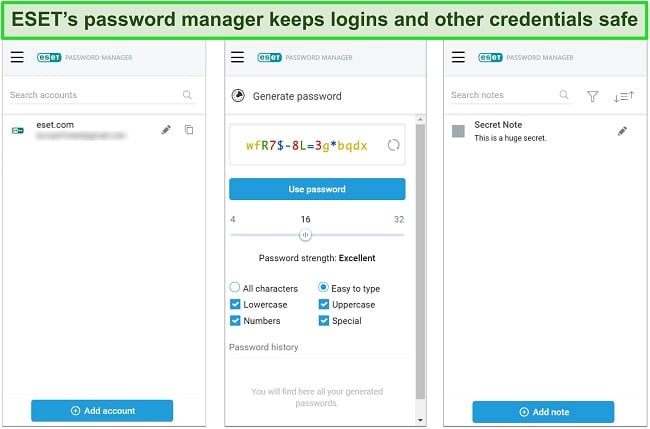 Kaspersky's password manager is also quite reliable. You can use it to safeguard your passwords, cards, sensitive documents, addresses, and notes. Also, this password manager provides auto-save/autofill features, informs you about weak/compromised/duplicate passwords, and has a password generator able to create passwords between 4 and 99 characters long.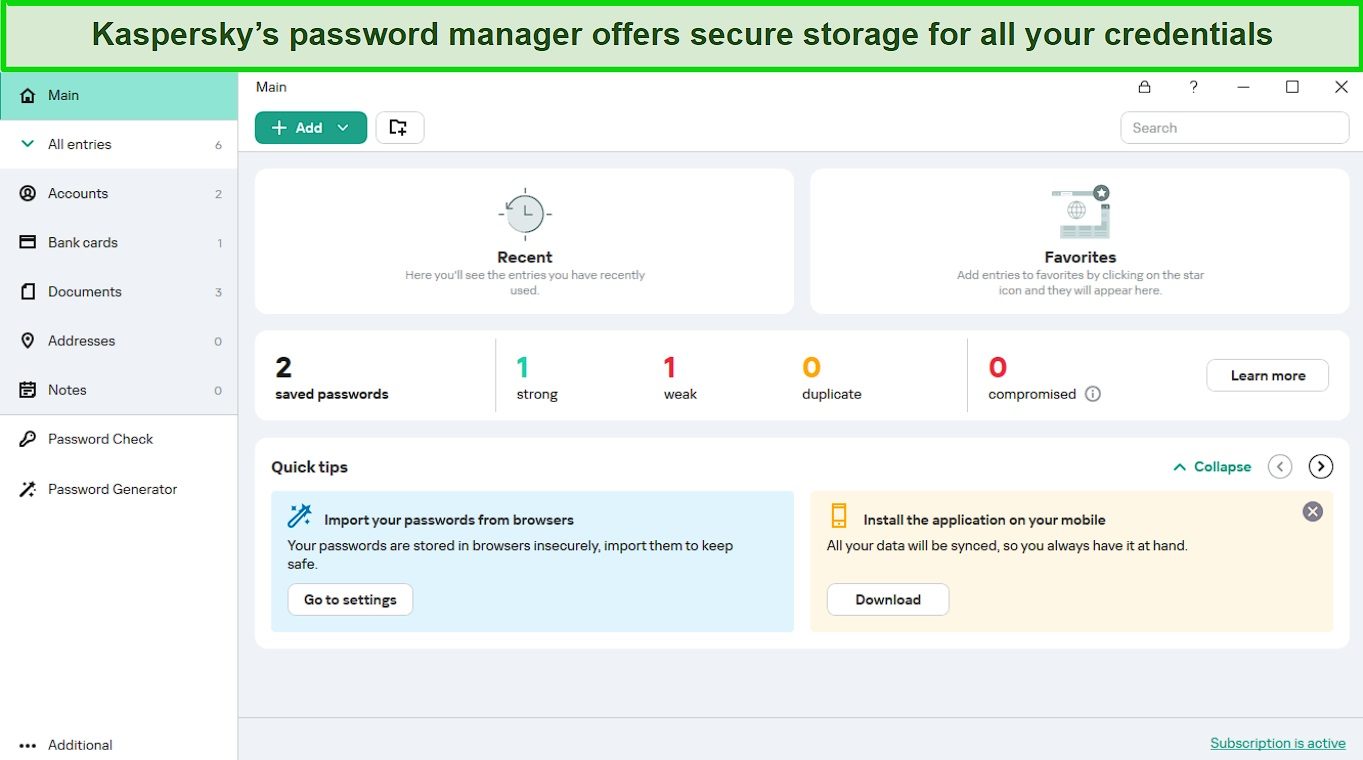 You can use any of these apps to secure passwords and other sensitive data, meaning it's a tie in this category.
Password Manager Winner: Tie
8. Gaming Mode — Both Apps Have Gaming Modes but They Aren't Effective
A proper gaming mode can significantly improve your frame rate while playing demanding video games. However, while both these apps offer a built-in gaming mode, neither Kaspersky nor ESET's modes improve gaming performance.
Kaspersky includes gaming and Do Not Disturb modes, which just silence notifications and suspend any background activity. On the other hand, ESET's gamer mode also silences notifications and pauses background activity like virus scans.
In my tests with both apps' gaming modes, I didn't experience any performance benefit. I played League of Legends and Call of Duty: Modern Warfare ll (2022) and got the same FPS I always do. Enabling or disabling these modes doesn't have an impact other than silencing notifications.
So, since neither app has a gaming mode that improves performance, it's a tie here.
9. Optimization Tools — Kaspersky Offers More Tools to Improve System Performance
You can use the optimization tools in an antivirus to improve your computer's speed and free up space. During tests, I found that Kaspersky is better for optimizing your system and getting the best performance. While both apps include optimization features, Kaspersky offers a much wider variety, and ESET only has one tool that doesn't even improve performance.
The following are some of the optimization tools you'll get with Kaspersky:
Quick Startup — helps disable unnecessary apps at startup to improve boot time.
PC Speed-Up — clears space by removing temporary files and registry issues.
Unused App Checker — checks for apps you haven't used in months and helps remove them.
Privacy Cleaner — deletes cookies, trackers, and other files that could track your online activity.
Hard Drive Health Monitor — monitors the health and temperature of your hard drives.
Battery Saver — suspends scans, updates, and other activities to save laptop battery.
The Hard Drive Health Monitor in Kaspersky is a unique feature I haven't seen in other security apps. It constantly checks if your hard drives are in good health and within optimal operating temperatures. Plus, it immediately notifies you if their health or temperatures reach dangerous levels.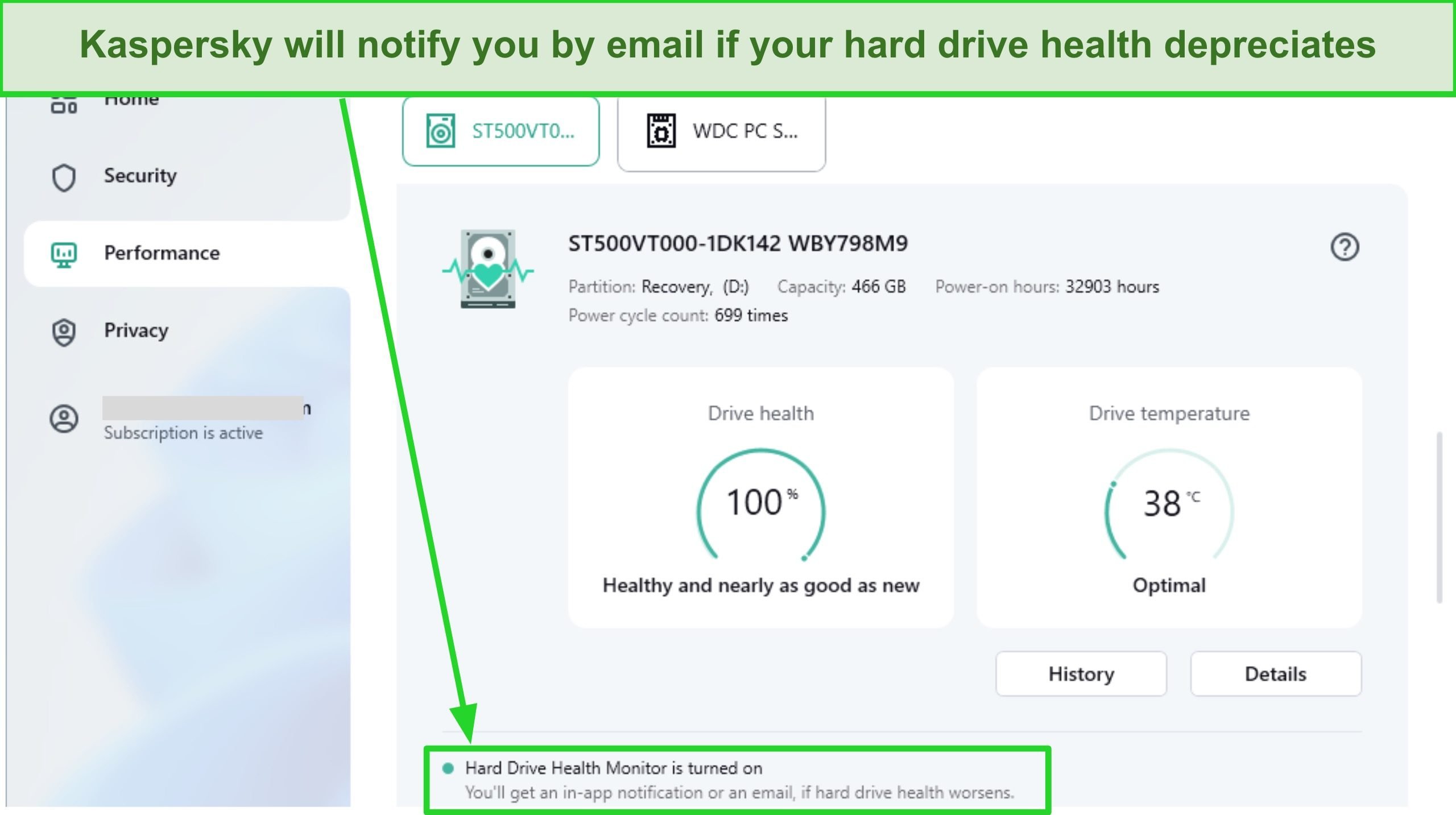 ESET only has a System Cleaner tool that doesn't improve performance at all. The only things you can do via ESET's System Cleaner include reverting your system to an older state, resetting system settings, and resetting system appearance.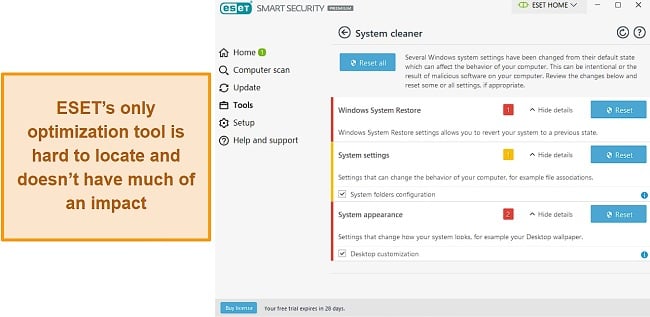 Kaspersky offers more optimization tools, and they're a lot more effective than ESET's System Cleaner, meaning Kaspersky wins here.
Improve device performance with Kaspersky
10. Other Features — You'll Get More Features With Kaspersky
Between both options, Kaspersky offers a wider variety of features. It has various additional tools that help add more layers of security to your system, including the following:
Data Leak Checker — checks if your credentials were leaked on the dark web.
Safe Money — provides a safe browser for online banking and shopping.
Cloud Storage — helps back up sensitive data to a cloud storage service.
Network Monitor — lets you check the network activity of your system's apps.
All of Kaspersky's extra features are useful for added security, but I was especially impressed with the Safe Money feature. Kaspersky's Safe Money feature opens a protected and isolated browser where you can safely use banking and shopping websites with complete peace of mind.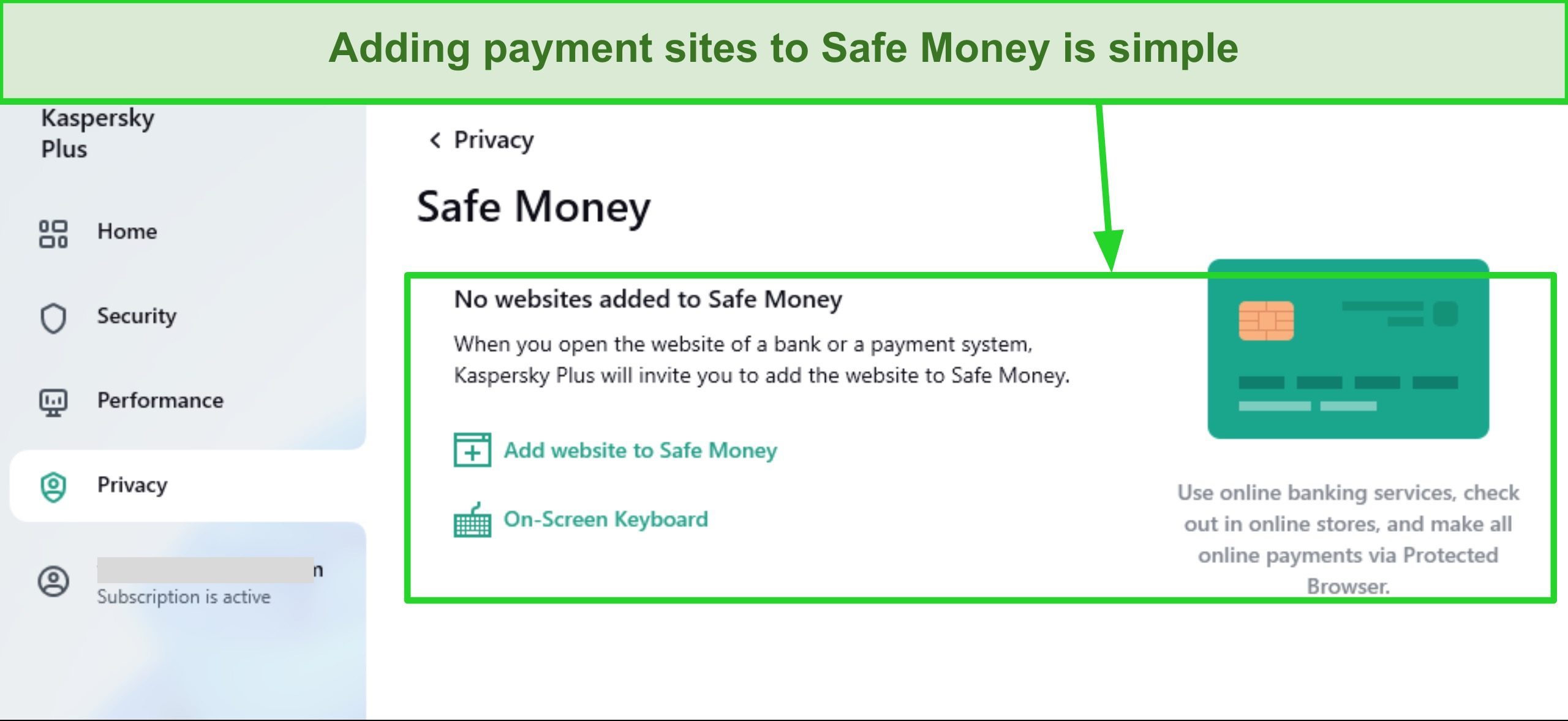 While it doesn't have as many features as Kaspersky, I found that ESET provides a useful anti-theft feature that helps locate your device in case of theft. It tracks your device's location and keeps taking screenshots and photos via the stolen device to help you track it down. You can use this feature by logging into the ESET Home portal and opening the anti-theft menu, which has information about the stolen device.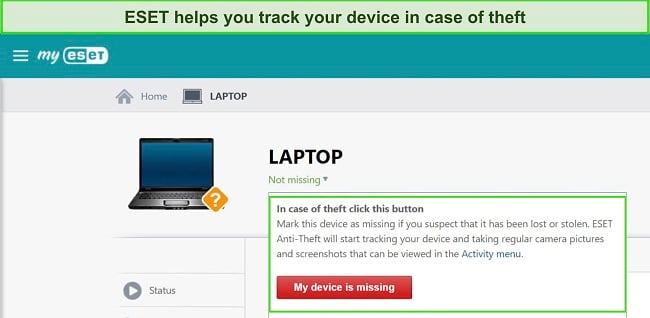 So, while ESET's anti-theft tool is handy, Kaspersky wins in this category as it offers a better variety of extra features.
Protect your system with Kaspersky
11. Device Compatibility — Kaspersky Has Apps for More Platforms
If you have lots of different devices to protect, Kaspersky is the better choice as it offers apps for more platforms.
Kaspersky works on Windows, macOS, iOS, and Android, and I found all its apps easy to install and use in my tests. The Windows and macOS setups are straightforward and take only a few minutes to complete. Also, you can easily install its iOS and Android apps from the app stores.
ESET offers apps for Windows, macOS, and Android but not iOS. Its apps are just as easy to install as Kaspersky's because of their intuitive setups. However, it falls behind in this category because you can't use it to protect iOS devices.
Since Kaspersky also protects iOS devices while ESET doesn't, it wins here.
Secure all your devices with Kaspersky
12. Customer Service — Both Apps Have Multiple Support Channels but Kaspersky's Support Is Available 24/7
It's crucial for an antivirus to have responsive customer support available to help whenever you face issues. You can get help for ESET and Kaspersky via live chat, email support, and an online knowledge base. However, Kaspersky's customer service is better because its live chat is 24/7, and there's also phone support.
I immediately connected to an agent upon contacting Kaspersky support via live chat. I then asked questions about using the app's features and troubleshooting some problems and got various helpful answers. Also, Kaspersky's knowledge base is in-depth and offers information about using the app and fixing common issues.
ESET's live chat is also responsive and provides helpful answers to questions. Plus, its knowledge base has lots of valuable information, and there's even a support forum where you can create threads about your issues. Unfortunately, ESET's live chat is only available from 6am–5pm PST from Monday to Friday. Also, it doesn't have phone support.
So, Kaspersky wins here because it offers phone support and 24/7 live chat, while ESET doesn't have phone support and limited live chat availability.
Safeguard your system with Kaspersky
13. Price — Kaspersky's Plans Provide Better Value for Money
Both antiviruses have multiple price plans, but Kaspersky offers more value for money. Its plans include the following:
Kaspersky Standard — has Kaspersky's core antivirus, optimization tools, and online payment protection.
Kaspersky Plus — provides Kaspersky's VPN and Data Leak Checker besides the features in Standard.
Kaspersky Premium — includes Kaspersky's ID protection, expert virus check and removal, and parental controls alongside the features in Plus.
Kaspersky's plans are well-priced and start at just $41.99/year, but I suggest getting its 41.99/year plan if you want the best value. This plan includes all the app's necessary security features, an unlimited VPN, and the Data Leak Checker.
On the other hand, ESET offers the following plans:
ESET NOD32 Antivirus — offers ESET's malware, ransomware, and phishing protection for Windows and macOS.
ESET Internet Security — includes ESET's network and privacy protection, all the features in NOD32, and also protects Android devices.
ESET Smart Security Premium — has all the above features and includes ESET's password manager.
ESET's plans offer decent value, and I consider ESET Internet Security the best choice because it includes all essential security features and protects Android devices.
Overall, Kaspersky's pricing is better because its plans offer more value for money.
14. Free Trial — Both Apps Have a 30-Day Free Trial
ESET and Kaspersky provide 30-day-long free trials that give you plenty of time to try their features without committing to a purchase. I also like that their free trials let you choose any plan and don't restrict you to a basic one.
One key difference here is that Kaspersky's free trial requires a credit card to sign up, while ESET lets you use its free trial without a credit card. So, while both apps' trials have the same length, I consider ESET the winner here because you can try it without a credit card.
Free Version Winner: ESET
Try ESET risk-free for 30 days
15. Money-Back Guarantee — You'll Get 30 Days to Both Apps Completely Risk-Free
A money-back guarantee lets you try a security app risk-free and test its features before fully committing to your purchase. I was pleased to learn that ESET and Kaspersky offer 30-day-long money-back guarantees that are easy to claim. If you're unsatisfied with either app's performance during this time, you can get your money back within a few days.
When I tested Kaspersky's refund policy by submitting a form, I got a confirmation email 1 day later saying my refund was approved. Afterward, Kaspersky refunded my money in 7 business days.
As for ESET, I requested a refund via email and got my refund confirmation within 2 days. After the confirmation, I had my money back in just 1 day, even though the email said it could take up to 5 working days.
Since both antiviruses have 30-day money-back guarantees and provide quick refunds, it's a tie here.
Money-Back Guarantee Winner: Tie
And the Winner Is… Kaspersky
After thorough testing, I found that ESET and Kaspersky are tied in 6 categories, including virus scans, real-time protection, and system performance. However, Kaspersky wins in 8 categories, while ESET only wins in 1.
In conclusion, Kaspersky is the superior antivirus and the better choice for comprehensive protection. While both these apps offer an effective 100% detection rate against malware, Kaspersky has more security features, a built-in VPN, and protects more platforms. Also, it offers better customer support, and you can try Kaspersky risk-free for 30-days thanks to its money-back guarantee.
However, while it isn't as feature-rich as Kaspersky, ESET is also a good choice if you want lightweight security that doesn't compromise system performance. Also, I like that ESET offers a 30-day free trial that lets you try any of its premium plans without a credit card. Best of all, it has a 30-day money-back guarantee, meaning you can try ESET completely risk-free.
Try Kaspersky risk-free for 30 days
How To Use Kaspersky's Free Trial on Your Device
In the following steps, I'll show you how to subscribe to Kaspersky's 30-day free trial and test the app risk-free. I'm using Windows for this explanation as it's the most popular platform for Kaspersky users, but you can also use the app on macOS, iOS, and Android to protect all your devices.
Open Kaspersky's list of trials — Navigate to Kaspersky's download page and click Explore Free Trials to see the list of available trials.


Choose your trial — Click Download Free Trial underneath the plan you want to try.


Sign up for the trial— Enter your personal and payment details to subscribe to the free trial.


Download the setup — Log into Kaspersky's web portal and download the Windows setup.


Install Kaspersky — Run the downloaded setup and follow its steps to install Kaspersky on your system.


Use Kaspersky's trial — Use Kaspersky's virus scans and features risk-free for up to 30 days while the trial lasts.

FAQs About ESET vs Kaspersky
---
Summary — The Overall Best Antivirus Software in 2023