How to Watch Wimbledon 2020 from Anywhere with a VPN
Last Updated by Kate Hawkins on October 01, 2020
Strawberries and cream, Pimm's, and the world's biggest tennis stars – put these all together and you get Wimbledon, the quintessential British summertime tournament.
One of four annual Grand Slams, Wimbledon is a chance to see the likes of Rafael Nadal, Venus and Serena Williams, and Rodger Federer play intense, edge-of-your-seat matches.
While Wimbledon is broadcast throughout the world, most of the sites are restricted by location or require expensive cable contracts. However, with a VPN you can change your virtual location and watch all the matches for free on the BBC iPlayer or sign in to your local cable account and watch. See all the details below.
Fortunately, we've discovered several VPN services you can use to make sure you don't miss out on all the action!
Watch Wimbledon for Free on the BBC iPlayer
The BBC iPlayer is a free service for people in the UK just create a free account and check the box that says "I have a TV License" and you're all set. If you are outside the UK, you can use a VPN to connect with the site and stream for free.
Get a VPN that works with the iPlayer. Our recommendation is ExpressVPN, in addition to working with the iPlayer, it's fast, easy to use, and has a 30-day money back guarantee.
Connect with a UK server
Create an account for the BBC iPlayer and enjoy.
Watch Wimbledon on ESPN through Sling, YouTube TV, Hulu Live and More
In the US, ESPN has the broadcast rights for Wimbledon. If you don't have a cable subscription you can still access ESPN through multiple OTT streaming services.
Get a VPN that works with the Sling. ExpressVPN is our top choice based on speed and quality of the stream.
Connect with a US server
Create an account or log in to Sling, YouTube TV, or Hulu Live from anywhere and watch matches live or on-demand
If you are looking for a different stream, there are several other options that can also be accessed with a VPN.
In Canada, watch the tournament on CTV
In Australia, match streaming takes place via Channel 7.
In India, HotStar has streaming rights.
In New Zealand, you can stream through TVNZ.
Setting Up Your Stream
Setting up your stream via your chosen VPN is pretty simple. These steps work for all four of the services listed in the bullet points above:
1. First of all, make sure your VPN is active: No matter how you're streaming, ensure the VPN is turned on.
2. Connect your VPN to an appropriate server: Choose a server in the correct country for the service you want to use. For example, if you want to use BBC iPlayer to stream, select a server in the U.K.
3. Access the service you want to use: BBC iPlayer, Channel 7, HotStar, TVNZ, and TVPlayer.com all require an account in order to access the streaming service. Sign-up is free and easy – make sure if they ask for details such as postal codes, you enter one from the service's country of origin.
4. Start streaming: Once you've created a free account, you're good to go! Choose which match you want to stream and start watching!
Which VPN Should You Choose?
When you are selecting your VPN, it's important to choose one which offers smooth streaming, minimal buffering and reduces the number of dropped connections – vital for making sure you don't miss out on those tense tennis moments.
Different VPNs offer different services – some are designed to optimize streaming while others promote security through encryption.
Our top three VPNs do both, giving you the chance to watch Wimbledon matches in real time while maximizing a secure connection. Let's take a look at the VPNs we rate the highest.
Let's take a look at the VPNs we rate the highest.

160 server locations in 94 different countries
Best-in-class encryption for superior security
Use 5 devices simultaneously with 1 account
30-day money back guarantee
ExpressVPN is one of the most reliable VPNs we've looked at. A low connection drop rate means more consistent streaming for you – no missing out on key moments during a match! If the signal is spotty in your location, ExpressVPN is a great choice – this VPN auto-reconnects for you, making sure you're back to the match ASAP.
While ExpressVPN has fewer servers, we've found the connections are reliable and ultra-fast. The best-in-class encryption keeps your IP address hidden even in the most securely regulated countries and network data is fully encrypted for your security.
ExpressVPN gives you the ability to use 5 devices simultaneously – or if you use their router app, you can connect as many as you'd like at once. No more missing out on 1 match to watch another! This VPN has an app available for most devices and operating systems (OS).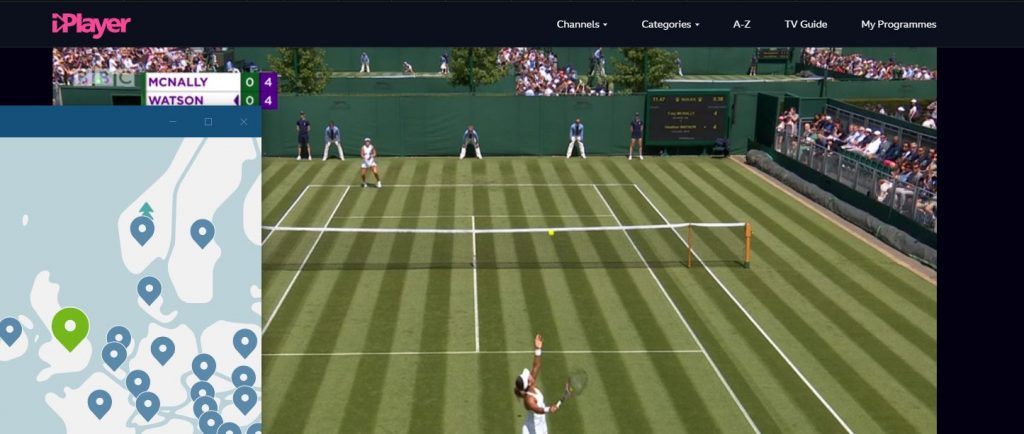 5200 servers in 60 countries
1 account secures up to 6 devices at the same time
Available for download on most devices and OS
30-day money back guarantee
With availability on a variety of devices and web browsers, NordVPN has an option for you no matter how you want to watch Wimbledon. 1 account secures up for 6 devices simultaneously – optimal for catching those matches taking place at the same time on different courts.
An impressive 5200 servers are available in 60 different countries. More servers equals less load time, which is key for streaming those important matches – no-one wants to experience buffering during the finals!
651 of those servers are available in the U.K., meaning you can pick and choose which one works best for you. 24/7 customer assistance is also on hand to help with any queries you might have.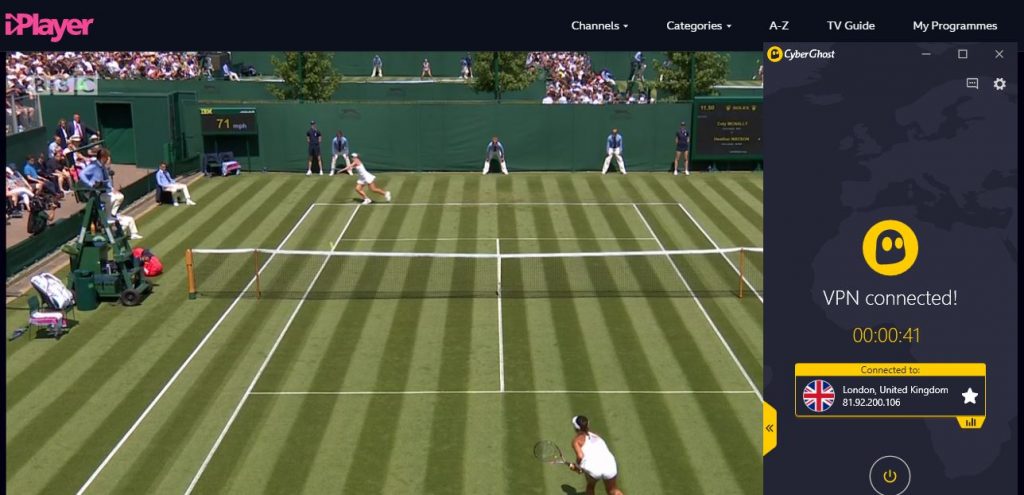 Over 4500 servers in 55 countries
Dedicated servers for popular sport streaming services
Up to 7 devices secured simultaneously
45-day money back guarantee
Designed for speed, CyberGhost VPN offers unlimited bandwidth and smooth streaming – essential for watching Wimbledon!
Dedicated to minimal buffering, this VPN has a focus on sports streaming and a walkthrough available, detailing how to choose the best server.
CyberGhost secures up to 7 devices simultaneously, giving you a huge choice of matches to watch so you never miss a moment. With apps available for a range of devices and OS, you can rest assured that your streaming experience will be completely covered and totally secure.
Final Thoughts
Whether you're traveling during Wimbledon or live in a country the tournament isn't shown in, using one of these VPNs enables you to stream the matches in all their glory.>
Not only are your connections secure, but the money back guarantees ensure you're at no risk financially – now that's what we call an 'Ace'!