7 Most Secure VPNs for PC, Mac, and Phones — Tested 2023
Last Updated by Julia Olech on February 01, 2023
If I'm going to use a VPN, I expect it to protect all aspects of my personal information — yet a majority of VPNs struggle to apply even the most basic data protection then waste my money. Aside from frustratingly slow speeds and a limited number of servers during my tests, countless vendors leaked my location details and left my data unprotected due to unstable connections. This is highly unacceptable and puts my devices in danger of being spied on or even hacked.
Out of hundreds of VPNs available, I found the top 7 that really impressed me not just with their security features, but also with their streaming, torrenting, and gaming capabilities. ExpressVPN came on top of all of my tests, making it the best all-around service that takes data protection extremely seriously. Better still, you can try ExpressVPN risk-free with the money-back guarantee for 30 days. If you're not satisfied with the service, ExpressVPN issues refunds in the first 30 days with no questions asked.
7 Most Secure VPNs for Computer, Mac, and Phone in February 2023
Key Features:
Best-in-class encryption used by the government and military for ultimate data protection
Strict no-logging policy and TrustedServer technology that wipes all of your data with each system reboot
3,000+ encrypted servers in 90+ countries for safe browsing on all websites
Keep your data safe on up to 5 devices simultaneously
24/7 customer help desk available
ExpressVPN is one of the few VPNs that can actually prove it doesn't keep any user logs within its servers. Not too long ago, Turkish authorities requested the VPN vendor to hand over any data on a user believed to be involved in a criminal investigation. The investigators claimed someone used the VPN's servers to delete any evidence related to the crime — but ExpressVPN had no information it could share.
In addition to its zero-logs policy and ultra-secure AES 256-bit encryption that protects your traffic as soon as you connect, the vendor implements TrustedServer technology on all of its servers. This meant that all of my data was erased every time I rebooted my connection, keeping absolutely no logs of my activity for anyone to find. In a highly unlikely situation hackers break into ExpressVPN's servers, they won't be able to steal any of your information.
That's not all: I tested over 100 ExpressVPN servers to see how well they could encrypt my traffic and hide my data. After running multiple IP and DNS leak checks, it became clear that my traffic was hidden at all times, regardless of which server I connected to. This reassured me that I wouldn't have to worry about revealing my banking details even if I logged in using a public WiFi network in a hotel.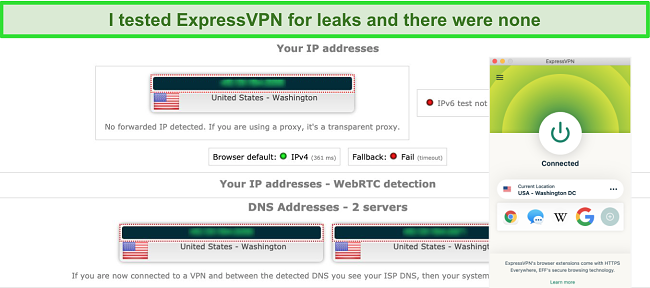 I also discovered that all ExpressVPN servers support safe torrenting and P2P file-sharing. This meant that I could take advantage of ExpressVPN's security features to keep my laptop and phone protected while browsing PirateBay and 1337x. It gave me peace of mind knowing I won't infect my devices with malicious torrent files as the vendor automatically alerts me of any suspicious activity. It's a great bonus if you want to safely access your favorite torrent platforms, even from China.
Aside from its security, ExpressVPN proved to unblock all sought-after streaming libraries on platforms like Netflix, Hulu, and Amazon Prime Video. Its legendary download speeds allowed me to watch various shows and movies in HD without buffering or lagging with streams loading in less than a second. On top of that, the speeds remained consistent and stayed above 30Mbps regardless of which server I connected to. Such reliability allowed me to comfortably watch Killing Eve on BBC iPlayer in the UK and The Irishman on Netflix US without a change in video quality.
You'll also be happy to hear that ExpressVPN is fully compatible with most gaming consoles, including PlayStation 4, Xbox One, and Nintendo Switch. This meant I could make the most of these fast speeds while playing online Call of Duty Black Ops missions with my friends overseas. Despite the high graphic demands the game poses on each user, I didn't experience any lagging and could keep up with action reaching my new in-game record. I also tested the VPN online gaming capabilities with Rocket League and Phasmophobia with both games running smoothly no matter which server I connected to.
Even though it comes at a slightly higher price than its competitors, you can test ExpressVPN's amazing services completely for free for 30 days. This money-back guarantee is a great risk-free option to check how well the provider can suit your needs — and if it doesn't, you'll get a full refund without an issue!
I can confirm it's a fully legitimate process as I tried how well it works myself. After trialing the provider for 24 days, I used the live chat service to request a refund and cancel my subscription. The advisor confirmed it was processed 30 seconds later! I didn't even need to provide a reason for canceling as the vendor practices a no-questions-asked refund policy. I received a PayPal refund in just a few days.
ExpressVPN works on: Mac, Windows, iOS, Android, Linux, Chromebook, Blackberry, PlayStation, Xbox, Chrome, Firefox, routers, and more.
Secure your device with ExpressVPN
February 2023 Update! ExpressVPN has dropped prices for a limited time to a crazy $6.67 per month for the 1-year plan (you can save up to 49%) + 3 months free! This is a limited offer so be sure to grab it now before it's gone. See more information on this offer here.
Key Features:
Ultra-secure data encryption, IP/DNS leak protection, and a kill switch
Zero-logs policy stops the provider from storing your data on servers
6,400+ secure servers in 80+ countries, including 100+ locations optimized for safe streaming and torrenting
Encrypt your data on 7 devices simultaneously
24/7 customer support available
Offering the biggest network of servers on the list, CyberGhost comes with thousands of locations optimized specifically for safe streaming and torrenting. These specialty servers come with expert configurations that ensure you get the fastest speeds available while keeping you 100% anonymous online. The best thing about these servers is that you don't have to set their optimized speeds manually — all you need to do is double-click on a server to connect.
Every streaming-optimized server is programmed specifically for its own streaming platform. In the "For streaming" tab located in CyberGhost's app, I noticed servers dedicated directly to Netflix US, BBC iPlayer, Spotify, Disney+, and many more. This means that connecting to these servers guarantees unblocking the platforms it's assigned to. I tested CyberGhost's reliability and every connection helped me access geo-restricted content from the US on Netflix, Hulu, Disney+, and Sling TV. Each stream loaded in less than 5 seconds with UltraHD video quality, even though my speeds were never higher than 35Mbps.
CyberGhost's torrenting servers can be found by selecting the "For torrenting" or "For downloading" tab (depending on which operating system you use). Choosing a server located in a country close to the UK (where I reside) provided me with the fastest speeds with which I could download a 3GB file in under 15 minutes. However, I could still torrent files of similar size using connections further away, such as the US or Canada — I just had to wait a bit longer.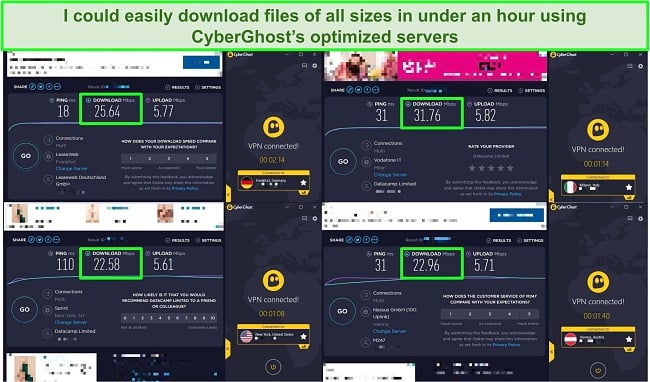 Torrenting files isn't just about rapid download speeds though as staying anonymous and protected is just as important. This is particularly true if you live in a country that considers any P2P activity illegal, like Iran or Russia. Luckily, CyberGhost offers a range of security measures that make you completely invisible online, including military-grade encryption, a kill switch, and a very strict zero-logs policy. I was also able to manually enable blocking pop-up ads, trackers, and malware that's commonly found in torrent files.
Unfortunately, CyberGhost is still unable to bypass censorship in China. Our team members based there couldn't unblock any restricted content. If you live in the country or are planning to travel there, you should get a proven VPN that can get past firewalls in China, like ExpressVPN.
To see if it is the right choice for your needs, you can test CyberGhost on your own for free for 45 days. It's the longest money-back guarantee on my list, giving you plenty of time to check all VPN features on your devices. I cancelled my subscription after 40 days through the online live chat and my refund was processed within a few minutes.
CyberGhost works on: Mac, Windows, iOS, Android, Linux, Chromebook, PlayStation, Xbox, Chrome, routers, and more.
Secure your device with CyberGhost
February 2023 Update! You can subscribe to CyberGhost for as low as $2.19 per month + get extra 2 months free with the 2-year plan (save up to 83%)! This is a limited offer so grab it now before it's gone. See more information on this offer here.
Key Features:
Fully customizable security settings, including AES-256 encryption, OpenVPN protocol, kill switch, malware blockers, and leak protection
Zero-logs policy to ensure your data is untraceable
3,300+ safe servers in 45+ countries
Encrypt up to 10 devices at the same time
24/7 live chat and email support
Unlike many other VPNs, Private Internet Access (PIA) gives you full freedom to apply custom security settings. This allowed me to choose which encryption protocol I wanted to use as well as various other options, like kill switch and malware protection. This freedom is great as I could adapt the settings accordingly to what I need the VPN for. For example, I enabled the toughest AES-256 encryption to check my bank account as I needed the ultimate data protection. However, the more advanced encryption settings you enable, the slower your download speeds will be — so if you only need the VPN to secure your device while streaming, it's best to choose a lower data protocol or no encryption at all. Even with the latter option, your IP address and login details are still fully invisible to prying eyes.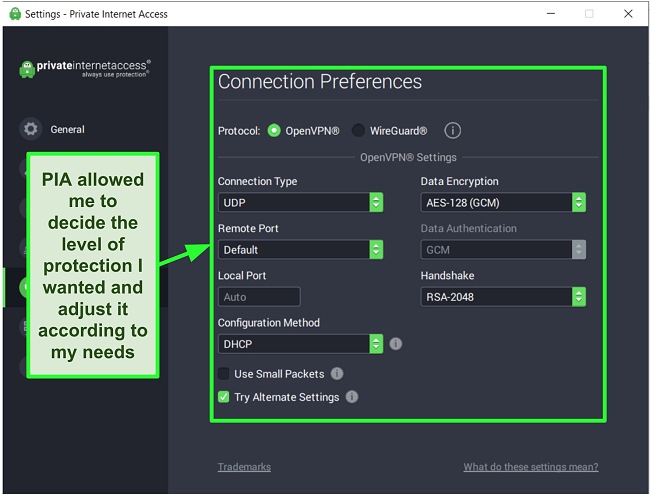 While altering security options may be offered by other VPNs on desktop versions of their apps, not many of them allow you to change them on your mobile devices. I was pleasantly surprised that PIA gives you total freedom on Windows, macOS, Android, and iOS, meaning you're able to choose the level of protection for each of your devices. I'm more likely to check my banking details and make payments through my mobile phone, I applied the heaviest protection on my Android PIA app. On the other hand, I use my Windows PC for gaming and streaming so I went for lower encryption to boost my download speeds to maximum.
As for its download speeds, PIA's servers didn't underperform during my tests when compared to other VPNs on the list. While their speeds depended on which country I wanted to connect to, most PIA servers still provided me with speeds above 18Mbps. That was enough for me to easily watch various Twitch streamers live without buffering.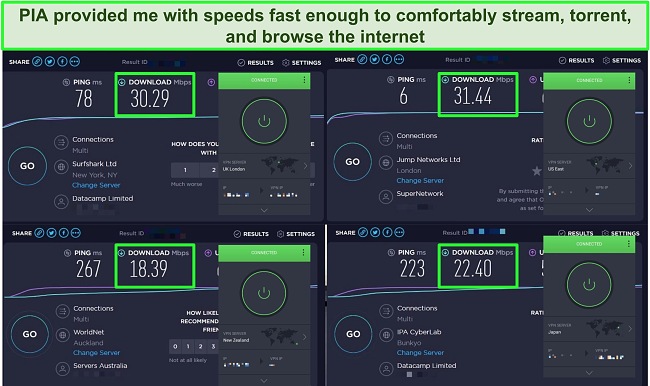 The one area in which PIA really struggles compared to its competitors is consistently bypassing location restrictions. The provider often failed to unblock various streaming platforms, like Hulu and Netflix, forcing me to manually look for a working server myself. This wasted a considerable amount of time I could spend catching up with Selling Sunset on Netflix and added unnecessary stress to my free time.
As a new user, you'll get a chance to try PIA's features for free for 30 days. I found it extremely helpful as it took me a few days to fully understand how to make the most of PIA's customized settings. I cancelled my subscription online after using PIA for 27 days and received a refund directly to my bank account a week later.
Private Internet Access works on: Mac, Windows, iOS, Android, Linux, PlayStation, Xbox, Chrome, routers, and more.
Secure your device with Private Internet Access
Key Features:
Robust and secure military-grade encryption, IP and DNS leak protection, and automatic kill switch
No-logging policy included
1,500+ safeguarded servers in 70+ countries
Keep your data hidden on 10 devices at once
24/7 chatbot available to answer FAQs
IPVanish is a great VPN for torrenting as there's unlimited bandwidth and fast speeds. On top of that, IPVanish subscriptions come with a free access to SOCKS5 proxy that added an extra layer of anonymity to my account and increased my speeds. The proxy itself doesn't encrypt your traffic though, so ensure you use it in conjunction with an IPVanish server connection. Doing so will greatly reduce the risk of getting hacked or accidentally downloading malicious files on your device.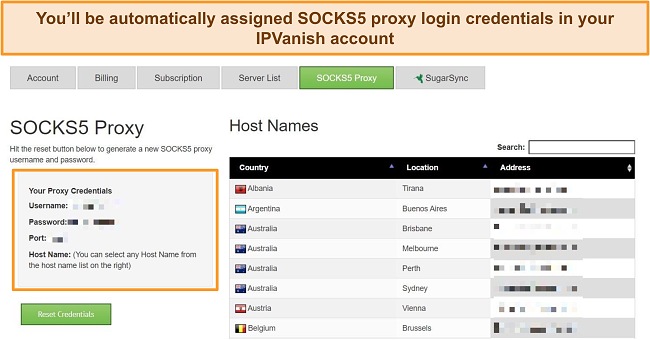 Despite good download speeds, IPVanish wouldn't be my top choice for streaming. During my tests, all of my attempts to access Hulu, BBC iPlayer, Sling TV, HBO Max, and other platforms ended with the dreaded error message. I successfully unblocked Netflix and Disney+, but not every server managed to work.
Similarly to other VPNs, IPVanish protects your data with 256-bit encryption and a strict no-logs policy. As it's located in the US which is a part of the 5 Eyes intelligence network, IPVanish could be summoned to share user data with the government — but you don't have to worry. The no-logs policy means the provider doesn't store any details about your browsing history or personal data. Since there's no information to share, the government won't find out about your online activity even if they ask for it.
IPVanish is definitely worth the money if you're looking to effectively protect your data while torrenting. You don't have to make your decision about the VPN's services straight away either. After creating your account, you'll get to use IPVanish for free for 30 days with its money-back guarantee. I didn't even have to speak to an advisor to cancel my subscription. All you'll have to do is cancel through your account and the refund will be automatically processed.
IPVanish works on: Mac, Windows, iOS, Android, Linux, Amazon Fire TV, Amazon Fire Stick, routers, and more.
Secure your device with IPVanish
Key Features:
Secure 256-bit encryption and a protective firewall that detects connection drops
Doesn't record or store any of your online activity
100+ protected servers in 50+ countries to choose from
Stay anonymous on up to 3 devices at the same time
24/7 email ticketing service and on-call support
Securing my data and staying anonymous wasn't my concern when it came to UltraVPN's data protection features. Alongside the 256-bit encryption that makes your traffic unreadable to third-parties, the vendor doesn't log any user activity keeping your search history a secret. While UltraVPN doesn't have a kill switch, my connection stayed protected with a firewall that instantly blocked my traffic when it detected I was switching servers. I didn't get much choice when it came to altering my security settings, but it didn't bother me too much. I even found it convenient as I didn't have to fumble with buttons to set up appropriate protection — it was already applied for me!
Rapidly growing in popularity, UltraVPN owes its success to an extremely user-friendly app interface that's perfect if you're new to VPNs. Its simple layout allowed me to find my desired location and set up a connection in 30 seconds with just 2 clicks of a button. The app is also very lightweight and easy to handle even for older operating systems, like Windows 7 or 8. This means your device won't crash or slow down when you set up your connection.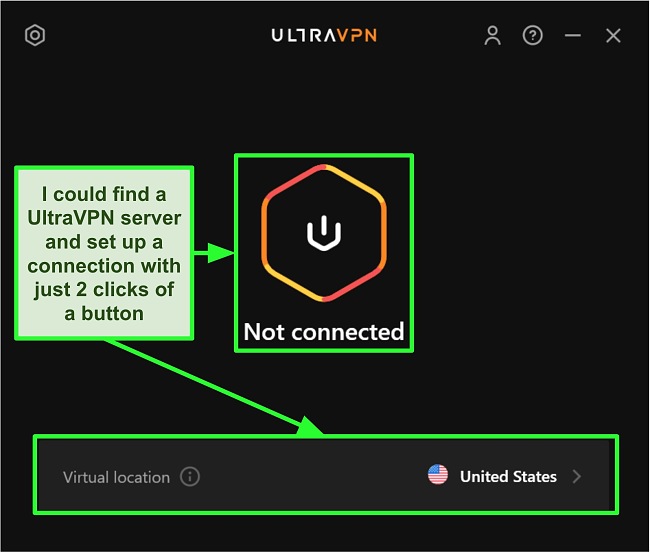 As UltraVPN is a relatively new vendor, you're limited with the number of servers you can choose from. Servers in more popular locations, like the UK, the US, or Canada, tend to become overcrowded very quickly, especially on weekends. This led to my download speeds slowing down by almost 80%, causing major buffering on while watching shows on Netflix and Hulu.
However, if you aren't looking to connect to a specific server, you'll still find plenty of options in countries in Asia, South America, and Europe that provide fast speeds for browsing and torrenting. For the fastest download speeds, connect to a server the closest to your location as many servers further away may significantly slow down your connection. It didn't have much impact on my browsing experience, but it almost doubled the time needed to torrent gaming files.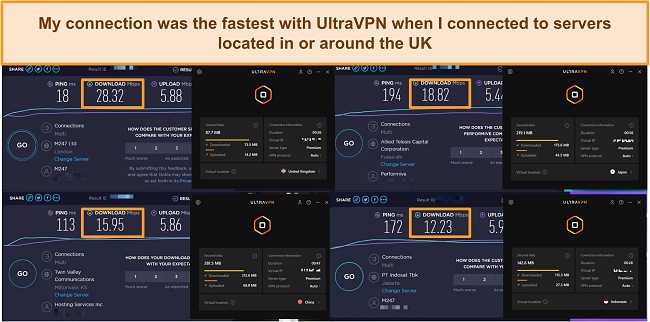 When you subscribe to the VPN, you'll get to try UltraVPN's features for free for the first 30 days — regardless of which plan you choose. I highly recommend using this risk-free money-back policy to see for yourself if it's worth the money. When you're done, simply use the vendor's email ticketing service to request a refund. I received a prompt response from the customer team in less than a day confirming my refund would be with me in 5-7 days.
UltraVPN works on: Mac, Windows, iOS, Android, Chrome, Firefox, Amazon Fire TV, and Amazon Fire Stick.
Secure your device with UltraVPN
Key Features:
Ultra-safe 256-bit encryption code with 2048-bit DH key, in-built leak protection, and an automatic kill switch
Zero-logging policy
150+ reliable servers in 55+ countries
Supports up to 6 device connections at the same time
24/7 online customer support
Despite its small network of global servers, PrivateVPN is still a strong contender when it comes to keeping you safe from various online threats and bypassing internet censorship. That's due to Stealth Mode — a unique feature that effectively hides the fact that you're using a VPN. It essentially makes you completely invisible to the government giving you full online freedom and access to all websites. This helps go around even the toughest online restrictions, including internet laws in China which many other VPNs struggle with.
Your data won't accidentally leak either thanks to an automatic kill switch and built-in IPv6 and DNS leak protection. All security features are applied by default so you don't have to fumble with buttons trying to figure out which settings to change to increase your safety. While I could easily switch between different security options myself, the default settings themselves provided my traffic with unbreakable protection.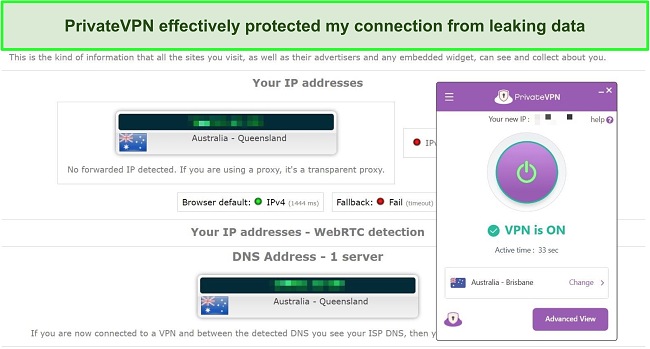 Torrenting is supported on all PrivateVPN's servers with some locations allowing port forwarding as well. In addition to already-enabled security settings, the provider comes with a kill switch and IPv6 leak protection for added safety. Both features worked remarkably well and I couldn't find any leaks during my extensive security tests. However, they're turned off by default so remember to switch them on in the app (under the "Connection Guard" tab) prior to visiting any torrenting sites.
PrivateVPN disappointed me slightly when it came to download speeds though, which is why I put it so low on my list. The speed wasn't my concern when I connected to servers in close proximity to the UK, but my traffic significantly slowed down when I tried locations in the US and Canada. They weren't unusable and I could still browse the internet fairly comfortably — but don't expect PrivateVPN to work perfectly when streaming content on Netflix or other platforms.
If you aren't that bothered about connecting to long-distance servers, I'd definitely recommend that you try PrivateVPN for free for 30 days using its money-back guarantee. It's the best way to see if available features are enough to satisfy your needs without losing any money. I easily got my refund by contacting the customer team through online chat.
PrivateVPN works on: Mac, Windows, iOS, Android, Linux, routers, and more.
Secure your device with PrivateVPN
Key Features:
Hacker-proof WireGuard and Chameleon VPN protocol, VyprDNS leak protection, specified cloud protection
Verified no-logs policy
700+ server clusters in 70+ countries
Connect up to 5 devices simultaneously
24/7 user support online
VyprVPN gave me unlimited potential when it came to browsing the internet while ensuring my data was sealed away from prying eyes. With the most advanced WireGuard security protocol, my connection was ultra-secure and anonymous without overwhelming my operating system.
I was surprised to see VyprVPN also offers a highly unique 256-bit Chameleon protocol. The feature was created to go around the toughest online restrictions, including strict internet laws in Russia, China, Turkey, and other countries. I asked our team members currently residing in China to check if VyprVPN works and they all confirmed they had full freedom to browse all blocked sites.
Using the Chameleon protocol, I was also able to unblock various streaming websites, like Disney+, Netflix, Hulu, Sling TV, and more. As many of these platforms apply anti-VPN technologies, I was even more impressed with the lack of issues VyprVPN had with accessing locked content.
If you often use public WiFi, you'll be pleased to know VyprVPN offers automatic protection on unsecured networks. This means that as long as the VPN app is installed and active on your device, it'll detect when you have a vulnerable WiFi connection and instantly pair you with a server. As I sometimes forget to connect to a VPN prior to using the internet, I found it super useful because it stopped me from revealing my details to hackers and snoopers.
The only downside to using VyprVPN was its inconsistent server speeds. I ran speed tests on over 30 servers and only the locations in or around the UK gave me speeds above 25Mbps. Servers in the US significantly slowed down my connections to under 10Mbps, while connecting to locations in Japan or New Zealand gave me speeds of around 5Mbps. Depending on your base internet connection, your traffic could be even slower making VyprVPN unusable for anything other than basic browsing.
Don't just take my word for it — try VyprVPN for free for 30 days to see if it works for you. When you make your decision, contact customer service through live chat or email and an advisor will process a refund with no issues if you cancel within that month.
VyprVPN works on: Mac, Windows, iOS, Android, routers, and more.
Secure your device with VyprVPN
Why You Need a VPN to Protect Your Device
Using the internet on your devices without appropriate protection allows various third-parties access to your personal and vulnerable information. A VPN is a protective software that provides you with full anonymity online by hiding your location and encrypting your data. This means that no one – including your Internet Service Provider (ISP) – can monitor what you're using the internet for. It's particularly helpful if you're streaming, gaming, or torrenting as your ISP won't know how much bandwidth you use — meaning it won't be able to throttle your speeds.
Data encryption also makes it impossible for hackers to view and steal any data you input online, such as passwords, credit card numbers, and full addresses. Such protection is crucial if you often use public WiFi networks as those are often riddled with malicious spying software that silently collects your personal details. A VPN connection will effectively turn all of your traffic into a set of encrypted data packets that no one can read.
Apart from masking your traffic, VPNs provide each device you connect with a brand new IP address. As many websites use your IP address to check your location and viewing rights, changing it allows you to 'travel' to a different country — without leaving your home! Hiding your real IP address is an effective practice to unblock platforms restricted only to certain countries, like BBC iPlayer or Disney+. It's also a proven way to bypass online censorship, torrent safely, and avoid porn bans.
Finally, many VPN vendors come with built-in adware and malware blockers. This stops any trackers and spying software from installing on your devices without your authorization. It's also a great perk if you regularly visit ad-heavy torrenting or streaming sites as you won't have to deal with annoying pop-ups blocking your view.
Keep your devices safe with ExpressVPN
Are Free VPNs Safe?
Unfortunately, free VPNs aren't safe to use on any device and may even put your safety at risk. While there are a selected few free providers that are more secure than others, a vast majority of available vendors won't secure your devices properly, no matter what their marketing team says.
As free VPNs make most of their profits through advertising, your device will become swarmed with pop-up ads as soon as you open the VPN app. It may seem mildly annoying at best, but most of these ads contain malicious software (adware) that instantly installs trackers on your devices. From there, free VPNs can collect every detail about your online activity and personal information, including banking logins, passwords, and even photos stored on your device. This data is then sold to third-parties, like marketing companies, law enforcement, or even hackers.
Free vendors offer extremely limited security features to cut down their running costs. Despite many of them advertising as the best at keeping my online data safe, almost none of the free VPNs I tested passed the IP and DNS leak tests. This meant that my information wasn't properly encrypted and was leaking my location details (and other vulnerable data) leaving it visible to other people online. It's a disastrous situation even if I was just browsing the news sites — let alone if I wanted to use a free VPN to torrent files, especially in a country where torrenting is strictly forbidden.
Aside from multiple security issues, free VPNs could never unblock any restricted websites and streaming platforms. After connecting to various locations and using different providers for a good hour, I couldn't go past the Netflix error message. The same thing happened when I tried to unblock Disney+, Hulu, Amazon Prime Video, and BBC iPlayer.
If you manage to find a platform that works with a free VPN, you won't be able to watch anything on it for long. Even the most popular and "safe" free VPNs come with tight bandwidth limits and data caps — so you'll likely run out of your allowance after just a few short YouTube videos. These limitations also made it impossible for me to finish an online Rocket League game and my connection stopped just as I was about to score.
The idea of getting a service without spending any money is highly attractive even to me, but considering all the risks that come with using a free VPN, it's simply not worth it. Instead, I highly recommend getting a premium VPN, such as ExpressVPN. Getting a subscription-based service can be intimidating, but it's the only way to get the most secure and reliable online protection. The best part is you can try ExpressVPN risk-free before you decide if you want to commit to it.
FAQs on Secure VPNs
Are VPNs safe on public WiFi?
Yes, a VPN connection can protect your online traffic even on public WiFi. That's because a VPN effectively encrypts your internet traffic on any network enabling fully anonymous web browsing. This means that all of your personal information, including banking details, full names, and addresses, stays hidden even when using unsecured WiFi in hotels, cafes, restaurants, or libraries.
VPNs can also protect your data when you accidentally connect to a malicious public network created by hackers. These networks provide cybercriminals with an easy way of collecting personal data from anyone who uses such networks. However, connecting to a VPN server prior to choosing a public network will fully prevent hackers from accessing any of your information.
Can I protect any of my devices with a VPN?
Yes, you can effectively protect all of your devices with a secure and reliable VPN provider, including:
PCs: macOS, Windows, Linux, and Chromebook
Mobile phones: iOS, Android, Windows Phone, and Blackberry
Smart TVs: Android Smart TV, Samsung TV, Apple TV, Amazon Fire TV, and LG Smart TV
Streaming devices: Chromecast and Amazon Fire Stick
Gaming consoles: PlayStation 3 and 4, Nintendo Switch, Xbox 360 and One
Routers
Remember that the number and type of devices you can protect with a VPN depends on which provider you choose. While I did most of my testing on a Windows PC, Android, and iOS devices, I discovered that premium VPNs, like ExpressVPN, are usually more compatible with most (if not all) devices. If you're looking to secure your data on gaming consoles, smart TVs, streaming devices, or less popular tech devices, check if your chosen VPN is definitely compatible with them.
Protect all devices with ExpressVPN
Which VPN protocol is the safest?
Out of all VPN protocols offered by vendors, OpenVPN is the most commonly-used and recommended by cybersecurity specialists. As it's one of the newest protocols, it was developed with more advanced security features that don't overwhelm the CPU on your devices. It's most commonly offered with AES 256-bit encryption, which makes it the most efficient at making your online traffic invisible. Pairing the 2 features became a "gold standard" in VPN security because it has seemingly no weak points of entry for hackers to ever use.
OpenVPN is also highly recommended for bypassing geoblocks due to its ability to hide your connection in plain sight. This is possible due to complex code it implements on every device that makes websites unable to check whether you use a HTTPS connection or a VPN. Even though many sites use very advanced anti-VPN technologies, OpenVPN can effectively trick them giving you access to every platform on the internet.
Avoid Online Data Tracking and Secure Your Device With a VPN
All VPNs will market themselves as the "most secure" and "better than others" — but not all VPNs can actually back it up. The last thing you need is a vendor that causes you more trouble by logging your search history or leaking your data on unsecure WiFi networks.
You need a VPN that will make all of your devices unhackable and fully satisfy your online needs. While all of the top recommendations will keep you safe online, ExpressVPN is the best choice to ensure your security online. You can even try ExpressVPN risk-free with the money-back guarantee for 30 days! If you find it doesn't fit your needs, you can quickly request a refund over 24/7 live chat.