5 Best VPNs for Porn in 2022 (Works on Any Device)
Last Updated by Julia Olech on July 01, 2022
Watching porn isn't something you should be ashamed of, but it's no one's business what you do online — so you should keep it out of your device history. That's why I always recommend using a VPN when you're feeling frisky.
A VPN is like a condom for your online security. By encrypting your traffic, it goes around frustrating porn restrictions while ensuring you're not downloading malware on your device.
However, not all VPNs are a good fit for porn. ExpressVPN is the best for online porn as it has fast speeds for HD streaming and top protection to keep your kinks anonymous. It even has a 30-day money-back guarantee, so you can get a refund if you're not satisfied.
Important! If you're traveling to a country that blocks porn, you could face legal issues if you access it with a VPN. My team and I don't condone any illegal behavior, so please check your local laws to avoid repercussions.
Quick Guide: Best VPNs for Porn in 2022
The Best VPNs to Watch Porn Anonymously (Tested in 2022)
Key Features:
3000+ servers in 94+ countries
Top streaming speeds on every server to avoid interruptions on porn sites
Military-grade encryption, leak protection, a kill switch, no-logging policy, and more
Connect up to 5 devices at once
24/7 live chat and email customer support
30-day money-back guarantee
ExpressVPN has the fastest and most secure server network, making it a top choice for watching porn in HD. During testing, every server I connected to gave me blazing-fast speeds and prevented IP and DNS leaks. This meant I could instantly access content libraries on PornHub and RedTube without worrying about revealing my sexual preferences.
I connected to over 60 servers in the US, UK, Canada, France, Spain, and Sweden to run speed tests. Each ExpressVPN connection reduced my original speeds only by 9% — even when I used overseas servers which usually slow me down more. As the difference is so small, adult videos loaded instantly and played in HD until I was ready to finish.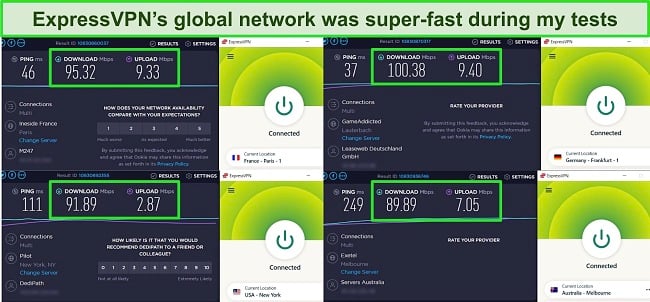 ExpressVPN uses RAM-based servers that remove your adult browsing history with every server reboot. Military-grade encryption ensures your browsing history remains uncracked from the moment you connect. Combined with a no-logging policy and a privacy-focused headquarters location in the British Virgin Islands, the strong security lets you keep your kinks to yourself.
ExpressVPN is compatible with routers, so you can even set it up on your home network. In addition to router compatibility, ExpressVPN has the same features on its Firefox, Chrome, and Microsoft Edge extensions — you won't be restricted when it comes to server options, speeds, or security features when watching porn on your browser.
Considering the ultra-fast speeds, tight security, and wide device compatibility, I think ExpressVPN is worth its slightly pricier subscription. Plus, ExpressVPN's current offer lets you get the 1-year plan for just $6.67 per month.
ExpressVPN guarantees to satisfy your porn viewing needs — but if it doesn't, you have up to 30 days to claim a refund. This lets you use ExpressVPN with adult entertainment sites completely risk-free. I asked for a refund through the 24/7 live chat after 24 days of testing and the VPN representative approved my request without trying to change my mind. I had the money in my bank account within 4 days.
ExpressVPN works on: iOS, Android, Windows, macOS, Linux, Chromebook, Amazon Fire Stick, Amazon Fire tablets, Fire TV, Kodi, PlayStation, Xbox, routers, and more.
ExpressVPN unblocks: PornHub, Shameless, xHamster, RedTube, LobsterTube, LetFap, Bellesa, YouPorn, LiveJasmine, DroidPorn, Porn.com, Literotica, and more.
July 2022 Update! ExpressVPN has dropped prices for a limited time to a crazy $6.67 per month for the 1-year plan (you can save up to 49%) + 3 months free! This is a limited offer so be sure to grab it now before it's gone. See more information on this offer here.
Key Features:
7900+ servers across 91+ countries worldwide
Great speeds optimized for watching porn without annoying interruptions
Military-grade encryption, ad and malware blocker, IP leak protection, and more
Works on 7 simultaneous device connections
Customer support available through 24/7 live chat and email
45-day money-back guarantee
CyberGhost has servers optimized for enjoyable porn streaming. While there are no servers programmed specifically for adult sites, I found that Netflix, Prime Video, Hulu, and other streaming connections still work with PornHub, Bellesa, and more.
The streaming servers also gave me fast speeds at any time of the day — even with a higher user load. This lets me enjoy the latest videos from top adult entertainers in 1080p without the slightest stutter whenever I felt the need for some alone time.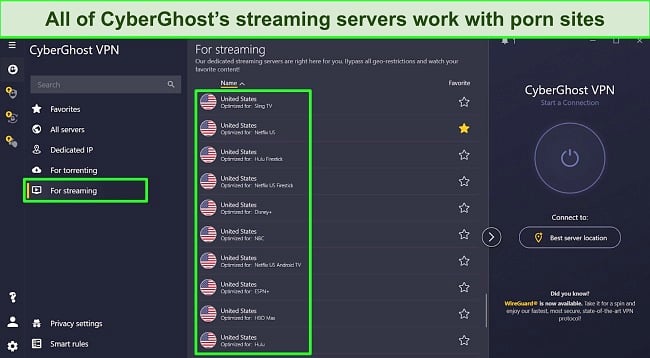 Your fetishes stay anonymous with CyberGhost's 256-bit encryption, DNS/IP leak prevention, protection from DDoS attacks, and malware/ad blocker. The latter is especially important when you're accessing less popular porn websites as they're often riddled with malware.
CyberGhost's ad blocker stopped all adware, so malicious pop-ups didn't suddenly block my view on any adult entertainment site. Plus, the VPN offers multiple protocols, like WireGuard, OpenVPN, and IKEv2, which perfectly balance fast speeds and top security on every server.
CyberGhost's kill switch works on iPhones and iPads. I also discovered that the kill switch performs equally well across all compatible operating systems. This means weak WiFi networks won't put you at risk of catching an online tracker if your traffic suddenly stops.
CyberGhost is located in Romania where local laws don't force companies to collect customer data. Even though the no-logs policy is yet to be audited, the privacy-conscious legalities mean the company isn't obligated to store any data. So even if the authorities or anyone else requested user files, CyberGhost would have nothing to hand over.
CyberGhost's 45-day money-back guarantee is available on plans longer than 6 months. If you want to get a VPN for only 1 month, the refund policy goes down to 14 days. As a result, my recommendation is to get CyberGhost's 3-year plan for just $2.29 per month.
That way you'll get to watch porn for free with CyberGhost's money-back guarantee. I found that the 24/7 live chat is the quickest way to get your money back. CyberGhost's agent didn't try to change my mind and processed my refund in 1 minute. I had my money back the same week.
CyberGhost works on: iOS, Android, Windows, macOS, Linux, Chromebook, Chrome, Firefox, Amazon Fire Stick, Fire TV, smart TVs, routers, and more.
CyberGhost unblocks: PornHub, Shameless, xHamster, RedTube, LobsterTube, LetFap, YouPorn, LiveJasmine, DroidPorn, Porn.com, Literotica, and more.
July 2022 Update! You can subscribe to CyberGhost for as low as $2.29 per month + get extra 3 months free with the 3-year plan (save up to 83%)! This is a limited offer so grab it now before it's gone. See more information on this offer here.
Key Features:
Network of 35000+ servers spread across 80+ countries
Fast speeds for easy access to your favorite porn stars from anywhere
Allows you to connect up to 10 devices at once
24/7 troubleshooting help available through live chat and email
30-day money-back guarantee
Also known as PIA, Private Internet Access has the largest network of servers worldwide. This lets it spread its user load evenly, so you won't experience sudden slowdowns. That way you don't have to worry about being kicked out of porn streams or losing access to live cams.
With most of its servers located in North America, PIA is a top choice for accessing US porn sites. This helped me avoid pesky interruptions on porn platforms and log in to my accounts in under 7 seconds. The US servers also kept my speeds 37% below my regular traffic, so I could enjoy porn without lags.
I also learned that PIA's security effectively prevented data leaks on all servers I used. I ran tests on 70+ servers and never found any discrepancies between the IP addresses and locations. This means the VPN works as intended and won't suddenly reveal where you're connecting from while you're rushing for tissues.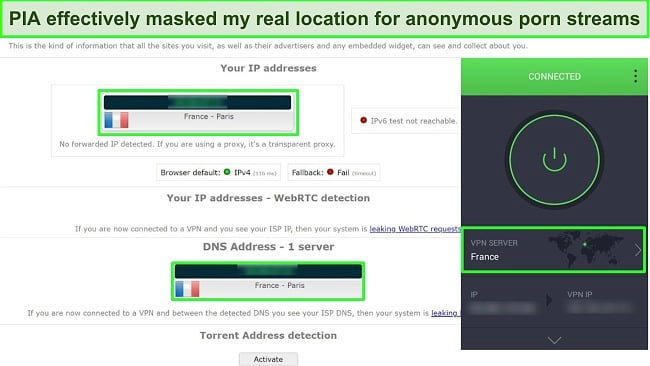 Better yet, PIA's customizable security settings allowed me to boost my porn-streaming resolution. By default, I was using 256-bit encryption which provides the toughest protection on the market. But changing it to 128-bit increased my traffic speeds by 18%, letting me enjoy porn in higher quality. It didn't compromise my security either as it still wrapped my traffic in difficult-to-crack code and I didn't notice any leaks.
PIA comes with a browser extension for Opera as well as Chrome. The plugin heavily cuts down the available server network, but I could still find connections in sought-after countries, like the US, Netherlands, Germany, France, and more. PIA even let me adjust some security settings, like WebRTC leak protection or enabling its ad blocker, which is rare to find with VPN browser extensions.
Unfortunately, PIA's speeds aren't consistently fast across its whole network. When I connected to servers in the US or Japan from my UK home, my speeds dropped by an additional 23% compared to servers in Europe. While my traffic was still fast, you may experience some buffering when watching porn from across the world. To avoid slowdowns, try to connect to a server as close to your location as possible.
The 2-year plan is the cheapest out of all VPN subscriptions on the list at just $2.19 per month. If that's too long, PrivateVPN's 1-month option is still more affordable than its competitors, letting you save regardless of which subscription you get.
Luckily, you can test PIA with a range of porn websites for free for 30 days to check whether it delivers quality streaming for you. Even though its refund process takes longer than ExpressVPN and CyberGhost, my request was approved in just 3 minutes — all I had to do was explain why I was canceling. I received the full fee back in my bank within 7 business days!
PIA works on: iOS, Android, Windows, macOS, Linux, Chrome, Firefox, Amazon Fire Stick, Fire TV, smart TVs, routers, and more.
PIA unblocks: PornHub, Shameless, xHamster, RedTube, LobsterTube, LetFap, YouPorn, DroidPorn, Porn.com, Literotica, and more.
Key Features:
200+ servers in 63+ countries worldwide
Good speeds and minimal ping due to High-Quality Network bandwidth
Stealth Mode with a zero-logging policy and a kill switch
Connect up to 10 devices at once
Live chat and email support are accessible 24/7
30-day money-back guarantee
PrivateVPN's top-grade security keeps your porn preferences private. It offers military-grade encryption, protection against IP and DNS leaks, and a secure kill switch. While it's fairly basic, it's more than enough to keep you anonymous on public WiFi at hotels or other public spaces. Plus, PrivateVPN accepts cryptocurrency transfers to make sure no one can get hold of your payment details either.
On top of that, PrivateVPN uses High-Quality Network (HQN) which reduces your latency for stutter-free porn streams. The HQN allows PrivateVPN to get its internet capacity (also known as bandwidth) directly from an IP transit company. This means that your traffic doesn't travel through third-party hosting servers, which is the case with many VPNs on the market. That way, you get faster speeds for HD porn streams on every server.
PrivateVPN is very easy to set up and use, so you won't need to fumble with buttons before sitting down to enjoy the show. I could also enable a Simple View mode within its app to minimize the interface and connect with just 2 clicks. However, there's no browser extension for Chrome, Firefox, Opera, or Microsoft Edge.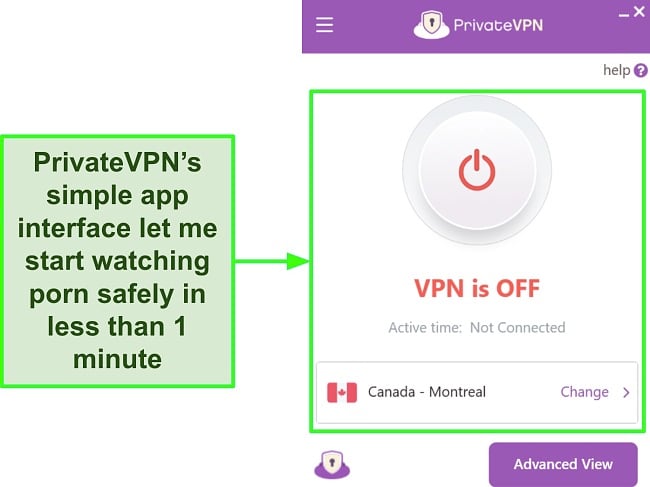 I didn't have the biggest choice of locations as PrivateVPN's server network is smaller than other VPNs on the list. This means you may not always find a connection in a country you're looking for, especially if they're less sought after on the VPN market (like Puerto Rico or Cuba). Without local servers, you may be blocked from your usual porn sites. For a wider choice of locations, choose a different VPN on the list.
That said, PrivateVPN is an affordable VPN for only $2.00 per month when you sign up for the 3-year plan. This makes it one of the cheapest monthly VPNs — although you'll get more savings when you sign up for a long-term plan.
Every plan comes with a 30-day money-back guarantee, so you can indulge in solo fun with PrivateVPN risk-free. To use the money-back guarantee, all I had to do was ask for my money back through the 24/7 live chat. After explaining I wasn't interested in using the VPN anymore, the PrivateVPN representative approved my request. I received the refund within 10 business days.
PrivateVPN works on: iOS, Android, Windows, macOS, Linux, Amazon Fire Stick, smart TVs, routers, and more.
PrivateVPN unblocks: PornHub, Shameless, xHamster, RedTube, LobsterTube, LetFap, YouPorn, DroidPorn, Porn.com, and more.
July 2022 Update! PrivateVPN has dropped prices for a limited time to a crazy $2 per month with the 3-year plan (you can save up to 85%)! This is a limited offer so be sure to grab it now before it's gone. See more information on this offer here.
Key Features:
Global network of 2000+ servers in 80+ countries
Reliable speeds and server details that always let you find the fastest connection
AES-256 encryption, a kill switch, leak protection, and a no-logging policy
Supports unlimited device connections at the same time
Get help through 24/7 live chat and email
30-day money-back guarantee
If you don't want to log in and out of the VPN app, IPVanish allows you to watch porn on all of your devices. As it works with popular operating systems, you can easily switch from your PC to a phone or smart TV to stream the latest content from Mia Khalifa or Lena Paul.
Porn is best enjoyed without buffering and IPVanish's speeds are good enough to prevent unsexy streaming disruptions. With an average speed of 48Mbps, my traffic was 43% slower than usual. Porn videos require only 7-10Mbps to play in 1080p, so it's unlikely you'll deal with lags or pixelation even if your WiFi isn't super fast.
IPVanish works on popular devices like Windows, Mac, iPhone, iPad, Android, and more. However, there are no browser extensions. You'll need to set up its app on your device in order to secure your traffic and watch porn safely.
Unfortunately, PIA is based in the US and falls under the 5 Eyes Alliance jurisdiction. It also hasn't undergone an independent audit of its privacy policy yet, although the company does claim to uphold a strict no-logs policy.
The prices are affordable and you can even save 82 when you sign up for the 1-year plan. It'll only cost you $3.33 per month. However, all prices will rise after the first subscription year.
It's still risk-free to connect to IPVanish's porn-friendly servers with the 30-day money-back guarantee. Once you're done, you can cancel your subscription through your account settings on the website. I received my refund confirmation within 1 day and my money came back 6 days later.
IPVanish works on: iOS, Android, Windows, macOS, Linux, smart TVs, routers, and more.
IPVanish unblocks: PornHub, Shameless, xHamster, RedTube, LobsterTube, YouPorn, DroidPorn, Porn.com, and more.
Comparison Table: 2022's Best VPNs for Porn
| | | | | | |
| --- | --- | --- | --- | --- | --- |
| | Device Limit | Server Number | Server Countries | Lowest Monthly Price | Money-Back Guarantee |
| ExpressVPN | 5 | 3000+ | 94+ | $6.67 | 30 days |
| CyberGhost | 7 | 7900+ | 91+ | $2.29 | 45 days |
| PIA | 10 | 35000+ | 80+ | $2.19 | 30 days |
| PrivateVPN | 10 | 200+ | 63+ | $2.00 | 30 days |
| IPVanish | unlimited | 2000+ | 75+ | $3.33 | 30 days |
Be Careful! These Methods for Watching Porn Sites Don't Always Protect You
During testing, I came across multiple ways for accessing porn, so I tried them to compare how they perform compared to VPNs. Some methods didn't work at all while others triggered threat warnings from my antivirus software — nothing gave me the same benefits as a VPN.
Online Proxies
Even though they usually work with porn, proxies don't offer the same level of protection and privacy as a VPN. While top proxies may use secure encryption protocols, they still work only on a part of your network instead of a whole connection. This is okay if you need quick access to a porn site in your browser, but it won't keep you safe if you use adult apps on your devices.
If you don't use one of the tested top proxies, your porn search history is at high risk of ending up in the wrong hands. That's because shady proxies collect your browsing history and sell it to advertisers for profit, which may involve you in identity theft or scams.
For safe access to porn in your browser, you should get ExpressVPN's proxy extensions. The VPN's plugins are the best on the market. They've got 3000+ servers, military-grade encryption, fast speeds, and compatibility with Chrome, Firefox, and Microsoft Edge. Using them will also save you setting up an app on your device, so you can open porn without a delay.
The Tor Network
The Tor browser provides the privacy needed to unblock porn safely, but it heavily slows down your traffic causing constant buffering. That's because Tor uses very tough encryption and sends your traffic through numerous servers. As a result, using the Tor network didn't let me watch porn in sharp video resolution or enjoy bufferless action.
Tor is scary to navigate as it's easy to come across disturbing sexual content, like child pornography or rape. If you're caught viewing videos of this nature, you could face legal repercussions. To avoid it, only visit porn sites you have a direct link to. Or better yet, get a VPN and use your regular browser to remove any possibility of experiencing trauma.
The Wayback Machine
The Wayback Machine gives you access to old versions of porn websites, but your connection won't be secure. The archive library provides free access to cached online content that doesn't exist anymore or generates a gateway error — including videos on xHamster and other porn sites. While your Internet Service Provider (ISP) won't block you from using the Wayback Machine, it may recognize porn URLs. This means your video could end before anyone reaches the tipping point.
However, porn videos didn't even load during my tests on the Wayback Machine. It used to work in the past, but it seems even the archived versions are being cracked down on. Unless you're happy looking at video thumbnails, I suggest you connect to a VPN server to avoid any issues.
Google Translate
Google Translate can open porn sites restricted by local firewalls, but searching for adult sites through the translator doesn't hide your activity from others. My antivirus warned me about malicious downloads as soon as I opened xxxvideos through Google Translate and my security plugin stopped me from viewing any content. If you don't have such protection, you're putting your data at risk in exchange for a few minutes of pleasure.
I also found its effectiveness is based on luck as sometimes I could play videos on PornHub and other times Google Translate left me dry. So not only may you end up in danger, but you may not reach your happy ending at all.
Google Search Engine Cache
I often use Google to visit cached websites, but I don't recommend it for porn as it doesn't work with any adult site. I tested it by searching for "cache:" followed by a URL for VIPWank, LiveJasmine, and other porn sites. No matter which platform I tried to access, I was blocked from logging in to my account.
That's because Google doesn't provide encryption, so my adult searches were instantly recognized by network administrators at work. The lack of security features (plus Google's questionable privacy) also put my device at risk of installing malware or unknowingly handing over my data to hackers.
Alternative DNS Servers
Third-party DNS servers may sometimes work with porn sites, but they don't hide your online activity from onlookers. DNS servers work by translating common URLs (like www.wizcase.com) into computer-friendly IP addresses. This allows your device to find the correct website and load it up. Normally, your ISP assigns you a DNS server when you connect to WiFi. This is easy to change with a designated third-party service like DNS Jumper or OpenDNS.
However, a DNS only swaps a URL into a set of numbers — it's still up to your ISP to find the correct website and connect you to it. So your network administrator still knows which sites you're trying to access and stops them from opening.
URL Shorteners
Using URL shorteners to stream porn doesn't work, because the link instantly unravels when you select a video to watch or open a different catalog of kinks. This means you'd have to prepare a list of links to specific porn content that would take you directly to the video.
Even if you're determined enough to do this, URL shorteners don't encrypt your traffic, so your device is still at risk of malicious attacks. Without VPN protection, hackers have easy access directly to your device and all the data you store on it. So you may be safe from STDs, but you'll probably catch a computer virus anyway.
How I Tested and Ranked the Best VPNs for Porn
Finding the right VPN for porn is very difficult as you need a variety of features for pleasurable porn viewing. That's why I tested the best VPNs available against the criteria below:
A global network of servers for quick access to top countries where watching porn is legal.
Fast speeds across the whole server network, so you can avoid high pixelation, buffering, or sudden stops as you're enjoying the best porn videos.
Unbreakable security features, like 256-bit encryption, IP/DNS leak protection, a kill switch, and many VPN protocols to prevent accidental data leaks.
A proven no-logging policy, so no one can find out your favorite fetishes without your approval.
Ability to bypass online porn restrictions to avoid pesky error messages on popular adult sites, including PornHub, Bellesa, GayMaleTube, xHamster, and more.
Responsive customer service is available 24/7 for quick troubleshooting that lets you go back to where you left off without extra waiting time.
Easy Guide: How to Watch Porn Anonymously With a VPN
Get a VPN. ExpressVPN lets you watch porn anonymously and without buffering.
Connect to a server. Choose a server close to your physical location for the best possible speeds.
Open your browser in an Incognito or Private mode. Combined with a VPN connection, this will stop cookies from tracking your browser activity.
Go to your favorite porn platform. ExpressVPN has apps for smartphones and desktop, so you can securely access your favorite porn app or website.
That's it! Now you can safely open PornHub, RedTube, or other adult sites and enjoy uninterrupted pleasure.
FAQs: VPNs and Porn
Will a free VPN let me enjoy porn safely?
As tempting as they are, free VPNs don't keep you safe on adult entertainment sites. Aside from top "freemium" VPNs, gratis services compromise your privacy by monitoring, logging, and selling your data. This means your data may end up with hackers or trigger advertisers to reveal your porn preferences by selling you questionable items on Facebook, Google, and more.
Free VPNs also require a lot of patience to use. In a poor attempt at reducing overcrowding, their limited server networks often force you to wait in long queues until you can connect. After a 20-minute wait, I was more annoyed than excited — and it got even worse. PornHub needed 8 minutes to load a video and the buffering with high pixelation made me turn off my computer without the release I was looking forward to.
The last thing you need is slow streams and online trackers monitoring every moan. To avoid splurging on the wrong VPN, I recommend you watch high-quality porn safely with CyberGhost for free. The 45-day money-back guarantee lets you enjoy adult websites without compromising your security — and get a refund if it's not as good as you expected.
Is incognito mode safe enough for porn?
No, the incognito mode doesn't let you watch porn anonymously. While it hides the browsing history on your device, incognito mode leaves your whole connection exposed to everyone. Google says so itself in the fine print visible when you first open the private window:
Your activity may still be visible to:
Websites you visit
Your employer or school
Your Internet Service Provider
On top of that, the incognito mode doesn't secure your traffic with any advanced technology. This leaves you vulnerable to malware planted on many porn platforms, allowing hackers quick access to your very private data.
I always recommend using the incognito mode with a quality VPN, like ExpressVPN. That way you're hiding your porn preferences on your device and your entire traffic, so no one will ever know what you're doing behind closed doors. You can even watch porn privately with ExpressVPN risk-free for 30 days with its money-back guarantee.
What's the best country for watching porn?
Countries like the US, Canada, Spain, Ireland, France, Brazil, and Mexico are the best for watching porn because they don't restrict or ban adult entertainment sites. All recommended VPNs for porn cover these countries in their server network, making it easy to log in to your regular adult platforms when you travel.
Remember that porn is banned in countries with strict online censorship or big religious influence, such as China, North Korea, and the UAE. Viewing any pornographic content is unlawful there and you could face legal consequences if you're caught.
Even if you're in a country that doesn't restrict porn, you should still use a VPN to watch it. Adult sites are a common ground for hackers and scammers waiting to gather your personal data. Connecting to a VPN server instantly masks your IP address, so no one can find your personal information as you're enjoying yourself.
Can I watch porn on a corporate VPN?
I don't recommend it, because your porn search history won't be anonymous. The top VPNs for porn connect you to their own separate networks to keep you private, but corporate services use your workplace's internal network — even if you work from home. When you're connected to a business VPN, nothing on your work device is private since your employer can easily check what you're using your connection for. This not only leads to embarrassing meetings but could end up in termination of your position if you're caught.
Are proxy sites safe for watching porn?
Even though there are some proxy sites you could use to watch porn, none of them can keep you 100% safe. Unlike the best porn-friendly VPNs, proxies don't use advanced encryption — or if they do, they protect only a small part of your traffic instead of the whole network. This leaves a lot of room for error and data leaks, which could reveal your kinks to anyone looking.
Many proxies also limit your bandwidth and data so it's often not enough to finish with your favorite porn stars. The worst services even collect your adult preferences and sell them for profit!
If you don't want to install a VPN app, you can watch porn within your browser with an ExpressVPN proxy extension on Chrome, Firefox, or Microsoft Edge. The plugin offers super-tight security with the same features as the app, so your porn viewing won't be compromised. ExpressVPN's extensions give you access to all 3000+ servers too, which is rare to find. This is much better than a proxy and it'll let you watch porn in higher quality.
Can I use a VPN to watch porn on my phone?
Yes! The recommended VPNs let you watch porn on Android and iOS. Testing showed my phone was equally as secure as other devices too, so each VPN applies the same level of protection and anonymity no matter what you view adult sites on. The top VPNs also come with mobile apps that are very easy to use, letting you connect with just one hand — leaving the other one to roam freely.
Is it illegal to watch porn with a VPN?
No, it's not illegal to watch porn with a VPN, but it's not as straightforward in countries that block adult websites. If you're caught viewing banned pornographic content, you may face severe legal repercussions depending on where you travel. Always check local laws before arriving in any country to ensure you're not abusing them by watching porn with a VPN.
Protect Your Data and Device With a Top VPN for Porn Today!
Watching porn is a personal thing, so no one should have access to your sexual preferences without your permission. You also shouldn't be at risk of compromising your data by installing viruses and other malware on your devices just because of your natural desires. A VPN lets you enjoy the best adult stars without revealing your identity or compromising your security.
I put over 60 VPNs to the test and found that ExpressVPN should be your top choice for bufferless access to porn videos from anywhere. Its fast servers allowed me to browse through large catalogs without a delay, while premium security effectively prevented any data leaks. It's also backed by a 30-day money-back guarantee, so you can watch porn with ExpressVPN risk-free — and pull out if you change your mind.
---
Summary — Best VPNs for Porn in 2022