6 Best Free Kodi VPNs in 2022 (Tested + Works on All Devices)
Last Updated by Lucca RF on August 01, 2022
Many unofficial Kodi add-ons are filled with security risks that expose your private data. That's why it's essential to protect yourself with a VPN.
To save you time, I tested over 30 VPNs to find the best free VPNs for Kodi in 2022. However, I was shocked to discover how many free VPNs have logged or sold user data. Even good free VPNs often had limited data, 1 or 2 servers, and slow speeds.
To avoid any limitations, I suggest you try ExpressVPN for Kodi for its high-speed global servers and powerful encryption on any Kodi streaming device. It's backed by a 30-day money-back guarantee, so you can get a full refund if you're not satisfied (I've tested it myself and it works).
Top Tips: While using a VPN is legal almost anywhere, make sure you only watch content that you've legally paid for and don't share anything if you don't own the copyright.
Try ExpressVPN with Kodi risk-free
Quick Guide: Best Kodi VPNs for Free in 2022
The Best Free VPNs for Kodi (Tested August 2022)
Key Features:
Unlimited data for non-stop Kodi streaming
3000+ servers in 94 countries
Strict no-logs policy, military-grade encryption and leak-proof servers
5 simultaneous device connections
24/7 customer support and live chat support
30-day money-back guarantee
While not strictly a free service, I wanted to include it as ExpressVPN has the fastest speeds, strongest security, and a 30-day money-back guarantee. This means you can test out ExpressVPN with Kodi without any risk or commitment. If you're not satisfied, you have a full 30 days to claim a refund.
ExpressVPN has 3000 servers in 94 countries, making it a great choice to reliably access Kodi add-ons. Its huge server selection helped me access my original content library on a recent trip abroad. I was excited that I could easily download Kodi add-ons like Popcornflix (US only).
During testing, I was also impressed at how fast all of ExpressVPN's servers were. I connected to servers in over 15 different countries (including the US, France, Germany, and Australia) and ran speed tests using Ookla. Every server was fast enough to give me bufferless streaming in full HD quality – even when I connected to servers over thousands of miles away.
I was relieved that ExpressVPN has the best safety features on the market to ensure my online activity stays anonymous. This includes its diskless server setup, secure encryption, and leak protection. I tested this for myself to see if it would hide my location and data while using Kodi. I ran DNS and IP leak tests to see if it could mas my IP address, and it always kept my true location hidden.

Additionally, ExpressVPN's strict no-logs policy guarantees that your online activity is never stored. This ensures that all your activity on Kodi is 100% anonymous. ExpressVPN was one of the first VPNs to be independently audited by PwC and publish its results to show that no personally identifiable data is ever stored. Many VPNs have followed in its footsteps since, although many popular VPNs still fail to perform audits.
ExpressVPN has no limitations regarding what and how much you can stream or download. Even if your Kodi add-on is pulling from torrent files, ExpressVPN will never block or throttle your connection. This is an issue you'll encounter with many free VPNs since torrenting is very resource-demanding.
Finally, ExpressVPN has unmatched device compatibility. It's one of the best VPNs for Windows, Android, Fire Stick, Android TV, and Smart TVs. It also works well with a ton of other operating systems and devices. If you discover that ExpressVPN doesn't have a native app for a certain device, you can always install it on your router or create a virtual hotspot to protect any device connected to your WiFi.
Don't take my word for it – it's completely risk-free to try ExpressVPN for 30 with its money-back guarantee. That way, you can see how well it works with Kodi on your device. If you decide it's not worth it, you can get a full refund and test another recommended VPN on this list.
ExpressVPN works with: Amazon Fire Stick, Android TV, Mac, Windows, Linux, Chromebook, Android, iOS, Blackberry, Raspberry PI, Windows Phone, Chromecast, Amazon Fire TV, routers, and smart TVs.
ExpressVPN unblocks: Netflix, Hulu, Amazon Prime, Comedy Central, BBC iPlayer, ESPN, National Geographic, NBC Sports, DAZN, YouTube TV, Sling TV, Disney+, and more.
Try ExpressVPN risk-free today
August 2022 Update! ExpressVPN has dropped prices for a limited time to a crazy $6.67 per month for the 1-year plan (you can save up to 49%) + 3 months free! This is a limited offer so be sure to grab it now before it's gone. See more information on this offer here.
Key Features:
Zero data caps for unlimited streaming on Kodi
Over 8200+ servers in 91 countries for global access
Military-grade encryption, leak protection, and zero-logs policy
Secures up to 7 devices at the same time
24/7 customer support through live chat, email ticketing, and knowledge base
45-day money-back guarantee
CyberGhost's top-tier security makes it easy to access Kodi from anywhere. On a recent trip abroad, I found I could use CyberGhost's servers to download add-ons like Popcornflix and watch movies without any buffering or lag. All I had to do was connect to a regular server in my chosen location and CyberGhost effectively accessed the content I wanted.
CyberGhost's unlimited data meant I could download and stream with Kodi as much as I wanted. I ran multiple speed tests to find out which servers performed best and CyberGhost's high-speed servers had the top download speeds. The US high-speed servers had an average speed of 101Mbps, just a 12% decrease from my regular download speeds. For the fastest speeds, always connect to the closest CyberGhost server.
The app features a kill switch to ensure my data is secure, even if the internet connection is unstable. I ran leak tests to see if CyberGhost kept my Kodi activity secure in the encrypted tunnel and it passed every test – zero leaks! However, the service has yet to undergo an independent audit to verify its zero-logs policy. That being said, CyberGhost's servers are run on RAM (like ExpressVPN) so I'm satisfied that my data isn't being stored.
I was also pleased to find CyberGhost features a malware-blocker that blocks malicious downloads. This is especially useful when downloading Kodi add-ons, as some of them could be hosting malware designed to steal your data. CyberGhost's malware-blocker effectively protected my devices from malicious content so I could download add-ons risk-free.
CyberGhost is compatible with a huge range of devices and has native apps for multiple platforms. Its easy-to-navigate interface also makes it a great option for users who are new to VPNs, as one-click gets you connected and secured almost instantly.
You can use CyberGhost for free for 45 days with the money-back guarantee. I tested the process and my refund was approved in less than 5 minutes. Best of all, it took under a week to get my money back.
CyberGhost works with: Amazon Fire Stick, Android TV, Mac, Windows, Linux, Chromebook, Android, iOS, Blackberry, Raspberry PI, Windows Phone, Chromecast, Amazon Fire TV, routers, and smart TVs.
CyberGhost unblocks: Netflix, Hulu, Amazon Prime, Comedy Central, BBC iPlayer, ESPN, National Geographic, NBC Sports, DAZN, YouTube TV, Sling TV, Disney+, and more.
Try CyberGhost for free with Kodi
August 2022 Update! You can subscribe to CyberGhost for as low as $2.29 per month + get extra 3 months free with the 3-year plan (save up to 83%)! This is a limited offer so grab it now before it's gone. See more information on this offer here.
Key Features:
500MB of free data per day (~15GB of monthly data)
1 free server in the US
Military-grade encryption and an independently audited no-logs policy
Only allows 1 device connection at a time
Customer support available over email
Hotspot Shield is a super-fast VPN that you can use to stream from Kodi in high quality with very low buffering times. I was impressed that unlike some other VPNs that offer tiny monthly data caps, you get 500MB daily with Hotspot Shield free, adding up to 15GB monthly. This is a good amount of data for a free VPN, giving me plenty of data to catch up on an episode or two of my favorite shows after I get home from work. Better yet Hotspot Shield never restricts your downloading of torrents, even with its free plan.
Even with only 1 server location (in the US), I was still reaching speeds of 20Mbps even though it wasn't very close to my home location. This especially surprised me since the free version is advertised as being throttled to 2Mbps. Keep in mind that you might experience the throttled 2Mbps speeds, even though mine were about 10 times faster. Other than a few seconds at the beginning of a stream, I didn't have to deal with any buffering even in HD.
Not only could I stream from most Kodi add-ons that I tested, but Hotspot Shield's servers also worked with Netflix and other popular streaming platforms. While 4K content used up my 500MB per day data allowance too fast to be practical, I used Hotspot Shield to watch in HD without worrying about interruptions. Typical HD suited my needs fine (and most add-ons don't support 4K anyway). When I downloaded the Adult Swim add-on and started an episode of Bob's Burgers, the whole thing played in full HD and I didn't miss a single gag. Initial buffering took less than 5 seconds.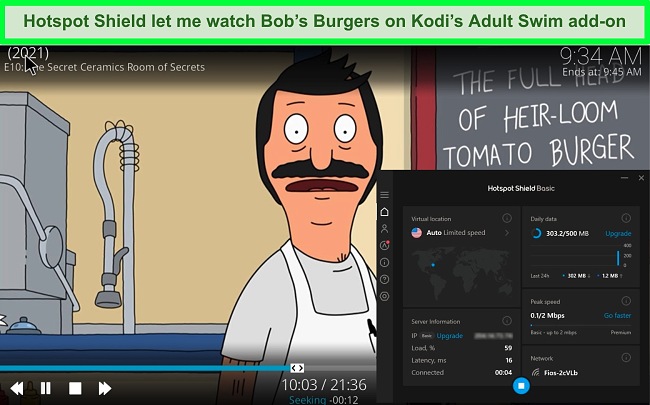 Hotspot Shield does display ads, but it isn't intrusive. However, the privacy policy states that free users may see ads relevant to their "approximate city-level latitude and longitude." While this might not sound like a big deal, it means that Hotspot Shield is tracking some basic location data. I don't believe this to be a problem for my own Kodi use, but this is a judgement you'll have to make for yourself.
For a free VPN for Kodi, Hotspot Shield is a great choice – just keep in mind the drawbacks of the single server choice and some mild privacy concerns. You can easily download Hotspot Shield for free and see if it meets your needs.
Hotspot Shield works with: Windows, Android, macOS, iOS, Chrome, Smart TVs, Linux, and routers.
Hotspot Shield unblocks: Netflix, BBC iPlayer, Hulu, Amazon Prime, Comedy Central, NBC Sports, YouTube, Sling TV, and more.
Try Hotspot Shield for free with Kodi
Key Features:
500MB of free data every month
Servers in 48 countries in the US, Japan, Australia, and more
Highly secure infrastructure with annual independent audits
Allows 5 simultaneous device connections
Customer support includes email, help guides, and FAQs
TunnelBear has a wide range of server locations (something you don't often see with free VPNs). In fact, you get access to the same full network as paying TunnelBear users. It includes hundreds of servers in 48 countries, covering many popular regions including the US, Canada, UK, and Japan. I was excited about this large network because it means you can access popular Kodi add-ons like BBC iPlayer (UK only) and Crackle (US only).
I was also pleasantly surprised by TunnelBear's speeds, reaching an average of 35Mbps across a combination of its Germany, UK, US, and Japan servers. This was plenty fast for streaming in high quality.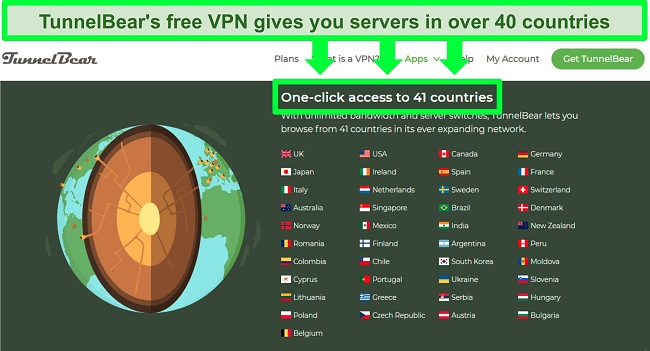 TunnelBear's free app protects you with military-grade encryption and an automatic kill switch (called VigilantBear), so you can rest assured that no one can monitor your Kodi activities.
TunnelBear does keep a small amount of non-identifiable data about you – this includes your device's OS, bandwidth usage, and if you've accessed the service in the last month. However, I'm not worried about this particular information being collected, especially since the company carries out annual independent security audits to ensure it handles data responsibly.
A TCP Override feature in TunnelBear helps you overcome video problems caused by speed throttling or network issues. If you get a lot of lag when you watch shows or movies, enabling this option is often an easy fix. When my TunnelBear server filled up with too many users and slowed down, enabling TCP Override kept my streams from being interrupted by annoying buffering.
A big drawback is that you only get 500MB for the entire month, which will give you about 1 hour of streaming in SD-quality video. Realistically, this is nowhere near enough for streaming on a regular basis and could even be treated more as a test for the paid product. However, it does give you the chance to download Kodi add-ons. You can also obtain bonus data if you post a Tweet on Twitter about the company.
With its relatively large server network, TunnelBear is a great service to help you bypass geoblocks. Sign up for free and try TunnelBear with Kodi yourself.
TunnelBear works on: Windows, macOS, Android, iOS, Chrome, and Firefox.
TunnelBear also unblocks: Sling TV, NBC Sports, YouTube, and more.
Try TunnelBear for free with Kodi
Key Features:
10GB monthly data allowance for streaming
Free servers in the US, Canada, Germany, and Netherlands
Military-grade encryption and an independently audited no-logs policy
Only allows 1 device connection at a time
Customer support via email only
Hide.me is a free VPN based in Malaysia, which means it isn't required to keep any user data or share information with any third parties. This makes it an excellent VPN for Kodi as you can stream and download media without worrying about your anonymity being compromised.
Hide.me has been independently audited by DefenseCode, which analyzed its logging activity and certified that none of your data or activity logs are stored. It's a huge plus knowing that you can trust the policy without having to just take the company's word for it. That's doubly true if you're using any legally questionable Kodi extensions (which you should always avoid). Not only could questionable add-ons get you into trouble, they also are far more likely to contain trojans and other malware.
Hide.me provides military-grade encryption to keep your activity hidden at all times. More uniquely for a free option, it offers split tunneling. You can use this to send the traffic of some programs through the VPN connection and others without it. Since Hide.me provides 10GB monthly data on its free plan, you can also use split tunneling to preserve data by only sending necessary traffic through it.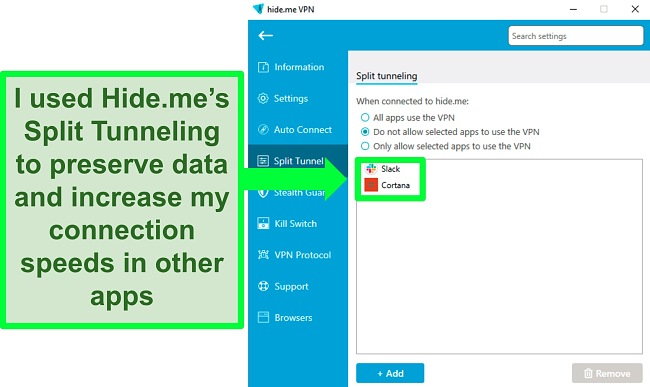 Unfortunately, I found that Hide.me's free plan can't unblock streaming services such as Netflix or Hulu. This is a shame but also expected, since free VPNs rarely offer this feature. You only get 10GB of data every month, which will be limiting if you're a heavy user. However, it should be enough for 3-10 hours of streaming depending on video quality. Fortunately, Hide.me's free version has no limitations on torrenting.
Speeds were also slower than most of the other VPNs I tested. My usual speeds of around 200Mbps dropped to just 20Mbps, which is a considerable drop but expected for a free VPN where few resources are shared amongst many. It's still plenty for HD streaming, and these speeds also remained steady across the other regions I tested – US East and West, Canada, Germany, and Netherlands.
In terms of Kodi-supported devices, there's a native Hide.me app for Windows, Mac, Android, iOS, Fire Stick, and Linux. You can even set it up at the router level to connect any other devices with Kodi.
If you're looking for a free VPN with a proven no-logs policy, consistent speeds, and useful additional features, Hide.me is a strong choice. Simply download the Hide.me app and try it for free, you don't even have to make an account.
Hide.me works with: Windows, Android, macOS, iOS, Linux, Amazon Fire Stick, Android TV, Chromebook, Windows Phone, Chromecast, Amazon Fire TV, routers, and smart TVs.
Hide.me unblocks: Amazon Prime, Comedy Central, BBC iPlayer, ESPN, National Geographic, NBC Sports, DAZN, YouTube TV, Sling TV, Disney+, and more.
Try Hide.me for free with Kodi
Key Features:
Unlimited bandwidth on free servers
Free servers in the US, Japan, and Netherlands
Top-tier security and located in privacy-friendly Switzerland
Allows 1 device connection at a time
Customer support via email, FAQs, and a knowledge base
ProtonVPN is the only free VPN with unlimited bandwidth. Whether you consume large amounts of video content or download a lot, this makes ProtonVPN a fantastic choice. This is complemented by some of the best security I've seen in a free VPN, so your Kodi sessions are both limitless and secure.
I tested ProtonVPN's speeds and I reached 80Mbps with the Netherlands server, which is close to me since I'm in Central Europe. Even the more distant US and Japan servers reached 64Mbps and 51Mbps, respectively – much higher than I achieved with the other VPNs on this list.
In addition to military-grade encryption to hide your data, ProtonVPN invited tech company Mozilla to carry out an independent audit. Mozilla found that ProtonVPN's server infrastructure meets its high expectations for keeping users totally anonymous.
ProtonVPN also open-sourced its apps so anyone can take a look at the code to ensure they're held to the highest standards of security. The free version also includes a kill switch, which ensures data like your IP and browsing activities won't be revealed if you suddenly lose your VPN connection. It isn't on by default, so you just have to activate it with the switch button.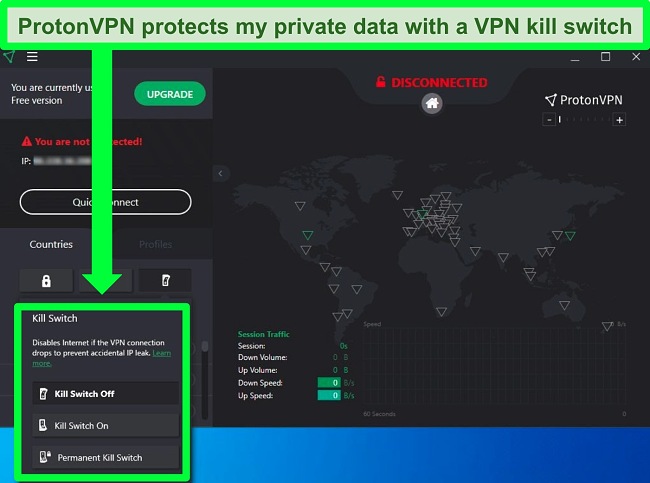 The main downside is that ProtonVPN attracts a lot of people all fighting over limited server resources. This is mainly noticeable during peak hours, at which point server speeds drop off. During these times, I noticed that my speeds fell from over 60Mbps to under 5Mbps. This may be an issue for you if these times coincide with when you want to watch.
ProtonVPN's free version also doesn't support torrenting, which will restrict what you can do on Kodi. Some Kodi add-ons are based on a P2P system, whereby they pull data from multiple torrent sources simultaneously that result in the video stream you see. However, there's plenty of content available on Kodi that doesn't use P2P, so this isn't a dealbreaker – especially if you normally use an add-on like Real-Debrid to fetch your content.
You can access Kodi with ProtonVPN on Windows, Android, and Android TV. It doesn't support Fire Stick natively, but you can install the Android .apk on Fire Stick if it's your preferred platform. Installation on multiple types of routers is also supported so you can protect all connected devices at once. Since it offers unlimited bandwidth you also don't need to worry about running out of data with multiple devices connected.
For the best combination of speed, security, and privacy when using Kodi, ProtonVPN is a fantastic choice. You can download ProtonVPN for your device and see for yourself. Best of all, if it's not to your liking, come back and try one of the other free picks.
ProtonVPN works with: Windows, Mac, Android, iOS, Linux, Chromebook, Android TV, and routers.
ProtonVPN unblocks: Netflix, Disney+, HBO Max, Prime Video.
Try ProtonVPN for free with Kodi
The Risks of Using a Free VPN With Kodi
With Kodi being free, you may want a free VPN that works with it. Unfortunately, free VPNs come with several trade-offs – it's simply a matter of finding those that make the least compromises. The main two risks actually encompass several issues:
Technical limitations. When I use Kodi, my main consideration is getting good speeds so I can stream in high quality. Unfortunately, this requires both fast servers and high bandwidth allocation, two things that free VPNs are often lacking. Free users are often left competing for limited server resources which results in low-quality streams and frequent buffering, taking you right out of the viewing experience.
Security issues. Often, if you're using a free service, you're the real product. Some free VPNs have been caught selling user data or access to its network to malicious third parties. Additionally, many are fundamentally unsafe and don't stay up-to-date with the latest security standards concerning encryption, IP leaks, or no-log policies.
If you want to be certain that your data is safe and traffic secure, you can take advantage of a premium VPN's money-back guarantee. CyberGhost has a 45-day money-back guarantee, so you can use it for free as long as you request a refund within 45. I even tested it myself and I had no issues getting my money back.
Warning! Never Use These Free VPNs With Kodi
Not all free VPNs offer a good service. In fact, plenty suffer from serious security issues.
Thunder VPN
Thunder VPN's privacy policy is far from ideal, showing that this provider keeps information like your IP address, ISP, unique device identifier, times connected, and more. A VPN should log the bare minimum information – otherwise, it defeats the purpose of using a VPN to protect your online privacy.
Betternet
In an academic study in partnership between several US and Australian universities, researchers found that Betternet was injecting malware or adware onto users' devices. This study was focused on the Android version of the app, but it's worrying that it was discovered in any version in such a serious study in the first place.
Touch VPN
While Touch VPN hasn't been implicated in any security breaches, its logging policies leave a lot to be desired. Touch VPN kept records of users' online history, IP addresses, and personal device information. A VPN keeping activity or IP logs are an instant red flag to me.
How a VPN Works With Kodi
Since Kodi is an open-source platform, your security may be at risk each time you download a third-party add-on. Kodi add-ons are apps that can occasionally contain malware or keyloggers, and could even make you the target of man-in-the-middle attacks. However, you can use a top VPN to boost your overall security against these threats by encrypting your traffic and hiding your IP address.
Additionally, content in some Kodi add-ons may be restricted to certain locations. When you connect to a VPN, you appear as if you're in a different geographical location, which can be handy for accessing the content you rightly pay for when traveling abroad. Many streaming services keep an updated blacklist of IP addresses linked to VPNs, so it's important you use a service that keeps its IP addresses fresh.
Stay safe on Kodi with ExpressVPN
How to Choose the Best Free VPN for Kodi in 2022
There are a few main criteria you should look out for when choosing a free VPN for Kodi.
Ensure your VPN supports the device you want to watch Kodi on. Most VPNs have Windows and Android apps (which will also work on Fire Stick), but for Linux or router solutions you may have to look further.
Investigate the privacy policy (zero logs is best!). Almost all VPNs state that they don't store user data – but that's not always true. Before you select a VPN to use with Kodi, inspect its privacy policy. If you can, use a VPN that has undergone a third-party security and privacy audit.
Check whether it has high-quality encryption and leak protection. An IP address leak can make you vulnerable to advertisers, trackers, and even hackers. To stay safe, make sure your VPN uses 256-bit encryption, strong protocols like OpenVPN or IKEv2, and IP/DNS leak protection.
Check the limitations. All free services limit data usage, speed, server options, security, or compatibility. Before you go through the trouble of installing a service, make sure that it can actually give you access to the platforms, geo-blocked content, and Kodi add-ons you want.
Good customer support. Unfortunately many free VPNs cut corners here, but if you run into any technical issues it's great when you have someone on hand to quickly assist you.
Easy Guide: How to Install and Use a Kodi VPN
If you want to install a VPN onto your Amazon Fire Stick or another similar device but it doesn't have a native app available, you can follow these instructions to install a Kodi VPN with APK files.
Top Tips When Installing VPN .apk Files
If you have an Android-based device that doesn't support Google Play, you might have trouble installing your VPN. Fortunately, it's easy to install apps as .apk files on any device running Android (like a Fire Stick). While it's a useful feature, you also need to be careful about where you source the .apk – modified .apks can be infected with malware or steal your data.
You may be enticed to download an .apk from one of the many sites that hosts these files, but you never know whether they're legitimate downloads or not. This is why it's best to see if the VPN provider offers an .apk download – try contacting customer service if you're not able to locate it yourself.
How to Install a VPN on Firestick, Roku, Chromecast, Routers, and More
If you want to use Kodi on a device that doesn't natively support your VPN of choice, you can still protect your devices by setting up your VPN on your router. This way, all devices that connect to your router will be automatically protected.
Since not all routers support this, I recommend you first look up your router's model number and find the steps involved. For instance, my router doesn't support running a VPN natively, but I can install a different firmware version that allows this. Keep in mind that this is slightly more technical and if performed incorrectly you can "brick" your router. If you're willing to take the risk, you can check out DD-WRT or TomatoUSB as two popular firmwares that support VPN installation.
A less risky way of setting up a similar connection is by hosting a WiFi hotspot on your computer or phone. If you're connected to a VPN on the host device, all devices that connect to it will be funneling their traffic through the same VPN. The downside of this is the additional setup whenever you want to connect.
You can read more detailed instructions on how to set up a VPN on your router in our setting up a VPN router guide.
If you use a TV streaming device that runs on Android, every VPN on this list will work. Just navigate to the app store and search for your VPN of choice. Some supported Android devices include:
Xiaomi Mi Box
DroidBOX PlayOn GPD XD
Matricom G-Box

Emtec Gem Box
EstgoSZ H96 Pro
Tops MXV Android TV Box Amlogic S912

Nvidia Shield
Beelink GT1 Ultimate TV Box
Seguro Trongle X4
Help! How to Troubleshoot Common VPN Problems With Kodi
If you run into problems with your VPN and Kodi, there are a few things you can try:
Connect to a different server: If you find one location isn't working, disconnect and reconnect to another server. If your free VPN only has one server connection available, try exiting the VPN completely and reconnecting.
Disable your firewall: Some VPNs are blocked by firewalls and can't connect to the server you want. Try turning your firewall off temporarily or granting your VPN access through the firewall.
Contact customer service: Most free VPNs have a live chat or email support if you need help or advice. ExpressVPN has 24/7 customer service to help you troubleshoot whenever you need it.
FAQs: Kodi and Free VPNs
Do free VPNs work with Firestick, Raspberry Pi, Android TV, Xbox, and other devices?
There are a few free VPNs that work with Fire Stick and other devices. However, many of these VPNs rarely work with anything other than Windows, macOS, Android, and iOS. TV-specific operating systems and consoles are generally too niche for free VPNs, meaning you'll need a premium VPN to take advantage of these.
I found that ExpressVPN has the broadest device compatibility. It has a native app for Fire Stick, Raspberry Pi, and Android TV, and can be set up manually on consoles. You can even set it up on your router so any devices that connect to it are immediately protected.
Is Kodi legal and safe?
Kodi is completely legal (and free) software. There are lots of legal and free Kodi add-ons for watching TV, streaming movies, or enjoying your favorite media. However, not all Kodi add-ons are legal. In fact, many third-party add-ons contain pirated material which could get you into trouble with the copyright holder.
It's also important to note that VPNs aren't legal everywhere. Some countries (like China, Russia, Iran, and Saudi Arabia) have strict internet regulations that limit the use of VPNs. I recommend that you check local laws in your country before using a VPN with Kodi.
Will a free VPN work with other services like Netflix?
Generally, free VPNs give very inconsistent access to Netflix and other streaming services. This is due to these services not having the resources to keep their pools of IP addresses updated, so when they're blocked by a streaming platform they struggle to add new ones quickly enough. Even if a VPN unblocks Netflix on one day, the next day you might get this error:
Pardon the interruption
You seem to be using an unblocker or proxy. Please turn off any of these services and try again. For more help, visit netflix.com/proxy.
Error Code: M7111-5059
Premium VPNs tend to have the financial and human resources to combat this much more effectively. In fact, if a free VPN has a premium upgrade available, sometimes they'll purposefully block streaming services to incentivize you to upgrade.
To get unrestricted access to US Netflix, Hulu, ESPN, Fox Sports, BBC iPlayer, and other services, you'll need to use a top-tier VPN like ExpressVPN that can give you complete internet freedom.
Will a free VPN let me access torrented content safely on Kodi?
It depends, but many free VPNs don't allow torrenting at all. Torrenting is extremely bandwidth-intensive, so allowing all free users to do it would quickly drain server resources.
Some free VPNs support torrenting and give you a secure connection for it, but they still have limitations. This can include bandwidth caps that won't allow you to download even a single file or speeds that can cause downloads to take days.
If you're serious about torrenting, you need a premium VPN. This is why I recommend you use ExpressVPN as your primary VPN for torrenting, since it has highly secure server infrastructure, high speeds, and full support for torrenting.
Don't Put Your Privacy at Risk When You Use Kodi – Use a VPN
A quality free VPN can make the difference between an enjoyable night at home watching a movie or a range of technical and security issues. Every VPN on this list has strong privacy features and will keep your Kodi traffic hidden from prying eyes.
However, even the greatest free VPNs will have their own limitations. That's why I recommend ExpressVPN to get lag-free streams while watching Kodi. ExpressVPN is backed by a 30-day money-back guarantee, so you can buy with confidence. If you're not fully satisfied, you can easily claim a refund within 30 of purchase.
---
Other Top VPNs for Kodi in 2022 (Try FREE With the Money-Back Guarantee)