5 Best Free Kodi VPNs in 2021 (Works on Fire Stick + Other Devices!)
Last Updated by Kate Hawkins on July 15, 2021
If you want to stay safe online, be careful when you select a free VPN to use with Kodi (especially if you frequently download unofficial add-ons). Most VPNs claim to keep you safe and anonymous online — but not all of them protect you or work with Kodi.
Most free services offer poor security and don't keep you safe while using Kodi. I was shocked to learn that many VPNs log and sell data (like IP address, online history, and connection times) to advertisers and others. Since this information reveals everything about you, you could be at risk of being hacked.
Many free VPNs also don't work well for streaming with Kodi. Even the best free services have data caps, throttle speed, and can't consistently access Kodi content.
To help you get a safe service that works well, I tested over 20 VPNs to find the 5 best free VPNs for streaming with Kodi. Every recommended VPN on this list will keep you secure and anonymous. They'll also connect you to your favorite streaming add-ons and they're compatible with Amazon Fire Stick, Smart TVs, Windows, macOS, and more.
Quick Guide: 5 Best Free VPNs for Kodi in 2021
5 Best Free VPNs for Kodi — Tested for Speed and Security (Working in 2021)
Key Features:
3000+ servers in 94 countries to access global content
Unlimited bandwidth and no data caps allow you to enjoy uninterrupted, buffer-free streaming and fast downloading
Military-grade encryption and a strict no-logging policy protect your data and keep you 100% anonymous online
Up to 5 simultaneous device connections
24/7 customer service with live chat, email support, and guides
While it's not free upfront, ExpressVPN is the best VPN for Kodi and it has a 30-day money-back guarantee. This means you can test out ExpressVPN without any risk or commitment. If you're not satisfied, you have a full 30 days to claim a refund.
ExpressVPN is a great choice for downloading and streaming Kodi add-ons. You can quickly reroute your internet traffic through one of the 94 encrypted servers. Not only does this protect your private data while streaming, but it also lets you safely download Kodi add-ons. Even when you're traveling abroad for work or a holiday, ExpressVPN ensures that you'll have access to your home country's Kodi content (like Popcornflix, which is only available in the US).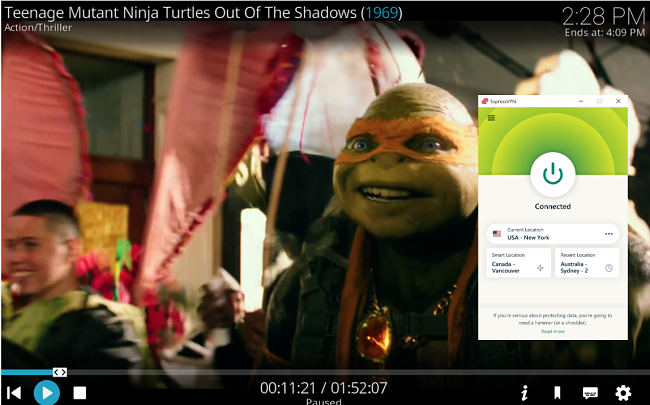 During testing, I was also impressed at how fast all of ExpressVPN's servers were. I connected to servers in over 15 different countries (including the US, France, Germany and Australia) and ran speed tests using Ookla. Every server was fast enough to give me bufferless streaming in UltraHD — even when I connected to servers over 3,500 miles away!
I also wanted to make sure ExpressVPN would keep me safe — after all, some unofficial Kodi add-ons can make you the target of hackers or scammers! I was relieved that ExpressVPN has the best safety features on the market to ensure my online activity stays anonymous. I ran DNS and IP leak tests to see if it could mask my real IP address — and it always kept my true location hidden.
In addition to leak protection, ExpressVPN's strict no-logs policy guarantees that your online activity is never stored. This ensures that you stream on Kodi and download add-ons 100% anonymously. ExpressVPN was one of the first top-tier VPNs to be independently audited by PricewaterhouseCoopers AG and publish its results to show that no personally identifiable data is ever stored. In fact, ExpressVPN is one of the best VPNs for both online privacy and freedom (it even works in China!).
Finally, it also has unmatched device compatibility. ExpressVPN is one of the best VPNs for Amazon Fire TV Stick, Smart TVs, gaming consoles, and Windows devices. It also works well with a ton of other operating systems and devices. If you discover that ExpressVPN doesn't have a native app for a certain device, you can always install it on your router or create a virtual hotspot to protect any device connected to your WiFi.
Don't take my word for it — it's completely risk-free to try ExpressVPN with the money-back guarantee for 30 days. That way, you can see how well it works with Kodi on your computer, Amazon Fire TV Stick, or Smart TV. If you decide it's not worth it, you can get a full refund and test another recommended VPN on this list. I went through the refund process and it was easy — I spoke to customer service on the live chat for 2 minutes and had my money back in only 5 days.
ExpressVPN works with: Amazon Fire Stick, Android TV, Mac, Windows, Linux, Chromebook, Android, iOS, Blackberry, Raspberry PI, Windows Phone, Chromecast, Amazon Fire TV, routers, and smart TVs.
ExpressVPN also unblocks: Netflix, Hulu, Amazon Prime, Comedy Central, BBC iPlayer, ESPN, National Geographic, NBC Sports, DAZN, YouTube TV, Sling TV, Disney+, and more.
Key Features:
5 server locations in 4 countries to connect to
10GB monthly data allowance for streaming and downloading
Military-grade encryption and no data logging for secure online connections
1 device connection per account
Customer support includes email, FAQs, knowledgebase, and a community forum
Hide.me is a free VPN based in Malaysia, which means it isn't required to keep any user data or share information with intelligence agencies. This is because it's headquartered outside of the 5, 9, and 14 Eyes Alliances. This makes it highly secure as you don't have to worry about your personal data being stored and shared.
To check its security for myself, I carefully reviewed Hide.me's privacy policy and found that the only data they store is the email address you use to sign up with — that's it! Plus, Hide.me has been independently audited by the cybersecurity experts at DefenseCode Ltd., so you can trust that it truly doesn't log any identifying data. I was impressed that Hide.me had taken this step to show how much it cares about your privacy because not even some premium VPNs have undergone security auditing!

In addition to these industry-standard protections, Hide.me also provides additional security features like Split Tunneling. You can use this configuration to choose which apps are tunneled through the VPN and which aren't — so you can stream Kodi with an encrypted connection and browse online locally at the same time. This keeps your data and location hidden while you're using Kodi, but lets you maintain faster speeds with other apps.
Unfortunately, I found that Hide.me was slower than other services. It claims to not throttle speeds for free users, but my speed tests showed a significant drop from my usual speed of 61Mbps. I connected to all 5 Hide.me server locations and ran tests. The closest location to me (the Netherlands) only reached 17Mbps and the furthest (US) was about 13Mbps. These speeds are still fast enough to stream in HD, but I noticed a fair amount of buffering.
Another drawback is that Hide.me doesn't unblock streaming services (like Hulu or Netflix). This was a big disappointment to me because one of the main reasons I use Kodi is to stream my favorite shows.
If you want a free VPN guaranteed to keep you safe, I still think Hide.me is a great service to use with Kodi. After you download the app, you can try it for free. If you decide it's not worth it, you can always try another recommended VPN from this list.
Hide.me works on: Android, Windows, iOS, macOS, Amazon Fire OS, routers, Chrome, and Firefox.
Hide.me unblocks: Comedy Central, National Geographic, NBC Sports, YouTube, Sling TV, and more.
Key Features:
1 server location in the US
500MB daily data allowance
Military-grade encryption and no logs keep your online activity private
1 device connection supported
Customer support includes email, help guides, and troubleshooting
Hotspot Shield is a fast VPN service that will let you stream Kodi content with almost zero buffering or load time. I expected Hotspot Shield to be slow because it only has 1 server location for free users — but I was wrong. When I ran tests my speed was over 26Mbps, which was more than enough to stream and download without buffering or lag.
Though my speeds were fast, I was still limited to just 500MB of data daily. This adds up to 15GB of data for a month, but the daily cap meant I could only stream a movie on Kodi for about an hour before my allowance ran out.
I was also frustrated to find that Hotspot Shield's servers don't work with Netflix or Hulu. However, there were no issues accessing Sling TV, NBC Sports, and YouTube.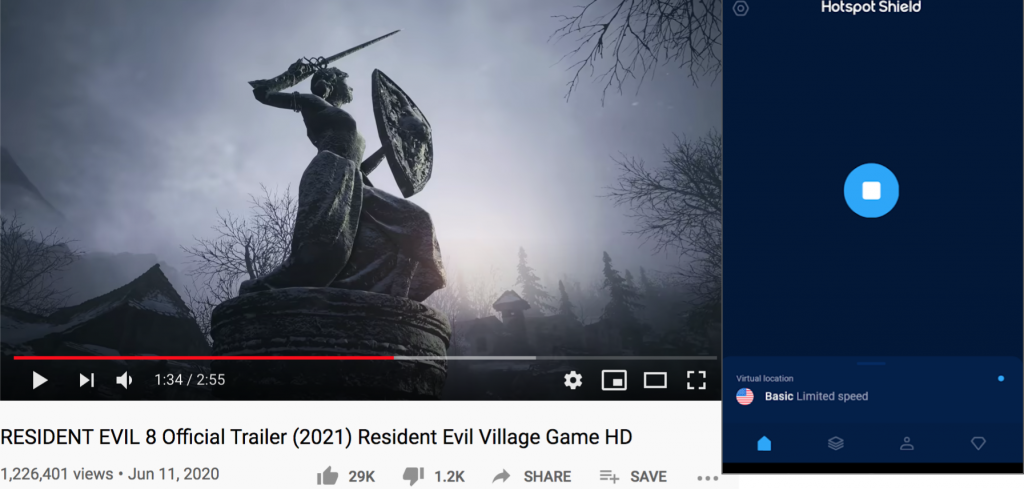 Although it worked well for streaming content on Kodi, I was disappointed to find that Hotspot Shield logs sensitive user data and displays targeted ads. It may collect user IP addresses, browsing history, and other data and then sell it to advertisers. Hotspot Shield's privacy policy states that free users may see ads relevant to their "approximate city-level latitude and longitude." While this might not sound like a big deal, it means your activities on Kodi aren't 100% anonymous with Hotspot Shield — that makes me wary about using it.
If you want a VPN to stream buffer-free on YouTube with Kodi, Hotspot Shield may be a good option for you. To test it yourself, download the app and start using Kodi.
Hotspot Shield works with: Windows, Android, macOS, iOS, Chrome, Smart TVs, Linux, and routers.
Hotspot Shield unblocks: Comedy Central, NBC Sports, YouTube, Sling TV, and more.
Key Features:
23 server locations in 20 countries
500MB monthly data allowance
Military-grade encryption ensures your online activity is anonymous
5 simultaneous device connections
Customer support includes email, help guides, and FAQs
TunnelBear has over 20 different countries with servers for you to choose from, which is a big range for a free VPN service. This variety includes popular locations like the US, Japan, and Australia. I was excited about this large network because it works with popular Kodi add-ons like iPlayer WWW (UK only) and Crackle (US only).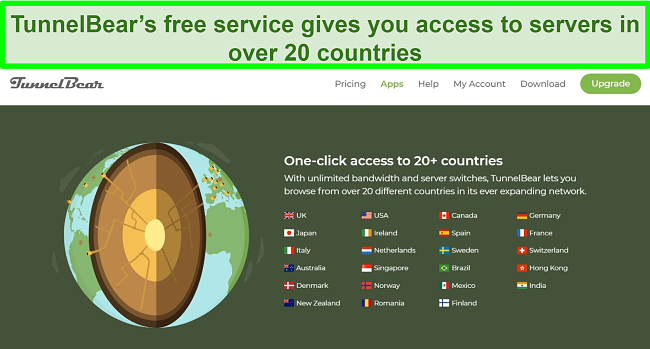 TunnelBear protects its free users with the same top-tier security features as premium. It uses military-grade encryption and an automatic kill switch (called VigilantBear), so you can rest assured that prying eyes won't be able to monitor your torrenting and other online activities. Unfortunately, I found that TunnelBear does keep a small amount of non-identifiable data about you. This information includes the OS of your device, how much bandwidth you've used, and if you've accessed the service in the last month. While it's not entirely zero-logs, I'm not worried about the service collecting this limited information.
One big drawback I found is that TunnelBear strictly limits its data allowance. You only get 500MB for the entire month, which will give you about an hour of streaming in SD-quality video. This is a tiny amount of data if you want to stream anonymously on Kodi, but it does give you the chance to download add-ons.
Sign up with your email to try the TunnelBear app with Kodi yourself.
Here's a tip for you — You can get extra data by tweeting about TunnelBear! In exchange for a tweet, TunnelBear will give you a one-time data bonus of 1GB to use.
TunnelBear works on: iOS, macOS, Android, Windows, Chrome, and Firefox.
TunnelBear also unblocks: Sling TV, NBC Sports, YouTube, and more.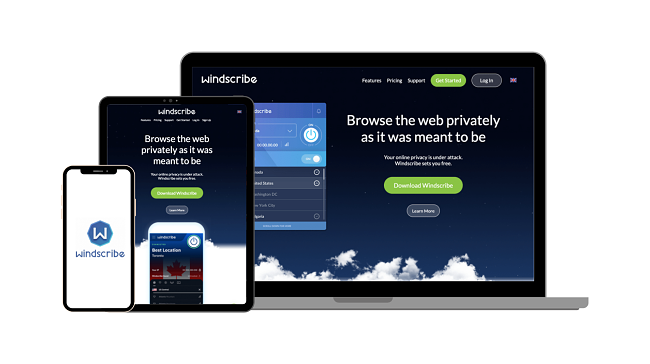 Key Features:
14 server locations in 11 countries for multiple connection options around the world
10GB monthly data allowance for fast, reliable streaming
Military-grade encryption and zero-logs policy keeps your activity anonymous
Unlimited device connections
Customer support includes email, FAQs, and setup guides
Windscribe is one of the most popular free Kodi VPNs because of its fast speeds and solid support for streaming. I ran several speed tests using Ookla and connected to a server in all 11 countries. My average speed was 25Mbps and never fell below 18Mbps, meaning I could stream in HD quality with no buffering from every server location.
I was concerned that I wouldn't be able to stream much on Kodi because Windscribe restricts free users to a 10GB monthly data limit. But I was pleasantly surprised! On average, 10GB of data gives you 10 hours of SD streaming (or 2.5 hours of HD streaming).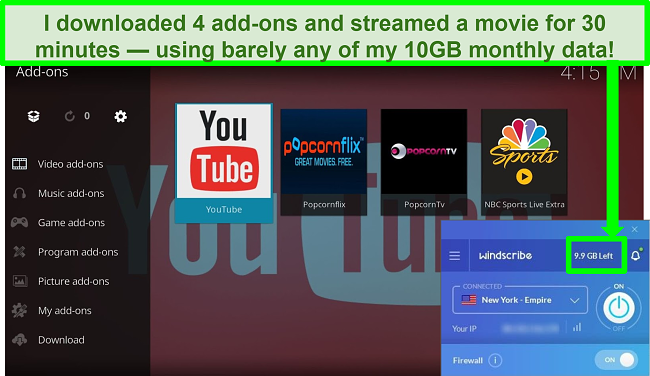 Unfortunately, Windscribe's 10GB monthly plan might not be enough if you use Kodi to stream cached torrents (or if you like to torrent in general). Many cached torrents are upwards of 20GB, especially if you want to stream content in HD quality. I found the data limit was enough to download Kodi add-ons safely and to stream in SD. But I was frustrated that I reached my data limit quickly when torrenting.
Windscribe's free plan comes with solid security features designed to keep you safe when you're using Kodi. I tested its DNS leak protection and was relieved that it securely hid my IP address, proving its military-grade encryption works.
In addition to leak protection, Windscribe has a firewall that disables the internet if you're not connected to the VPN. This acts like a kill switch to protect your data if the VPN connection suddenly becomes unstable. It also provides free users with blockers for ads and trackers, so you can avoid annoying (and potentially malicious) pop-ups. I found this particularly useful when downloading third-party add-ons.
Considering these other strong security features, I was disappointed when I learned that Windscribe hasn't been independently audited. That means you'll have to take its no-logging and security policies at face value. It's reassuring to see that Windscribe has transparency reports showing that it doesn't comply with data requests (because there is no data to hand over). However, I would still feel better if independent investigators had confirmed that it truly doesn't store personal data.
Another issue I found is that Windscribe sometimes struggles to get around streaming site blocks. If you're having technical issues and need a new local IP address to access streaming services like Netflix and Hulu, Windscribe might not be the best service. I wasn't able to stream on these platforms at all. However, Windscribe's UK servers do work with BBC iPlayer and the iPlayer WWW add-on.
I still think the best way to see if a VPN is right for you is to test it yourself. I recommend you download and install Windscribe to try it. Then, you can connect to Kodi and see how it works for you.
Windscribe works with: macOS, Windows, Chrome, Firefox, Linux, iOS, Android, and Amazon Fire TV.
Windscribe also unblocks: Comedy Central, BBC iPlayer, National Geographic, NBC Sports, DAZN, YouTube, Sling TV, and more.
Note: As part of this review, all streaming screenshots were taken in the US with a VPN connected to a US server.
How a VPN Works With Kodi
When you connect Kodi through a VPN, your data gets encrypted and your internet traffic is rerouted through a VPN server. This scrambles your private data (like your online history and downloading activities) and allows you to:
Keep your private data safe. With a VPN, you risk exposing your identity and sensitive information to anyone watching. This could have serious consequences for your privacy.
Maintain access to your Kodi library. Some Kodi content and add-ons are only limited in certain countries, making it impossible to access if you've temporarily gone overseas. A VPN can help you regain access to your Kodi add-ons or other streaming content you've already paid for.
Stay safe from cybercriminals. Official add-ons from companies like YouTube and Netflix are generally safe — but unofficial Kodi add-ons (especially from P2P networks) often contain malware. Some add-ons could even get hacked, allowing cybercriminals to try to steal your credit card information or login credentials for other sites. The best VPNs use advanced encryption and malware blockers to protect you.
Stay safe on Kodi with ExpressVPN
Risks of Using a Free VPN With Kodi
Kodi is free, so you may wonder why you should pay for a service when there are some decent free VPNs available. The free VPNs that work with Kodi are either limiting or expose you to danger online.
Technical Limitations
Usually, the free services that offer better safety and streaming quality are offered by providers that sell other subscription-based VPN services. These companies purposefully limit their free users' speed, server options, data usage, and security in order to encourage customers to upgrade.
Unfortunately for Kodi users, these limitations negatively impact your streaming experience. Most free services can't bypass VPN blocks used by popular platforms like Netflix and BBC iPlayer. The few that can access them have strict data caps, so you'll only be able to stream for a few hours each month. This also means that you won't have enough data to torrent or download many add-ons.
Aside from these limitations, most free VPNs are a bad choice for Kodi users because they have limited device compatibility. That means you won't be able to use Kodi to stream on Smart TVs, Firestick, game consoles, routers, or other devices.
Safety Issues
The majority of free VPNs put your security at risk to make money. Many inject ads or even malware and trackers into your devices in order to gather data about you. Others keep extensive logs of your IP address, online history, and connection times to sell to advertisers and others. For Kodi users, this is a huge risk — if hackers acquire this information, you could suffer from personal data theft or monetary loss.
Many free VPNs also offer free users poor security features. Since they don't collect subscription fees, they may not have the budget to update encryption standards and protocols. Others may not follow zero-logs policies or manage their servers in a safe way. These limitations could expose you to cybercriminals and put you at risk for fraud, identity theft, and surveillance.
Avoid These VPNs With Kodi for Better Compatibility and Safety
To enjoy safe streaming and good compatibility on Kodi, stay away from these VPNs:
HolaVPN — Offers no servers, encryption, or privacy. It has been caught selling personally identifying user data and even user bandwidth.
TouchVPN — Keeps records of your online history, IP address, and personal device information. This can expose you to cybercrime, ISP snooping, and government surveillance.
Betternet — Suspected of installing dangerous trackers and malware on users' devices and it sells your personal data to unverified third parties.
SaferVPN — Overall a good VPN, but it's been blocked by Real-Debrid for Kodi.
ProtonVPN — Although a good choice for other devices like Android, the free version blocks streaming platforms and it's incompatible with Real-Debrid for Kodi.
Use Kodi safely with ExpressVPN
How to Choose a Safe Free VPN for Kodi
Investigate the privacy policy (zero logs is best!). Almost all VPNs state that they don't store user data — but that's not always true. Before you select a VPN to use with Kodi, inspect its privacy policy. The best Kodi VPNs have undergone independent cybersecurity audits to show their claims are true.
Choose high-quality encryption and leak protection. Weak encryption can leak your IP address, making you vulnerable to hackerss. This could reveal your true location. To stay safe, make sure your VPN uses 256-bit encryption, strong protocols like OpenVPN or IKEv2, and IP/DNS leak protection.
Look for features that block malware and ads. Third-party Kodi add-ons can be risky to download as they may contain malware designed to steal your data or compromise your devices (which could lead to identity theft!). If the free VPN you choose doesn't include an ad/malware blocker, make sure it's compatible with one.
Check the limitations. All free services limit data usage, speed, server options, security, or compatibility. Before you go through the trouble of installing a service, make sure that it can actually give you access to the Kodi add-ons you want!
Look for a large server selection. Pick a free VPN with servers in the locations you need. For example, if you have a Netflix US account, you'll have to make sure your VPN has plenty of US servers.
Stay safe on Kodi with ExpressVPN
FAQs: Kodi and Free VPNs
Do free VPNs work with Firestick, Raspberry Pi, Android TV, Xbox, and other devices?
ExpressVPN has the broadest device compatibility of any VPN on this list. Since you can even install it on your router or use it to create a virtual hotspot, you can protect any device (even gaming consoles) that connects to your WiFi.
For more information, take a look at this table to see which services are compatible with your Kodi devices:
| | | | | | |
| --- | --- | --- | --- | --- | --- |
| | ExpressVPN | Hide.me | Hotspot Shield | TunnelBear | Windscribe |
| Windows | ✔ | ✔ | ✔ | ✔ | ✔ |
| macOS | ✔ | ✔ | ✔ | ✔ | ✔ |
| Android | ✔ | ✔ | ✔ | ✔ | ✔ |
| iOS | ✔ | ✔ | ✔ | ✔ | ✔ |
| Linux | ✔ | – | ✔ | – | ✔ |
| Raspberry Pi | ✔ | – | – | – | – |
| Fire Stick | ✔ | ✔ | ✔ | – | – |
| Smart TVs | ✔ | ✔ | ✔ | – | ✔ |
Use Kodi safely with ExpressVPN
Is it legal to stream Kodi with a free VPN?
Yes, but it's complicated. Kodi itself is completely legal (and free!) software. There are lots of legal and free Kodi add-ons for watching TV, streaming movies, or enjoying your favorite media.
However, not all Kodi add-ons are legal. In fact, many third-party add-ons contain harmful content. I recommend carefully examining every add-on before installation to make sure it's safe and legal to use.
It's also important to note that VPNs aren't legal to use everywhere. Some countries have strict internet regulations that limit the use of VPNs. My team and I don't condone illegal activities, and I encourage you to check the local laws in your country.
Will a free VPN work with other services like Netflix?
Probably not — most free VPNs (and even some premium services) can't bypass Netflix's proxy error message. In some cases, this is because the VPN doesn't have strong enough technology to get around anti-VPN detection technology. Other times, free VPNs restrict your data usage or speed so much that it makes it impossible to stream.
Since accessing region-locked streaming services is one of the top reasons for using a VPN, many free VPNs also intentionally block your access. This is a problem if you're temporarily overseas and you want to use a VPN to regain access to your home country's Netflix library (especially since you've rightfully paid for it!).
Only a top-tier VPN (like ExpressVPN) will offer global servers that work with US Netflix, Hulu, ESPN, Fox Sports, BBC iPlayer, and other services.
How do I install a free VPN with Kodi?
To install the best Kodi VPN's native app on a compatible device, follow these 3 easy steps:
How to install a free VPN onto your Kodi device
Get and install a VPN. I recommend ExpressVPN for fast Kodi streaming and downloading (you can use it risk-free for 30 days!).
Connect to a server. ExpressVPN has 3000+ servers in 94 countries to choose from.
Launch Kodi and start streaming! Now you can download add-ons and watch your favorite content without risking your security!
If you want to install a VPN onto your Amazon Fire Stick or another similar device but it doesn't have a native app available, you can follow these instructions to install a Kodi VPN with APK files.
You can also use this guide to install a VPN for Kodi on your router — this will let you protect any device that you connect to your WiFi.
Use Kodi with ExpressVPN today
Is the Kodi Reddit right about free VPNs?
It depends — but don't use Reddit as your only source of information when trying to choose a safe free VPN. Reddit can be a useful platform to learn about user experiences with technology, but not everyone who gives advice is a tech expert. That means that some users might not be able to alert you to hidden dangers.
Consider this user question as an example: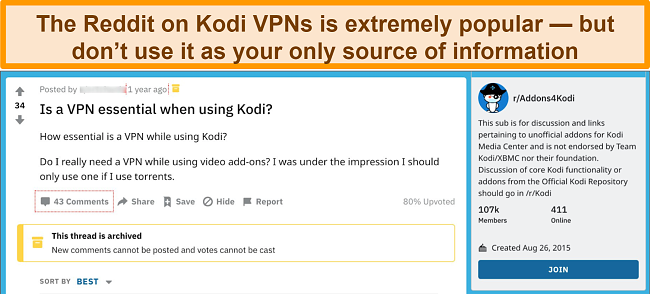 While a high-quality VPN is essential for using torrents on Kodi, it's equally important to use one for unofficial video add-ons because they could contain malware and viruses. If cybercriminals exploit these vulnerabilities, it could lead to account hacking, financial fraud, or identity theft! These dangers (and the differences in protection offered by free and premium VPNs) aren't highlighted in this post at all.
The Kodi Reddit has some good insight into VPNs and free services, but take expert reviews into account to avoid unnecessary risks!
Use Kodi safely with ExpressVPN
Will a free VPN let me access torrented content safely on Kodi?
It depends — most free VPNs don't support torrenting. Their strict data caps and slow speeds make them bad for torrenting. Plus, their weak encryption and leak protections put your anonymity at risk.
These recommended free VPNs support torrenting on their servers and give you a secure, anonymous connection while file-sharing. But their data limitations may still make it difficult to torrent what you want. For example, Hotspot Shield only allows you 500MB of data per day — that runs out quickly when you're torrenting.
This is why ExpressVPN is the best option to safely and quickly torrent content on Kodi. Its best-in-class encryption keeps you anonymous. ExpressVPN also gives you unlimited data and never throttles your speed, so you can torrent as much as you want!
Torrent safely with ExpressVPN
What if my free VPN stops working with Kodi?
There are a few things you can try to fix your VPN connection problems and get it working with Kodi in no time:
Clear your browser cache and cookies: Location data from your previous connections can be stored in your cache — Kodi might see this and block you when you reconnect. Remove this data by going into your browser's security settings and clearing the cache and cookies.
Connect to a different server: If you find one location isn't working, disconnect and reconnect to another server. If your free VPN only has one server connection available, try exiting the VPN completely and reconnecting.
Disable your firewall: Some VPNs are blocked by firewalls and can't connect to the server you want. Try turning your firewall off temporarily or granting your VPN access through the firewall.
Contact customer service: Most free VPNs have email ticketing if you need help or advice. ExpressVPN has 24/7 customer service with live chat to help you troubleshoot whenever you need it.
Don't Put Your Privacy at Risk When You Use Kodi — Use a VPN!
With a high-quality VPN, you can stream and download on Kodi without worrying about your data security. Every VPN on this list has strong privacy features designed to keep your connections hidden and your online activity anonymous. But even the best free VPNs have limitations and you won't be able to use Kodi the way you want to.
To get the unbeatable protection and smooth streaming on Kodi, I recommend ExpressVPN. It will give you fast connections and its servers work with all Kodi add-ons. But don't take my word for it — you can try ExpressVPN with Kodi risk-free as it's backed by a 30-day money-back guarantee. If you're not satisfied with the service, you can easily request a refund within the first 30 days.
---
Other Top VPNs that Work With Kodi
Top Choice