How to Anonymously Watch Porn in the UK (Updated 2022)
Last Updated by Ari Denial on July 01, 2022
Ask yourself: would you give your passport to a pornography website?
Would you trust your government to catalog all of your explicit viewing habits in a sexual dossier?
Shaking your head "No?"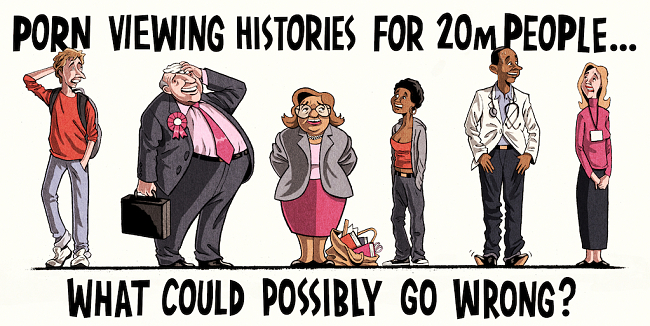 Image Credit: Open Rights Group
What if they kept this database of embarrassing (and potentially compromising) private info in the cloud, on adult website servers and/or on government servers – where it could be hacked and used for extortion or identity theft?
Sadly, this isn't the plot of a new Adam Sandler movie.
This is the real situation citizens of the UK now find themselves in, beginning July 15th, 2019 – thanks to an ill-conceived new law aimed at blocking porn behind a firewall of "AgeID" verification technology.
How to Watch Porn Safely in the UK
A VPN works by connecting your computer to a remote server. All of the requests you make on the internet and all of the data you download from them passes through this remote server in encrypted packets. In short, a VPN hides your real IP address and encrypts your online activity from anyone who might be watching (including hackers, advertisers, and web trackers)..
Important: Not all VPN can be trusted to protect your privacy. We've reviewed hundreds of VPNs and have seen flaws in most of the free VPNs and many premium ones as well. Based on our reviews we strongly recommend the following VPNs:
ExpressVPN — Proven no-logs policy
CyberGhost VPN — Optimized servers for streaming
My team and I don't condone illegal behavior and the protection of a VPN doesn't give you license to commit illegal acts. Please exercise a basic level of caution when using a VPN.
Understanding the UK Porn Block
In response to vague assertions from a child-focused charity, the UK government launched an investigation into a solution that no citizens were even asking for.
Government officials believe they are protecting underage children from pornography with a new law that detractors say does little more than invading the privacy of adults while laying the groundwork for massive security breaches.
In short, the online pornography law requires adult sites (and mobile app versions of those websites) to verify the age of anyone who wants to watch their videos.
What the Law Says
The online porn regulations make up the third section of a larger set of laws and regulations called the Digital Economy Act of 2017 (the porn regulations don't kick in until the middle of July 2019). You can read the full text of the law online.
Part 3 of the Act is called "Internet pornography: Requirement to prevent access by persons under 18." This section lays out multiple subsections dealing with definitions of pornography, censorship method, and financial penalties.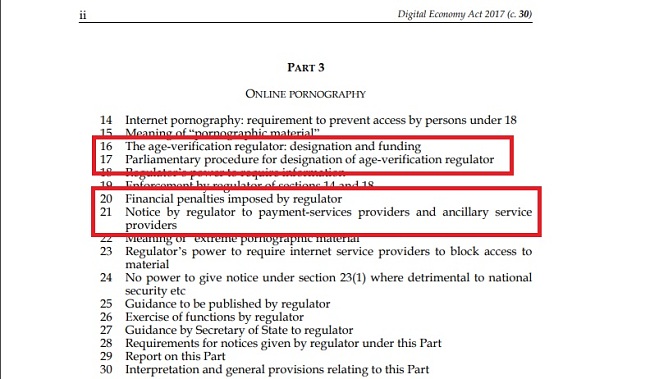 Who is Impacted by the Porn Block?
The law affects citizens of the United Kingdom in addition to any tourists, expatriates or other visitors who fall within the server boundaries of the UK. The law is intended to affect only those under the age of 18, but in reality, it poses real risks and consequences for legal adults 18 and over.

"We will stop children's exposure to harmful sexualized content online" Quote from DCMS
The image above is from a fact sheet of the Department for Culture, Media and Sport (DCMS) regarding the AgeID porn block program. In this section, we see their stated goal is to protect children from being exposed to sexual content by mandating the age verification. A noble goal pursued with questionable methods.
How the Porn Law is Enforced
According to an investigative report from The Independent, "The blocks will require any website that shows pornography to people in the United Kingdom to check that they are over 18."
The article goes on to explain that those checks will be extensive and intrusive, mandating adult websites to use a verification service that will store personal data about everyone who views their pornographic content.
How does the government verify your age? To watch any commercial porn, Brits will have to prove they are over 18, by either submitting credit cards, passports or other legal forms of ID to the sites. Specifically, they will be redirected to a non-porn landing page where they will enter in personal details (name, address, phone number and more) on a form using AgeID – a technology built by the parent company that owns Pornhub and Youporn.
Strangely, enforcement will be the regulatory task of the British Board of Film Classification (BBFC), which normally rates mainstream movie content.
Why the UK Porn Block Doesn't Work
The age verifications don't affect or censor social media, nor regulate forum sites like Reddit, then the law fails to block porn completely. In other words, it's missing a vast segment of the porn available online.
The law is also worthless for regulating person-to-person sharing sites or torrents that offer adult content along with mainstream content.
This is because the law is directed at commercial porn sites like Pornhub. That means any non-commercialized porn will still be readily accessible, without age verification in place, especially if the sites are not exclusively motivated by posting adult content.
There are also millions of fly-by-night porn sites that don't necessarily have a paywall or any real desire to comply with government regulators. If children under 18 want to find porn, no AgeID system will be able to stop them.
1

It's an invasion of privacy
These age verification logs will be a compendium of each participant's sexual proclivities and preferences, along with their home address and other contact information. This is a lot of power to give a government bureaucrat or a pornographer, and simply hope it stays safe from leaks and hackers.
Honestly, can you imagine a more perfect database for hackers? It's like the government is serving up your sexual habits, identity and financial information on a silver platter.
2

The potential for political coercion and blackmail
Another landmine in this battleground of privacy rights is the potential for political and social coercion. Imagine you are running for office and your opponent pays a hacker to breach this database, accessing your porn history to blackmail you into voting a certain way on a given bill or policy.
It's not that far-fetched.
3

Government Censorship Rarely Works
Government prohibition and censorship have a long and embattled history of failure. Well-intended as some government bureaucrats may be, using the clunky arm of the nanny state to obstruct adult content behind unsecured AgeID firewalls looks to be destined for failure as well.
In the long run, prohibition doesn't work for so-called "vice laws." It doesn't prevent people from drinking, smoking, using narcotics or visiting prostitutes. And it certainly won't keep horny teenagers from viewing porn.
Also, let's be real. Will elected officials and public figures be held to the same standards? Do you believe celebrities and politicians will volunteer their identities while viewing adult videos? Fat chance. They'll find a workaround. And so will regular, everyday Brits.
With this new law, the British government proves it has become a bumbling, ineffectual nanny state.
What Would Better Policymakers Have Done?
Any policymaker worth their salt would follow the fundamentals of a standard policy rubric. That means consulting experts to compile and interpret research data and assess whether proposed regulations would work.
Here's what that policy outline would look like:
Is the porn ban cost effective to implement and maintain?
It's hard to justify funding two years' worth of research and future regulatory costs when UK citizens aren't even consulted about the solution. This was a classic case of a solution in search of a problem.
What are the established best practices?
There are none because the UK is the only country using this unsecure age-verification censorship system.
Is this policy likely to work?
No, for several practical and sociological reasons discussed below.
What are potential unintended consequences?
It will create a black market that's even worse than the traditional market. (Imagine a class-action lawsuit against the British government in the event of a massive privacy breach. Will the taxpayers be willing to pay a multi-million dollar settlement to cover the costs of stolen identities and defamation lawsuits?)
Which alternatives would work better than this?
Education about safety and privacy for parents and children.
How will the public react?
Are we representing the will of the people? The public has reacted poorly, in large part because no one was clamoring for this porn block, nor for its dangerous
Evaluating Success and Failure
The final, ongoing step of good policymaking is called "policy evaluation." That means the government needs to honestly assess the ways this policy is failing to protect children and creating an entirely new problem of exposing millions of citizens to privacy violations and cybersecurity threats.
Once this evaluation is conducted, we hope officials come to their senses and repeal the porn ban.
Risks Determined by the Government's Own Impact Assessment
Officials from the government's own Department for Digital, Culture, Media, and Sport (DCMS) put together an impact report titled, "Particulars of Proposed Designation of Age-Verification Regulator" that includes a section detailing the risks and weaknesses of the porn ban.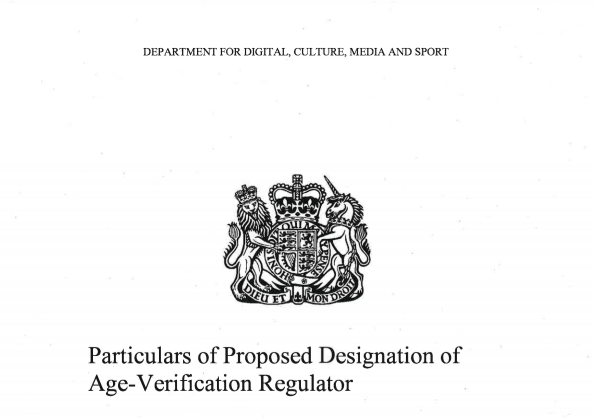 Within that report, officials note that in addition to giving rise to suppression of free speech through "over-regulation," the law also fosters an environment for increased fraud involving criminals who spoof websites to steal user data.
Imagine you're a hacker who puts together an adult website. Now think of how simple it will be to dupe adults (and many curious children) into logging into what looks like a government verification portal. Once logged into this dummy portal, unsuspecting users will expose themselves to all manners of fraud and blackmail by willingly providing hackers their personal data.
The report goes on to emphasize that adults and children alike may be driven into the bowels of the Dark Web, where they might encounter far more extreme and disturbing variants of porn, "That they otherwise would not have come in contact with." See the screenshot below, taken from the report.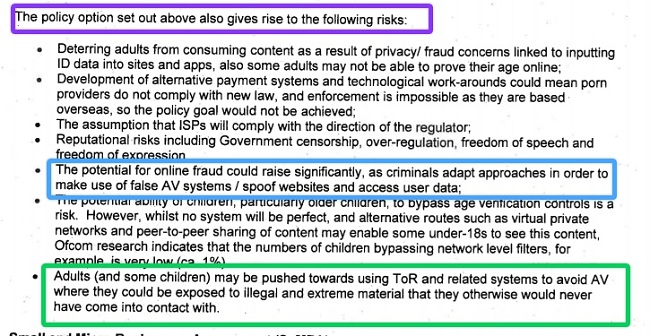 The impact assessment also admits that the most successful porn websites are based in the United States, meaning that they will be out of reach of UK law anyway. Yet another glaring loophole in this porn ban.
Fines and Penalties Don't Protect Consumers from Data Breaches
In their Risk and Recommendations briefing, Open Rights Group (ORG) representatives continue to push UK officials on the need for stronger security measures.
For example, evidence from other sectors that handle sensitive data shows that mere financial deterrents are not sufficient. The risks involved in leaking sensitive data necessitates a tougher approach to privacy protections. The briefing cites payment card protections as an example, explaining that, "Payment card information is protected by the contractually-enforced Payment Card Industry Data Security Standard (PCI DSS). We need similar, specific protections of this type for the highly sensitive data that will be created by these proposals."
As explained by ORG activists, sensitive data that is leaked cannot be recalled or adequately compensated for– leading to bullying, reputational or career damage, psychological distress for spouses and families– and even suicide. Think of members of the LGBTQ community who could be outed against their will, causing devastating family and work situations.
Consider the leak and subsequent $11 million lawsuit of the Ashley Madison website. Dozens of exposed users committed suicide as a result. Thousands of others suffered from irreparable social and reputational damage. This example is not suggesting that extramarital affairs are morally upstanding, but this conversation is about the legal consumption of adult content– which every adult has the right to view for private sexual reasons.
The point is that storing a clearinghouse of sensitive private data online with verified identification attached is ripe for all manners of disaster.
How to Protect Kids Without Punishing Adults
Protecting children is one of our most important social responsibilities. No reasonable person would disagree. But reasonable people do have legitimate disagreements about which strategies we use to shield them from objectionable content.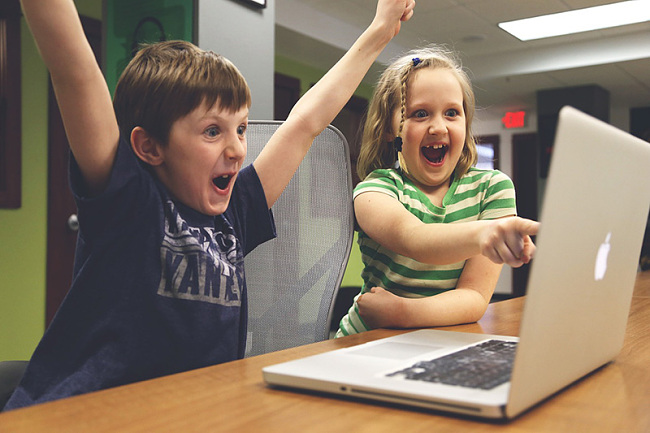 Concerned parties should be pushing for actual parenting versus nanny-state parenting and providing educational resources, not censorship laws.
Here are three quick tips for parents:
Use kid-friendly tools like Kiddle Search Engine (If your kid tries to search something questionable, it censors bad content.)
Monitor the sites kids visit and tell them you are doing so.
Communicate with your child openly and frequently about your expectations for safety, privacy and online conduct. Online safety for kids­ – like all other forms of real-world safety – starts at home. With love, discipline and good parenting.
Emulate the American Model of Freedom and Education
British officials would do well to take a page from the American playbook on this. The United States has done an admirable job providing free educational resources, regulations and consumer protection through their Federal Trade Commission, and robust partnerships with charities and other non-profits like Common Sense Media, that focus on education for parents and children alike.
While Americans have plenty of regulatory nightmares of their own, it's worth noting that Americans still have the most open and expansive free speech laws of any country, and thus they have no clumsy blocks on porn that would endanger the cybersecurity of their citizens.
Despite best efforts by moralizing conservatives, the United States allows its citizens to produce, distribute and view more porn, per capita, than any other country in the world.
Resources
For parental resources, click here to read our Definitive Guide to Keeping Children Safe Online.
The Top VPNs for Anonymously Watching Porn
All options have state-of-the-art encryption and blazing speeds. They use hundreds or thousands of servers to choose from, have strict no-logging policies, kill switches to keep you safe if an outage occurs, and they offer free trials to test their features.